10 Ways to Enjoy the Day Amid the Pandemic
Posted on: October 12, 2020
|
|
I would never have thought we would be living in a time where masks would be required to go to the grocery store or international flights would be canceled by the airlines. Over the last year (already), a lot has happened in the United States and the world regarding the coronavirus. As I have tried figuring out how to navigate these bizarre and (sometimes) scary times, I wanted to share what my husband and I have done to stay cool, keep our calm, and have some normalcy in our lives. Below are ten ways to enjoy the day amid the pandemic.
Post updated July 11, 2021
---
This post may contain affiliate links, which means we'll receive a commission if you purchase through our links, at no extra cost to you. Please read full disclosure for more information.
---
10 Ways to Enjoy the Day Amid the Pandemic
Discover simple ways to feel happier during the coronavirus pandemic! We have been practicing all of these methods for over a year and they have truly changed our perspective and life for the better.
We hope this article about ways to enjoy the day amid the pandemic empowers you. I bet you'll find all of these methods will be important to continue practicing in a post-pandemic world.
Continue reading!
Have Some Fun Wearing Masks
I know it might sound silly, but making the best out of weird and uncomfortable situations like having to wear masks really can change the mood, perspective and lift the spirit!
If we must wear masks, wear washable ones (for the environment), that are stylish, fun, and breathe easy.
Living in Oklahoma, I have absolutely fallen in love with The Pioneer Woman. On one of her Instagram posts last summer, she showed a few pictures of her kids wearing cute floral masks from Johnny Was. So, I got some! They wash well, breathe in the humid summer heat, are 100% cotton, and affordable.
Have some fun with your mask choice. Embrace the uncomfortable. As author Rachel Hollis likes to say, "Embrace the suck."
Protect yourself and others.
Get Outside Every Day
As the year has gone on, it became clear sticking to home was going to be a priority and the new normal.
I have made a goal to get outside every day. I have been able to accomplish this by walking the neighborhood or biking Tulsa's excellent River Parks trail.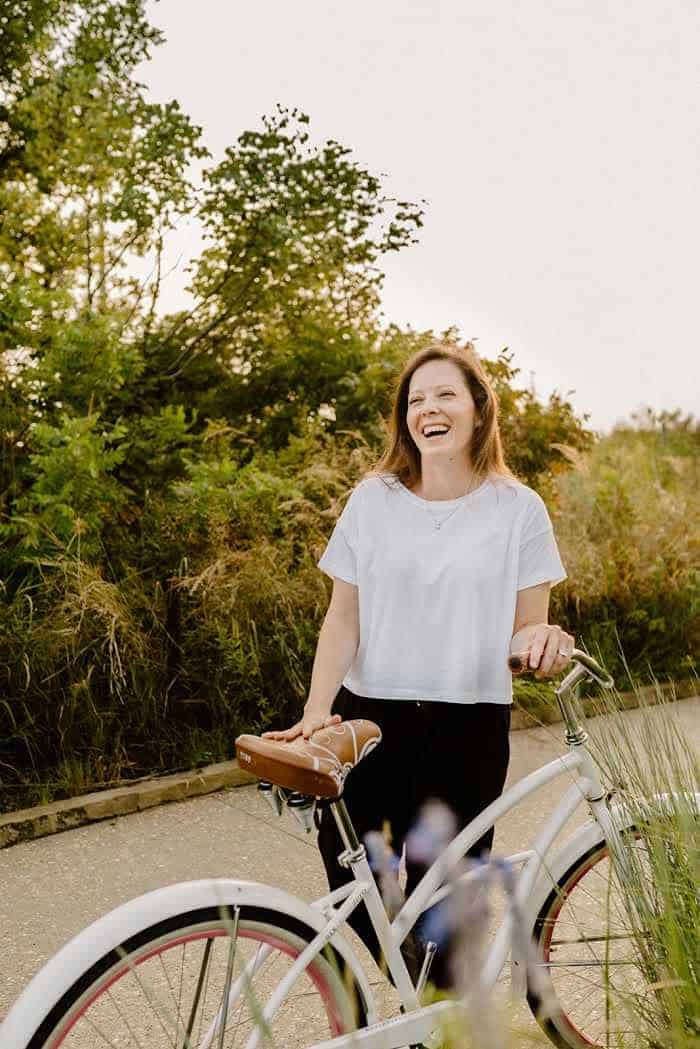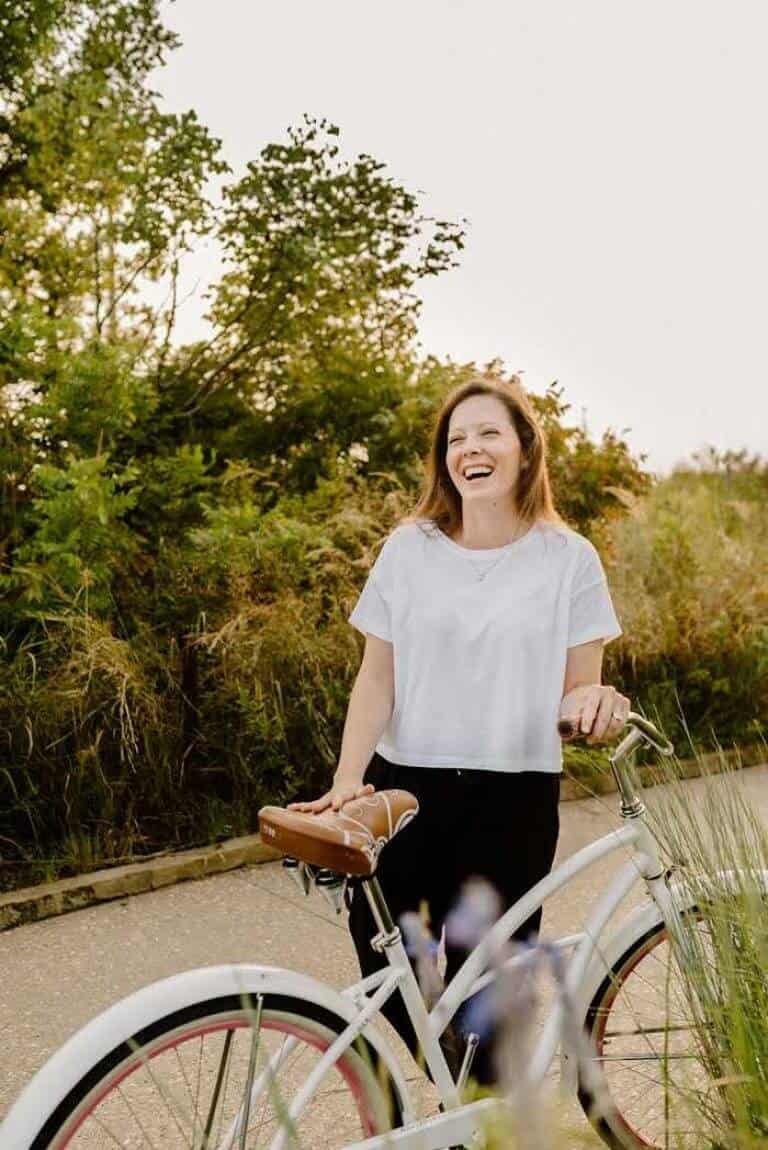 Having a goal to move my body has kept my head on straight.
It has been a game-changer from not feeling too anxious over what was going on in the world. Getting sunshine or even rained on is beautiful and cleansing for mental health.
I flex the time of day I go outside depending on the heat, humidity, or rain. On rainy days, I even grab an umbrella and go for a walk in the rain. Try it. It is so liberating!
Everyone always asks me where I got my white beach cruiser. It is the brand sixthreezero, if you are interested!
Get outside and recreate responsbily. Move your body.
Get outside – your body and soul will feel so much better!
Stick Close to Home & Savor the Moment
Once we stopped resisting the situation's reality, we canceled all our plans and decided to stick close to home.
We have found new green space to explore and have begun exploring the local lakes and parks for paddle boarding, walking, and camping.
Being home more has given me an even greater appreciation for the little things – literally.
We find much peace watching the hummingbirds in the afternoon, followed by the fireflies.
Sticking close to home has allowed me to slow down and savor these moments again. Savor moments like when I was a child chasing fireflies in the back yard.
Do you have fireflies where you live?
Have Fun in the Kitchen
I bake and cook almost every day.
Not eating out has not only been easy on the wallet, but it has been easy on the waist! There is something about cooking that really brings love into the soul.
Savoring delicious home-cooked meals is sure to promote the happiness function in your life.
We also have got into the habit of buying in bulk. My husband's favorite store is literally SAMs Club. Buying in bulk saves us so much money on food and toiletries.
Buying in bulk is also a more sustainable lifestyle practice because it promotes less waste. It also means we go to the store way less.
Read New Books
There is something truly relaxing about reading a good book.
Late last year, I wrote another article about the books I read last summer that made significant impacts on my life during the pandemic.
My favorite authors have been Gabrielle Bernstein, Michael Singer, Dr. Brian Weiss, and Marianne Williamson.
Their books are sure to empower, excite, and rock your world!
Watch Amazon Prime and Netflix
We love watching TV. With a little more downtime, we have really been enjoying streaming TV at an affordable price.
Not an Amazon Prime Video member? You are missing out. Click to get Amazon Prime video now! You will love it!
Live in the Moment
I had no idea what was happening in the world around March 2020. I think a lot of people could relate to this feeling. We were literally packed and ready to fly to Argentina to visit Pablo's Mom the day before President Trump announced international travel bans, along with the Argentinean President.
There was quite a bit of fear and uncertainty going through my mind. But then I remembered the wise words I have heard from many yoga and meditation masters about living in the moment.
I woke up and decided to live each day and not think or stress about things out of my control! I chose not to get caught up in what would be happening tomorrow, a month from now, six months from now.
None of these thoughts really matter.
Be present, especially if the pandemic is causing fear and anxiety.
Being present has helped me tremendously. I can't believe we have been living in a pandemic world for over a year already.
We are hopeful for the future!
Practicing all of these ways to be happy continues cultivating a strong foundation for the rest of our lives.
Have a Daily Gratitude Practice
Every morning I wake up and start my day with things I appreciate, what I am grateful for, and that I will live in the present moment.
This has been a game-changer – it sounds silly – but it really is a GAME CHANGER.
In many of the books I read over the last year, the reoccurring theme was cultivating a mindset that promotes happiness, gratitude, and appreciation.
Once you cultivate this mindset, you raise your energy frequency in the universe. You raise your energy frequency to gratitude and appreciation. Therefore, you attract more of the good stuff!
Most days, my list starts off with, "I am so grateful for this delicious warm cup of coffee (with soymilk)," followed by, "I am grateful for my husband, my dog, my life, the sunshine, a comfortable bed, home, good health, and food."
Finding happiness during COVID-19 requires conscious self-work, from my personal experience.
Find a Support System
If you feel worried but are not sure who to talk about things with – talk about it with yourself. Get a journal.
Write ways to enjoy the day amid the pandemic in your journal. There are tons of excellent journals on Amazon.
Journaling is another way to focus on gratitude and abundance.
I have this neat yellow journal by Taotree (because yellow screams happiness to me):
You can also find a life coach or therapist without ever leaving your house. There are many professionals online offering telemedicine now.
It is OK to feel emotions. I have learned to let them pass through. Some days I cry, some days I laugh. I think it is pretty normal!
Humans are super resilient, and we are all going to get through this one day at a time. It is all part of the life journey.
Stand tall. Be strong.
Do Something Nice for Someone Else
It feels so good to do something nice for others.
Send a friend or family member a text and wish them a beautiful day. Mail a notecard. It is easy to wish someone well and can really brighten someone's day.
Doing something nice for someone else is a good way to help with how to be happy during the pandemic.
Simple Guide to Enjoying Life During the Pandemic
I hope these ten ways to feel happier during the coronavirus pandemic speak to you.
Here is a summary of easy tips to stay happy and calm amid the pandemic.
Have Some Fun Wearing Masks
Get Outside Every Day
Stick Close to Home & Savor the Moment
Have Fun in the Kitchen
Read New Books
Watch Amazon Prime and Netflix
Live in the Moment
Have a Daily Gratitude Practice
Find a Support System
Do Something Nice for Someone Else
I am wishing you all a beautiful day. Be sure to get outside!
Thanks for reading.
Ashlee
"When you meet someone, you can silently send them a blessing, wishing them happiness, joy and laughter. This kind of silent giving is very powerful."

– Deepak Chopra
---
You might also enjoy…
Are you interested in more life empowering articles?
Read about my journey going off the grid for a summer internship in Southeast Utah and the powerful life lessons learned from Mother Nature.
Save this article on Pinterest for later!
We would love to hear from you!
What have you been doing to enjoy life amid the pandemic?
Have you been practicing anything on this list?
We would love to hear what you have been doing to enjoy the day amid the pandemic.
Follow us on Instagram