Urban Gems: Americans Think These 16 U.S. Cities Deserve More Recognition
Posted on: September 8, 2023
|
|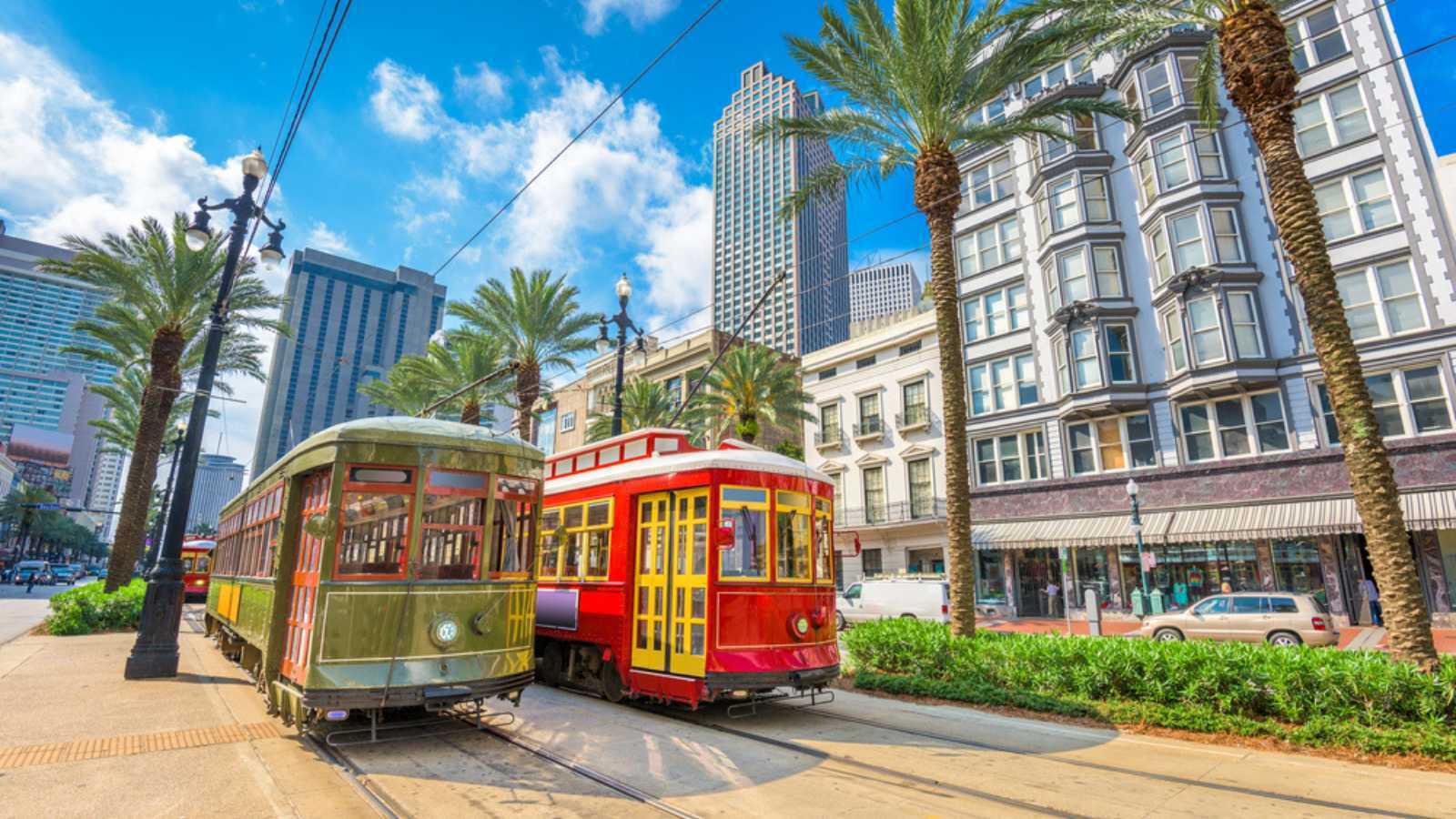 What makes a city worth visiting? We all have different answers. Certain U.S. cities already get swarms of tourists. I'm looking at you New York, Los Angeles, and San Fran. But there are plenty of charming urban gems that deserve more recognition.
Would you explore an underrated city? The lack of crowds would be refreshing, and you might find treasures you hadn't expected. For those who are feeling spontaneous, these 16 destinations are seriously underappreciated, according to Americans themselves.
1. New Orleans, Louisiana
New Orleans has a fascinating history, yet people tend to overlook the city when deciding on road trips or family vacays. But I implore you to consider it. There is plenty of cultural allure here. The architecture is beautiful. Foodies are also well taken care of. Need I say more?
2. San Antonio, Texas
One person raves about San Antonio, describing it as "Texas' historical and cultural heart. There is a perfect blend of Texan and Mexican culture." You know what that means: a mouth-watering fusion of flavorful cuisine.
It's also one of the state's oldest cities, hosting ambient ruins such as the Alamo scattered throughout. Additionally, the center is very pedestrian friendly, with the Riverwalk and La Villita being two special parts of town.
3. Philadelphia, Pennsylvania
Sure, most of us have heard of the Philly Cheesesteak, and you've likely tried what locals would call an "inauthentic Philly." But there's much more to appreciate about Philadelphia than just the famous sandwich. One traveler shares, "I really dug Philly. The neighborhoods, the rivers, Fairmont Park, and the food scene were cool and unique. Lots to love. I'd happily go back again and again."
4. Detroit, Michigan
"It's an interesting city with a good food scene, fun dive bars, and a rich history. It does not get enough love. Plus, Detroit style is second only to NY style," shares a traveler. Another suggests, "Everyone who visits Detroit is blown away because they come expecting a 3/10, and instead, they find out it is a solid 7.5/10."
5. Chattanooga, Tennessee
Everyone going to Nashville and Memphis has been missing out. Many mentioned Chattanooga specifically as a smaller city they love to visit. One person shares they are even considering relocating after a recent visit.
6. The 3 C's: Cincinnati, Columbus, and Cleveland, Ohio
As someone who relocated from a bigger city to the Midwest, I can attest that these Ohio cities have much to offer. These three cities have some incredible art museums, food, and sports. In addition to each city's sports teams and some great places to eat, don't forget to check out the Otherworld Museum in Columbus.
7. Richmond, Virginia
From Virginia natives to visitors, everyone had good things to say about Richmond. One specified: "Richmond is affordable, great food, great beer, mildish weather, central East Coast, and almost driving distance to anywhere on the East Coast." Sounds like the perfect place to road trip.
8. Minneapolis, Minnesota
Minneapolis is said to have "Awesome arts and culture programs, great restaurants and bars, plus a cool Irish music scene." It is relatively affordable and equidistant from many other locations people enjoy traveling to.
9. Kansas City, Missouri
Several people share they have had incredible experiences in Kansas City. It has a thriving art community, a world-class museum, all the coffee shops, bookstores, and breweries you could ever want and a wonderful symphony. Be sure to drive or rent a car since walkability is limited.
10. Indianapolis, Indiana
With good food, friendly people, and beautiful architecture, what's not to like about "Indy?" It's a bit of an up-and-coming destination for trips, but there's plenty to do while you're there. Take a beautiful trip on a bike trail, and check out the vibrant art and music scene.
11. St. Louis, Missouri
A traveler says, "St. Louis is a legitimately cool city. It's an older city, so there are a lot of walkable neighborhoods and older buildings. Many of the museums are world-class.
They have an extremely varied food scene, given the size of the city. The botanical gardens are the best I've ever been to, and there are quite a few large beautiful parks. On top of that, it's incredibly cheap, but many jobs pay pretty decently."
12. Sacramento, California
It's not as famous for being fun to visit as San Francisco, but if you like NorCal, you should take a trip to Sacramento. Someone shares, "There are more trees than most any big metro area, a couple of rivers, and a nice old town pioneer tourist area. It's actually bigger than Atlanta.
It has a decent mix of things for outdoor activities as well as venues big enough for concerts. It rarely snows, but you can drive to where it does within a couple of hours. The ocean is a couple hours' drive away as well."
13. Albuquerque, New Mexico
"I might be a little bit biased on this (my wife is from New Mexico)," shares one fan of this New Mexican city. They go on, "There is amazing food, a great beer scene with tons and tons of breweries, it is really cheap, there is a lot of culture and history, tons of outdoors activities, and a relatively good climate with hot days during summer but cold nights due to being a high-altitude desert."
14. Chicago, Illinois
One fan of the "Windy City" shares, "I always tell people I was most positively surprised by Chicago. I don't know why, but I had a preconception that it was a very "gritty" city, but my experience staying downtown for four days, walking around, taking trains and busses, and exploring was awesome.
15. Boston, Massachusetts
"Boston gets a lot of bad publicity, but it's pretty cool and one of the most shockingly clean cities I've ever seen," shares one visitor of "Beantown," famously nicknamed for its baked bean history.
16. San Juan, Puerto Rico
"San Juan, Puerto Rico, is excellent and gets completely overlooked because it's a U.S. territory," shares one traveler. "The food scene throughout the city is hip in an international way." They go on, "You got the beaches right in the city. The historic center dates back hundreds of years. The Condado neighborhood has an excellent nightlife. The place is great and is just a four-hour flight from NYC. San Juan is severely overlooked."
"I Love It Here!" 20 Best Small Towns in America for Your Bucket List
Are you seeking a respite from the busy and noisy urban lifestyle? Look no further than America's small towns. From the quaint and charming to the downright quirky, small towns across the country offer unique experiences and attractions. Here are 20 of America's most famous. Where are you going next?
"I Love It Here!" 20 Best Small Towns in America for Your Bucket List
15 Travel Destinations "So Difficult" To Visit They're Worthy of Your Bucket List
Sometimes, you have to "risk it for the biscuit" (as we say in South Africa), which travelers often do to get to a beautiful or bucket-list destination. These 15 off-the-beaten-track destinations are so challenging to get to that it's an achievement when you reach them.
15 Travel Destinations "So Difficult" To Visit They're Worthy of Your Bucket List
15 Epic Travel Experiences Around the World People Swear By, Have You Been?
The world has no shortage of epic experiences. Every country is ripe with adventure if you have an idea of your interests and are willing to look. For those wondering where to start the search, here are 15 travel experiences people in one online community swear by.
15 Epic Travel Experiences Around the World People Swear By, Have You Been?
15 Dangerous Cities in America You May Reconsider Visiting or Moving To
You're excited about planning a trip or considering moving to a new city. Still, you need to learn more about your destination. So it's beneficial to keep up-to-date about how safe your chosen location is. We all know cities have their vibe and cool stuff, but there's also the not-so-fun side of potential risks. Violence and property crimes make up the issues currently facing the following cities.
15 Dangerous Cities in America You May Reconsider Visiting or Moving To
15 Incredible Places in the U.S. You Might Not Have Realized Were UNESCO Sites
There's nothing better than discovering there's even more to a place than you thought. Whether you know it or not, these 15 incredible places in the U.S. are UNESCO World Heritage Sites and all worth visiting.
15 Incredible Places in the U.S. You Might Not Have Realized Were UNESCO Sites
Where indicated, some images courtesy of Depositphotos.com.
Source: Reddit