Hey there! Welcome to The Happiness Function!
We're Ashlee & Pablo Fechino!
The Happiness Function is a blog inspiring happiness through travel and outdoor recreation in the US.
Friends, experience is the best gift you can give yourselves along with fresh air and sunshine.
Do you have a bug to be outdoors? Do you like feeling happy!?
We sure do.
The Backstory
Pablo and I have lived and traveled all over paving the way for us to find authentic happiness. We live for traveling, exploring, and being outside. We want to share these experiences with you!
First off, we are so psyched you're here! HELLLO!
Pablo is from Argentina and I am from South Dakota. At this instant, you might be wondering how two people fell in love from opposite parts of the world (literally). Keep reading for the juicy details!
Pablo and I met in Breckenridge, Colorado through friends. It was our enthusiasm for snowboarding, the mountains, music, and coffee which set our love story in motion. I taught him how to take his '97 Toyota truck off-road boondocking (camping) on public land in Colorado and Utah, and he taught me how to be a better snowboarder. I'll let Pablo save a post for you for another time about me driving his truck on back roads. He will probably tell you a story about how I drove the truck through a river but really it was a stream (wink, wink).
We Eloped in Colorado
Without delay, we got hitched! We eloped during a snowy day on the Colorado National Monument a year after dating. It was perfect and only took two days to plan. Now, in Colorado you can marry yourselves for those of you not interested in overpriced shenanigans!
Read our post on our elopement here.
Little More on Me, Ashlee
I went to undergraduate and graduate school in Colorado and majored in science solely because of my passion for nature, hiking, wildlife, being outside, and being more sustainable. The best part about college was the Outdoor Program! The Outdoor Program taught me how to be a different kind of outdoors woman. In time, it taught me how to backpack through international countries, adventure off-grid, be more sustainable, and do more with less money.
I'm a South Dakota girl from the Black Hills (yep, right by Mount Rushmore). In fact, I grew up being outside hiking, riding horses, and taking care of farm animals.
I'm the main writer on the blog. My favorite post written is about a summer internship living off the grid in Utah and the profound life lessons learned that summer in the Utah backcountry.
Little More on Pablo
Pablo is originally from Argentina. He also loves being outdoors and has a worldly sense of adventure. Significantly, Pablo spent over 10 years doing back to back ski and snowboard seasons as an instructor in the Colorado Rockies and Andes Mountains of Argentina and Patagonia. Pretty sweeeet!
Meet Sunny the ATD
Most important, meet Sunny, the chihuahua! He is a tiny ATD (All Terrain Dog)! He loves to camp and standup paddle board!
Our Recent Move to Oklahoma
We lived in Colorado for over 10 years and LOVED it! To begin with, Colorado was a gateway to traveling and outdoor recreation together.
A few years ago, we moved from Colorado to Tulsa, Oklahoma. Pablo and I had promising work opportunities. As a result, we packed the ATD and moved from the west to the south!
Nevertheless, it has been a neat personal growth experience living in a bigger city. Tulsa is in the middle of the U.S. so we have access to many places. Moving to Tulsa has taught us that you don't necessarily have to live in a rural place to have access to outdoor recreation. Moving to Tulsa also gave us the courage to start this blog!
Our Dreams at The Happiness Function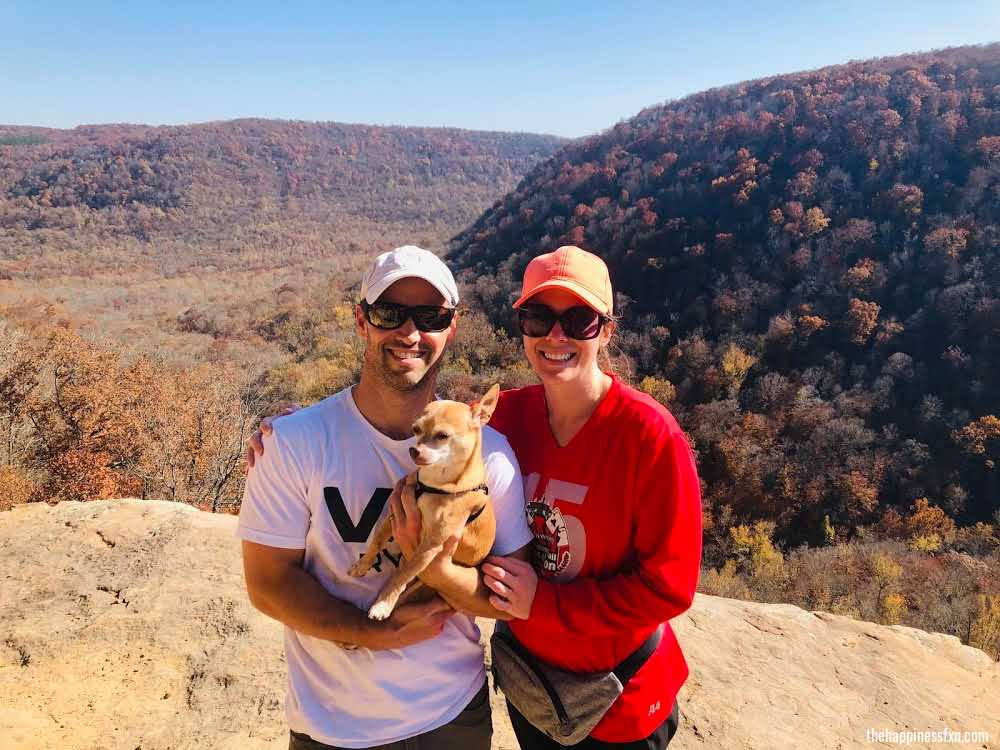 Pablo and I have been on a journey walking to our own beat, going against social norms working to find happiness, wealth, and health in all we do to achieve our dreams. For this reason, we want to share these moments and thoughts with the world. We want to share the spectacular places and activities we have done so you can experience them too!
Overall, joy is contagious and having fun experiences and living in inspiration makes the world a better place.
With this in mind, for some of you, this may be in your backyard, hometown, a nearby state, or even a new country. We will talk a lot about the U.S., some Argentina, and any other places the wind takes us.
In essence, our goal is to write about traveling, exploring, sharing the good life, and inspiring others to be courageous, wild, and free.
Pablo and I will take you on our journey getting back to nature and exploring the outdoors. Accordingly, we are total outdoor junkies and gear-heads and plan to make awesome recommendations along the way. Now, let's get outside and go camp, hike, bike, standup paddle, snowboard, or whatever, and visit a new place!
Namaste & Chau!
Finally, thanks for stopping by. We are so grateful for our online community.
By and large, if you have questions about places we have lived or traveled, please reach out! We love sharing the happiness function in our life and sharing the good word.
Follow us on Instagram