First Timer's Guide: Best Things To Do in Nashville by Neighborhood
Last Updated: Nov 16, 2023
|
|
Comments Off

on First Timer's Guide: Best Things To Do in Nashville by Neighborhood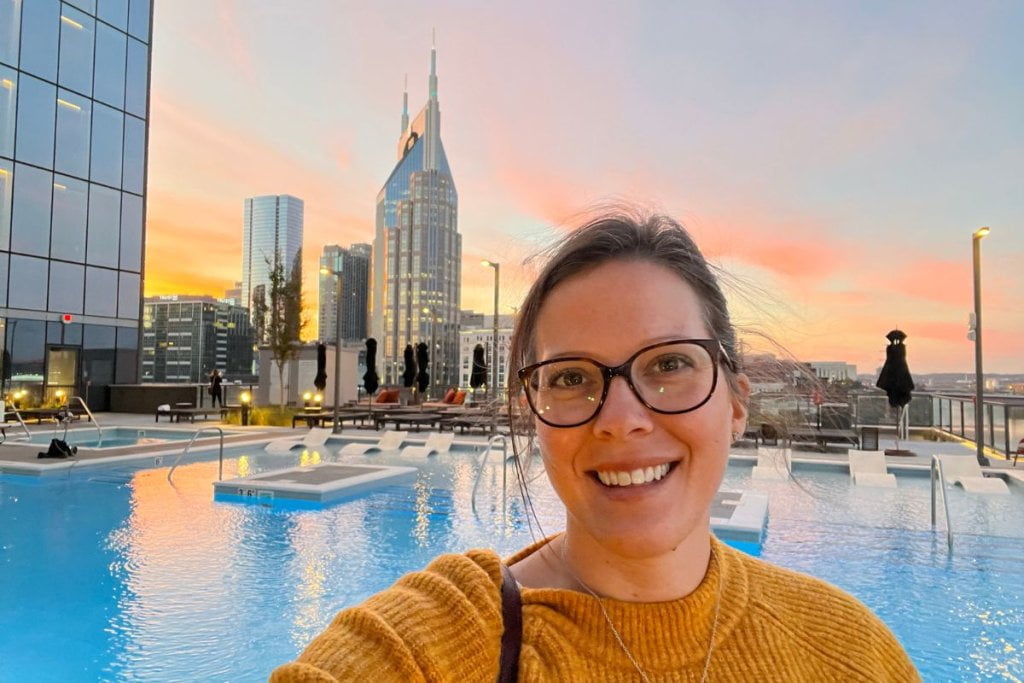 In Nashville, Southern hospitality is the heart of the community, music tingles the senses, and good food warms the soul. Music legends like Dolly Parton, Johnny Cash, Patsy Cline, and others helped put 'Music City' on the map. Discover some of the best things to do in Nashville, from seeing a world-famous Grand Ole Opry show to pigging out on Tennessee BBQ. I've got you covered on what to see, where to eat, and stay your first time visiting.
Top Things To Do in Nashville: What To See, Where To Eat, and Hear Live Music
I've been dreaming of visiting Nashville for years, and when the Nashville Convention & Visitors Corp (Nashville CVC) invited me for a hosted stay, I jumped at the chance. All opinions are my own. Here's a breakdown by each popular neighborhood.
The Gulch
Highlights: Frist Art Museum, Gibson Garage, Peg Leg Porker BBQ, Third Man Records
The Gulch prides itself on being a LEED-certified community. Fun things include exploring the Frist Art Museum (inside a historic Art Deco building) and the Gibson Garage. Park at the museum, and when you're done viewing the exhibits, walk to the Gibson Garage.
When you walk inside the Gibson Garage, I bet the first thing you'll think is, "Wow." Demo the guitars, buy some swag, and maybe you'll even see a famous musician walking around.
After you've had enough electric or acoustic fun, drive or catch a ride to Peg Leg Porker BBQ. I had the ribs, potato salad, and green beans. Oh, and don't miss trying the Kool-Aid pickles. They are just what they sound like – pickles soaked in Kool-Aid. I've got to get my hands on Pitmaster Carey Bringle's BBQ for Dummies book because that's some good cooking.
To walk off the BBQ food coma, visit Third Man Records, the brainchild of musician and entrepreneur Jack White (from The White Stripes). Fans can buy tickets to tour the facility, learn how vinyl records are created, and get a peek at the day-to-day operations. No pictures are allowed inside; I won't spoil details for you now. You'll have to see for yourself.
SoBro
Highlights: Country Music Hall of Fame & Museum, Martin's BBQ Joint, Hatch Show Print, Good Goo Clusters
The South Broadway (a.k.a. SoBro) neighborhood is home to Nashville's newer venues, hotels, and restaurants. Spend a few hours checking out the Country Music Hall of Fame & Museum and then grabbing lunch at Martin's BBQ Joint. Both are local favorites.
After lunch, tour the Hatch Show Print, well known for creating the show posters of many famous musicians, including Elvis. Then, swing by the Goo Goo Cluster Shop, where you can make your own candy bar! Emphasis on the "!" (I get excited about chocolate).
East Nashville
Highlights: Jane's Hideaway, The Fox Bar & Cocktail Club
The locals like to go to East Nashville for eclectic shopping, coffee, dinner, and drinks. Check out Jane's Hideaway for dinner and live music, and then head to speakeasy The Fox Bar & Cocktail Club for after-dinner craft cocktails. I don't know about you, but I think speakeasies are fabulous.
North Broadway + Downtown
Highlights: Ryman Auditorium, National Museum of African American Music, Nashville Barrel Company, Ophelia's, Printer's Alley, Musician's Hall of Fame & Museum
Ryman Auditorium is one of the most iconic music venues in Nashville. It hosts over 200 shows a year. If you're not visiting for a performance, you can take a tour to learn how the Ryman Auditorium was the previous home of the Grand Ole Opry and other fun facts.
While exploring this part of town, spend time at the National Museum of African American Music. My favorite part about the National Museum of African American Music is reading about all the artists who helped shape music in America, from the blues to jazz and hip hop.
While in the area, explore the entertainment district hailed as Printer's Alley. It was a booming place for speakeasies during the Prohibition Era, followed by nightclubs in the 1940s. Jimi Hendrix was even known for playing in clubs here back in the day.
If you love music, add the Musician's Hall of Fame & Museum to your Nashville vacation.
Local favorites for grabbing drinks or lunch are at Nashville Barrel Company and Ophelia's. Ophelia's has pizza!
12 South
Highlights: Trendy Neighborhood, Shopping, Instagram Worthy Murals
12 South is great for walking around, dining, shopping, and finding locally created goods. Fragrance lovers will appreciate the Ranger Station, and if you're looking for authentic U.S.-made clothes, imogene + willie is where to go.
Photographers will love seeking out the colorful murals in this part of town.
Belmont-Hillsboro Village
Highlights: International Market, Belmont Mansion, Belcourt Theatre
Close to Belmont and Vanderbilt Universities, this area has a college vibe and is teaming with trendy places to eat and grab coffee. The International Market is a popular place to find fantastic cuisine.
Popular attractions include the Belmont Mansion, a famous antebellum home, and the Belcourt Theatre, where visitors can learn more about film and classic cinema.
Donelson
Highlights: Andrew Jackson's Hermitage, Sweetmilk, Airport
Andrew Jackson's Hermitage is a notable attraction in the Donelson area. Located roughly 10 miles east of downtown Nashville, it's the nation's third most visited presidential estate. You can even see his gravesite.
Start the day by grabbing breakfast or brunch at Sweetmilk – get the cheese grits! Then, take a tour of the Hermitage. Afterward, head to another trendy neighborhood or relax at your hotel.
FYI – Donelson is the part of Nashville where the airport (BNA) is located.
WeHo
Highlights: Art Galleries, Diskin Cider, Adventure Science Center, Present Tense
WeHo, short for Wedgewood-Houston, is Nashville's art district. Have fun touring the local galleries like the Julia Martin Gallery or David Lusk Gallery, then grab a hard cider at Diskin Cider. Diskin Cider is a gluten-free facility for everyone who is gluten-free – like me.
If there's still time, check out the Adventure Science Center. Inside is a climbing gym, planetarium, and more. If you have kids, you'll get a "Parent of the Year" award for taking them here.
Present Tense was one of my favorite places I ate in Nashville. The flavors of all the food were incredible, and they also had many gluten-free options. Get the aged tuna and crispy tofu – I wish I had some right now.
Great Places To Hear Live Music in Nashville on Your First Visit
Nashville is more than country music. In fact, locals want visitors to know that all genres of music can be found across this famous town. The three music areas and venues to check out on your first trip are Broadway, The Bluebird Café, and the Grand Ole Opry.
Lower Broadway
Think of Broadway like you think of "the strip" in Las Vegas. Broadway is a street lined with bars hailed as the Honky Tonk Highway. The cool thing about many of these bars is that there is no cover charge, so you can bar hop all night listening to amazing music.
The Bluebird Cafe
This small venue is a famous place tucked into a strip mall away from the downtown scene. It's the place where world-renowned songwriters come to perform the hit songs they wrote. Think MTV's Unplugged for the vibe. Heads up — tickets for The Bluebird Café can be hard to get.
While there, I enjoyed seeing famous songwriter Victoria Shaw and her friends Andrew Hyatt, Sarah Buckley, and Kaylee Bell. It was incredible, and I loved the intimate vibe.
Kaylee Bell won a Country Music Award (CMA) a few days later. Congrats, Kaylee – I had your song "Keith" stuck in my head for a week. You never know who you're going to see in Nashville.
Grand Ole Opry
People from all over the world flock to attend Country Music shows at the Grand Ole Opry. While visiting, I saw Reba McEntire – the Queen of Country Music herself.
A little history: in 1925, WSM Radio went live with its first show in the Ryman Auditorium. As time passed, the show moved to the Grand Ole Opry, where folks can see live performances now. If you can't attend a concert live, listen in on WSM Radio every Friday and Saturday.
Have dinner and some famous Tennessee hot chicken (hot fried chicken) at Scoreboard Bar & Grill before going to the Grand Ole Opry show – that's what we did.
Where To Stay in Nashville
Gaylord Opryland Resort & Convention Center
The Gaylord Opryland Resort is incredible. It's like staying in a giant greenhouse. The resort has three atriums on nine acres with over 50,000 species of plants.
Accommodations are beautiful, with over 2,000 rooms to choose from. There are 18 dining options and even an indoor waterpark called Soundwaves. The fun doesn't stop there. Guests can take a magical riverboat ride through the atriums.
WSM Radio is also located in-house. I walked by one morning and saw the live broadcast.
The Gaylord Opryland Resort is only a 5-minute drive to the Grand Ole Opry, making it the perfect place to stay if you're in town for a show.
Four Seasons Hotel Nashville
For an elevated experience downtown close to Honky Tonk Highway, the Four Seasons opened in November 2022. It's the perfect place for a romantic weekend getaway for two. The beds are comfortable, the views are incredible, and all the amenities are luxurious. I loved my view of the Cumberland River. It was perfect for watching the sunrise.
The hotel has an infinity pool, gym, spa, and a fantastic Italian restaurant and bar called Mimo. You don't have to stay at the hotel to enjoy their restaurant. There are lots of gluten-free options, and I enjoyed dining here. I honestly can't wait to visit again.
Book directly with the hotel for the best rates, and be sure to ask if there are any special seasonal rates. Guests can secure winter rates from mid-November through March and the third night free when booking directly with the Four Seasons Hotel Nashville.
Where to Fly Into Nashville
Fly into the Nashville International Airport (BNA). The airport is about 15 minutes from downtown.
How To Get Around Nashville
No Car Option – If you're going to stay at a hotel downtown and focus on listening to music and bar hopping along Broadway, you don't need a car. You can catch an Uber or Lyft from the airport.
If you'd like to see all the different neighborhoods and not worry about parking, you can still get away with not renting a car and catching an Uber or Lyft.
Take a Tour – I went on a Nashville City Tour on the second day, and it was nice because our guide showed us the lay of the city. We saw the Parthenon, the Tennessee State Capitol, and Centennial Park and heard unique stories about the community. So, this is a neat option if you don't want to rent a car, but you'd like to see more of the city.
Rent a Car – If you want the freedom to drive around Nashville and head to Lynchburg, Tennessee, and the Jack Daniel's distillery, which I highly recommend, you'll want to rent a car.
Have Fun Visiting Music City
From music and food to culture and historical sites, there are so many things to do in Nashville. Don't worry if you can't do it all in one trip. Nashville's the kind of city you visit again and again.