Adventure Travel Photography Gear We Use To Take Stunning Photos
Last Updated: Sep 26, 2023
|
|
Comments Off

on Adventure Travel Photography Gear We Use To Take Stunning Photos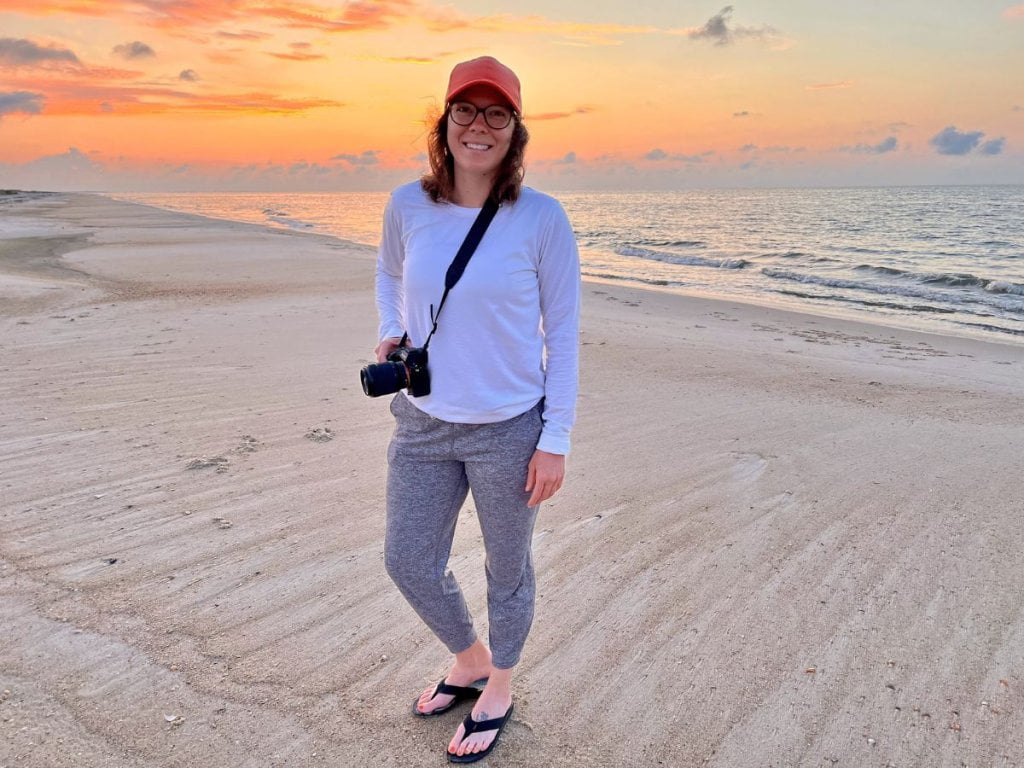 Have you been looking for new camera gear to compliment your adventure travel photography?
Outdoor adventure photography is a fun hobby to invest in. It gets you outside, exercising, and enjoying this beautiful planet.
If you're like us, a lot of the time, you are exploring incredible surroundings that you'd like to capture so you can hold onto the memory for years to come. Places and memories can be difficult to describe through words, so that's why we take photos of them instead.
Adventure photography is an extensive topic, but in this article, we're focusing on the exact equipment we use to capture fantastic photos (and video) while out in nature for a day hike or multi-day road trip.
We hope this article helps you level up your skills. Continue reading to see what equipment we use.
This post contains affiliate links, which means we'll receive a commission if you purchase through our links at no extra cost to you. This allows us to continue publishing free travel and gear guides. Please read our full disclosure for more information. Thanks for your support!
9 Essential Photography Items We Like For Adventure Travel
If you are an adventure junkie and enjoy photographing your travels, or are new to landscape photography, here is a list of the best gear to help you capture stunning photos of this amazing world.
We are sharing the camera equipment we use for adventure travel.
1. Camera Body
A good camera is a must for all kinds of photography, even more so with adventure photography.
As of the summer of 2021, we have been using the Sony a7iii mirrorless camera. This is one of the best cameras for adventure travel.
It is also one of the best cameras for beginners. Why, might you ask? Because you can literally set it to shoot on auto and do little to no edits. We aren't big into photoshop and love how easy the Sony a7iii full-frame mirrorless camera is to use!
The Sony a7iii camera body has multiple options for interchangeable lenses making it super versatile.
As you get better and want to experiment more, you can play with aperture, shutter speed, and other settings to get some jaw-dropping shots. However, if you are just starting out, it's best to use a camera that gives you the most room for error so that even if you aren't an expert photographer yet, you still get epic results.
We started our website in 2020 with some of our older camera equipment. We can honestly attest to how big of a difference having quality camera equipment is when shooting landscape photography and adventure travel. The Sony a7iii is worth every penny.
We think it is one of the best cameras for outdoor photography and landscape photography.
2. Camera Lens
As for our lens, we use a lens wide enough to capture everything in front of us, no matter how close or far away things are.
A standard zoom lens is best for this purpose as it covers all types of lenses without requiring you to change them frequently.
We are currently using the Sony 28-70 mm lens. It is an excellent lens for landscape photography.
You can purchase the Sony a7iii and 28-70 mm lens package (this is what we did).
3. Tripod
A tripod is another essential piece of equipment. It compensates for any shakiness you might feel while holding your camera in front of you and allows you to take photos with slow or faster shutter speeds.
We can really tell the difference when we use our tripod.
We are currently using the UBeesize 67" Camera Tripod (which we purchased on Amazon). It collapses down to 20.1" and is easy to strap onto our hiking bag. It is made from aluminum, but it is durable when we are hiking and on the rocks. Most importantly, we trust setting our expensive camera on top of the Ubeesize Tripod.
We also bought the 67" version because it provides a lot of stability and versatility for shots. The legs are adjustable, which helps for shooting on uneven surfaces while hiking. And the height allows us to take portfolio-type photos as well as far away landscape photos.
Camera Accessories For Adventure Travel
4. Camera Case
There are so many options when it comes to camera cases. Because we have a lot of hiking bags we already love, we elected not to reinvent the wheel with a new bag. So, we purchased a small camera case that would fit into one of our many existing hiking bags.
We stow our camera in a GoScope Alpha Pro Case.
Our Sony a7iii with the 28-70 mm lens fits perfectly in this case with the strap attached. We like that this case is hard-sided, so if we happen to drop our bag, the camera will be protected.
We keep the camera body and lens detached while transporting our equipment in the GoScope Alpha Pro Case when it's tucked away in our hiking bag.
We fly with this, travel overseas, and more. It is great.
5. SD Cards
The SanDisk 128 GB Extreme Pro Memory Card is temperature proof, waterproof, and shock perfect.
Perfect for outdoor travel photography.
6. Camera Cleaning Kit
It is so important to have a camera cleaning kit on hand at all times when carrying your camera around.
We have a basic cleaning kit. We purchased the Altura Photo Professional Cleaning Kit on Amazon, and it saves us almost every trip.
Shooting landscape photography, dust will magically appear on the lens, or you might accidentally touch the lens filter, or you might even accidentally drop the lens filter or a lens cap. So, it is great to have a cleaning kit when you're off in the woods.
Keeping your camera equipment clean with make it last a long time.
7. Lens Filter
We have a Platinum 55 circular polarizer lens filter. We purchased the Platinum filter at Best Buy.
The lens filter helps you shoot during the day. It reduces internal lens flare and reflections. It also helps improve color saturation. We purchased this filter because it is recommended for outdoor landscape photography.
8. Why We Use A Smartphone For Adventure Photography
Yes, we use our smartphones for lots of social media posts and short videos. Why not! These days, Apple is making some impressive phones. We are currently using the iPhone 13 Pro (I know, we could upgrade, but we don't need to).
iPhone Pros are a great alternative for creating content and photos to share on social media. They are also easier to transport when traveling.
Get a durable case to protect your phone, like this.
9. Portable Charger
Since we also use our iPhone for offline trail maps, we always bring a portable battery charger when we are road tripping, camping, and on the trails.
What We Learned From Our First Adventure Travel Photography Trip
Along with getting comfortable with expensive camera gear, there are some tips we have learned along the way we wanted to share with our readers.
Always bring extra lens caps. It is pretty easy to drop one or lose one, and you always want to protect the camera lens.
Bring a lens filter. Not only does a lens filter protect the primary lens, but a tinted lens filter will also allow you to take photos during the middle of the day when the sunlight is harsh.
Yes, golden hour and blue hour make for epic shots, but you can shoot in the middle of the day or late morning, in the right conditions. We do.
Give yourself plenty of time. Don't be in a rush. Take your time and enjoy the views.
Explore different angles. Set up your tripod. Shoot photos from low on the ground or higher up. Try capturing photos up-close and far away. Shoot landscape and horizontal.
Every photographer has their own style when it comes down to how they want the shots in front of them.
Play with the natural lighting. Take photos during golden hour, blue hour, during the day, and at sunset.
Take lots and lots of photos! Don't be afraid to take hundreds of pictures on one hike. Just know that in 100 images, you might totally only love three. But, that is part of the magic of creating memories.
Don't forget the cleaning kit. You will drop filters and lens caps.
Take your time – get to know your equipment. Enjoy the views and beautiful surroundings. This is what adventure photography is all about!
Have Fun Out There
Adventure travel takes us places where we can see things from a perspective different from our usual routine and perhaps even help make the world a better place by using photography and social media to tell a story of how important it is to preserve nature.
We hope this article inspires you.
We also hope it helps you take your travel photography game up a notch.
Thanks for reading.
Ashlee & Pablo
Save On Pinterest!