How to Hike Pedestal Rocks and Kings Bluff to Epic Rock Formations
Posted on: July 4, 2023
|
|
Tucked in the mountains of North Central Arkansas, the Pedestal Rocks scenic hiking area is one to add to your day hike bucket list! The geology you'll see exploring both the Pedestal Rocks and Kings Bluff Trails makes for an incredible outdoor adventure. So pack your favorite hiking gear and camera, and read on to get the scoop on how to hike in this special place in the Ozark Mountains with jaw-dropping scenic views!
This post contains affiliate links, which means we'll receive a commission if you purchase through our links at no extra cost to you. Please read full disclosure for more information. Thanks for your support!
Where Is the Pedestal Rocks Scenic Area?
The Pedestal Rocks hiking area is located near Pelsor, Arkansas.
Since cell phone reception is hit and miss in the Ozarks, map your route ahead of time while you have cell reception.
There is signage off the highway the closer you get, so it is easy to get to the trailhead. The trailhead is well-marked and right off the road.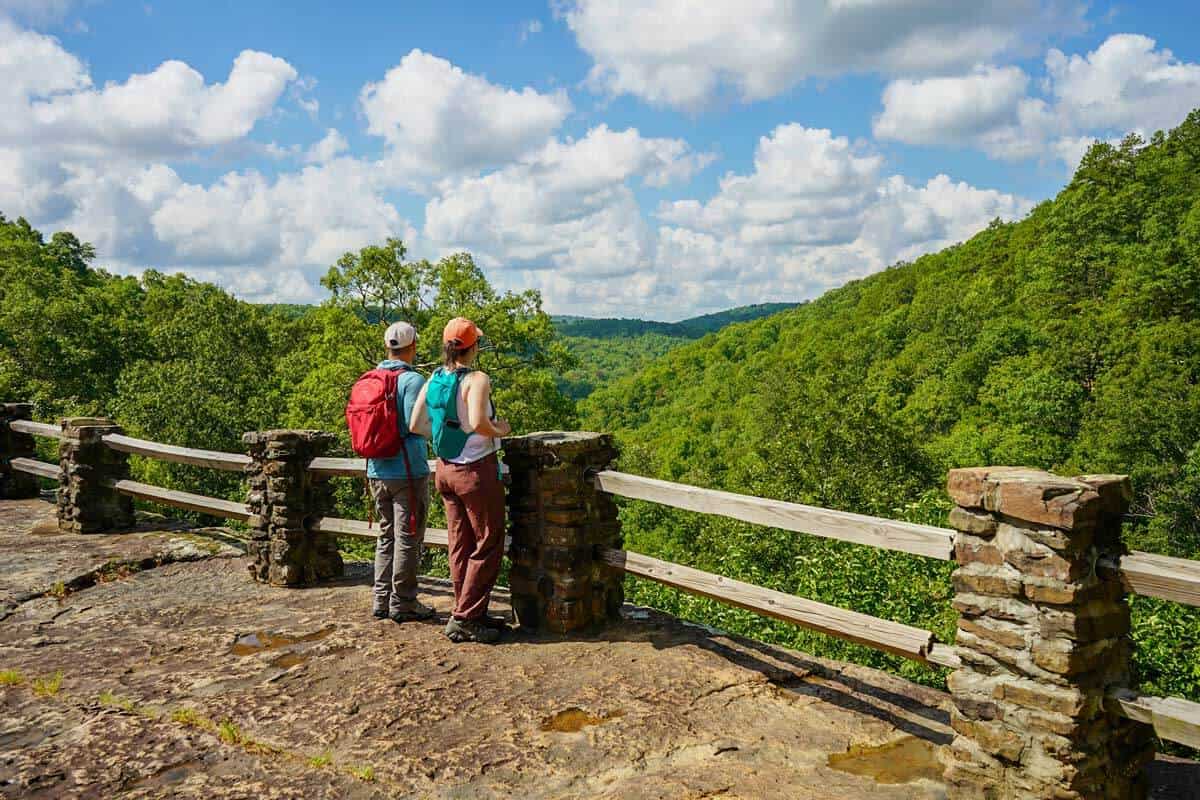 Pedestal Rocks and Kings Bluff Trailhead Details
This loop trail leads hikers through the forest and along bluffs with epic views of rock formations, natural bridges, caves, and mountain valleys.
The majority of both trails are shaded unless you're hiking through the rocks.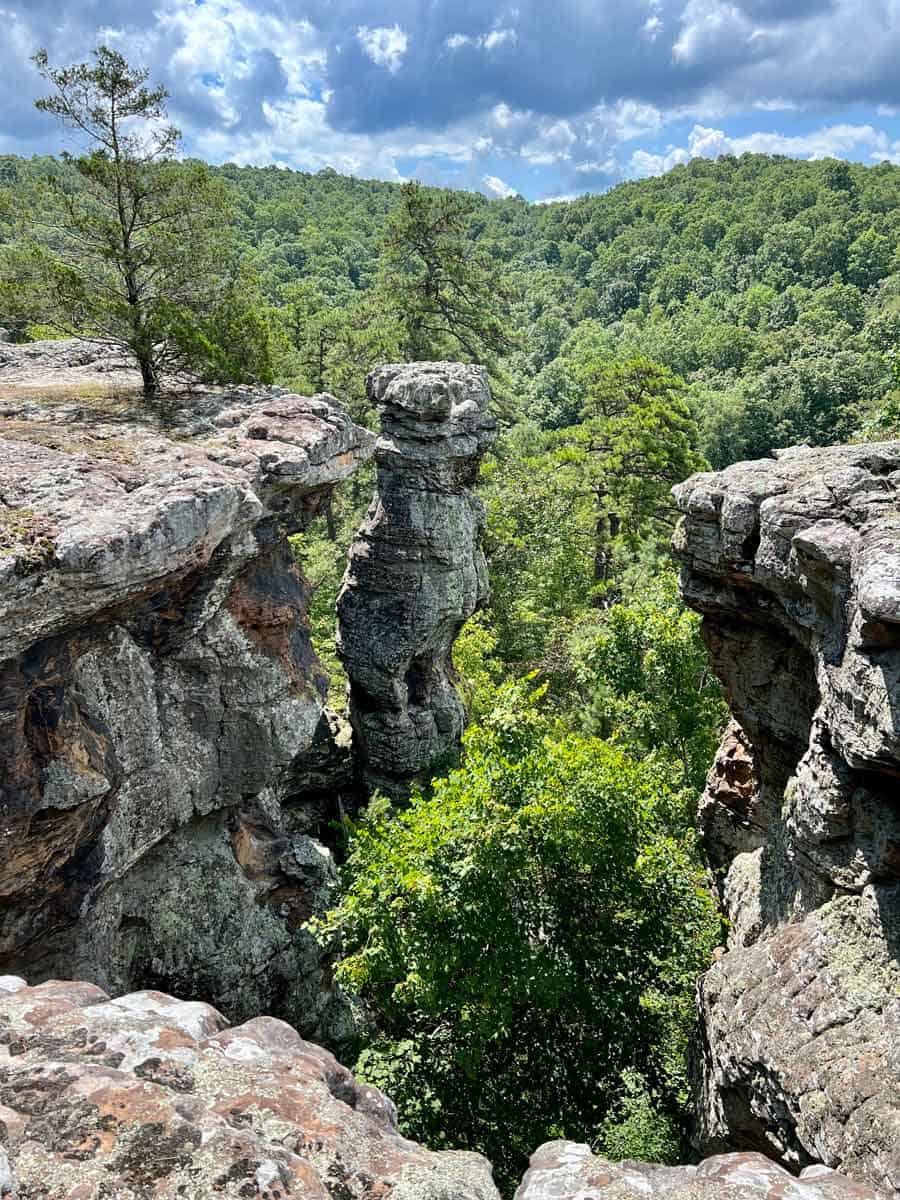 Best Time to Hike
The trail is accessible year-round.
The best time of year to hike depends on your seasonal preference and weather.
Hiking in the summer will be beautiful, lush, and hot.
You'll enjoy the beautiful fall foliage the Ozarks display and cooler temperatures during the autumn months.
Winters are relatively mild, so hiking will be weather dependent.
And, in the spring, you will see larger waterfalls.
Practical Advice
Hike the Loop Counterclockwise – When you first start down the trailhead from the parking lot, you'll walk over a little bridge. Keep going, and you'll come to the Kings Bluff Trailhead. It is marked with a sign. Hike Kings Bluff first – which will allow you to hike the loop counterclockwise. This gives you more time to explore the Pedestal Rocks area, where you can wander down into the caves and explore the remarkable rock formations.
Bring Hiking Poles – If you're the first on the trail, there will be many spiderwebs!
Watch Where You Step – Cliffs, bluffs, crevasses, and ledges without railings exist. Be mindful and careful to stay safe.
Bathroom – There is a toilet at the trailhead.
Cost – There is no cost to hike or park here.
AllTrails App – The trail is well marked, and we used the app to get to the trailhead, but we didn't use the app for hiking.
Are Dogs Allowed?
This trail is located within the Ozark National Forest, and dogs are permitted.
You'll want to keep your dog(s) on a leash since there are steep bluffs and places where a dog could easily fall into a crevasse.
Our Experience
We were blown away when we hiked Pedestals Rocks and Kings Bluff! It has been on our Arkansas day hikes bucket list for a long time.
Pablo and I visited in August during the middle of the week, and we didn't see anyone else on the trail. One other car was in the parking lot, but our paths never crossed.
We hiked the loop counterclockwise, trekking the Kings Bluff section first.
Two waterfalls at the Kings Bluff area might be running depending on the time of year. They were both little trickles when we hiked in August.
Our favorite part of the Kings Bluff Trail was the incredible rock formations! This hike is famous for them.
After taking in the geological sights and getting some photos, we continued to the Pedestal Rocks Trailhead.
Along the Pedestal Rocks Trail, you see a split where you can hike on top of the ledge or go lower. The best part is to go to the lower section first. We climbed around, explored the caves and rock windows, and were just in awe of the area before heading back to our truck. There is so much to see.
Overall, it took us longer to hike than the AllTrails app said because we like to take pictures, have a snack, drink water, and enjoy ourselves. It took us around three and a half hours to stroll around.
When you're on the lower section of Pedestal Rocks, explore the incredible caves, natural bridges, and window rocks. They are awesome!
Hiking Gear
Hiking is better with the right gear! Below is what we are wearing hiking the Ozarks if you need some recommendations.
Hiking Boots – Pablo and I are both obsessed with Oboz hiking shoes.
Hiking Pants – KUHL makes great hiking pants for both men and women. My favorite loose-fitting pants are these. I prefer more loose-fitting to stay cooler in the summer. Pablo is wearing these pants.
Hiking Socks – Have you tried FITS SOCKS yet? They are so comfortable.
Shirts – Wear any sweat-wicking shirts to stay dry and comfortable.
Hiking Poles – I always hike with hiking poles, especially in remote places.
Day Pack – This is a shorter hike, so bring a bag big enough for snacks, water, a camera, and your usual hiking creature comforts. The day pack I'm using this summer is this, and here is the bag Pablo is using.
If you are in Arkansas – check out one of our favorite local gear shops, Gearhead Outfitters, to gear up for your adventures! We are brand ambassadors for them and love their stuff.
Final Thoughts
If you like hiking through a forest that leads to spectacular views of rock formations, this hike is for you! It is one of our favorite areas to hike in due to its remote, rugged, and wild landscape.
If you love getting outdoors and exploring natural areas in Arkansas, be sure to check out more of our Arkansas articles. We can help you plan the most epic adventures.
Happy Hiking.
Ashlee & Pablo
---
Get More Arkansas Outdoor Inspiration
We Want To Hear From You
Have you hiked in the Pedestal Rocks Scenic Area?
Tell us about your favorite hike in Arkansas!
Please practice Leave No Trace while enjoying the outdoors.