Petit Jean State Park Arkansas: Incredible Things You Need To See
Last Updated: Oct 9, 2023
|
|
Arkansas has some of the best state parks in the USA! One of them, Petit Jean State Park, is on Petit Jean Mountain.
Petit Jean State Park was one of Arkansas's first state parks – and rightfully so. It is home to several different activities for outdoor enthusiasts. There are epic hiking trails, ranging from easy to strenuous, that wind throughout the natural landscape. The park also has camping facilities for campers who want to enjoy the great outdoors in the Arkansas Ozarks. Visitors can even rent yurts!
The amazing views and quiet serenity of nature can be even more enjoyable while spending a night or two under the stars. If you like to hike, camp, and enjoy beautiful mountain views, this state park is perfect for you. 
Things To Do at Petit Jean State Park
Petit Jean State Park is a favorite destination for those living in Arkansas or visiting from out of state (like us Oklahomans). It is a great weekend getaway in Arkansas.
The park has so many outdoor activities. Folks visiting can hike, bike, canoe, kayak, camp, and spend time soaking up the mountain views.
Ready to find out where to see more views like the pictures above and below? Keep reading to get all the details!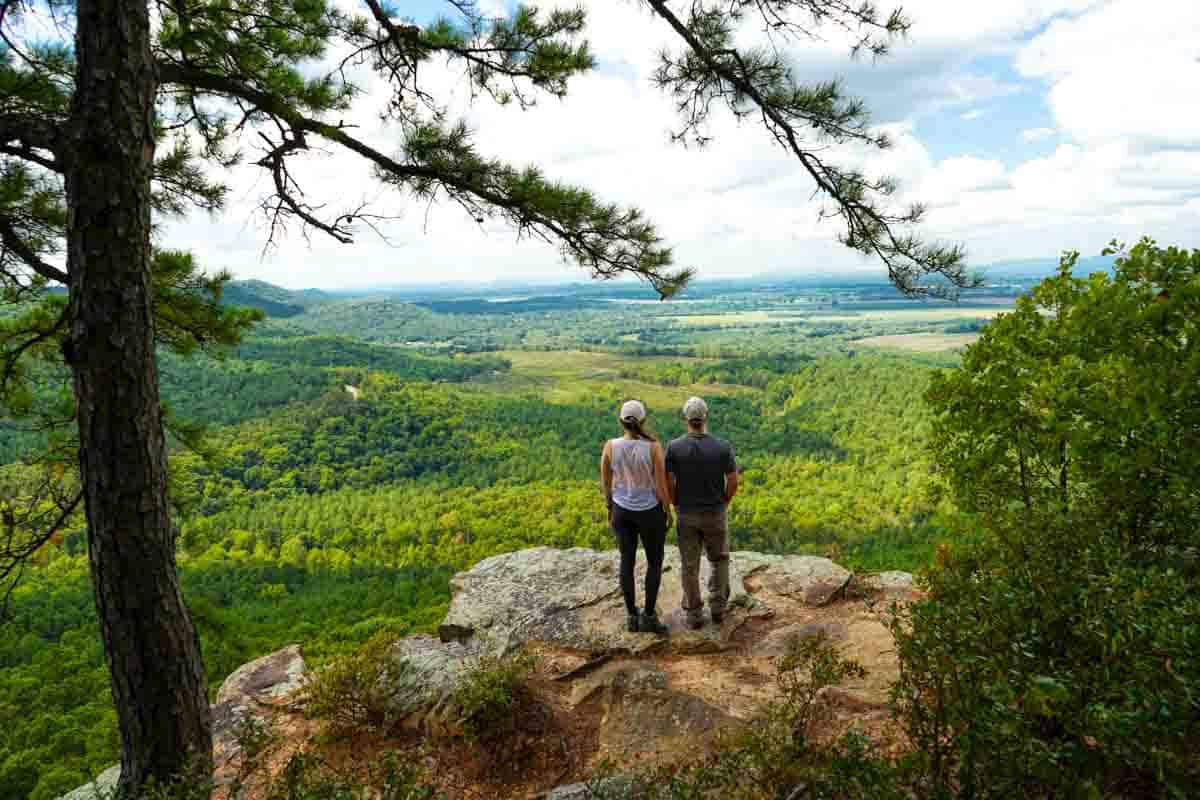 Petit Jean State Park Hiking
Petit Jean State Park is home to some of the best hiking trails in Arkansas with really cool geology. The hiking is one of the main reasons we ended up visiting in the first place.
All of the trails are well maintained and well-marked. Some trails are easy, while others are more difficult.
Petit Jean Mountain is a naturally beautiful place to spend an afternoon exploring.
Since hiking is one of the most popular activities, we're sharing all the best trails to hike below.
Read exactly what to wear hiking in Arkansas.
Petit Jean Trails Not To Miss
Rock House Cave
Difficulty: Easy
Distance: ¼ mile – gravel trail
Time to hike: ½ hour to an hour (if taking pictures and looking for pictographs)
The Rock House Cave is a hidden gem in Arkansas. It's just 1/4 mile from the parking lot, making it easy to access for all levels of hikers.
The cave itself isn't a true cave. Instead, it is a huge bluff shelter. It contains incredible rock formations and drawings on its ceiling by ancient peoples who used the space.
This is a popular hike; even during the week, we waited to get photos of the Rock House without other people inside. We recommend visiting early to beat the crowds.
Trip tip: it is easier to see the pictographs using a flashlight or looking through your phone camera. Some of the pictographs are bronze-colored and need a little light to be seen.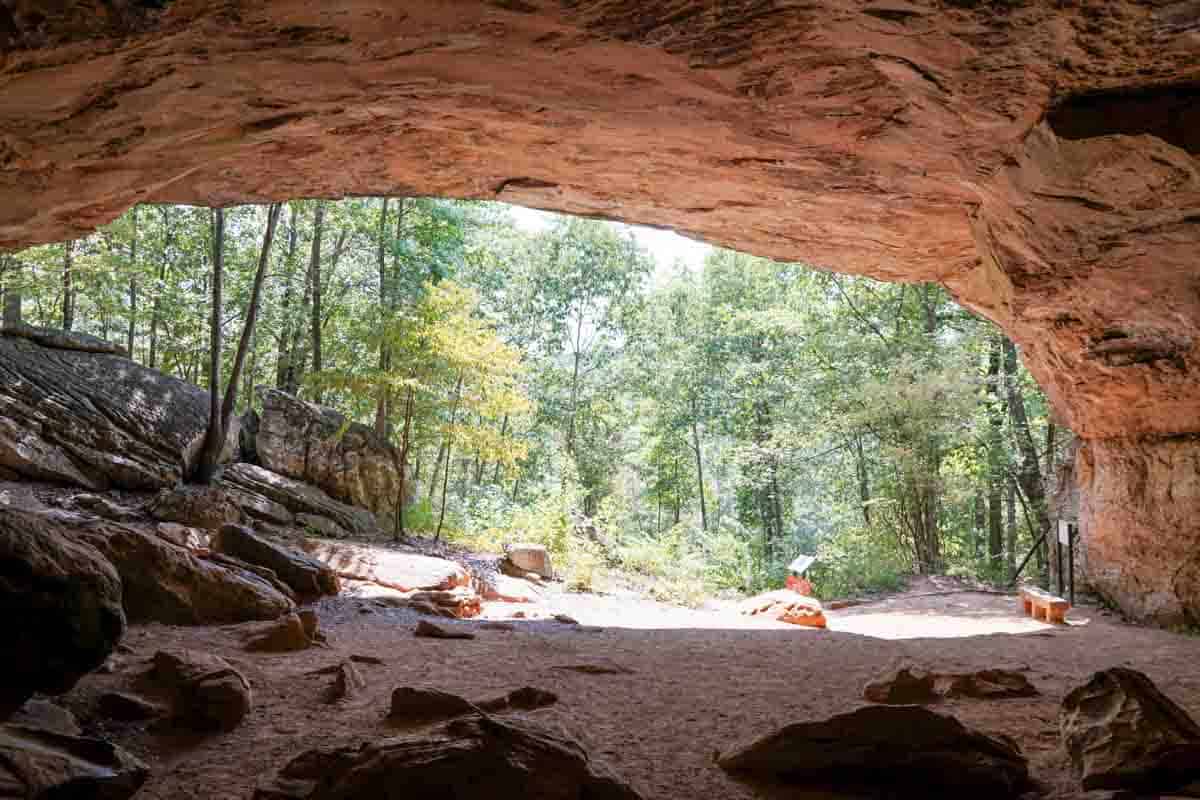 Seven Hollows Trail
Difficulty: Moderately difficult
Distance: 4 ½ miles – trail loops
Time to hike: Roughly 3-4 hours
Add hiking the Seven Hollows Trail to a breathtaking natural geologic bridge to your Arkansas bucket list!
The Seven Hollows Trail is marked with signs every ½ mile or so pointing out special and unique places designated along the trail to visit – such as The Grotto and Natural Bridge.
The well-maintained trail meanders through the forest with epic rock formations.
You don't want to miss the Natural Bridge.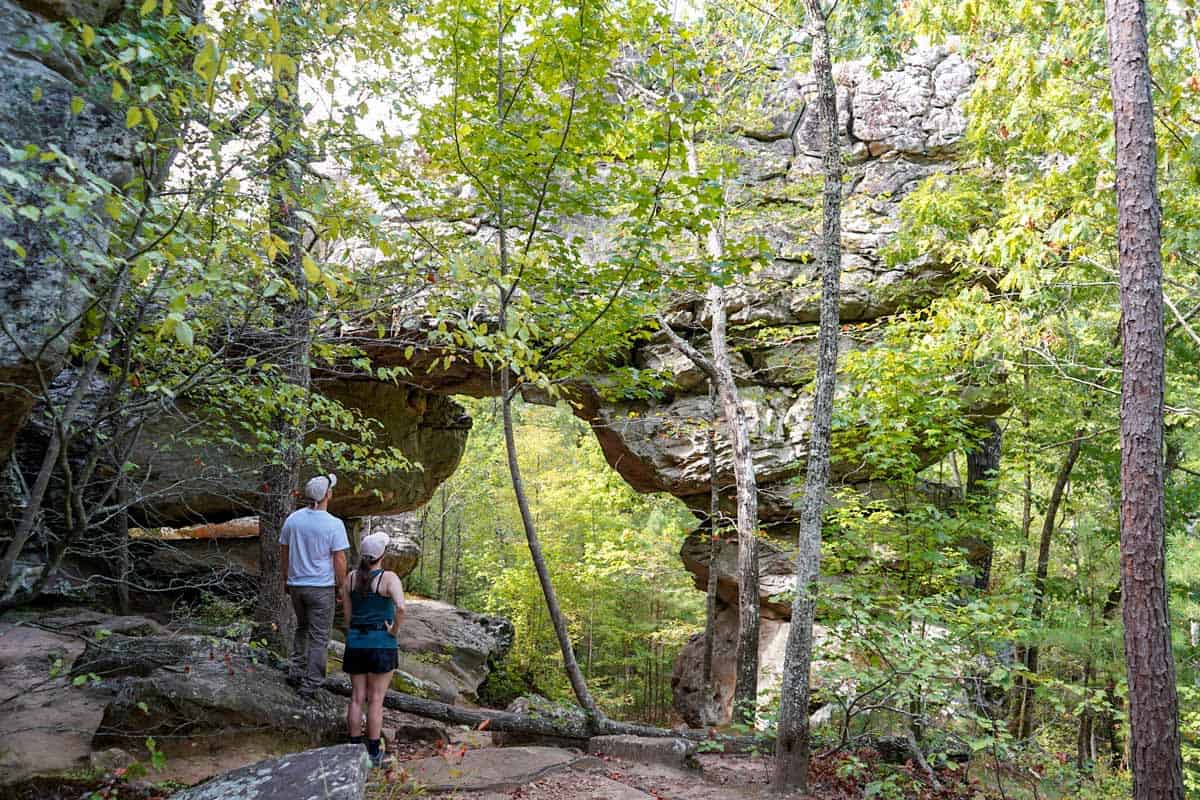 Cedar Falls Trail
Difficulty: Strenuous
Distance: 2 miles
Time to hike: Roughly 2 hours
Cedar Falls Trail is one of the park's most popular trails.
Cedar Falls is Petit Jean State Park's famous waterfall hike. From Mather Lodge, hikers head into Cedar Creek Canyon to the base of Cedar Falls, a 95-foot waterfall.
What makes the hike strenuous is the hike back up – it is on the steep side.
If you're not up for hiking to the base of Cedar Falls, you can see the top of Cedar Falls from the Cedar Falls Overlook Trail. The Cedar Falls Overlook Trail has a mild boardwalk overlooking Cedar Creek Canyon and the falls. It is an excellent alternative if you're not up for another hike during your visit.
Bear Cave Trail
Difficulty: Easy
Distance: ¼ mile – gravel trail
Time to hike: ½ hour to an hour (if taking pictures and climbing on the rocks)
The Bear Cave Trail is an easy walk through fantastic rock formations. There are a few caves and tall granite formations with epic views once you climb on top.
If you enjoy taking pictures, this is a great trail to explore. It is a great trail for the entire family.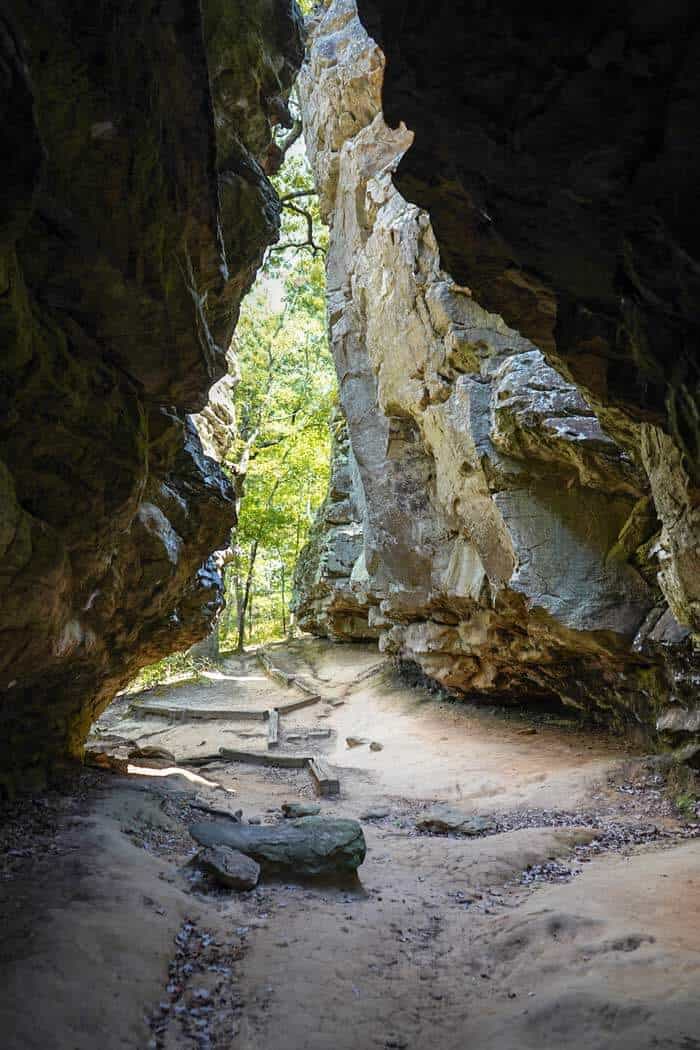 More Epic Hikes in Arkansas:
Petit Jean State Park Biking
The CCC Hike & Bike Trail is a lovely, paved trail extending from Camp Area B to Mather Lodge.
The path is 1-¾ mile one-way.
Biking along the trail is a great way to see the park as well as stop and see some of the overlooks.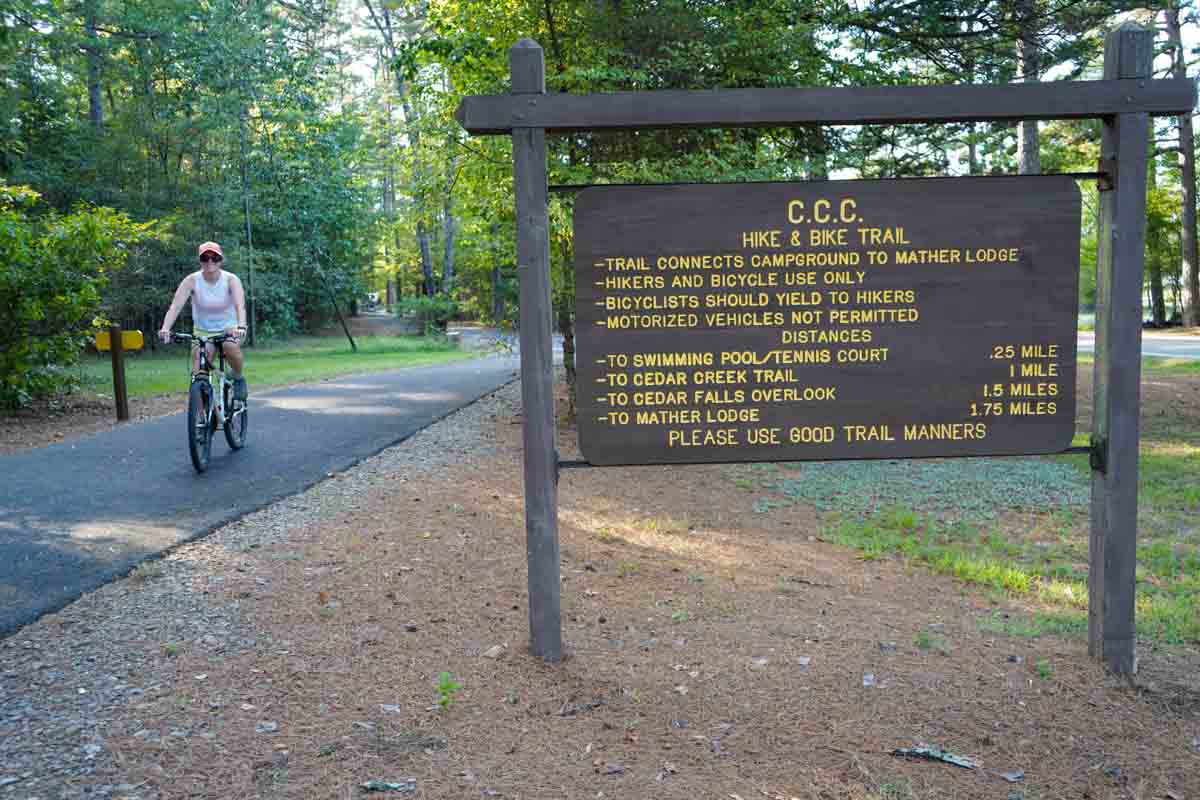 Petit Jeans State Park Trails Map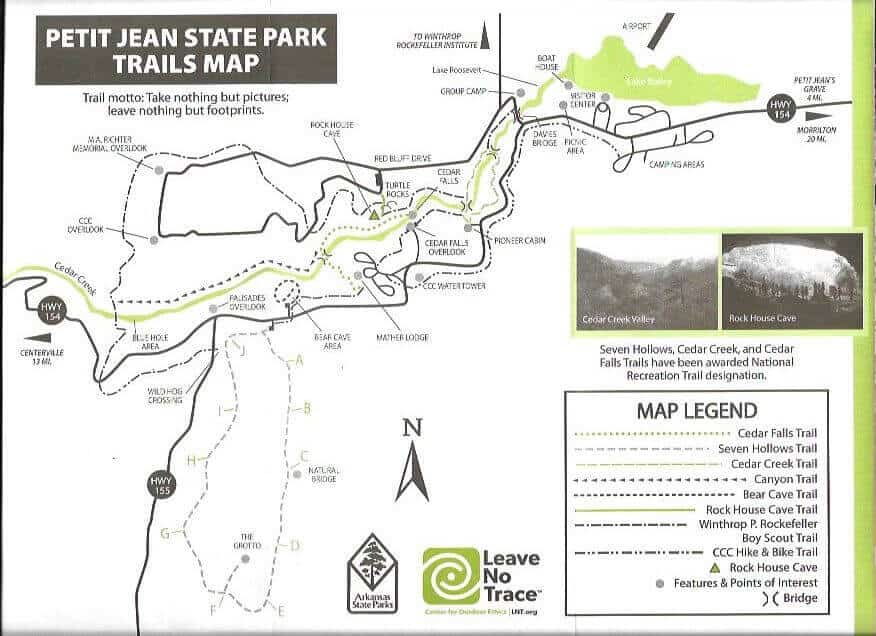 Camping at Petit Jean
Enjoy spending a night or two under the stars on this gorgeous mountain top, enjoying nature's serenity and incredible views.
Campers have plenty of space to bring an RV or camper trailer. Petit Jean State Park has a few camping areas with 125 campsites – all are fairly flat (though some are not)
We stayed in Camp Area D, it was the furthest away from the lake and there were fewer campers. Camp Area D has excellent shading. It is really dark at night so don't forget flashlights or headlamps.  
Camp Area A is right on Lake Bailey. When we visited in September Camp Area A was full – it is a better place for larger RVs.
If you're looking for a fun glamping experience, yurts are available to rent. Yurts are Mongolian-style portable huts that have become increasingly popular throughout the United States over the past several years. The yurts are right on Lake Bailey.
Think our camper is cool? Read more about it, here!
Other Questions You Might Have Planning Your Trip
How much does it cost to go to Petit Jean State Park?
It is free to enter and use Arkansas State Parks.
Visitors do pay to camp and stay at any lodging.
What is significant about Petit Jean State Park?
Petit Jean State Park was Arkansas's first state park!
It is home to incredible ancient geology and protected archeology sites.
It is also a Trail of Tear National Historic Trail Site.
What is a class B campsite?
A class B campsite has water and electric hookups but no sewer hookups for RVs, pop-up campers, and travel trailers.
Does Petit Jean State Park have cabins?
Yes, there are charming cabins and the historic Mather Lodge – home to spectacular views!
Is there a pool?
Yes, there are two pools at Petit Jean State Park for swimming.
The pool by the Mather Lodge is only for folks renting cabins. It has incredible views!
Are dogs allowed?
Yes, dogs are allowed at the park and on the trails with their leash.
Are there places to rent canoes or kayaks at Petit Jean State Park?
Yes, visitors can rent canoes or kayaks to paddle on Lake Bailey at the Boathouse near the Visitor Center seasonally from Memorial Day to Labor Day.
Is Petit Jean State Park open year-round?
Yes, the park is open year-round. Contact Petit Jean State Park directly for seasonal inquiries.
Is there cell phone reception at Petit Jean State Park?
The cell phone reception is minimal. We got a bar or two here and there, depending on where we were within the park. There was not consistent or strong coverage (we have Verizon).
While camping in Camp Area D, we could send the occasional text.
Can you have campfires at Petit Jean State Park?
Yes, campfires are allowed within the fire ring as long as there is not a fire ban.
Reasons To Visit Petit Jean State Park
The real highlight of Petit Jean State Park is its variety. Visitors can hike, bike, canoe, or just have a relaxing time in nature.
If you're more interested in wildlife than hiking, then you might enjoy spending some time bird-watching at Lake Bailey.
If you love outdoor activities like hiking and biking, this state park is perfect for you.
The Petit Jean area offers spectacular views and is a popular destination for outdoor enthusiasts.
Come and see why so many people love Petit Jean. We can't wait to go back.
Ashlee & Pablo
Read More From The Happiness Function
You might also enjoy reading our articles on other Arkansas State Parks near Morrilton, AR:
We'd Love To Hear From You
Are you exploring Arkansas?
Follow us on Instagram! We'd love to see your Petit Jean State Park hiking adventures.