How To Plan the Perfect Weekend at Mount Nebo State Park
Last Updated: Oct 9, 2023
|
|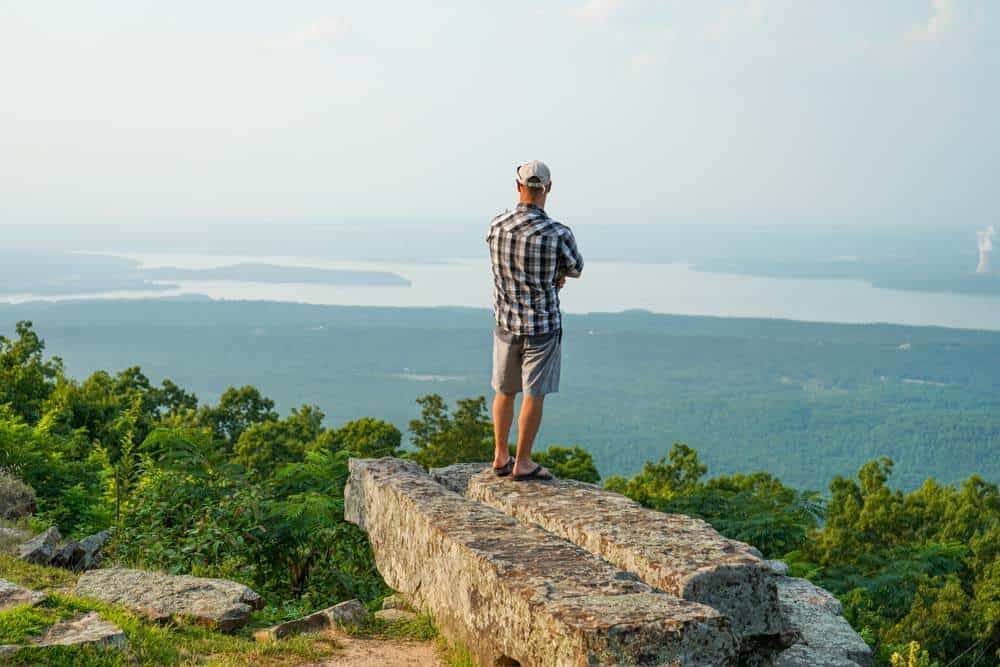 Mount Nebo State Park is full of natural beauty with landscapes and wildlife to admire. So, if you're looking for a fun outdoor weekend, this Arkansas State Park is just what you've been searching for. Along with incredible views of the surrounding mountains and Lake Dardanelle, there is a nice campground and quite a few historic trails to hike and mountain bike. The Visitor Center also has ice cream!
With its proximity to a few major cities such as Little Rock, Tulsa, Oklahoma City, and Memphis, it's a perfect escape for an outdoor weekend.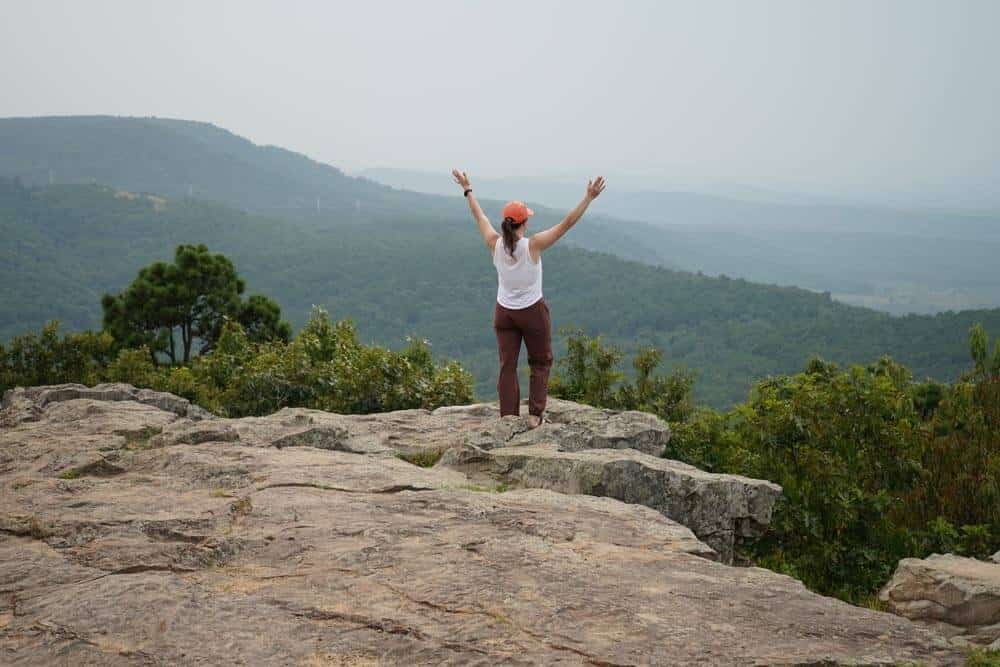 Travel Guide to Mount Nebo State Park in Arkansas
Mount Nebo State Park is located just 5 miles west of Dardanelle in the mountains of west-central Arkansas. It is one of those wonderful places to visit that can be enjoyed as an outdoor getaway, weekend retreat, or day trip (if you're in the surrounding area).
The park has acres and acres of natural beauty that allow for camping, hiking, and mountain biking. Take a scenic drive around the park, watch wildlife, and take photos of the majestic sunrises and sunsets.
Here are some of the best things to do to plan the perfect weekend or quick getaway to Mount Nebo State Park.
Weekend Itinerary
Day 1:
Check in to the campsite (or your cabins)
Set up camp
Drive around the park to get acquainted with where Sunrise Point, Sunset Point, and some of the trailheads are (image of map below)
Have a camp dinner
Drive to the Sunset Point Overlook to enjoy the views and take photos along the rocky bluffs
Day 2:
Wake up early, catch the sunrise at Sunrise Point
Have camp breakfast
Head towards the Visitor Center to hike to Nebo Springs along the Rim Trail and Nebo Steps Trail (more on hiking below)
Hike to Nebo Springs; or, mountain bike one of the trails along the Monument Trail System
Come back to camp to refill your water bottles, snacks, or have lunch
Head back out to hike to the Gum Springs and see the waterfall
After hiking, head to the Visitor Center for ice cream and to enjoy the views of Lake Dardanelle and watch for deer
Back to camp – enjoy the evening at camp (there is also a pool)
Things To Do
Camping at Mount Nebo
Mount Nebo State Park has two different types of camping available: improved as well as backpacking sites.
The improved campsites have running water and electricity (no sewer), while the backpacking (primitive) sites are rustic havens where you can unplug from all your hectic life distractions and hike into.
To ensure availability throughout peak seasons, it's best to make reservations in advance.
Note: Large RVs over 24 feet are not allowed at the park – the road is steep with 18% grades in places and 11 tight switchbacks!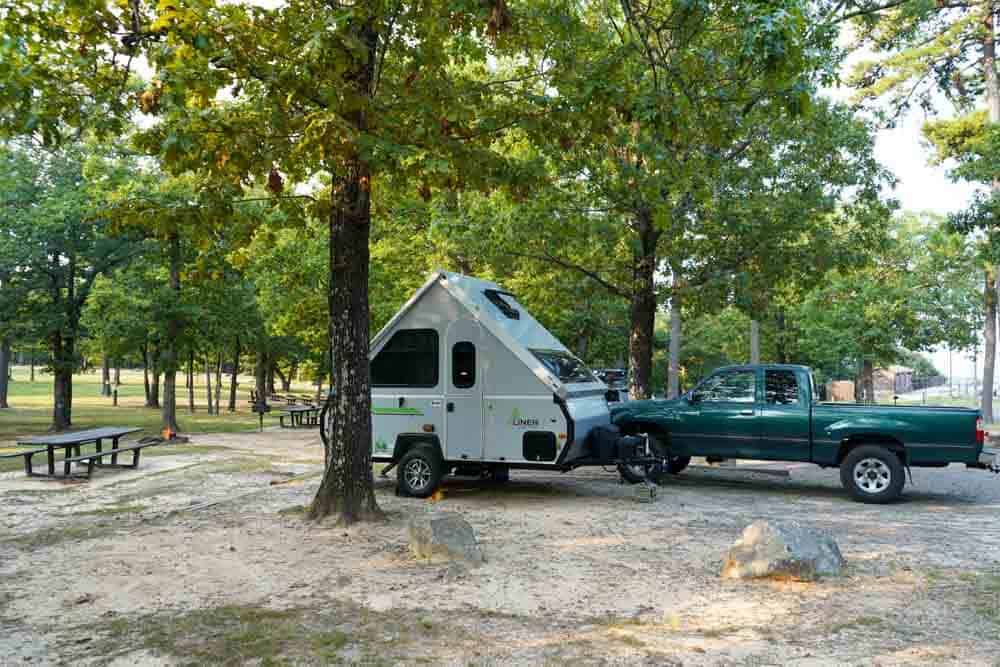 Mount Nebo Hiking Trails
The hiking trails range from easy to steep and difficult with various trails, including forested areas, rocky bluffs, and hills.
Hikers are taken around 14 miles of scenic beauty with trails ranging in length anywhere from 0.25-mile all the way up to seven miles long.
Some hikers may prefer to take their time, while others may want to make it an overnight backpacking trip to the primitive campsites; either way, there's plenty available for everyone at Mount Nebo State Park!
Here's a guide on what to wear hiking, if you need it: What to Wear Hiking All Year Long (for Everyone)
Mount Nebo is a flat top mountain named after the mountain in the Bible by the White family who built the first home on the mountain. There are natural springs coming out of the mountain with stone enclosures dating back to the early 1800s. Hiking to these springs are popular because of the history of the area.
We hiked to a few of them and have the details to share.
While hiking to the famous springs, the trails are steep.
Some of the trails we hiked down were handcrafted intricately with giant boulders by the Civilian Conservation Corps (CCC) in the 1930s. They definitely made for a better experience than what people probably experienced in the 1800s.
When you visit Mount Nebo, be sure to hike these two famous hikes:
Nebo Springs Trail along the Nebo Steps Trail
0.75-mile trip
Moderate to difficult – lots of steps
Historical spring for the community
Intersects Bench Trail – a great hiking and mountain biking trail around the mountain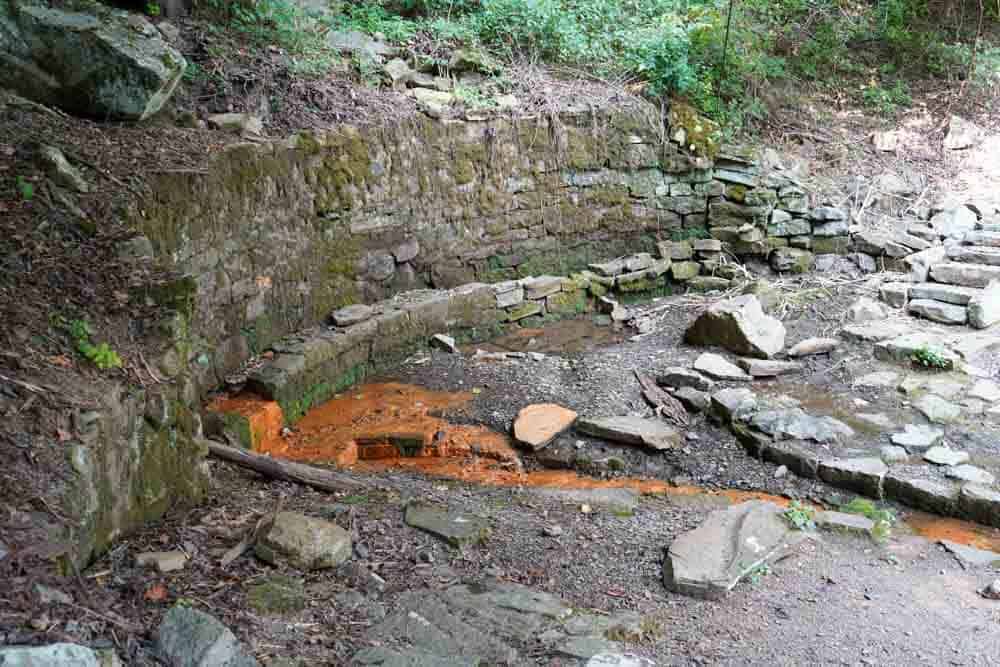 Waterfall/Gum Springs Trail
• .25-mile trip
• Difficult – straight up and straight down!
• The rock outcroppings and trail were really neat
• Also, option to connect to the Bench Trail at the bottom near the spring
• Waterfall runs seasonally
The Gum Springs Trail was our favorite! The rock outcroppings were so neat – but it is steep going down!
Other popular trails to hike along are the Bench Trail and Rim Trail.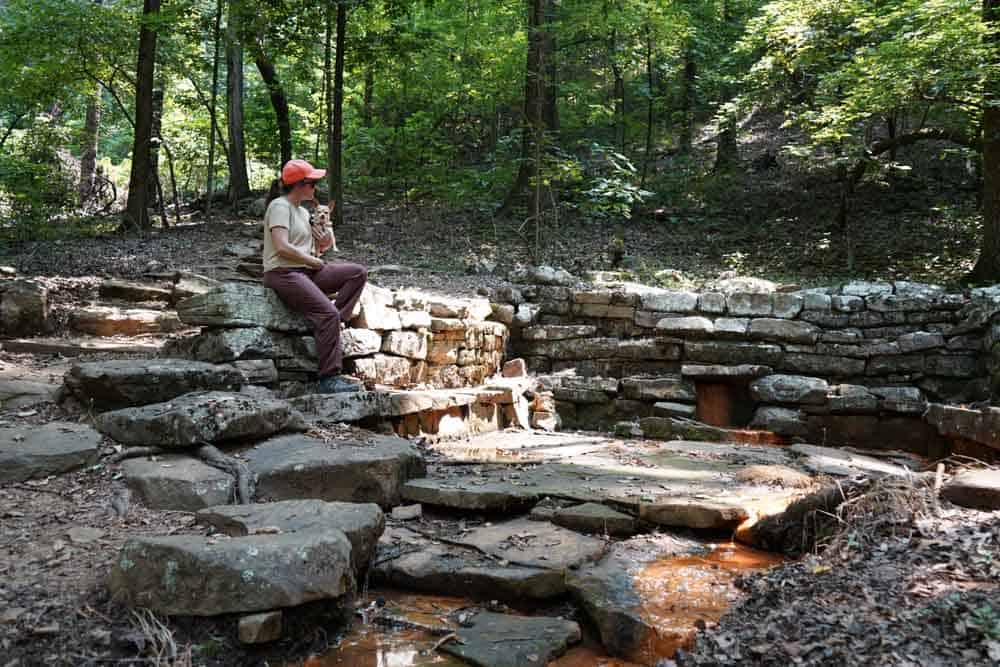 Mt. Nebo State Park Mountain Biking Trails
For those seeking adventure on two wheels, there are also mountain biking opportunities. A total of 25-miles of trails are available to be explored along the Monument Trail System.
Mountain bikers can explore a variety of terrain types. Multiple loops that range from easy to difficult make this perfect for riders of all skill and experience levels.
Arkansas is famous for its world-class mountain biking, and the Monument Trail system has International Mountain Bicycling Association ratings.
Check out the Mt. Nebo Monument Trails mountain biking Facebook page for trail conditions.
If you are interested in mountain biking at other state parks in Arkansas, check out Devil's Den State Park. They say that is where mountain biking in Arkansas was born!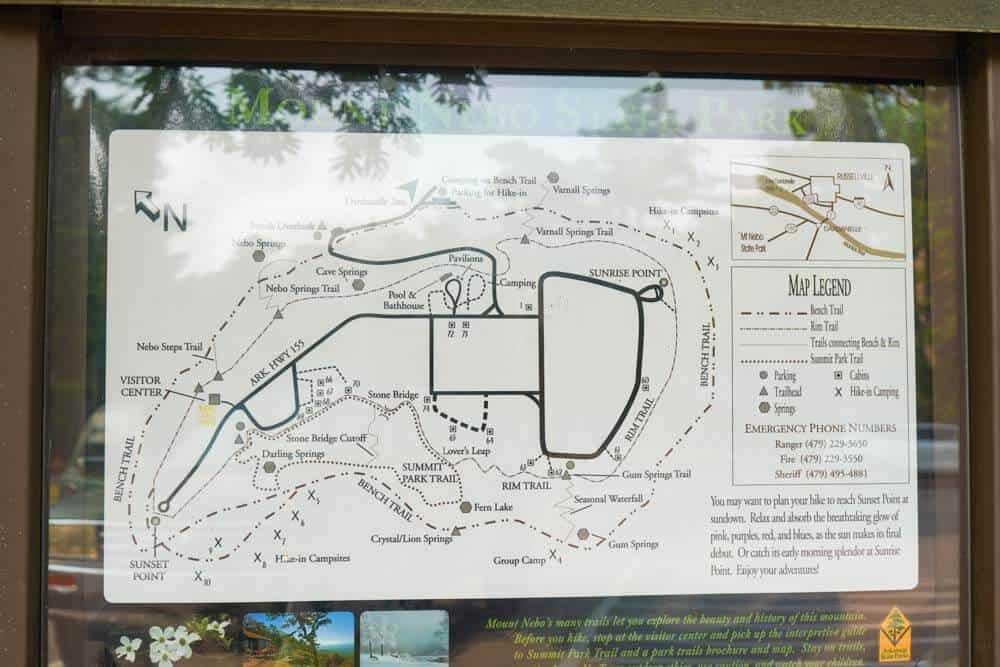 Catch a Sunrise or Sunset at the Overlooks
If you're an early bird or looking for an epic sunset, then the park's two overlooks are perfect for you. There are two designated points (in different locations) – one for catching sunrises and one for chasing sunsets!
These areas offer beautiful views of the sunrise and sunset where visitors can sit back and relax, take in the scenery, and even snap some photos to remember their visit!
Don't miss out – Arkansas is known for its incredible sunrises and sunsets.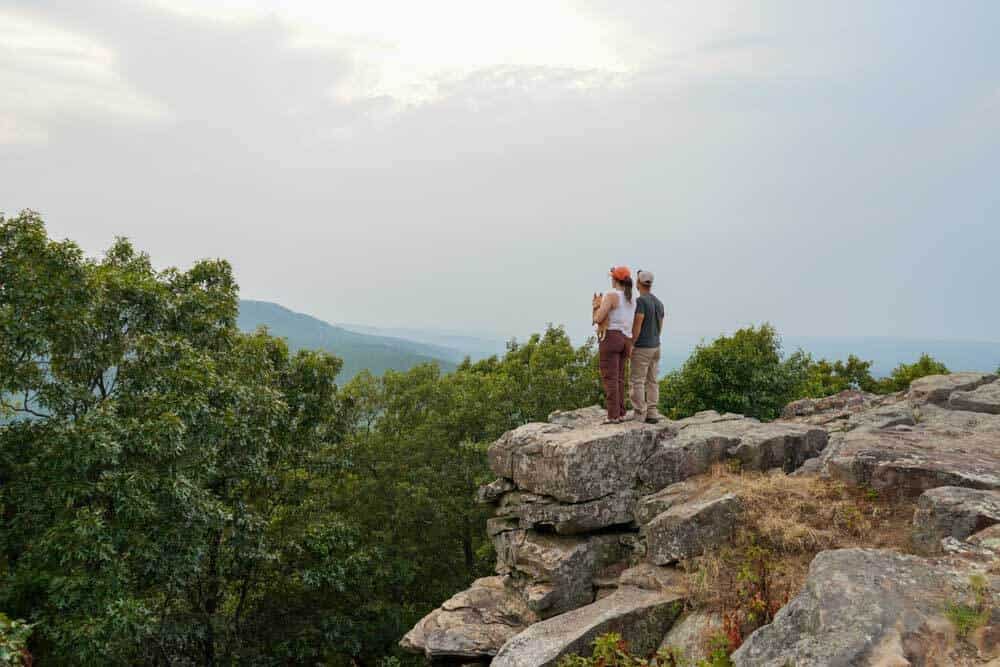 Wildlife Watching
Wildlife viewing in the park offers many opportunities for unique outdoor experiences. One can expect to see lots of deer! Be sure to slow down for wildlife when driving along the road.
The wildlife is mostly found in the open meadow areas and along the flat top; while hiking or biking, you may come across some animals in other wooded areas as well.
We saw a toad hiking.
Directions to Mount Nebo State Park
Take the Russellville exit off I-40 – exit 81 and take a right at the light for AR-7.
Head into Russellville and towards Dardanelle along AR-7 to State Hwy 155.
Once you make the left to turn onto State Hwy 155, it is 4.6 miles to the top of Mount Nebo.
Google maps will get you there!
Mount Nebo State Park Map
Other Questions You May Have While Planning
How much does Mount Nebo cost?
It is free to enter and use the park.
However, visitors do need to pay to camp or stay in the cabins.
How high is Mt. Nebo, Arkansas?
Mount Nebo is located at an elevation of 1,350 feet.
The highest point in Arkansas is Signal Hill at Mountain Magazine State Park.
Does the campground have showers?
Yes, the campground does have a bathhouse (next to the pool) with running water, flushing toilets, and a shower stall.
Does Mount Nebo have cabins?
Yes, visitors can stay in cabins at Mount Nebo if not up for camping.
Is there cell phone reception?
There is some cell phone reception.
Are dogs allowed?
Yes, dogs are allowed at the campground and on the trails. So, bring your fur baby!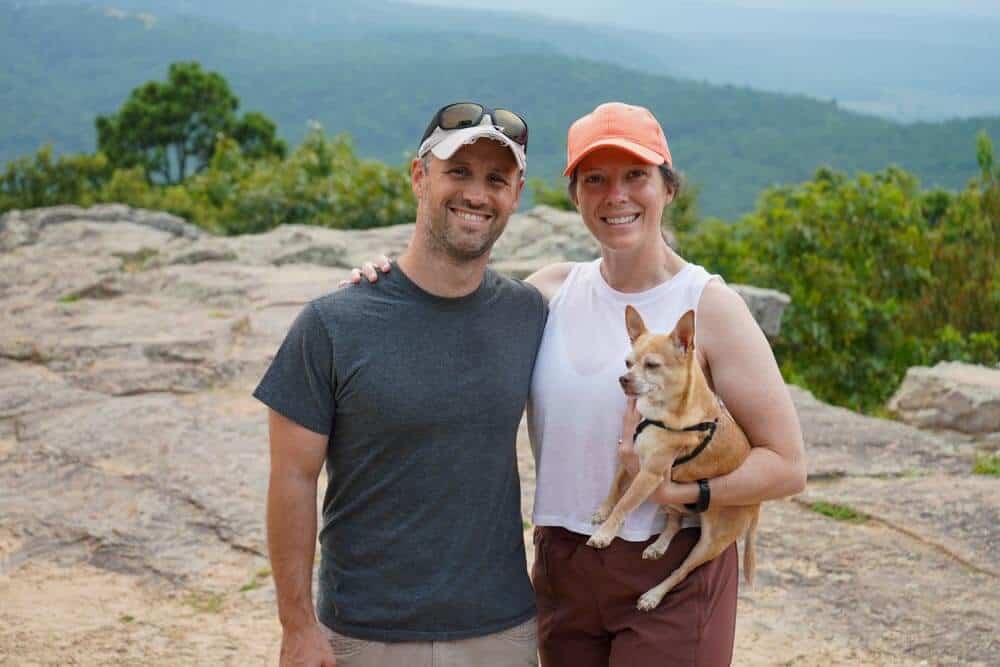 Is there a pool?
Yes, there is a pool near the campground overlooking the city of Dardanelle.
What is the best time of year to visit?
Mount Nebo State Park is open all year!
Spring – Spring in Arkansas is cooler, and the forest is beginning to green up. It is an excellent time of year to camp and hike if you don't love camping and hiking during the summer heat.
Summer – Even though Mount Nebo is at a slighter higher elevation, it gets hot and humid. Hike earlier in the day to beat the heat. Tent camp at your own risk! We camp in our Aliner Ranger, and it has air conditioning.
Fall – Fall is always an incredible time of year to be in Arkansas. The fall foliage is a treat! Camping and hiking in the crisp air is more comfortable.
Winter – Be sure to check weather conditions before driving to the top to hike in the winter. The road to the top is steep with sharp turns. It does get cold here in the winter, so be sure to pack the appropriate layers to hike.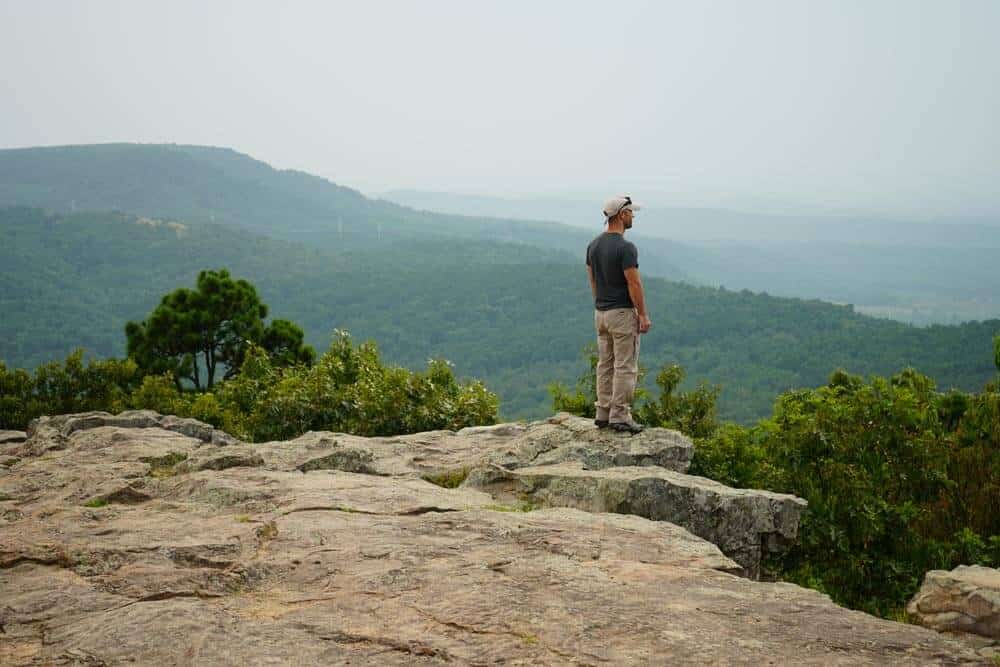 Is the park crowded?
We visited during the middle of the week in July, and there were no crowds. The campground was empty, and so were the trails.
We always find that camping in the middle of the week is a great way to secure a campsite and beat any crowds.
When in doubt, be sure to make reservations in advance. Most state park campgrounds in Arkansas fill up fast over the weekends (Friday-Sunday).
Leave No Trace
Always practice Leave No Trace while exploring the outdoors to protect the environment.
Final Thoughts
Mount Nebo State Park offers plenty of opportunities for outdoor activity, including mountain biking, camping, hiking trails, and wildlife viewing.
It makes for a perfect weekend getaway.
We hope you have a wonderful trip!
Ashlee & Pablo
---
Where Are You Headed Next?
You might enjoy our other articles exploring Arkansas:
We'd Love To Hear From You!
Have you ever been to Mount Nebo State Park?