Exactly What To Wear Hiking All Year Long (For Everyone)
Last Updated: Apr 6, 2023
|
|
To stay safe and comfortable while hiking, there are a few key things to consider when choosing hiking clothing. Depending on the time of year, climate, and the elevation, hikers need to adjust clothing choices accordingly. We live for hiking and want to share our best advice on hiking gear and what to wear. Continue reading to find out exactly what to wear hiking all year long with recommendations to suit everyone.
Be sure to read all the way to the end for hiking outfit inspiration for men and women.
This post contains affiliate links, which means we'll receive a commission if you purchase through our links at no extra cost to you. This allows us to continue publishing free travel and gear guides. Please read our full disclosure for more information. Thanks for your support!
What to Wear Hiking
In general, layers are the best way to go hiking.
Layers will allow you to adjust your clothing as needed depending on the weather conditions. Below, we'll talk about the best hiking clothes to have for your adventure.
 We'll also share what we wear while hiking towards the end and our favorite hiking outfits.
What Pants to Wear Hiking
Comfortable, lightweight hiking pants are key. Look for pants that are sweat-wicking and durable.
Also, think about pants and functionality. How do you plan to wear them?
Lately, we have been obsessed with KÜHL's hiking pants. Not only can you wear KÜHL pants for hiking (men's), but you can also wear them for a road trip or running errands.
Interested in KÜHL hiking pants? Check out our in-depth gear review on two of our favorite pairs for guys and gals!
Sometimes, I also hike in leggings from brands like The North Face, Lululemon, or Athleta. Hiking leggings can also act as the perfect yoga pants.
If you like hiking in shorts (more on shorts below), check out convertible pants. Start the morning off with the pants, and unzip for shorts in the afternoon when it gets warmer.
If you're hiking when it might be rainy, consider investing in rain pants or pants that are water-resistant. I recently got these rain pants from REI and they are great. I also appreciate their reasonable cost.
Hiking Shorts
Depending on where you live, you might enjoy wearing shorts. If you're not worried about bugs or foliage scraping your legs while you hike, shorts are a great way to stay cool during warmer months.
Make sure they are quick drying to keep sweat chap away.
I'm a huge fan of Lululemon when it comes to women's shorts for hiking.
Hiking Shirts
Look for lightweight and quick-drying hiking shirts made from light cotton or synthetic fabrics (such as polyester nylon).
If you are hiking where the climate is dry, you can easily hike in light cotton because sweat evaporates quickly. Or, if you are doing a short hike, it is not a big deal to wear a light cotton shirt. Some people are against hiking in cotton – it is honestly all about how you plan to wear it.
If you're hiking where the climate is humid, you will enjoy having a synthetic fabric that dries quickly. Patagonia makes excellent sun shirts that dry quickly- they are called cool Capilene.
Long Sleeve Shirt – Mid Layer
A long sleeve is a great piece to have on hand for hiking attire during most of the year. Same concept as above except think long-sleeved shirt. You can wear long sleeves as a base layer or outer layer.
Pablo and I have long sleeves made from synthetic materials that will wick away sweat and offer sun protection during the summer (like these Denali long sleeve sun shirts pictured below).
I also wear one made by Patagonia call the Capilene cool daily hoodie.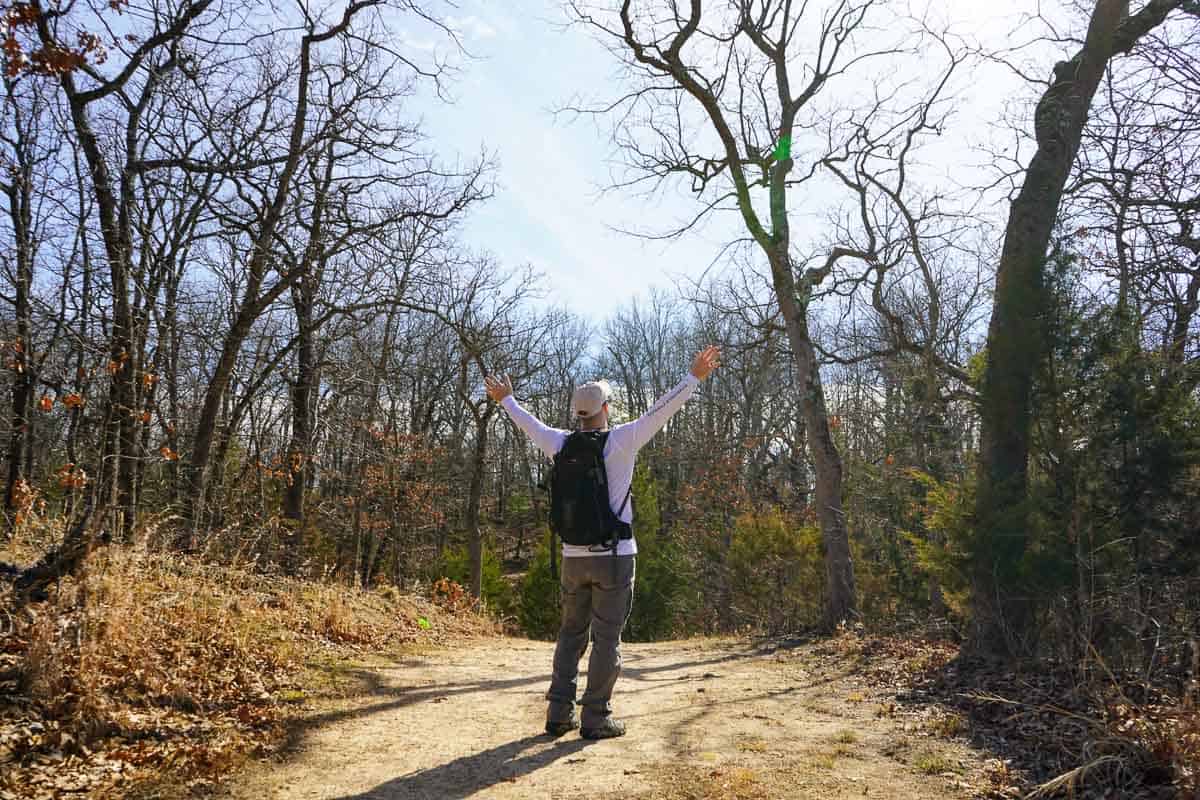 If hiking during the winter, consider merino wool long sleeves from brands such as Icebreaker (I have this shirt) or Smartwool. Wool will also keep you warm and is a great base layer. It is also moisture-wicking. Wool or synthetic is the way to go in the winter. 
Fleece Jacket or Sweater
Hiking with a fleece layer is also a great mid-layer or outer layer option.
Pablo and I usually wear fleece in the spring, fall and winter.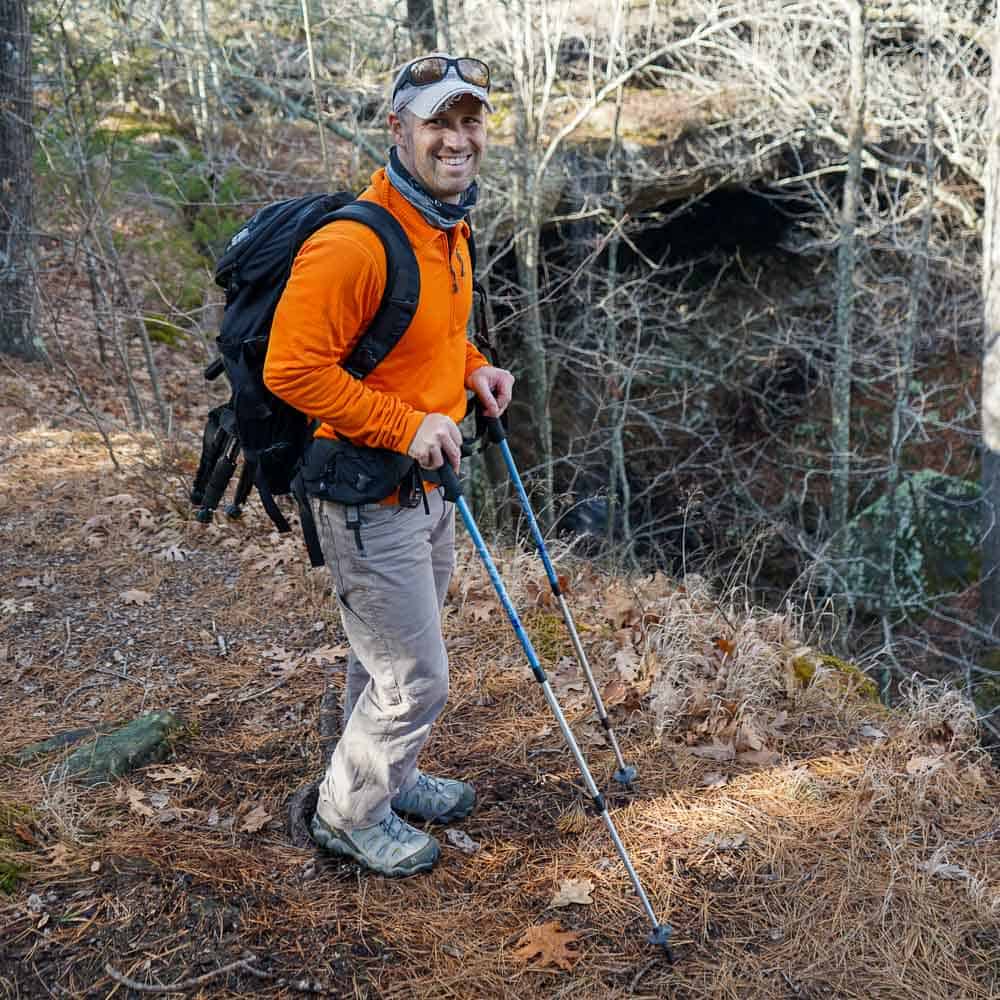 Windbreaker
A super light windbreaker will go a long way in keeping you warm. Get one you can layer over or under another jacket.
I love The North Face Futurelight Jacket, and we both love our The North Face Alta Vista Jackets.
Depending on the type of windbreaker you buy, it may also act as a rain jacket.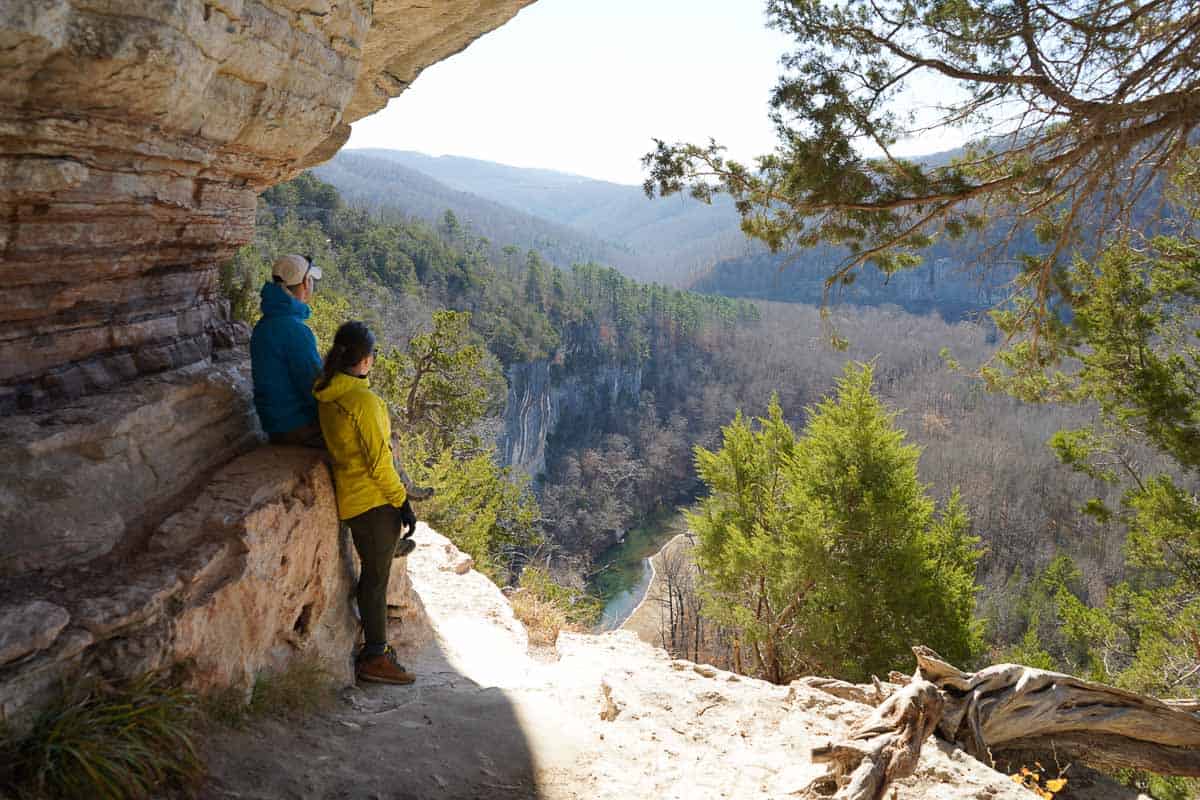 Insulated Jacket
Consider ethically sourced down jackets. Check out The North Face and Patagonia. It is crucial to protect and keep your body heat when hiking in the cold. There is nothing worse than being cold.
Jackets can be expensive, but they are really important to have as part of your hiking outfit.
Rain Jacket
If you plan to hike in the rain, be sure to get a good rain jacket. Patagonia, The North Face, and Helly Hanson make awesome rain jackets (in our opinion).
Also, consider the size you purchase for layering. You'll want this to be your outermost layer to protect you from wind and rain. Make sure the jacket is not too tight.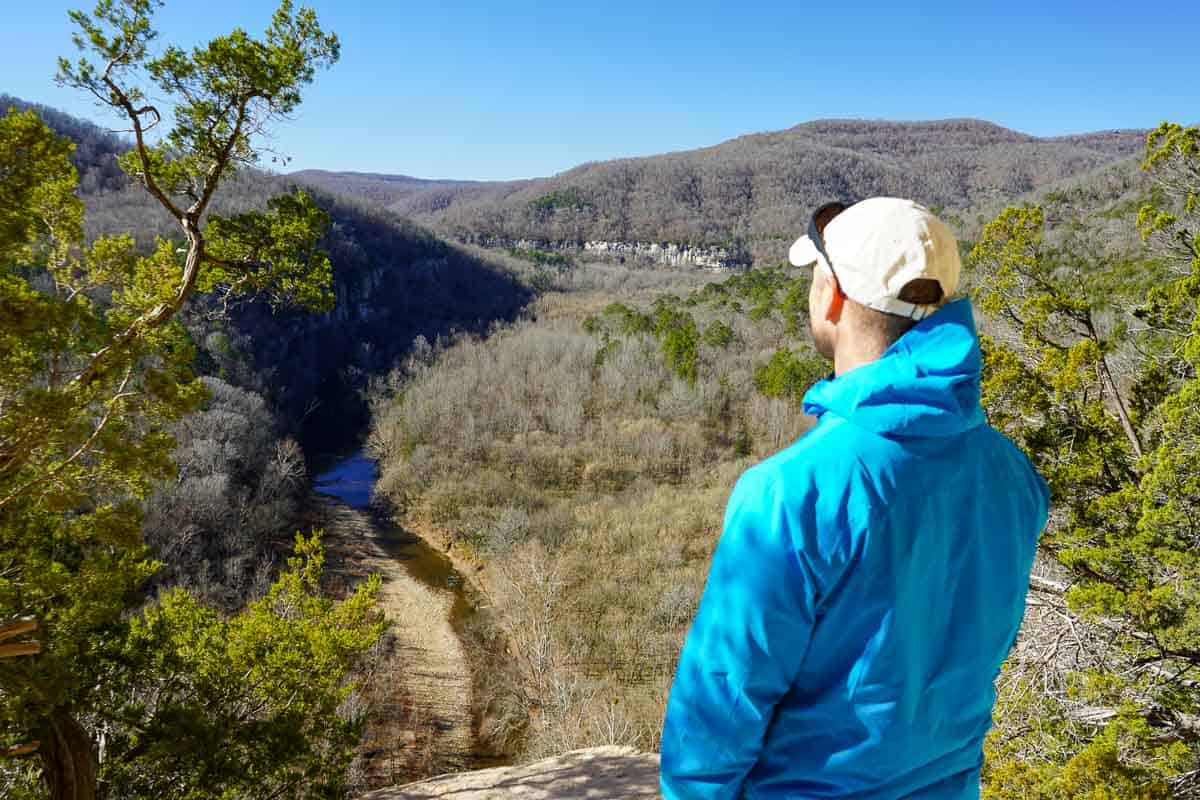 Wool Hiking Socks
Wool socks help provide cushion and wick sweat from your feet.
We think the best brands for wool hiking socks are Smartwool and FITS.
Wool socks are naturally moisture-wicking, so they keep your feet dry.
Hiking Shoes + Hiking Boots
It is so important to have a supportive and good hiking shoe.
In general, having sturdy hiking footwear is really important to protect your feet.
Also, consider the type of hiking you will be doing to get the right ankle support throughout your hike.
You can wear hiking boots, hiking shoes, trail runners, or hiking sandals.
Try the shoes on before buying them to ensure you get the correct size. Make sure your toes aren't too close to the front because you can bruise your toes if you get shoes too small.
You don't want your shoes too big either because it can cause blisters while hiking.
Also, consider how thick of a wool sock you'll be wearing with your pair of hiking boots. Your feet might also swell a little when hiking.
Pablo and I have been loving the Oboz brand of hiking boots. Oboz boots are durable, comfortable, and at a reasonable price point. In addition, Oboz is headquartered in Bozeman, Montana, so you know they get hiking boots.
Depending on where you plan on hiking, you might enjoy a good pair of hiking sandals on a summer hike. For example, when we lived in Colorado, I hiked in Chacos quite a bit. If you'll be hiking through water, Chacos and Tevas are great.
Living in the South, we don't hike in sandals anymore, mainly to protect our feet from the brush, bugs, and in case we ever were to come across a snake. It just feels safer to hike with shoes as we have gotten older. Also, no one wants a sprained ankle in the backcountry.
Sports Bra
Comfort is key, and so are quick-drying wicking materials when it comes to sports bras.
Consider where the seams may rub your body. Look for synthetic fabrics such as nylon and spandex.
Patagonia has comfortable hiking sports bras for women. So does Lululemon.
Underwear
Look for soft, synthetic, sweat-wicking, and quick-drying fabrics to keep you dry and comfortable.
Hiking Backpack
The backpack you use will depend on how far you want to hike.
You can use a smaller day pack for shorter hikes, and for longer hikes, consider a larger day pack that will store more food, gear, and water.
We use Osprey Sirrus 24 for longer hikes. It can fit a decent size water bladder along with a few clothing layers and food.
I have been using the Kavu Rope Bag (pictured above) or the Osprey Kitsuma Hydration Pack for shorter hikes.
Pablo likes using the Osprey Day Lite Pack.
Hiking Poles
Hiking poles are a personal preference. Some people use them, and some don't.
I like to hike with poles for balance and safety. When you hike and get a little tired, it is easy to get clumsy. Also, as a woman, it makes me feel safe to have a stick in case I need one.
Check out Leki hiking poles.
Water Bottle(s)
Hydroflask makes good, insulated water bottles that work great for short hikes; however, they weigh more.
Consider packing a bladder or plastic Nalgene for longer hikes since the bottles weigh less. When hiking long distances, extra weight is something to consider.
Sunglasses
Always protect your eyes! Don't forget sunglasses.
Some people love polarized glasses, and some don't (I actually do not care for them).
Try on sunglasses to make sure they fit your face well. Also, make sure they don't slide off your face when you get sweaty.
Sunhat
Protect your head and face from the sun with a brimmed hat. The sun can drain you while hiking if you're not careful. Look for synthetic and lightweight fabrics that will dry fast. Your forehead can actually sweat a lot.
Neck Gaiter
Invest in a face and neck gaiter if you're hiking at high elevations or in places with harsh sunlight or cold temperatures.
If using as a sun protection neck gaiter – get a lightweight gaiter made from synthetic fabric.
If using to keep your neck warm – fleece is the way to go!
Gloves
We both always carry gloves in the winter. Lately, Pablo has been wearing Give'r gloves. They are authentic leather with cozy material inside. These gloves do take a while to break in but you can use them all year long (even for doing work around the house).
Use Code AT-HAPPY10 to get hooked up with 10% off on Give'r gloves.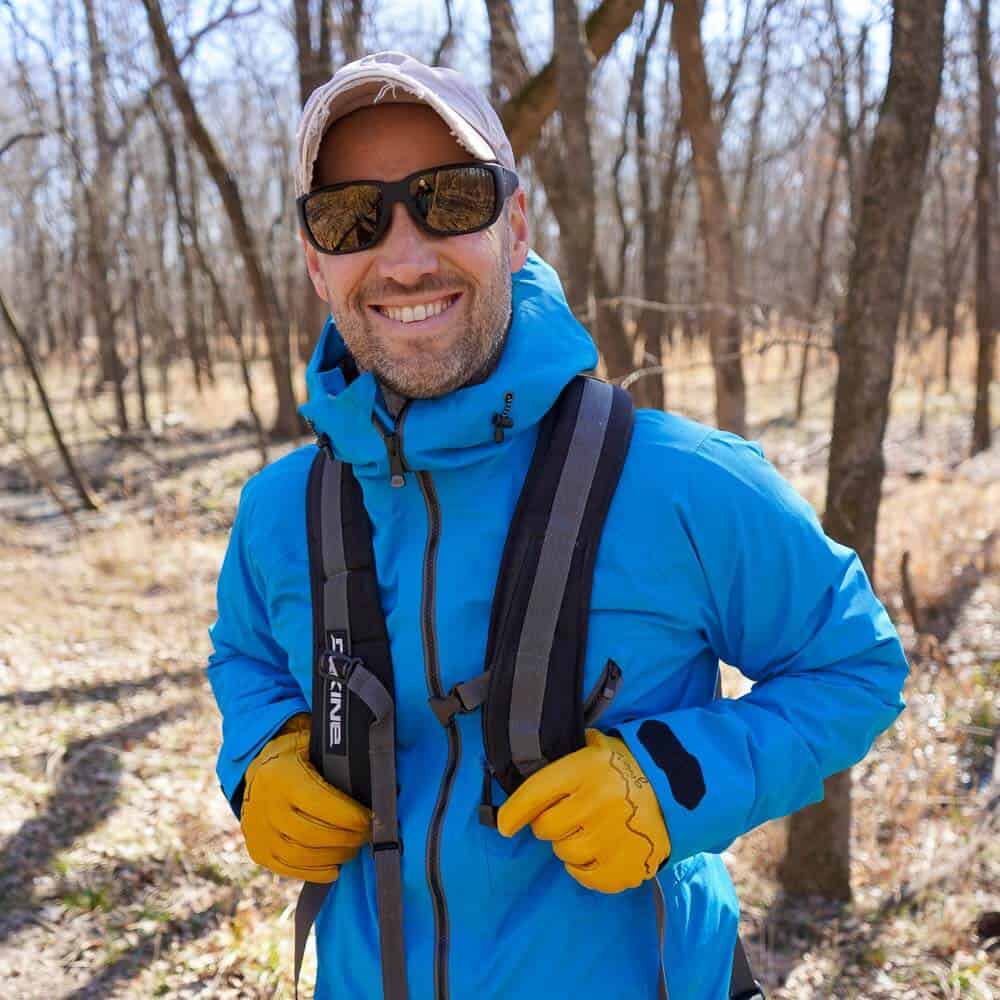 I prefer down, fleece or synthetic gloves depending on the temperatures.
My hands get cold easily! In the winter I hike with these Hestra mittens. These are a little pricey but worth the investment. My hands never get cold and I can take them snowboarding. I also wear light fleece gloves from Outdoor Research.
Kula Cloth (Pee Cloth)
This is the hiking essential you didn't know you needed for all the ladies. Say whaaat?!
Kula Cloth makes an antimicrobial pee cloth to take on hiking adventures. Ditch the toilet paper and keep this trusty rag on your bag.
You can buy it at REI (it's the best).
Watch our gear review on Instagram!
Fabrics to Avoid When Hiking
Denim – You don't want to wear denim. No jeans!
Itchy Wool – try your wool on before a long hike. There is nothing worse that an itchy wool shirt that was cheap and poorly made on a long hike.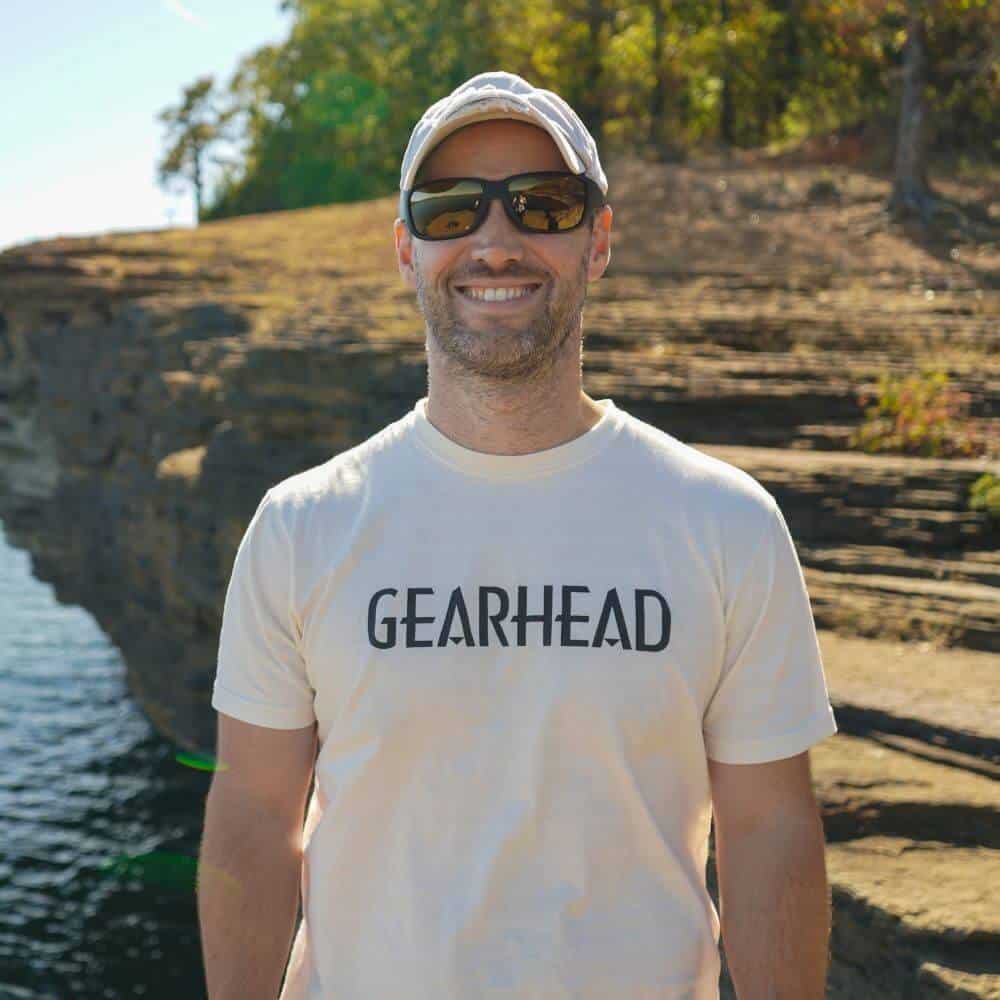 Cotton – you also want to consider how you will be wearing cotton if you decide to wear cotton.
For example, cotton holds moisture and doesn't dry fast, which can chap your skin (ouch!).
However, I know plenty of people that hike in cotton (Pablo and I included). So just consider how and when you use it. If you are doing a short hike and not getting too sweaty – cotton is totally fine to wear. Plus, it is cheap if you don't have a bunch of cash to spend on technical fabrics.
What to Wear Hiking in Every Season
Now, onto a detailed guide for what to wear hiking in every season. We'll share exactly what we are wearing in our photos.
What to Wear Hiking in Summer
It is important to stay cool and comfortable in the summertime while hiking.
Wear lightweight clothing that will absorb sweat and keep you cool.
You can wear shorts and a tank top or t-shirt, which sound perfect for warm weather hikes.
Also consider longer lightweight layers to keep the sun off your skin because the sun can drain your energy and burn your skin.
Consider light colored fabric as well (although this is a personal preference).
Thoughts on Hiking During the Summer
Sometimes we wear shorts during shorter hikes or if we know that the trail is clear and well maintained.
Where we live (now) in Oklahoma, during the summer, there are a lot of bugs, and we always want to protect our skin from bugs (mosquitos and ticks) while hiking in the South. The foliage along the trails tends to be thick hiking in the Ozark and Ouachita Mountains, too, so we also enjoy lightweight and quick-drying long sleeve shirts and pants in the summer. We also tend to hike with long pants and boots in case we ever encounter a snake.
We always bring lots of bug spray (another reason to wear lightweight, long pants and shirts during the summer).
When we lived in Colorado, hiking in shorts and sandals was easier because of the climate. So, just consider foliage, bugs, and temperatures when planning your summer outfits.
Be sure to bring plenty of water and sunscreen too.
Below, we'll share ideas for what to wear hiking in hot weather.
Men's Clothes to Wear Hiking in Summer
Patagonia Capilene Cool Shirt
Women's Summer Hiking Ideas
Lululemon Swiftly Long Sleeve Shirt
What to Wear Hiking in Fall
The temperatures in the fall can vary greatly, so it is important to dress in layers.
The temperatures may be cool in the morning and evening, but they may be warm during the day.
Layer by wearing a short-sleeve shirt, light jacket, and pants for the morning and evening. Wear light gloves and a stocking cap too.
During the day, when it is warm, remove the jacket, hat, and gloves and store them in your hiking bag. The key to layering is to be able to adjust what you're wearing to stay comfortable and safe.
Below we'll share outfit ideas for hiking in the fall.
Men's Fall Clothes to Wear Hiking
Women's Fall Clothes to Wear Hiking
The North Face Canyonlands Crop
What to Wear Hiking in Winter
It is important to stay warm and dry in the wintertime while hiking.
Dress in layers of fleece or wool clothing.
Be sure to bring a hat, gloves, and a heavy coat.
If there is snow or ice, you might also like having crampons.
Pablo always says when it comes to winter activities, it is better to have too many layers and be hot than be cold!
It is also essential to drink plenty of water to avoid dehydration in cold weather.
Check out the winter hiking outfit ideas below.
Men's Winter Hiking Clothes
Long Underwear – Thermals Underneath
Women's Winter Hiking Clothes
What to Wear Hiking in Spring
In the springtime, temperatures can vary greatly depending on the elevation and location.
In lower elevations, it may be warm enough to hike in shorts and a t-shirt, but in higher elevations, it may still be cold, and you need winter gear.
A good rule of thumb is to dress in layers that can be easily removed or added as needed.
Check out outfit ideas for spring hiking below.
Men's Hiking Gear For Spring
Women's Hiking Gear For Spring
Lululemon Swiftly Long Sleeve Shirt
Closing Thoughts
No matter what time of year it is, it is important to have lots of layers and bring plenty of water and sunscreen with you on your hike.
Check the weather before your trek.
Always be sure to hike with another person or let someone know where you are going if you plan to hike solo so that someone knows where you are and can come looking for you if needed.
Hiking is one of the best ways to enjoy the outdoors, but it is important to stay safe and comfortable while doing so.
With the right clothing, anyone can enjoy a hike all year long. The key is to dress in layers and adjust your clothing as needed depending on the conditions.
Happy hiking!
Ashlee + Pablo
---
Get More Hiking Inspiration
We Would Love To Hear From You!
Tell us your favorite hiking gear.
Are you wearing anything brands on our list?
You might also enjoy our product guide on the best sustainable outdoor gear (plus it makes great gifts)!