30 Items To Create a DIY Simple Camp Kitchen
Last Updated: Jun 29, 2023
|
|
One of the best parts about camping is cooking under the open sky. So, we thought it necessary to speak to how to create a simple camp kitchen. But what if you don't have a lot of money to spend on gear? You can create your own DIY camp kitchen with just 30 items! This guide will show you how to set everything up, so you can cook and eat well outdoors. Let's get started.
This post contains affiliate links, which means we'll receive a commission if you purchase through our links, at no extra cost to you. Please read full disclosure for more information.
Why We Wrote This Guide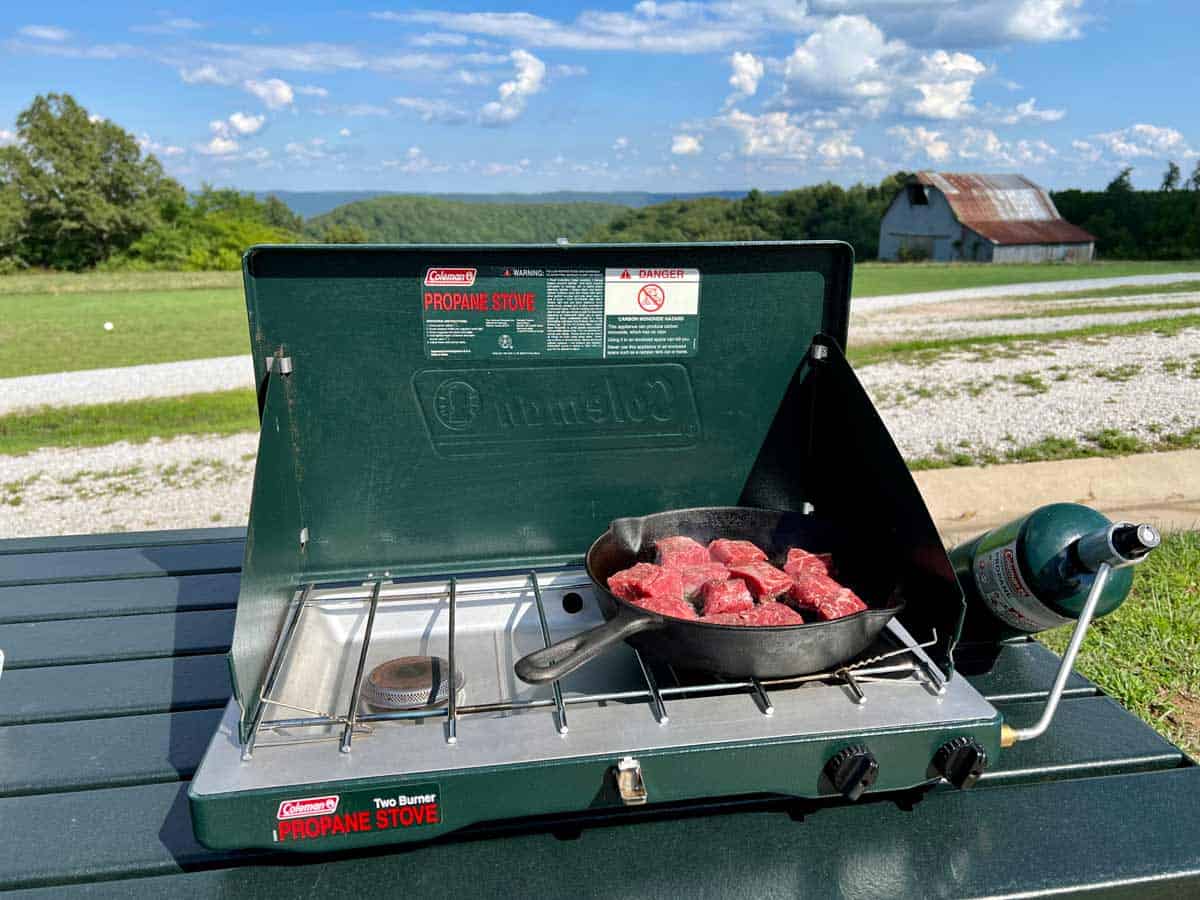 Camping offers so much freedom. We always feel recharged during and after a camping trip. Camping always makes us so happy! Can you relate?
Being in nature is such a big part of our blog, inspiring happiness through outdoor recreation.
Since we write a lot about our camping adventures, while camping in the Ozarks at Beaver Lake, we thought it would be a good idea to put together a list of camp kitchen essentials with some photos for our readers. The camp kitchen list is short and sweet and easy to make from home.
☀️ Get our FREE packing guide for camping and hiking!
How To Make a DIY Camp Kitchen
In reality, we try to keep things as simple as possible and to pack as light as possible. We do enjoy our creature comforts, though.
You can create your own camp kitchen from items you have around the house that you aren't afraid to use outdoors. For things you are missing or would like to have, watch for off-season sales to get the best price.
Our camp kitchen has been made randomly over the years! It doesn't have to be pretty or perfect!
Have fun creating your own flare.
Keep reading to see how we like to set up our camping kitchen.
30 Simple Camp Kitchen Items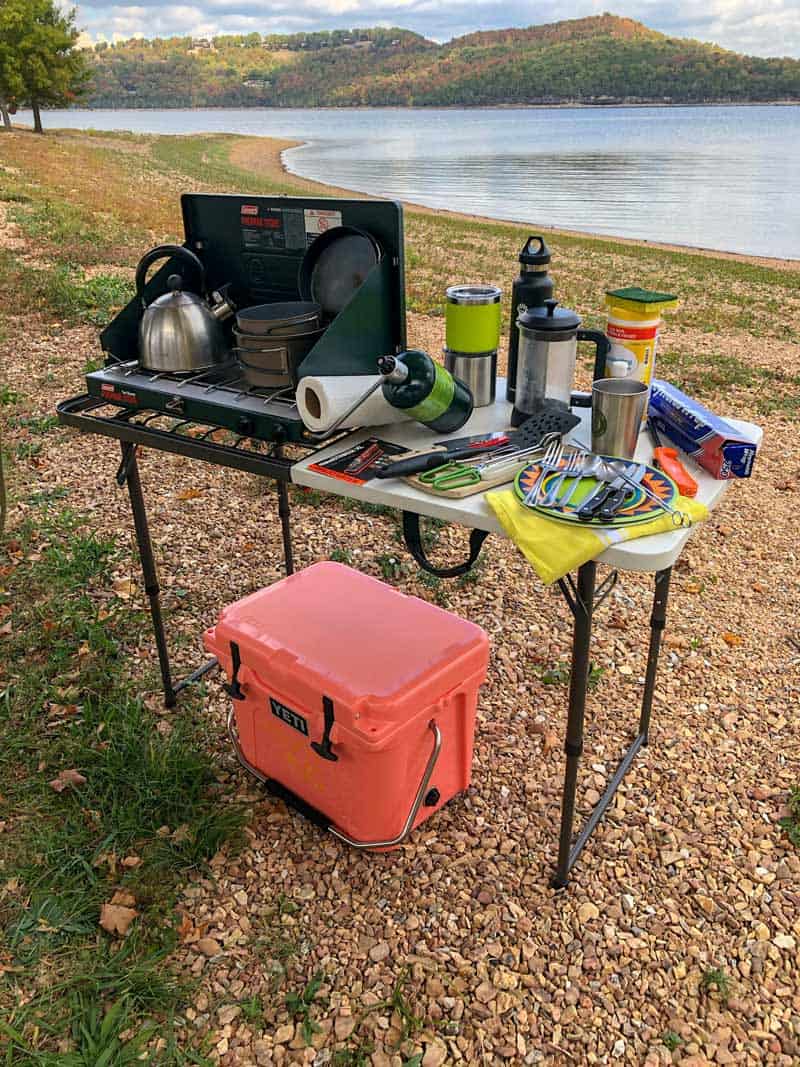 Ultimate List of Camp Kitchen Essentials
Below is the list of items we recommend for setting up a simple camp kitchen for two people:
Camp table: like the split version in the photos – one side for the stove and the other as a table.
Coleman Propane Stove: you can get on Amazon for a great price!
Propane: buy in bulk from SAMs club – way cheaper.
Lighter: we like the bic flex want lighters, so we don't burn ourselves. These lighters flex to what you are trying to light, and you get more bang for your buck if you buy a pack.
Flint stick: for starting wood fires the rustic way (or just use a lighter).
Hot water kettle
Cooking pans
Coffee mugs: we like Yeti.
Water jugs/bottles to refill: we have this 7-gallon jug.
Coffee press: We got ours at REI.
Kitchen towel(s)
Two Plates
Two Bowls
Two silverware sets: fork, knife, spoon
Cutting board
Cutting knife
Spatula
Tongs
Foil: unless you want to cook on the grill directly.
Two cups: for beverages of your choice.
Hand sanitizer
Trash bag(s)
Reusable silicone bags or snack set: suitable for packing hiking snacks or leftovers.
Cooler(s): we are obsessed with our Yeti Tundra.
Ice
Two camp chairs: we are also obsessed with our Helinox chairs. The chairs we have are super comfy and lightweight.
Dishwash bucket: to make cleaning easier.
Sponge
Biodegradable soap: it is important that the dish soap is environmental friendly – We just use Dawn!
Where To Purchase Simple Camp Kitchen Items
We have purchased most of our items from REI, Walmart, and of course, Amazon.
Have a Camp Kitchen Bin or Tote Stored and Ready
We have a kitchen bag stored away and ready to go for all our road trips and camping adventures.
You can do the same for your own setup!
Practice Leave No Trace
Always practice Leave No Trace when camping.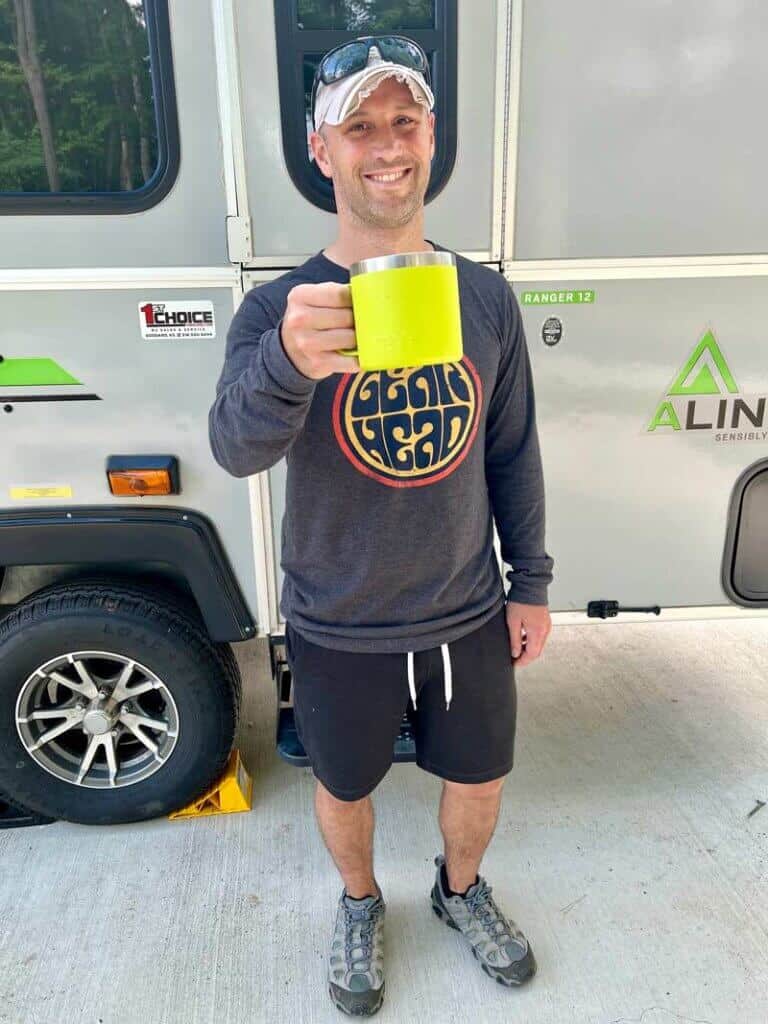 Final Thoughts on Packing a Simple Camp Kitchen
Pablo and I never go car camping without these items.
Having these 30 items for a simple camp kitchen ready to go allows us to get away in the woods while enjoying our creature comforts.
We love to cook. Most of these items will fit in a reusable grocery tote to keep packing easy.
Of course, a simple list of items means less to write, right?!
Happy camping!
Ashlee & Pablo
☀️ Get our FREE packing guide for camping and hiking!
---
You Might Also Enjoy
Camping is one of the best outdoor activities!
Check out our other articles about camping tips and tricks:
We Want To Hear From You
Do you have more questions about setting up a simple camp kitchen or gear to buy?
Where are you planning your next camping trip?