Dispersed Camping on BLM Land in Utah & Colorado: How to Camp for Free
Posted on: January 4, 2023
|
|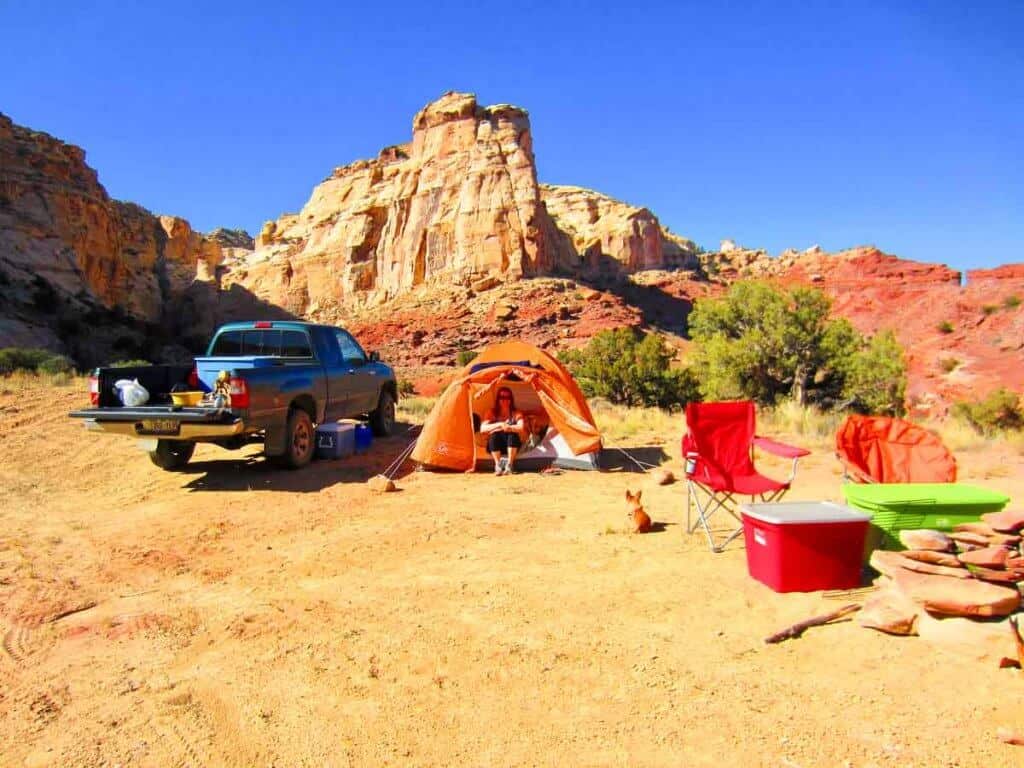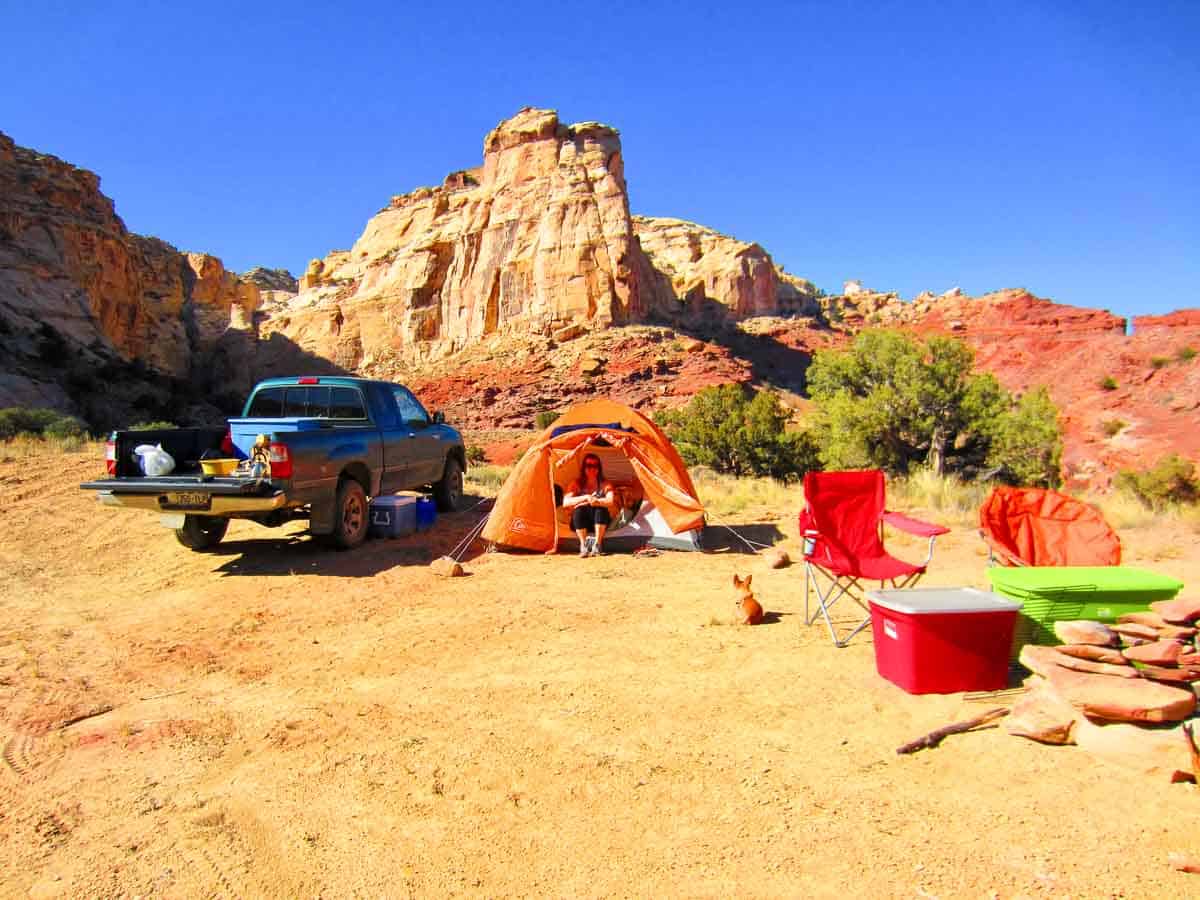 Dispersed camping, also called primitive camping, on public lands is one of the American West's best-kept secrets. Are you interested in learning more about camping for free on BLM land? This article will first discuss practicing environmental stewardship in the backcountry, what BLM land is, the types of outdoor activities you can do on BLM land, what primitive or dispersed camping means, and how to camp for free! We'll also share our favorite places to camp in Colorado and Utah, along with maps and camp gear we recommend.
Keep reading to get all the dirt on how to go dispersed camping on BLM land in Colorado and Utah.
This post contains affiliate links, which means we'll receive a commission if you purchase through our links at no extra cost to you. This allows us to continue publishing free travel and gear guides. Please read our full disclosure for more information.
New to Recreating on BLM Public Lands?
New to hiking, biking, camping, and recreating on public lands? Perfect! We have all the details here in this article just for you.
Before beginning an outdoor adventure in the backcountry and on public lands, it is essential to know the etiquette to protect the environment and yourself.
I learned a lot of this information we are about to share with you from friends and family growing up and in college, majoring in Biology and Environmental Sustainability out West.
Keep reading – it is super important!
Practicing Environmental Stewardship on Public Lands
We thought it was important to provide backcountry information to our readers to share with their friends and family. Please share and spread the word!
Backcountry Dispersed Camping (Primitive Camping) Etiquette
Rules… who would have thought there are rules to the backcountry?!
Practice the seven principles from Leave No Trace on enjoying the outdoors without impacting the environment negatively.
Leave No Trace principles include:
Disposing of waste and trash properly
Respecting wildlife
Being super careful of campfires as well as local fire restrictions
Being considerate of other people recreating in the area
Leaving your campsite better than you found it
Have to Use the Bathroom?
In reality, we all have to use the bathroom. So, let's read more about it.
Plan ahead! Know before you go… literally. Backpacker.com has down-to-earth information on their website discussing using the bathroom in the backcountry. There is no shame in being prepared.
To use the bathroom in the backcountry if there are no facilities:
Dig a hole and bury your human waste
Pack out toilet paper and feminine products
Plan ahead and pack a ziplock with toilet paper and wipes to pack out
We also keep wag bags (from Amazon or REI) in the car and in our day packs when hiking or camping on public lands where it is required to pack out human waste.
For example, in Glen Canyon Recreation Area (Lake Powell) and places along the Colorado River or next to the water, you have to pack out human waste along with toilet paper. So always good to have a wag bag when duty calls.
Since everyone is free to use public lands, we all have to do our part to keep them pristine, clean, and unforgettable.
Trail Use Etiquette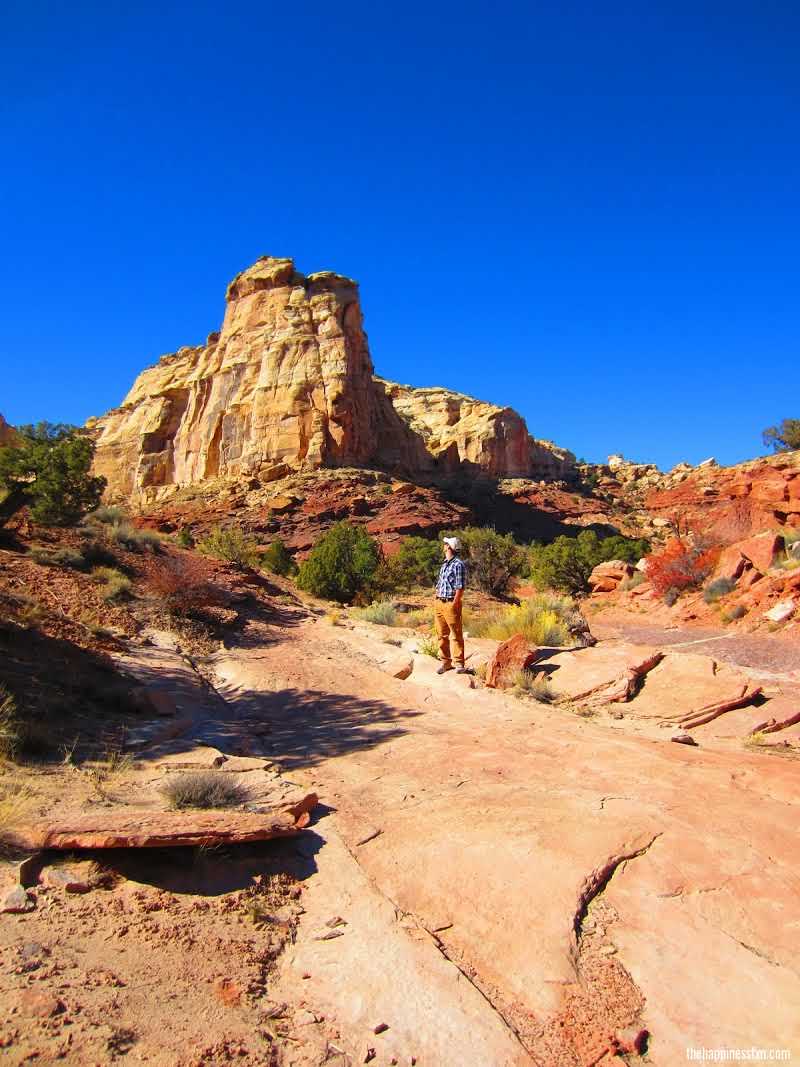 Hiking or biking? Sweet! Check out this post from REI on Trail Etiquette and Who Has the Right of Way. It talks about who has the right of way when using the trail.
Don't Bust the Desert Crust
Have you seen signs or stickers that say don't bust the crust? The signage and public outreach are because it takes tens to hundreds of years for the desert's biological soil crust to grow.
That black crusty stuff all over the desert is alive and composed of microorganisms important to the desert ecosystem.
When recreating outdoors in the desert, it is crucial to stay on the trails or roads to protect the biological soil crust.
I did my undergraduate thesis on Biological Soil Crust and Its Importance to the Intermountain Plateau, and am passionate about protecting and preserving it. Now you can be too.
What is BLM Land?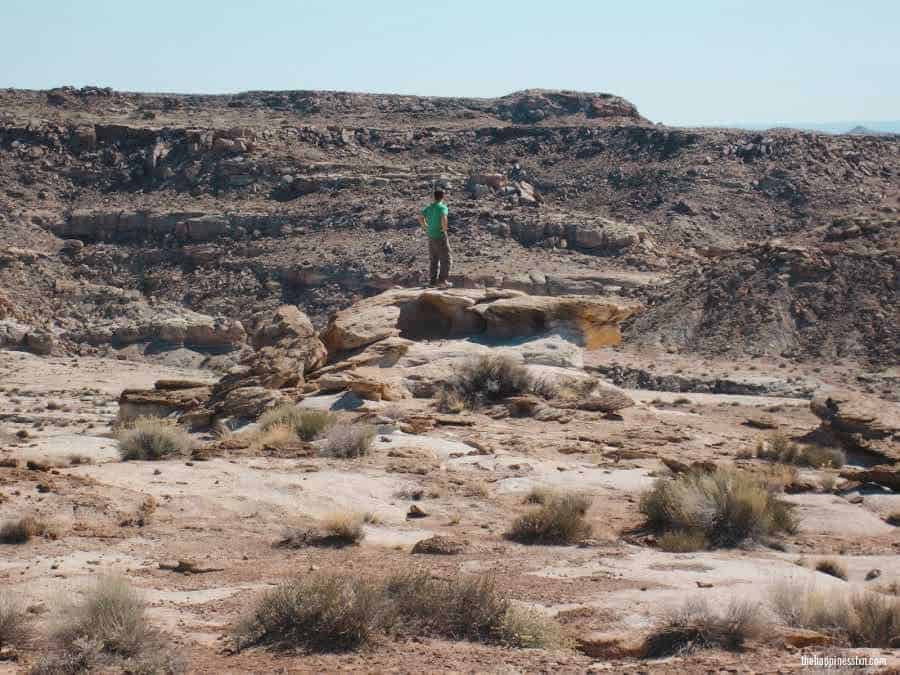 BLM stands for Bureau of Land Management. It is a federal government agency under the U.S. Department of the Interior. The BLM manages over 245 million acres of public land in the U.S.
Uniquely, BLM land is public land meaning it is open to the public for recreational use.
BLM Land Map
For example, check out this map to explore public land in the U.S. managed by the government.
What Outdoor Activities Can I Do on BLM Land?
Public lands offer a mecca of outdoor recreation activities and adventure sports such as hiking, biking, climbing, canyoneering, mountaineering, off-roading, tent camping, dispersed camping, or RV-ing, just to name a few.
What Does Primitive Camping Mean? What is Dispersed Camping?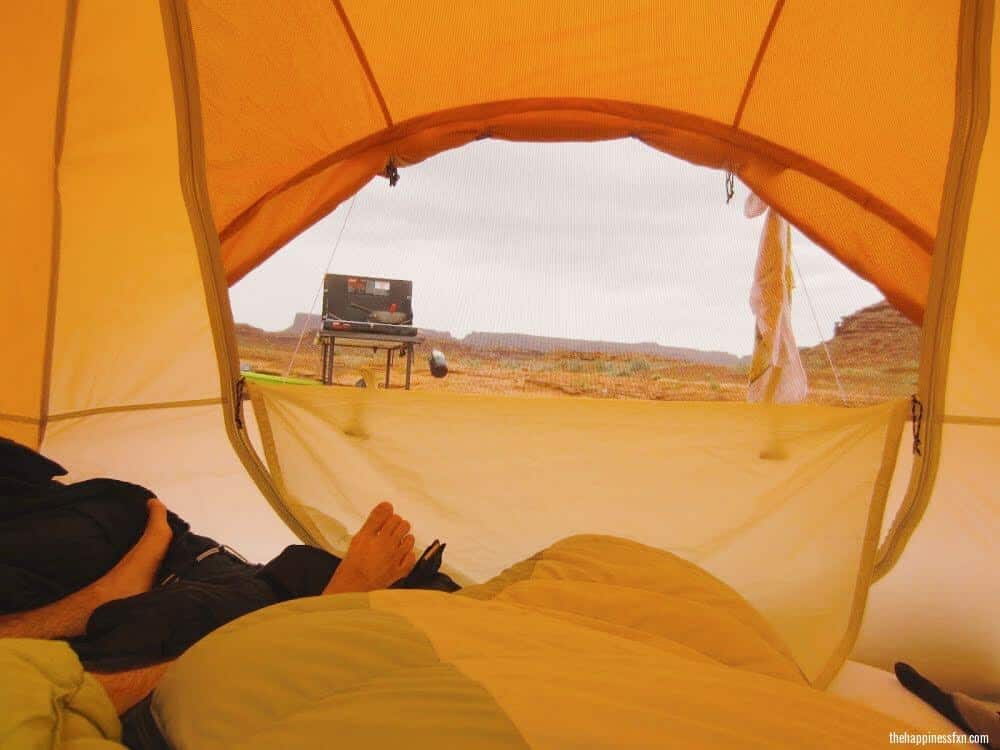 Dispersed camping (primitive camping) is camping without facilities in the backcountry mostly. It can also mean camping without camping in a formal campground area.
BLM calls this dispersed camping. The National Park Service calls this primitive camping.
There is no water, electricity, trash receptacles, or bathrooms. With this in mind, there probably won't even be cell phone reception (if you're out West).
You have to bring all your creature comforts with you, including food, water, shelter, batteries, a first aid kit, etc.
Everything you are reading about is why it is super important to know the backcountry rules before going camping on BLM land. You really get into the wild (just how we like it!).
How to Camp for Free on BLM Land – BLM Camping Map
Public land is full of incredible places to go camping!
Check out the BLM Recreation Web Map to find public lands near you. Plan your next adventure, locate destinations to camp, and find hiking and biking trails.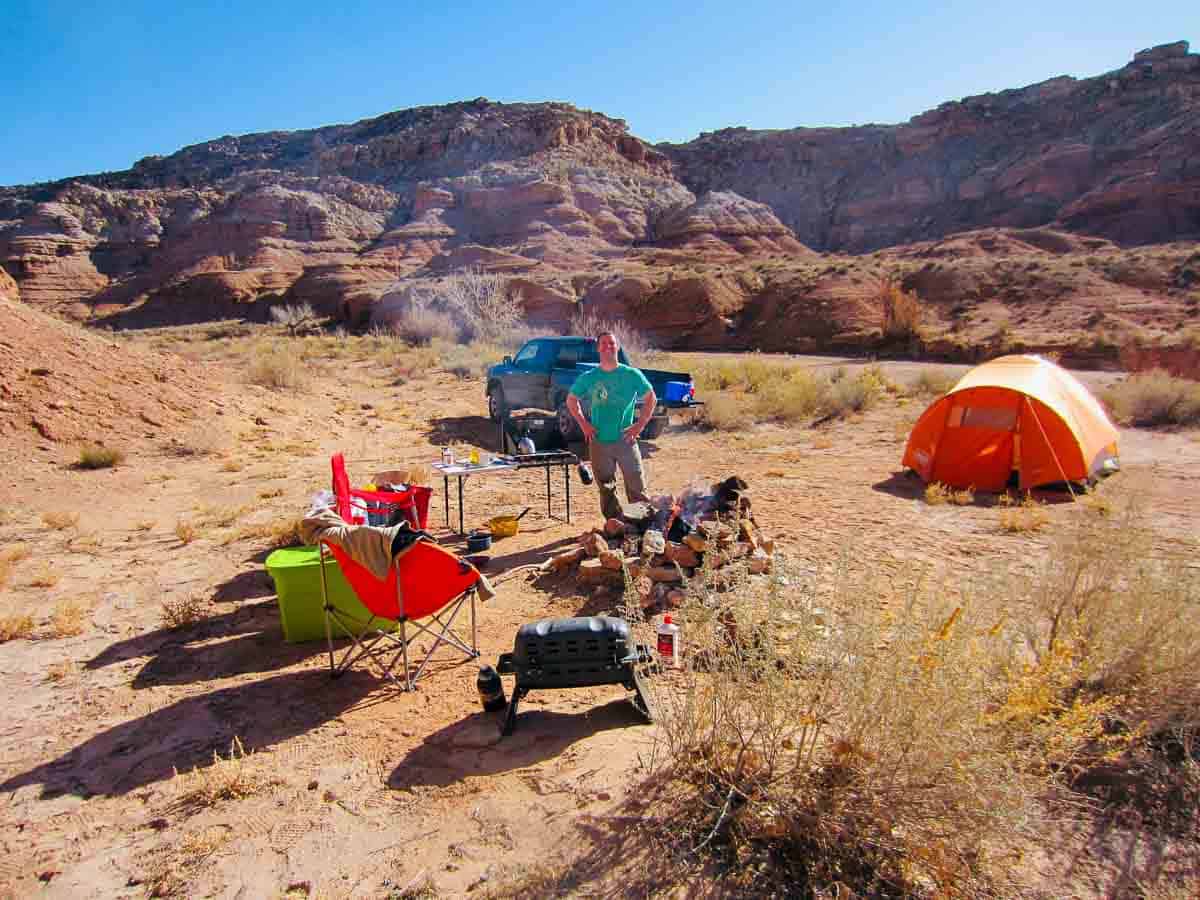 BLM Camping Rules
OK, so you might be asking yourself, "What is dispersed camping, or what is a primitive campsite?"
Most of the primitive camping (dispersed camping) spots are established. Meaning there won't necessarily be a formal campground, but you can see that there is a camping spot. Sometimes there is a fire pit. Sometimes not.
To explain, you can access the camping locations off dirt or gravel roads and trails.
Another critical point, you only want to camp where it looks like it is safe to camp for yourself and the environment. For this reason, never disturbed undisturbed land to camp.
If it doesn't look like someone else camped there, don't make a new disturbance (going back to the backcountry rules earlier).
Find your spot and set up camp. Now you're camping for free. That's it. Keep your wallet and hard-earned money in your pocket.
The caveat to this is that the BLM doesn't want you staying for more than 14 days. So, don't get too cozy…
Some BLM places will have other timing restrictions and formal camping spots with bathrooms. But for the most part, primitive or dispersed camping is just how it sounds. Primitive. Bring your own everything!
BLM Camping Safety Tips
Here are a few safety tips when dispersed camping:
Plan not to have cell phone reception – know how to get to your destination and back.
Have a topo map and know how to read it.
Bring one gallon of water per person per day while camping in the desert.
Plan enough food for your trip.
Practice good hygiene and think about where you're going to use the bathroom. Do you need a wag bag? Do you need a backcountry shovel to bury human waste? Is there a restroom facility close by?
Let someone close to you know where you are going and when you plan to come home.
Pack a first aid kit just in case.
Bring appropriate clothes and layering to stay warm and dry.
Don't forget a light source (headlamp) and batteries!
We always pack pepper spray for personal protection.
Also, we always pack a hatchet.
Do you need firewood and an ignition source?
Know how to set up your camp gear ahead of time.
Check the weather before you go.
Avoid camping in drainages/washes in the desert in case of flash flooding.
Not sure what to pack for your camping trip? Check out our article on how to make a DIY camp kitchen with 30 items or less.
Best Dispersed Camping in Colorado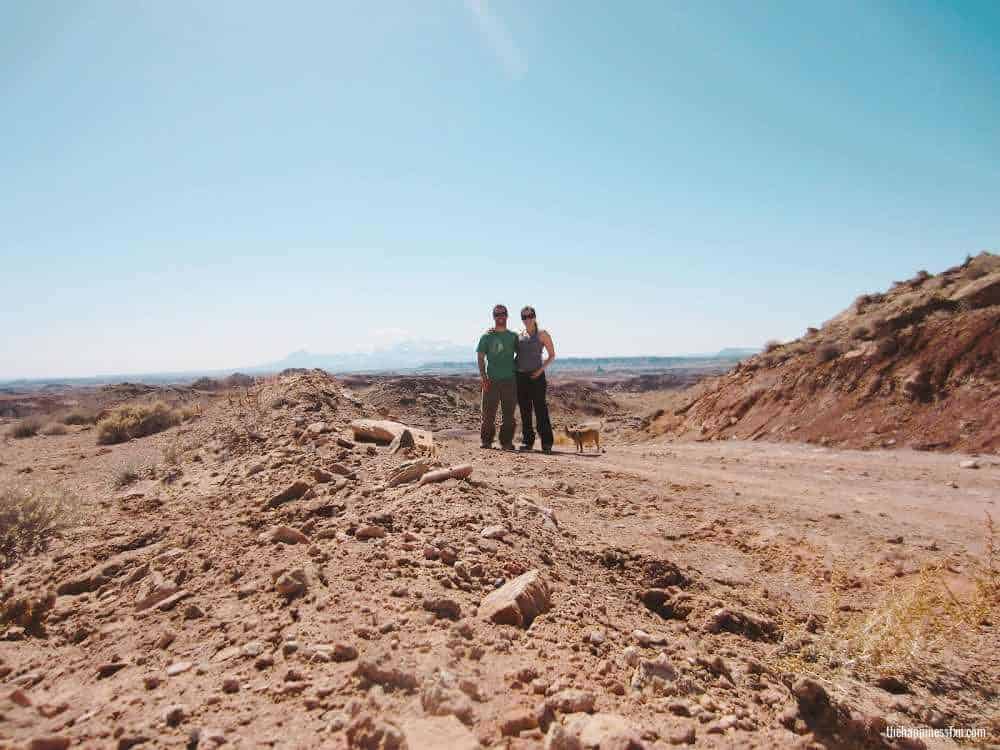 We lived in Grand Junction, Colorado, for a long time. It is near and dear to our hearts.
I spent time completing my undergraduate degree in Western Colorado and Southeast Utah. During my time at college, we studied the desert ecosystem, plants, animals, and biological soil crust. I had a unique opportunity to live off the grid for a summer in the backcountry doing field research for the National Park Service.
We wanted to share some of our favorite Colorado BLM camping areas with you. Our favorite places to camp on BLM land are listed below, with links to National Geographic Topographic Maps (you can buy them on Amazon). Because, we can tell you right now, cell phone reception can be limited or nonexistent.
Hiking in Western Colorado:
BLM Land Colorado Maps
As an illustration, the topo maps below have all the trails, hiking, biking, designated camp areas, and bathrooms. All of this information is why we are obsessed with National Geographic Topo maps!
Keep in mind that just because there isn't a designated camping area icon on the map doesn't mean you cannot camp there.
Best Dispersed Camping in Utah
Our favorite areas for BLM camping in Southeast Utah are near the San Rafael Swell on BLM land.
There are also places for primitive camping near Canyonlands National Park, the Needles District, and the Maze District. These areas are in or near the national park.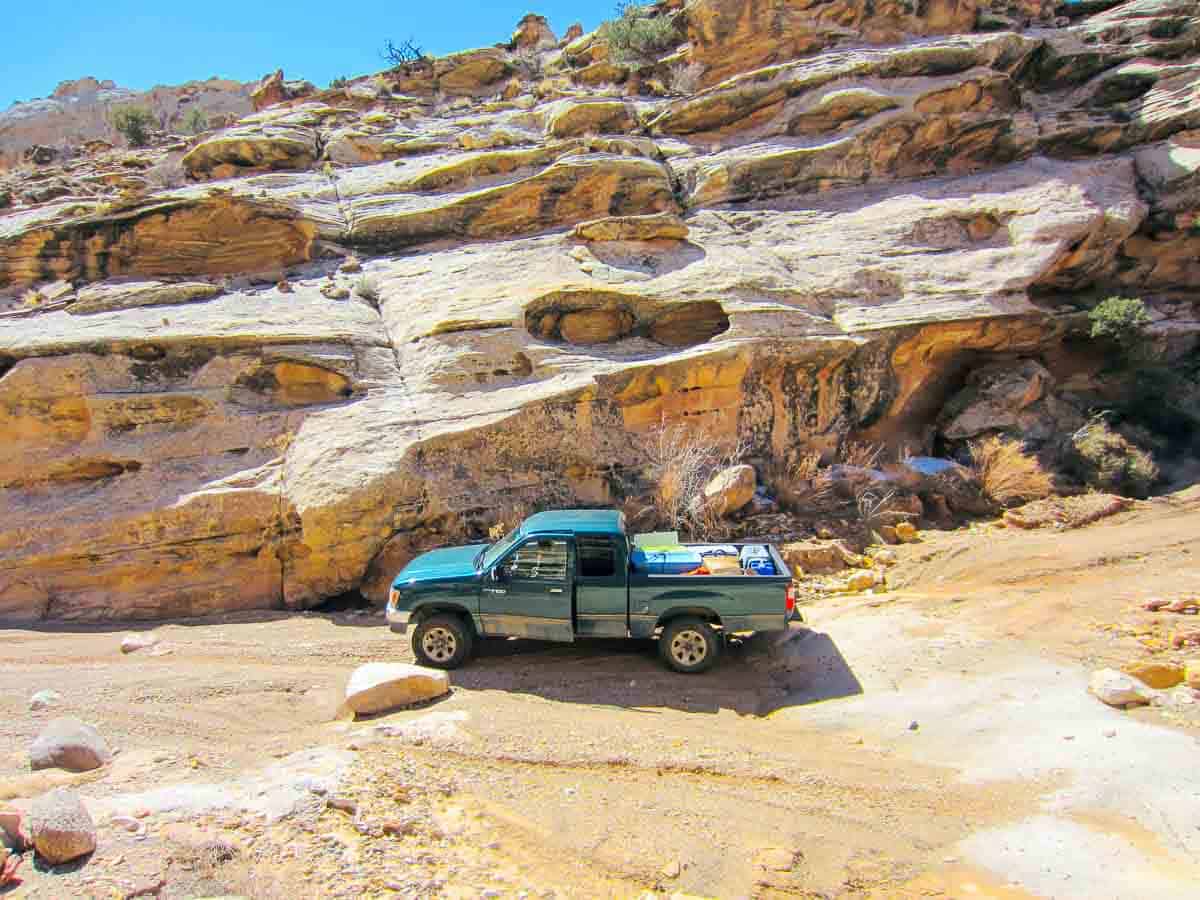 BLM Land Map Utah
Below are the links to National Geographic Topo maps of all of the best dispersed (BLM) and primitive camping (National Park Service) areas in Southeast Utah:
New to Reading Topo Maps?
Check out How to Read a Topo Map by REI. The REI webpage is super informative. It is extremely important to know how to read a topo map, especially if you are going to explore the backcountry.
Sometimes you don't want to be glued to your phone. It is more likely you won't have cell phone reception to navigate. Knowing how to read a topo map is a cool life skill.
Additionally, for your safety, and the environment, it is essential to know how to recreate responsibly, plan ahead, and know where you are going. Be sure to let someone else know where you are going too.
Best Time of Year for Dispersed Camping in the Desert
The best months to camp are definitely during the spring in April, May, and June. Fall is also spectacular during September and October. These months aren't too hot.
If you like it super hot, you can get away with camping in the summer from mid-June through August as long as you have shade. In light of the heat, summer is a dry heat out West. Surely, you'll be fine if you have shade and lots of water! Summer is a great time to camp at Lake Powell or along the Colorado River.
"What draws us into the desert is the search for something intimate in the remote."

Edward Abbey, author of Desert Solitaire
Free BLM Resources Online
Below are links to free resources offered by the BLM:
Best Dispersed Camping Gear
We love camping in the desert, hanging out, and going for hikes. In particular, it is one of our most cherished outdoor recreation weekend activities.
It is important to be prepared to camp in the backcountry. Below are camp gear essentials we recommend for dispersed camping on BLM land in the backcountry:
Final Thoughts on Dispersed Camping on BLM Land
Our best advice is to know what you are doing while camping in the middle of nowhere.
Plan ahead. Plan to have all of your food and water with you. Have a bathroom plan. Be sure to tell loved ones where you are going and when you plan to return.
It is essential to know how to read a map because you might not have cell phone reception.
Most importantly, respect the land for future generations to come and have fun!
Thanks for reading. Happy camping!
Ashlee & Pablo
---
You might also enjoy…
Check out our other posts with camping tips and tricks, along with some of our favorite Utah outdoor adventures!
Camping:
Utah:
We want to hear from you!
Do you have more questions about camping for free or primitive camping on BLM land?
Where are you planning to go dispersed or primitive camping in Colorado or Utah?