The Best Subaru Outback Car Camping Mattress for Road Trips
Last Updated: Sep 28, 2023
|
|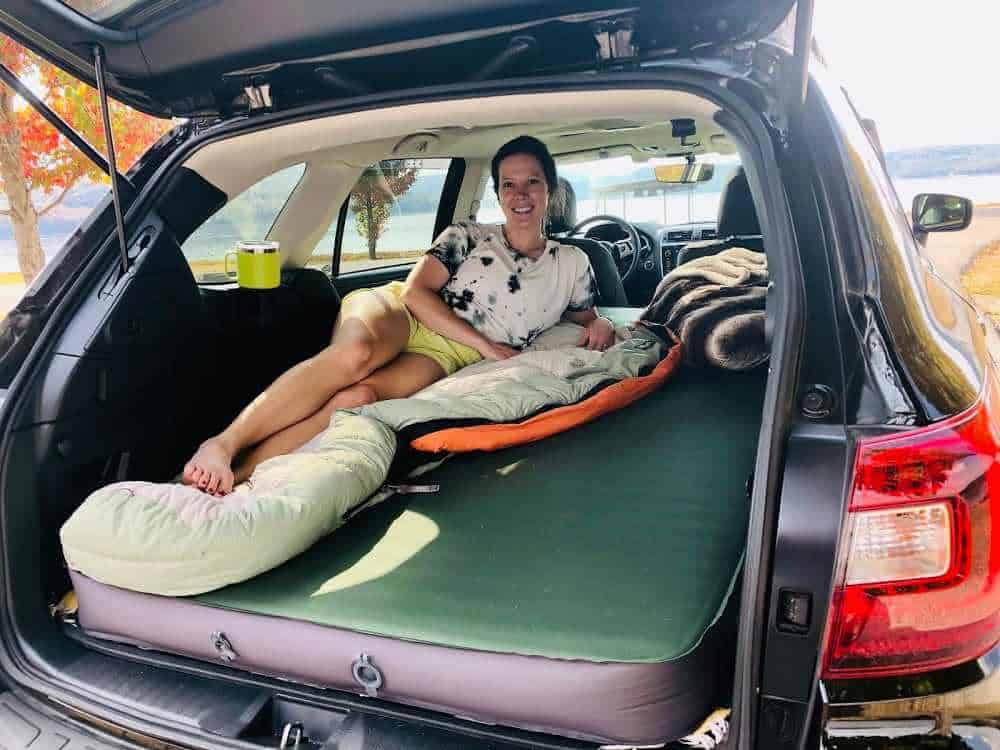 We discovered the best Subaru Outback car camping mattress ever. This mattress is super comfortable, insulated, and fits the back dimensions of the car perfectly. This gear review talks about the Exped Megamat Duo 10 insulated self-inflating sleep pad (medium size, not wide long). Continue reading to learn more about an inflatable mattress you cannot miss owning if you want to sleep in the back of your car, along with our personal experience.
This post contains affiliate links, which means we'll receive a commission if you purchase through our links at no extra cost to you. This allows us to continue publishing free travel and gear guides. Please read our full disclosure for more information. Thanks for your support!
Can You Sleep in the Back of a Subaru Outback?
The short answer is yes!
We love car camping, but sometimes we are in a hurry and don't want to set up a tent, especially when we drive across the country and do quick overnights at rest stops.
Recently, we drove to South Dakota to visit my Mom for a quick weekend. My husband and I opted for car camping and sleeping in our Subaru Outback instead of staying in hotels or trying to find camping along the way. We researched ahead of time to figure out the best set-up based on our car's size and are sharing all the details with you.
We like keeping it simple when car camping. We take our dog, sleeping bags, pillows, two camp chairs, camp stove, kitchen gadgets, water, food, cooler, and personal items (clothes and toiletries). To road trip across the country in the Subaru with plenty of space, you'll basically want a backpacking setup so minimize what you bring.
Are you planning a road trip? Whenever we road trip far from home, we always purchase travel insurance from Travel Insurance Master. With Travel Insurance Master, you can select the exact coverage you need to cover outdoor activities, gear, and camping reservations.
Can a Full-Size Mattress Fit in a Subaru Outback?
You might be wondering how to make a mattress for your Subaru Outback work with what you already have around the house. We did the same thing!
When planning our adventure to sleep in the back of our Subaru Outback, first, we just got in the back of the Subaru without a sleeping mattress or pad. Though doable, we decided it might be better not to wake up sore or stiff.
Next, we grabbed an old full-size Coleman blow-up mattress and shoved it into the back of the car. It was suffocating, to say the least. The full-size air bed was too thick, barely giving us room to move, and we could hardly close the door. But we had a good laugh.
Since this option was a no-go, we decided to do an online research project consisting of "What size mattress fits in the back of a Subaru Outback?"
What Size Air Mattress Fits a Subaru Outback?
So, what size air mattress do you need for a Subaru Outback? An air mattress with the dimensions 72" x 41" x 4" will fit the back of your Subaru Outback perfectly!
To keep sleeping in the back of the Outback comfortable and straightforward, we found a terrific inflatable mattress.
The Best Subaru Outback Air Mattress
The Exped Megamat Duo 10 insulated self-inflating sleep pad is the ultimate mattress for a Subaru Outback.
This mattress fits perfectly into the back of our Subaru Outback based on dimensions.
Where To Buy Air Mattress for Subaru Outback?
You can buy the Exped Megamat inflatable mattress from REI.com or Amazon. Check both stores for the best pricing and to order the correct size. These mattresses sell out during camping season, so it is always good to check both stores for the correct product size.
Our Subaru Outback Mattress Test
On the first mattress test, we slept at a Sinclair parking lot in the middle of nowhere Wyoming (literally), and it took less than 5 minutes to inflate the mattress. If you do not have time to inflate the bed, it has a little hand pump (see little grey round thing in photos).
We slept well. This air bed was comfortable for the two of us. My husband and I are 5'5" for reference, and we both fit great, especially since we can stuff a bag on each side by the doors for a little extra shoulder room.
The key to comfortably sleeping two people in the back is by stuffing a duffel bag or pillow next to the doors. This makes the shoulder room wider.
This mattress is also perfect for the solo traveler.
The Exped Megamat Duo 10 insulated self-inflating sleep pad will not disappoint. It will fit in your Subaru Outback (or SUV), so you can wake up rested.
Can I Use This Mattress in Other Vehicles?
Of course, as long as wherever you plan to use it has space for a 72" x 41" x 4" inflatable mattress. This mattress works well in most SUVs or trucks. You can also use it tent camping or rafting.
Benefits of Sleeping in the Back of Your Car
The cool thing about sleeping in the back of the Subaru Outback is it provides a sturdy shelter option instead of a tent. You can practically turn your Outback into a camper. You can sleep on the go if you travel across the country, like at truck stops if you want.
The other good thing about sleeping in your car is that if you stay in a place you are not familiar with, like backwoods or a rest stop, you have a little more protection. If you are worried about animals or the weather, sleeping in the car offers a little more comfort.
Sleeping in the back of your car can save quite a bit of money. We are frugal, and we stay where it feels safe and convenient when we are crunched for time or money.
Road Trip Packing Tips
Unless you have a rack on top of your car, you're going to want to pack light. Bring the essentials so everything fits in the passenger front seat while you're sleeping. When we travel in our Outback across the country, we typically bring a backpacking gear setup. We each bring a small bag. Leave gear outside of the car that you feel comfortable leaving outside at your campsite.
For example, we have a small bear-resistant Yeti cooler so we leave that outside the car when we are sleeping in the Outback.
Safety Tips While Car Camping
Always keep the driver's seat clear in case you need a quick getaway. You never know, and it is always better to be safe than sorry. Also, be smart about the weather. You just can't sleep in the back of your car when it is super hot or super cold.
Final Thoughts
We looked at so many mattresses online, and when we decided to splurge, it was worth it. That is why we wanted to write this post. I am sure lots of you want a sleeping mattress for the back of your car but are not sure about the size or cost. We hope this gear review on the Exped Megamat Duo 10 insulated self-inflating sleep pad (dimensions 72" x 41" x 4") helps you out. The Exped Megamat air bed rocks! If we ever need a guest bed, someone is sleeping on this in the house.
This post is not sponsored by Subaru or Exped.
---
Read More Gear Reviews
Camping Articles
Save on Pinterest!