25 Best Amazon Camping Gear Must-Haves
Last Updated: Jan 5, 2023
|
|
Comments Off

on 25 Best Amazon Camping Gear Must-Haves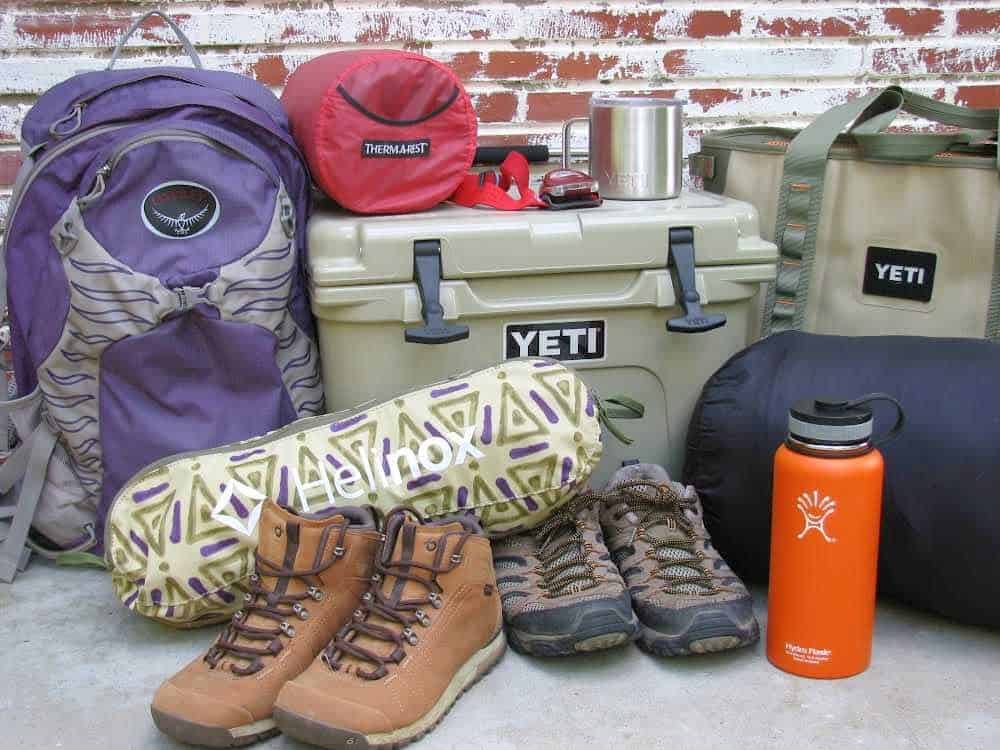 You cannot miss this list of Amazon camping gear must-haves!
Camping season is one of the best times of the year and we absolutely live for camping! Over the years, we have compiled lots of gear, and we want to share all the top camping gear recommendations with you to have memorable camping trips. Continue reading to see our suggestions for the best camping gear on Amazon.
This post contains affiliate links, which means we'll receive a commission if you purchase through our links at no extra cost to you. This allows us to publish free gear reviews and travel guides. Please read full disclosure for more information. Thanks for your support!
Best Camping Gear on Amazon
Amazon is a great place to buy gear for people who love camping. Whether it is for you or a gift for family or a friend, the list below contains epic camping products from the best outdoor brands on the market. Check out this list of camping essentials to buy on Amazon.
We love Amazon because they have a vast selection and primarily free shipping. Since some of us live in places where we can't shop for local gear, Amazon is a great option.
What we like most about buying from Amazon is Amazon Prime. Fast and free shipping is a fun way to get new gear, and it is easy to return products if you decide they aren't the best fit for you. Please note: Amazon does not guarantee free shipping on all products.
All of the gear below we use, currently have, or have tried. So, we have got your backs for this edition of Amazon camping equipment! All opinions in this article are our own. This article is not sponsored by Amazon or any of the brands listed below.
1. Sleeping Bag
The North Face Wasatch 30F is made with eco insulation and has a water-repellent finish. The bag is rated for 30 degrees Fahrenheit, which makes it great for spring, summer, and fall camping. It is lighter weight and can also be used for backpacking.
---
2. Hammock
Wise Owl Outfitters has some of the best-selling hammocks for camping on Amazon. This brand is made in the USA. The hammock makes for a fun addition to your weekend camping excursion, relaxing between the trees with a good book. Some people like to sleep in them at night, but we just use them for relaxing off the ground. It feels good to get your feet up!
---
3. Headlamp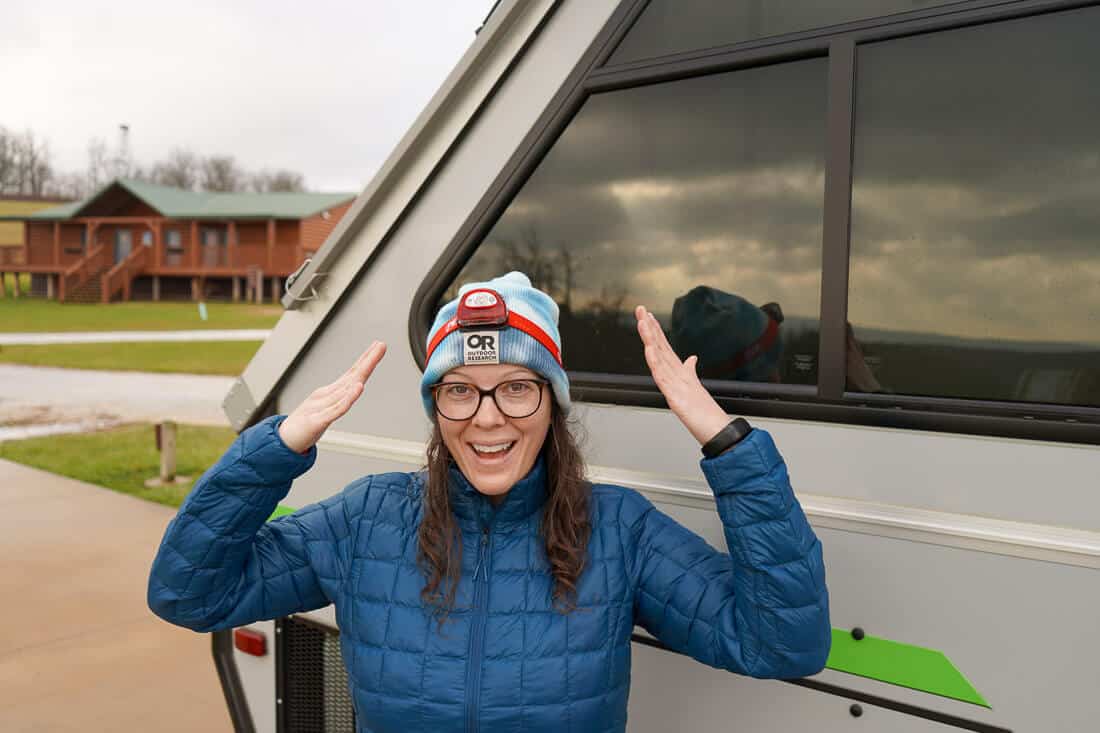 You can't go wrong with Petzl. We have had some of the same headlamps for 15 years, and they still work. We are currently using the Tikkina. There are three lighting options – bright, not so bright, then a strobe (for safety).
---
4. Water Filter
We have used our MSR MiniWorks EX Microfilter on many backpacking trips.
If you're filtering really silty water, you will want to clean off the filter between filling up each water bottle. However, we have only had that problem filtering water in the Utah desert. In most places, the water isn't so silty! Great, filter. It really does the job and is pretty compact too. We highly recommend it.
---
5. Water Bottles
You just can't go wrong with Hydroflask or Yeti. The insulated bottles are really awesome. If you're hiking where it's warm, they keep your water cool. And, if you're hiking where it's cool, they keep your water room temp.
We also like Nalgenes for backpacking. Nalgenes are so lightweight. Plus, you can put a Nalgene full of hot water in your sleeping bag to warm it up if it's a little chilly.
---
6. Camp Towels
BEARZ outdoor quick dry towels really are quick-drying and lightweight. You can buy the towel set for a reasonable price. We used the BEARZ towel on a recent camping trip, and in 10 days, it didn't stink, dried fast, and packed well.
---
7. Bug Spray
The REPEL brand doesn't leave white marks all over your clothes and is practically odorless. We used their tick defense product hiking through Alabama and Florida, and it kept the mosquitos and ticks off of us. We live in Oklahoma too! Needless to say, it's our new favorite bug spray.
---
8. Camp Chairs
Helinox camp chairs are simply the bomb. They are super comfortable, compact, and lightweight. They store easily as well.
Plus, if you want a camp chair backpacking, you could take a Helinox with you. Honestly, just leave one in your car for any occasion!
---
9. Coleman Stove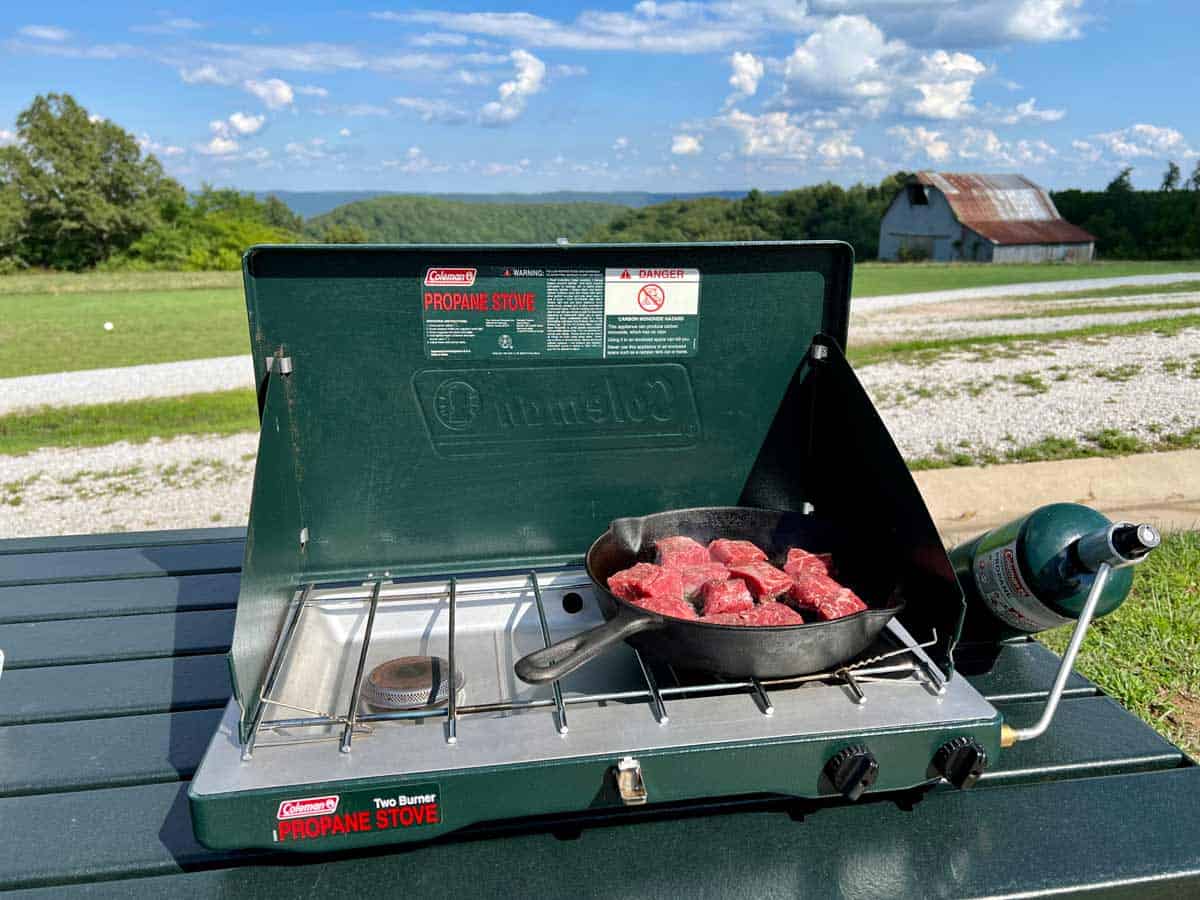 We love our Coleman stove! We have had it for over ten years, and it is still going strong. A camp kitchen isn't complete without a Coleman. You can also buy the fuel on Amazon or in bulk places like SAMS Club.
---
10. Backpacking Tent
Coleman also makes a decent beginner backpacking tent, the Hooligan. Check this one out if you're just getting started. It is lightweight and affordable.
---
11. Car Camping Tent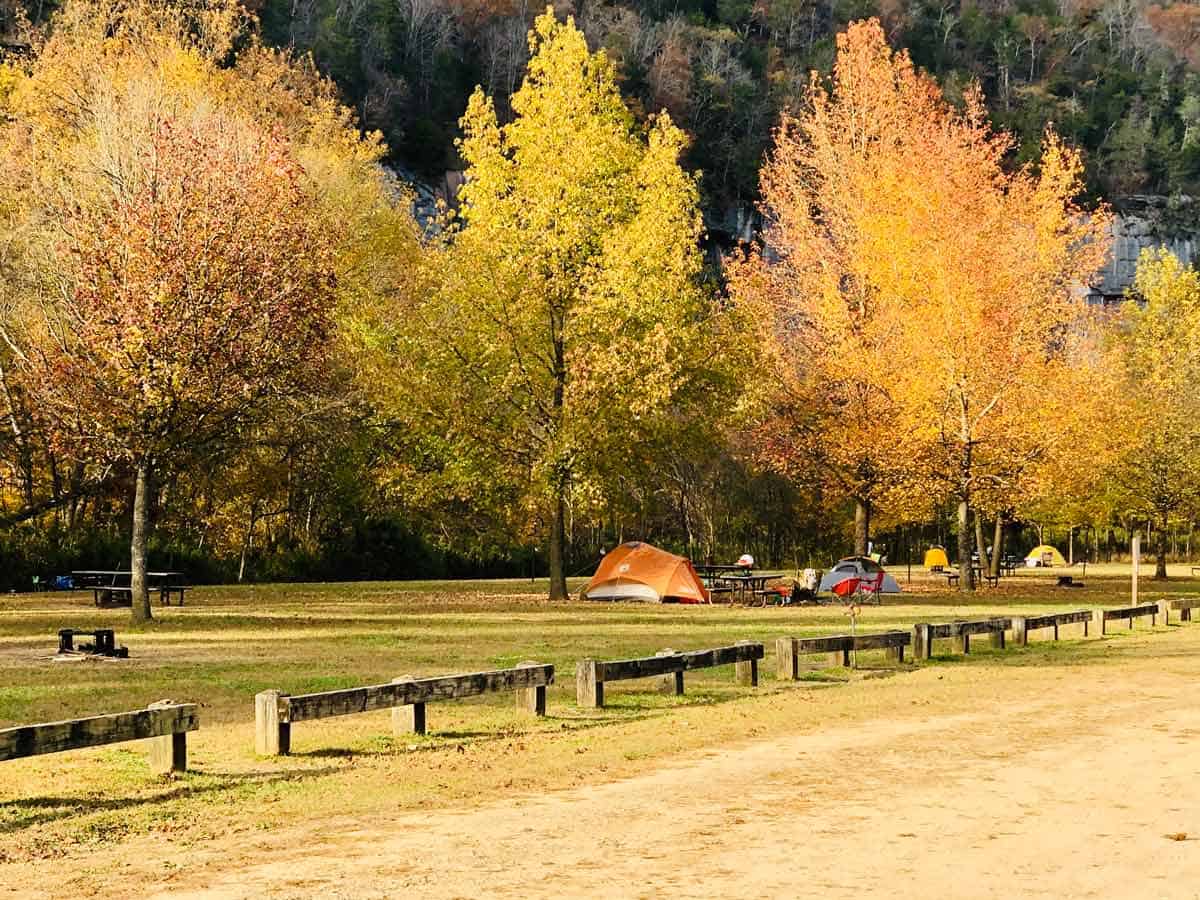 You can also get a nice car camping tent on Amazon. We have a Coleman 4-person dome tent! It's a little heavy, so you definitely wouldn't want to take this backpacking. It is spacious for the two of us and the dog!
Don't be afraid to go a little bigger for comfort when car camping, and always have a rain fly handy.
We have used this tent during crazy Lake Powell rain and wind storms, camping in the desert, and camping in the Ozarks. Like anything, if you take care of gear, it will last a long time.
---
12. Hiking Boots for Women
Oboz is made in the USA. They make incredible hiking boots. The mid-leather is an excellent option for day-hikes and boasts a fashionable street to trail look. It's true; you can wear these walking around town and then go out for a trail hike later in the day wearing the same shoe. These are comfortable and well worth the money! In fact, Oboz is my new favorite brand of hiking boots (in case you wanted to know).
---
13. Hiking Shoes for Men
The Merrell Moab has a cult following for all types of ages and adventures. My husband has been wearing his for years and loves them. The Moab comes in different colors too.
This is a great low-top hiking shoe for men. It is comfortable, takes minimal time to break in, and wears well with good hiking socks.
My husband was recently gifted a pair of Oboz Sawtooths that he loves equally as well.
---
14. Outdoorsy Hiking Sandals
We love Chacos! Your feet need freedom.
These are genuinely durable and multi-functional. You can wear them hanging out around camp, to the beach, stand-up paddleboarding, for easy hikes, in camp showers, or just walking around.
---
15. Daypack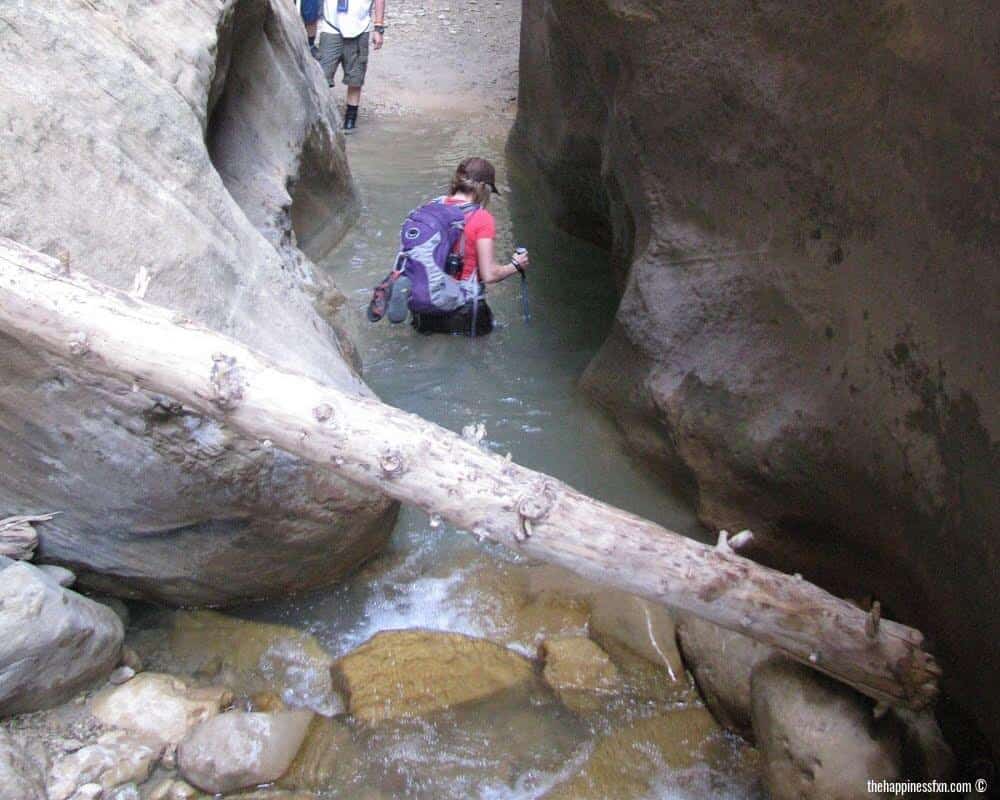 Osprey makes excellent daypacks for hiking. Some of their bags even have a special place for a water bladder. We have had the Sirrus 24 daypack for about ten years. It has been all over the world, and it's still going strong. It is lightweight and structured with a ventilated back panel to keep the bag off your back and help your back breathe (so you don't get so sweaty). It has lots of space to stow snacks, extra clothes, and water. It's a good camping backpack, hiking bag, or carry-on for the airport.
---
16. Backpacking Backpack
Again, Osprey. Bags are their thing. Give them a try!
Before buying a backpacking backpack, consider what size fits your body best and what kind of gear you'll be carrying. Having a good fit is critical. You might try some on before you buy one.
Osprey makes durable bags made for the outdoors. Enjoy!
---
17. Sleeping Pad
Thermarest has been around a long time. That should tell you something about their gear. We have had a few Thermarests for over ten years.
The ones that haven't lasted long are because we didn't use them correctly! Make sure there is a tarp or footprint under your tent or sleeping bag (if you're sleeping under the stars) so you don't pop your Thermarest.
Thermarest comes in many different colors and sizes and is excellent for all types of camping.
---
18. Rain Jacket
Helly Hanson makes fantastic rain and windproof gear. Both my husband and I wear Helly Hanson religiously. We love their waterproof, windproof, and breathable technical gear.
---
19. Pocket Knife
It is always good to have a Kershaw somewhere close! In fact, the only time I don't see this knife in my husband's pocket is when we are at the airport…
The 2.4-inch carbon stainless steel blade is sharp and pretty handy to have. It is a great companion tool for anyone day-to-day.
This is a great gift idea for guys who like the outdoors!
---
20. Camp Hatchet
The SOG Tomahawk Hatchet is a pretty sweet multi-use camping survival tool. It has an excellent grip, isn't too heavy, and cuts well. The hatchet is an awesome gift for outdoor lovers!
---
21. Solar Lamp
Solar is just fun! As long as you have sun, this solar light is a sweet little Amazon camping accessory.
---
22. Wash Bin
Most places don't like us washing dishes in the camp bathrooms; so we have this UST Flexware sink.
We love it because it's collapsible and lightweight.
---
23. Camp Cookware
Stanley makes a cool base camp cook set if you're just getting started and are looking for a set up. Stanley makes tough, durable, and space saving products. This would make a great wedding gift for outdoor couples!
---
24. Camp Cooler
Yeti makes such excellent products. We love YETI because the hard-sided cooler is also bear-proof, so coolers can be left in the back of the truck without worrying when camping (depending on where you are camping). The hard-sided cooler is a perfect gift for Dad's!
Yeti's soft coolers are also pretty sweet and lighter weight – great for road tripping or spending the day at the lake!
---
25. First Aid Kit
It's always good to travel with a first aid kit because accidents happen. We like a small first aid kit because you can also take it hiking.
---
More Camping Articles
Save this Amazon camping gear pin!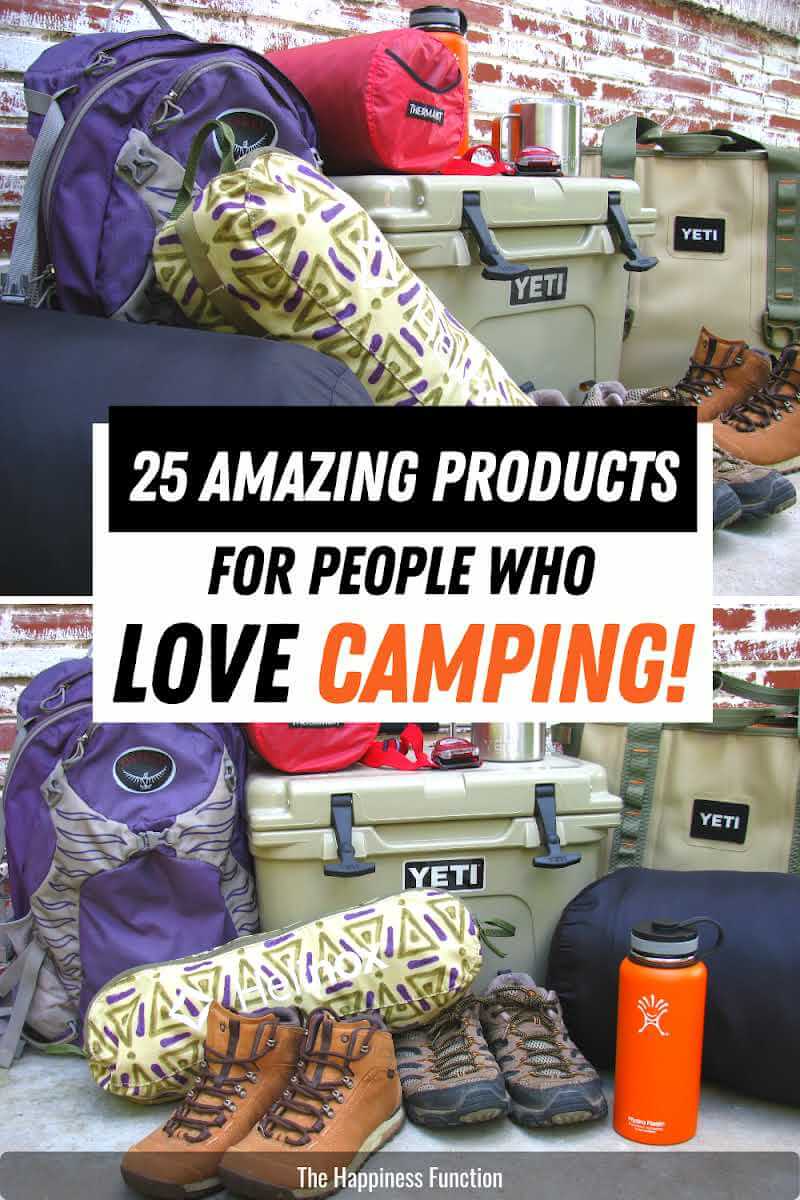 We would love to hear from you!
Did you get any of this gear? We would love to know.
Feel free to message us if you have Amazon camping gear, equipment, or accessories questions.