How to Spend One Perfect Day in Hot Springs National Park
Last Updated: Mar 27, 2023
|
|
If visiting all the national parks in the U.S. is on your bucket list, you'll have a blast exploring Hot Springs National Park. But keep in mind it's unlike most of the other national parks.
It's an urban park full of history and stories of healing mineral waters. However, don't let this discourage you from visiting. There are so many fantastic things to see and do within the park, and you won't be disappointed visiting! Here's how to spend the best day sightseeing at Hot Springs National Park.
Hot Springs National Park Travel Guide
Hot Springs National Park is one of the best things to do in Arkansas! The park is one of the oldest national parks in the U.S., even predating Yellowstone (NPS).
With its beautiful natural landscape and variety of outdoor activities, this national park in Arkansas provides an experience unlike anything else. From scenic trails to delicious restaurants to exciting attractions like horse racing and hot springs baths, the town of Hot Springs is a great place for a family vacation, a romantic getaway for two, or a road trip for adventure lovers.
Travelers can plan a weekend getaway or an extended stay – no matter how long your visit lasts, you will feel refreshed and energized. So, keep reading to discover fantastic things to do to ensure you have the best trip!
Where is Hot Springs National Park?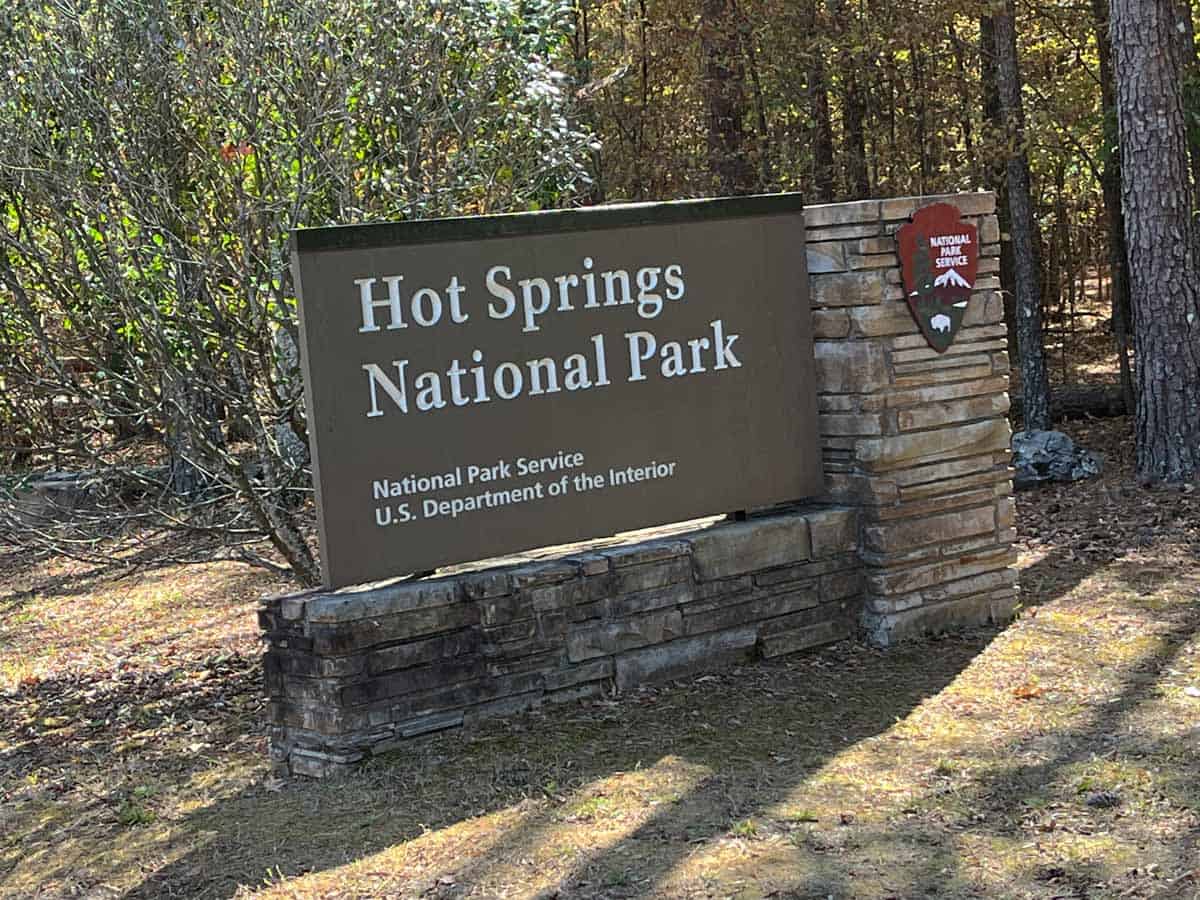 To get to the park, you'll drive into the town of Hot Springs, Arkansas. Next, head to Central Avenue. You can find parking, the visitor center, and the main things to explore from here.
Where to Park
When driving down Central Ave., watch for signs that say free public parking. There are other places to park along the street or if you're staying at one of the hotels downtown, but if you're just visiting for the day, try to find free public parking.
We parked at the Exchange Street Parking Plaza. The address is 204 Exchange St., Hot Springs, AR 71901.
Things to Do at Hot Springs National Park
Visitor Center Fordyce Bathhouse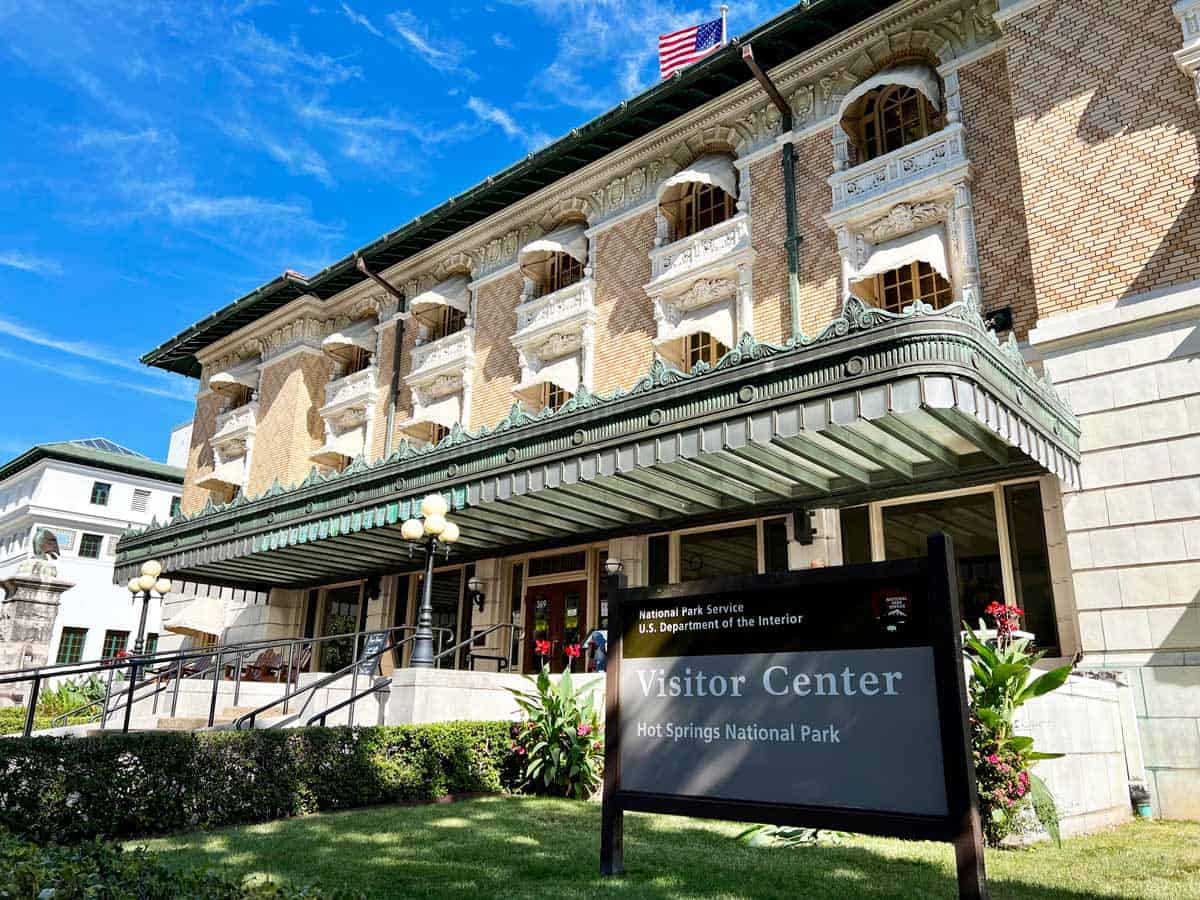 First, head to the Fordyce Bathhouse, which is the visitor center for Hot Springs National Park. From here, you can get a map of the area, speak to a ranger if you have questions, and tour around. The Fordyce Bathhouse is now a museum full of elegant décor.
Hot Springs National Park is dog-friendly, and if you'd like to make your dog a national park bark ranger, a park ranger at the visitor center can share how.
We made Bear, our toy Australian Shepard, an official bark ranger!
Bathhouse Row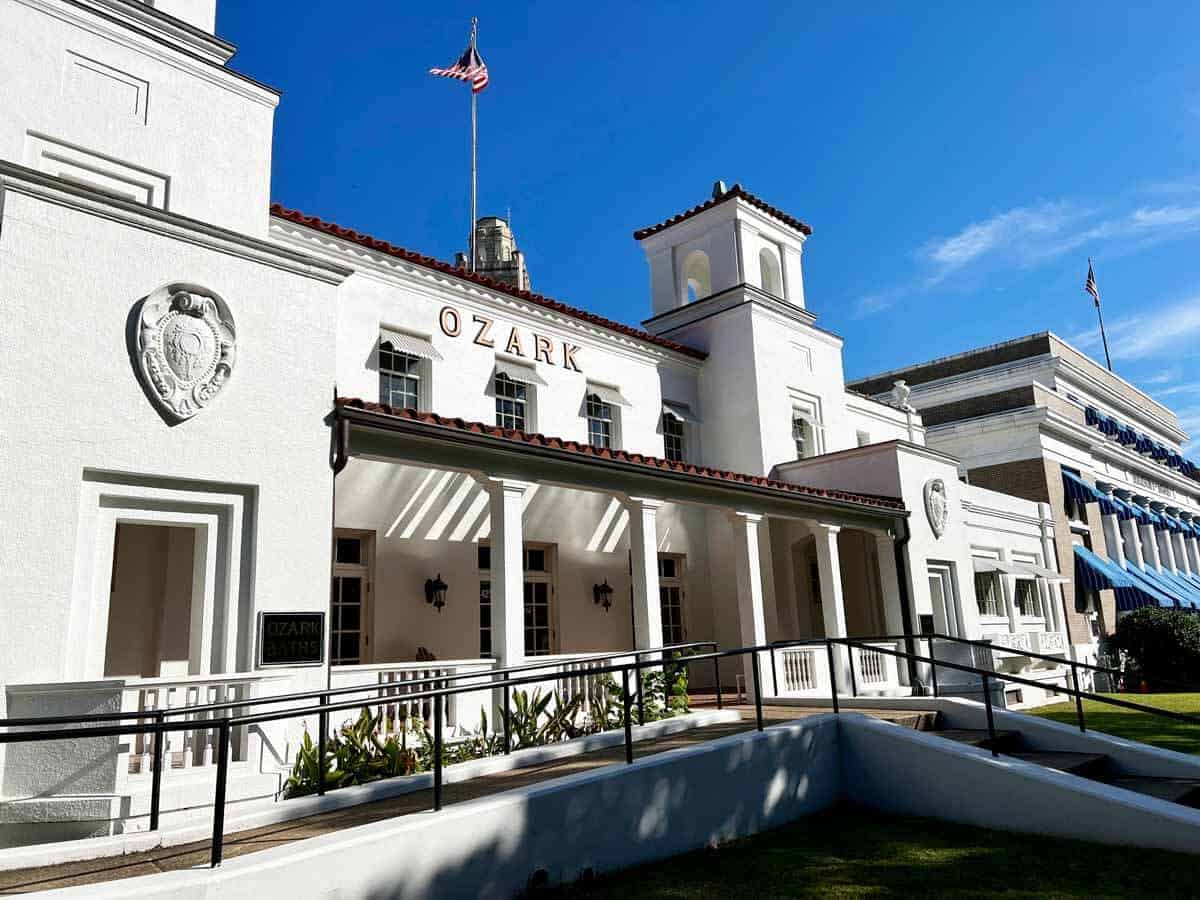 Along Central Avenue, you'll notice the beautiful historical bathhouses. There are eight to explore and tour around. Each has its own flare, unique décor, and theme. These buildings were constructed between 1892 and 1923.
Today, only two bathhouses are actual places where visitors can soak. If you'd like to experience the famous thermal waters and soak, check out the Buckstaff Bathhouse and Quapaw Bathhouse.
The Grand Promenade
Behind the visitor center, up on the hill, is the Grand Promenade. It's a beautiful brick pathway where visitors can stroll to see the thermal springs outside. The trail is about half a mile (each way).
On top of the hill, you'll see overlooking views of Bathhouse Row, Central Avenue, and a few hot springs. Unfortunately, you can touch these hot springs but can't get in and soak. That is not allowed. Soaking is only permitted at the two bathhouses mentioned above.
Bathhouse Row and the Grand Promenade are part of a National Historic Landmark District.
Outdoor Hot Springs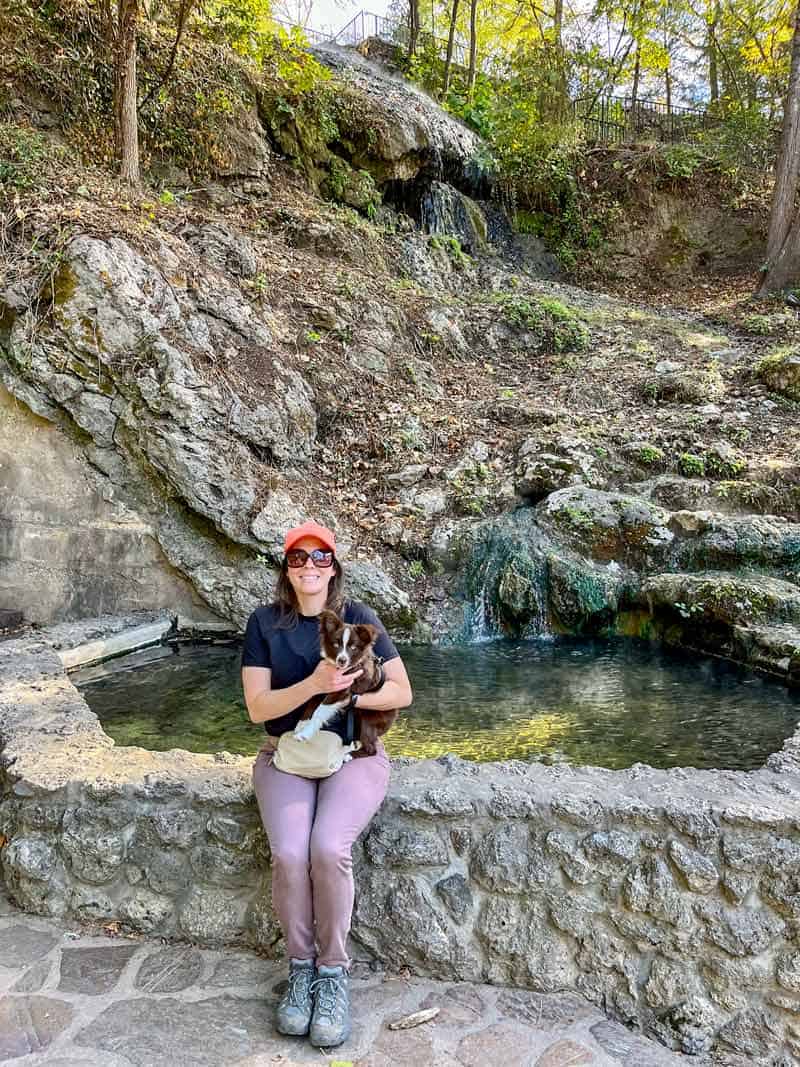 As mentioned above, there are quite a few places to see the hot springs outdoors within the park, such as The Display Spring or Hot Water Cascade. But there are no places to soak outdoors.
Overall, there are 47 natural hot springs bubbling out from the mountains inside the park boundaries, with temperatures around 143 degrees Fahrenheit (USGS).
Indoor Hot Springs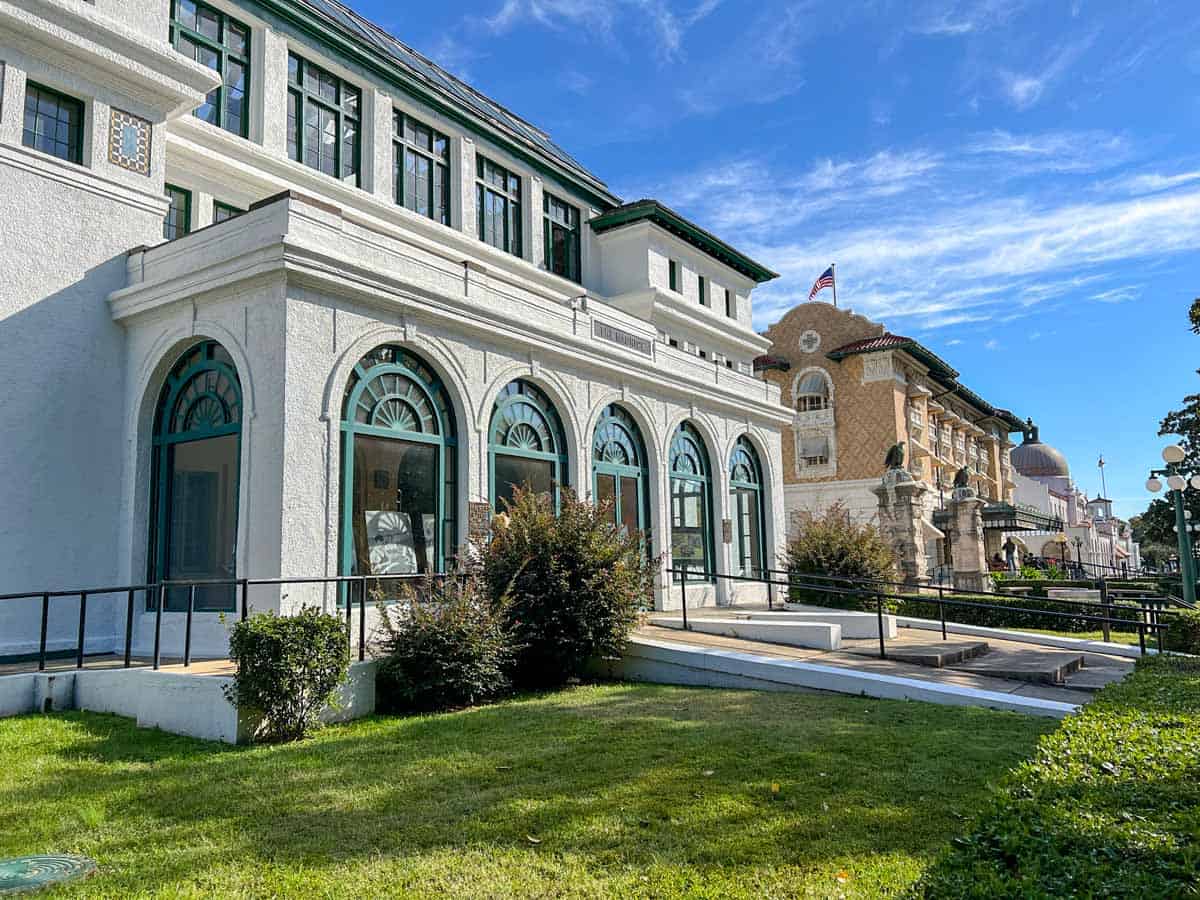 To soak in the famous and historical healing waters, visit the Buckstaff Bathhouse or Quapaw Bathhouse and Spa.
Superior Bathhouse Brewery
Superior Bathhouse Brewery is on the end of Bathhouse Row and is the only brewery located within a national park in the U.S. Here, visitors can enjoy beers and root beer made with the hot spring waters. They also have food and outdoor seating.
We stopped and got root beer floats to-go as we walked around Bathhouse Row. It was so much fun!
"Quaff the Elixir"
Don't forget to bring some empty water bottles! While visiting the town, there are multiple cold and thermal springs fountains where you can fill up your water bottles with the healing spring waters.
Hiking Trails
Within the park boundaries, there are 22 trails for adventure lovers to explore. Most of the trails are concentrated within the North Mountain, West Mountain, and Hot Springs trail systems.
After spending half the day touring Bathhouse Row, hit the trails to enjoy the Ouachita Mountains and the surrounding area.
Or, hit the trails first and end the day on Bathhouse Row, where you can plan to soak and then eat at one of the local restaurants.
Hot Springs Mountain Tower
If you still have time, drive up the winding road to the Hot Springs Mountain Tower. Here, you can see breathtaking views of the town and Ouachita National Forest!
At the tower, you can go up to the observation deck, which is 216 feet up. You can supposedly see over 140 miles away on a clear, calm day.
Where to Stay
Downtown Hot Springs is a bustling place, and there are lots of options for lodging. It is a big tourist town attracting people from all over the world. If you're in the mood for luxury hotels, boutique B&Bs, or camping, there are places catering to each type of accommodation.
Camping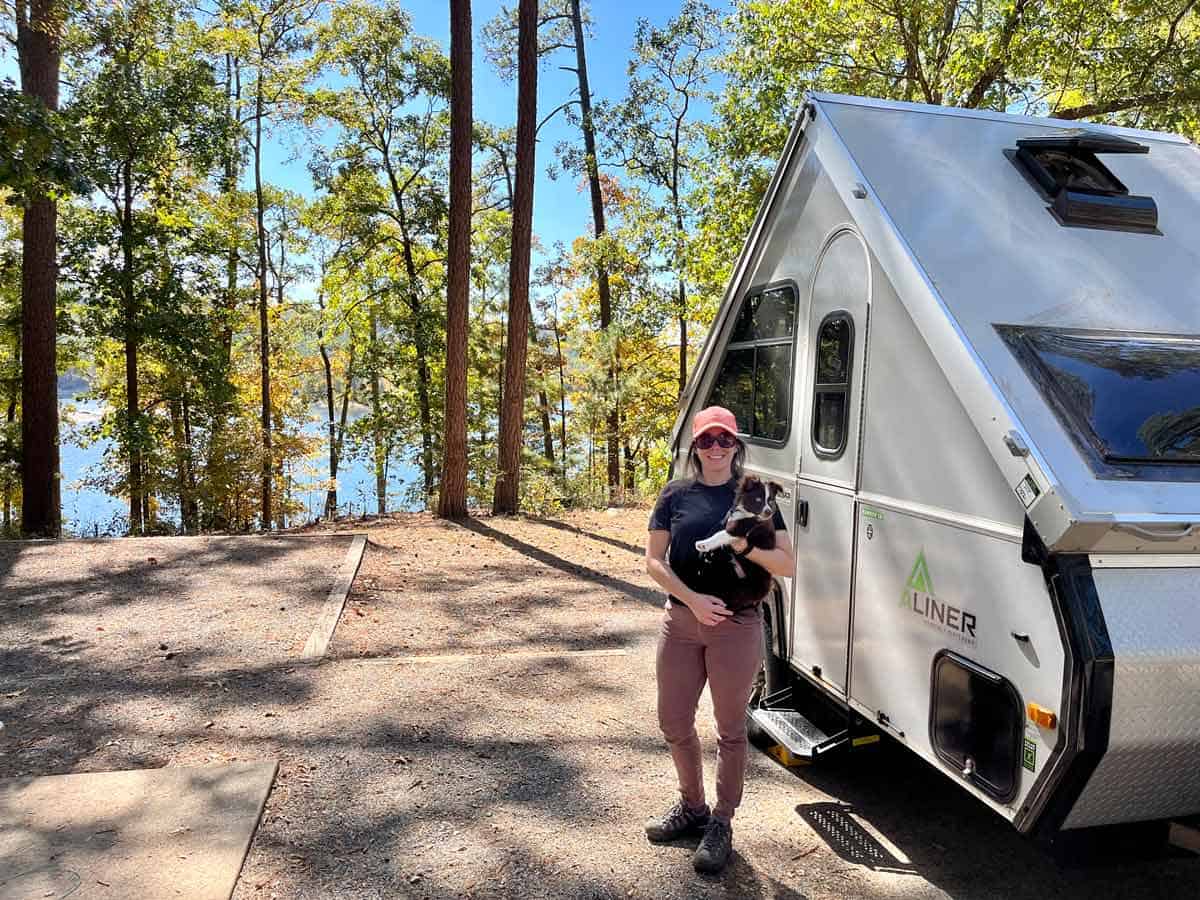 National Park Service (NPS) Campground: If you're camping inside Hot Springs National Park, you can reserve a campsite at Gulpha Gorge Campground on recreation.gov. The campground is open year-round and is minutes from Bathhouse Row.
Lake Ouachita State Park: We camped in our Aliner at Lake Ouachita State Park. It is about 30 minutes from town along the beautiful waters of Lake Ouachita.
We enjoyed kayaking, hiking, and touring around the area. The state park also has cabins.
Hotels
Many beautiful hotels are in town, such as The Arlington Resort Hotel and Spa, The Waters Hot Springs, Hotel Hale, The Reserve, and Oaklawn.
There is even thoroughbred horse racing and gambling at Oaklawn to complement a fun weekend getaway.
Bed and Breakfasts
There are also quaint bed and breakfasts such as The Gable Inn, Hilltop Manor, and the 1890 Williams House.
Have Fun Visiting Hot Springs National Park
Hot Springs National Park is a great park to explore in Arkansas. With its extraordinary history in the South and protected healing waters, and historical buildings, visiting the urban park is a unique adventure.
It's a place everyone can enjoy the outdoors and elegance in the same place. Once you visit, you'll want to come back again to explore more. There are many fun things to do in Hot Springs, such as visiting Garvan Woodland Gardens and the nearby Arkansas State Parks.
We can't wait to return and soak in the natural mineral springs!
Thanks for reading.
This article was produced by The Happiness Function.
---
More Articles from The Happiness Function: