20 Best Things to Do in Hot Springs, Arkansas
Posted on: March 13, 2023
|
|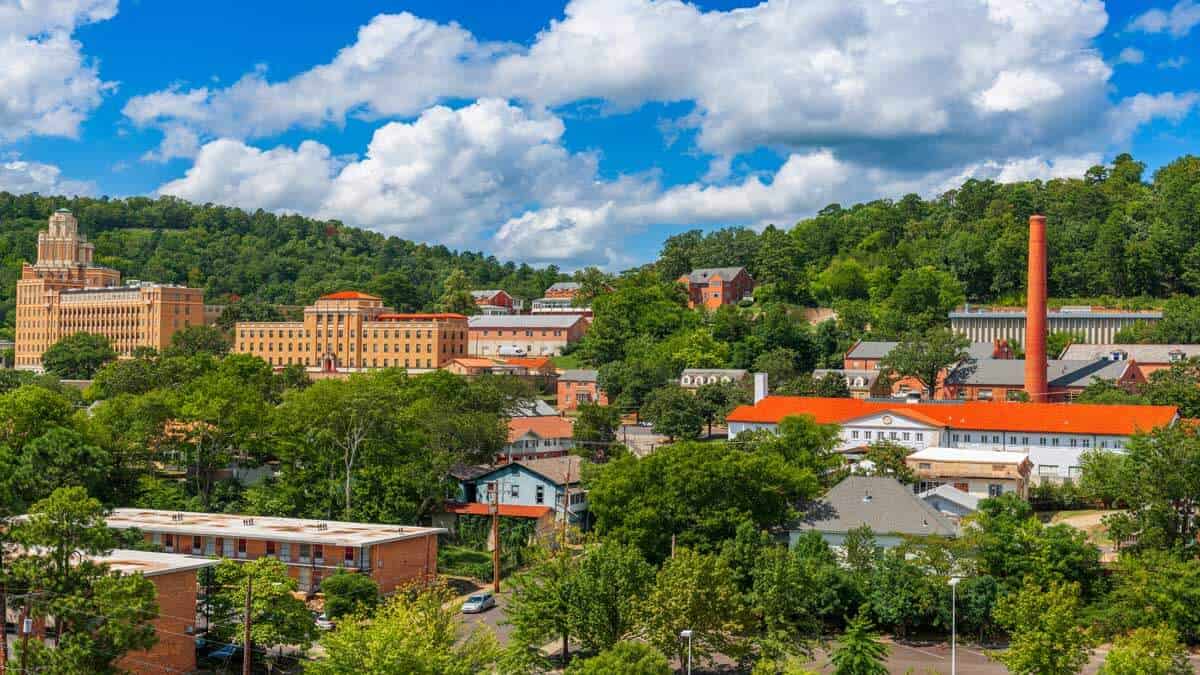 Nestled in the Ouachita Mountains of central Arkansas lies the vibrant town of Hot Springs. Known for its famous healing waters, Hot Springs National Park, and Bathhouse Row, visitors travel from all over the world to plan a romantic weekend soaking in luxury spas, gambling, and hiking or enjoying family fun adventures at the local theme park and museums.
There are many things to do in Hot Springs, Arkansas, and the surrounding mountainous landscape. You'll be mesmerized and want to keep coming back again and again. Keep reading for ideas to plan a fun vacation, weekend getaway, or road trip stop!
1. Hot Springs National Park
Hot Springs, Arkansas, is home to one of America's oldest national parks. Hot Springs National Park, nicknamed "The America Spa," has a long reputation for relaxation and healing. Soaking is allowed at this urban park in the bathhouses along Bathhouse Row.
Along with soaking and touring the bathhouses, popular activities to do in the park include walking the cobblestone paths, hiking, and camping. There are no hot springs to soak in outdoors, but there are a few along the trails in town that you can touch.
Be sure to "quaff the elixir," meaning drink the water. Several thermal and cold springs fountains around town allow you to fill your water bottles with the healing waters.
2. Bathhouse Row
There are eight bathhouses along Hot Springs National Park's famous Bathhouse Row. The bathhouses were constructed between 1892 and 1923. Each bathhouse is unique, with some decorated with marble, sculptures, and art.
Today, visitors can soak in two historically renovated luxury spas: the Buckstaff Bathhouse and Quapaw Bathhouse.
3. Hot Springs National Park Visitor Center Fordyce Bathhouse
The Visitor Center for Hot Springs National Park is the Fordyce Bathhouse. It is now a museum; when you walk inside, you'll be awed by its elegance. Park Rangers are on site here if you want to speak to one and get more information.
Hot Springs National Park is dog-friendly if traveling with your pet. Bring your dog to Fordyce Bathhouse, and they can make your furry family member an official national park bark ranger. Ask a ranger for details. Pets are allowed on the trails (but not in federal buildings).
4. The Grand Promenade
Behind Bathhouse Row is the Grand Promenade. This beautiful cobblestone trail is about a half mile long (one way), offering views of the town, Central Avenue, and Bathhouse Row. In addition, you can use the trail to access a few of the thermal springs waters you are allowed to touch (but not soak in): The Display Spring and Hot Water Cascade.
5. Superior Bathhouse Brewery
At the Superior Bathhouse Brewery, located on Bathhouse Row, visitors can grab a bite to eat along with a beer or root beer made from the natural hot springs. Superior Bathhouse Brewery is the only brewery in any of the US national parks.
"We had fun stopping for the famous root beer floats and socializing our puppy outside with everyone walking the strip. We had a great time in Hot Springs and can't wait to go back and soak." – Pablo Fechino, The Happiness Function.
6. Hiking in Hot Springs, Arkansas
If you love hiking, within Hot Springs National Park, there are 22 different trails totaling roughly 26 miles. Trails are concentrated within the Hot Springs and North Mountain Trail systems and the West Mountain Trails system. The is one more area where adventure lovers can trek the Sunset Trail, which has the longest trail in the park.
7. Hot Springs Mountain Tower
Visiting the mountain tower is one of the best things to do in Hot Springs, Arkansas. Visitors can ride the elevator to an observation deck 216 feet up. Here, you can see epic views of the Ouachita Mountains, Diamond Lakes, and the town from the top. They say you can see 140 miles into the distance on a clear day! There is a gift shop at the base.
8. Garvan Woodland Gardens
Tour over 200 acres of gardens in the Ouachita Mountains. Garvan Woodland Gardens is known for its unique architectural structures, whimsical treehouse, and gorgeous botanical gardens. Stop and grab dinner or hot chocolate at the Chipmunk Café.
During the Holiday Season, there is even an incredible light display. The park is open daily from 4:00-9:00 pm.
9. Anthony Chapel
While touring Garvan Woodlands Gardens, be sure to see Anthony Chapel. It has vaulted glass ceilings, incredible acoustics, and views of the spectacular gardens. This is a popular place for weddings; you'll want to go inside to see why!
10. Ouachita National Forest
The Ouachita National Forest is the oldest national forest in the South (source). With over 1.8 million acres, the forest surrounds Hot Springs, Arkansas, and extends into Oklahoma (see Beavers Bend State Park).
There are many opportunities for hiking and camping, and the Ouachita National Forest is home to some of the best state parks in Arkansas.
11. Lake Ouachita State Park
Roughly 30 minutes from downtown Hot Springs visitors can enjoy Lake Ouachita, the largest lake in Arkansas. For nature lovers, Lake Ouachita State Park offers camping, hiking, fishing, kayaking, and more water sports adventures.
It's a great place to camp if you're exploring Hot Springs for the day or Hot Springs Village. Also, be sure to visit the historic Three Sisters' Springs within the park said to be healing waters.
12. Lake Catherine State Park
Roughly 20 minutes southeast of Hot Springs, Lake Catherine State Park is an excellent place to go hiking, camping, fishing, boating, and kayaking. There are rustic cabins visitors can stay at to get away from the hustle and bustle of town and enjoy a quieter getaway outdoors. Hike the Falls Branch Trail to see the famous waterfall at Falls Creek.
13. Charlton Recreation Area
For another great place to camp, hike, and enjoy the Ouachitas near Hot Springs, visit the Charlton Recreation Area. The campground is open seasonally, making it a great alternative to camp outside town if you're road-tripping through Arkansas. What makes this area unique is the perfect swimming hole created by the stone dam and bathhouse built by the Civilian Conservation Corps in 1935.
14. Mountain Valley Spring Water Visitor Center
Have you ever purchased a bottle of Mountain Valley Spring Water? It's the brand in a green glass bottle. You can visit the Mountain Valley Spring Water Visitor Center, which is in a historic building. There is a museum, gift shop, and a place to sample this trendy and tasty water.
15. Magic Springs Water and Theme Park
The Magic Springs Water and Theme Park is the perfect place to take the kids during summer vacation. There is much to do, from thrilling roller coaster rides to an exciting water park. The park is family friendly and has something fun for all ages. The park is open seasonally, so visit their website to plan an epic family trip!
16. Gangster Museum of America
Not only is Hot Springs known for its natural mineral-rich healing waters and beautiful landscapes, but it is also home to one of the coolest attractions around – The Gangster Museum of America. Step right into the prohibition era and explore historical memorabilia related to some of America's most notorious gangsters, including Al Capone and more.
Whether you're a fan of gangsters or have an interest in history, you won't want to miss out on seeing this unique museum.
17. Alligator Farm
If you've ever wanted to feed or hold a baby alligator at the Alligator Farm, visitors can do just that. There is also a petting area for folks interested in an educational and family-friendly activity. This is a unique thing to do in Hot Springs, Arkansas.
18. The Maxwell Blade Theatre of Magic
If you like magic, music, and comedy, catch a Maxwell Blade show at the historical Malco Theatre on the corner of Central Avenue and Chapel Street. All ages are welcome, so be ready to be entertained and mesmerized!
19. Adventureworks Hot Springs
Are you craving an adrenaline rush? Then jump on board for a wild and thrilling ride through the forests of "The Natural State" at Adventureworks, where you can zipline through the tree canopies. The facility is open year-round, so add it to your Hot Springs, Arkansas, bucket list.
20. Oaklawn Racing Casino Resort
Since the early 1900s, thoroughbred horse racing has been a famed attraction in Hot Springs steeped in rich tradition. At Oaklawn, plan a luxurious getaway watching the renowned horse races, gambling at the casino, catching a concert, and enjoying superb accommodations at the resort and spa. You're sure to have the ultimate vacation while experiencing Oaklawn.
Have Fun Visiting Hot Springs, AR
Hot Springs is an exciting destination to explore. From enjoying the national park or ziplining through the canopies in the Ouachita Mountains to soaking in luxury spas and watching the famous horse races at Oaklawn, the area provides an unforgettable experience full of southern hospitality, history, and charm.
Hot Springs is an excellent destination for families planning vacations or couples looking for a romantic weekend getaway or nature-infused road trip. Visiting is a fantastic experience, with many fun things to do. You're sure to have the best time.
We can't wait to go back!
Thanks for reading.
This article was produced and syndicated by The Happiness Function.
Featured image credit: sepavone/Depositphotos.com.