Plan the Perfect Weekend at Beavers Bend State Park
Posted on: September 7, 2022
|
|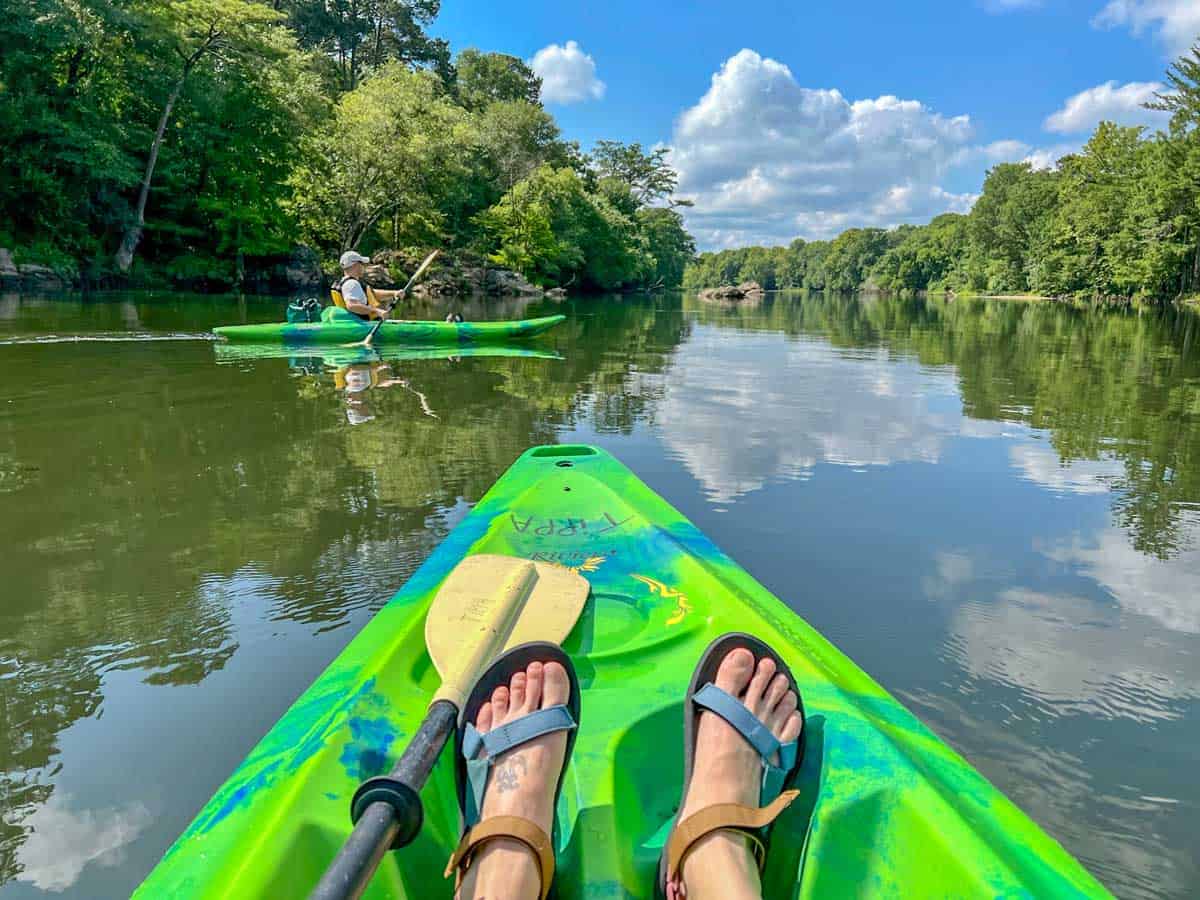 Tucked in the mountains of Southeast Oklahoma lies one of Oklahoma's best-kept outdoor secrets – Beavers Bend State Park. The park boasts 3,482 acres and includes outdoor recreation galore. Imagine a place where you can take your boat out onto the lake or kayak down the river surrounded by epic views of the Ouachita Mountains. Of course, there are plenty of hiking trails that wind around this beautiful landscape as well. Discover the best things to do to help plan the perfect weekend getaway to Broken Bow and Beavers Bend State Park.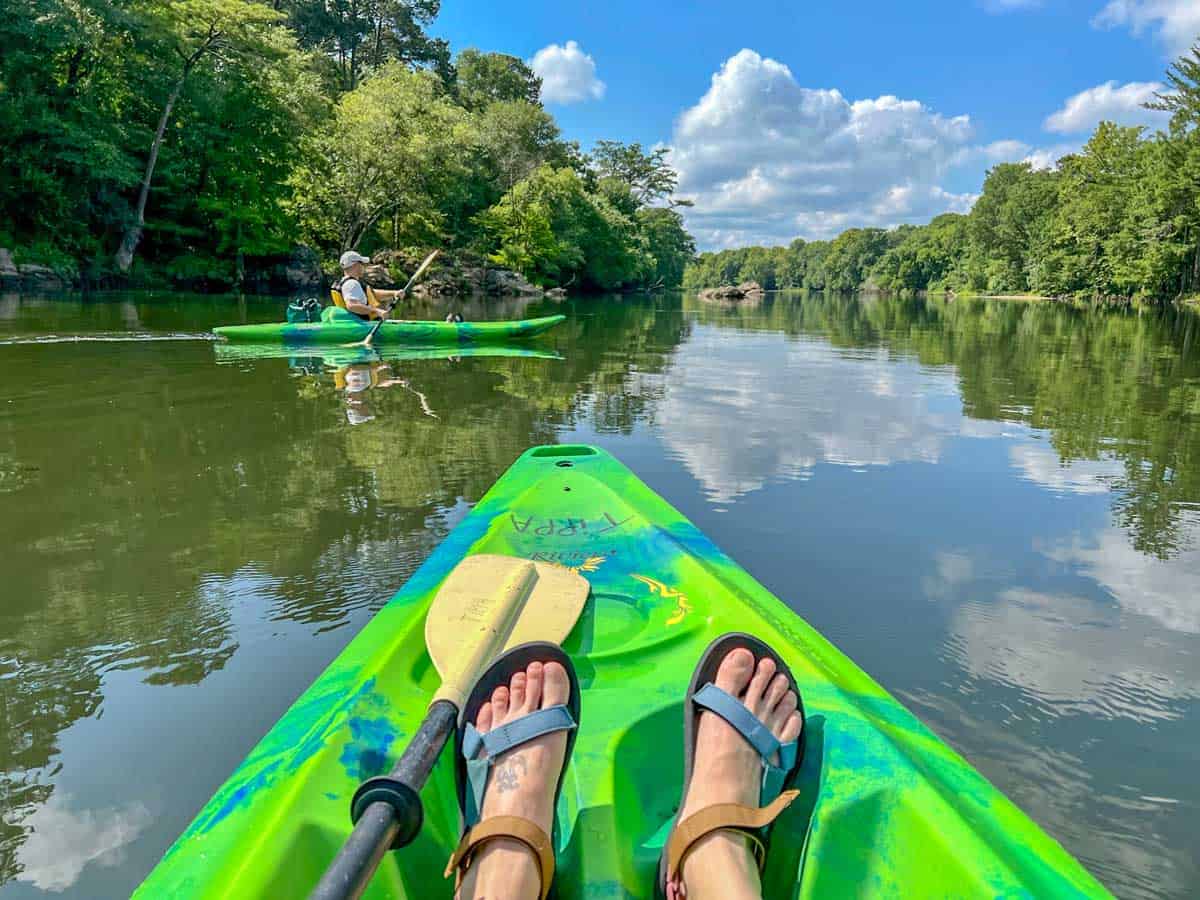 This post contains affiliate links, which means we'll receive a commission if you purchase through our links at no extra cost to you. Please read full disclosure for more information. Thanks for your support!
Where is Beavers Bend?
Beavers Bend State Park is 7 miles north of Broken Bow, Oklahoma, on SH-259A in McCurtain County. It is right outside of Hochatown.
Below are distances to help plan:
Distance from Tulsa to Beavers Bend State Park: 207.4 miles or roughly 3 ½ hours
Oklahoma City to Beavers Bend State Park: 245.7 miles or approximately 3 hours and 45 minutes
Dallas to Beavers Bend State Park: 181.4 miles or about 3 hours
Fees
$8 per day with an Oklahoma license plate
Fees are waived for veterans and residents 62 and older
If camping, the cost is included in the camping reservation
Are Dogs Allowed in the Park?
Yes, leashed pets are allowed at Beavers Bend State Park, so bring your furry friend!
Best Time to Visit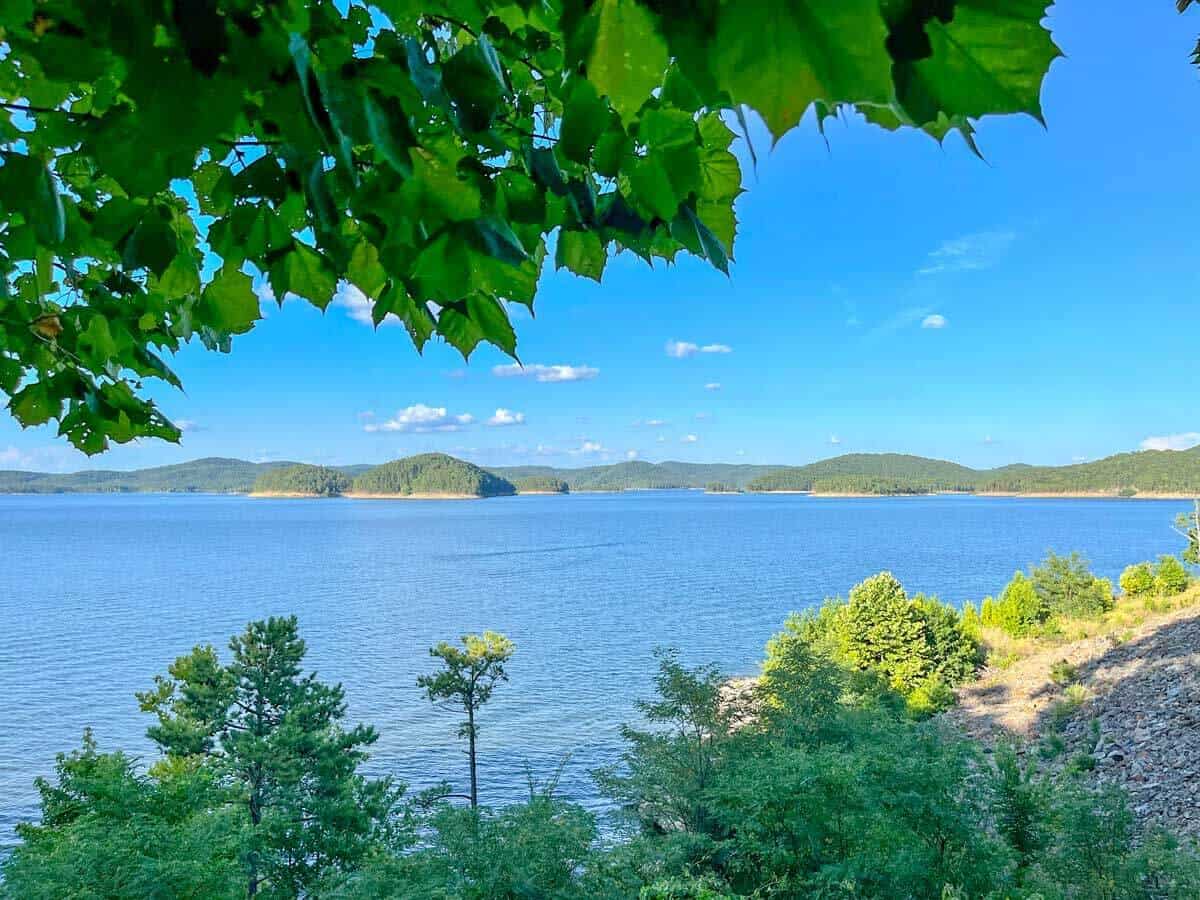 The park is open year-round. Spring is a great time for hiking and camping due to cooler temperatures. Summer is best for boating and being on the water. Visitors can enjoy the fall foliage and leaves changing color during the fall months. And winter is excellent for hiking and camping since the weather is relatively mild in this part of Oklahoma.
Things to Do
There are many fun outdoor activities at Beavers Bend State Park, from hiking, swimming, boating, and fishing to renting kayaks or stand-up paddleboards.
Visitors can camp at the campgrounds or glamp in cabins.
The park is large and feels secluded, with all the wooded areas. Continue reading to plan your weekend getaway and see why this is one of Oklahoma's best state parks!
Hiking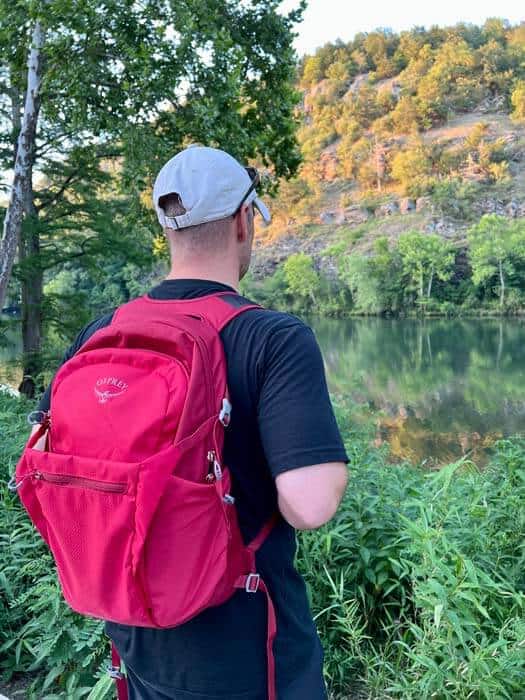 There are multiple hiking trails at Beavers Bend State Park totaling over 16 miles of trails.
Some areas of the park do not have cell phone reception, so be sure to download a trail map for offline use or bring a map.
The best time to hike is spring, fall, and winter. Summers can be hot.
Get Hiking Gear!
Biking
No official mountain biking trails are inside the park, but campers can bike the paved and dirt roads through the campground areas.
There are mountain biking opportunities in the surrounding area and Ouachita National Forest.
Water Sports Activities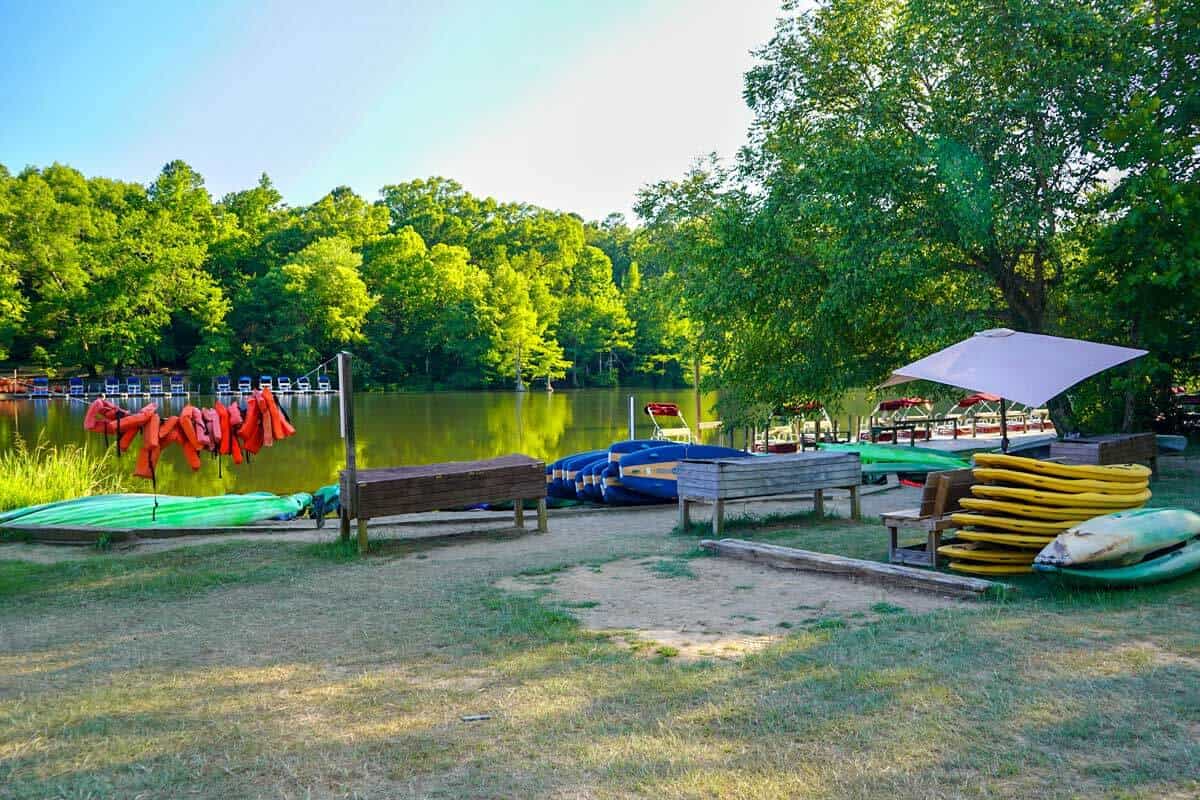 Vacationers can rent boats, paddleboats, SUPs, or kayaks to paddle around the lake or sections of the Mountain Fork below the spillway within Beavers Bend State Park. The crystal-clear water of Broken Bow Lake makes for the perfect summer escape!
Visitors can find many places to swim and enjoy the water, whether at the lake or river.
There is a marina and multiple boat launch areas around the lake.
You might enjoy checking out a neat swimming hole on the river below the spillway with incredible rock formations and bluffs. Many folks like to hang out here, go tubing, and picnicking (image below).
Fishing
This park offers some of the best fishing spots in Oklahoma, with plenty of opportunities to catch smallmouth bass, largemouth bass, walleye, catfish, crappie, and more. Anglers can enjoy fishing on Broken Bow, the spillway, or the Mountain Fork River.
We saw lots of folks fly-fishing along the river. So, grab your rod and reel and get ready for some fun!
Get more information about fishing at Broken Bow or how to obtain a fishing license in Oklahoma here.
Forest Heritage Center
Be sure to swing by and check out the Forest Heritage Center while touring the park. Inside, visitors can read historical documents, see antique tools, learn about homesteading, and enjoy awesome wood art.
Nature Center
Stop in the nature center while visiting. It is in a smaller building close to the Buckeye Campground. There are exhibits to learn about the local wildlife and a park guide to answer any questions you might have.
Scenic Drive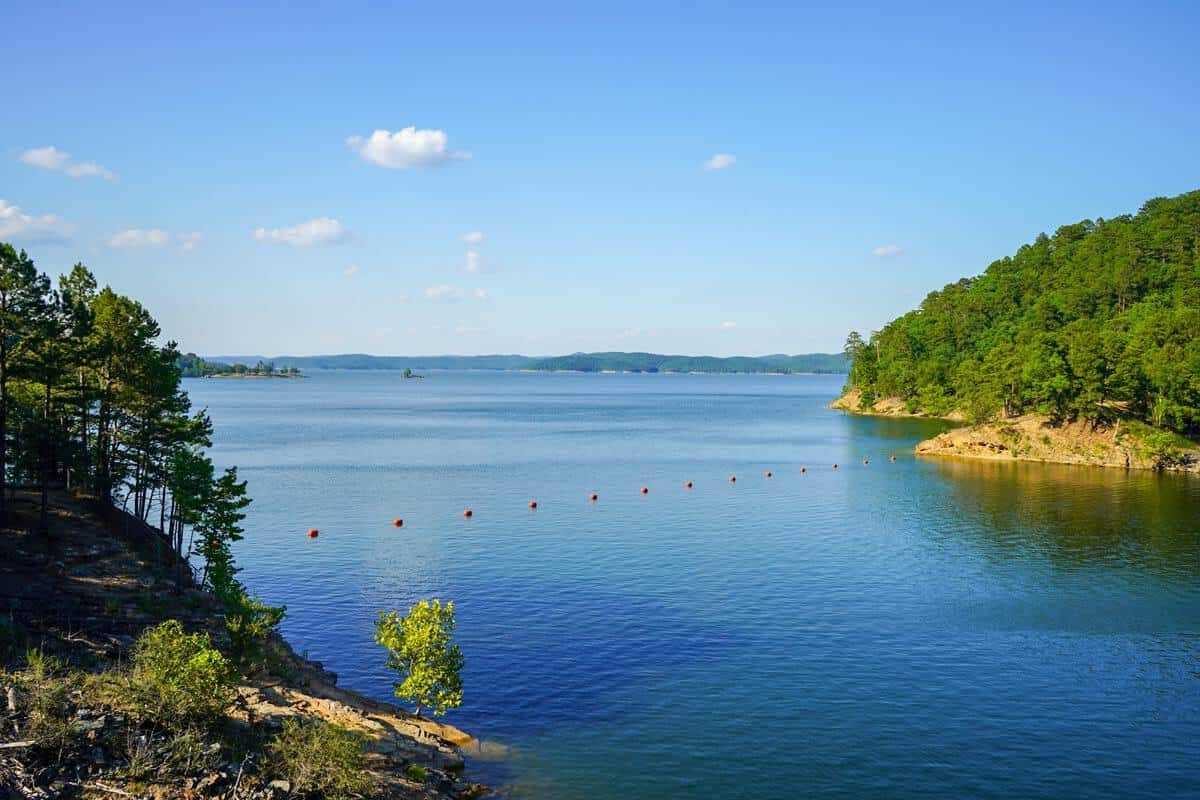 Cruise the scenic drive along the winding state park roads through the trees and over the dam for breathtaking views overlooking Broken Bow Lake!
There are multiple areas of the park to explore, including Carson Creek, Stevens Gap, the North Entrance, and River Bend.
We spent an afternoon driving around and exploring. The park is huge!
Camping in Broken Bow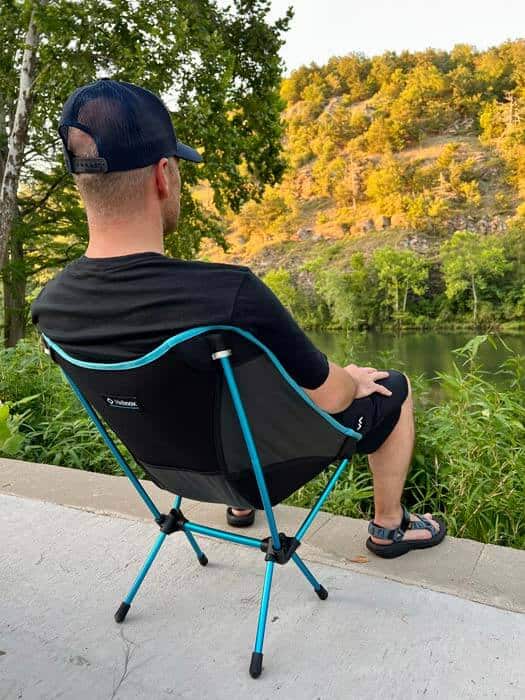 Beavers Bend State Park offers 393 campsites spread over eight unique camping areas. Some of these campsites are right on the shores of Broken Bow, some are in the trees, and others are along the Mountain Fork River. In addition, there are dedicated tent-camping areas and excellent campsites to park an RV, motorhome, or van.
Get Camping Gear!
We stayed at the Buckeye Campground at Beavers Bend State Park – it is excellent! The sites are paved, with some shade and full hookups, and you're right on the Mountain Fork River. We thought the campground was quiet, and we enjoyed walking some of the trails in the area.
Make a reservation online to book Beavers Bend camping ahead of time. Explore each camping area with the online reservation tool to select the site that best fits your needs. Some sites are primitive, and some are modern.
Love our camper? Read more about it here or watch our YouTube!
Beavers Bend Cabins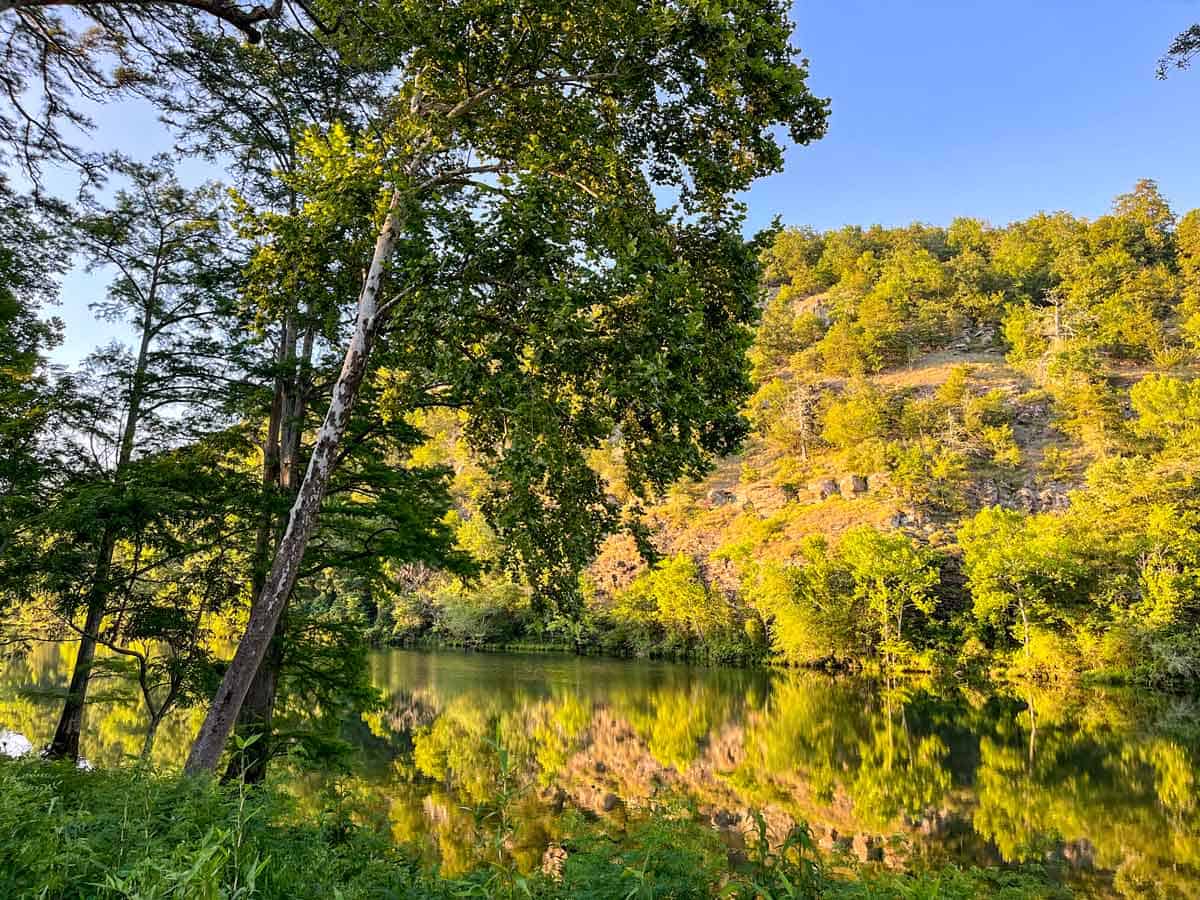 If you're not into camping, there are many places to rent cabins within Beavers Bend State Park or privately.
Visit the state park website to book Beavers Bend State Park cabins.
Lots of our friends in Tulsa love to rent cabins in Broken Bow and have a fun weekend getaway!
Check out booking.com for gorgeous Beavers Bend cabin rentals in the area.
Hochatown
Hochatown is a cute small community on the side of highway 259A. There are many places to eat and shop for arts and crafts close to the park.
Fun fact: The area is known for its Bigfoot lore, and visitors will see lots of places to buy Bigfoot souvenirs (source). I got a T-shirt – so much fun! So, keep your eyes peeled for Bigfoot (if you believe) while out exploring.
Kayaking the Mountain Fork River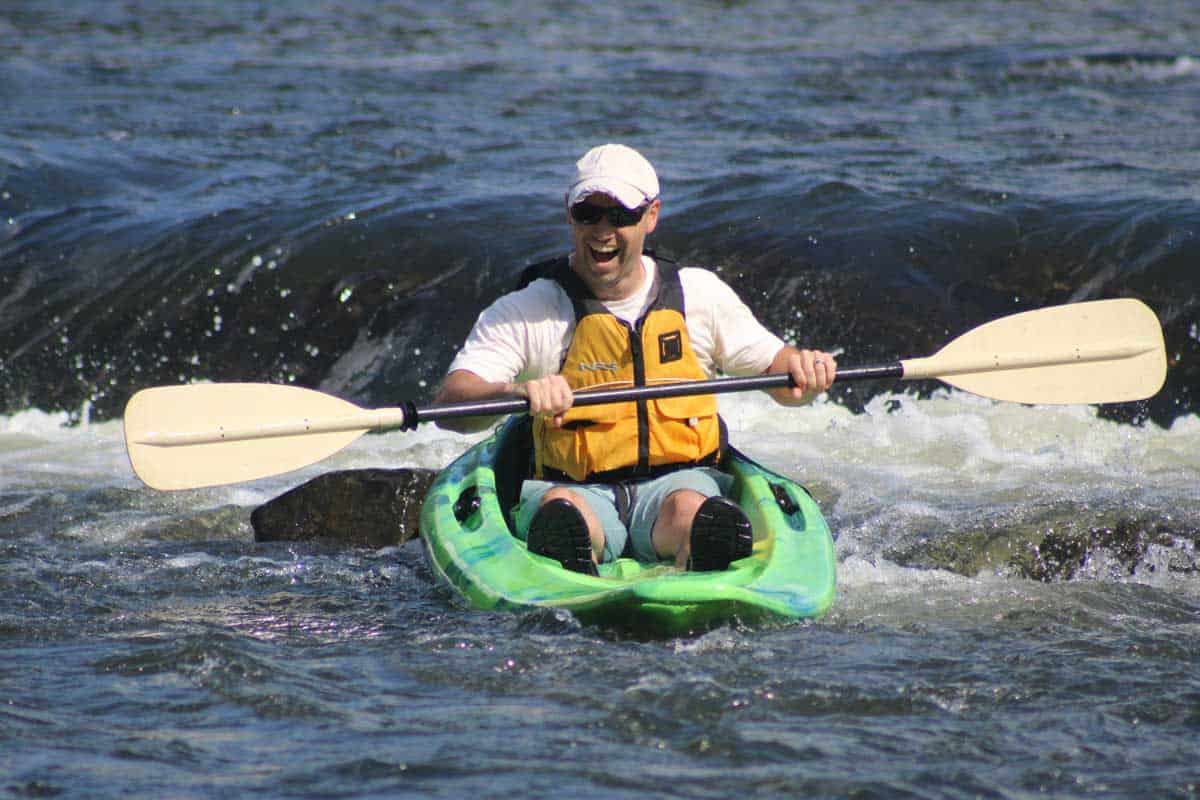 Kayaking or canoeing the Mountain Fork River is one of the best things to do in Broken Bow! Multiple guiding outfitters rent kayaks and gear and include a shuttle.
The Mountain Fork can have whitewater depending on the water levels. Some areas are rocky, and there is one place where paddlers go over a small waterfall (these are class II rapids)!
Broken Bow Adventure Photos has a photographer taking photos of everyone going over the rapids. It is so much fun!
We had a blast and highly recommend float trips on the Mountain Fork! We booked with Tippa Canoe.
From Beavers Bend State Park, Tippa Canoe is about 30 minutes away. Overall, we planned half a day, starting first thing in the morning to kayak the Mountain Fork.
After the kayaking adventure, we drove to Gasquatch in Idabel to see the Bigfoot-themed gas station! Gasquatch also has a mini car museum inside.
Final Thoughts
If you're looking for a fun outdoor activity in Oklahoma to enjoy with your family or friends, look no further than Beavers Bend State Park. With miles of hiking trails, wildlife, plenty of fishing spots, excellent camping, and opportunities to get out and play on the water, there's something for everyone at this beautiful park.
Beavers Bend is a great place for hiking, camping, fishing, swimming, kayaking, and sightseeing, and we can't wait to go back and experience it in the fall!
So, pack your camping gear and head on over for an adventure you'll never forget!
The Ouachita Mountains of Southeastern Oklahoma are incredible – can you believe this is Oklahoma?
Thanks for reading.
Ashlee & Pablo
---
Get outdoors in Oklahoma!
You might enjoy these other articles:
Save on Pinterest for later!
We want to hear from you!
Have you been to Beavers Bend State Park and Broken Bow?