Plan a Fun Weekend to The Pioneer Woman Mercantile in Pawhuska, OK
Posted on: December 7, 2020
|
|
Do you ever watch Food Network? If so, then you definitely know Ree Drummond, The Pioneer Woman. If not, you're missing out, and you have to look The Pioneer Woman up right now! Did you know The Pioneer Woman has The Mercantile in Pawhuska, Oklahoma? If you like country cooking, colorful kitchen gadgets, shopping, grabbing a coffee, and bakery treat, then you have to visit the world-famous Pioneer Woman Mercantile!
Without delay, plan a girl's weekend, afternoon date with your significant other, or fun family day trip.
C'mon, ya'll! Keep reading for a local's guide to visiting The Merc and other fantastic things to do around Pawhuska, Oklahoma.
---
This post may contain affiliate links, which means we'll receive a commission if you purchase through our links, at no extra cost to you. Please read full disclosure for more information.
---
The Pioneer Woman Mercantile
One of the most fantastic weekend getaways in Oklahoma is visiting The Pioneer Woman Mercantile, nicknamed "The Merc."
Ree Drummond, The Pioneer Woman, has make Pawhuska, Oklahoma world-famous with her southern ranch charm and country cooking.
Pawhuska is a really small town. I'm talking like one stoplight… This charm is part of what makes visiting The Pioneer Woman Mercantile so unique.
Pawhuska is even smaller than where I grew up in South Dakota! It is really fun to escape city life and head out to the Oklahoma prairie.
What do you think of when you think of Oklahoma?
Before we moved here, I thought prairie (and tornados… yikes)! The prairie is a beautiful and peaceful place for a weekend drive.
Visiting The Pioneer Woman Mercantile is a super fun girl's weekend getaway option. Grab your best gal pals, Mom, or sisters and head to The Merc.
Or grab the entire family. As a matter of fact, it is a neat and accommodating adventure for the whole family. Everyone can find a goodie or something to make their heart sing.
It is also the perfect couple's weekend getaway!
How to Get to The Pioneer Woman Mercantile From Tulsa
From Tulsa, The Merc is about an hour away.
As Oklahoma locals, we take the backcountry route, which is about 56 miles from Tulsa. With this in mind, it is slower driving, and you get to see farms, the prairie, and views of the Osage Hills.
Instantly, you will notice downtown Pawhuska as super cute and quaint, with old brick buildings lining the main strip.
Map Directions to The Merc from Tulsa
What is The Merc?
So, what's all the excitement about The Merc?
The Mercantile is packed full of insanely awesome country kitchen dishes, cookware, and gadgets. It also has books, candles, jewelry, clothes, home décor, and official Mercantile swag.
As exciting as a toy store is for kids… Think this same excitement but for woman and people who like to cook.
Everything you buy is delicately wrapped like a present too. So fun!
The Merc is just a charming place to visit among a down-home rustic country atmosphere. It will make your heart sing.
Eating at P.W. Coffee Shop and Bakery
Don't forget, food is a significant part of The Pioneer Woman. How could she not host visitors to a delicious coffee shop and bakery in The Merc itself?
You are absolutely in for a treat.
While shopping and browsing, walk upstairs (or take the elevator) to The P.W. Coffee Shop and Bakery! There is ample seating and places for you and your gal pals or family to hang out and enjoy views of Pawhuska.
To point out, the bakery offers Pioneer Woman homemade baked goods, freshly baked pies, pastries, chocolate, and fancy coffee.
The bakery even recently started offering gluten-free baked goods (for this reason, The Merc is the best place ever because we are gluten-free).
My most absolute favorite treat is called Spicy Cowgirl Coffee. Especially iced on a hot, humid summer day… just WOW… I highly recommend the spicy cowgirl coffee.
Grab some treats to go if you can't stay long or are saving room for The Pioneer Woman Deli Restaurant.
The Pioneer Woman Mercantile Deli Restaurant
Generally speaking, a local's tip, this place gets packed.
To demonstrate, I'm talking 3-4 hours plus wait to eat at the restaurant. No reservations are accepted. So plan ahead if you plan on eating at the deli. The wait time just tells you how awesome it is!
The Mercantile website says mornings and late afternoons have shorter waiting periods. We have yet to wait long enough to eat at the deli. Instead, we always opt for a delicious coffee and snack at the bakery (undoubtedly amazing). Everything is fun and delicious!
The Pioneer Woman Mercantile Hours
Visit The Pioneer Woman website to check out the latest updates on hours (and COVID operating procedures).
Tour The Lodge on Drummond Ranch
Guess what else?
You can make a day out of visiting all The Pioneer Woman has to offer and go on a Drummond Ranch Lodge Tour.
Tickets are required to go on lodge tours and are available that specific day only.
Check out The Pioneer Woman website to see how you can take a tour of Drummond Ranch.
The Boarding House
If you plan a weekend getaway extravaganza, you must check out The Boarding House cowboy luxury hotel.
We haven't stayed here yet, because it recently opened, but it looks super fun! Totally a great weekend getaway idea.
When we recently stopped in to see, the front desk attendant said The Boarding House is booking at least six months in advance.
With all of this in mind, plan the ultimate weekend getaway. Visit The Merc, eat at The Merc, visit Drummond Ranch, walk downtown Pawhuska, and drive to the Buffalo Gap. Last, cozy on up after an Oklahoma fun-filled day at The Boarding House.
Sounds so fun. I'm ready to go now! What about you?
Now you're probably thinking, what is the buffalo gap?
Keep reading for details.
Tallgrass Prairie Preserve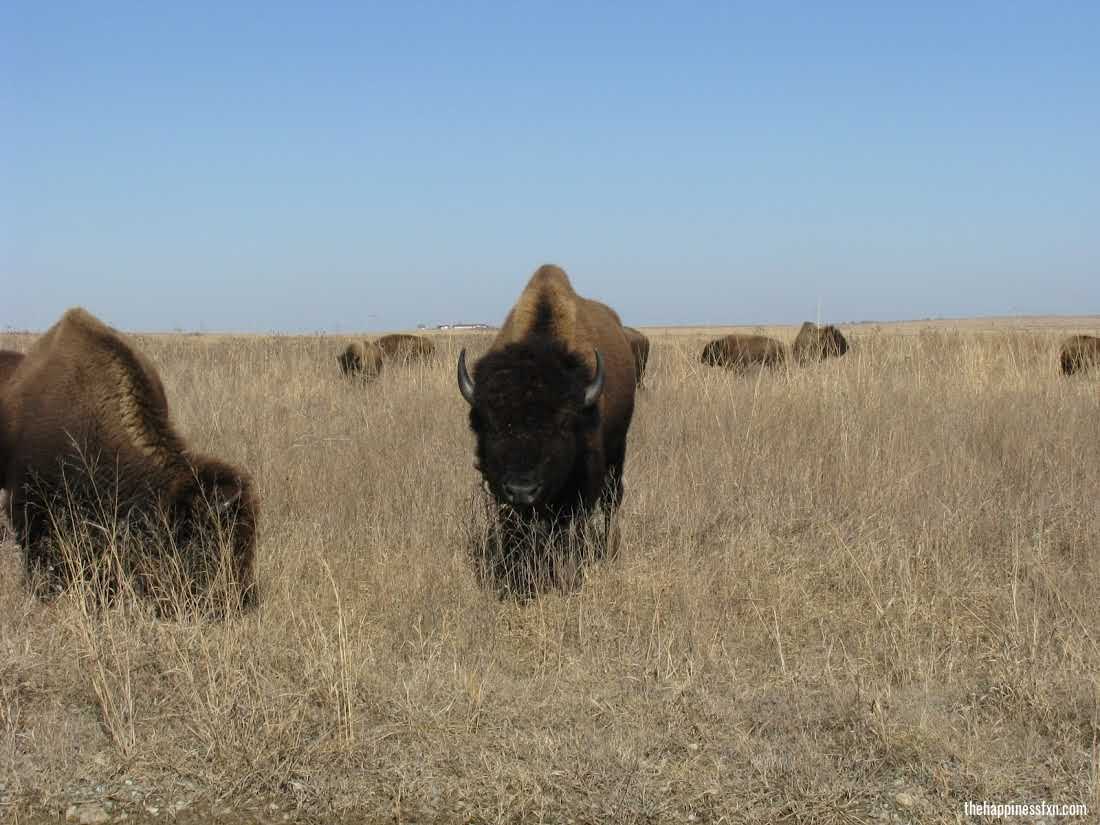 Hopefully, by this point, you are just thinking about how cool Oklahoma is, and you want to do a weekend getaway to Pawhuska!
North of Pawhuska, there is a 39,650 acre protected Tallgrass Prairie Preserve. Furthermore, it is the largest prairie preserve on earth. To explain, The Nature Conservancy has helped restore the tallgrass prairie ecosystem. Additionally, it is home to about 2,500 free-ranging bison (where I'm from in South Dakota, we say buffalo).
Since I'm a biology and sustainability nerd, I love these kinds of places. Check it out. Hopefully, you'll be able to see some buffalo when you go.
Are you enjoying reading about The Pioneer Woman? We just love her to pieces.
Next, I'll share links to our two favorite recipes.
Favorite Pioneer Woman Recipes
Are you interested in Ree Drummond's amazing country cookin'?
Here are our two favorite recipes. In fact, I make these religiously in our house:
By all means, what are you making for dinner?
Can't Make it to The Merc?
The Pioneer Woman actually has lots of items on Amazon from The Pioneer Woman Collection (there is also a storefront in Pawhuska next to The Merc and The Boarding House).
Items from The Pioneer Woman Collection make for great gifts! We have so many kitchen goodies in our house.
In particular, below are my favorites from The Pioneer Woman Collection:
The Pioneer Woman Mix and Max Floral and Retro Dinnerware
The Pioneer Woman Spicy Cowgirl Kitchen Towel Set
Pioneer Woman Mercantile Ultimate Weekend Getaway
Here is a quick summary of everything you should do to have the ultimate weekend to The Pioneer Woman Mercantile!
Visit The Mercantile and shop your heart out!
Grab a coffee and delicious baked goodie at the P.W. Coffee & Bakery
Have lunch or dinner at The Pioneer Woman Deli Restaurant
Walk around Pawhuska, visit The Pioneer Woman Collection store
Stay the night at The Boarding House
Take a tour of Drummond Ranch
Drive to the Tallgrass Prairie Preserve to see the buffalo, maybe go for a hike
We hope you have an awesome trip to Pawhuska, Oklahoma, to visit The Pioneer Woman Mercantile.
Be sure to take in all the area has to offer!
Thanks for reading.
Ashlee & Pablo
---
Read More Oklahoma Articles
Are you looking for more fun things to do in Oklahoma? Check out our other articles below:
Save this article on Pinterest for later!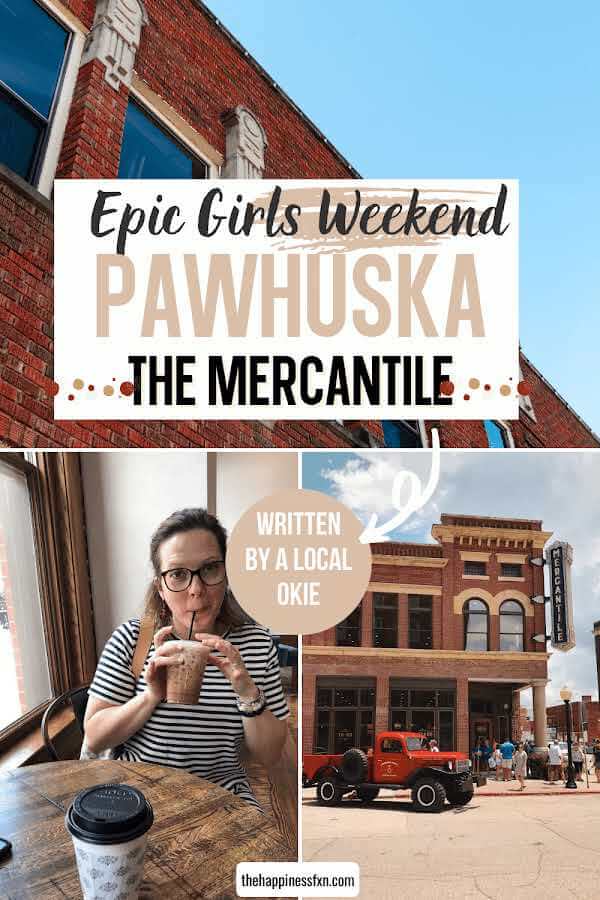 We would love to hear from you!
Are you going to visit The Pioneer Woman Mercantile?
Have you been?
Follow us on Instagram