3 Beautiful Beach Parks to Visit in Perdido Key
Posted on: July 6, 2022
|
|
Are you ready to have some outdoor fun in Perdido Key, Florida? You'll love checking out the parks! There are two state parks and one national park, and they offer everything from hiking and biking to swimming and spending hours at the beach. We are sharing the best things to do and where you can see alligators, sea turtles, or spot a dolphin in the wild. So, grab your gear and get ready to explore!
This post contains affiliate links, which means we'll receive a commission if you purchase through our links at no extra cost to you. Please read full disclosure for more information. Thanks for your support!
Where is Perdido Key?
Perdido Key is a barrier island located in the Florida panhandle outside Pensacola.
Perdido Key Map
Incredible Parks to Visit
If you're looking for a place to vacation full of sun, white sand, and fun outdoor activities that is surprisingly affordable, look no further than Perdido Key, Florida.
This beautiful barrier island is home to some of the most gorgeous beaches in the country, and we can't wait to share all the details with you.
Perdido Key isn't all about lounging on the beach – there are so many fun things to do here, including kayaking, stand-up paddleboarding, kayaking, fishing, hiking, camping, and watching for wildlife. So, if you're looking for a place to get away and have some outdoor fun, you'll love exploring the national and state parks in the area.
1. Perdido Key State Park
Perdido Key State Park is known for its miles of white sand beaches against the turquoise green water of Florida's famous Emerald Coast. Within walking distance of the park, you'll find a hopping coastal scene with condos, beach shops, and restaurants.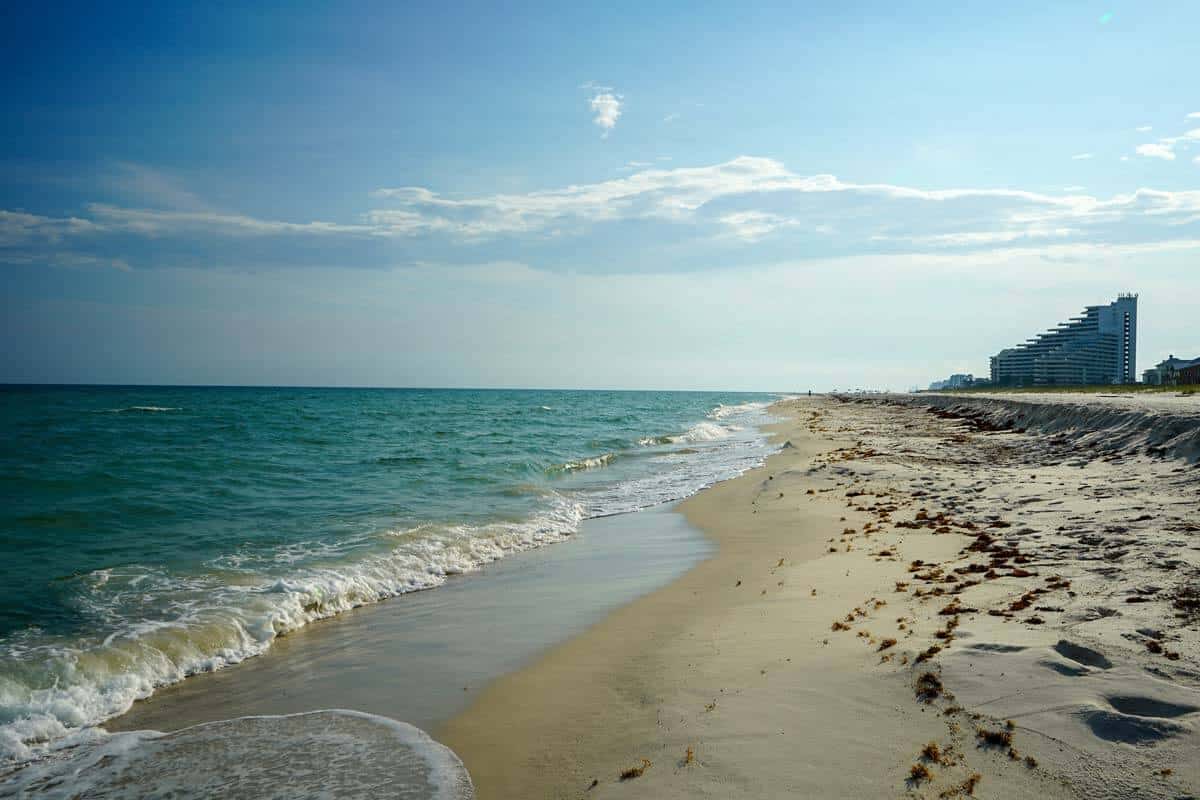 Things to Do at Perdido Key State Park
This slice of paradise offers plenty of activities to keep you busy all day long, from swimming, fishing, and sunbathing at the beach to shopping and dining on the local seafood.
Perdido Key State Park is perfect for walking the beach, catching a sunset, and taking photos! That's what we did.
Entrance Fee
Visit the Florida State Park website for the most updated fees.
Hours
Open every day from 8 am until sunset.
Parking
There are state park-specific parking areas where you can park along Perdido Key Drive and take the boardwalk through the dunes to the beach.
If you're not going to park at the state park-specific areas, there are multiple places to find pay-to-park public parking next to the beach.
2. Gulf Islands National Seashore Perdido Key
Have you heard of Gulf Islands National Seashore? It is the prized national park along the Gulf of Mexico, stretching from Mississippi to Florida. And guess what? The National Park Service protects part of Perdido Key.
Johnson's Beach is a great spot to soak up some sun and enjoy the waves. There are miles of undeveloped white sand beaches here.
We thought the beaches were seriously incredible. There is limited parking, so the beach areas are a little more secluded.
Things to Do Gulf Islands National Seashore Perdido Key
Keep your eyes peeled for dolphins and sea turtles! We spent half the morning towards the east end of the island and got to see dolphins swimming near the beach along the Gulf side. We were in awe. The dolphins were so close.
Along with catching some sun at the beach and swimming, there were lots of folks fishing, boating, kayaking, snorkeling, and stand-up paddleboarding. There were quite a few people running the paved road along the coast as well.
Here you will find some of the most beautiful beaches in Florida. You don't want to miss visiting.
Entrance Fee
It costs $25 to enter, covering your vehicle for seven days.
The annual national park pass is accepted.
Hours
March 1 – October 31: Open every day from 5 am until 9 pm.
November 1 – February 28: 5 am to 6 pm
Parking
When you first enter the park, you'll see a pavilion area with a large parking lot. The Johnson's Beach Pavilion area has beach facilities such as grills, shade, restrooms, and showers. There was even a local food truck when we visited. This part of the island has more crowds (probably because of the facilities).
You can keep driving further along the island and park along the road in designated areas. The beaches further along the island are less crowded, but there are no facilities.
3. Big Lagoon State Park
Big Lagoon State Park is located on the north side of Big Lagoon across the Perdido Key Bridge. The park is famous for its boardwalk trails leading through the marshes and intercoastal forest. There is excellent camping at Big Lagoon State Park (watch on YouTube), so you can enjoy the outdoors and have fun at the beach.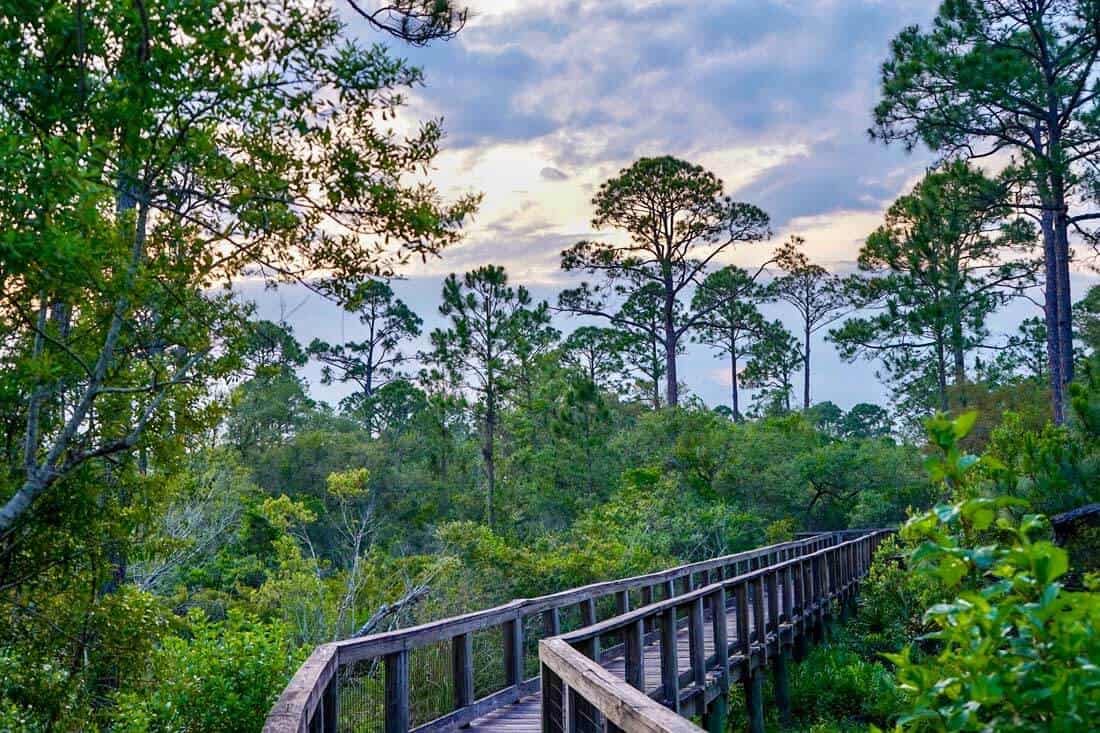 Things to Do at Big Lagoon
Check out the trails leading through the park, and keep your eyes peeled for alligators and other wildlife. You can bike the paved road throughout the park. There is also excellent camping and fishing.
We saw lots of folks kayaking and stand-up paddleboarding in Big Lagoon. The water is calmer in the Lagoon than on the Gulf side, so it is easier to paddle.
The park is only a short 30-minute drive to downtown Pensacola if you want to grab a bit to eat in one of the local restaurants.
Entrance Fee
Visit the Florida State Park website for the most updated fees.
The entrance fee is included in your camping reservation if you are camping.
This also covers parking for Perdido Key State Park.
Hours
Open every day from 8 am until sunset.
Parking
There is a parking area near the boat launch into Big Lagoon. From here, you can access the coast and the trails.
If you're camping, you can access the trails from the campground.
If you're interested in visiting Big Lagoon State Park, read our article with all the details or watch the campground review on YouTube!
Watch Things to Do in Perdido Key
Join us as we adventure to all three of these parks over a period of two days.
We want you to see how beautiful these parks are during the daytime. The water is insanely clear and blue!
What to Pack for the Beach
There is nothing worse than going on a beach vacation and getting burned the first day – like NOTHING WORSE. So, we've got your back to help you prepare. Below are the things you want to take to the beach.
Beach Umbrella with Anchor – Yes, I learned the hard way. I didn't grow up next to the coast, so I thought I could go from being inside all winter to hitting the beach for days. Long story short, we learned what the locals do, and they bring a beach umbrella with an anchor! You need one. You'll thank yourself later.
Beach Chairs – We have these beach chairs. We like that you can carry them like a backpack.
Cooler – We bring a simple little cooler like this one. It keeps a few drinks cold and snacks from melting.
Water bottles – Our favorite water bottles are insulated by brands like Hydroflask and Yeti. What's cool about these water bottles is they will keep cold drinks cold or warm beverages warm (a great investment for year-round outdoor activities).
Sunscreen – We like and use Sunbum because it is an environmentally friendly sunscreen.
Towels – If you haven't heard of Nomadix towels, you're missing out. They are fantastic because they dry fast and don't stink!
Flip Flops – We rock our Chaco flip-flops (which also act as shower shoes and pair well with all outfits). You can get the men's version and women's version from REI.
Water Camera – Olympus makes a great water camera that isn't expensive. We got one years ago and have taken it all over the world. It takes great water photos and is still going strong if you're snorkeling on paddling.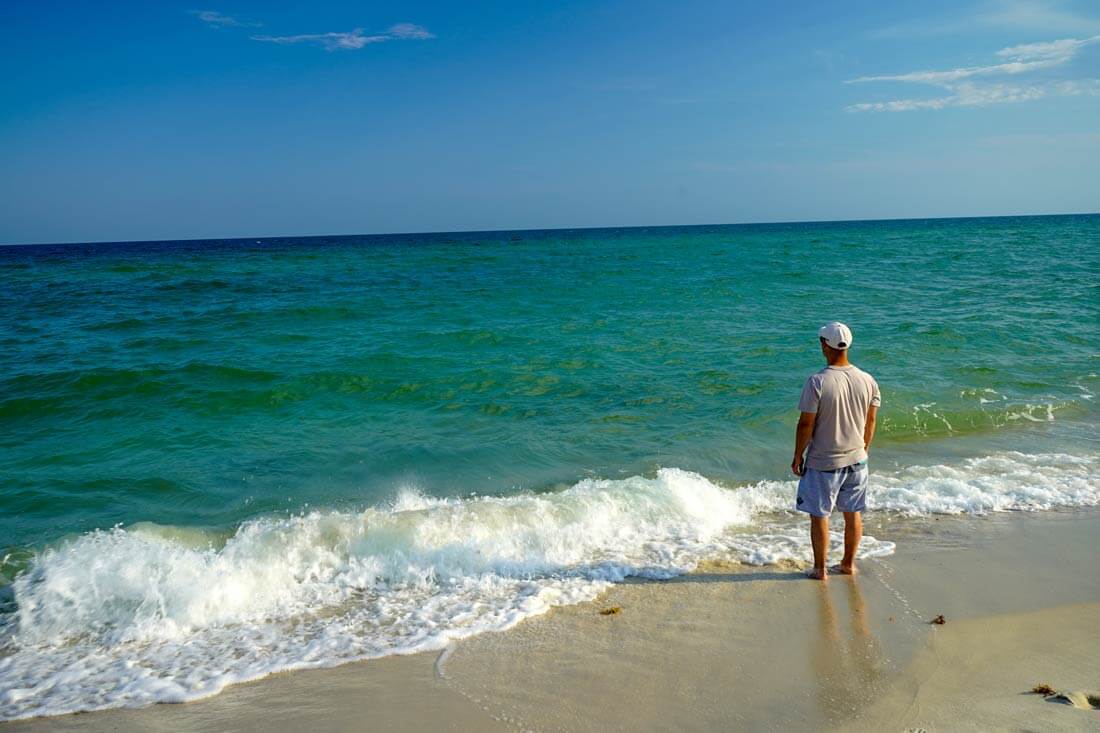 Final Thoughts on Visiting Perdido Key Florida
Along with beautiful beaches and pristine emerald-green water, what we love about the Perdido Key area is that it is an affordable beach vacation destination.
We camped at Big Lagoon State Park and were less than 10 minutes away from so many beaches. With Big Lagoon State Park being our home base, we were in the perfect spot for fun day trips from Pensacola. We went to Gulf Islands Fort Pickens on Santa Rosa Island, Pensacola Beach, and Navarre Beach and drove the famous coastline from Gulf Breeze to Opal Beach. It was the best time!
From Perdido Key, you are also a short drive to the Flora Bama state line, Gulf State Park, and Gulf Shores, Alabama.
We think Perdido Key is a paradise for beachgoers, road-trippers, and campers. This area makes for the perfect beach getaway.
Thanks for reading.
Ashlee & Pablo
---
Plan Your Next Gulf Coast Vacation in Northwest Florida
Where Are You Headed Next?
Get more Gulf Coast adventure inspiration with these popular articles along the Alabama Gulf Coast!
Save on Pinterest for Later!