30+ Best Beaches in Florida You Have to See
Last Updated: Dec 12, 2022
|
|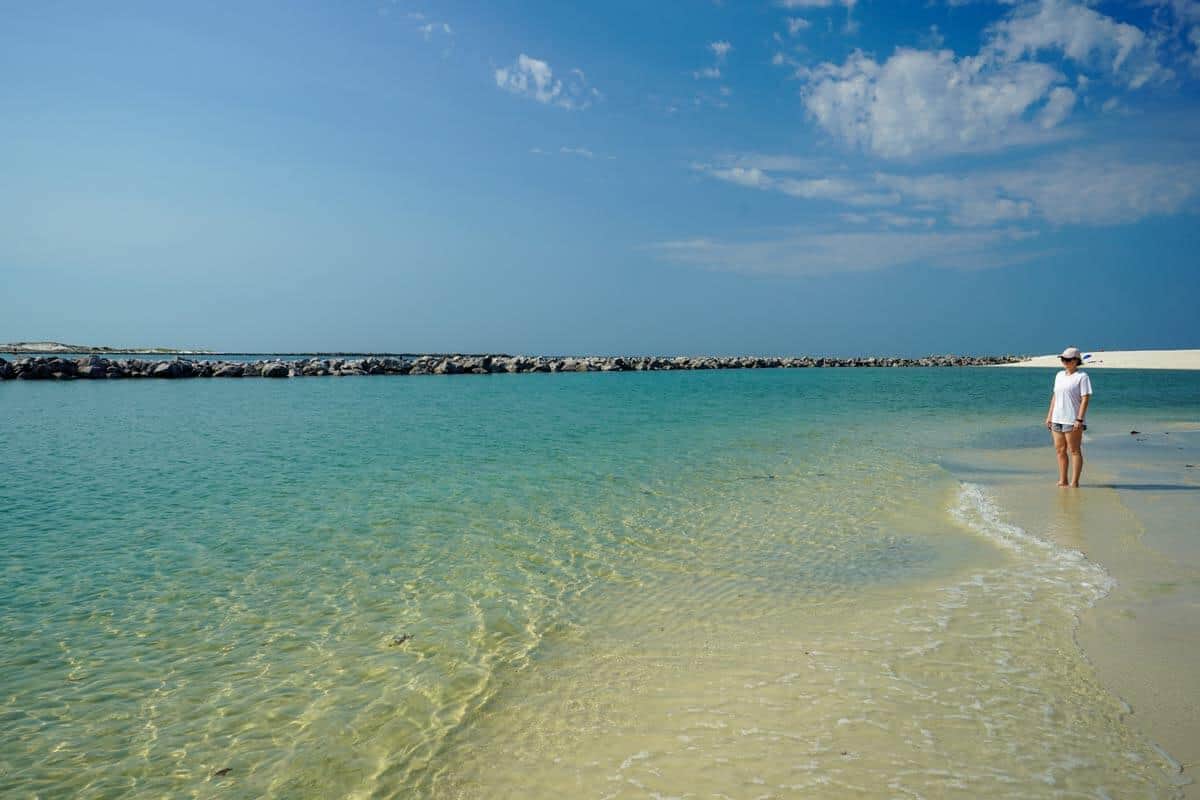 If you have ever looked at picture-perfect images of beaches in Florida and wondered where they were from, this article is for you! We've rounded up local secrets and expert advice from travel writers and are sharing the insider's scoop on all the best beaches in Florida. Discover what makes these beaches unique, from the Florida panhandle to the Florida Keys and along the Gulf and Atlantic Coasts. We're sharing the overall vibe of the area and the best things to do. We even share where you can bring your dog – because road tripping with your dog is simply the best! You'll love adding these jaw-dropping destinations to your Florida beach vacation bucket list.
Let's get ready to beach hop!
This post contains affiliate links, which means we'll receive a commission if you purchase through our links at no extra cost to you. Please read full disclosure for more information. Thanks for your support!
30+ Best Beaches in Florida: Paradise is Calling
Map of Florida Beaches
We've included a map so you can orient yourself and plan your next Florida beach getaway!
Best Beaches in the Florida Panhandle
Perdido Key State Park
Recommended by Ashlee Fechino of The Happiness Function
Perdido Key Beach and the state park area are steps within the famous vibrant coastal scene with shopping, restaurants, hotels, and condos. You can spend hours at the beach, walk back to your condo, or grab a local bite to eat. There are miles of beaches, and the water is gorgeous.
Parking can be found at public pay-to-park specific areas, or if you have a state park pass, you can park in the Perdido Key State Park designated area(s).
While visiting Perdido Key, take time to visit Gulf Islands or drive across the Perdido Key bridge and check out Big Lagoon State Park. The area, in general, makes for the perfect beach vacation! There are many beautiful beaches, areas to explore, and great places to stay and eat.
Dogs are not allowed on the beaches of Perdido Key except in designated areas.
Watch on YouTube: Explore the incredible beaches and parks near Perdido Key!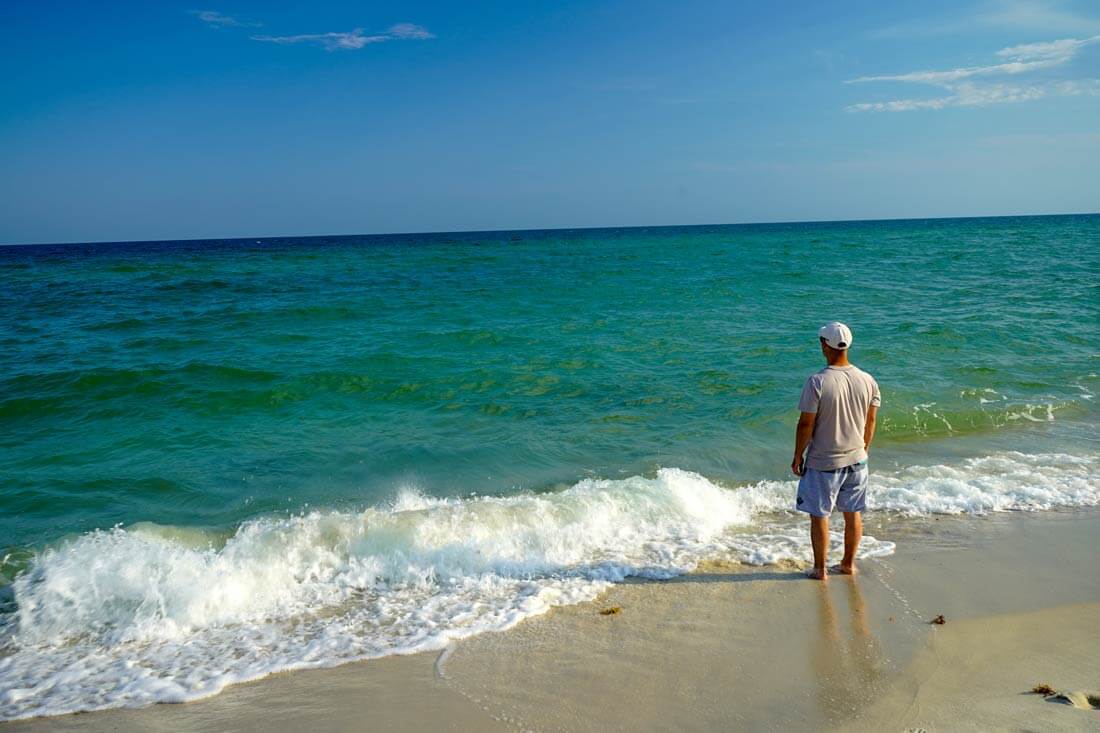 Gulf Islands Perdido Key Area
Recommended by Ashlee Fechino of The Happiness Function
If you're looking for the most epic Florida panhandle beaches, you'll seriously want to check out the Gulf Islands Perdido Key Area. With pristine white sand and crystal-clear water, these beaches are some of the best in the state.
Gulf Islands Perdido Key and the Johnson's Beach area are part of the National Park Service. There are miles of undeveloped and protected wild coastline. Keep your eyes peeled for dolphins and sea turtles while catching some sun! You'll be able to see them occasionally right from the shore.
Located roughly 30 minutes southwest of downtown Pensacola, visiting this part of Gulf Islands National Seashore makes for a wonderful beach vacation. Along with gorgeous coastlines for water sports and sunbathing, the area is close to two more state parks: Perdido Key State Park and Big Lagoon State Park. So, you can enjoy exploring more of the outdoors in the Florida panhandle and beach hop.
It costs $25 to enter the park for seven days, or the Annual National Park Pass is accepted. At Johnson's Beach, there are beach facilities and parking; however, further along the island, there are no facilities, and parking is along the road in designated areas.
Dogs are not allowed on the beaches here.
Gulf Islands National Seashore Fort Pickens
Recommended by Ashlee Fechino of The Happiness Function
The soft white sand, crystal clear emerald green waters and gently sloping beaches are a perfect backdrop for a day in the sun at Fort Pickens. Fort Pickens is located on the western end of Santa Rosa Island. It is protected by the National Park Service. Within the park boundaries, visitors will find miles of wild coastline, sand dunes, and a coastal forest teeming with wildlife.
Popular activities include swimming, fishing, kayaking, wildlife photography, and hiking the trails. Fort Pickens campground is a great place to stay for a beautiful island vacation close to Pensacola. There are many things to do at Fort Pickens, including catching the Blue Angels flying over the skies!
Langdon Beach has a small parking area with a pavilion area and restrooms. However, there are multiple places to access the beaches from the campgrounds or roads. So, pack your reef-friendly sunscreen and head to Fort Pickens for a beach lover's paradise.
Dogs are not allowed on the beaches here, but they are allowed at the Fort Pickens campground.
It costs $25 to enter the park for seven days, or the Annual National Park Pass is accepted.
If you'd like to beach hop, Pensacola Beach is a short drive away and is a public beach area with lots of free parking. It is best to get to the beach earlier in the day to find parking and avoid the afternoon sun.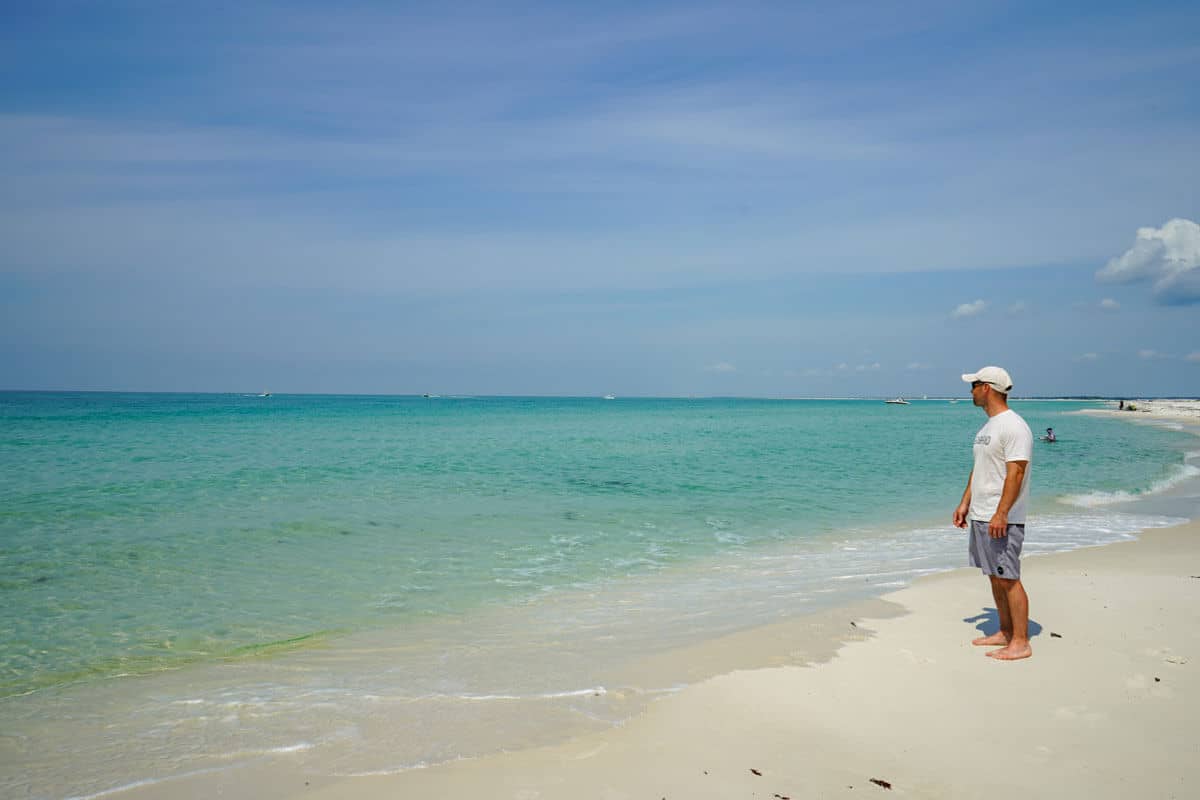 Pensacola Dog Beach
Recommended by Ladona Stork of Walking The Parks
While you will find the softest and whitest sand imaginable along the Gulf Islands National Seashore, you won't find dogs on the beach. As federally protected land, these gorgeous beaches are not dog friendly. That is… except at two unique dog parks in Pensacola Beach!
Both dog parks are the perfect place to bring your fur baby and enjoy a day in the sun and water. The length of the beach where dogs are allowed is only about 200 yards, so plan to share your beach day with many other furry friends.
The location of Gulf Islands National Seashore is along the Florida panhandle, which means summer temperatures are less extreme than in central Florida. The beautiful weather attracts a lot of visitors. Plan your beach trip in early March or late October if you want to avoid the crowds and still enjoy warm weather.
After a day at the beach, you'll find many restaurants in the Pensacola Beach area that welcome your dog. Most campgrounds allow dogs, and dog-friendly rental houses are abundant. You'll find more dogs on the walking trails that weave through the beachfront community.
Fort Pickens campground in Gulf Islands National Seashore allows dogs, as well as Big Lagoon State Park near Perdido Key.
Opal Beach Gulf Islands National Seashore
Recommended by Ashlee Fechino of The Happiness Function
Opal Beach will take your breath away with its white sands, clear water, and shallow and calm swimming areas. The beaches and dunes are incredible. There are beach facilities, such as pavilions, shade, restrooms, and beach showers.
Opal Beach is minutes from Gulf Breeze and the Pensacola area's vibrant coastal scene with shopping, restaurants, and condos. The drive along Santa Rosa Island is so beautiful. You'll think you're in another world!
Dogs are not allowed on the beaches here, but you're a quick drive from two dog-friendly beaches in Pensacola (as discussed above).
With its soft sand and clear blue waters, it's easy to see why this beach is a favorite among locals and tourists alike. From here, you're a short drive to Fort Pickens, Pensacola Beach, or Navarre Beach if you want to beach hop along Santa Rosa Island!
So, pack your sunscreen, umbrella, and towel, and get ready to enjoy a day at one of the best beaches in Florida!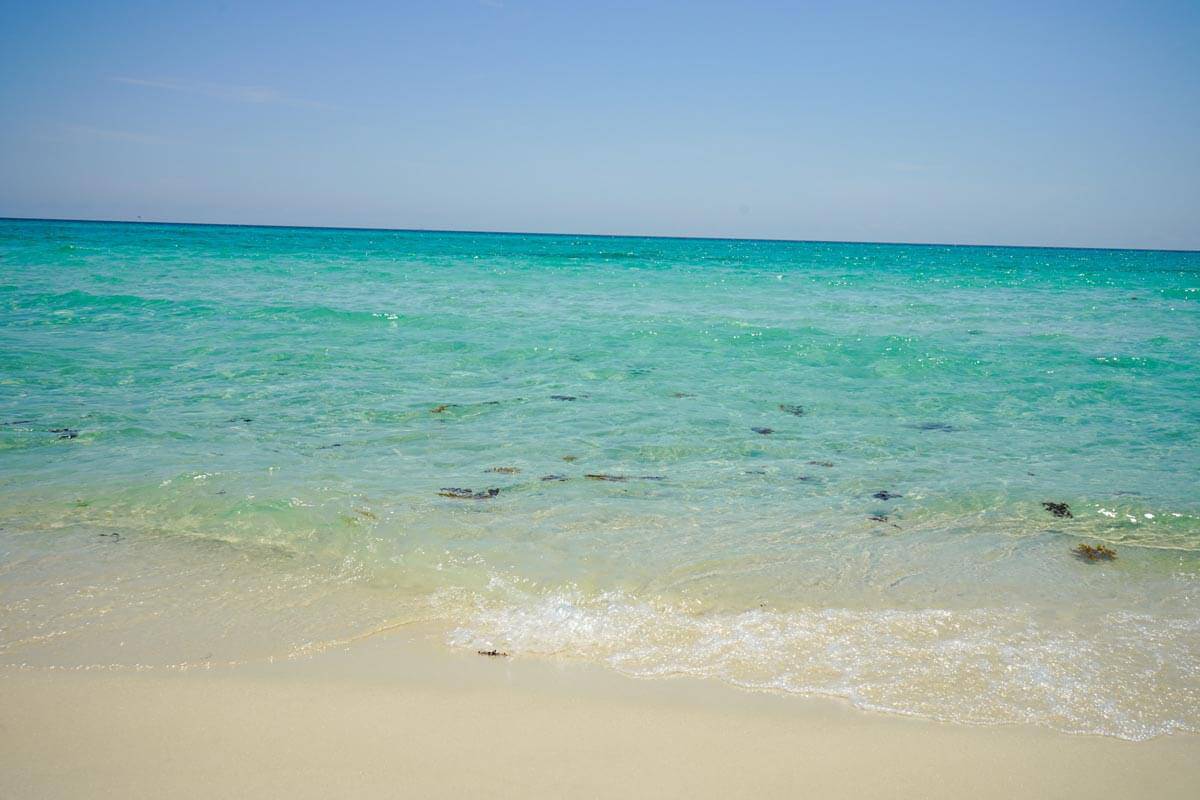 Navarre Beach
Recommended by Ashlee Fechino of The Happiness Function
Summertime is about taking a break from the daily routine and enjoying fun in the sun, and there's no better place to do that than at Navarre Beach, Florida.
Navarre Beach is a paradise for beach lovers of all ages with its sugar-white sand and clear blue waters. So, grab your sunscreen, floppy hat, and beach towel and head to Navarre Beach!
Make time to walk the Navarre Beach Pier. It costs $1 to walk to the end, where you can peer into the beautiful blue water and maybe even spot a turtle or shark!
Add a visit to Navarre Beach during an epic road trip along the Florida panhandle and Santa Rosa Island. It is easy to hop to other famous beaches nearby, such as Opal Beach, Pensacola Beach, Fort Pickens, and Langdon Beach.
Henderson Beach State Park
Recommended by Wayne Kask of Always on the Shore
Henderson Beach State Park is a beautiful place to visit if you're looking for a place to enjoy the sun and the water. There's over a mile of white sand beach that's perfect for swimming, walking, or just relaxing.
This popular Florida State Park also has a variety of amenities that visitors can enjoy, including picnic areas, hiking trails, and a playground. So, if you're looking for a laid-back place in Florida to go hiking or camping, this is the perfect place.
Henderson Beach State Park is located in the heart of Destin, Florida, on the Gulf of Mexico. Things to do nearby include Gator Beach (located at Fudpucker's restaurant) and Big Kahuna's water park. You're also not far from HarborWalk Village, which offers area entertainment, games, and some excellent waterfront restaurants along Destin Harbor.
Since this is a state park, there is a fee of $6 for entrance. The best time of day to go is just before dusk since the sunsets are spectacular, and there are fewer people. The best time of year to visit the beach is April or May, after spring break and before the summer crowds come in. Late fall is also a nice time.
Pets are allowed at Henderson Beach State Park but only on the trails or in the parking lot. They're not allowed on the beach itself.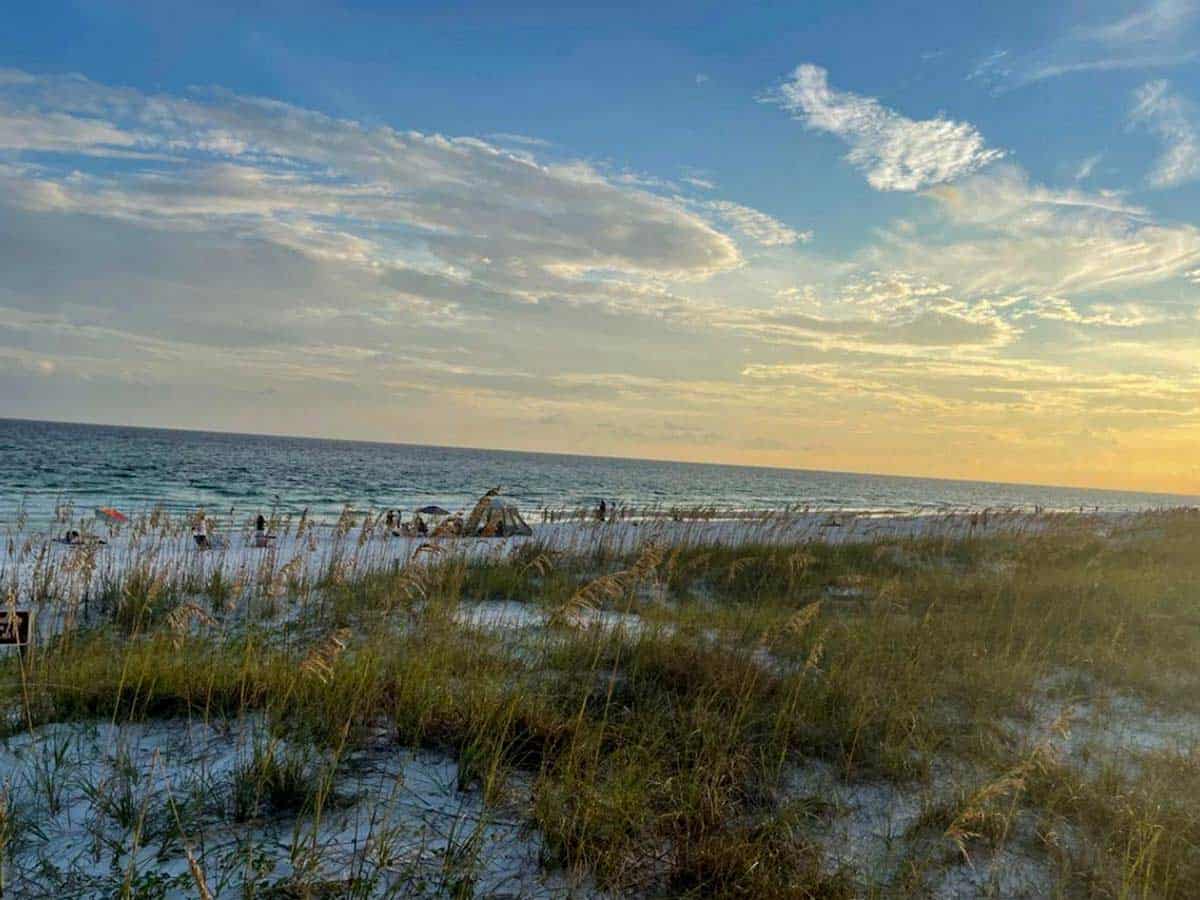 Miramar Beach
Recommended by Disha Smith of Disha Discovers
Located around ten miles from Destin, Miramar Beach is one of the best beaches in the Florida panhandle and one of the top beaches in all of Florida.

Miramar Beach is known for its sugary, white sand and clear, emerald water. It's a vibrant slice of paradise and a great place to relax and soak up the Florida sun.

Miramar Beach is a public beach with several access spots where you can snag free parking. If you want free parking, make sure you get there early in the morning. If you're not an early riser, there are a few paid parking lots.

One of the wow factors about Miramar Beach is how immaculate and well-kept it is. Only residents with a proper permit can bring their dogs to the beach.

The water at Miramar Beach is calm and clear, which makes it perfect for swimming, paddleboarding, kayaking, and other water activities. And, if you're looking for more of an adrenaline rush, you can try your hand at parasailing or jet skiing.

After a long day at the beach, you can enjoy the many shops and restaurants along Scenic Gulf Drive, go on a dolphin cruise, or play a round of golf at one of the area's championship courses.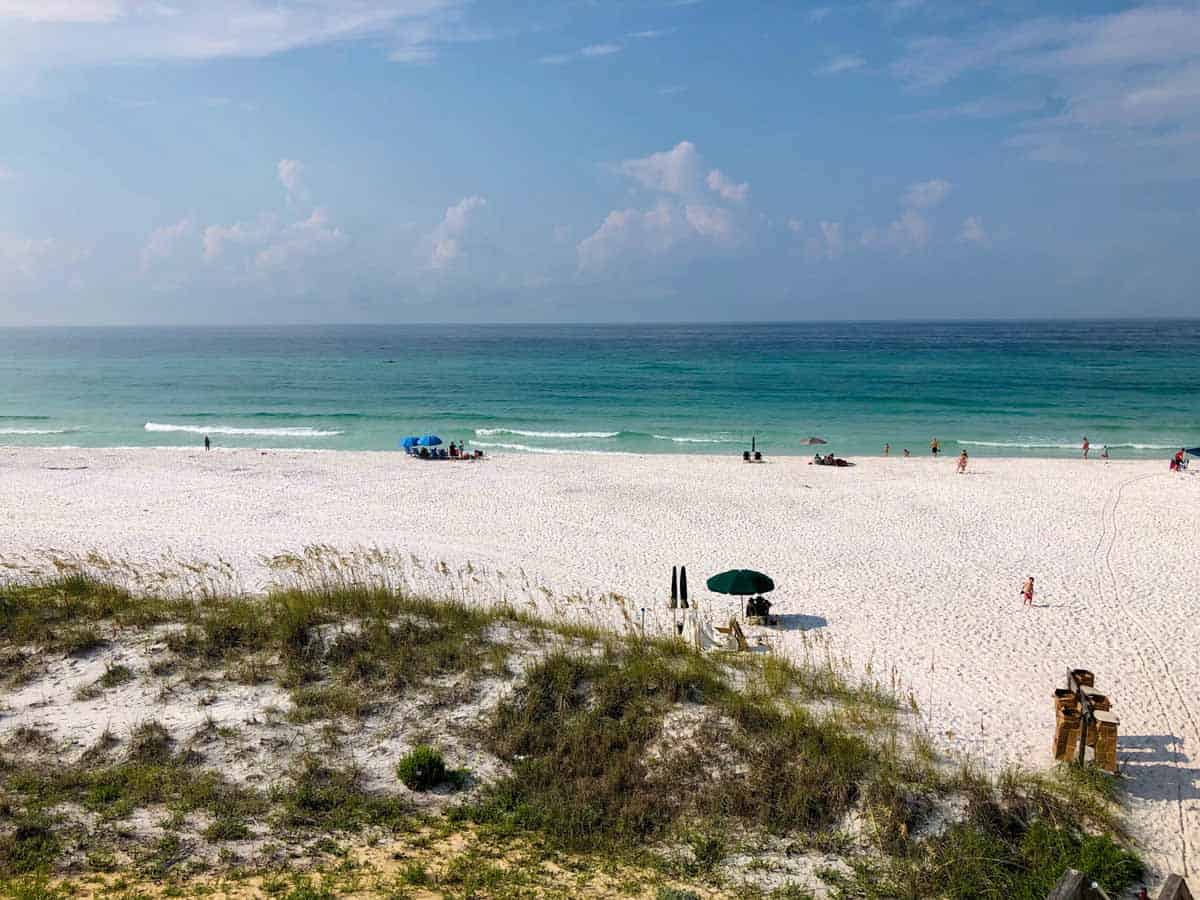 Santa Rosa Beach
Recommended by Roshni of TheWanderlustWithin.com
One of Florida's best hidden gems is Santa Rosa Beach in South Walton. Located along the Florida panhandle on the scenic 30A highway is a laid-back beach community with some of the most stunning public beaches in Florida.
The area of Santa Rosa Beach is golf cart-friendly, has plenty of free parking, and is a great place for adventurers, as there are water sports, cycling trails, and hiking spots nearby.
There are several unique things about Santa Rosa, one being the super soft white sand beaches made from quartz crystal derived from the Appalachian Mountains (source).
Another unique aspect is The Underwater Museum of Art, found just a mile off the coast in the waters of the Gulf of Mexico. It is a permanent sculpture park located at a depth of 58 feet. It is open to snorkelers and scuba divers, and you just have to pay the entrance fee to Grayton Beach State Park.
The area is still relatively unknown, so it can be visited all year round, but accommodations are cheaper outside of July-August.
Dogs are allowed on Santa Rosa beach, but only if you get a permit ($40 annually, which requires proof of local residency or property ownership).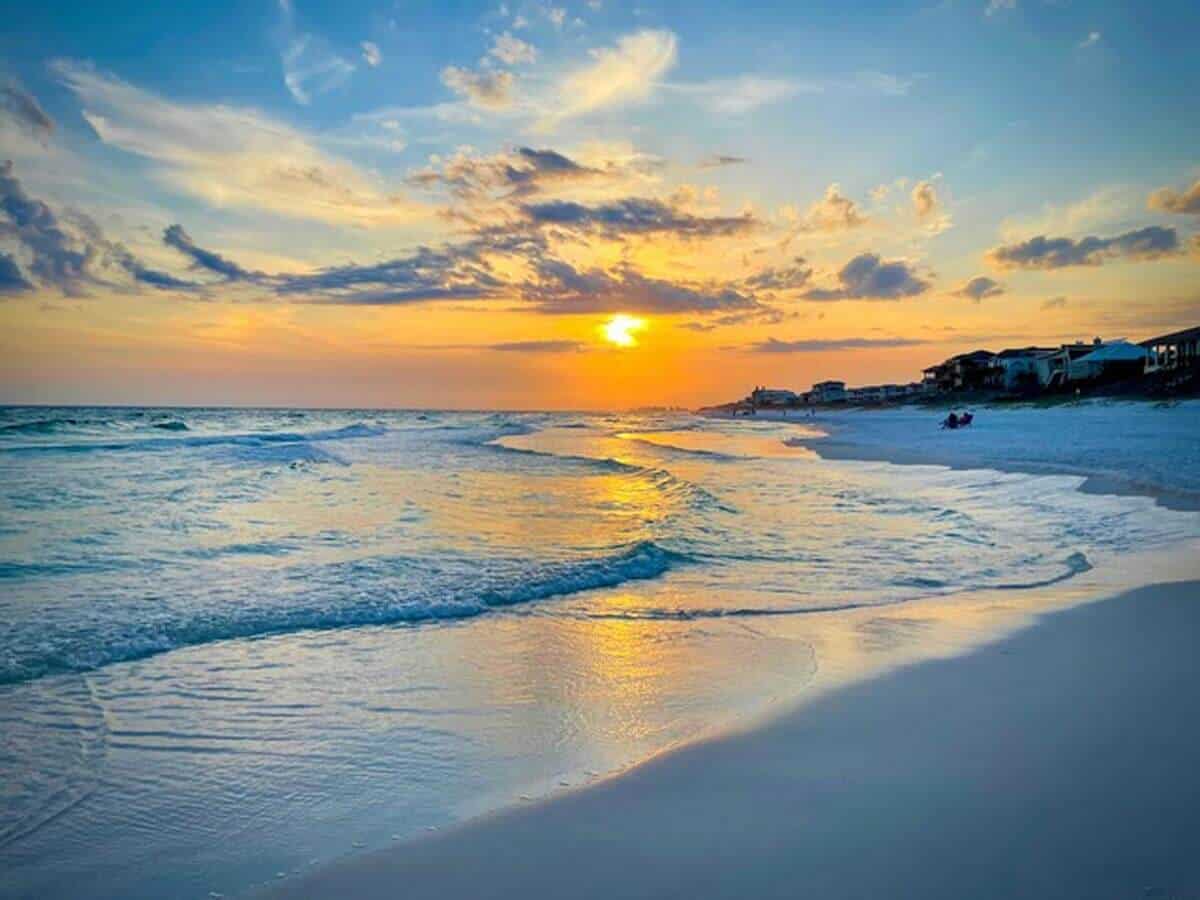 Panama City Beach
Recommended by Roshni of TheWanderlustWithin.com
One of the most relaxed beaches to visit in Florida is Panama City Beach.
Located along the Northwest coast of Florida, there are 27 miles of white sand beaches and turquoise waters of the Gulf of Mexico to keep families and couples busy on their vacations.
But Panama City Beach also has plenty of things to do, such as sailing to Shell Island – just make sure you go during the week when it is much quieter! Visit Pier Park for shopping and dining or explore Camp Helen and St. Andrews State Park. Dog Beach is great if you love pups!
Three paid parking lots service the beaches, and these can get busier in the peak summer season, so it's best to avoid them by visiting Panama City Beach in April and May when the weather is still pleasant but not too hot.
St. Andrews State Park Jetty Pools
Recommended by Ashlee Fechino of The Happiness Function
If you like snorkeling, you'll love checking out the Jetty Pools of St. Andrews State Park. The jetty breaks the water along the Gulf, creating little tide pools and calmer water to explore. If you get there early in the morning, you'll be able to see some of the wildlife, such as crabs and sea slugs.
Manatees, sting rays, and sharks can occasionally be seen from the St. Andrews State Park fishing pier!
Along with exploring the jetty pools at St. Andrews State Park, spend the day at the beach, or explore more of the park. There are hiking trails where you can watch wildlife and maybe even spot an alligator. In addition, you can bike along the park's paved roads or catch the ferry to Shell Island.
The campground at St. Andrews State Park is well kept and right on the bay. You'll want to make reservations months in advance!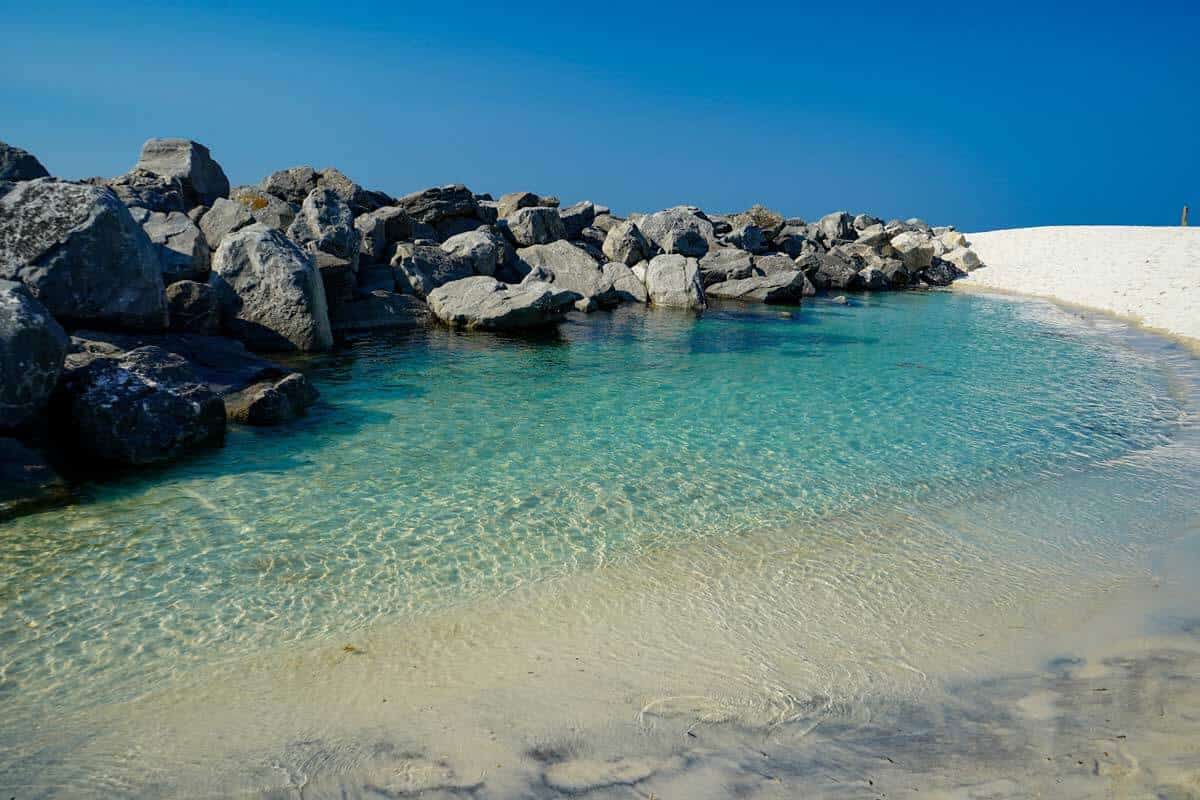 Shell Island – St. Andrews State Park
Recommended by Ashlee Fechino of The Happiness Function
It is so fun to visit Shell Island at St. Andrews State Park near Panama City, Florida.
Exploring this famous undeveloped island makes for an excellent beach day trip!
You can buy tickets at the St. Andrews State Park Pier Gift Shop. From there, island goers hop on the timed shuttle to catch the ferry. It takes about 15 minutes to ferry to the island.
Spend half a day at the beach catching sun, walking the beach, and snorkeling! Bring your own water, food, gear, and sunscreen. There are no facilities on the island.
The island is definitely worth visiting and is known for its wild beaches and shelling. The locals say after big storms is the best time to shell.
The water and beach are seriously incredible! Be sure to add visiting Shell Island to your Florida bucket list!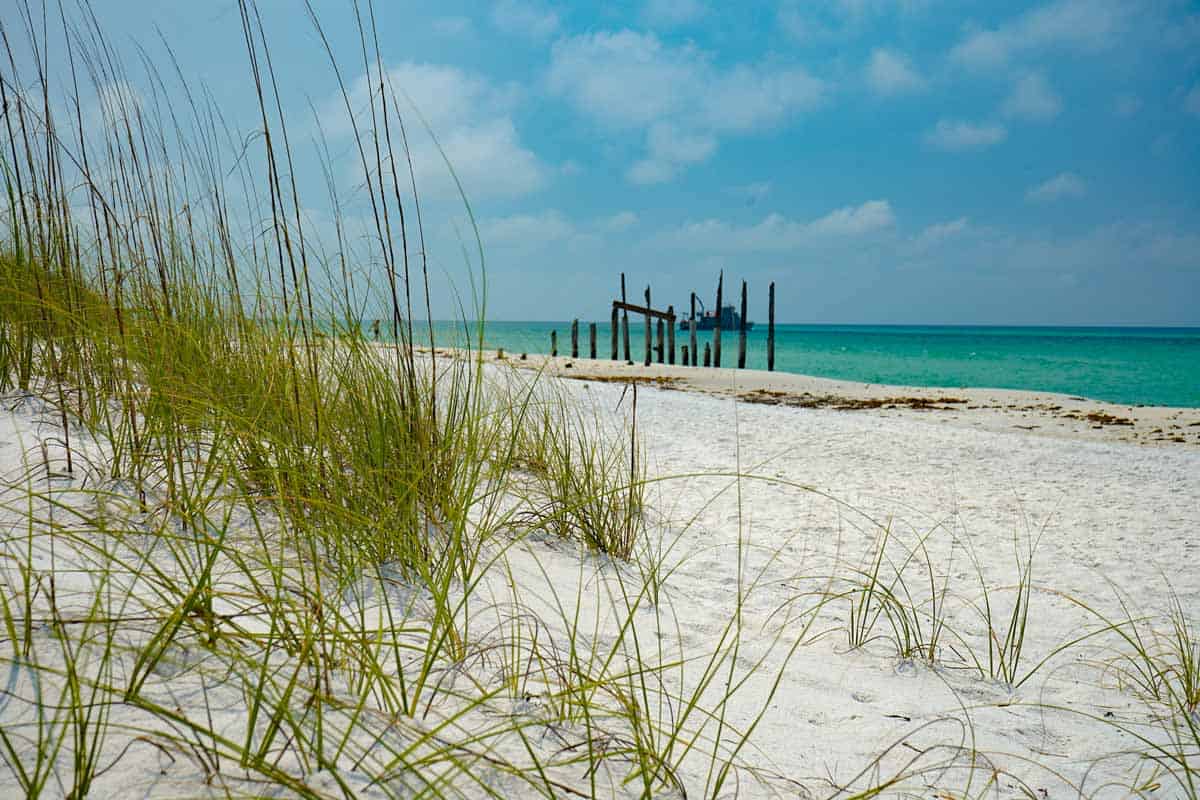 Central West Florida Beaches on the Gulf
Honeymoon Island State Park
Recommended by Angela DiLoreto of Fitting in Adventure
Tucked into Florida's central Gulf Coast sits the town of Dunedin and home to Honeymoon Island State Park. Once a destination for honeymooners, this beach quickly became a destination for everyone. Its four miles of beaches, nature trails, and a three-mile trail in one of the last remaining virgin slay pine forests make it an excellent location for native wildlife and visitors to explore. Keep your eyes peeled for the local bald eagles, osprey, manatees, and (unfortunately) rattlesnakes.
You enter Honeymoon Island State Park by driving the cause away bridge. Pay the entrance fee ($8 per car) at the ranger station and choose a beach or trail. Parking is offered throughout the park at each trailhead or beach entrance.
There is even a dog beach for your furry bestie.
This isn't the beach for volleyball. Instead, the overall vibe is relaxation. People bring their chairs to watch the sunset or slowly stroll the beach to gather its unique shells.
Give yourself time to get through the gate. The causeway itself can get busy, and the ranger station can backup. The busiest times are early in the morning and just before sunset.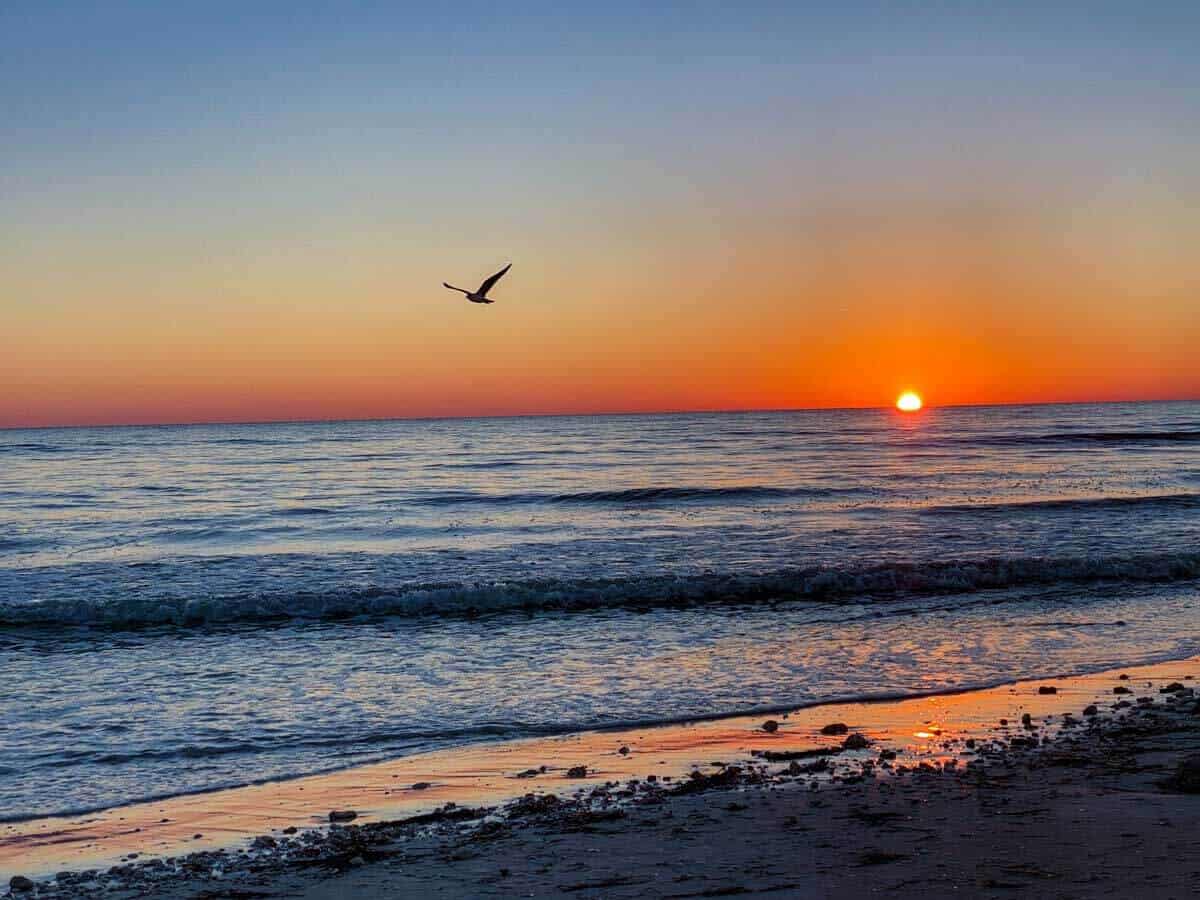 Caladesi Island State Park
Recommended by Megan Fire-Lilly Johnson of Red Around the World
Caladesi Island State Park is one of the best beaches in Florida, and it is a little less busy than some other beaches since it can only be reached by ferry or private boat.
You'll find this Florida State Park just outside of Dunedin. The ferry parking is just inside the entrance of Honeymoon Island State Park, so you'll have to pay that entrance fee in addition to the ferry fee, which is $16 round-trip. The ferry runs daily and leaves every thirty minutes, starting at 10 AM. You can spend up to four hours on the island.
There are three pristine miles of beach to enjoy giving you plenty of opportunities to get away from any crowds.
While pets are allowed at the state park, leaving your furry friends home is best as they are not allowed on the beach or ferry.
There are a couple of hiking trails and a small store, but the park's draw is the incredible beach. It is white sand and perfect for shelling.
This is a great beach if you want something laid back that feels remote (but isn't). There is no wrong time to visit, but summer is best if you want to swim. The only camping available here is for visitors with their own boat at the marina.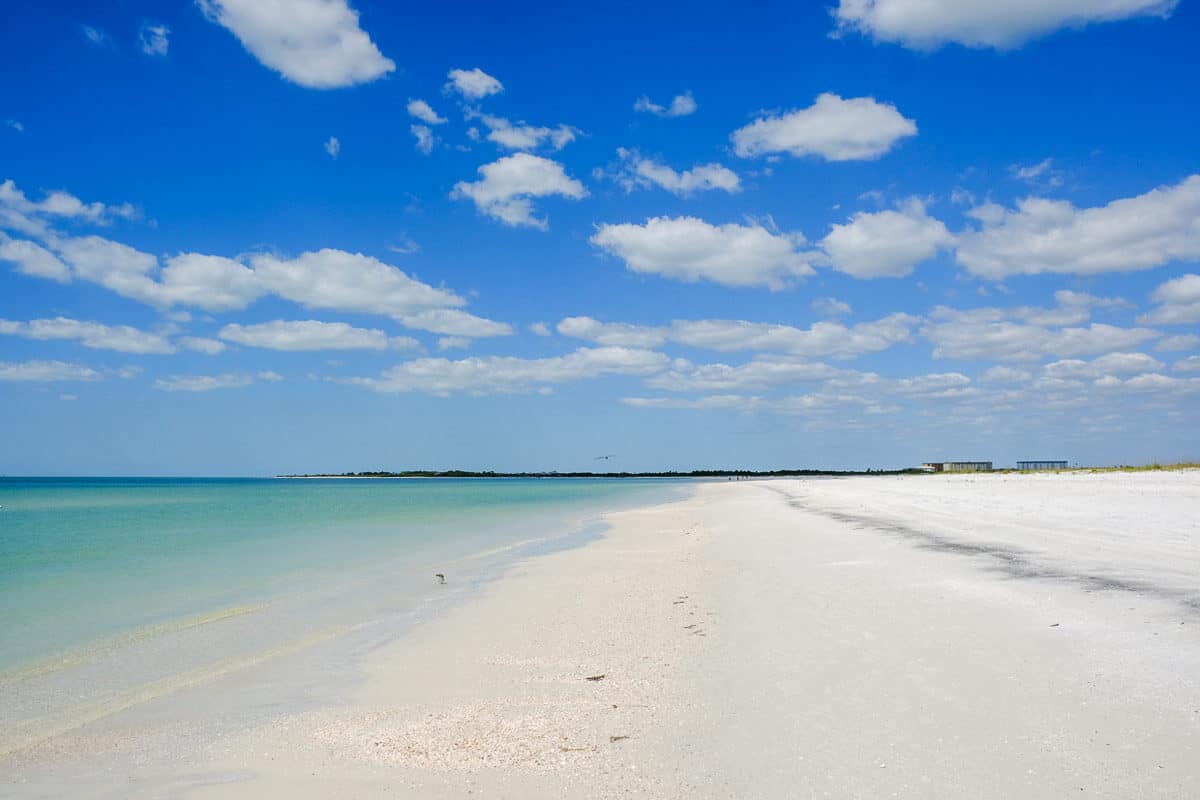 Clearwater Beach
Recommended by Jillian Michelle of Adventure Dragon
Located on the Gulf side of Florida, approximately 25 miles west of Tampa, Clearwater Beach is best known for its white, sugar-sand, and turquoise blue water. Consistently ranked as one of the best beaches in Florida, the ocean here is warm and calm, making it a popular spot for dolphin and manatee sightings. Kids can take a cruise aboard a pirate ship to get a better view of the wildlife, but they'll often swim right into shore while you're in the water.
The beachfront hotels next to the pier are the best places to stay in Clearwater Beach. That's the area's central hub and will keep you within walking distance of all the best restaurants and activities on the beach.
Sunsets in this location are stunning, and the city even created a nightly festival just to celebrate them. Known as the Sunsets at Pier 60 Festival, the celebration begins two hours before the sun sets each night and is completely free to attend.
The weather in this part of Florida is warm year-round, so this is the perfect beach to visit any time of the year. To avoid large crowds, however, you'll want to avoid the prime summer months and instead aim to visit during fall, winter, or early spring.
Pets are not allowed on Clearwater Beach, so if you're hoping to bring your furry friend, know that he'll have to stay confined to walks on public streets and will not be able to join you on any sandy areas.
If you're looking for one of the best beaches in Florida, this is definitely one you won't want to pass up!
Indian Rocks Beach
Recommended by Charles McCool of US Gulf Coast Travel
Indian Rocks Beach (IRB) is located between Clearwater Beach and St. Pete Beach, and unlike those neighbors, IRB retains old Florida charm because it does not line its shores with high-rise condos, hotels, and resorts.
Residents and visitors consider Indian Rocks Beach to be the best beach in Florida because it is less crowded and more peaceful, but with the same access to phenomenal Florida Gulf Coast sugar sand, seafood, sunsets, and water activities.
Also, unlike its neighbors, Indian Rocks Beach has plenty of free parking—at 18 of the 27 beach entrances and within a short stroll of all entrances. It is easy to find a secluded IRB beach spot or head to the busiest area between 17th and 18th Avenues, across the street from Guppy's on the Beach, one of the best Indian Rocks Beach restaurants.
Alcohol and dogs are not permitted on IRB beaches. However, there is a dog park at Indian Rocks Beach Nature Preserve, which also features a gorgeous mangrove boardwalk trail.
Longboat Key
Recommended by Rachel Grenis of Caribbean Uncovered and Things to Do in St. Thomas
Longboat Key is a quaint, small town on the southwest coast of Florida, right off the coast of Sarasota. It is uniquely quiet and beautiful. Heading to Longboat Key saves you from the hustle and bustle of Siesta Key but is a close enough drive to enjoy the downtown shops and restaurants if you want.
Longboat Key Beach has two free public access parking lots, but they're small, so plan to arrive early to get a spot. Like many public beaches in Florida, dogs are not allowed on Longboat Key.
It's an excellent spot for snorkeling and water sports, and there are a few trails and parks around the beach – Bicentennial Park, Quick Point Nature Preserve, and Joan M Durante Community Park are all great places to start your day with a short walk.
Surprisingly, the best time to visit Longboat Key is in the fall, particularly the end of September through October during the off-season. In the off-season, prices are cheaper, but the weather is unbeatable, and the town is quiet. You'll find yourself on a sandy, clear water beach with few interruptions.
Longboat Key gives you island vibes without having to leave Florida and is an excellent vacation choice for families, friends, or a solo staycation.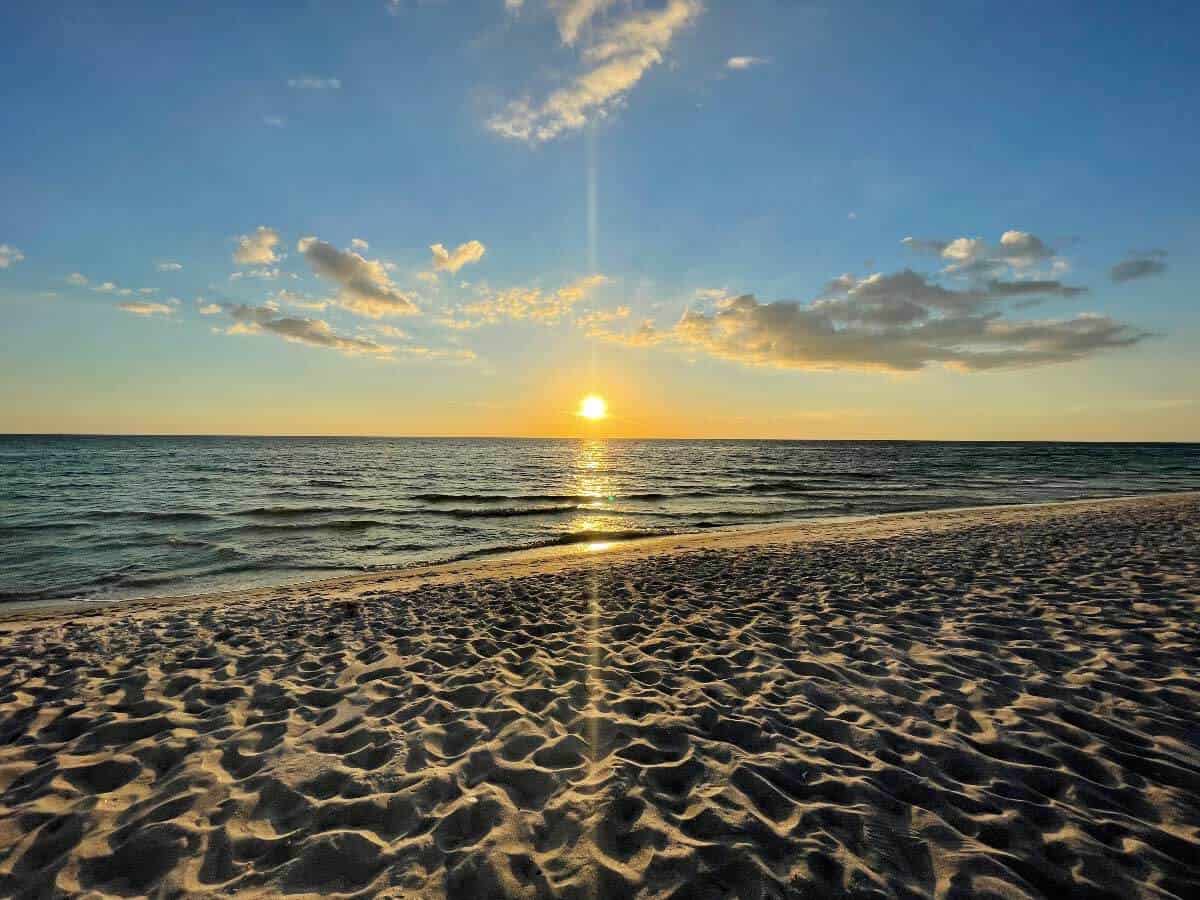 Siesta Key
Recommended by Jordan Lindsay of The Homebody Tourist
Look no farther than Siesta Key Beach in Sarasota, Florida, for sparkling beaches without ever having to leave the USA. Siesta Key is repeatedly voted as the most beautiful beach in Florida and all of America.
There is a large free parking lot, but due to the beach's popularity, the 850 spots fill up very early. If you are unable to find parking, you will likely find a paid spot nearby.
After securing a parking spot, spend the day sunbathing, swimming, boogie boarding, or building sand castles. There are public restrooms, and a concession stand with all the snacks and drinks.
Unfortunately, Siesta Key is not dog-friendly.
If you can pry away from the beach long enough to explore the rest of Sarasota, check out the Ringling Museum and the Big Cat Habitat, and go for a hike in Myakka River State Park.
Fort De Soto Beach
Recommended by Corritta from It's a Family Thing
If you are looking for one of the best beaches in Florida, look no further than Fort De Soto Beach in St. Petersburg. This historic site has everything you need to enjoy a fun day in the sun.
It is one of Florida's most underrated beaches because there are few crowds. The cost of entry is $5 per car, so it's an affordable place to travel with family. Be advised, there are tolls to get to Fort De Soto, but it is less than $5.
For families with furry friends, this beach has an area for dogs and a playground. So, your four-legged friends can enjoy the sun and be leash-free (in designated areas).
There are plenty of parking spaces at this beach, so you won't have to drive around to find a place to park. You can spend the entire day here swimming, fishing, sunbathing, bike riding, hiking, picnicking, touring the museum, and exploring the area's namesake, the fort.
You can climb to the top of the fort to get a picturesque view of the ocean. The fort was previously a military outpost during the civil war. You can learn all about it at the on-site museum.
The best time to visit this beach is during the week. There are fewer crowds, and it feels like you have the entire beach to yourself. If you want to find the most secluded area, the east beach is the best spot.
There are buckets on the north side to help keep the beach clean. You can do your part by cleaning up your trash and picking up some you see on the beach. Do your part by leaving no trace behind.
Bean Point on Anna Maria Island
Recommended by Nikki of She Saves She Travels
If you're looking for the best beaches in Florida, then look no further than Bean Point on Anna Maria Island. The crisp, white sand and turquoise green water is mesmerizing. It's a perfect beach for being lazy under the sun and one of the best things to do on Anna Maria Island.
The beach offers little in terms of amenities, but that's part of the appeal! Bring your own chairs and beach umbrella, along with your other beach essentials. It's free to enjoy the beach at Bean Point. The Rod and Reel Pier offers seafood and great dining if you're up for a walk around the tip of Bean Point.
Located on the north end of the island, Bean Point is easy to get to if you can find parking! There's beach access on the northern tip and along the western side of the island. Anna Maria Island has limited parking throughout the island, but this particular area is outside of a neighborhood so prepare to walk a bit to find parking.
Bean Point is best enjoyed at sunset, where you'll see the sun dipping directly into the Gulf. Otherwise, any time of day is great for a Florida beach as nice as this one. If you visit in the springtime, watch out for manatees or dolphins right near the coast, which is always a happy surprise!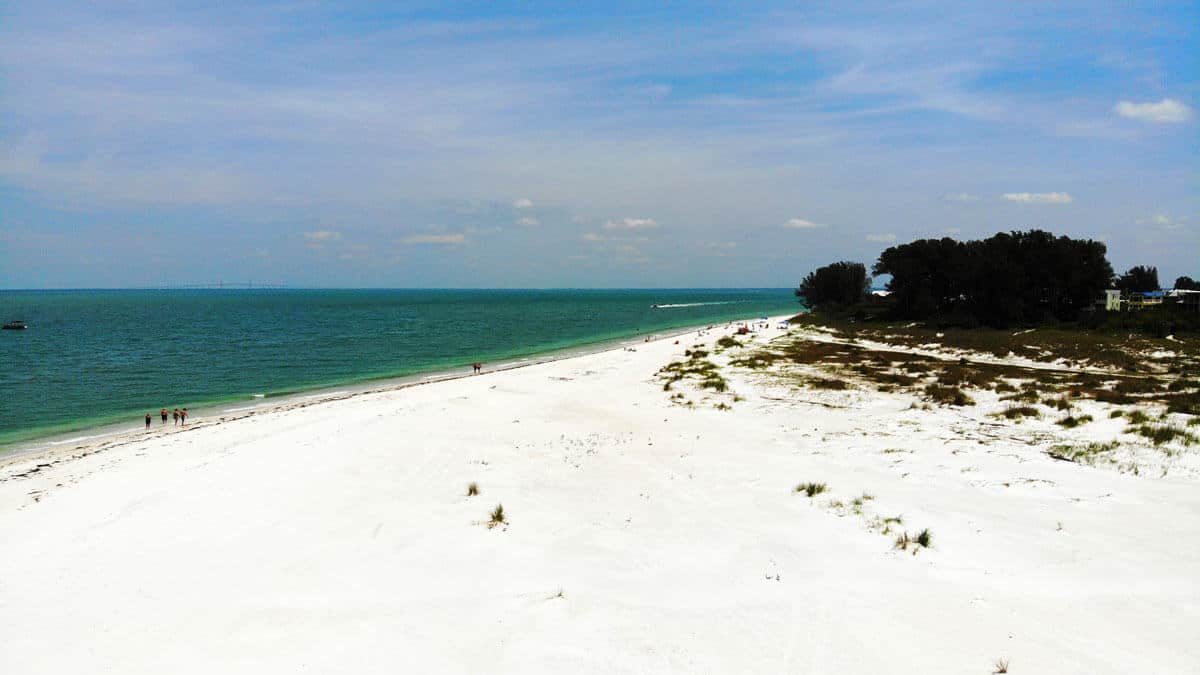 Southwest Florida Beaches
In September 2022, Hurricane Ian hit the Fort Meyers area as a category-four hurricane. Our hearts go out to the locals. Please keep this in mind when planning to travel to this area in the near future.
Bowmans Beach Sanibel Island
Recommended by Lori Sorrentino of Travlinmad
Sanibel Island in southwest Florida has long been known as one of the world's premier shelling destinations. With warm waters, sunny days, and a laid-back lifestyle, a Sanibel vacation is all about the beach and fun year-round.
Of the shelling beaches on Sanibel Island, Bowman's Beach is one of the best. There is plenty of metered parking at $5.00/hr. In addition, Bowman's Beach has restrooms, changing rooms, outside showers, grills, picnic tables, a kayak launch, and even a fitness trail. Yet with all of the amenities, Bowman's never seems crowded.
You'll have to make a short 1/4-mile trek to the beach on sandy paths and a boardwalk through the mangroves, but you're rewarded with a rustic and rarely crowded beach loaded with shells.
Good news for your four-legged buddy, this beach is dog-friendly as long as the dog is leashed (no longer than 8 feet) and you clean up as needed.
Be sure to bring plenty of water as there's no shade unless you bring it along.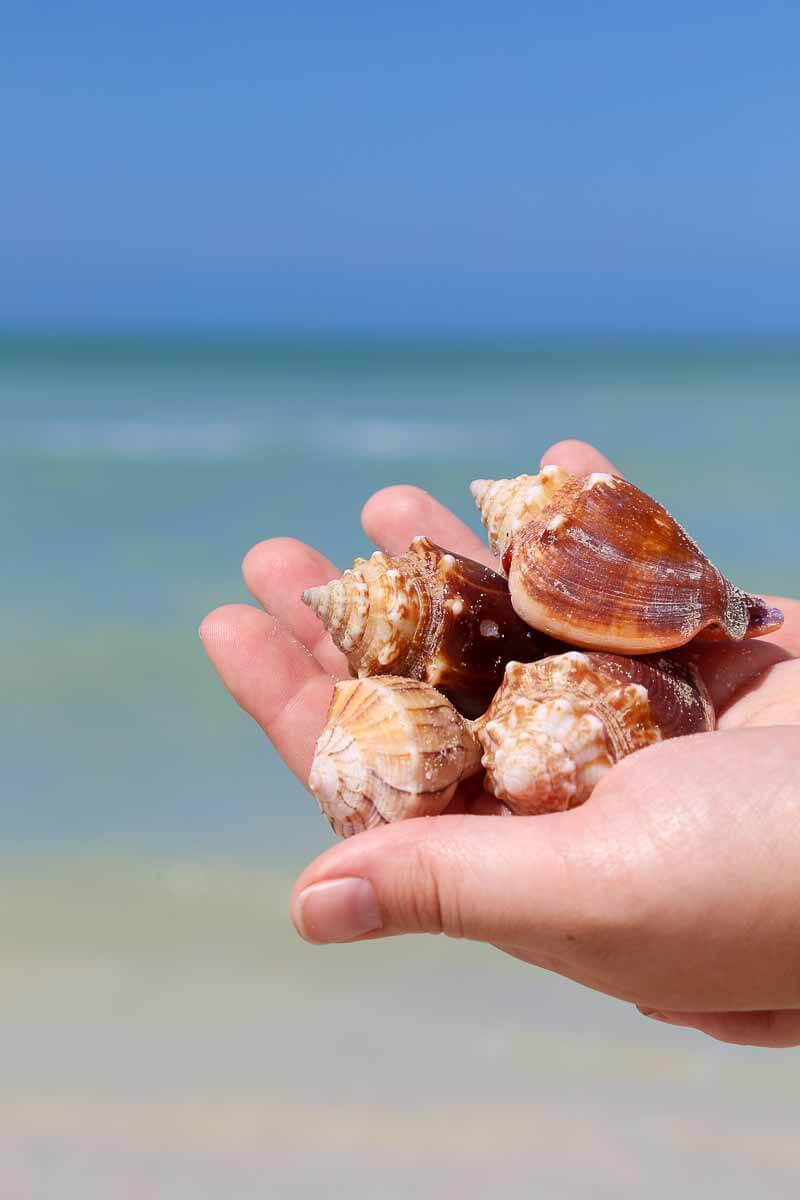 Lovers Key State Park
Recommended by Megan Fire-Lilly Johnson of Red Around the World
Lovers Key State Park is part of Fort Myers Beach and one of the best beaches in Florida for shelling. They are open from 8 AM to sunset, and it is best to get here right when they open or at low tide later in the day if you want to go shelling here.
The entry is $8; it can fill up in the summer and on weekends, so arriving early is best.
You can go hiking, biking, fishing, paddling, swimming, and shelling on the 2.5 miles of beautiful beach in the park. No camping is available here, but concessions and rentals are available.
This is a great Florida beach for just relaxing and shelling. It's also great to paddle through the park's mangroves.
You'll want to leave the furry friends behind for this trip as pets aren't allowed on the beach here.
While the beach can be busy, if you walk far enough down, it will be easier to get away from the crowds.
If you want to do beach hopping, this is an excellent place since there are so many others nearby like Fort Myers Beach, Bonita Beach, Barefoot Beach, and Delnor-Wiggins Pass State Park.
Keewaydin Island
Recommended by Lori Sorrentino of Naples Florida Travel Guide
Southwest Florida boasts some of the best beaches in the US. One of the most unique and beautiful is Keewaydin Island, a secluded barrier island between Naples and Marco Island. Only a handful of private homes are hidden away on the island, making the beach wide open.
Keewaydin is raw and natural, and you can only get there by boat, which is the very reason you should go. You can rent a boat, take a water taxi, or book one of the many tours that go shelling here, some of which combine a beach day with a dolphin or manatee tour.

Keewaydin is a shell collector's paradise, and the soft white sand and warm water make for a great day swimming, sunning, and beach combing.
Even better is that it's one of only two beaches around Naples where you can bring your dog, on a leash, of course, to keep them away from nesting sea turtles and migrating birds.
Keewaydin has no amenities like restrooms or parking. There are just natural paths through the trees and an occasional ice cream boat where you can buy cold snacks if you don't bring your own.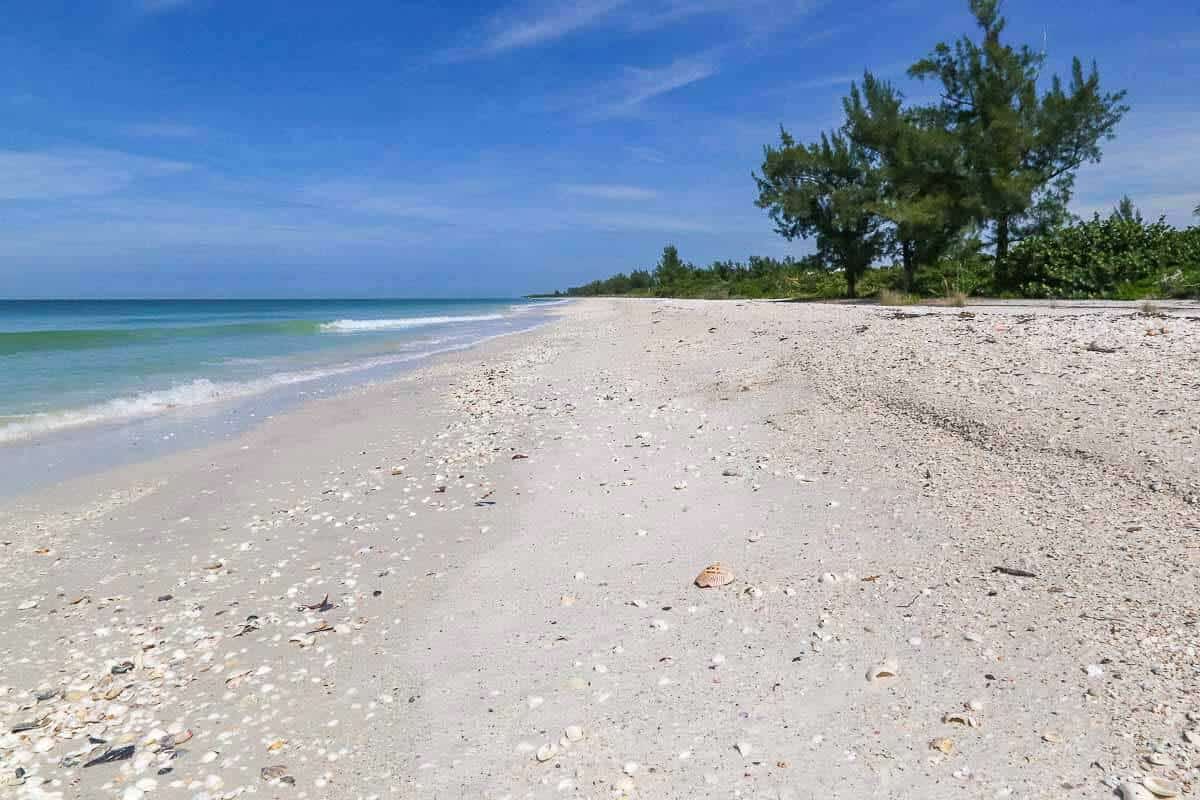 Florida Keys Beaches
Smathers Beach Key West
Recommended by Kenny TK Chow of Knycx Journeying
Located in Key West, Florida, Smathers Beach is the main beach on the small islands of the Florida Keys. Key West is an excellent location for a weekend trip from Miami due to its unique location, beautiful sceneries, and distinct culture. In addition, Key West is the southernmost point in the continental United States, making Smathers Beach one of the southernmost beaches in the country!
Smathers Beach is a one-mile-long, white sand beach on the southern shore of Key West. There is free parking along S. Roosevelt Road. The beach is about three miles from Mallory Square, the town center of Key West.
The beach is free to access, and facilities such as tanning places, a volleyball net, and water sports equipment rentals are nearby. As a result, the beach has a tranquil and fun vibe.
Dogs are not allowed on the beach, yet dog walkers can have a stroll along the waterfront.
The best time to visit is during sunset – the open space offers an unobstructed view of the horizon.
Bahia Honda State Park
Recommended by Lydia Weigel of Lost With Lydia
One of the best beaches to visit on a Florida Keys road trip is Bahia Honda, State Park. This Florida State Park has multiple beaches and is unique because of the former train bridge that extends out from the island into the sea.
Besides taking in the bridge's views and relaxing on the beaches, Bahia Honda is a great place for snorkeling. The park offers gear rentals and boat trips to the nearby coral reef for snorkeling.
Don't miss watching the sunset while you're in Bahia Honda. It is beautiful to photograph the sunset with the silhouette of the train bridge.
Bahia Honda costs $8 per vehicle and has parking and multiple campgrounds. However, it can hit capacity during popular times, so you could be turned away and have to return later.
Dogs are allowed in certain areas, like the parking lot, but are not permitted on the beaches or in the water.
The best time of year to visit is in the winter or spring. The park gets very hot in the summer, and you'll want to avoid hurricane season in September and October.
There is so much to do near Bahia Honda in the Florida Keys. Take a walk to a historic island on the Seven Mile Pedestrian Bridge or take a tour of the Marathon Turtle Hospital, where sea turtles are rescued, rehabilitated, and released back into the ocean.
If you are considering a Florida Keys road trip, be sure that Bahia Honda State Park is on your list!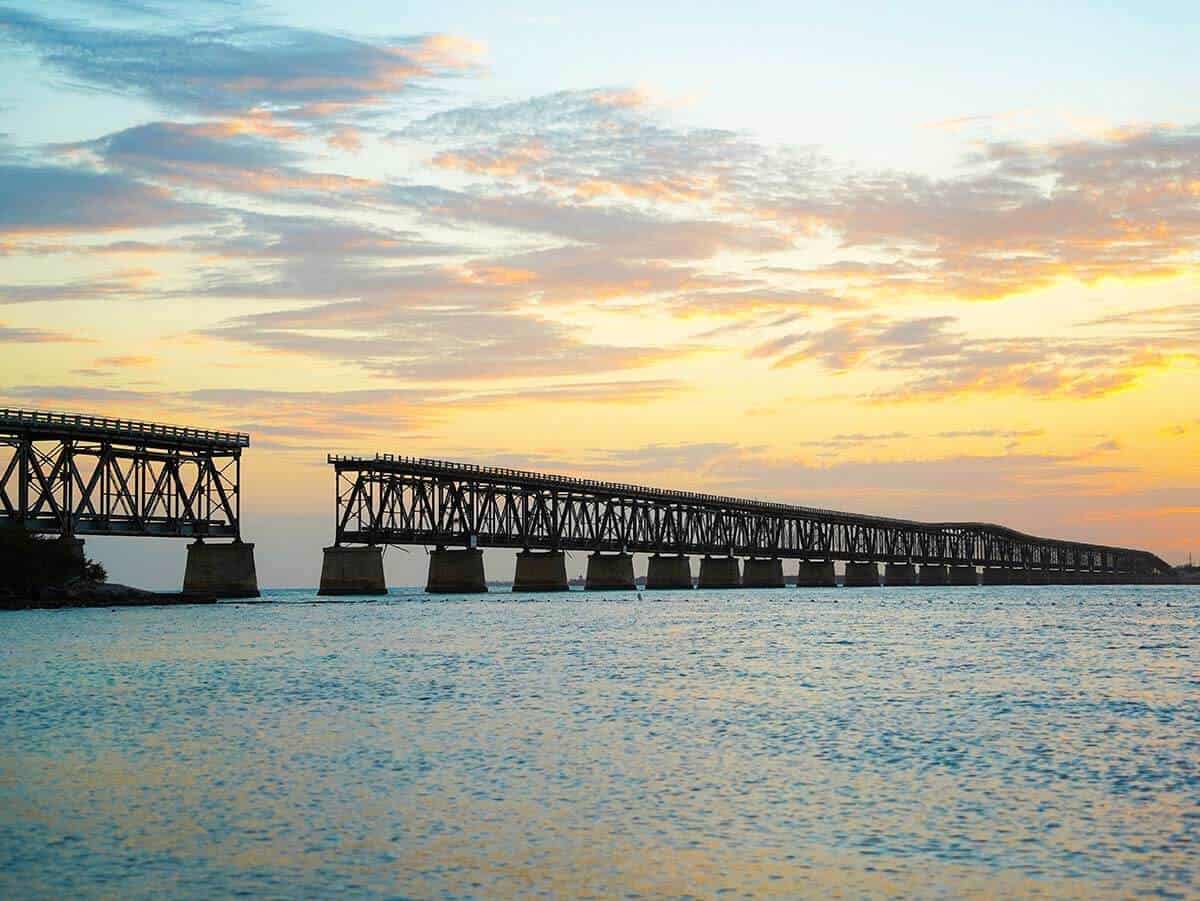 Biscayne National Park
Recommended by Rachel Schulze of Wanderu
Biscayne National Park is just outside of Miami. It is easy to get to Biscayne, but it feels like an entirely different world. It's a 170,000-acre park that protects several small islands (each with plenty of gorgeous coastlines), beautiful coral reefs, mangroves, and plenty of diverse marine life. It's the perfect place for boating, kayaking, snorkeling, diving, swimming, or just lounging on the beach.
Because it's a park dedicated to preserving various native plants and animals, dogs are unfortunately not allowed in Biscayne National Park.
With its classic lighthouse from the 1930s, Boca Chita Key is the most-visited island, with warm, sandy beaches and clear water. Another popular choice is to visit Jones Lagoon, a shallow area teeming with juvenile sharks, stingrays, and adorable sea turtles. Adams Key is perfect for a casual stroll along the beach and a picnic lunch when the weather is nice. You can also talk to park rangers and schedule a park tour if you'd like to learn more about the ecosystems or native life.
No matter where you choose to go in Biscayne National Park, you won't be disappointed!
Best Miami Beaches
Miami Beach
Recommended by Rebecca Gade Sawicki of Veggies Abroad
A trip to Miami isn't complete without visiting world-famous Miami Beach. The beach is synonymous with Miami and one of the best things to do! It offers nearly 10 miles of white sands and shimmering waters from South Beach to North Beach. Aside from enjoying the sun and sand, people also hightail it to the area to enjoy all the glamour — tons of boutiques and restaurants surround the area, and you might even spot a celebrity basking in the rays.
The easiest way to enjoy the beach is to walk or take an Uber or Lyft — parking is available (including some free lots) but driving and finding available parking (especially during the high season) can be difficult.
If you want to avoid crowds, pay less, and have optimal weather, plan to visit between late February to April (except during spring break). It is best to avoid the area from June to November as that is the Atlantic hurricane season.
And one more note, your four-legged friend is allowed on the paved beach path but not on the beach.
South Beach Miami
Recommended by Hege Jacobsen of The World by Hege
South Beach in Miami is one Florida beach you probably have seen in at least one movie.
This delicate beach along the vibrant Miami South Beach neighborhood with hundreds of shops, restaurants, and bars is super famous!
South Beach is home to the iconic Ocean Drive, Muscle Beach outdoors gym, and the Miami Beach lifeguard towers renowned for their unique art deco style. The beach is wide and clean, with sunbeds for rent starting at $25 (or bring your own) and infinite walking or running opportunities.
Street parking along South Beach in the daytime costs $4 by the hour, and your doggie can go no closer to the beach than Ocean Drive. There is a dog park between 1st St and South Point Dr., though.
In the late afternoon, pop over to the original luxury beach club in Miami, Nikki Beach on 1st St! Here, you can spend the evening with music, dining, entertainment, and art all in one place – be sure to book a table in advance!
Sunny Isles Miami
Recommended by Trisha Velarmino P.S. I'm On My Way
Sunny Isles is one of the best beaches to visit in Miami. It is a little upper-class than other beach areas in Miami because of the increase in high-rise condominiums. But don't worry, it's not that commercialized yet.
There are at least three parking lots in Sunny Isles. The locals park at 139-199 NE 175th.
Unfortunately, dogs are not allowed on the beach as there are many leash-free parks in Sunny Isles.
As for things to do nearby, you can do watersports. Windsurfing and surfing are some popular activities. You can also go on a 50-minute private helicopter tour to see the finest beaches of Miami from above. This area has many spas for relaxing activities, and Haulover Beach is nearby if you plan to beach hop.
The Samson Oceanfront Park is also nearby and is best for families traveling with kids. Another recommended spot to visit is the Newport Fishing Pier, where you can go fishing ($6 for tourists and $2 for Sunny Isles resident cardholders). If fishing is not your thing, just stroll the pier – it really is one of the best spots in Miami!
Renting a car around Sunny Isles is advisable, but Uber also works in Miami.
Keep in mind that there will be seaweed on the beaches of Sunny Isles during the summer, but it is still one of the best seasons to visit Miami.
The best beach bar in the area is Duffy´s, which locals consider one of the cheapest in Miami. They even have a pool that you can use while drinking! Take note that most beach bars on the shore are super expensive, so head to Duffy's for cheaper costs.
Lastly, if you stay in a hotel in Sunny Isles, expect it to be more tranquil and classier than any other part of Miami.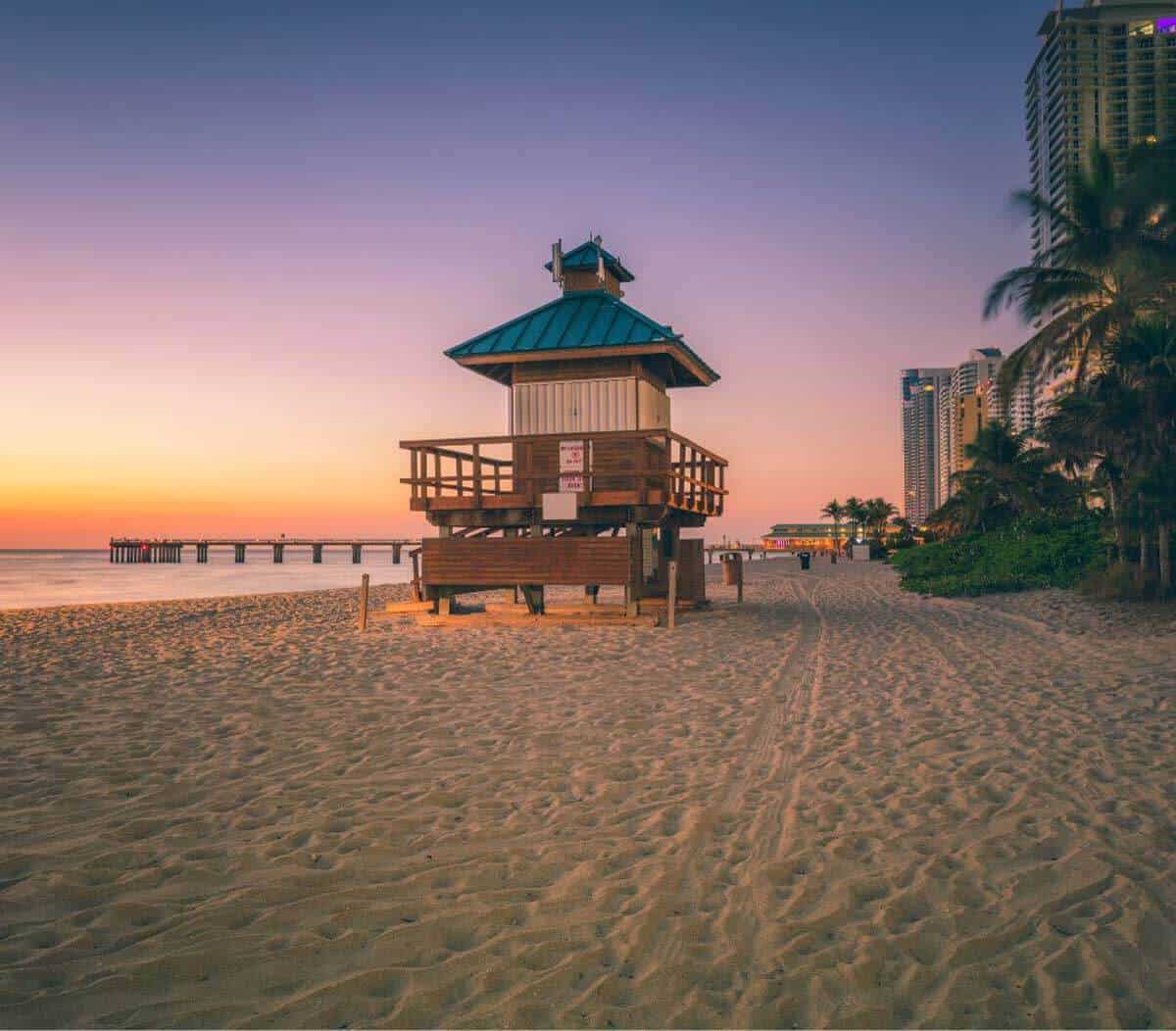 Best Atlantic Coast Beaches in Florida
Jupiter Beach
Recommended by Trijit Mallick of Dog Travel Buff
At the intersection of the Loxahatchee River, Intracoastal Waterway, and the Atlantic Ocean sits Jupiter Beach, a lovely natural area. You can enjoy the serene ambiance, the beautiful white sands, and the calm, clear water. Surfers, paddle boarders, and kite surfers frequent this beach and Juno Beach nearby. There is plenty of space between bathers for privacy. There are racks for both bikes and surfboards. Both families and children can feel safe here.
Jupiter Beach is one of Florida's top dog-friendly beaches, where you may take your dog to play with other dogs. Even if you don't have a pet of your own, it's fun to watch them play in the sand. In addition, the beach is clean since dog owners clean up after their dogs.
A terrific trail runs directly along the sand and is suitable for biking and strolling. Along the walk, mornings are exceptionally beautiful.
In addition to the beach, you may go to the Jupiter Inlet and explore the lighthouse, which has fantastic views in all directions. There is free parking but try to arrive early for the closest spots.
Ponce Inlet Beach
Recommended by Yanitza & Carlos of Next Stop Adventures
Nestled on the east coast just south of Daytona Beach Shores, you will find Ponce Inlet Beach. Although less popular than New Smyrna Beach and Daytona Beach, this one is a gem!

With ramp access for vehicles and even a private parking area for just $20 per day, Ponce Inlet is also home to the tallest lighthouse in Florida, which also happens to be one of the most beautiful! The lighthouse has a fantastic museum with an entrance fee of $6.95 per adult. You can also climb up the lighthouse, which has a total of 203 steps and it's 175 feet high.

As for the beach area, it's also good to mention that it has a dog beach area as well. This area is easily accessible through the private parking area.

With its white sand and clear blue water, Ponce Inlet Beach is a personal favorite for many locals living in the Central Florida area. It's great for surfing and shelling any time of the year. You can also enjoy walks along the boardwalk to the beach, and the Ponce Preserve nature trails.
Fort Clinch State Park on Amelia Island
Recommended by Zack Litchfield of Florida Man on the Run
One of the best-unspoiled beaches in Florida is in Fort Clinch State Park on Amelia Island. The park is accessible to the public year-round for a fee of $6 per car. It is a popular destination all summer long but not nearly as crowded as Florida's Atlantic beachfront further to the south.
The beach features a fantastic rocky jetty. This jetty is a great place for fishing if that's up your alley.
Along with being a perfect beach for the whole family, it has some of the closest beach camping of any Florida State Park. You can literally walk from your campsite to the water in seconds.
The park is a great piece of Florida history. The historic Fort Clinch is an excellent representation of a Civil War-era fort. It's also got amazing views of the St. Mary's River and the Atlantic Ocean from the battlements you can enjoy! Amelia Island is great for a day trip if you're in the area!
Final Thoughts Best Beaches in Florida
So, what are you waiting for? Pack your bags and get ready to explore the best beaches in Florida! Whether you're looking for a place to relax and soak up the sun or want to enjoy some exciting activities, these incredible beaches have something for everyone.
And don't forget your beach umbrella, chairs, towels, and sunscreen – you'll definitely need it!
We hope this list of the best beaches in Florida sparks your wanderlust to help plan your next memorable beach getaway.
Thanks for reading!
Ashlee & Pablo
---
Plan your next Florida adventure!
Save on Pinterest for later!