Big Lagoon State Park: You'll Love Camping Here
Last Updated: Dec 5, 2022
|
|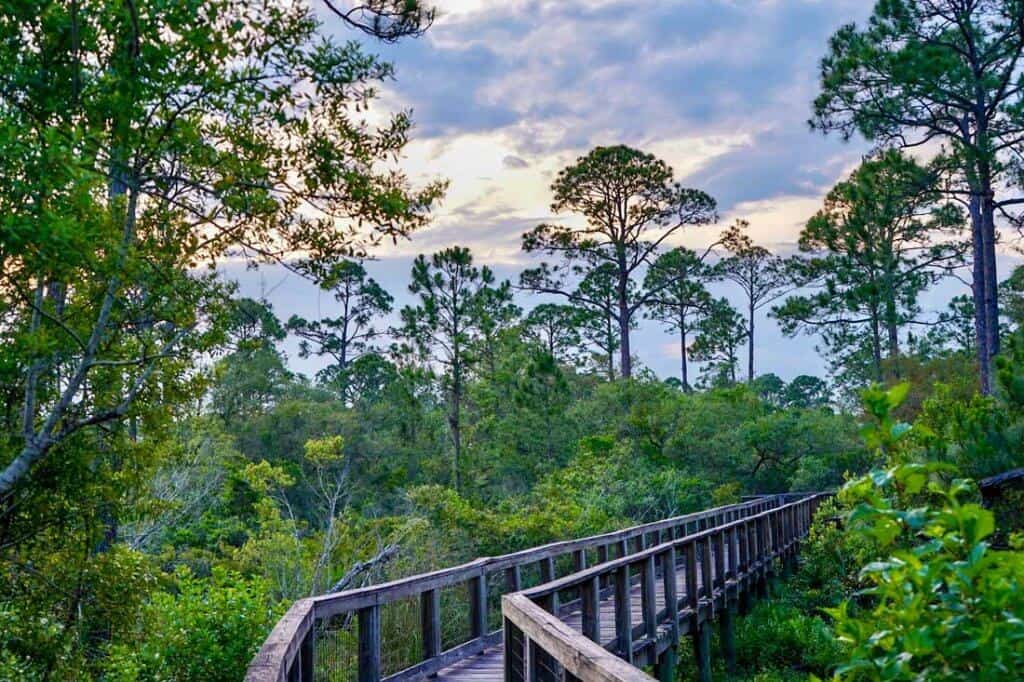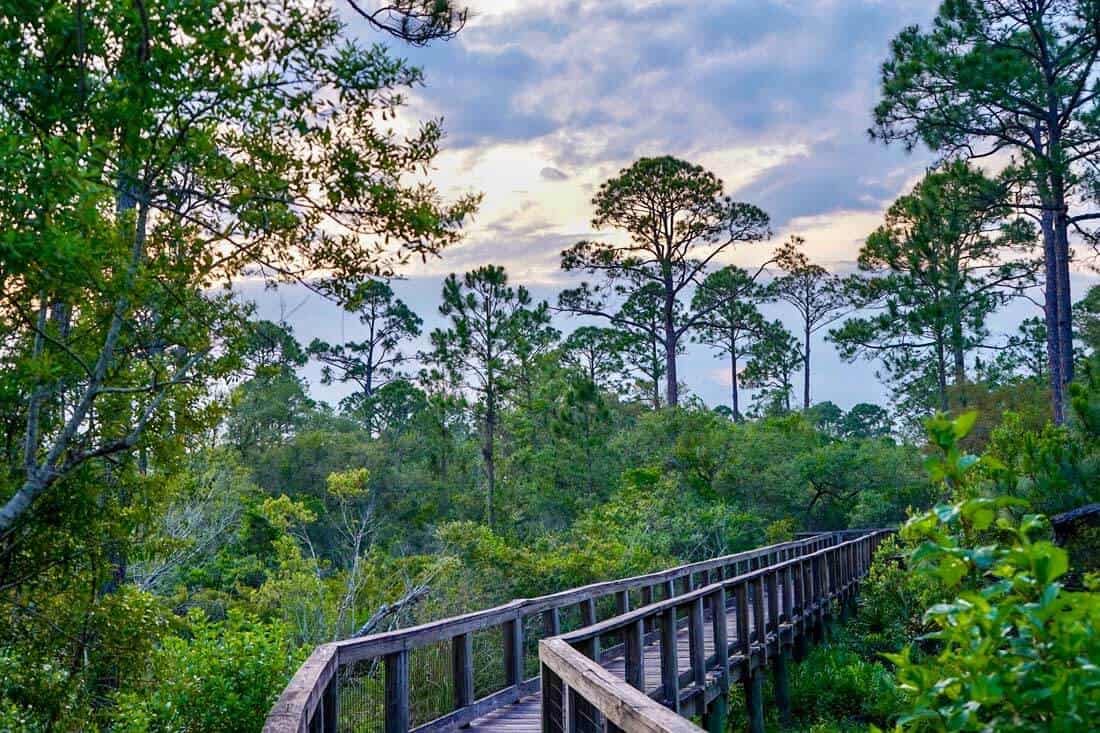 If you're looking for a great place to explore nature near Pensacola, Florida, head to Big Lagoon State Park. This lush coastal park and the surrounding area have plenty of outdoor recreation activities to keep you busy, from camping and hiking the boardwalks to viewing wildlife and catching some fun in the sun. So, pack your sunscreen (and bug spray!) and get ready for an unforgettable camping experience at Big Lagoon State Park.
This post contains affiliate links, which means we'll receive a commission if you purchase through our links at no extra cost to you. Please read full disclosure for more information.
Where is Big Lagoon State Park?
The state park is located about 30 minutes southwest of Pensacola near Perdido Key on the north side of Big Lagoon.
Big Lagoon State Park Map
Big Lagoon State Park Camping
Camping at Big Lagoon State Park is a great way to experience part of The Emerald Coast. The park has plenty of campsites, making it the perfect destination for your next camping trip. You'll enjoy spending time outdoors, and there's plenty to do in the area.
We loved camping at Big Lagoon State Park. The campground is beautiful and surrounded by tall coastal pine trees.
Whether you're swimming in the ocean or lagoon, fishing, hiking, biking, or just relaxing on the beach, we think you'll have a great time visiting.
The campground is pet-friendly, so feel free to bring your furry friend along.
Continue reading for more campground details.
Big Lagoon State Park Campground Details
75 campsites
30/50 amp electric hookups
Water hookup
Dump station
Picnic tables
Fire ring
Clothing hanger (bring your own rope)
Ground grill
Most sites have partial shade at some point during the day
3 bathhouses and restrooms with hot showers, running water, and flush toilets
The Big Lagoon Campground is tent-camping, RV, camper, and van friendly.
The maximum RV length is 40 feet.
Fires are allowed, but visitors need to bring their own firewood.
Reservations
Reservations can be made online. The camping area is open year-round.
We made camping reservations online 6 months in advance. Since we spend quite a bit of time road tripping in Florida, we created an online account with Florida State Parks. It is easy to do.
You will want to plan when trying to book camping in Florida State Parks along the coast because the campgrounds can book out 11 months in advance in some places.
Watch Our Campground Review on YouTube
Watch our campground review on YouTube. We take you on a bike tour of the entire campground and the trails nearby.
Fun Outdoor Things to Do
Hiking
Big Lagoon State Park has 5 miles of hiking trails. There are multiple places to access the trails and boardwalks right from the campground such as the Estuary Trail and Sand Pine Trail.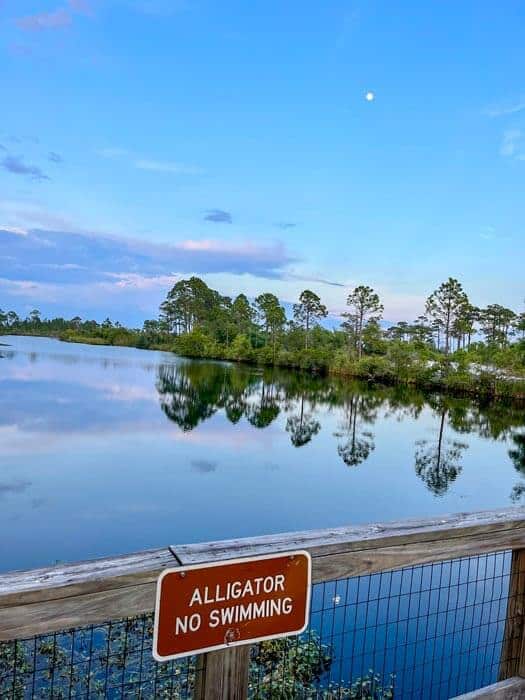 Biking
There are no official biking trails, but you can bike along the main park road, which is paved. It is about 2.5-miles.
Wildlife Watching
There is so much wildlife here. Bring binoculars to see all of the different birds. Along the boardwalk, keep your eyes peeled for turtles, alligators, and armadillos.
Spring and fall are the best times to see migratory birds. We saw Osprey, Herons, and Pelicans.
Fishing and Boating
There is a boat launch within the park where you can get into Big Lagoon and then out into the Gulf. Many people were fishing along the park's shores near the boat launch.
Water Sports Activities
Big Lagoon is a great place for paddle sports. While visiting, we saw lots of people kayaking, canoeing, and stand-up paddleboarding in the lagoon. Since a barrier island protects it, the water is calmer than the Gulf.
If you love to sea kayak, Florida is famous for its Circumnavigations Saltwater Paddling Trail that goes around the whole state of Florida.
Perdido Key
There are many beach access points and various restaurants to enjoy in this coastal town. It is a short 5–10-minute drive from Big Lagoon State Park. Perdido Key is famous for its amazing beaches.
We talked to a few locals, and The Point and The Perdido Key Oyster Bar were their favorite restaurants!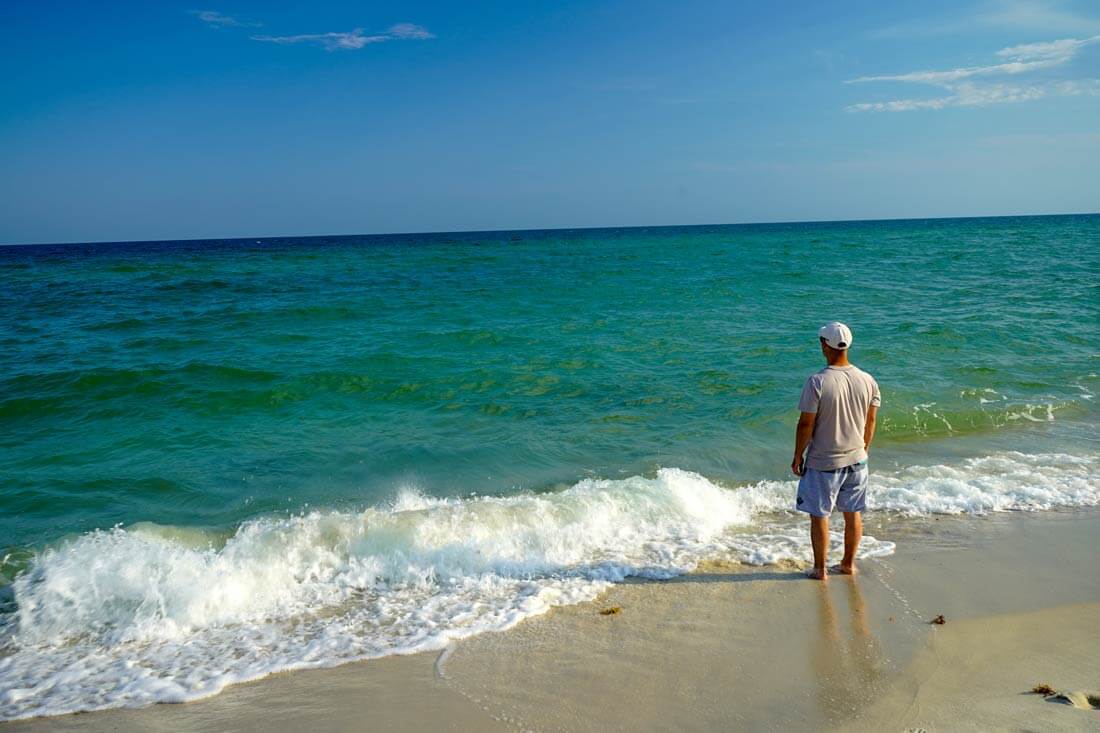 Perdido Key State Park
Just on the other side of Big Lagoon and a short 5–10-minute drive away is Perdido Key State Park.
When camping at Big Lagoon, visitors get a pass to hang in their car windshield, that is also good for parking at Perdido Key State Park. There are a few places to park that are state park specific.
There are also pay-to-park parking lots to access the beautiful beaches along Perdido Key.
Gulf Islands National Seashore Johnson's Beach
If you are looking for a beautiful, secluded beach to relax on during your vacation, head over to Gulf Islands National Seashore Johnson's Beach. This beach is located in Perdido Key, Florida, and offers stunning views of the Gulf of Mexico. It's also relatively secluded, so visitors can enjoy peace and quiet while relaxing.
We were seriously in awe of this part of Gulf Islands, and it wasn't crowded when we visited in mid-May.
Gulf Island is part of the National Parks, and you can use the annual National Park Pass to enter.
Gulf Islands National Seashore Fort Pickens makes for a fun day trip when visiting the area. Fort Pickens is roughly an hour away from Big Lagoon State Park and is another area of Gulf Islands.
Tips on What to Pack for the Beach
If you're not used to having fun in the sun all day, you don't want to ruin your vacation by burning the first day! So below are some items we always pack for a beachy road trip.
Nomadix Beach Towel – this towel is quick-drying, the sand doesn't stick to it badly, and it doesn't stink after being used a few times. We also have Nomadix towels for the bathhouse. I'll use the same towel for 10+ days, and it doesn't stink!
Umbrella with UV Protection – you'll thank yourself for getting one. Make sure to get an umbrella with a sand anchor (this is key). Having a beach umbrella allows us to stay out for hours without getting nuked by the sun.
Sunscreen – we love SunBum products because they are safe for the environment. We get body lotion, face lotion, and chapstick.
Beach Chairs – we have these beach chairs that sit lower so you can relax under an umbrella with your feet in the sand. The chairs we have you can wear like a backpack making them easy to transport. Click the image below to shop for the exact chairs we have (they are the best).
Flip Flops – we wear our Chaco flips around. They are waterproof, durable, and easy to clean and pair with any outfit. Click to shop Chaco flips for her (these are my favorite) or shop for him (this is what Pablo has).
Insulated Water Bottle – we bring our Hydroflask or Yeti to the beach to keep our water cold.
Mini Cooler – if we're taking snacks, we like this little Yeti cooler.
Sun shirt or Rashguard – along with our swimsuits, we both wear sun shirts. We've learned (the hard way) that spending multiple days on the water can ruin a vacation if you don't protect your skin.
Hats – we always both wear a hat and sunglasses.
Final Thoughts on Camping at Big Lagoon State Park
We camped here for 3-days in mid-May 2022 and loved it. We thought it was one of the best campgrounds near Pensacola (our other favorite is Fort Pickens).
We saw lots of wildlife here, including lizards, armadillos, and all kinds of birds, and we even saw dolphins at Gulf Islands Johnson's Beach.
The sandy trails and boardwalks through the intercoastal forest and marshes were incredible.
Check the Big Lagoon State Park website for trail updates because some of the facilities and areas of the park have been closed due to Hurricane damage.
Be sure to visit Gulf Islands National Seashore south of Big Lagoon because it is seriously incredible.
Overall, we will definitely come back to Big Lagoon State Park. It is an excellent spot to camp and base out of while exploring the Pensacola area and Emerald Coast for a few days.
Oh, and you don't want to forget the bug spray! We buy this kind (it doesn't smell bad or leave white marks on your clothes). The flies along the boardwalks were brutal.
Thanks for reading,
Ashlee & Pablo
---
Plan Your Next Outdoor Adventure in Florida
Where Are You Headed Next?
You might like our other articles along the Gulf Coast:
Save on Pinterest for Later!