Davis Bayou Campground Review: Great Place to See an Alligator!
Posted on: July 15, 2022
|
|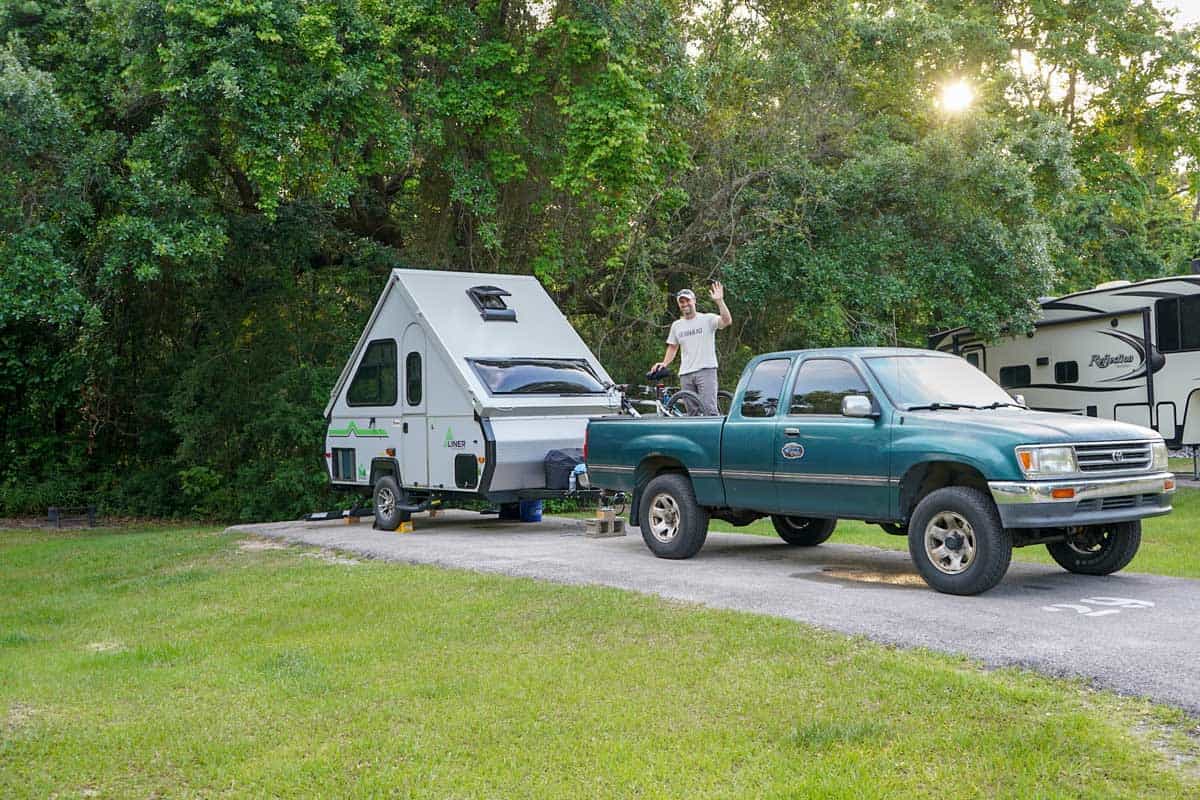 Davis Bayou Campground is a great place to camp if you want to see alligators (from a safe distance). This review will tell you everything you need to know about the park, from the campsites and amenities to where the alligators are sunbathing. So, if you're looking for an outdoor adventure with a chance to spot some awesome wildlife, read on!
This post may contain affiliate links, which means we'll receive a commission if you purchase through our links at no extra cost to you. Please read full disclosure for more information. Thanks for your support!
Where is Davis Bayou Campground – Gulf Islands National Seashore?
The campground is located near Ocean Springs, Mississippi. It is part of Gulf Islands National Seashore, managed by the National Park Service.
Davis Bayou is roughly 2 hours west of Pensacola, an hour west of Mobile, or an hour and 45 minutes northeast of New Orleans.
Davis Bayou Area Map – Gulf Islands National Seashore
Davis Bayou Campground Details
Davis Bayou Campground is a great place to camp if you're looking for some peace and quiet. It's located away from the hustle and bustle. The campground is tucked within the trees and close to Davis Bayou.
There are 52 campsites. Most of the sites have shade at some part of the day or are entirely shaded.
The campground is open year-round. The camping area is suitable for tent camping, RV camping, vans, and motorhomes.
Below are more campsite details:
Standard electric hookups
Water hookup
There is a dump station
Picnic table
Fire pit
The bathhouse has running water, hot showers, and flush toilets
There is cell phone reception
Trash collection is available
No camp store or ice
No firewood for sale
No laundry facilities
Camping Reservations
You can make online reservations ahead of time on recreation.gov.
We use the recreation.gov mobile app – it is convenient!
Check out our article on FREE apps we use to find the best outdoor adventures camping and hiking all over the US.
Camping Fees
Check out recreation.gov for the most current fees.
Watch Our Campground Review on YouTube
We visited Davis Bayou on our way home from spending a week exploring the state parks near Pensacola, Gulf Islands Perdido Key, and Fort Pickens.
We take you on a biking tour of the central part of the park (excluding the islands).
Things to Do
There are so many outdoor activities to do while visiting Gulf Islands. Paddling and fishing are popular activities in the bayou, and there are several outfitters open year-round that can provide equipment and instruction, or you can bring your own. If you're looking for a more relaxing activity, take a nature walk on one of the many trails or bike along the paved roads.
Hiking
There are a few short trails within the park to check out while visiting. Some are paved, and some are not.
CCC Overlook Trail
Nature's Way Trail
Davis Bayou North Trail
Davis Bayou South Trail
While hiking, be sure to bring bug spray (seriously). The flies were pretty thick when we visited in May of 2022.
Biking
There are no official bike trails, but we biked around the main paved roads and had a blast. So, bring your bikes!
Watching for Wildlife
One of the best things about the Davis Bayou Area is that it's home to several alligators, so be sure to keep your eyes peeled while you're there! You'll see a few pull-offs along the road where you'll be able to see alligators basking in the sun or lurking in the marsh.
This was seriously the best part of the trip! Finally, seeing an alligator in the wild from a safe distance.
We also saw turtles and lots of seabirds.
Fishing and Boating
We saw quite a few folks fishing from boats on Davis Bayou. There is a fishing pier closer to the visitor center. You'll see the trails and boardwalks leading out towards the water.
There is also a separate boat launch area.
And, just a heads up – swimming is not allowed in the park (because there are alligators)!
You can also boat out to the islands of Cat Island, Horn Island, Petit Bois, Ship Island, and West Petit Bois Island.
Paddling
Gulf Islands National Seashore is famous for its kayaking adventures.
For a leisurely paddle, launch from the designated Davis Bayou boat launch and paddle around the bayou close to shore.
For the more experienced sea kayaker, you can paddle out to Horn Island and Petit Bois. Both islands are designated wilderness areas. Backcountry camping (boat-in camping) is allowed here.
Explore the Visitor Center
The William M. Colmer Visitor Center has a neat exhibit area to explore and it has air conditioning if you need to escape the heat for a little.
Best Time of Year to Visit
The park is open year-round. However, it is on the Gulf, so consider hurricane season (June-November) when making plans.
If you don't like it super-hot and humid, you might consider avoiding late May through September. We visited in mid-May and thought the weather was nice. I think it would be really nice to visit in the late fall and early spring.
How Much Time to Spend Here
You can easily spend one day to three days or more.
If you just want to camp, check out the area, and look for alligators, you can do that in a day. If you want to enjoy more of the area and paddle or go boating, spend multiple days here.
Final Thoughts on Camping at Davis Bayou Campground
We visited in mid-May for a day. We drove all the way here just to see the alligators! And we were so happy one decided to peek out of the marsh for us. While visiting, we also biked around all the paved roads and explored the picnic areas and fishing pier.
The campground and overall vibe of the park, in general, was tranquil and peaceful. It wasn't busy at all. The bathhouse was clean and had air conditioning which was such a treat because it was hot and humid.
If you are looking for a place to stay out in nature or a nice pit stop while road tripping along the Gulf of Mexico, Davis Bayou Campground is a great place to stop and enjoy.
We love visiting Gulf Islands National Seashore and think you will enjoy staying at this gem in Mississippi.
Thanks for reading.
Ashlee & Pablo
---
Plan Your Next Gulf Islands Adventure
Where Are You Headed Next?
You might like our other articles along the Gulf Coast:
Save on Pinterest for Later!