10 Free Apps for Outdoor Trip Planning: Find Epic Hiking, Camping & Road Trips
Posted on: December 17, 2021
|
|
Comments Off

on 10 Free Apps for Outdoor Trip Planning: Find Epic Hiking, Camping & Road Trips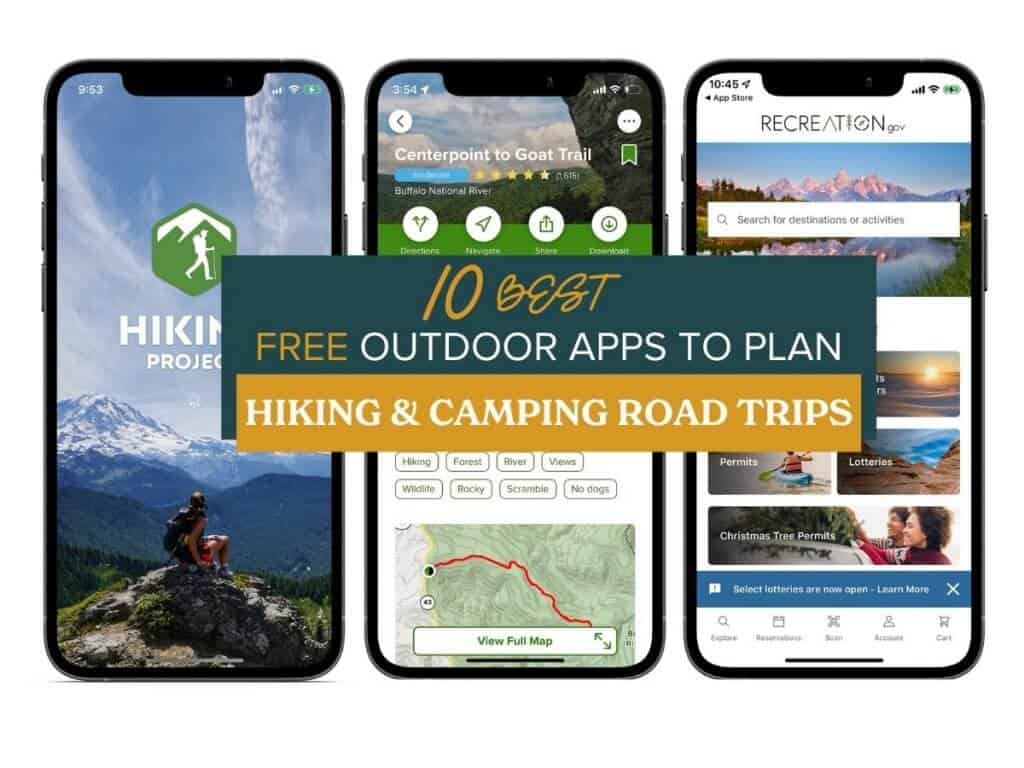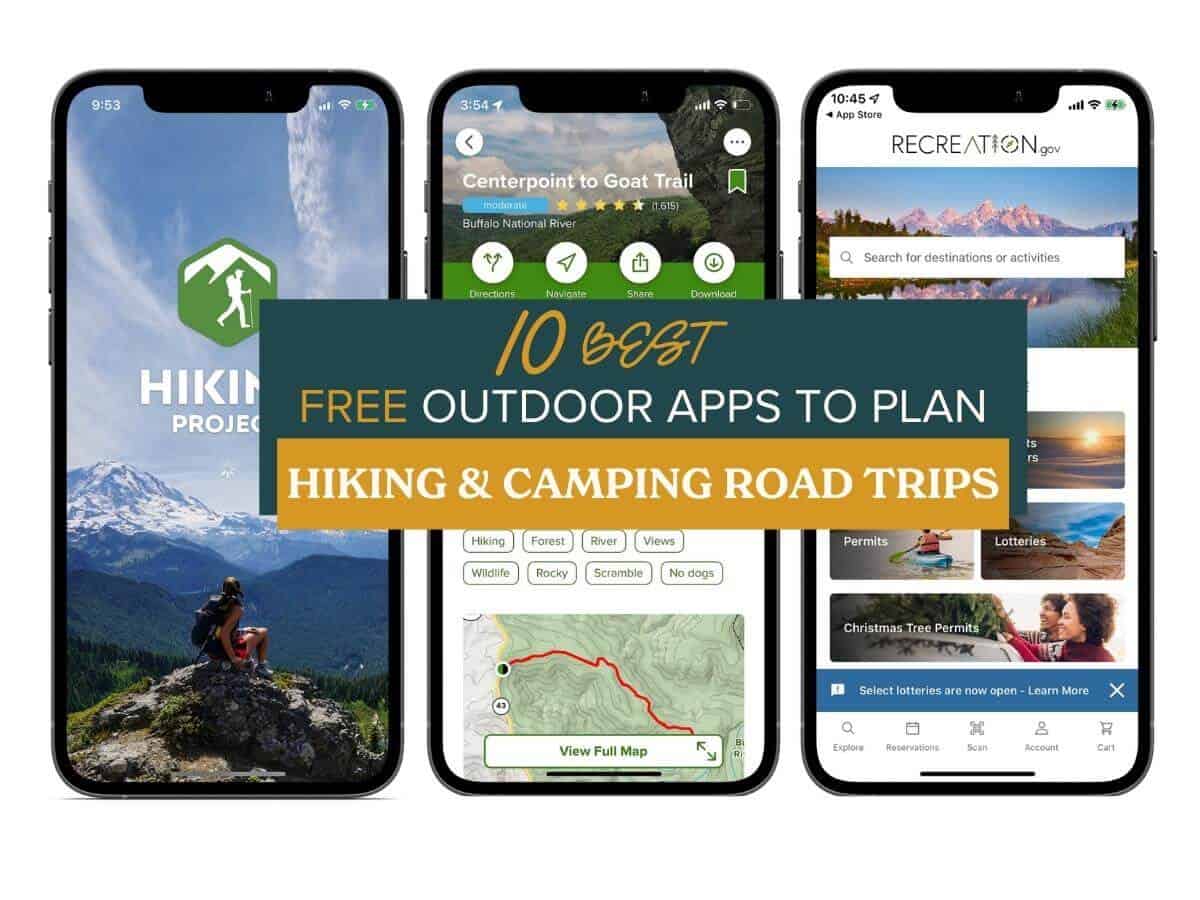 Calling all outdoor enthusiasts! There are quite a few apps for outdoor trip planning that can be of great help to hikers, campers, and road trippers. That's why we decided to share the FREE apps we use ALL OF THE TIME.
We decided on free because that's how we roll. We honestly get so tired of paying for subscriptions on things we don't actually need (can you relate?). We're always looking for easy and free tools to help us plan epic outdoor adventures, and we wanted to share that knowledge with you. Exploring the great outdoors should be simple. You honestly don't need to pay for any apps.
Below are the only 10 apps you really need for outdoor trip planning. Get inspiration to plan your next adventure with free apps for hiking, camping, and navigating road trips!
This post contains affiliate links, which means we'll receive a commission if you purchase through our links at no extra cost to you. This allows us to continue publishing free travel and gear guides. Please read our full disclosure for more information. Thanks for your support!
Why You Need Apps for Outdoor Trip Planning
We live in an era of incredible technology. Even better, this technology is FREE as a download from the app store (Apple App Store or Google Play).
When visiting new destinations having maps and a way to navigate is critical, especially when exploring the wilderness.
Since most of us carry cell phones these days, apps are an excellent way to help navigate trails, roads and find new campsites.
Apps also help you find inspiration when researching new places to camp and hike. Apps are a great way to learn about an area you're new to exploring.
How We Use Free Apps for Outdoor Trip Planning
For Navigation
To Get Inspiration
To Learn About an Area
10 Best Outdoor Trip Planning Apps to Find Hiking, Camping, & Plan Road Trips
We're detailing the only apps you really need to plan incredible outdoor trips! And like we said above, they're all FREE.
If you like free (like us), you'll surely appreciate having these useful outdoor apps on your mobile device.
Best Apps for Outdoor Trip Planning: Free Hiking Apps
Get ready to trek your socks off! Plan your next hiking trip now with one of the hiking apps below. Here are our top picks for the best free hiking apps.
1. AllTrails App
AllTrails has over 250,000 trails available to explore and is an awesome app for hiking. When using AllTrails, search for hiking trails by area. You can also search the app for a specific hiking trail. Community-shared trail reviews offer honest reviews, tips, and photos, making AllTrails one of the best trail apps. Save hikes while researching trails for future visits as well.
AllTrails has a free version to use as long as there is cell phone reception. When hiking with cell phone reception, hikers can follow the GPS map signified by the blue dot when using the app.
To download offline maps for use, a subscription is required. The subscription requires in app purchases. The subscription version allows the use of maps and GPS features when there is no cell reception.
AllTrails is really the best hiking app. It tends to have a wide variety of local trails, acts as a decent GPS app, and is super easy to use.
Besides being a popular hiking app with good trail maps, users can also search for mountain biking trails and access mountain biking maps.
We love going to a new place randomly on a road trip and searching for new trails nearby. It is one of the top ways we find so many natural gems off the beaten path!
2. The Hiking Project App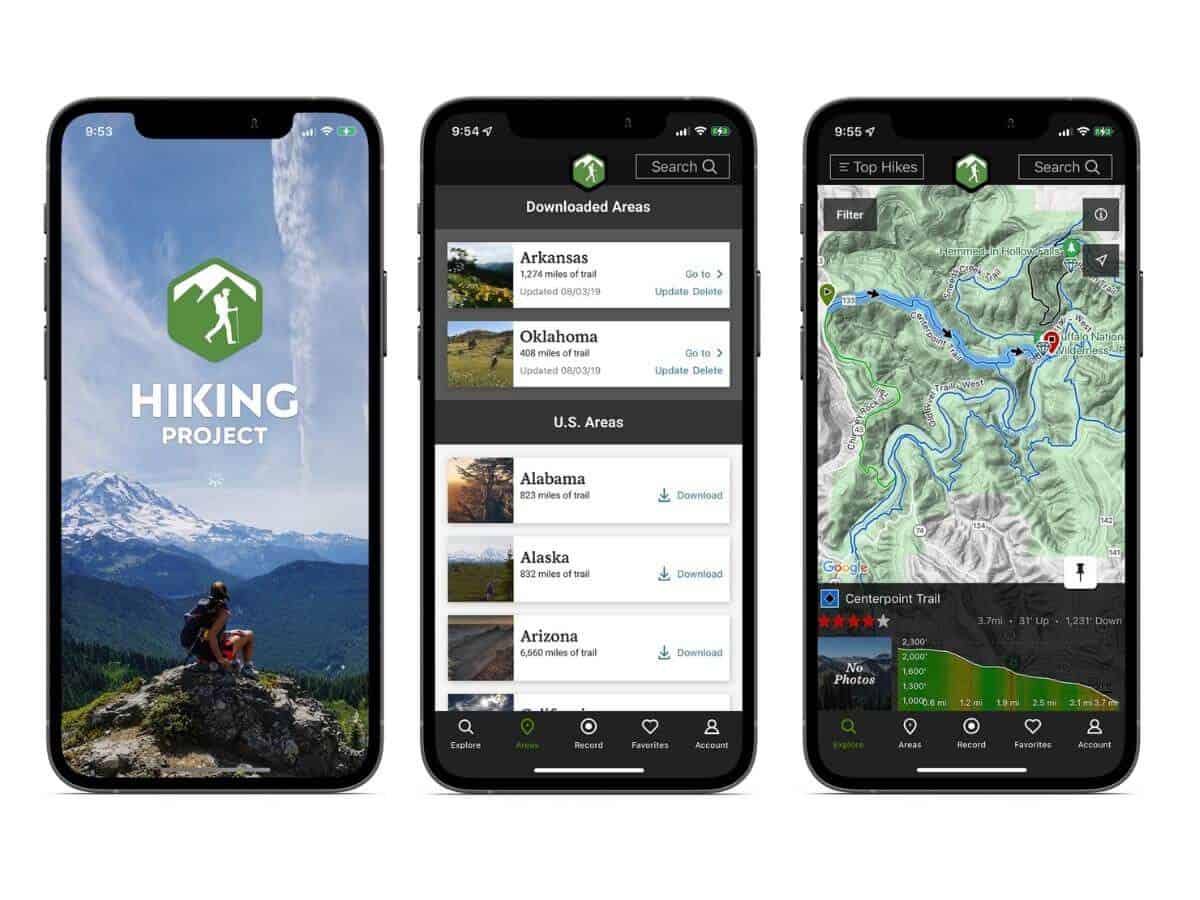 Created by REI, The Hiking Project App is one of the most popular hiking apps! Get detailed trail information on over 250,000 trails. Find a particular trail, get trail length details, a trail map, elevation gain, trail navigation, and tracking right at your fingertips. It is even great for finding a new hiking trail close to home.
The Hiking Project App is free of charge, even offline, making it another one of the best free hiking apps.
Be sure to bring a remote battery charger (buy on Amazon) for your cell phone when hiking long distance trails, so the phone battery doesn't die while you still need the map. Having a remote battery is critical when doing long distance trails.
Also, if you like National Geographic Topographic maps, you can download maps for offline use though the maps do not have all the details a National Geographic Map has.
It is nice to have a phone GPS app when exploring the backcountry. A blue dot feature signals your GPS location when using the app.
The Hiking Project is an excellent choice if looking for a great free hiking app when planning outdoor trips.
We check both AllTrails and The Hiking Project to find hikes when we explore Oklahoma and Arkansas. Sometimes, the hikes are on one app but not the other. I think this is because we are going into really remote areas that don't get much foot traffic.
3. Google Earth App
If you like seeing detailed topographic and satellite maps to plan where to hike, Google Earth offers a free version.
The app provides real-time reference points for more visual people. You'll be able to see the roads to drive, nearby towns, mountains, canyons, or buildings close by. It even lets you drop and save waypoints.
Best Apps for Outdoor Trip Planning: Free Camping Apps
Along with hiking, camping is one of our favorite things to do. We keep it simple when we plan to go camping. The apps below are precisely how we find the best places to camp near us. We search by destination and dates, check out the maps, reserve, and go!
4. State Parks Apps
Check the state you are exploring to see if a state parks app is available. For example, living in Oklahoma, we use the Oklahoma State Parks App.
Local state park apps can provide map overviews, camping areas, trails, and so much more.
If you're exploring Oklahoma, be sure to check out the Oklahoma State Parks App. Or research your state to see if there is one.
Have you been to Oklahoma? Check out these epic Oklahoma State Parks you didn't know existed.
5. National Park Service App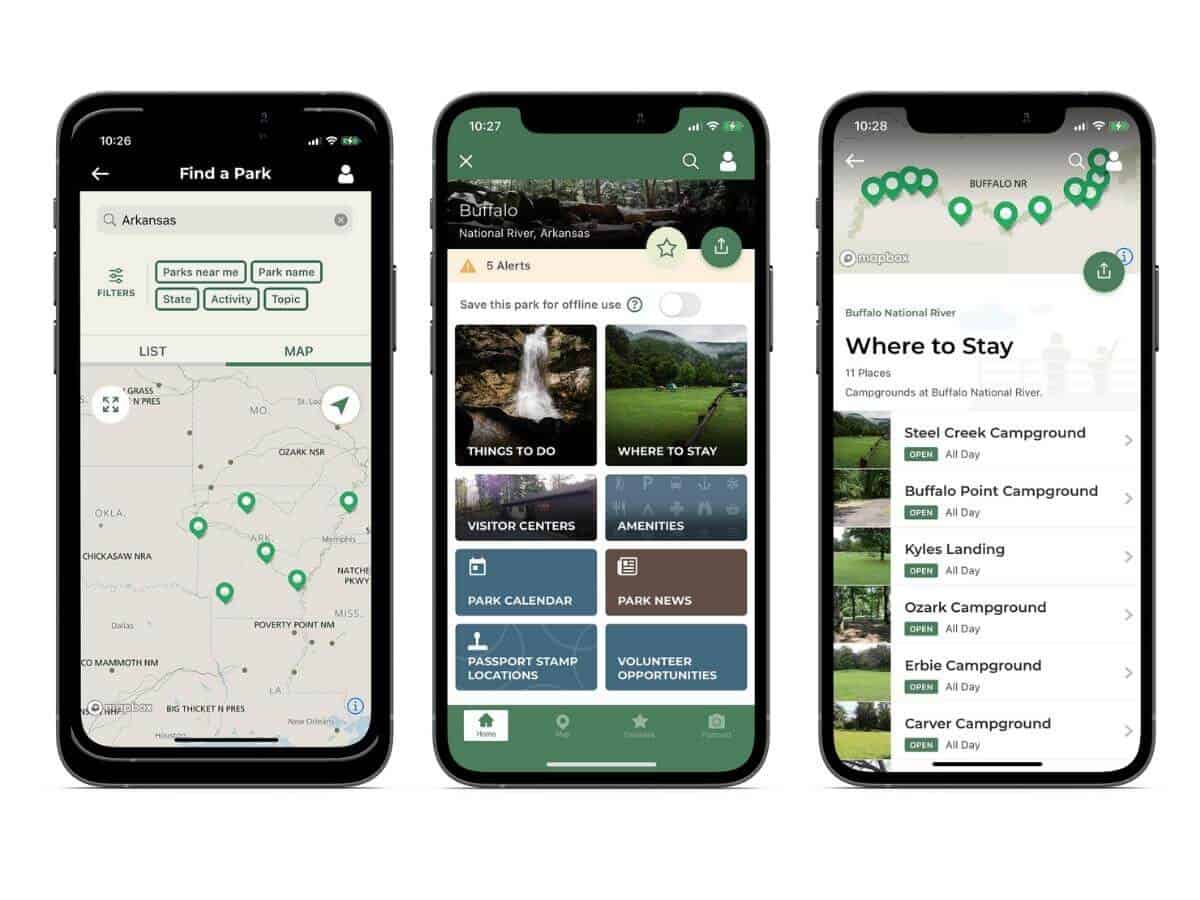 If you're visiting any of America's National Parks, be sure to check out the information on the official National Park Service App, including hours of operation and location details.
The National Park Service App came out in 2020 and provides ample information to help folks plan their camping, hiking, and road trip adventures.
Search by state, area, a specific park, and so much more. There are interactive maps, information on tours, park amenities, and accessibility. There are also options for offline use but the park(s) of choice needs to be downloaded ahead of time to use the offline feature.
Discover over 420+ incredible places off the beaten path in the USA and epic things to do managed by the National Park Service! Exploring National Parks in the USA makes for such unforgettable memories.
The National Park Service App is one of the best outdoor apps (in our opinion). We love supporting and visiting National Parks!
6. Recreation.gov App
Find incredible camping on federal lands. If you're looking for some of the best camping in the USA, check out the Recreation.gov App.
Reserving a camping spot ahead of time lets you have a welcome place to camp after road tripping all day. The app features campground maps, photos of campsites, cost per night, and amenities to make camping go smooth. We especially like that it shows if campgrounds have cell phone reception or not. Recreation.gov is one of the best RV camping apps. It is an excellent app to book campsites ahead of time.
Living in Oklahoma, so many places we love to camp are right on lakes managed by the U.S. Army Corps of Engineers. So, we use recreation.gov a lot to find excellent camping spots right on the water.
Cell phone coverage is needed to use this app.
7. Campendium App – RV & Tent Camping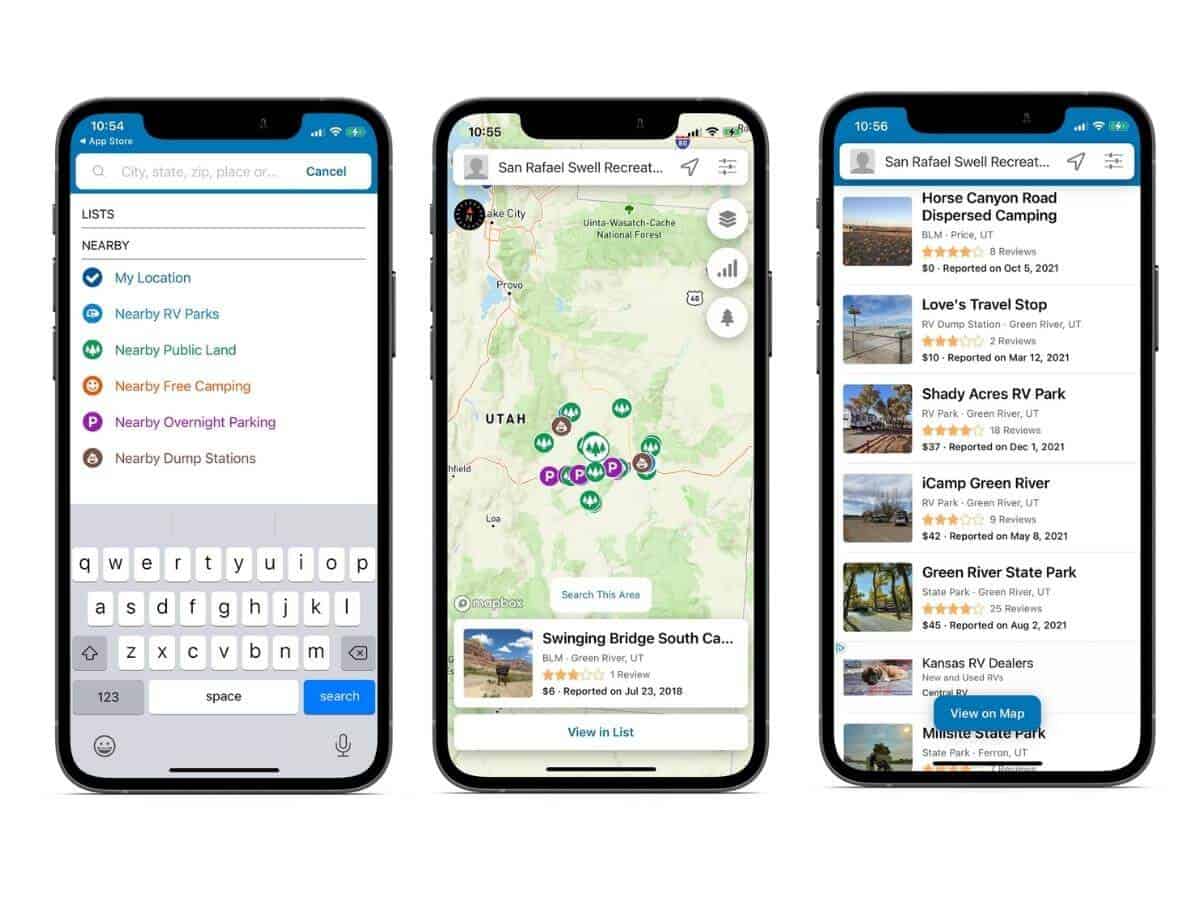 Campendium offers one of the most straightforward guides for finding free camping in the USA and Canada. And guess what – there is a free version of the app (if you don't mind ads)!
Discover camping spots on BLM Land, National Forest, and even Walmart parking lots (when you really need a nap).
If you like camping on BLM land out west, this app is definitely for you! Find your next boondocking site (a.k.a. dispersed or primitive camping).
We used to live on the border of Western Colorado and Eastern Utah. Check out our article on everything you need to know about camping on BLM Land.
Best Apps for Outdoor Trip Planning: Free Road Trip Apps
We use apps for trip inspiration and navigation for road tripping. We also use apps to stay weather aware and safe while being outdoors. Below are more of our favorite apps to plan road trips and stay safe outdoors.
8. Google Maps App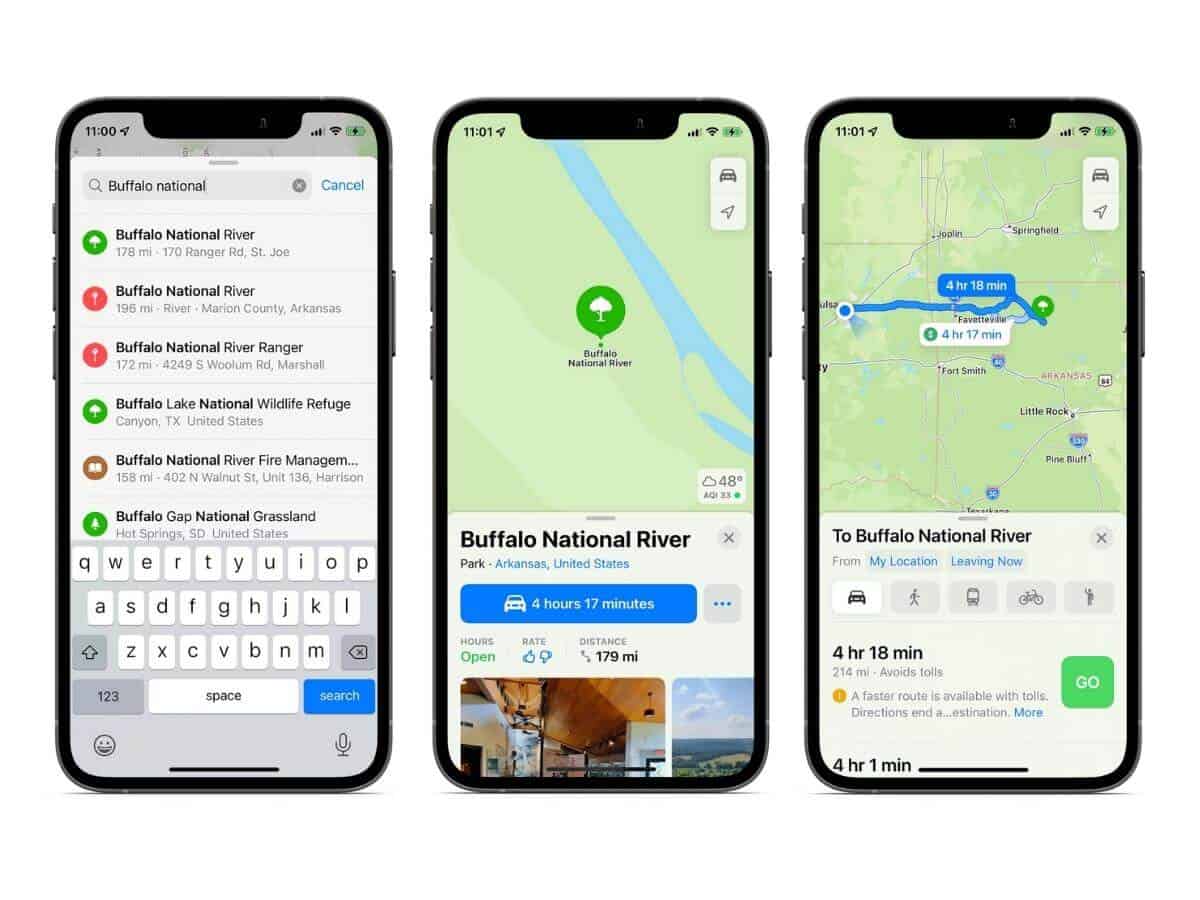 Google Maps is a must-have navigation app for any road trip. It gives accurate directions, traffic updates, and estimated travel times.
We honestly never go anywhere without it, and as long as there is cell service, it is one of the most helpful road trip apps for navigation.
9. The Weather Channel App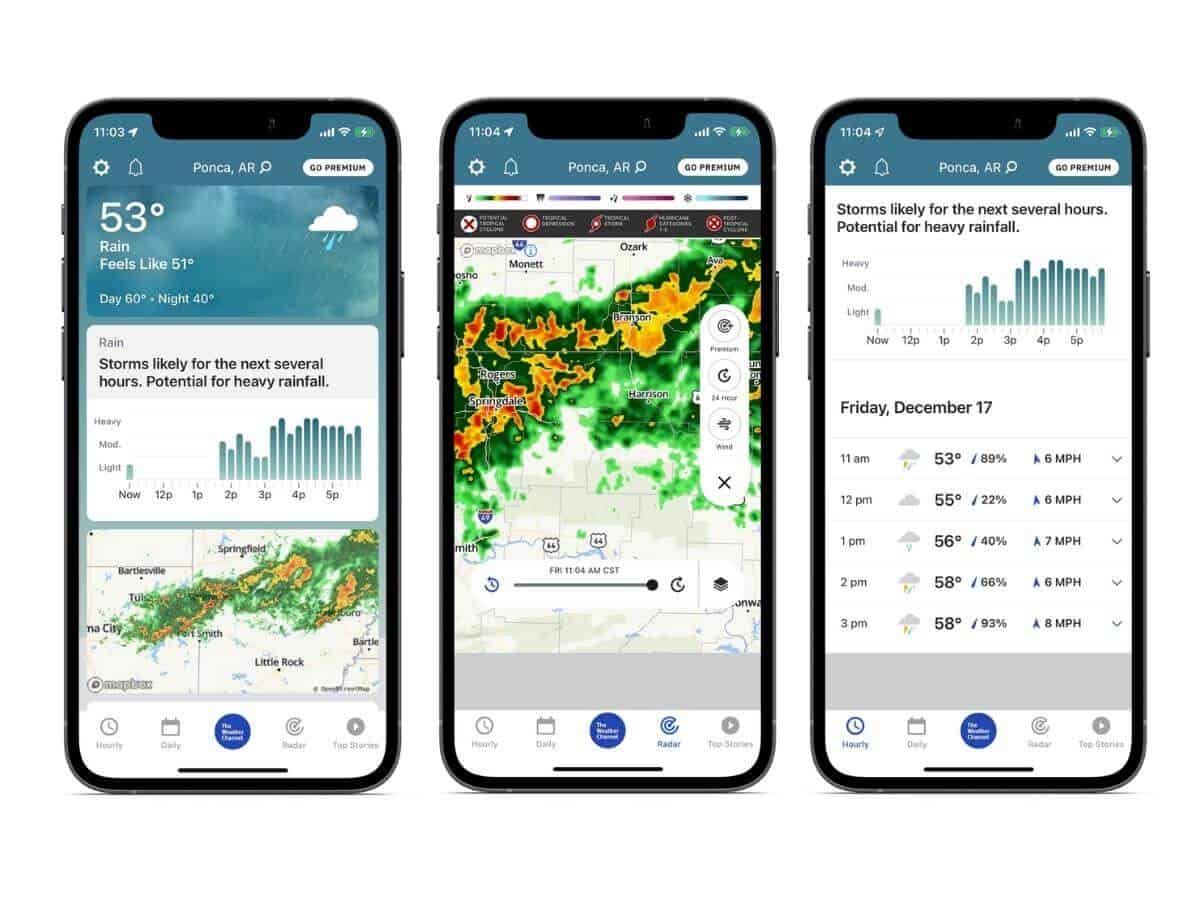 Being weather aware is so important for recreating outdoors.
Always check the weather a few days before adventuring outdoors. The Weather Channel has a decent free app with radar and is pretty good for showing severe weather. This app provides the current forecast, 10-day forecast, and live doppler radar for free. It works as long as there is cell service.
Living in Oklahoma, we take severe weather warnings seriously!
10. State Tourism Apps
Is there a state specific tourism board app for the state you are exploring? For example, in Oklahoma, TravelOK has an app for planning what to do, where to go, and what to see in Oklahoma.
The TravelOK App offers mini road trip guides, places to eat, stay, and play! There is also a comprehensive map to explore by area and activity. For example, search for horseback riding, hiking routes, plan a backpacking trip, or mountain biking adventure.
Check to see if your state has a travel app.
Are you planning a road trip in Oklahoma? You might enjoy our article detailing 27 Easy Road Trips from Tulsa, Oklahoma!
Outdoor Trip Planning Safety Checklist
Always let someone know where you are going and when you plan to be home
Have emergency contacts in place
Be sure to have a first aid kit
Research new areas ahead of time for safety
Make sure to think about the nearest place(s) to get gas if you're in the middle of nowhere
Bring enough food and water
Bring enough layers to stay warm, cool, and dry
Be weather aware
Pay attention to the surroundings and wild animals
Don't forget a flashlight
Always practice Leave No Trace
Final Thoughts on the Best Apps for Outdoor Trip Planning
We hope you find these free apps helpful and that they help make your next hiking or camping adventure even better.
There are so many fantastic and FREE outdoor apps to plan adventures by using them to navigate, get inspiration, and learn about new destinations.
---
Tell Us About Your Favorite Outdoor Apps
What are your favorite apps for outdoor trip planning?
We'd love to hear about your next adventure, too!
Check Out Our Camping Articles
Save and Pin for Later!