5 Fun Things to Do in Tulsa Outdoors for Couples
Last Updated: Jan 5, 2023
|
|
Comments Off

on 5 Fun Things to Do in Tulsa Outdoors for Couples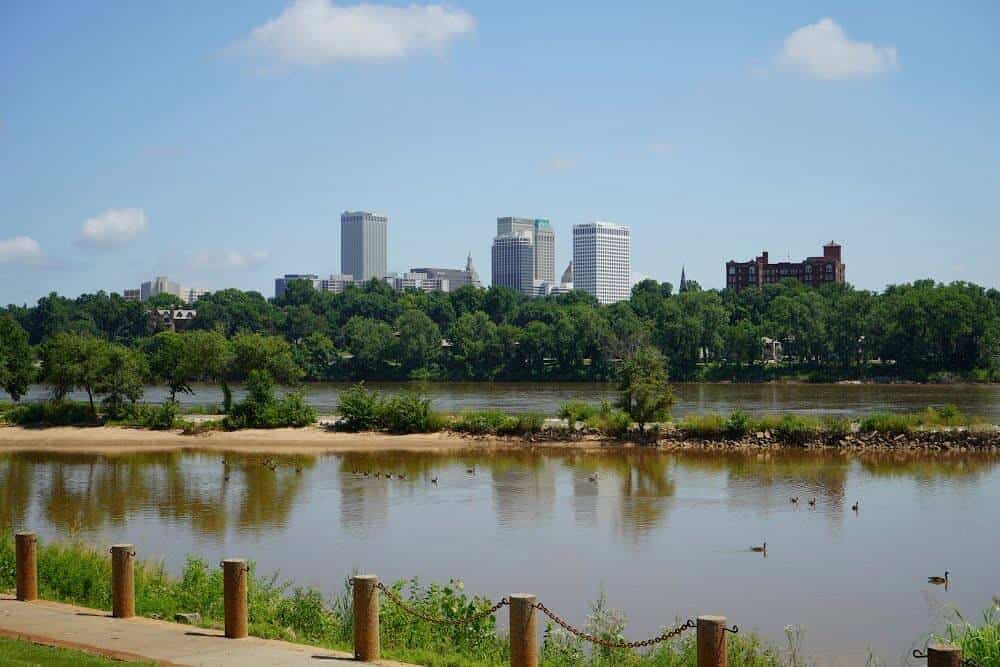 We've got you covered with a list of 5 fun things to do in Tulsa outdoors that are free or cheap!
Downtown and midtown Tulsa are loaded with urban outdoor activities along the Arkansas River.
Keep reading for details and discover the best things to do in Tulsa that are exciting ideas for couples on a budget or folks that just want to get some fresh air without going out of town after work or on the weekends.
We live in Tulsa and can't wait to highlight our favorite outdoor activities for our readers!
This post contains affiliate links, which means we'll receive a commission if you purchase through our links, at no extra cost to you. Please read full disclosure for more information. Thanks for your support!
Things to Do in Tulsa Outdoors for Couples
Do you need help planning a weekend trip to Tulsa and want expert advice from a couple who lives here. Are you cruising by on a Route 66 road trip? Do you currently live in Tulsa? Maybe you are just looking for inspiration to get outside and get some fresh air?
You are in the right place! You can do all the activities below year-round. They are all great things to do in Tulsa for couples who want to get outside to walk, hike, or bike.
A Little More About Tulsa, Oklahoma
Tulsa is a progressive midsize city in northeast Oklahoma.
There are three trendy areas to explore – Downtown, Midtown Cherry Street, and Midtown Brookside.
Downtown and in Midtown (Cherry Street and Brookside areas), visitors can find delicious local restaurants, art galleries, trendy shopping, beautiful statues, museums, and fantastic green space parks and gardens.
The Tulsa community cares about connecting people with the environment, and Tulsa acknowledges how important free public space and trail access are.
The George Kaiser Family Foundation funded an enormous community park called Gathering Place, which opened in September 2018. Visiting Gathering Place should be on everyone's Tulsa bucket list. It is an incredible public park. In fact, in 2021, Gathering Place was ranked by USA Today as one of the top city parks in the USA!
Tulsa & Sustainability
Tulsa actively works on community sustainability metrics, making it a great place to visit and an even greater place to live.
The Tulsa Regional Chamber says its goal is to increase the community walkability score by 10%.
Having a walkability metric and implementing a $465 million-dollar 66.5-acre free public park is an example of how the Tulsa community actively implements sustainable urban planning into the community by providing open spaces, trails, and parks.
Open spaces, trails, and public parks are key metrics in sustainable urban planning!
We love hearing about communities trying to make the world a better place.
We told you all of this, so you want to come visit! Or maybe you even want to move to Tulsa!
I digress – onto the details for urban outdoor fun!
Fun Things to Do in Tulsa Outdoors Along the River
1. Outdoor River Parks Trail System
There is an awesome paved biked and pedestrian trail along the east and west banks of the Arkansas River.
The east bank trail can be accessed from multiple parking lots along Riverside Drive. The east side trail has a little more bike and foot traffic since it passes by Gathering Place, Tulsa's prized public green space park.
The west side trail system tends to have less pedestrian traffic and more shade. We love biking along the west side for this reason!
B.Y.O.B. – Bring your own bike (or rent one) and lace up your kicks. There are playgrounds, picnic areas, and pull-offs to sit along the way with pleasant views of the Arkansas River as well as native waterfowl.
Bike, go for a run, a walk, birdwatch and enjoy the area. You don't want to miss this trail system in Tulsa.
Guess what else?…
Route 66 runs right through Tulsa! You can also see historic Route 66 sign and memorabilia along the route.
If you park near 21st street along the river, head north towards 11th street and you will be right on Route 66.
Tulsa River Parks Trail connects to the Turkey Mountain Urban Wilderness trail system. More on Turkey Mountain shortly.
Tulsa River Parks Trail is entirely free to use with plenty of free parking!
Check out the Tulsa River Parks website for maps and to plan your next adventure. It makes for the perfect afternoon or morning outdoor outing.
Trail Etiquette 101
New to hiking, biking, and outdoor adventures? No worries – we have you covered. We are so excited you're interested in getting outside more!
First, let's talk about public park environmental etiquette. Remember to help keep trails and green spaces clean by using the trash and recycling receptacles along these facilities.
Second, get familiar and always practice Leave No Trace. Learn to enjoy the outdoors and help spread the word for how to recreate responsibly.
Last, check out this post from REI on trail etiquette and who has the right of way. Be sure to pay attention when walking and biking along the River Parks trails for your safety and the safety of others. The trail systems can be crowded on the weekends.
2. Gathering Place
Gathering Place is an incredible free public green space park.
It has playgrounds for kids literally found in fairy tales (no exaggeration).
If you have kids or are a big kid yourself, you have to check it out.
The park's motto is, "A Park for Everyone."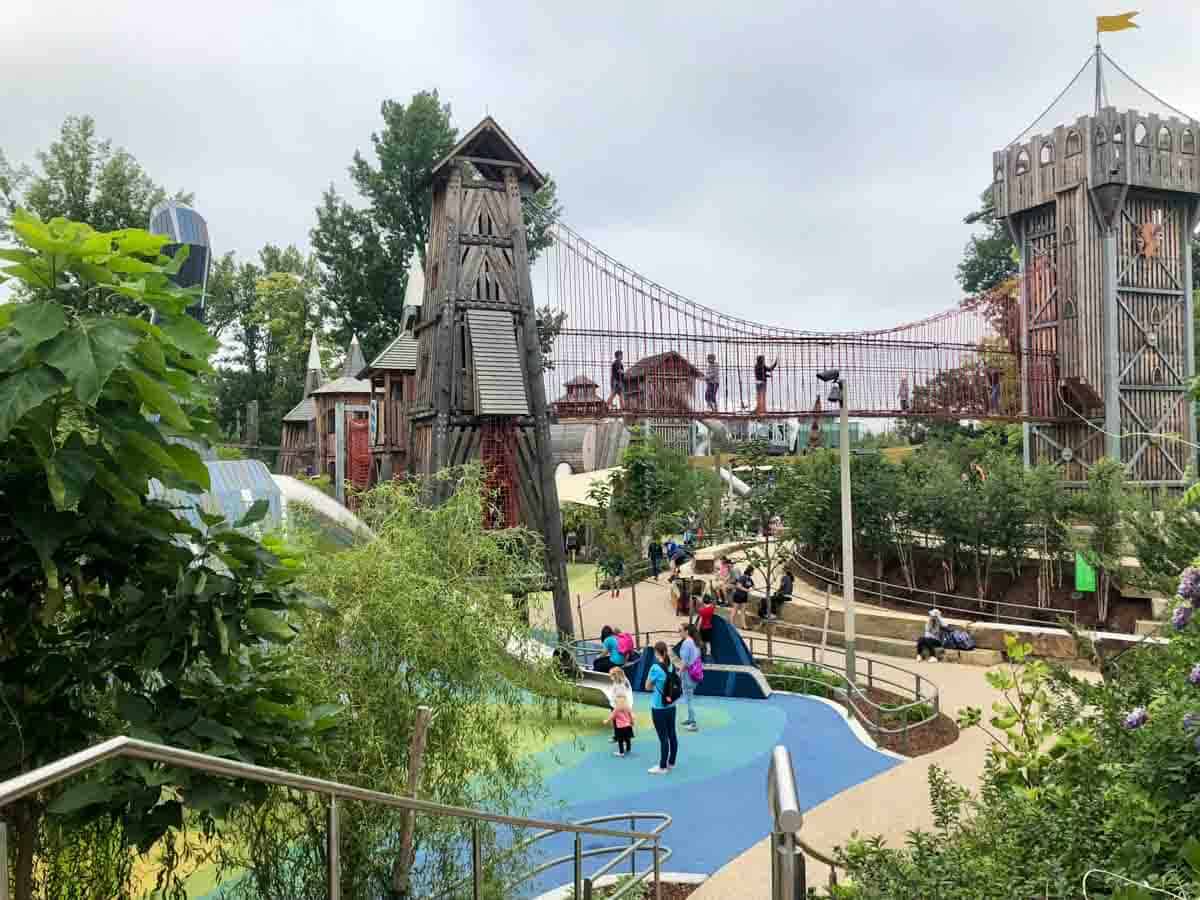 Gathering Place also features:
A few restaurants
13 miles of sidewalks
Seasonal outdoor markets
A skatepark
Pond
Boathouse
Beautiful landscaping, koi ponds, fountains, and
So much more!
This park will transport you to another world. You will forget you are in a city around every corner explored. It is a must-see!
We love exploring the incredible wood-working inside of the buildings, grabbing a coffee at the little coffee shop, watching the koi fish in the ponds, walking around, and enjoying the fountains.
This place is definitely adult-friendly. Have an afternoon date and take a stroll through this beautiful park.
When are you going?!
3. Turkey Mountain Urban Wilderness Area
Turkey Mountain Urban Wilderness Area is another one of Tulsa's outdoor gems.
Access the main trail system from 68th Street and Elwood Ave.
These are mostly dirt/gravel trails through dense Okie woods.
There is a bathroom at the main parking area.
Parking and trails are free!
If you are looking for a free escape into the woods close to town, you have to check out Turkey Mountain!
This trail area is adult and family-friendly, but large enough to have seclusion and quiet hiking. The perfect weekend date idea – go for a hike, then grab a coffee!
4. Rent Public Scooters or Bikes for Things to Do in Tulsa
All along the Tulsa River Parks trail system, you can see scooters and bikes to rent. These have become ridiculously popular for people of all ages. If you don't have your own beach cruiser, you can rent one.
Give it a try – get some wind in your hair! It is a cheap and sure way to incorporate joy and laughter into your day. Gift yourself an adventure. Such a fun couple's date idea.
Be mindful and watch for other traffic. You might want to bring your own helmet when using the scooters.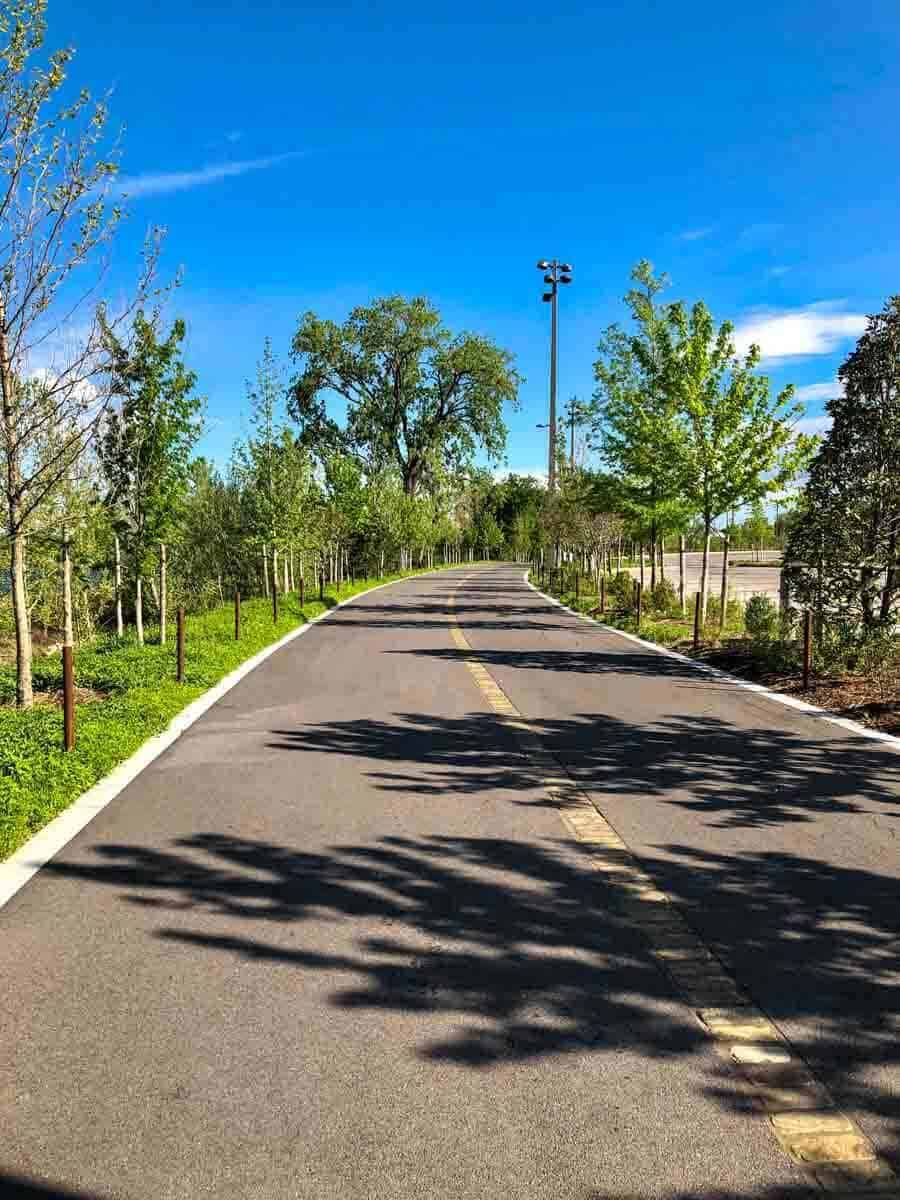 5. Margaritaville Outdoor Patio
Need a tasty margarita or beer après bike ride, walk, or run? For those of you, 21 and over, have a delicious adult beverage on the patio of Jimmy Buffet's world-famous Margaritaville.
Swing in the back entrance of Margaritaville and grab a patio seat overlooking the Arkansas River.
This area of the river has great views and bird watching.
Trip tip: There is a bike rack outside by the LandShark Bar and pool. Bring a bike lock for your bike if you want to bike here.
This is one of our favorite sunny day or sunset activities.
"It's 5 o'clock somewhere," as Jimmy Buffett says.
You might even be interested in a day pass to the pool!
Map of Outdoor Things to Do in Tulsa
Enjoy Fun Outdoor Things in Tulsa!
We hope you enjoy this simple list of outdoor activities to do in the Tulsa area.
To summarize, below are activities you can do for the perfect couple's urban outdoor adventure.
Explore the Tulsa River Parks trail system
Check out Gathering Place
Hike at Turkey Mountain
Rent public scooters, bikes, or bring your own bike and cruise along the Tulsa River Parks Trail
Enjoy happy hour, the pool, and bird watching at Margaritaville
Thanks for reading,
Ashlee & Pablo
---
Shop Street to Trail Gear
Check out our favorite picks for street to trail adventures!
---
You might also enjoy….
Where are you headed next?
You might enjoy our other articles on exploring Oklahoma:
Save this article on Pinterest!
We would love to hear from you!
What was your favorite fun thing to do in Tulsa?
Please feel free to message us if you have any questions.