Hike Peavine Falls: An Alabama Hidden Gem at Oak Mountain
Last Updated: Jan 5, 2023
|
|
Comments Off

on Hike Peavine Falls: An Alabama Hidden Gem at Oak Mountain
Peavine Falls in Alabama is an epic hidden gem of a 65-foot waterfall tucked within Oak Mountain State Park. The hike to the falls starts off as flat, but the descent to where the waterfall is located is rocky, requiring some rock scrambling. It can take up to 1-1.5-hours roundtrip. However, those who make the trek are rewarded with a beautiful waterfall that cascades into a small, serene pool below. This article will guide you through how to get there, what to bring, and why this hike is worth your time.
Peavine Falls has been on our Alabama bucket list for years, so we've researched it extensively! If you're interested in hiking here, too – don't miss out!
This post may contain affiliate links, which means we'll receive a commission if you purchase through our links at no extra cost to you. Please read full disclosure for more information.
Guide to Hiking Peavine Falls in Alabama
Hiking in Alabama may not be the first thing that comes to mind when you think of outdoor adventures, but there are many hidden gems like Peavine Falls.
The falls are a short hike from the parking lot and are worth every step. When you get close enough to see the falls, your heart will leap with joy. You'll feel so refreshed after this hike- just what you need for another week of work or school. So if you're looking for a beautiful place to spend time outdoors near Birmingham, then don't miss out on this great opportunity.
About Oak Mountain State Park
Peavine Falls is located within Oak Mountain State Park. This hike has many different aspects, including being easy enough for most people, and it has excellent views of the falls and surrounding forest.
Oak Mountain is a popular place for locals since it is so close to Birmingham. Since it is not too far from the city, the hike makes for a nice day trip.
Oak Mountain State Park is the largest state park in Alabama, making it a big outdoor vacation destination for folks traveling to or road tripping through Alabama. The park has a ton of outdoor activities.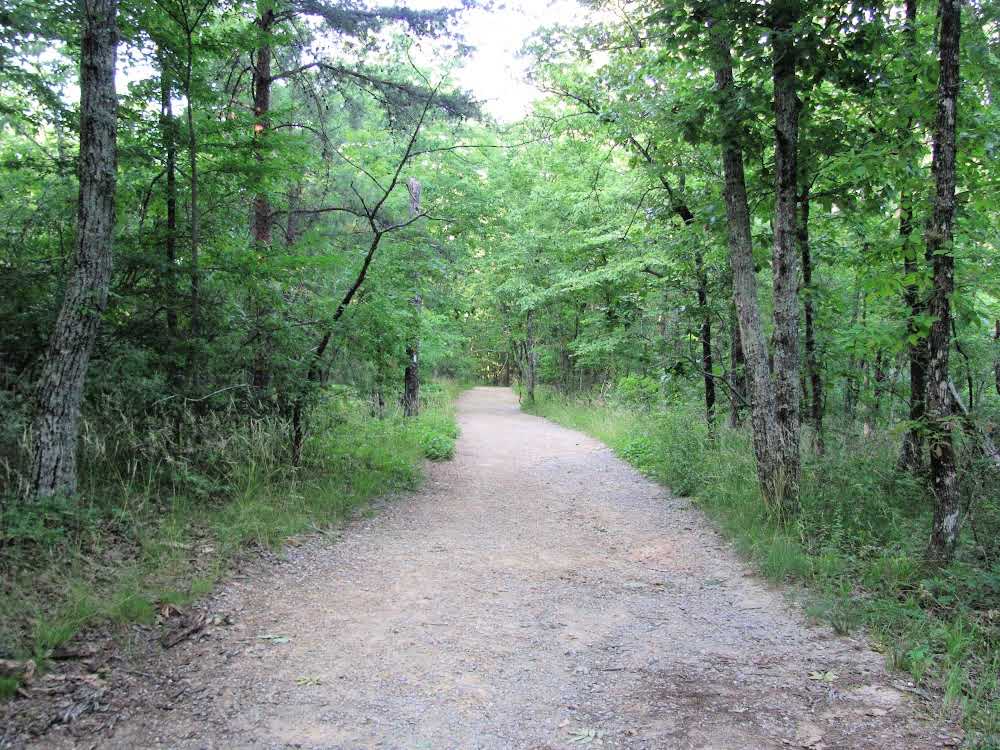 How to Get to the Peavine Falls Trailhead
Once you're within Oak Mountain State Park, the top activities and places to explore are well-marked near the road with signage.
A few trails lead you to Peavine Falls, but this article shows you the short hike via the White Trail to the Peavine Falls Trail (it is well-marked).
Follow the road signs to Peavine Falls. You'll drive up a narrow but paved road, winding through the hills. Be sure to stop and enjoy views from the top of the mountain – they are incredible!
Follow the road until you can't drive anymore. There is a large parking area with trail signs. Head over to the trail map to orient yourself.
Peavine Falls Hike Details
Trail Name: White Trail connects to Peavine Falls Trail
Difficulty: Moderate – rock scrambling required
Distance: ~1.2 miles
Time: 1-1.5 hours (depending on how long you enjoy the waterfall)
Parking: Yes, plenty. There is a large parking lot near the trailhead
Dog Allowed: Yes, on a leash
You'll see options for the White Trail. Follow the White Trail, which connects to the Peavine Falls Trail, until you see a wood sign that says Falls Overlook (that points down). From there, you'll begin a descent with some rock scrambling into where the waterfall is located.
The Route and Safety
The route is easy and flat until hikers descend into the basin where the waterfall is located. Again, go slow and wear good shoes.
Best Time of Year to Hike to Peavine Falls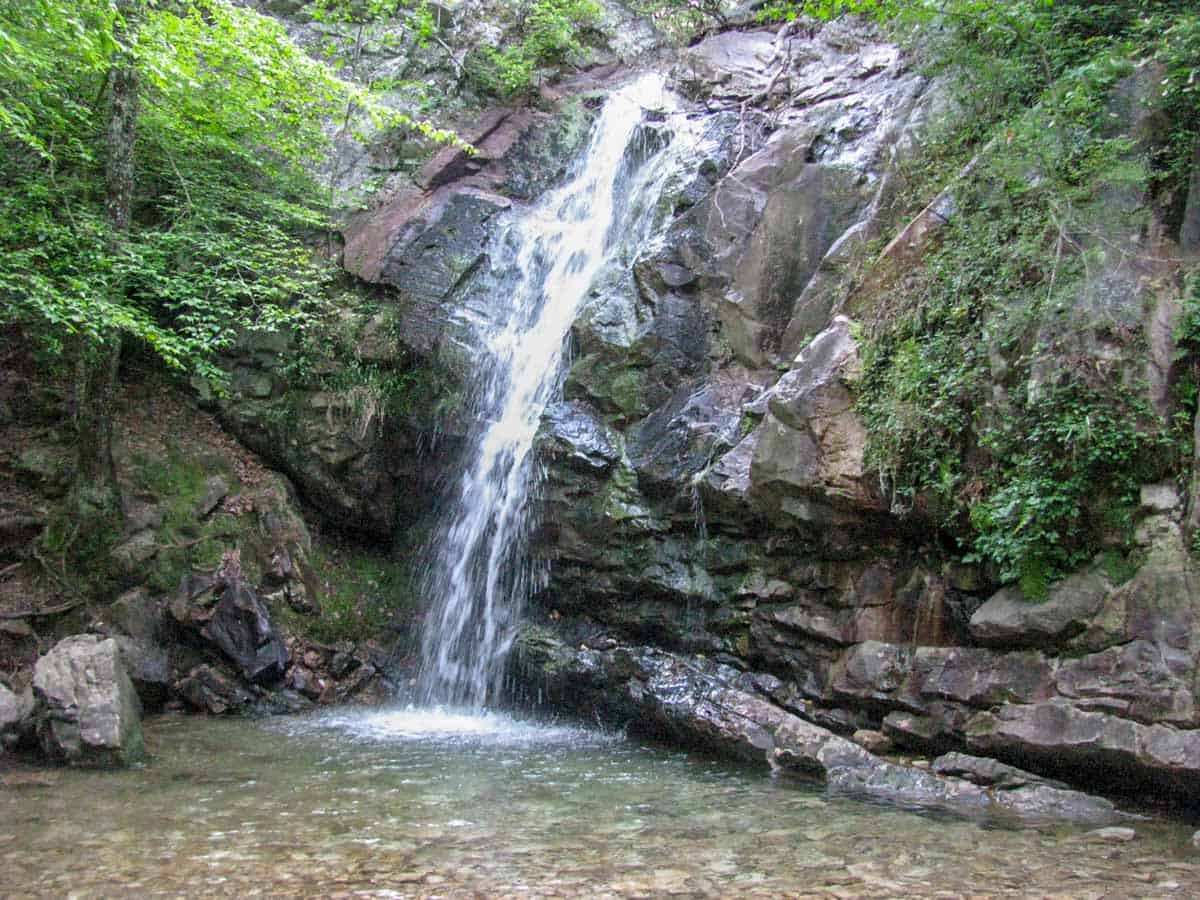 We hiked to the waterfall in May. The weather was perfect. It wasn't hot, and there were no crowds during the middle of the week.
The locals told us fall is an incredible time to do this hike, too, if you can wait.
Can You Swim at Peavine Falls?
The pool at the bottom of the waterfall is not deep enough to swim. You could dip your hands or feet in the water!
Gear Checklist Before You Go
So, what should you bring hiking? Below are links to gear we have and always use that you can purchase directly from Amazon.
Hiking Checklist:
Good hiking shoes
Bug spray
Comfortable hiking clothes
Small daypack for your water, camera, and maybe a snack
Trail Etiquette
Oak Mountain State Park is a popular place for different outdoor enthusiasts, from hikers to mountain bikers, and folks riding horses. Stay alert to support each other on the trails. Always remember to Leave No Trace. Be sure to pack out all your trash, and take only memories and pictures.
Final Thoughts
Peavine Falls is a popular waterfall hike within the lush forest of Oak Mountain State Park. It's a beautiful short hike to the 65-foot waterfall tucked within the forest. If you're visiting Oak Mountain State Park, you cannot miss hiking to Peavine Falls.
Thanks for reading.
Ashlee & Pablo
---
You might also enjoy…
Are you road-tripping through Alabama? You might enjoy these popular articles:
Save this article on Pinterest!
We'd love to hear from you!
Have you visited any Alabama State Parks or Peavine Falls? Tag #thehappinessfxn on Instagram! We'd love to see your Alabama adventures!