17 Fun Reasons To Visit Oak Mountain State Park Outside Birmingham, Alabama
Last Updated: Jul 15, 2023
|
|
Oak Mountain State Park is the largest state park in Alabama. It has over 9,940 acres of oak woodlands and multiple lakes. It's a beautiful place to go hiking, biking, camping, fishing, swimming, and horseback riding. It's a great place for kayaking, canoeing, and enjoying water sports as well.
If you love the outdoors and are traveling near Birmingham, Alabama, Oak Mountain State Park is the place to be! Continue reading for inspiration to plan an epic trip with 17 fun outdoor things to do. Oak Mountain is one of the best spots for adventure in Alabama.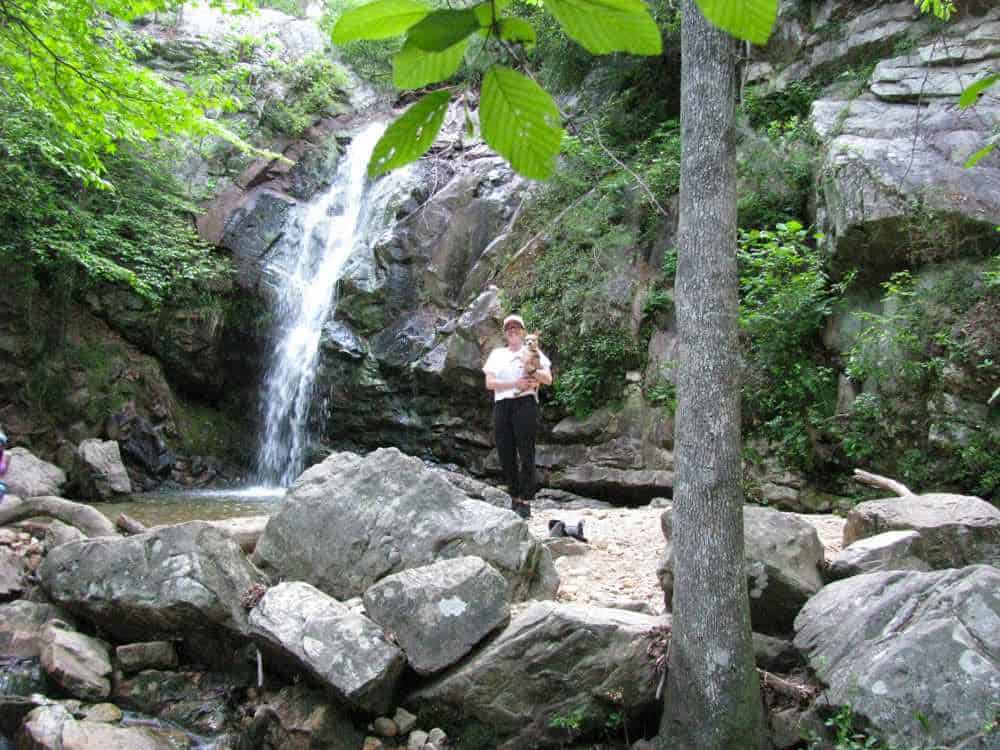 Best Things To Do at Oak Mountain State Park in Alabama
This beautiful state park offers many outdoor activities. Enjoy the oak-covered hills, waterfalls, and lakes with your family and friends. With all the park activities offered, you will have an exciting time outdoors. Here are 17 reasons to visit and fun things to do!
1. Hiking
Hiking in Oak Mountain State Park is great. The oak-covered hills offer multiple species of oak trees and some rare species of plants, such as the Alabama Sandstone Oak and Georgia Aster. The park has 25 miles of hiking trails. All of the trails are well-marked from our experience.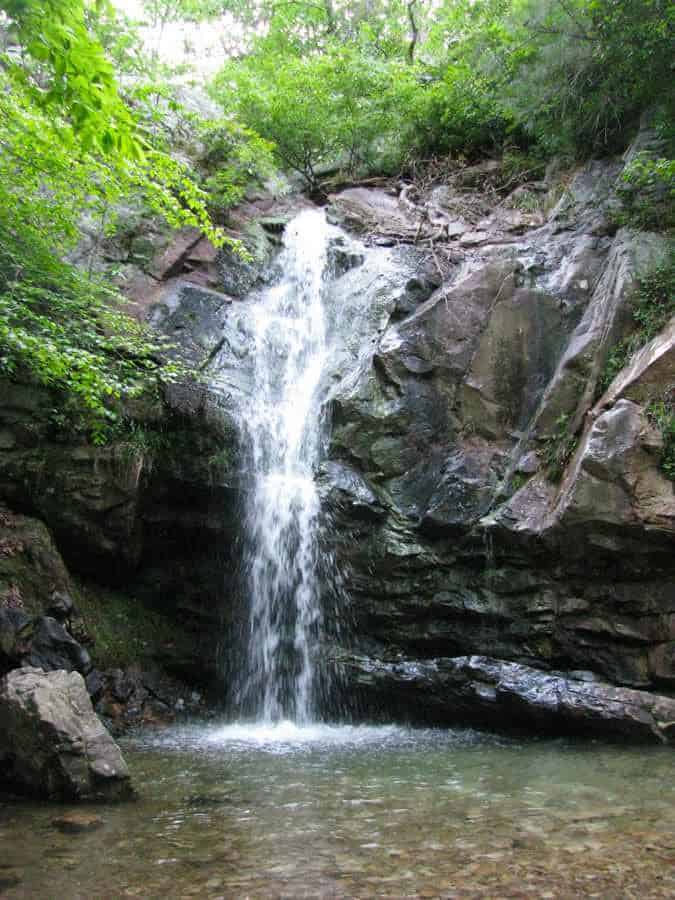 One of the most famous hikes in the park is the White Trail to Peavine Falls, a beautiful 65-foot waterfall. Getting to Peavine Falls requires some rock scrambling, so be sure to wear good hiking shoes.
2. Road Biking
While Oak Mountain State Park has a large variety of different activities to do, road biking is pretty popular. The main roads through the park are paved nicely and have a specific bike lane on both sides. When we visited, we saw lots of folks on their road bikes.
3. Mountain Biking
Are you ready to get your mountain bike fix? There are 30+ miles of mountain biking trails here. Some of the mountain biking trails are made for beginners, and some are a little more challenging. However, there are plenty of places to park and hit the trails. Mountain biking is one of the top things to do while visiting.
4. Trail Running
If you're into trail running, check out any of the hiking and mountain biking trails for an epic run through the oaks.
5. BMX Course
The BMX course is one of the best in the country. It has been around since the late 70s. There is also a pretty cool pump track.
6. Camping
People come from all over the world to camp or rent cabins at Oak Mountain State Park. When planning a trip, take making reservations ahead of time into consideration. Due to the huge popularity of the park, especially during weekends and holidays, you need to reserve camping in advance.
Oak Mountain State Park is close to Birmingham, Alabama, which makes it ideal for family vacations or weekend getaways. We visited on a Thursday and were lucky enough to get a camping spot ahead of the weekend.
7. Swimming
One of the best things to do at Oak Mountain State Park is swim in the lakes during the hot summer months. There are multiple lakes.
The two main beaches to swim at are located at Double Oak Lake and Beaver Lake. The beach at Double Oak Lake is off Terrace Drive, and the beach at Beaver Lake is located near the Aquapark by Flipside (more on the Aquapark below).
Both of these main beaches have restroom facilities. There is also a small beach near the campground if you're camping.
8. Paddle Boarding, Canoeing, & Kayaking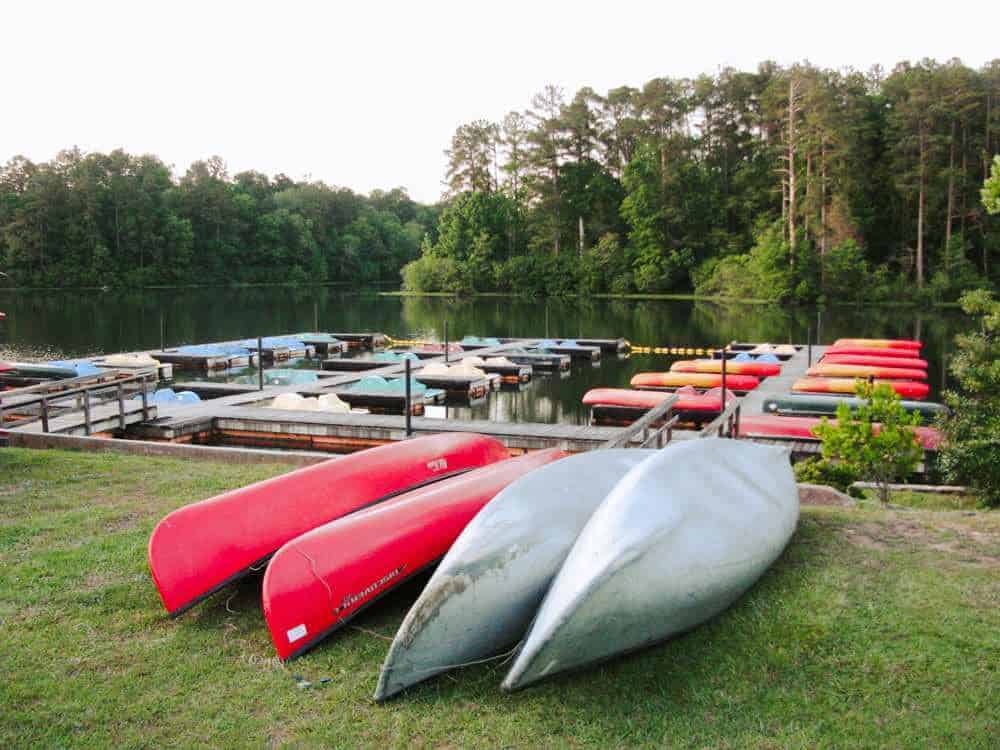 If you are looking for a different activity, why not go paddle boarding, canoeing, or kayaking? You can bring your own boat or rent boats at the marina.
9. Cable Wakeboarding
Oak Mountain State Park has one of the largest wakeboarding cable parks in the U.S. The Aquapark is such a neat place to learn how to wakeboard. No boat is necessary. Experienced wakeboarders are welcome too.
10. Fishing
You can catch bream, bass, crappie, and even catfish at the lakes here. Three of the lakes are stocked and open year-round for fishing. Oak Mountain State Park only allows electric motor fishing boats if you're not planning on fishing from the shoreline.
There are Alabama fishing regulations that you must follow. You can pick up your fishing license at the park or get your license ahead of time.
11. Horseback Riding
There are over 25 miles of horseback riding trails within the park. Visitors can bring their own horses or make reservations from The Rusted Roof Barn.
12. Golfing
"The Oaks" golf course has a beautiful 18-hole public course. The course features different terrain such as hills, valleys, and water hazards. You can reserve a tee time five days in advance. Walk-ons are also welcome.
13. Interpretive Center
The Oak Mountain Interpretive Center showcases natural exhibits from the surrounding area. In addition, the center highlights information about the animals that live in the surrounding area, such as turtles and snakes. It is a great place to visit and learn more about Alabama, the park, and the surrounding area.
14. Alabama Wildlife Center
The Alabama Wildlife Rehabilitation Center allows visitors to see injured animals and interact with some of them. This facility rehabilitates and releases thousands of native birds annually. In addition, the staff provides educational tours about wild animal safety to the public.
The center also accepts injured birds from the public.
15. Treetop Nature Trail
Discover boardwalk trails leading you into the treetops where visitors can see live raptors. There are giant enclosures with native birds that cannot be released back into the wild due to permanent injuries. Birds include owls, vultures, and hawks. It is a wonderful opportunity to see many of these raptors up close. Walking through the treetops is a neat experience.
16. Archery Park
Oak Mountain State Park has a community archery facility. This is a great place to learn how to shoot a bow and arrow. It's also an excellent location for all levels of archers because it's open year-round, has targets, and provides a lot of space.
17. Geocaching
Geocaching is allowed within the park. However, activities have to be permitted ahead of time.
How Much Does It Cost to Visit?
You can purchase a one-day admission for a fee of $5 per person or an annual pass which is $180 per year. The entrance gates take cash only.
If you are camping, the entrance fee is included.
Visit Oak Mountain State Park for more information on fees.
How Much Time Should You Spend at Oak Mountain?
You can spend all day at the park and really enjoy yourself. There are many different activities to do during your stay.  At the end of the day, you will be exhausted, jumping from one activity to the next.
You can easily spend an entire day exploring the outdoors here with one to three activities. If you have never been, we recommend camping, hiking to Peavine Falls, driving around the park, and walking the Treetop Nature Trail.
To see everything, you'd want to stay for a few days or a long weekend.
Is It Worth Going?
If you have never been to Oak Mountain State Park, we would recommend that you go. It is a beautiful place with breathtaking views and plenty of things to do. Oak Mountain State Park has also won awards for being one of Alabama's best parks multiple years in a row.
How Far Is Oak Mountain From Birmingham?
The park is roughly 30 minutes south of Birmingham, Alabama, via I-65 south.
Are Dogs Allowed?
The park is dog-friendly, but you must keep them on a leash at all times. Dogs are not allowed on the lake beaches.
Best Time of Year To Visit
We visited the park in late May, and the weather was absolutely perfect. It was warm enough to wear shorts and be comfortable hiking the trails and camping, but not humid.
We were also told by the locals that the fall months are incredible, with the foliage changing colors after September.
The park has amazing forest energy. It is very peaceful, beautiful, and secluded.
Oak Mountain State Park has a lot to offer. From swimming, fishing, and hiking to horseback riding, biking, golfing, and more. The park is one of the best things to do in Alabama near Birmingham, if you want to get outdoors.
Always practice Leave No Trace.
Ashlee & Pablo
Read More Alabama Adventures
You might enjoy these popular articles about Alabama: