2023 Toyota Tacoma Review: Here's Why It's the Best Mid-Size Truck
Posted on: July 16, 2023
|
|
I extensively researched the mid-size truck market before purchasing a 2023 double cab Tacoma SR TSS Off Road V6 4X4 in March of this year. Here's why I think the 2023 Toyota Tacoma is one of the best mid-size trucks on the market.
Disclaimer: This isn't a sponsored article. Here's my honest review as a consumer and as a guy who loves trucks.
My Criteria for a Pickup Truck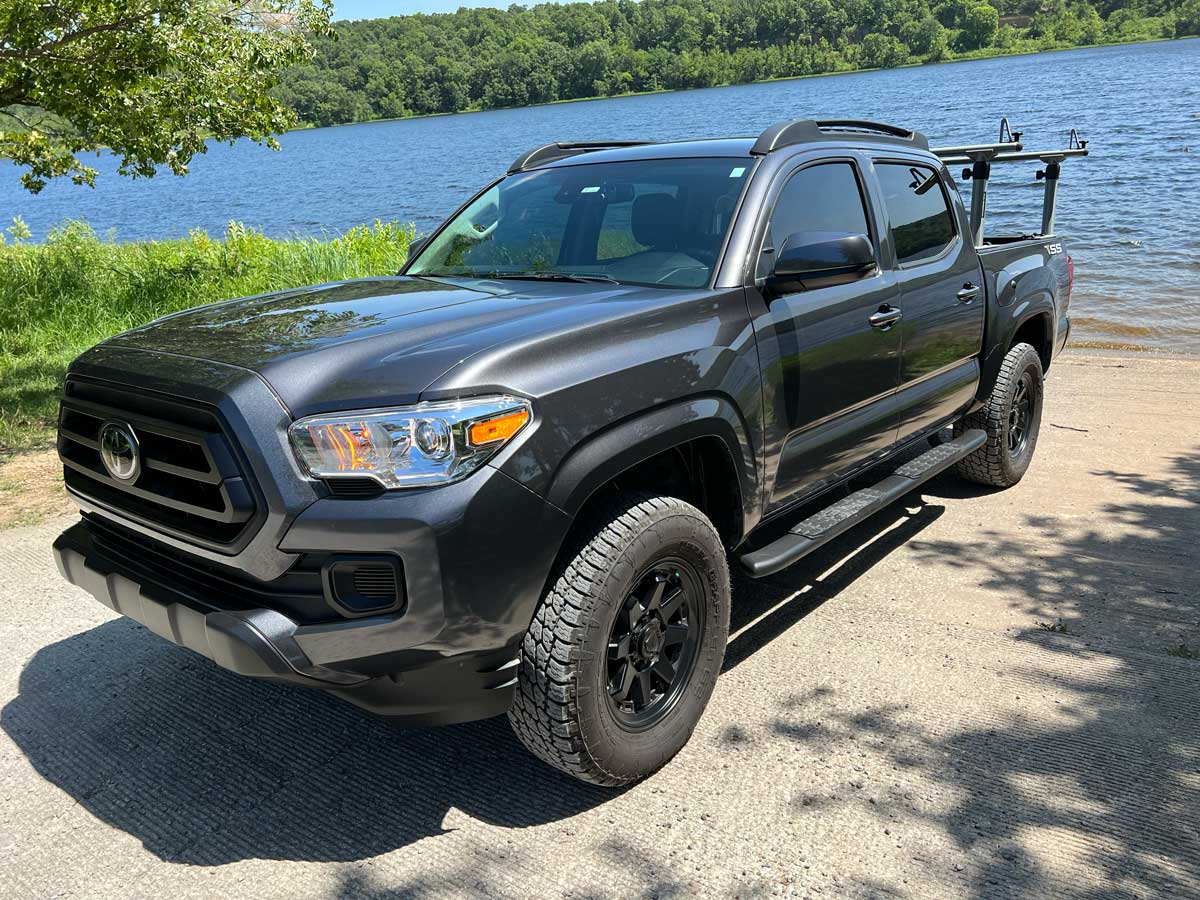 A truck should have a robust build, a proven engine, transmission, and simple features that will last. It should also have enough towing capacity and space in the bed for leisurely travel, road trips, and house projects.
The double cab Tacoma 3.5-liter V6 2GR-FKS engine delivers 278 horsepower (hp) and 265 pound-foot (lb-ft) of torque. It has a towing capacity of 6400 pounds on the double cab 4X4 model. These are great numbers for a naturally aspirated V6 weighing over 4400 pounds.
Expectations for Going the Distance
Given its appropriately maintained, a truck should easily reach 300,000 miles. Some truck owners may say that number is too high, but not for me. We already own a 1997 Toyota T100 with over 235,000 miles that is still going the distance.
Making a Responsible Financial Decision
With interest rates being horrendous these days, buying a vehicle in 2023 is expensive, and I did not decide to buy a new vehicle lightly. I did years of research.
Taking Time to Research
I waited and avoided many truck models because of specs that didn't meet my needs. I talked to co-workers, businesses, mechanics, and friends who shared their experiences with their trucks before deciding on the 2023 Tacoma.
2023 Tacoma 4X4 Double Cab V6 Specs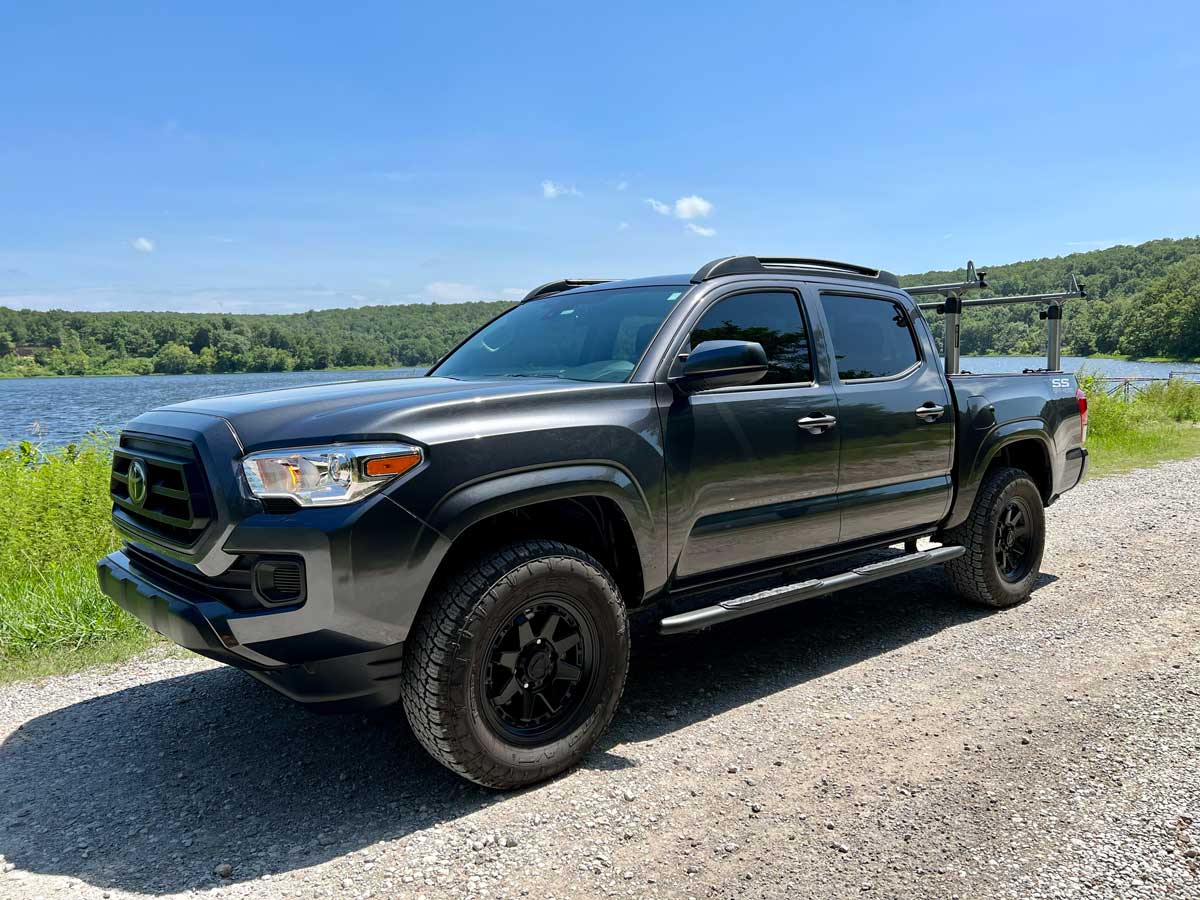 Horsepower: 278 hp at 6000 revolutions per minute (rpm)
Torque: 265 lb-ft at 4600 rpm
EPA City/Highway Miles Per Gallon (MPG): 18/22
Fuel tank capacity: 21.1 gallons
Max Towing Capacity: 6,400 pounds

Tacomas can tow up to 6,800 lbs depending on the model.

Max Payload Capacity: 1,155 lbs

Tacoma's max payload for the extended bed is 1,525 lbs
There Are Two Engine Options for the 2023 Tacoma
The 2023 Tacoma has two main engine variations:
The naturally aspirated 2.7, 4-cylinder 2TR-FE, and
The 3.5, V6 cylinder 2GR-FKS engine
The 4-cylinder engine is an "old-school" engine (much older than the V6). It is incredibly reliable but not very powerful, especially if you plan on towing or going up steep mountain passes. If you load your truck and get close to its payload capacity, you will experience a lack of power and torque.
Many customers have complained about the 4-cylinder Tacoma feeling underpowered. Therefore, I chose the 2023 V6 Tacoma.
If the lack of power and torque is not an issue for you, the 4-cylinder is just as good of a choice as the V6.
Problems the V6 Has Experienced Since 2016
The 2023 Tacoma is part of the third-generation Tacoma re-designed in 2016. When the truck came out in 2016, the 3.5-liter V6 engine was considered groundbreaking technology. The truck was equipped with the D4S system, a dual-injection fuel system (port and direct injection).
But the engine suffered many issues in its first years, including front timing cover leaks, cylinder heads leaking oil, and several coolant leaks.
Toyota also introduced a new automatic 6-speed transmission that earned the company customer complaints from indecisive transmission shifts.
Fixing The Tacoma's Initial Problems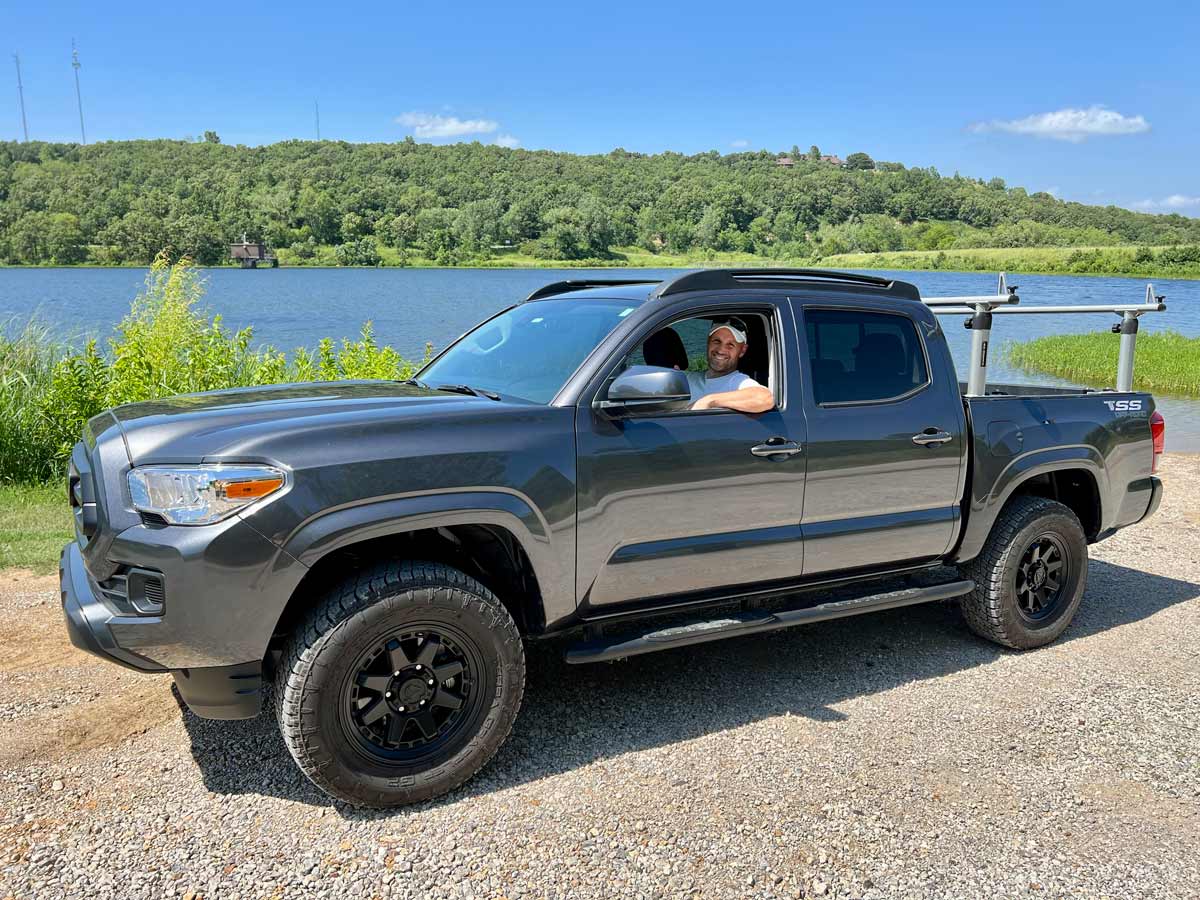 While most manufacturers quickly change and discard their vehicles' engines, transmissions, designs, and features that cause problems, Toyota usually does the opposite—credit to the company for this business model.
Toyota kept working on improving its V6 engine through the years after its 2016 debut. As of 2023, most of the Tacoma's issues have been corrected.
Even though the transmission got a few updates, there are still some reports of people experiencing the truck's transmission being "indecisive" about what gear to stay in. We have not had that experience and have driven our Tacoma towing our Aliner camper across the country.
If you are considering buying a Tacoma and this sounds like an issue, you can still find a limited number of Tacomas with manual transmissions. Yes, Toyota is still making them.
Reasons We Like the 2023 Tacoma
The Tacoma is as close to an "old-school" truck as possible in 2023. The original engine that debuted in 2016 had groundbreaking technology and is considered "old" by today's standards. But it is simple and reliable – two endangered qualities in today's truck market.
The continuing trend from manufacturers to incorporate smaller turbocharged engines combined with consumers' expectations to get more and more features in pickup trucks has led to this environment.
Value Simplicity
The Tacoma has simple features that have mainly stayed unchanged over the years. I associate an excess of features (especially electronics) with potential problems in the long run. I wish the Tacoma still had a shifter to engage the four-wheel drive instead of the push knob.
I would be happy with my new 2023 Toyota Tacoma truck having an analog speedometer, tachometer, and manually operated windows. I do not need an excess of electronics in a truck—meaning fewer chances of them breaking, leading to costly repairs.
Toyota Got It Right with a Simple Interior
Toyota got it right with the basic features inside the 2023 Tacoma. A lot has stayed the same on the inside since 2016.
Our 2023 Toyota Tacoma SR (base model) has all the technology features we need and more, including a 7-inch touchscreen display with Apple CarPlay and Android Auto compatibility. I can appreciate this for road trips.
Additional Tech Features
In addition, the truck has many driver-assistance features like adaptive cruise control, lane departure warning, and forward collision warning. Compared to our 1997 Toyota T100, we thought the truck was loaded with technology features—oh, and dual climate control (the wife likes this).
Proven Naturally Aspirated Engine
The main reason I purchased the truck was because of the engine. It has a naturally aspirated V6 whose problems have been corrected since it came out in 2016. As of 2023, only a handful of mid-size trucks still have V6 naturally aspirated engines.
Direct Injection Self Cleaning System
Toyota's dual direct injection system uses a self-cleaning mode to prevent carbon build-up. This means that, at times, your truck will "ramp up" the engine during a hot idle, get loud, and run a clean-up cycle to prevent carbon build-up.
Owners have complained about getting scared when the engine goes into self-cleaning mode and report returning the truck to the dealership to see what is "wrong." Nothing is wrong. It's just the Tacoma taking care of itself; thank you, Toyota.
Legendary Off-Road Capability
The Tacoma comes in different models that offer higher off-road capabilities, like the "Trail Edition" and "TRD Pro." Tacomas are known for their off-road capabilities. All Tacomas are built sturdy, and the front suspension system has been around for a long time; it's simple, reliable, and straightforward to work on.
Transfer Case
The Tacoma transfer case is a very old-school reliable design. If you have a 4-wheel drive and you don't use it very often, remember to engage it once a month to prevent anything from seizing up. Other than that, they are extremely reliable.
Leaf Springs
The truck still has leaf springs in the back. Yes, leaf springs! This is the one item that many old-school truck enthusiasts will insist is necessary for a truck to be considered a "truck." Leaf springs are simple, durable, and relatively easy to change if you need to 20 years from now.
Rear Wheel Drum Brakes
Most people are not fans of drum brakes in the back of the truck, but they are durable. They will rarely give you any problems and protect your brakes against dirt and other contaminants, especially if going off-road.
A Great Frame
Older model Tacomas have had issues with rust. However, Tacomas frames in 2023 are highly reliable and have a thick coating on the inside to prevent rust.
A Sturdy Basic Interior
The Tacoma interior is basic. The dash is made of sturdy plastic that you don't usually find in many other Toyota vehicles.
Manual Parking Brake
The truck still has a manual parking brake, not a foot-operated one, but a manually operated one. I love it!
Bed, Bed Liner, and Tail Gate
The Tacoma bed is made of composite material that does not need a bed-liner. It also has fixed and movable tie-downs.
I love the old-school bed handle with a locking key. The tailgate opens slowly when you open it. It's brilliant!
The Tacoma "Look"
The truck has a beautiful design and an aggressive look. It is one of the best-looking trucks, in my opinion.
Comfort
I have read comments complaining that the interior is too cramped, especially for taller people with a larger frame. If you're concerned, test drive one and get a feel. Both my wife and I find the interior and seats comfortable.
If comfort were my main buying point, I would choose a car, crossover, or an SUV. A pickup truck would be last on my list.
Smooth Ride
I have been in many mid-size and full-size pickup trucks (Ford, Dodge, Chevrolet, Nissan, Honda, GM). At work, I'm exposed to a large fleet of Fords. I don't disagree when people say that the F-150 is the most comfortable ride for pickup trucks, especially in terms of handling.
But regardless, trucks are simply balanced and engineered differently, and most will resemble being on a "boat" at some point.
As for the 2023 Tacoma, we believe it rides and handles great. We recently did a 2,000+ mile road trip to Apalachicola, Florida, and both were happy with the ride (so was the dog).
Things That Could Be Better with the 2023 Tacoma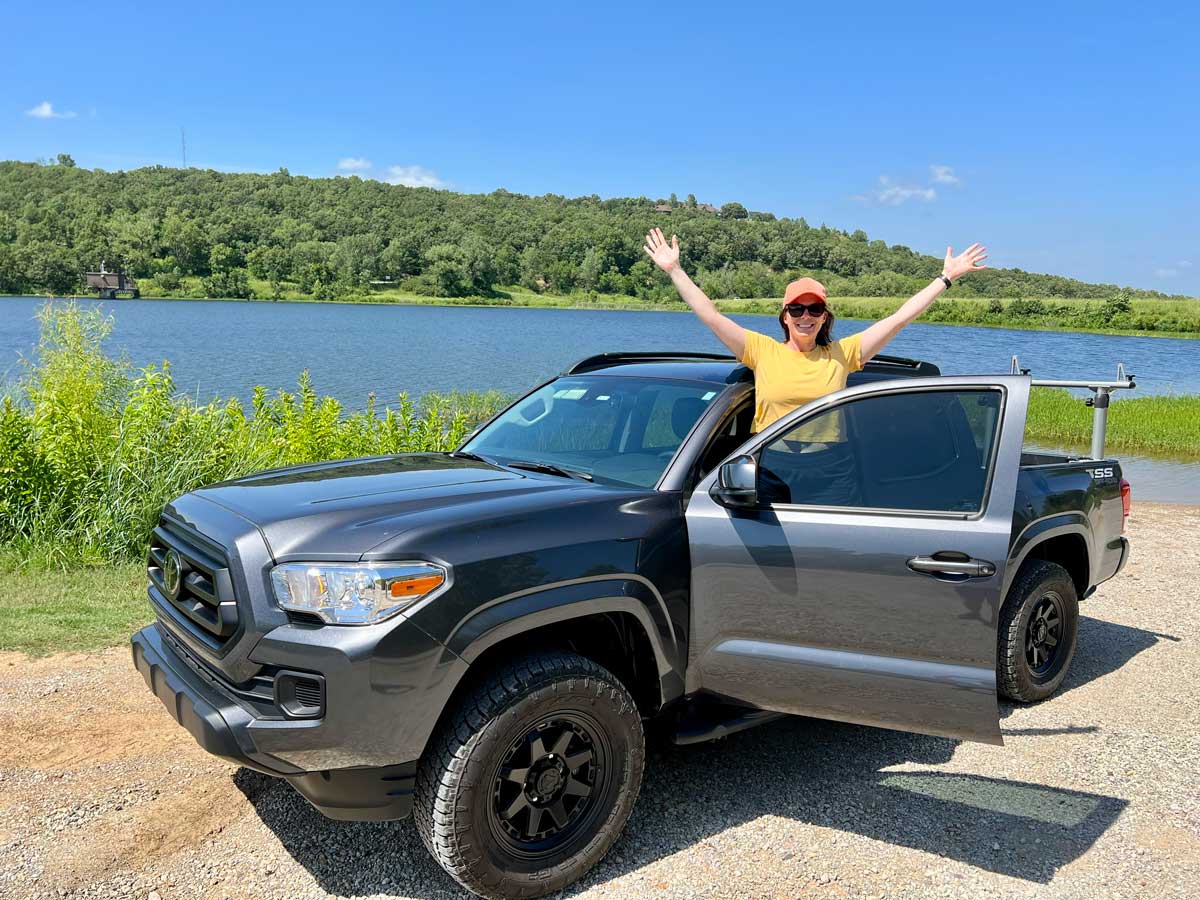 There are only a few things to mention here, and most are sadly common among manufacturers.
No Locking Fuel Cap
There is no locking fuel cap. It would not have been expensive for Toyota to offer some locking mechanism. It is unsafe for anyone to be able to access your fuel tank. My 25-year-old Toyota T100 has a simple mechanical locking door.
Front Valance Panel
I wish it were attached more securely.
Mostly Sealed Drive Shaft
There is only one serviceable grease spot towards the front of the truck. The rest are sealed. Again, a common practice with today's manufacturers. My old T100 has several greaseable U-joints through the drive shaft.
Why We Did Not Consider Any Turbocharged Trucks
Manufacturers are under pressure to deliver vehicles with increased miles per gallon and reduced emissions, hence shifting towards turbocharged engines. Even the 2024 Tacoma will not have a naturally aspirated 6-cylinder engine and move to a turbocharged 4-cylinder.
We know that many other turbocharged trucks can offer impressive numbers in terms of power, torque, and miles per gallon (as long as your foot is not too heavy).
Other mid-size trucks may be more appealing when comparing the electronic and interior features.
Not a Fan of Turbocharged Engines
Turbocharged engines run at extremely high temperatures, and engine parts are under higher pressures and more strain. Turbos pressurize air and force it into the engine. Those extreme temperatures are tough on your engine parts and can reduce lifespan. Naturally aspirated engines run at much lower temperatures, reducing the strain on your engine and extending its lifespan.
Complexity
Turbo engines are much more complex and have many more parts, including a turbocharger, intercooler, and all the expensive parts and components related to these two. This means more potential parts to replace if you have problems. Naturally aspirated engines have fewer parts and are simpler.
More Expensive to Fix
Turbocharged engines are also harder to diagnose once something breaks, and repairs are costly as you have more expensive parts to replace. Turbo engines are also more challenging to work on than naturally aspirated ones.
But don't take my word for it. Reach out to a trusted mechanic or an experienced technician at your local shop or dealership and ask them what type of engine is easier to diagnose and cheaper to fix – a turbocharged engine or a naturally aspirated one.
Avoid asking salesmen or managers, as they will not be the ones fixing or giving you a quote for the repair.
Prone To Issues If Service Schedules Are Not Maintained
Turbos do not need more maintenance than naturally aspirated vehicles, but they are a lot more sensitive and prone to damage if not serviced accordingly. So, if you struggle to service your vehicle at the correct intervals, a turbocharged engine may be a bad fit for you, especially in the long run.
Challenges With Short-Distance Driving and Cold Weather
Turbocharged vehicles generally do not tolerate short-distance driving or cold weather that well. Turbocharged engines can develop problems depending on how your vehicle is driven. If the vehicle is not allowed to reach the appropriate operating temperature regularly, the engine can develop significant reliability issues.
Turbos usually take more time to reach an adequate operating temperature. If this doesn't happen, the engine can build condensation and carbon on the intake valves, especially on direct injection engines.
Pickup Trucks Were Built for a Purpose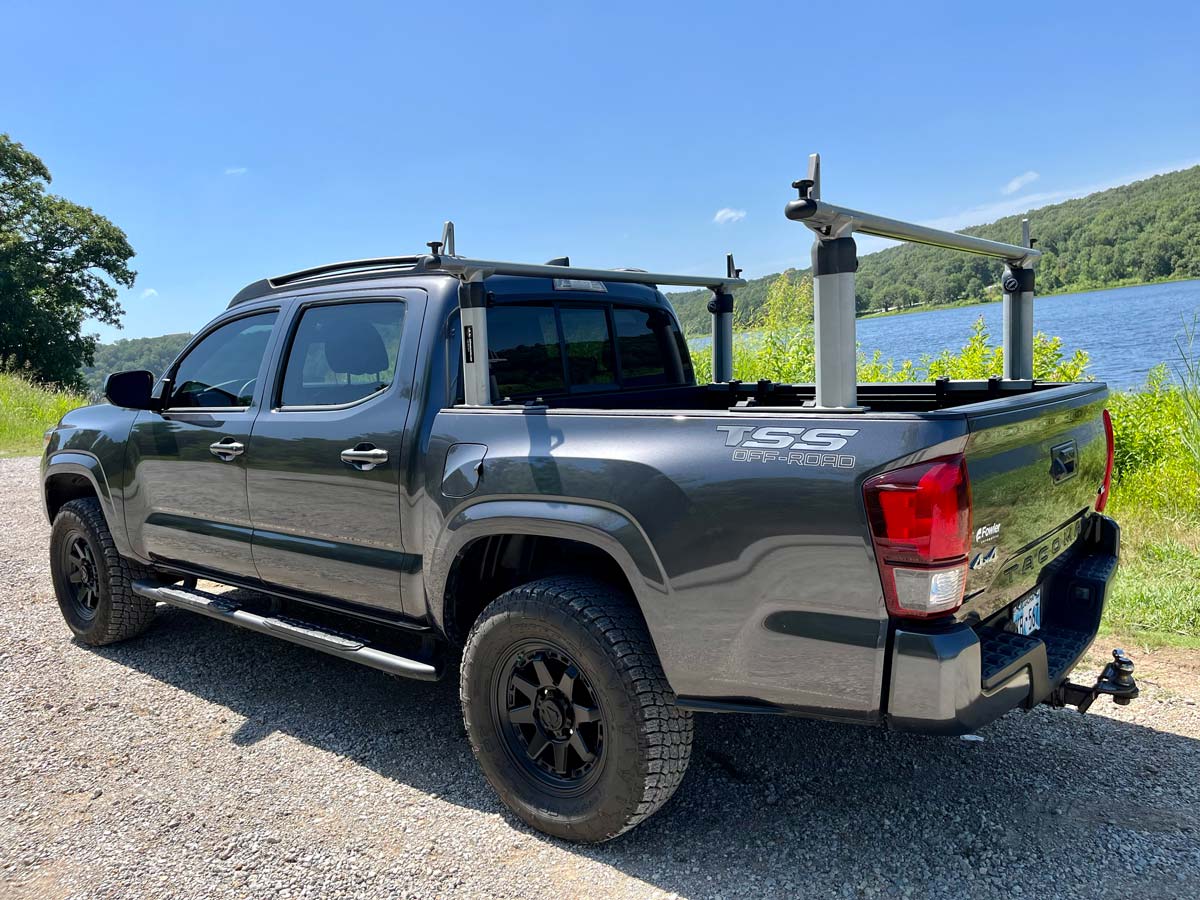 In the past, pickup trucks were initially engineered to be a "workhorse." They had leaf springs in the back, and most people would have never considered owning trucks for leisure. But times have changed significantly, and trucks have become "trendy."
It is not uncommon for drivers to purchase pickup trucks just because of how they look. Some consumers do not need to tow anything, have no use for the bed, and accidentally going over a curb will be as close to "off-roading" as they will ever go. And that is great. People should buy whatever they want and like. But it helps to consider why pickup trucks are what they are when purchasing.
Conclusion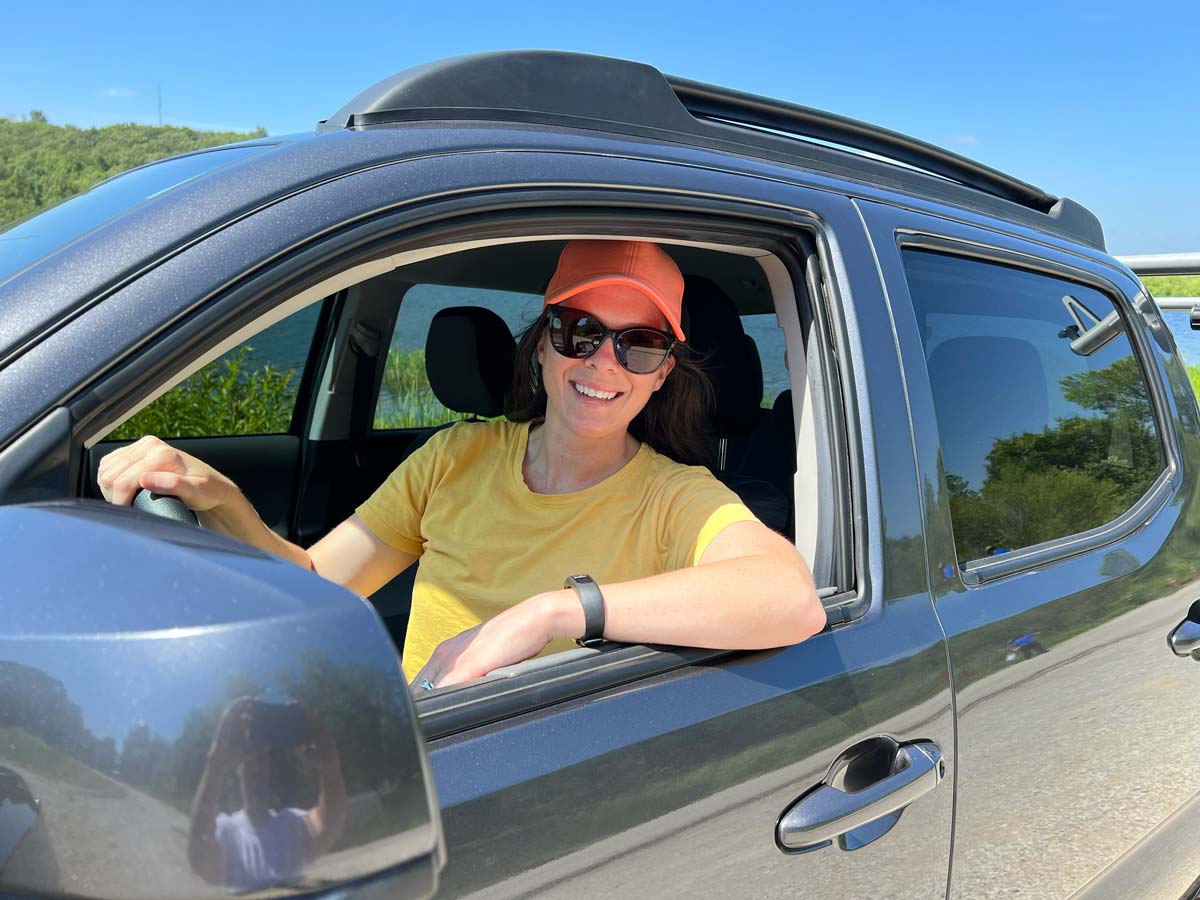 The Tacoma is as close to an "old-school" truck as possible in 2023. It is simple and reliable, which are its two top attributes.
The Tacoma has been the best-selling mid-size truck for nearly two decades, and it has a "cult-like" following in the off-road community, where some owners like doing some heavy modifications.
When considering a truck with a proven design that is meant to be simple and last, the 2023 Tacoma wins. It is a truck that, as of today, is a dying breed. The 2023 Toyota Tacoma is the best and most reliable mid-size truck for 2023 that I think can go for a very long time.
Sources: Should You Buy a Toyota Tacoma Now? Or Wait for the New One, Are Turbocharged Engines Reliable? The Truth About Turbo Engines