2021 Aliner Ranger 12 Camper Honest Review
Posted on: October 3, 2021
|
|
We are a husband-and-wife team who likes to camp like crazy. You could say we are the outdoorsy types who spend our free time in the woods and road-tripping – so we know how vital having a good roof over our heads is when we are out playing in the woods. We wanted to provide an Aliner camper review for our readers and fellow outdoor enthusiasts if you are considering purchasing an Aliner. In the spring of 2021, we bought our Aliner Ranger 12, and honestly, it has not disappointed!
If you're reading this article, you're likely searching the market for Aliner campers or the best A-frame pop up camper. If you're like us, you're ready to upgrade from tent life, or perhaps, you're even wanting to downsize from owning a larger RV.
You may be wondering if hard sided pop up campers are any good… Since purchasing our Aliner Ranger 12 in early 2021, we've been in love with it. We waited years to save our money and buy the perfect A-frame hard sided camper at the right time.
We're sharing our honest review and buying guide to help you make the best decision for your adventures! Keep reading to get all the details.
This post contains affiliate links, which means we'll receive a commission if you purchase through our links at no extra cost to you. Please read full disclosure for more information. Thank you for your support! Aliner did not sponsor this article. As always, all opinions are our own.
Aliner Ranger 12 Review
We love camping. Every chance we get, we head to the woods to camp. For the last 20 years, we've been sleeping in tents. Though we've had many epic adventures living the tent life and backpacking into remote places, we wanted a sturdier shelter we could cook inside of and spend more extended periods in.
We also wanted something hard sided (some areas in Colorado and Montana are not allowing soft camper shells in certain areas because of bear activity) when we are off in the mountains. Please consider no RV is truly bear proof.
Speaking of bear proof, we take our Yeti coolers on every camping trip because they are bear resistant. Did you know that?!
After spending a few summers in Oklahoma, we also knew we absolutely needed to have an option for air conditioning (all our midwest and southern readers understand what we are talking about!).
We started looking at Aliners eight years ago when we saw one camping on BLM land in Colorado when we lived in Western Colorado, and the A-frame caught our attention. So we looked at them and looked at them… But at the time, we decided to keep roughing it in our tent. We were scared to spend the money when we were younger!
Fast forward eight years along with a move to Oklahoma, and it was apparent that camping in Colorado and Utah was not the same environment as camping in Oklahoma and Arkansas (bugs, snakes, humidity, oh-my). So, we saved and saved, called RV dealers all over the country, went to see a few models, and then we stumbled upon the perfect Aliner Ranger 12.
Aliner Ranger 12 Honest Camper Review & Buying Guide
2021 Aliner Ranger 12
The Aliner Ranger 12 fits under Aliner's medium-sized small campers. It is perfect for camping in remote areas, weekend road trips, or any campground!
Our version does not have the dormer option (pop-up tent window comes soft or hard).
The Aliner Ranger 12 camper is outfitted with all of the conveniences of home, including:
Sink
Water plumbing for hot and cold
11-gallon freshwater tank
Water pump
14" tires – we love the off-road version because the frame is thicker and larger
2 burner gas stove
1.9 cubic foot 3-way refrigerator
Air conditioning
Heat pump
Outside shower
Can open the windows
Roof fan
Skylight
Windows on all 4 sides – natural light is amazing
2 LED lights
2 propane tanks
Outside electric plugin options
Battery power
Solar power options
Great storage
Dinette that converts to a 46" x 76" bed; and,
Sofa to bed conversion of 56" x 76" – the side we both sleep on and is equivalent to a queen size bed
These equipment options were exactly what we were looking for to have a tiny house on wheels!
The pop-up roof provides plenty of headroom in the main living space, the sleeping area has a lower ceiling for easy access, and the side skylights (windows) are concave to make room for your head when sitting. The pop-up roof is equipped with big concave skylights on both sides (or a dormer), making it easy to enjoy the outdoor environment even when inside.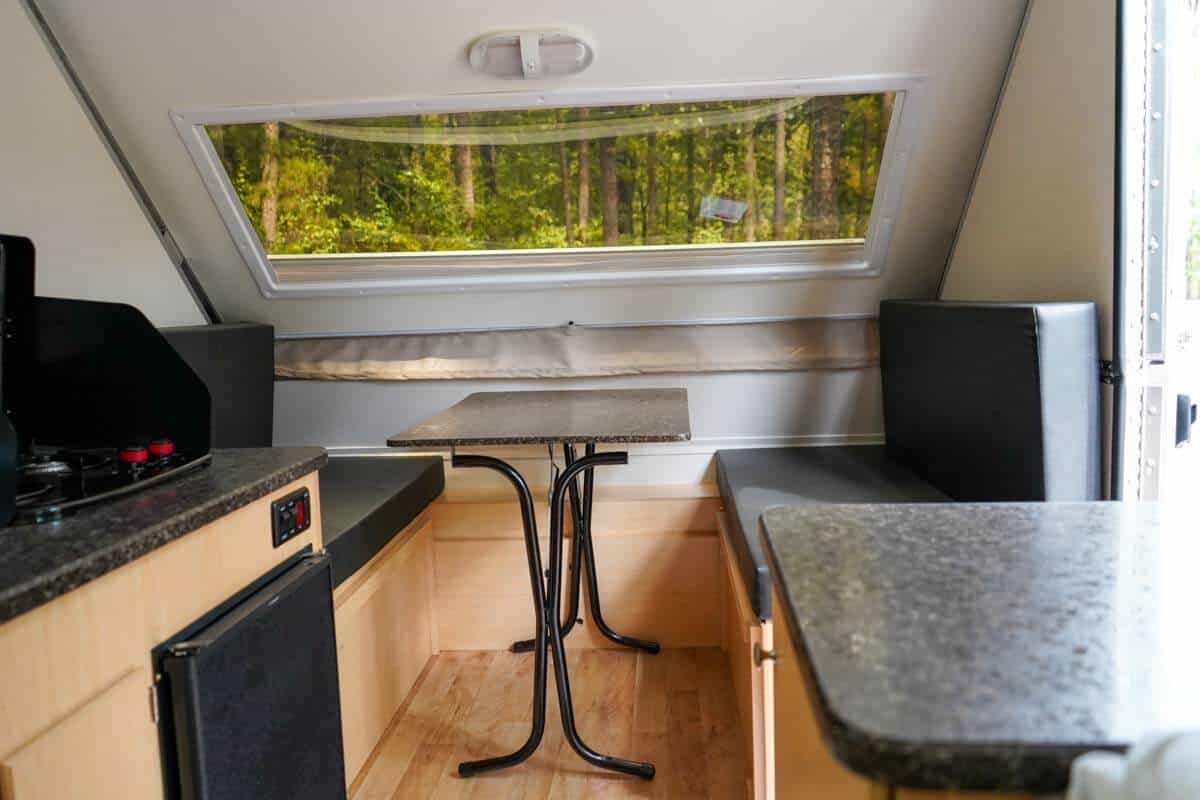 What are the Aliner Ranger 12 Dimensions?
The interior space of the Aliner Ranger 12 measures 135 inches by 78 inches, giving you enough room to relax or cook a meal inside.
It also provides enough room for two people to sleep comfortably. If you're under 6 feet tall, you would be able to stretch out comfortably in the bed (be sure to see one before you buy one since there are slight changes to the models yearly).
The Aliner Ranger 12 is equipped with an electrical system that provides power to the lighting and outlets throughout the camper's interior to plug in our cell phones, camera battery, and iPad. Sometimes, we even take a mini blender for smoothies!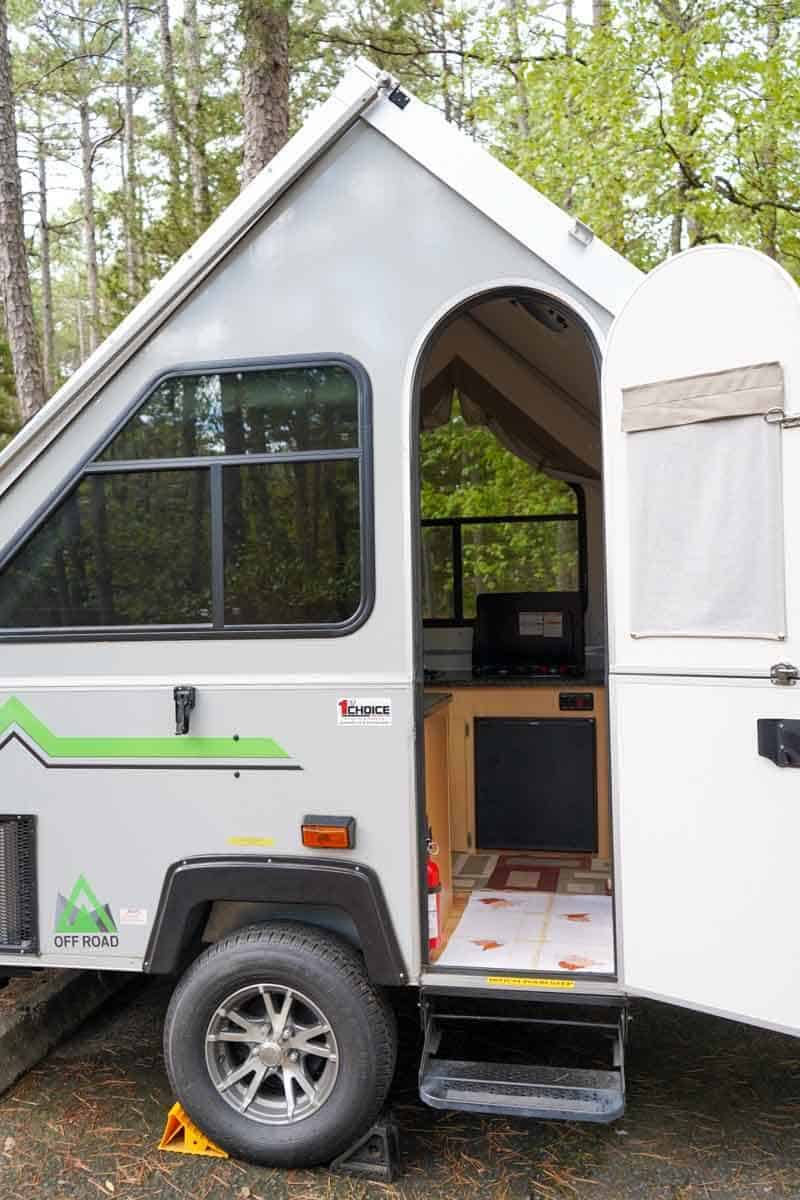 Aliner Ranger 12 Specs
What size is the Aliner Ranger 12 2021?
What makes the Aliner Ranger 12 perfect for weekend road trips or longer adventures is its size. It is so easy to store, tow, and explore.
The high roof A-frame also makes the inside feel larger and cozy when spending time inside. You can fully stand up and stretch out. The height of the A-frame makes the unit feel spacious.
Below are the outside specs for the Aliner Ranger 12:
Gross Vehicle Weight Rating (GVWR): 3000 lbs
Aliner Ranger 12 Dry Weight: ~1,450 pounds
Dry Hitch Weight: 150 lbs (Aliner Ranger 12 tongue weight)
Tires and Wheel: 14 inch aluminum
Length: 15 feet (with spare tire 17 feet)
Height: 79 inches
Road height: 57 inches
Aliner vs. Vanlife
Okay, yes, van life is all the rage… BUT the number one reason we decided on the Aliner campers over a van is purely because the Aliner is free of an engine. The second reason is that we could tow it easily with our existing vehicles.
If you like to keep your toys for long periods, and already have a rig to pull a small camper, then having a small camper means you don't have to worry about maintenance on a vehicle with an engine. Driving all over the country adds up mileage fast!
The third reason is that we can unhook, drive around, and explore freely when the camper is parked with our 4WD truck. That means we can get to epic hikes and places we want to continue to reach in the backcountry. Once you set the Aliner up, you can lock it and leave while using your vehicle like you would normally.
We like to keep things for a long time and get the most out of them. For Aliner maintenance, we track the mileage for the tires, keep it clean, and do a simple winterization.
We plan to use ours for at least ten (10) years. It is built really well!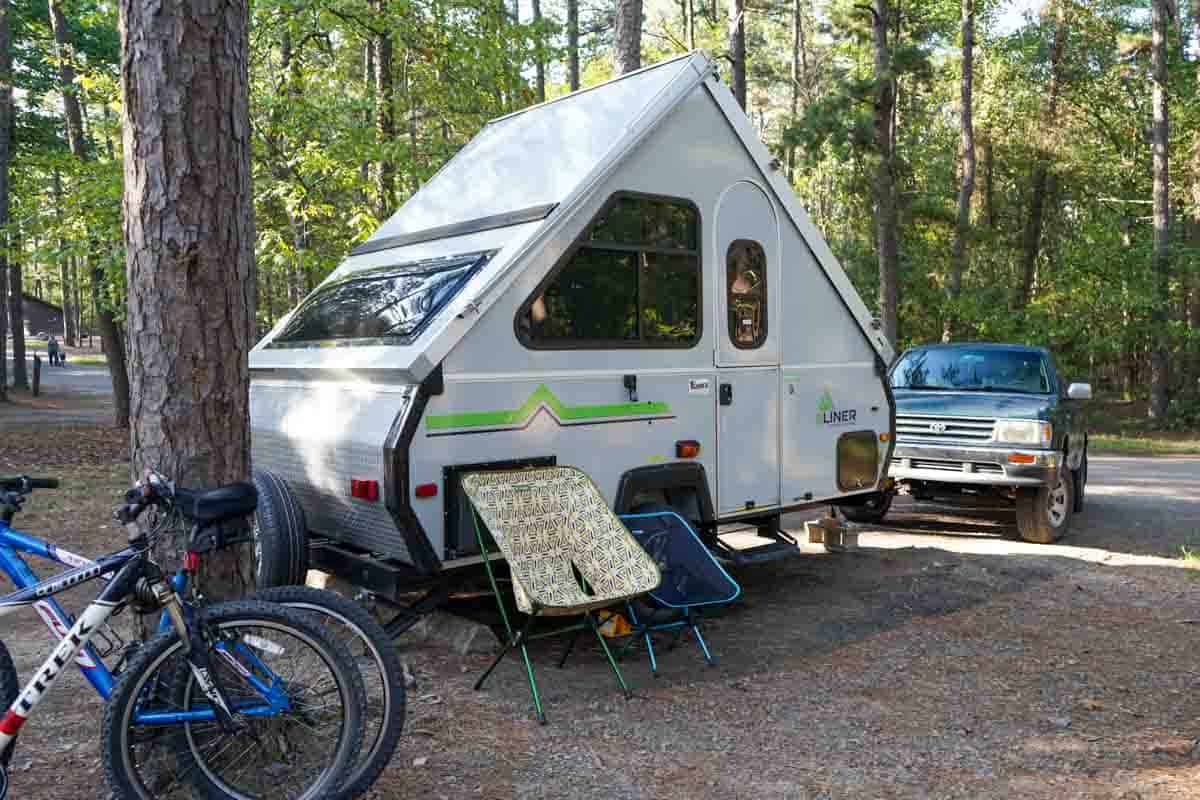 Is Aliner Worth the Cost?
Is the Aliner Ranger 12 worth the cost? We think so. When it comes to A-frame campers, Aliners are priced higher. However, consider the quality since Aliner was the original brand for A-frame trailers.
We wanted to provide a simple cost analysis breakdown of how investing in the Aliner pays for itself quickly over a few years. In the spring of 2021, we wanted to visit Dauphin Island and Gulf Shores in Alabama. So we planned a 10-day road trip from Oklahoma. We priced out VRBOs in the $200-300 range a night. That would have cost $2,000-3,000 on the lower end without including travel insurance, VRBO, or cleaning fees.
Instead, we camped along the Gulf Coast at Dauphin Island Campground, Gulf Shores State Park, and Gulf Islands National Seashore – all epic campgrounds for around $40 a night. The total was around $400-500 dollars for campsites – all within walking distance of the beach. And, we took the dog without worrying about dog-friendly accommodations or extra pet costs.
We think Aliners are worth the cost! No cleaning fees, no pet sitter fees, no expensive flights or vacation rental fees!
Where is Aliner Made?
Aliner is made in Pennsylvania, USA. Another reason we love Aliner – it is made in the USA.
We love to support products made in America!
A Buyer's Guide to the Aliner Ranger 12 2021
We compiled a list of questions we had when purchasing our Aliner Ranger 12 and have them listed below for you!
Can the Aliner Ranger 12 Go Off-Road?
Oh yeah! This is one of the main reasons for why we bought the Aliner Ranger 12.
The Aliner Ranger 12 offers an off-road package option. This means it has 14" tires and sits higher off the ground. There is also a 15" tire option.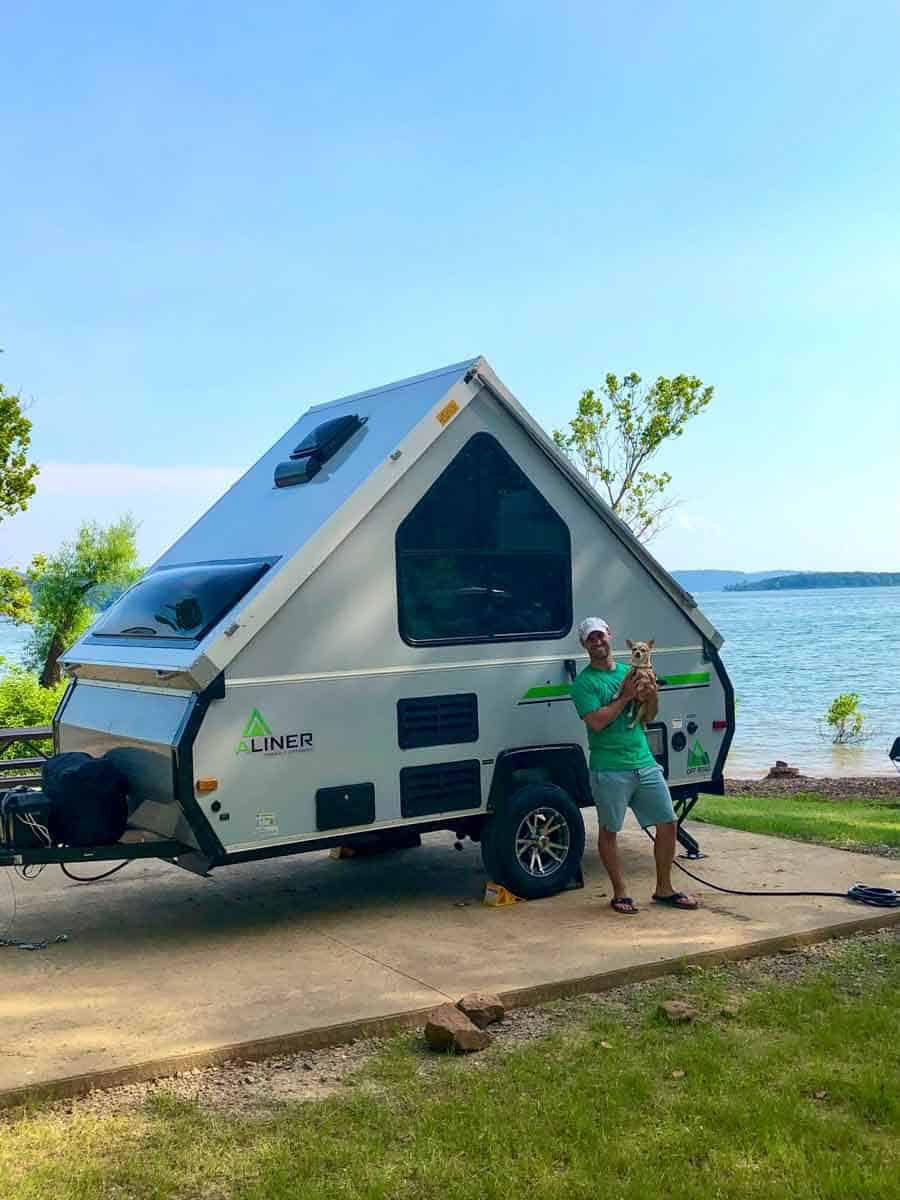 What is the Aliner Ranger 12 Weight?
The gross vehicle weight rating (GVWR) is 3,000 pounds.
The dry weight (not loaded with water, food, gear, etc.) of the Aliner Ranger 12 is about 1,450 pounds. This is very light.
To find out if your vehicle can tow an Aliner Ranger 12, check your vehicle operating manual for towing capacity.
Keep in mind, most V6 engines will be able to tow an Aliner Ranger 12 comfortably (and even some 4 cylinders).
Does the Aliner Ranger 12 Have Heat?
Yes, the Aliner Ranger 12 has a heat pump. The newer models have a furnace.
Does it Have Air Conditioning?
Yes, the Aliner Ranger 12 has air conditioning! The A/C unit is flat and does not stick out (2021+ newer models) on the side of the camper. Bring on summer camping!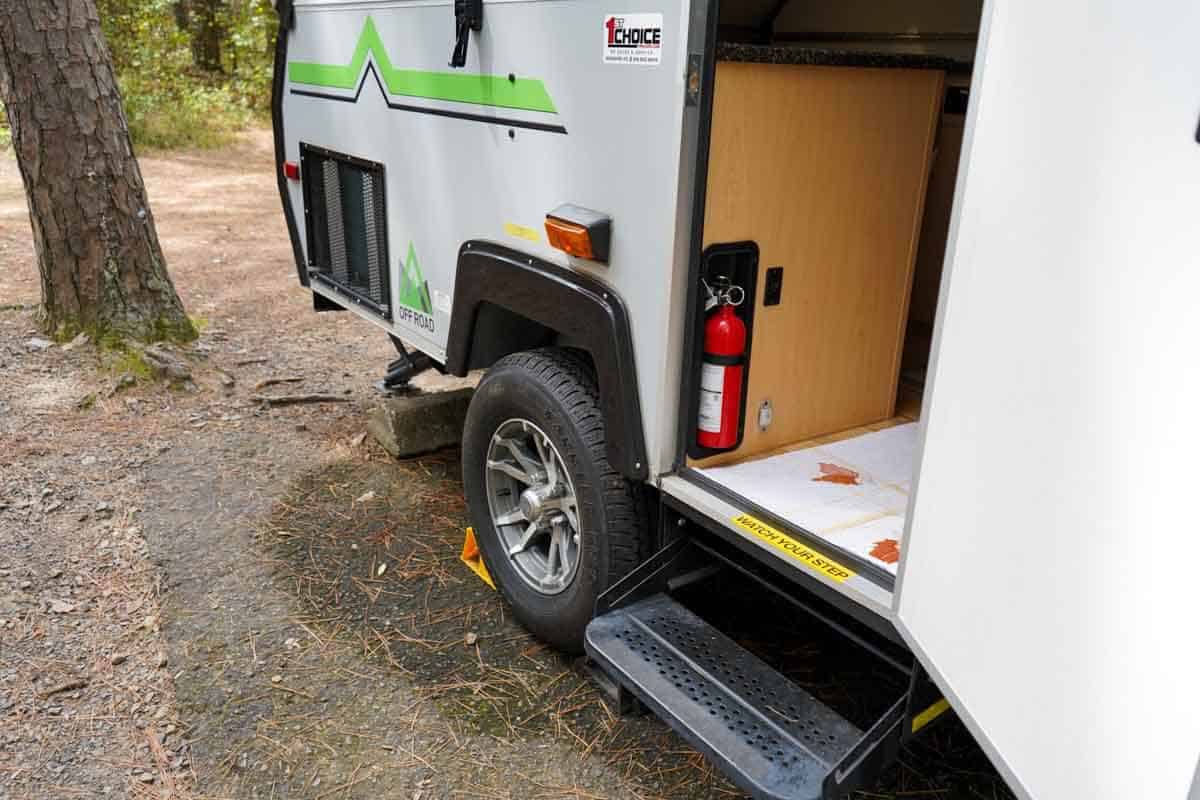 Is There a Stove?
Yes, the Aliner Ranger 12 comes with a 2-burner gas stove. In addition, the stovetop folds down when not in use to make room for more counter space. We love this!
By the way, while camping, if you haven't heard of Good-to Go dehydrated camp meals – you are missing out!
Is There a Bathroom?
No, there is no bathroom or toilet. We personally really like this option!
Cleaning a black tank is not fun. Smaller campers that come with this option will have small black waste storage containers, meaning there will be cleaning required often. We mostly camp at campgrounds with bathhouse facilities so we don't have to worry about managing a black waste tank.
If you're not camping at a campground with facilities, there are other dry camping options for the restroom. We use wag bags and a portable camping toilet (made in the USA).
If you are new to camping without a restroom, read more on how to dispose of waste properly from Leave No Trace.
Does it Have a Kitchen Sink?
Yes, the Aliner Ranger 12 has a small camper sink. The plumbing for the grey water is basic and consists of a straight pipe making it easy to maintain and collect grey water on the outside of the unit.
In addition, the Aliner comes equipped with a water pump. There is also an option for hot water.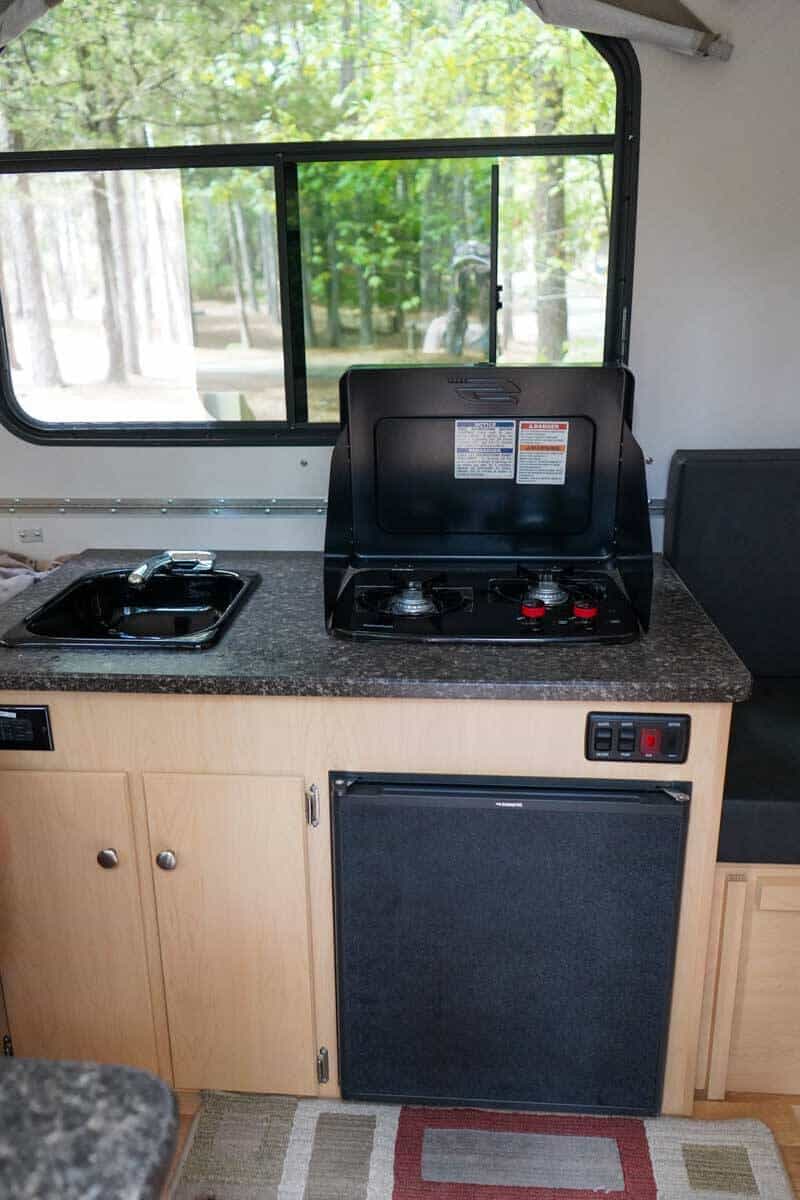 Does the Aliner Ranger 12 Have Hot Water?
Yes, there is a switch that will turn the hot water tank on. Though, you don't have to use it if you don't want to. We rarely do.
What are the Water Storage Options?
When it comes to the water storage, there are two (2) options.
If you're at a campground with water hookups, you can connect directly to the water source.
If you're dry camping without facilities, the Aliner Ranger 12 has an 11-gallon freshwater tank. There is a water pump to get the water from the tank to the kitchen sink. The 11-gallon tank lasts us about 2 full days (cooking and cleaning).
NEW! Hydro Flask press-in closable lid Coffee Mugs! Free Shipping on $30+
Is the Bed Comfortable?
We purchased the Serta 3" memory foam topper to make the bed comfortable. However, it would probably be a little on the stiff side without the foam topper.
We both fit in the bed together and can stretch out our legs.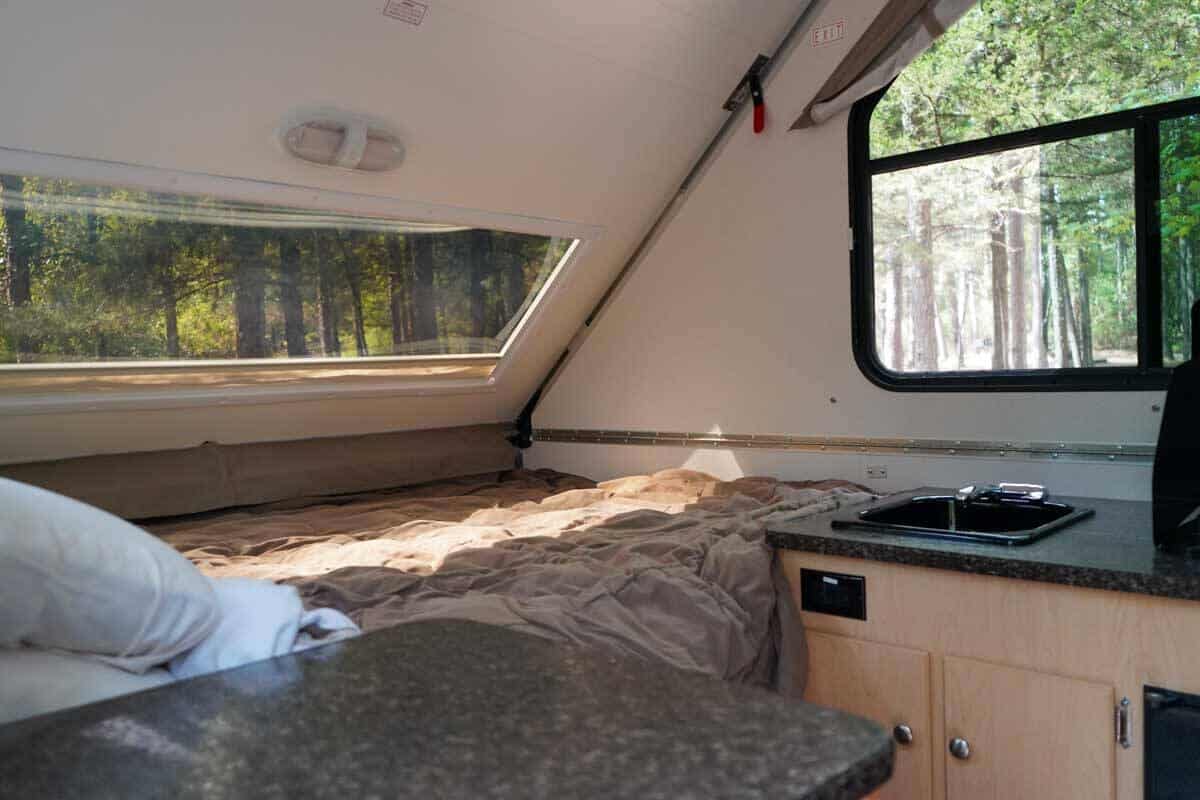 Is the Aliner Really Easy to Set Up?
Yes, it is easy to set up. We set it up together or can do it solo. It takes less than two (2) minutes to pop up – or honestly, more like a minute and a half.
How Does it Tow?
The all-aluminum construction (the frame is metal) makes it extremely lightweight and easy to tow.
Every time we go camping and Pablo talks campers with other people at the campground, they always ask how it tows, and Pablo says, "I can't even feel it behind the truck." Since Aliners fold down, there is much less wind resistance than towing a regular camper.
We recommend having a sway bar.
So far, in our experience, it tows very easily.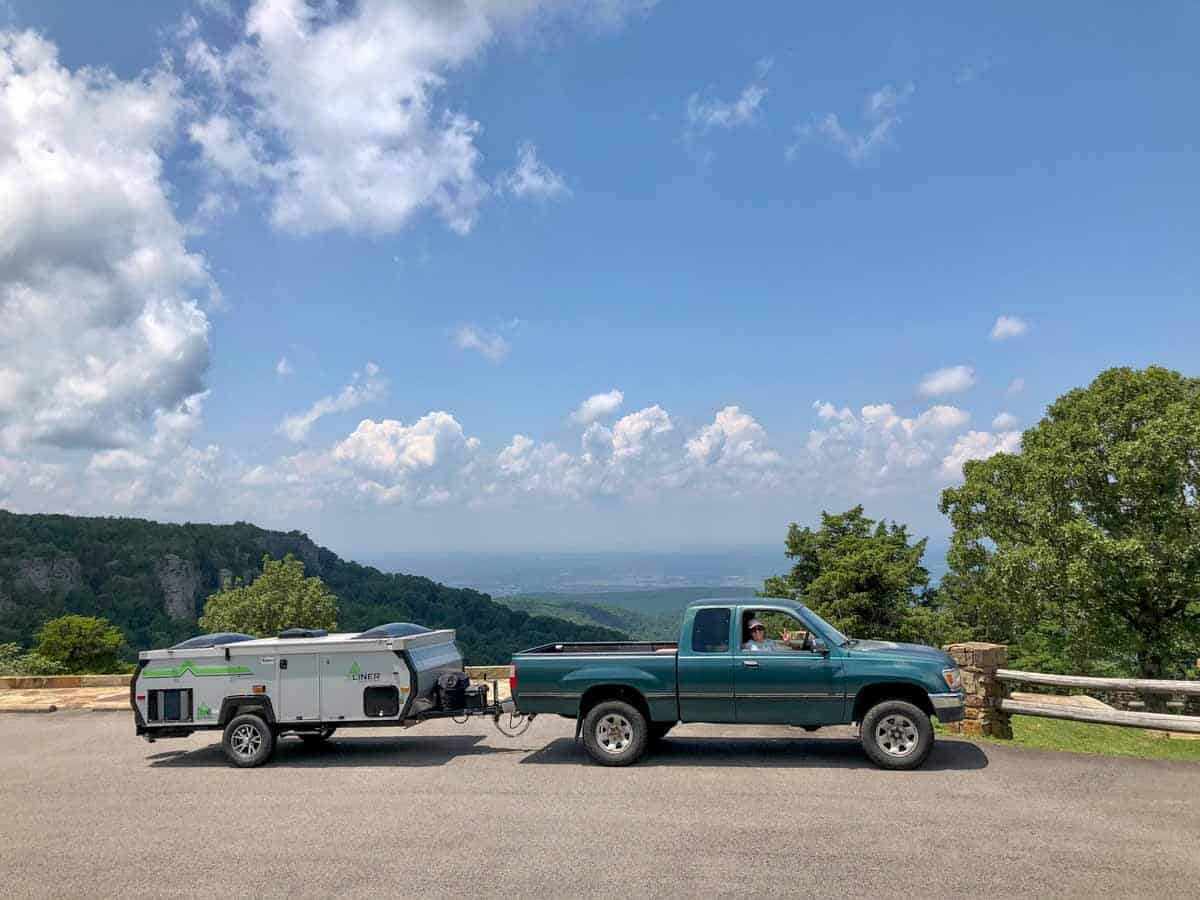 Is the Aliner Ranger 12 Durable?
We think it is durable. We have felt safe during thunderstorms in Oklahoma and windstorms along the Gulf of Mexico.
The camper comes with a safety wind kit. The wind kit consists of two (2) bars that allow you to raise the A-frame safely offering added stability during high winds. The bars also lock in place.
It also has two (2) diamond plates in the front and back of the unit to protect it while driving in case rocks kick up while driving the interstate and highways. The diamond plates look really cool too!
Oh, we also drove it through the mud one time because we accidentally took the wrong turn. It handled like a beast!
What Else do I Need to Buy?
Check out our article on the 21 Best Aliner accessories to buy on Amazon to help store, tow, and secure the camper.
How Do you Store the Aliner Ranger 12?
Since the camper folds down and compacts to a small size, you can store it in your driveway, garage, or off-site storage.
If storing outside of a building, be sure to secure it to discourage theft and cover it with a small pop up camper cover to protect the camper from the elements.
Aliner Ranger 12 Summary
We are getting older, and as the years have gone on, we knew it was finally time to upgrade from a tent to a small hard sided pop up camper.
Our journey into exploring the Aliner brand started over eight (8) years ago when we were living in Colorado. Though, at the time, we were hesitant to make the purchase. We like to live frugally and keep things simple, and waited for the right time to purchase a small camper.
It is true what they say, timing is everything. With more and more places closing to tent campers because of COVID, along with air travel restrictions and a dire need for us to road trip and explore closer to home, we decided to splurge and purchase the Aliner Ranger 12.
If you are curious about Aliner pop up campers and haven't purchased one yet, you might, after reading this review on the Aliner Ranger 12.
Happy Camping,
Ashlee & Pablo
---
You might also enjoy…
Are you interested in Aliner campers? Check out our honest camper review for the 21 Best Aliner Accessories to Buy on Amazon!
Where are you headed next?
You might enjoy our other article on camping and some of our favorite state parks in Oklahoma and Arkansas:
Save this article on Pinterest!
We'd love to hear from you!
Do you have an Aliner?
Tag #thehappinessfxn on Instagram! Community is important to us, and we'd love to see your Aliner camping adventures!