21 Best Aliner Accessories to Buy on Amazon
Last Updated: Dec 8, 2022
|
|
Comments Off

on 21 Best Aliner Accessories to Buy on Amazon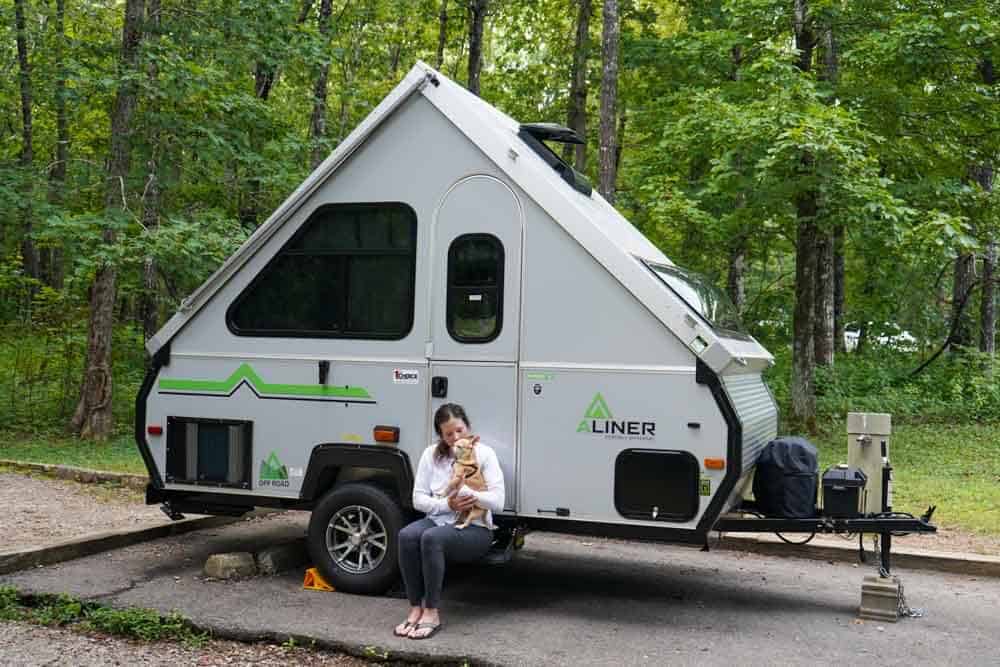 Do you have an Aliner camper, or did you recently purchase one? We are detailing the 21 best Aliner accessories to buy on Amazon! We are sharing exactly what we bought for our Aliner Ranger 12 to help you prepare for storing and towing your Aliner safely and securely, as well as some other odds and ends we ordered from Amazon to keep our small camper comfortable and clean.
Check out what we bought for ours, along with a few other tips.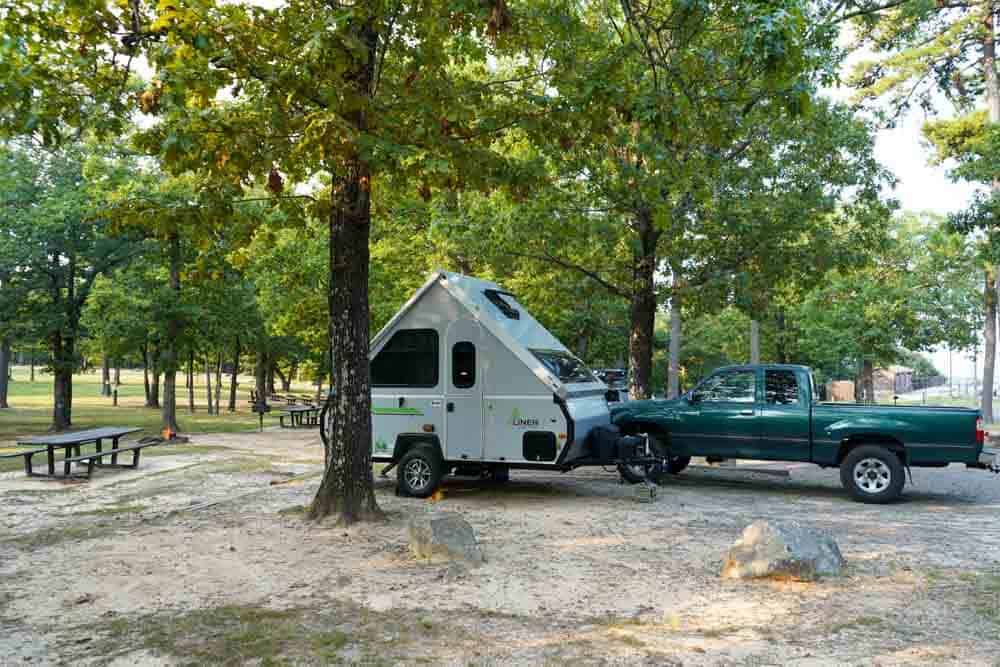 This post contains affiliate links, which means we'll receive a commission if you purchase through our links at no extra cost to you. Please read full disclosure for more information.
Best Aliner Camper Accessories to Buy on Amazon
Amazon is a great place to purchase items for RVs.
Below is exactly what we have for our Aliner Ranger 12 so you can rest assured we have done our leg work and tried all of these products out.
We only recommend items we actually use and like. You're in good hands – let's get to the details.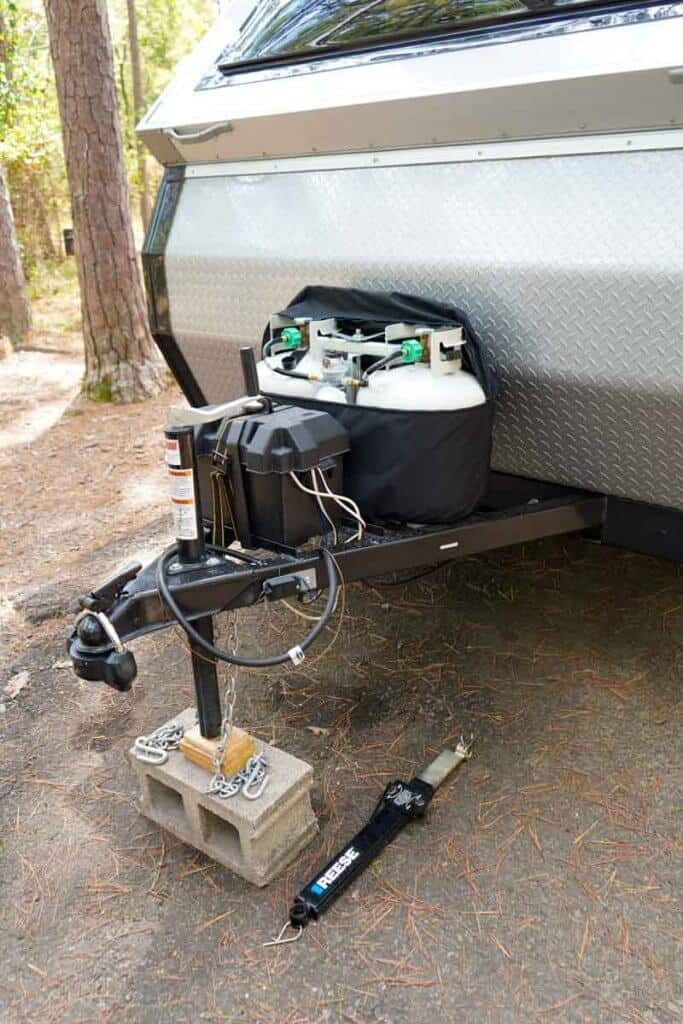 Accessories for Aliner Trailers and Small Trailers
Have you already purchased your Aliner? Perhaps you're in the market and looking at Aliners or small campers. We recently purchased an Aliner Ranger 12 and wanted to share everything else we bought to store, tow, be more comfortable, and clean our camper from Amazon.
There are a few items you'll want to consider buying once you have your Aliner or small camper. Because, as soon as you have it, you'll be ready for your maiden camping voyage!
---
Water System for Aliner Accessories
These accessories are easy to forget since, in the beginning, you're focusing on storing and transporting your new camper safely- so we put them first.
Water Pressure Regulator, Hose & Filter
The number one accessory the RV dealership recommended we purchase right away before our first camping trip was a water pressure regulator. The water pressure regulator helps reduce the pressure coming from the source water hook up. Having a regulator makes sure too much pressure doesn't enter the RV and damage the lines.
We elected to get the simple version (which cost the least amount of money at the time). So far, it has done a perfect job.
You'll also want to get a water hose and a filter.
---
1 1/16 inch Drive Socket
Second, the dealership said not to forget the drive socket. The 1-1/16″ drive socket is to tighten the anode rod of the hot water tank so it doesn't corrode the metal or leak.
You'll want this before loading up the water tank with water.
---
Storage, Security & Towing Aliner Accessories
To start off, before you bring your Aliner home or go on your first camping trip, you'll want to be able to store it as safely as possible and deter it from theft as much as possible. It is so important to have a security plan before you bring your new RV home.
Things to consider ahead of time are:
How to securely store your Aliner camper before you purchase it.
Where will you keep the small pop-up camper (in your driveway, backyard, offsite storage, etc.)?
Does the camper fit in the storage space before you store it there?
Do you have the products you need to discourage property theft when not in use or in attendance?
How will you store a pop-up camper outside?
Do you have the equipment needed to tow a travel trailer safely?
Continue reading to help you prepare before storing or hauling away your tiny new house on wheels.
Watch the complete tour of our Aliner Ranger 12 including how to pop it up, take it down, and hook it up for towing!
---
Security Chain
Tie the wheel to the axle for extra security with a security chain while storing your Aliner for extended periods of time.
Having a thick security chain to wrap around one of the tires is an excellent way to prevent moving the trailer. The VULCAN security chain boasts epic strength – it can only be cut using an acetylene torch, making it ideal as a trailer chain and lock.
---
RV Battery Lock – Bracket for 12 Volt Box
An RV battery lock fits snug around the Aliner camper battery box. It helps protect the battery while traveling and also while in storage. Secure the battery – keep this on at all times.
---
Master Lock
Get a heavy duty lock to secure the security chain to the wheel and axle.
---
Trailer Hitch Coupler Lock Diameter
The trailer hitch coupler locking pin locks and secures the tongue lever on the trailer in place.
Be sure to verify the pin dimensions (length and width) before purchasing the coupler hitch lock pin that best fits the trailer.
---
Dual Purpose Coupler Lock
The dual purpose coupler lock protects the trailer hookup when not in use.
The Trimax dual-purpose coupler lock is put on the trailer hitch when not hooked up to a vehicle. It is rugged and durable.
---
CURT Trailer Hitch Lock
The trailer hitch lock protects the ball mount that is attached to your vehicle.
---
CURT Trailer Anti-Sway Bar Control Kit
The sway bar prevents the camper from swaying laterally while in tow.
Never put cargo weight on the tail end of the trailer – always put it closer to the tongue or the wheels.
We actually have a Reese sway bar control kit installed from the dealership; however, Amazon does carry a CURT trailer anti-sway bar control kit which is an excellent option.
Be sure to check for the correct sizing for your rig.
---
Braker Controller
The brake controller controls the trailer breaks. You must be able to control the trailer brakes unless your vehicle is equipped with a complete tow package. Chances are, you will not have a separate brake controller to control your trailer brakes.
Any place that installs hitches can wire a break controller to the trailer brakes. This is so when you push the brakes in your truck, the trailer brake will engage as well.
---
CURT Hitch
Depending on how the vehicle your towing with sits, you might need a trailer hitch mount that is either raised or lowered.
Our Toyota has a 2" trailer hitch mount with a 2" drop like the one below because our truck sits higher. If you have a vehicle that sits lower than your trailer, you might need a trailer hitch mount with a rise (instead of a drop).
The trailer hitch mount you need will depend on your vehicle. If you're not sure, call around for places that install hitches and receivers.
---
Heavy Duty Wheel Chocks
It is very important to have sturdy wheel chocks at all times to keep the trailer from moving when not towing. Wheel chocks help keep the trailer in place. MaxxHaul makes heavy duty wheel chocks.
We recommend having four wheel chocks – two for each wheel.
---
Wheel Chock Lock
Add a wheel chock lock to a trailer wheel. The wheel chock lock helps to prevent the ability to tow or drive away the camper when unattended for longer periods of time.
---
Aliner Electrical Adapter
It is important to have an electrical adaptor for your camper because there are different types of plugs.
The 15/30 electrical adapter allows you to plug your Aliner to a regular house outlet to charge the fridge or run the fan when preparing for a trip.
If plugged into your house while loading up for a trip, we don't recommend running the A/C unit in the Aliner on the 15/30 plug.
For camping at campgrounds, the 30 amp is what you'll select for electricity. Most campgrounds let you select 30 or 50 amp so be sure to select 30 amp. If there was only an option for a 50 amp plugin, you would want to have a 50/30 amp adaptor.
---
Best Cover for Aliner Camper
If you are not able to store your camper inside of a garage or covered building, you may decide to invest in a cover to protect it from the elements.
Waterproof 3 Layer Storage Cover
The Aliner RV cover below is thick, waterproof, and offers sun protection. It is also large enough to cover the propane tanks, battery, and spare wheel. This small camper cover also has straps to tighten the cover to the unit to keep it from blowing off during storms.
---
Best Mattress Topper for the Aliner
The Serta 3" memory foam topper helps make the bed more comfortable. In our opinion, the Aliner bed cushions would probably be a little on the stiff side without the foam topper.
The Serta Therma Gel 3″ topper is breathable, adapts to the body, and provides a cool sleep surface. We sleep with the cones up – super comfortable.
When we are not camping, we roll the foam topper back up and store it in the house to make it last longer.
We don't store any linens in the camper when we are not using it. This keeps mold from growing since we live in a humid climate.
---
Aliner Accessories for Cleaning
Mini Broom & Dust Pan
It is nice to have a mini broom to clean the floors, especially after going in and out and adventuring all day.
---
Wash Bin – Storage Bin
Having an extra bin to wash items comes in handy sometimes! Use this extra wash bin to wash fruit and vegetables, dishes, or store items. The UST collapsible sink is a perfect choice because it is collapsible, making it easy to take on road trips.
Since we live where it rarely freezes, we can get away with dry camping further south if we want after winterizing the unit. It is good to have a wash bin around for this type of situation. We can camp in the winter still in southern Oklahoma, Arkansas, Texas, and along the Gulf – then drive home and not worry about any pipes freezing.
---
Chlorox Wipes
Clorox wipes can really save the day when it comes to cleaning up accidental messes or keeping the Aliner camper tidy. Clorox makes compostable wipes that are lemon-scented and all-purpose. Perfect for camping and road trips.
---
Portable Toilet – Best Aliner Accessories
Portable Camping Toilet
Dry camping is an awesome way to enjoy nature. If you're not staying at a campground with facilities, there are other options for getting your restroom needs satisfied, like having a portable camping toilet.
---
Portable Toilet Bags
GO Anywhere, the original Wag Bags, are made in the USA. These portable toilet refill kits are great for backcountry camping, hiking, and backpacking. The kits are eco-friendly and biodegradable.
We always carry a few of these with us, even if we know we are camping where there are restrooms. Better safe than sorry!
You can use wag bags without the plastic toilet pictures above. Wag Bags are great RV supplies or road trip essentials to have on hand.
If you are new to camping without a restroom, read more on how to dispose of waste properly from Leave No Trace.
---
Final Thoughts on Best Aliner Accessories
For items not mentioned above, we were able to cut costs by using things that we already had around the house. For example, instead of buying new dishes for our Aliner – we just used what was lying around the house, such as dishes, linens, and other cleaning supplies. We honestly just repurposed stuff around our house we were not using that much, so we didn't spend money we didn't need to spend or create unnecessary consumer waste.
There are a lot of things to consider when you're getting ready for your first trip. One thing that often gets overlooked are the RV accessories, and we have done all this work for you (and ourselves).
We hope this article helps you consider and plan how to store and use your Aliner safely, securely, and comfortably.
Happy Camping,
Ashlee & Pablo
---
Get More Aliner Information
Where are you Headed Next?
You might enjoy these popular articles about camping in Arkansas and Oklahoma:
Save on Pinterest for Later!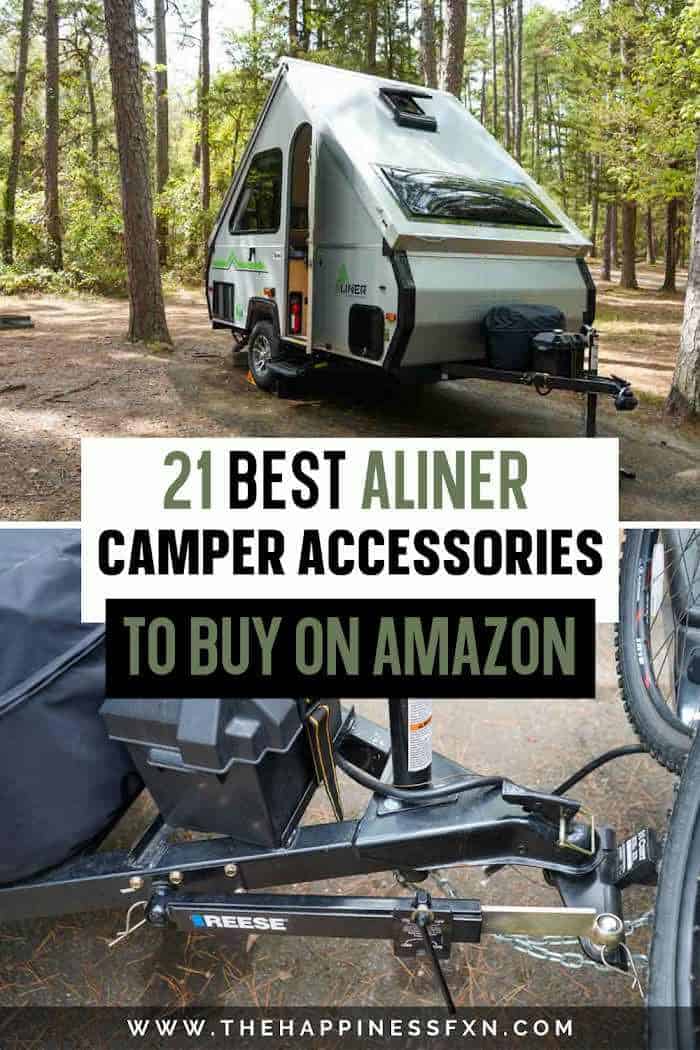 We'd Love to Hear From You!
Do you have an Aliner?
Tag #thehappinessfxn on Instagram! Community is important to us, and we'd love to see your Aliner camping adventures!