Camping Gifts: 25 Gift Ideas to Make Happy Campers
Posted on: December 2, 2022
|
|
Comments Off

on Camping Gifts: 25 Gift Ideas to Make Happy Campers
If you're looking for a perfect gift for the camping enthusiast, look no further! Here are 25 awesome camping gifts to make the next trip even more memorable. From cookware to powerful flashlights and clothing layers, there's something for everyone on this list.
25 Awesome Camping Gift Ideas for People Who Love to Camp
We are sharing some of our favorite items to help you find the perfect present for the camping lover in your life! With this guide, you're sure to give a gift that sparkles the eyes of your friend or loved one.
This post contains affiliate links, which means we'll receive a commission if you purchase through our links at no extra cost to you. Please read full disclosure for more information.
1. Yeti Rambler Mug (25$)
The insulated Yeti mug is the perfect gift! It can be used for hot and cold drinks as well as hot soups or cereal while out exploring. We never go camping without ours.
---
2. Give'r Gloves ($49)
Every camper needs sturdy, long lasting, and reliable gloves to set up camp, chop firewood, and stoke the fire and Give'r Gloves don't disappoint! These really are 'do it all' kind of gloves. Give'r has an option to customize each pair with your loved ones initials.
---
3. French Press ($25.95)
Making camp coffee is so much fun, and using a French press is a great way to start the day! It is so easy to use.
See how we use the French press camping.
---
4. SOG Tomahawk Hatchet ($58)
The SOG hatchet is convenient for chopping and splitting small pieces of wood for the campfire. You can also use it to lightly stoke the fire.
---
5. Rumpl Sherpa Puffy Blanket ($149)
You've likely seen the Rumpl hype on social media and you can't go wrong giving a Rumpl Puffy Blanket. Not only is the blanket great for camping, but you can also take it tailgating, picnicking, or leave it in the back of the car to catch a sunrise or sunset. The sherpa version is perfect for cooler weather and camping in the mountains.
---
6. FlipFuel ($35) Take 20% Off with Code HAPPINESSFXN
If you are looking for one of the most genius new camping gifts on the market, check out FlipFuel. It is a fuel transfer device to help campers and backpackers consolidate fuel canisters, so you don't have to pack a bunch of half used gas tanks.
Watch the FlipFuel gear review on Instagram!
Don't forget to use HAPPINESSFXN when checking out to get hooked up with 20% off.
---
7. Nomadix Original Towel ($39.95)
The Nomadix Towel is an excellent gift idea! Take it camping, on road trips, to the beach, or soaking at a hot springs. It dries fast and doesn't hold odors. It is a great all-around item for the person on the go. Colors vary seasonally.
---
8. Patagonia Black Hole Cube 10L Bag ($55)
Patagonia makes fantastic toilet tree bags for camping trips. The black hole cubes come in multiple sizes: 3L, 6L and 10L. I have a 10L and it is perfect for all of my bathroom items when I hit the campground bathhouse.
---
9. Patagonia Duffel Bag ($159)
For a weekend camping trip or road trip, the Patagonia Black Hole Duffel really is the perfect bag. It is waterproof and great for protecting personal belongings from the weather. The 40L is just the right size!
---
10. NEBO Torchy Flashlight ($39.99)
This tiny flashlight packs a bright punch! It is one of the items we never go camping without and is such a neat camping gift idea (or stocking stuffer). It has a portable charger, so you can say goodbye to changing batteries.
---
11. City Bonfire Portable Fire Pit ($24.95+) Take 15% Off with Code THEHAPPINESSFXN
Fire ban? No problem. Windy outside? No problem. Gift a miniature portable fire pit! Add s'more supplies to create a DIY s'more kit. These are awesome camping gifts that will bring a smile to anyone's face.
Use code THEHAPPINESSFXN at check out to get hooked up with 15% off!
---
12. Grayl Water Filter and Purifier ($99.95)
The Grayl water filter and purifier is great for anyone on the go. Not only is it excellent for camping, you can take it hiking or on international trips. The Grayl filters out viruses, protozoa, particulates, and more.
---
13. BioLite AlpenGlow 250 Lantern ($59.95)
The BioLite camping lantern is the perfect gift to light up a campsite, tent, van, or RV after dark. It has a USB-A chargeable port, so you don't have to worry about batteries. Use it to cook dinner or wander around camp.
---
14. Good To-Go Weekender Pack ($23.50)
Made in Main, Good To-Go dehydrated camping meals are the best on the market. With gluten-free, vegan, and meaty options, there is something tasty to meet everyone's pallet. These meals are perfect for camping, backpacking, and road trips. All you have to do is add water. Gift a single meal or buy a meal pack. Everything is so delicious! Try the Thai Curry.
---
15. Helinox Camp Chair ($129.95)
The Helinox Camp Chair is collapsible and lightweight, making it a great item to have while camping. Take it car camping, backpacking, or store it in your RV for weekend camping trips. You can even take it to the beach!
---
16. Petzl Tikkina Head Lamp ($24.95)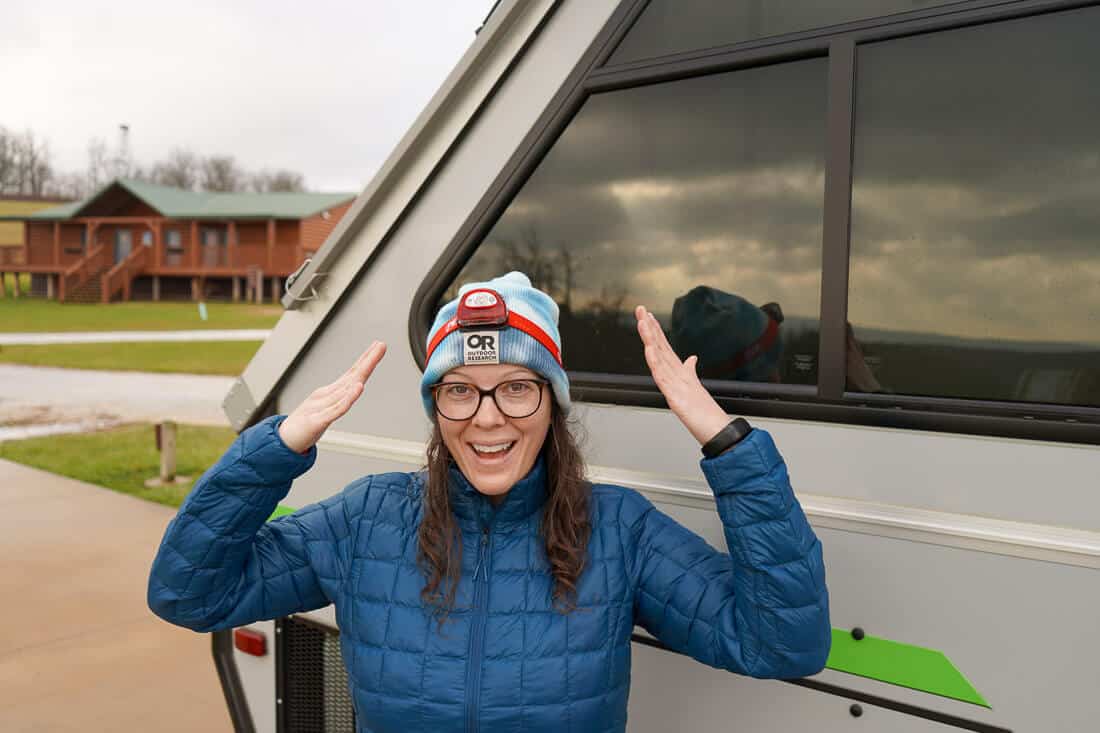 Being hands-free while camping is such a luxury. One can never have enough headlamps for outdoor adventures. The Tikkina is our go-to.
---
17. Teva ReEmber Slip-Ons ($79.95)
The Teva ReEmber shoes are fantastic for hanging out at the campsite, in the RV, van, or motorhome. They are also pretty cozy on road trips.
I've had mine a good year and LOVE THEM. They are so comfortable. I also wear mine when heading to yoga and Pilates!
---
18. Coleman Camp Stove ($71.75)
The Coleman Camp Stove is a classic camping staple. There is nothing better than cooking outside in good weather on a Coleman. They are durable, easy to store and travel well.
---
19. Patagonia Snap-T Synchilla ($129)
The Synchilla is an excellent camping layer. The lightweight fleece keeps campers warm and dry. We never leave home without a fleece layer while camping or hiking. Colors and patterns vary each season.
---
20. Leatherman Multitool ($79.95)
A good multitool is important to have and comes in handy at a moments notice. Leave it in the car and know it is always there for camping and road trips.
---
21. MSR Pocket Rocket ($49.95)
The MSR Pocket Rocket is another classic camping staple. Take it backpacking or on a long day hike to heat a delicious, dehydrated camp meal or make a warm beverage.
---
22. Aerobie Pro Frisbee ($10.99)
The Aerobie Pro is such a fun frisbee! It doesn't hurt your hand to catch and glides so smoothly through the air. Even our dog loves playing catch with us when we throw the Aerobie. This is a great gift idea and it is seriously the ultimate frisbee.
---
23. Hydroflask Water Bottle ($44.95)
You can't go wrong with gifting a Hydroflask insulated water bottle. They come in all shapes and sizes and make fantastic camping gifts. It is an excellent water bottle to use every day.
---
24. The Deuce ($24.95)
Never leave home without The Duce! Practicing Leave No Trace is important, and being prepared when duty calls is essential. For the hiker, camper, and backpacker in your life, they will love having The Duce.
---
25. Yeti Tundra Cooler ($275)
Yeti makes the best coolers! There are so many different ones to choose from, and any camper will love getting a Yeti as a gift. The Tundra is perfect for weekend camping trips. It is also bear resistant. Colors do vary seasonally.
---
Final Thoughts
For the person who lives for camping and being outdoors, these gifts for campers are sure to make someone smile. From simple and practical items like cookware and hatchets to more fun items like portable campfires and powerful flashlights, there's something for everyone on this list. So, next time you are looking for the perfect gift for the outdoorsy person in your life, look no further than this list of 25 awesome camping gifts. It might even give you inspiration for your own wish list!
Read More Gear Guides
Pin on Pinterest!