Fort Pickens Campground Review: Amazing Island Camping on the Gulf
Posted on: October 24, 2021
|
|
If you are interested in camping at Gulf Islands National Seashore at the Fort Pickens Campground, this article is just for you! Tucked behind the sand dunes of Pensacola Bay on one side and the Gulf of Mexico on the other, Fort Pickens Campground makes for a delightful island escape on a visit to Florida. This article shares everything you need to know to camp within steps of the emerald coast!
Continue reading for an honest Fort Pickens Campground review!
This post contains affiliate links, which means we'll receive a commission if you purchase through our links at no extra cost to you. Please read full disclosure for more information. Thanks for your support!
Gulf Islands National Seashore Camping
Gulf Islands National Seashore is a National Park Service site located near Pensacola, Florida, along the white sand beaches of Santa Rosa Island.
The Park protects roughly 26 miles of shoreline along the Gulf of Mexico and almost 28 miles of shoreline along the bay.
Within this national seashore, Fort Pickens Campground is renowned for its beautiful and well-managed campsites and amenities catering to recreational activities such as camping, fishing, swimming, and hiking. It is within driving and walking distance of Fort Pickens historic fort.
If you have an RV, small camper, or hard-sided pop-up camper (like us), Gulf Islands National Seashore is a fantastic place to camp in Florida.
Gulf Islands National Seashore Fort Pickens Campground Details
Gulf Islands National Seashore Fort Pickens Campground is tent, van, motorhome, camper, and RV-friendly.
Fort Pickens Campground Reservation
Be sure to make a reservation for the campground before you show up! The Park Service is really good at managing reservations (in our experience).
First, reserve a campsite at recreation.gov or call 1-877-444-6777.
Once you show up at the park, check in at the Visitor Center (little wood house). A Park Service employee will check you in. Then you can head to your reserved campsite!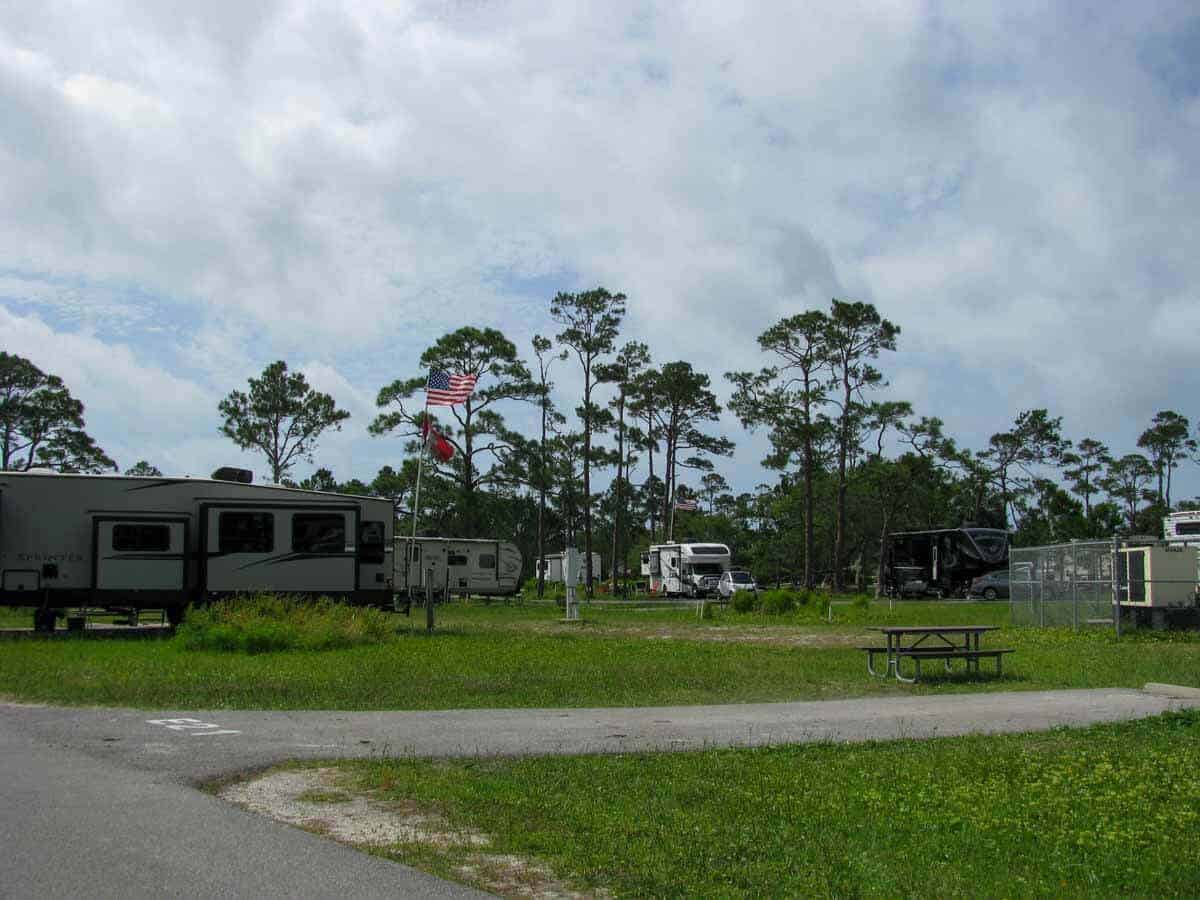 Fort Pickens Campground Review
Note: All opinions are our own; this is not a sponsored article.
What We Loved about Fort Pickens Campground
Camping at Fort Pickens was great! We would definitely go back (and have since this article was first published)!
The hiking trails are beautiful, it is quiet, and the crowds aren't bad.
Here you are within walking distance of the most incredible beaches.
We visited in May during the middle of the week.
Fort Pickens historic fort, was fun to explore.
We also had a blast watching the Blue Angels practice! This was a major highlight of our trip!
Things to Consider While Visiting Fort Pickens Campground
Be sure to consider the weather.
When we visited, it was really windy, and the Gulf had red flag warnings, so we didn't get in the water. Be flexible and agile with your stay.
Be sure to plan ahead in case of road closures. The Park's Weather Hotline is (850) 934-2656.
Also, consider hurricane season when planning holidays or road trips along the Gulf of Mexico.
We always purchase traveler insurance!
We like using Travel Insurance Master because you can select specific coverage.
Other Questions You May Have While Planning
How far is the beach from Fort Pickens Campground?
Pensacola Bay is literally steps away on the other side of the sand dunes near Camp Areas B, C, D, and E.
Campers can also hike along the boardwalk to the Gulf side of the island within a short walk (depending on where your campsite is).
Visitors can also ride a bike, drive, or walk to the beach to swim and hang out at Langdon Beach on the island's southern side facing the Gulf of Mexico.
It is kind of a far walk if you're taking beach gear to Langdon Beach – I wouldn't walk there from the campground. Langdon Beach is about 1.3 miles (one-way) from the Fort Pickens camping area. This is roughly a 5-minute drive.
But you don't have to go to Langdon Beach! The entire island is a beach, and there are multiple designated places to access the coastline.
Visitors must stay on designated trails and shouldn't cut across the dunes. This is to protect nesting shorebirds.
Can you see the ocean from Fort Pickens Campground?
There are no direct ocean views from the campground (at least when we stayed at Camp Area E and drove around). The sand dunes block the view.
However, you can see Pensacola Bay easily if you hike the trails from the campground.
Visitors can also clearly see the Gulf of Mexico hiking the trails and driving along Fort Pickens Road. The views are seriously incredible!
Are the campsites shaded?
Only a few campsites are shaded. Most are not.
Are campsites close together?
Yes, actually.
The campsites are pretty close together.
There mainly were RVs, motorhomes, and pop-up campers in Camp Areas B, C, D, and E.
Is there a tent-only camp area?
Yes, there is a tent-only camping area at Fort Pickens.
Does Fort Pickens Campground have showers?
Yes, the campground has hot showers, flushing toilets, and running water.
The bathrooms are very basic and get the job done!
Be sure to look for the little green tree frogs outside of the bathrooms!
Are pets allowed at Fort Pickens Campground?
Yes, pets are allowed at Fort Pickens Campground. However, they are required to be on a leash.
Dogs are allowed on all the trails (but not the beaches). So, bring your fur baby!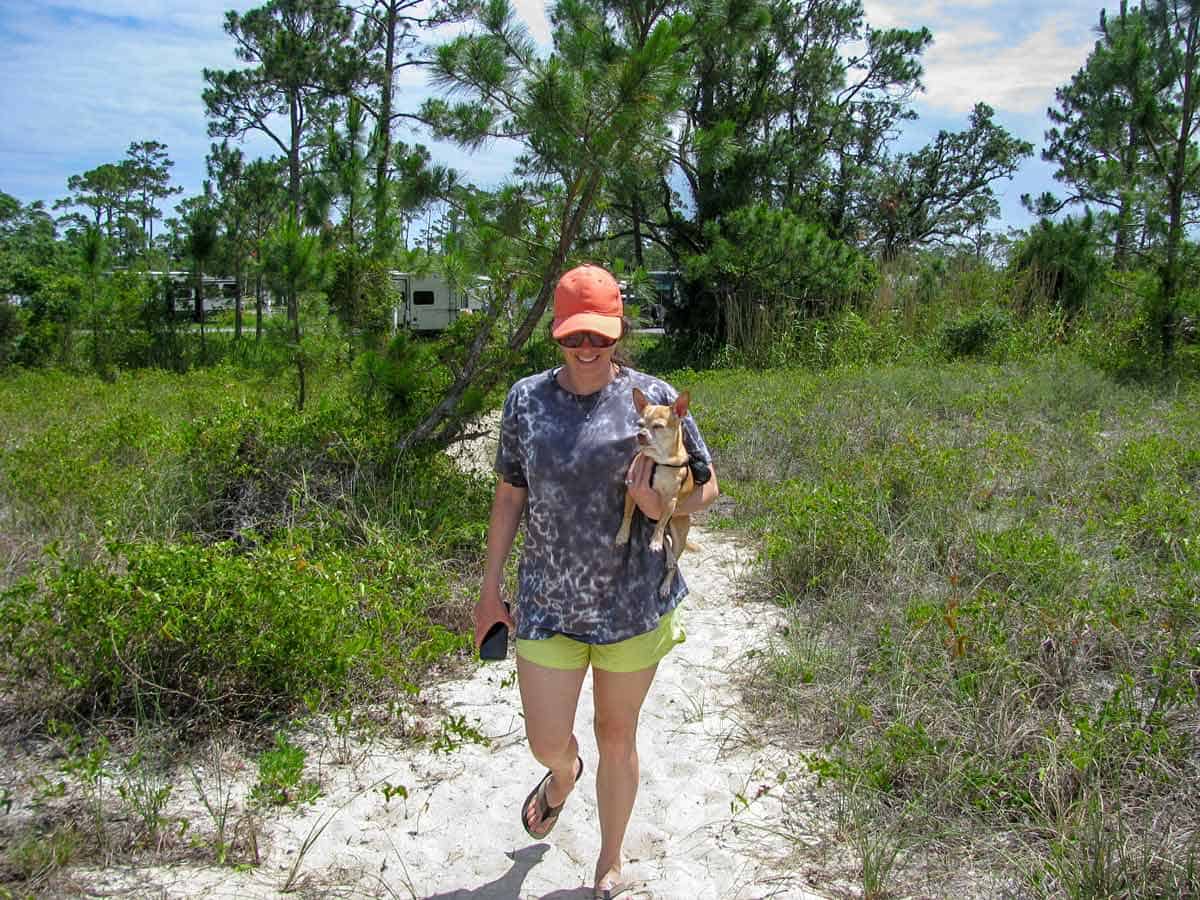 Is there cell phone reception?
Yes, we could easily call, send texts, and check email. However, streaming was a little slow for working online.
Is there an entrance fee for Fort Pickens?
Yes, there is an entrance fee to enter the park.
The campground reservation does not cover the entrance fee to explore the island and see the inside of the fort.
Buy the Annual National Parks America the Beautiful Pass before your trip!
Is Fort Pickens Campground open?
Due to the nature of Gulf Coast storms and how low-lying the barrier islands are, always check with the Fort Pickens Area National Park Service before planning a trip to be sure the campground is open.
When we visited in May 2021, the road actually flooded, and the island was closed temporarily.
Make sure you have enough food and water when camping here in case the road closes for a day or two.
We like to keep a few dehydrated camp meals on hand for quick meals or if we end up staying places longer than intended. Our favorite brand is Good-to-Go. The Smoked 3 Bean Chili and Pad Thai are really good.
What else is there to do while camping at Fort Pickens?
If you are looking for fun activities to do while visiting Fort Pickens Campground, you'll love these popular articles on fun things to do while visiting Fort Pickens and the Pensacola area.
Where can I camp if there are no spots available here?
If you have trouble finding a campsite, consider checking out Big Lagoon State Park near Perdido Key. It is about 30 minutes west of Pensacola.
From Big Lagoon State Park, you are about a 10-minute drive from the Gulf Islands National Seashore Perdido Key area or an hour drive from Fort Pickens.
Are there other places to camp at Gulf Islands?
Yes, check out more camping at the Davis Bayou Campground in Mississippi. Davis Bayou is located roughly two hours west of Pensacola.
Boat-in camping is also allowed on the islands.
Final Thoughts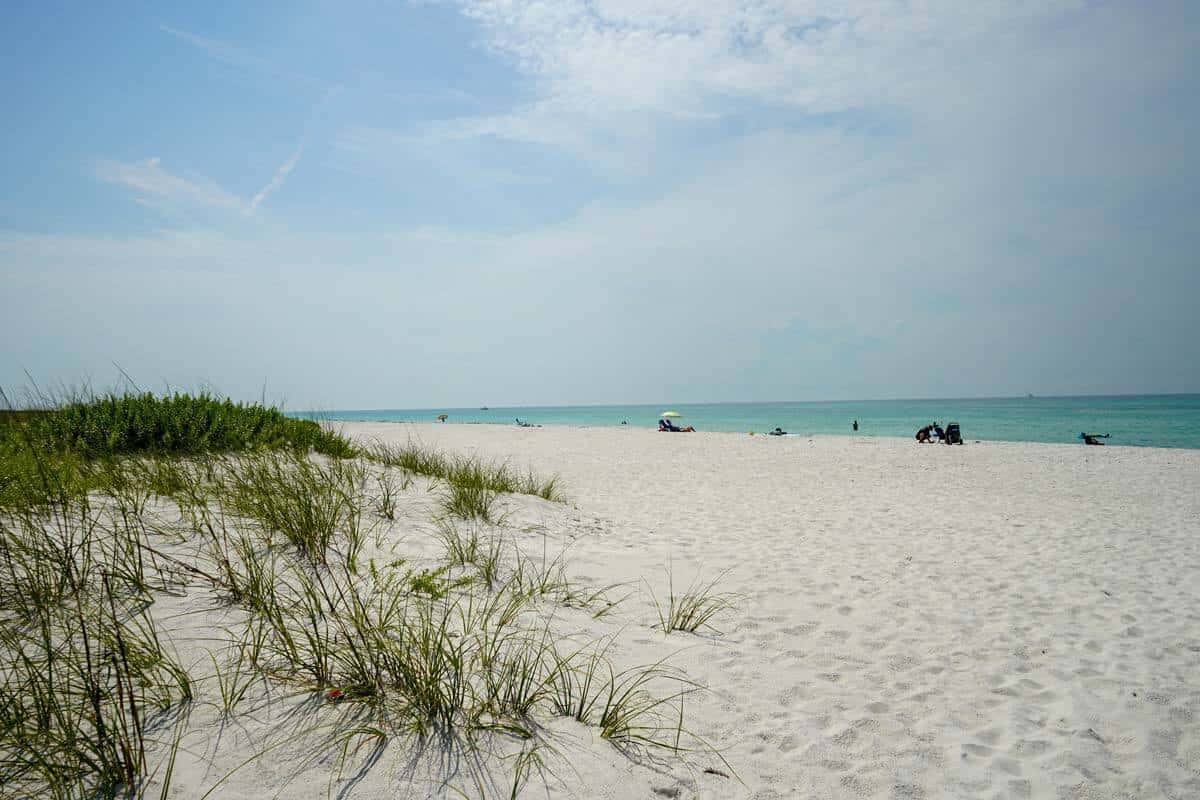 The Fort Pickens camping area offers affordable camping facilities close to white sandy beaches for active people who enjoy many outdoor activities such as camping, hiking, and water sports.
Don't forget to book in advance since camping along the Gulf Coast is prime real estate.
It is a beautiful place to enjoy Florida and the Pensacola area along the world-famous emerald coast and home of the Blue Angels.
We hope this article helps you plan your next camping trip to Florida!
Thanks for reading.
Ashlee & Pablo
---
Shop Outdoor Gear
Check out our favorite picks for island adventures.
Nomadix Beach Towels dry fast – Buy on Amazon
Hydro Flask Water Bottles – Buy from Hydro Flask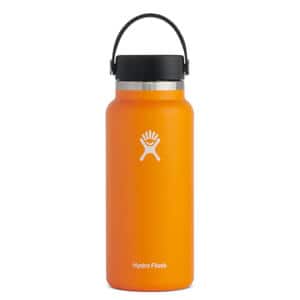 Patagonia Sun Shirts – Buy from Patagonia
Helinox Camp Chairs – Buy on Amazon
---
You might also enjoy…
Are you searching for outdoor things to do along the Gulf of Mexico? We've got you covered!
Check out our other articles on the Gulf of Mexico and camping.
Florida Gulf Coast
Alabama Gulf Coast
Camping
Save this article on Pinterest!
We'd love to hear from you!
We'd love to answer any questions you have about camping in our Aliner, road tripping along the Gulf of Mexico, and visiting Fort Pickens Campground.
Feel free to leave us a message!