9 Reasons to Vacation at St. Andrews State Park & Shell Island
Posted on: August 5, 2022
|
|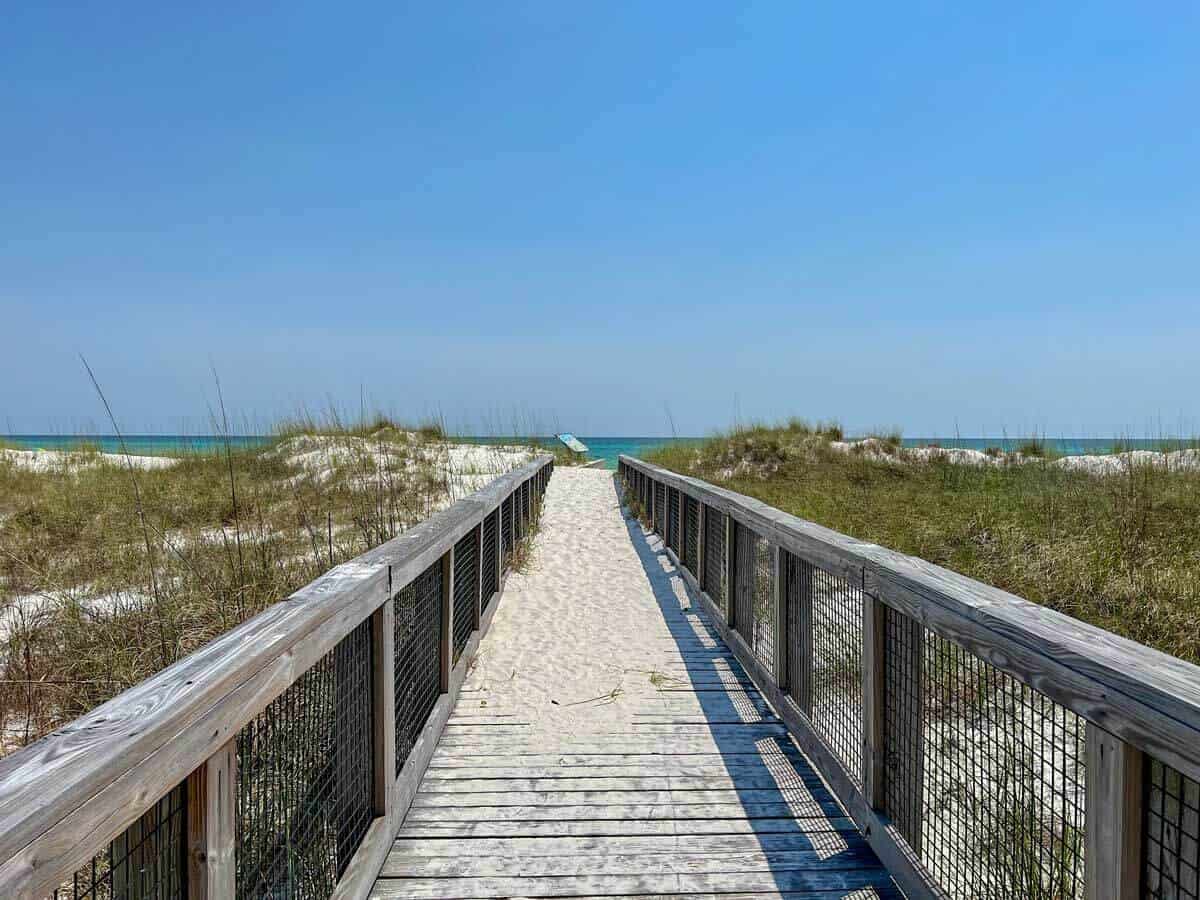 If you're looking for a great way to escape the hustle and bustle of everyday life, look no further than St. Andrews State Park in Panama City, Florida. This beautiful coastal park is the area's crown jewel, offering something for everyone, from nature lovers to beachgoers. But, with so much to see and do, it can be tough to know where to start. That's why we've put together the ultimate guide to St. Andrews State Park! So, keep reading for all the info you need on this amazing Florida State Park along the Gulf of Mexico.
This post contains affiliate links, which means we'll receive a commission if you purchase through our links at no extra cost to you. Please read full disclosure for more information. Thanks for your support!
Where is St. Andrews State Park?
St. Andrews State Park is located near Panama City, Florida, in the panhandle. The park is roughly 30 minutes from Panama City and sits between Saint Andrew Bay and the Gulf of Mexico. The central part of the park can be easily accessed with your own vehicle. Shell Island is another favorite part of the park; it can only be accessed by boat.
Things to Do
If you're looking for a fun, outdoor-filled day, St. Andrews State Park is the place for you! With tons of activities to choose from, you are sure to have a great time. Here are some of our favorite things to do at the park.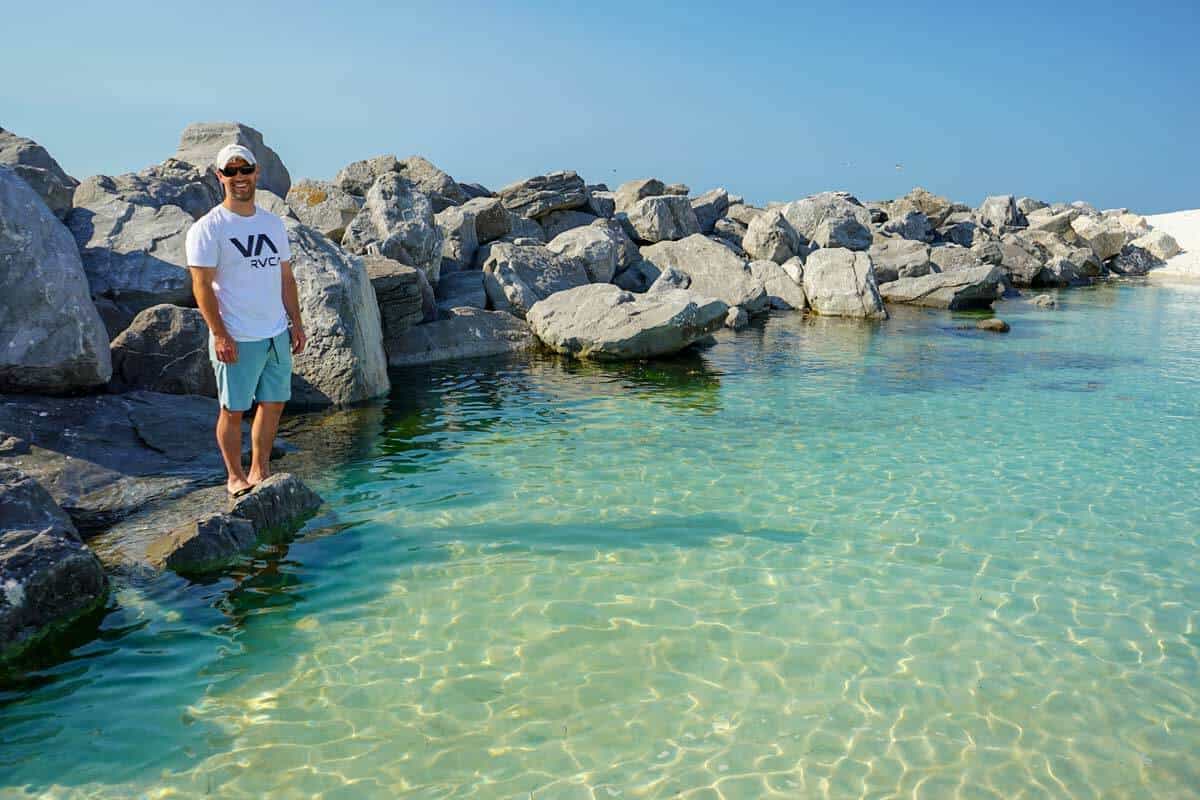 1. Hiking
Are you looking for a neat hike that's not too challenging? If so, St. Andrews State Park is the perfect place to go. With a few trails to choose from, there's something for everyone. And if you're lucky, you might even see some wildlife along the way. So, grab your sunscreen and water bottle and get ready for an adventure.
Be sure to hike the short Gator Lake Trail along the lake, where you might be able to see the resident alligator! Unfortunately, we didn't see it, but the trail was beautiful.
You can also hike the short Heron Pond Trail to see magnificent Hurons in the marshland.
There are also sandy fishing trails out to Sandy Point.
2. Biking
There are no official biking trails in the park; however, you can bike the paved road along the park (that is what we did).
3. Wildlife Photography
The cool thing about St. Andrews State Park is that its diverse ecology is home to many types of wildlife. There are five different ecosystems to explore.
Inside the park are marshlands where visitors can see intercoastal birds, shorebirds, and alligators. Along the coast, you may be able to catch a view of a manatee or sea turtles from the St. Andrews fishing pier. Near the jetty, you can see small aquatic life, such as fishes, sea slugs, and crustaceans. At Shell Island, you might be able to see dolphins.
The area is rich with wildlife, and you will enjoy photographing and watching the local wildlife.
4. Water Sport Activities
At State Andrews State Park, you can rent kayaks or paddle boards to paddle in the jetty area or along the coast. The rental location is closer to the jetty at the Jetty Store.If you are new to kayaking, you can read more about ocean kayaking here.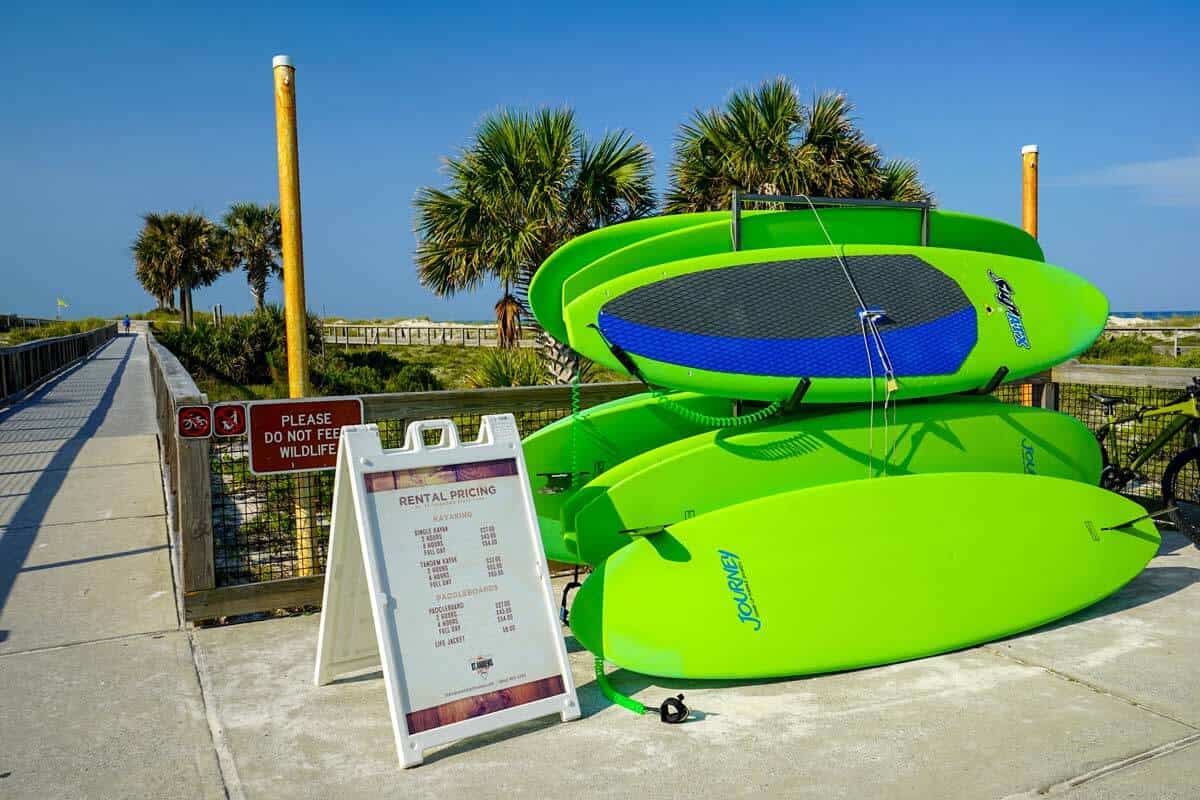 5. Swimming
The park is surrounded by white sands, turquoise water, and beautiful beaches. It is right next to Panama City Beach. There are multiple areas to enjoy the beaches. You can explore the main beaches along the Gulf, or you can visit a calmer area of the park near the jetty.
The artificial jetty is a neat place to snorkel, swim, and paddle.
You can also purchase tickets to ride the ferry to Shell Island and spend the day swimming from this famous barrier island's unspoiled and wild beaches.
6. Fishing
If you love fishing, the fishing pier is a great place to fish!
When we visited, we met a fisherman who had spent a few days fishing from the pier, and he saw a manatee, sting ray, and shark right from the pier.
There are also sandy trails leading along the coast to Sandy Point, where we saw more folks fishing.
7. Visiting Shell Island
If you're looking for a beautiful place to enjoy nature and the outdoors, Shell Island at St. Andrews State Park is worth checking out. With its white-sand beaches and crystal-clear waters, it's easy to see why this spot is a favorite among visitors and locals.
We had heard about this beautiful island before visiting, and we are so glad we took the Shell Island Ferry to explore the island for half a day. We recommend doing the same.
The locals say the best time to go shelling here is after a big storm. But you can go just to enjoy the beaches and swim. We went for half a day, and it was the perfect amount of time.
Shell Island is seriously jaw-dropping. You have to see it for yourself.
How to Get to Shell Island, Florida
Visitors can access the 7-mile island by catching the Shell Island shuttle, which takes you to the ferry. Taking the ferry to the island takes about 15-20 minutes. The ferry drops visitors off at the dock, where you'll walk the boardwalks to the beaches on the Gulf side. The ferry runs at specific times, so visit the schedule to plan your day.
Shell Island Shuttle Prices
Tickets for the shuttle can be purchased online or in person at the park. For the most updated shuttle prices, look here.
We visited in mid-May and purchased tickets the day of. In peak season, late May through August, you'll probably want to reserve tickets ahead of time.
8. Snorkeling Shell Island Panama City Area
Shell Island is the perfect place to snorkel if you're visiting the Panama City area. We brought our snorkeling equipment from home.
Ready to see more Shell Island magic? Watch the Ultimate Guide to Shell Island on YouTube!
What to Bring to Shell Island
There are no facilities on the island, meaning there are no restrooms, no places to eat, and no shade! Consider this when planning your island adventure.
Along with your swimwear, below is what we recommend bringing for your Shell Island adventure (and what we brought).
Beach umbrella – Pack a beach umbrella with a sand anchor. Though it might seem clunky to haul around, protecting yourself from the sun extends the day at the beach. We have one like this with UV protection. It makes a huge difference.
Beach chairs – Bringing beach chairs is so nice! We have these – they have straps so you can carry them easily like a backpack. Plus, you can lay back if you want.
Water and snacks – We bring water in insulated bottles to keep our water cold. We also pack easy snacks like granola bars and trail mix.
Towels – Don't forget beach towels! Have you heard of Nomadix? We like that they have anti-stink fabric and dry quickly. We also use these for camping.
Sunscreen – Pack reef-friendly sunscreen. We like to use SunBum products.
Sun shirt – Although it's super fun to wear a bathing suit and rock my favorite swimwear, we have learned to wear sun shirts to extend our days at the beach. It makes a big difference. REI has an excellent selection. Check it out.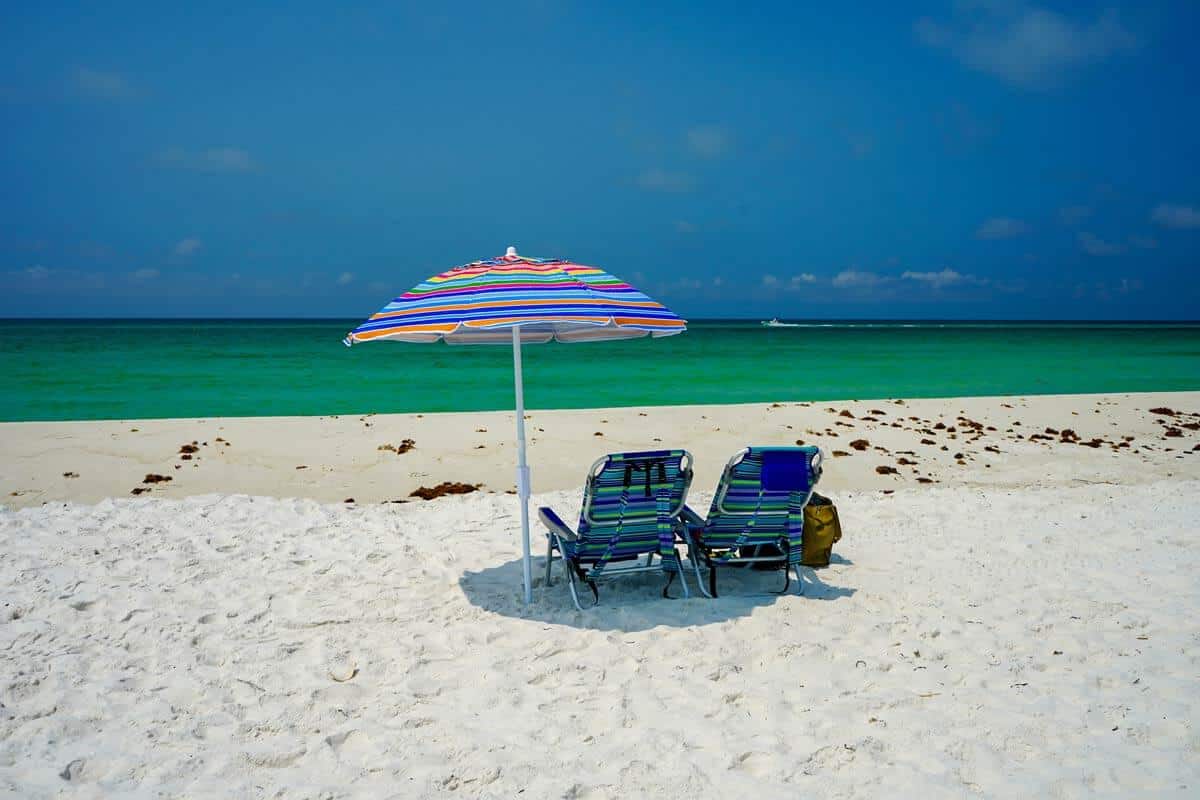 9. Camping at St. Andrews State Park
St. Andrews State Park has a great campground, and it is practically brand new (since it was wiped out in a recent hurricane). There are sites right on the bay with full hookups. The bathhouses are clean and have air conditioning! You can tell everyone working at the campground cares for the park.
You'll want to make reservations since this is a popular place to camp and book months in advance. We loved camping here.
Campground Details
Reservations are required, and you can make them online.
RVs, vans, campers, trailers, and tent-camping are welcome
Pets are allowed at the campground (but not on the beaches)
There are two bathhouses (with AC)
Grills and picnic tables at each site
Full hookups at each site
Some campsites have shade, but most do not
Want to see more of the campground? Check out our St. Andrews State Park Campground review on YouTube!
Best Time to Visit
Visiting in April and May is a great time to visit. The weather is not too hot, and there are fewer crowds. We love visiting the Florida panhandle in early to mid-May. We typically experience nice weather this time of year.
Summer is the best time to get in the warm water, but it is the busy season. Spring break is also a popular time to visit.
Fall and winter are quieter and more relaxed, but there are fewer crowds.
Keep in mind that hurricane season in the Gulf is from June through November. We always purchase travel insurance to protect our road trips when we pre-book months in advance. We've been using Travel Insurance Master.
The park is open year-round.
Final Thoughts
If you're looking for a fun and beautiful place to spend a day or weekend, St. Andrews State Park in Panama City is the place. The park offers something for everyone with its crystal-clear water, sugar-white sand beaches, and lush vegetation.
Visiting the park is an affordable way to spend a vacation. There are plenty of things to do, including swimming, fishing, boating, kayaking, camping, and hiking nature trails. It's also a great place to relax and enjoy the beautiful Florida scenery. You'll be in paradise without leaving the U.S.
You might enjoy seeing more things to do at St. Andrews State Park on YouTube!
Pablo and I wanted to note that a few areas of the park are still undergoing construction from one of the more recent hurricanes, so if you see closed areas, that is why. We visited in May 2022, and none of the construction impacted our visit.
We hope this guide helps you make the most of your next beach vacation to Panama City, Florida. You'll seriously be in awe when you see the color of the water!
Thanks for reading.
Ashlee & Pablo
---
Get More Emerald Coast Travel Inspiration
Save on Pinterest for later!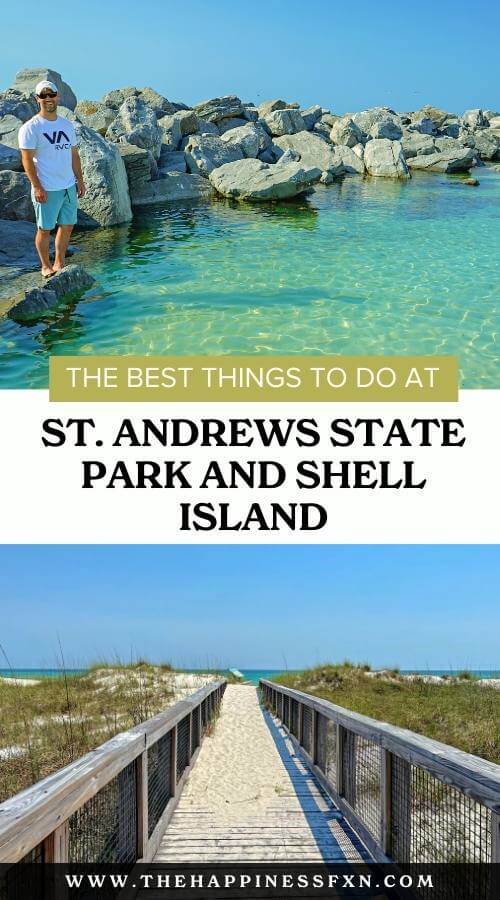 We would love to hear from you!
When are you going to St. Andrews State Park or Shell Island in Florida?