Haleakala National Park: 12 Remarkable Things to Check Out
Last Updated: Oct 9, 2023
|
|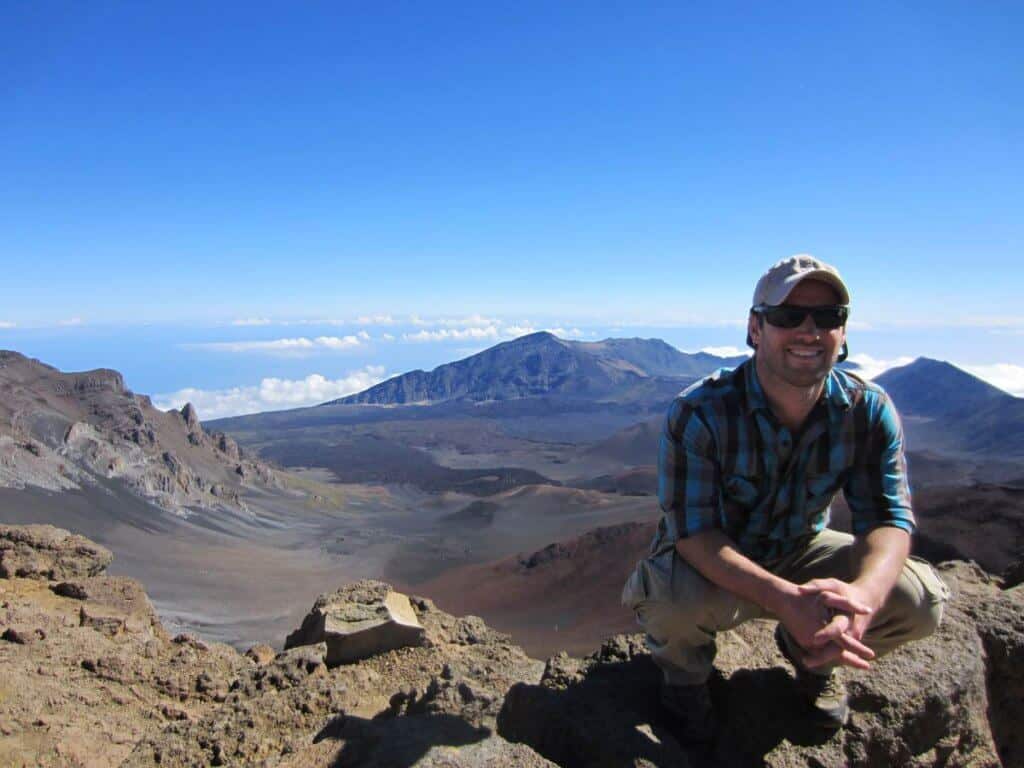 Are you looking for an incredible place to visit on your Maui vacation? Then look no further than Haleakala National Park. With so much to see and do, you'll be amazed at how much this park has to offer. Here are twelve of the most remarkable things you'll want to check out.
This post contains affiliate links, which means we'll receive a commission if you purchase through our links at no extra cost to you. This allows us to continue publishing free travel and gear guides. Please read our full disclosure for more information. Thanks for your support!
Things to Do at Haleakala National Park
Haleakala National Park is one of the most popular tourist destinations in Hawaii. Haleakala means "House of the Sun" in native Hawaiian.
The park, which covers an area of 30,183 acres, is home to a variety of unique plants and animals. In addition, it is a designated International Biosphere Reserve. Visitors can see Haleakala, the world's largest dormant volcano. Haleakala National Park also offers a variety of recreational activities, such as hiking, star gazing, and camping.
Of course, the main attraction in Haleakala National Park is Haleakala itself. It is a shield volcano with the highest peak at 10,023 feet. The summit offers stunning views of the surrounding area.
The part consists of two different districts: the Summit District and Kipahulu District.
Summit District
The Summit District of the park is home to some of the most stunning scenery in the world, including a volcanic crater. The high altitude and harsh climate can make it a challenging place to hike, but the views are well worth the effort. So if you're looking for an adventure in one of America's most beautiful parks, be sure to visit Haleakala National Park's summit district. You won't be disappointed!
Below, we'll talk about all the things to check out in the Summit District.
Haleakala National Park Summit District Things to Do
1. Rainbow Eucalyptus Trees
Driving to the summit district, keep your eyes peeled for the rainbow eucalyptus trees. You will see them on the side of the road on the way to Crater Road (a.k.a. Haleakala Highway).
2. Haleakala Crater
If you've ever wanted to experience a volcanic crater, Haleakala is the place to go. A 10-mile drive will take visitors to the top of the crater. The scenic drive is paved, long, windy, and has many pull-offs.
Haleakala Crater is one of the most popular tourist destinations on Maui, and for a good reason – the views are amazing! The drive up to the main overlook is definitely worth it, but be prepared for a lot of wind. It can get pretty chilly at the top. Wear some warm clothes.
Once you're up there, make sure to take some time to explore everything that the summit area has to offer. There are plenty of trails and viewpoints to check out. So whether you're an avid hiker or just looking for a scenic view, Haleakala Crater is totally worth a visit.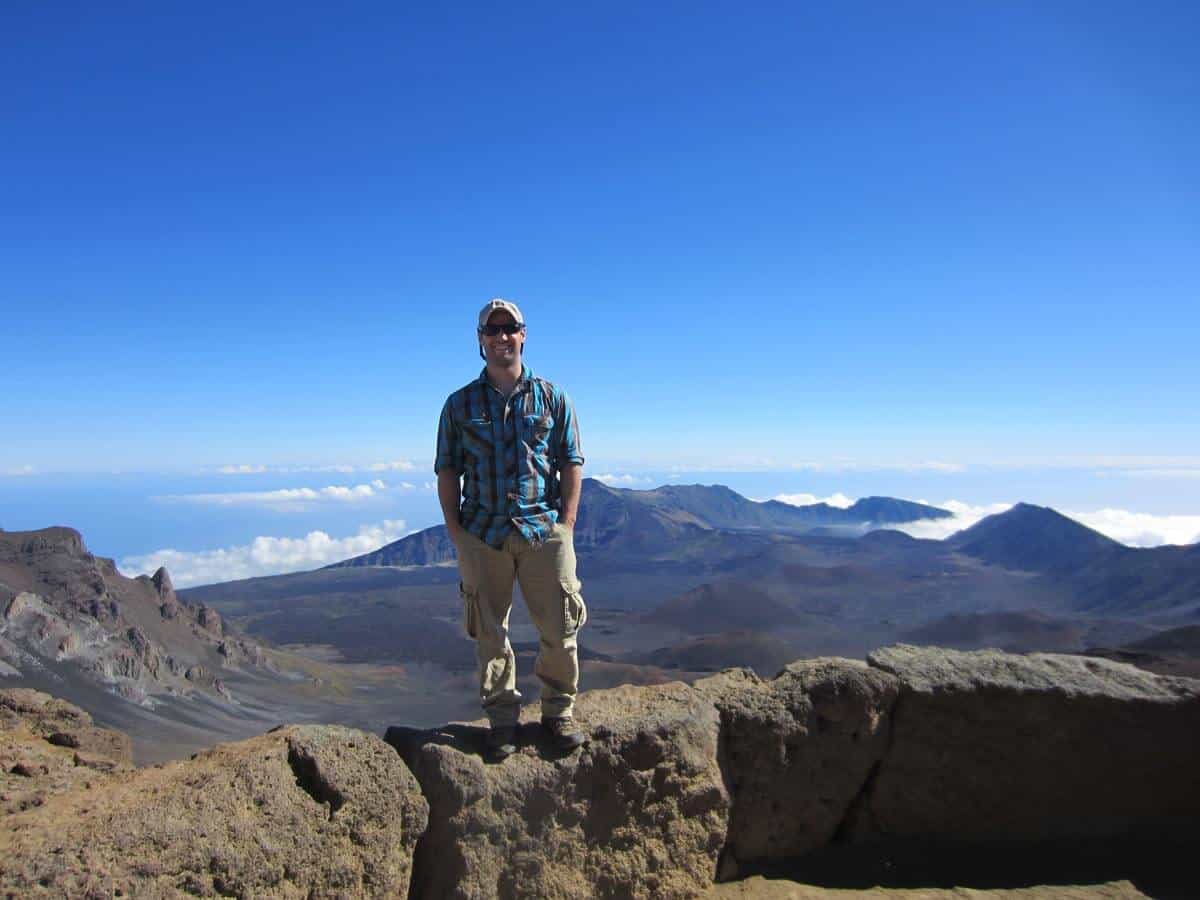 3. Haleakala Visitor Center
The visitor center is small and quaint. Check the national park website before you go for hours of operation. It sits on the crater rim at 9,740 feet.
4. Haleakala Sunrise
If you're looking for an unforgettable sunrise adventure, catch the sunrise above the clouds at the summit. The views are absolutely breathtaking, and it's definitely a sight you don't want to miss. It is easy to catch the sunrise from the lookout areas at the top of the summit parking areas.
Pack plenty of warm clothes because it gets chilly up there! And be prepared for crowds. It's one of the most popular attractions on Maui.
5. Haleakala Observatory
Though the Haleakala Observatory is not open to the public, you can see it off in the distance when you're at the summit, which is pretty neat.
6. Stargazing
The park has dark skies with no light pollution, making it the perfect spot to see stars, planets, and constellations. If you're interested in astronomy or just want to check out some fantastic views, Haleakala is definitely worth visiting. You can stay at the summit after dark to watch the stars from the trails and your car.
Summit District Hiking Trails
If you're looking for challenging hikes with stunning views, the Summit District of Haleakala National Park is worth exploring. The Summit District is home to some of the most difficult trails in the park, so be prepared for a tough workout. But the views at the top are worth it! You can see all the way down to the coast and across to Maui's sister island, Lana'i, from some of the high points.
For some of the best off-the-beaten-path hiking adventures in Maui, check out the two trails below.
7. Sliding Sands Trail
Look no further than the Haleakala Sliding Sands Trail for an out-of-this-world experience hiking in a volcanic crater. This unique hiking trail winds its way through some of the most beautiful scenery on the island and offers hikers a chance to explore a unique and geologically fascinating area. If you're up for a challenge and want to see some truly remarkable scenery and breathtaking views, be sure to check out the Haleakala Sliding Sands Trail.
Distance: 11-miles out-and-back
Trailhead location: Park at the Haleakala Summit Visitor Center
Elevation gain: 2,795 feet
Time to hike: 5 to 7 hours
Level of difficulty: Hard
The trail is open year-round.
Hiking in this area, we completely forgot we were actually on an island in the middle of the Pacific Ocean. It will take your breath away.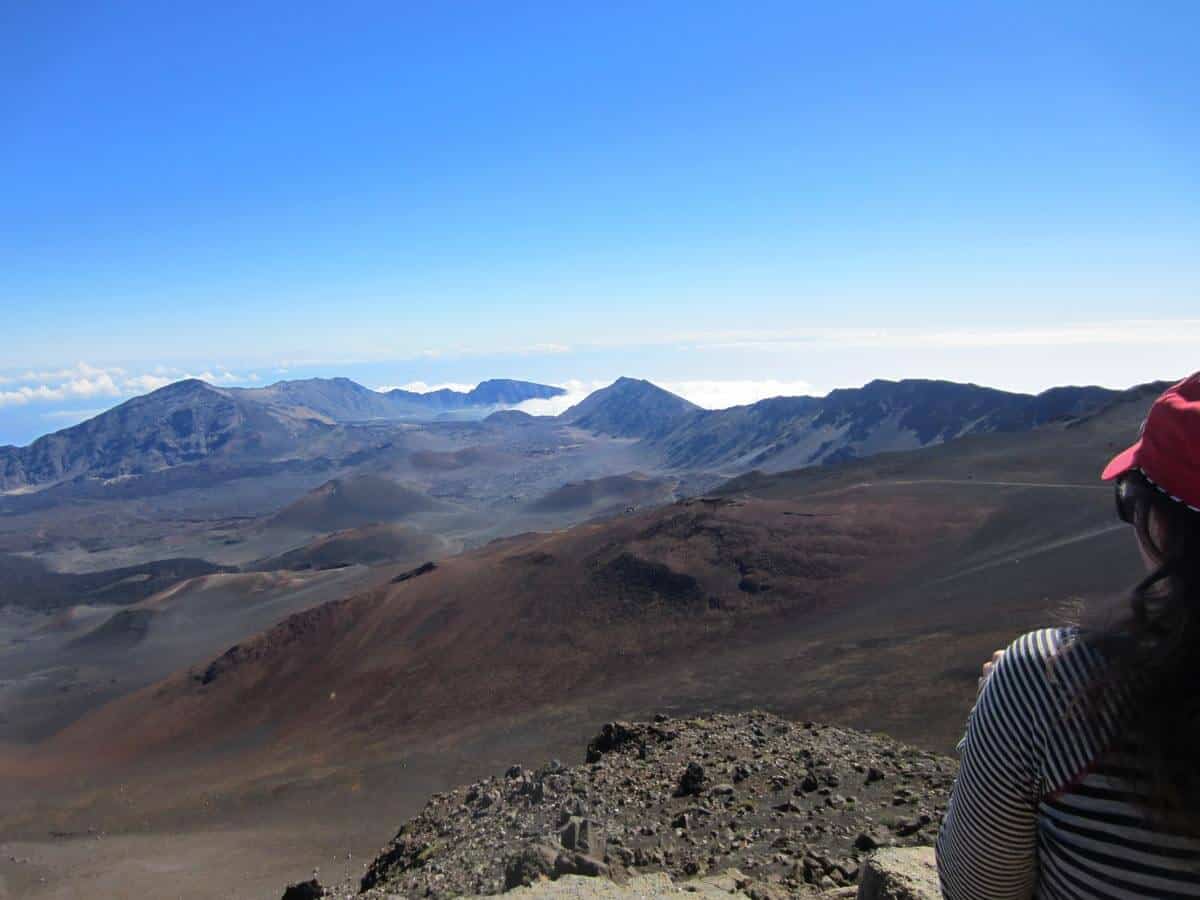 8. Halemau'u Haleakala Overlook Trail
The Overlook Trail begins from the Halemau'u parking area, which is located off Crater Road on the way to the summit of Haleakala. It is a moderately easy hike to the overlook. From the overlook, you can keep going, but the trail switchbacks and gets steep. The trail leads hikers to the Hōlua cabin, which sits at the base of the crater wall near Koʻolau Gap. The Halemau'u Trail also connects to more backcountry trails and the Haleakala Wilderness Area.
Distance: 7.6 miles out-and-back
Trailhead location: Halemauu Trailhead
Elevation gain: 2,375 feet
Time to hike: 5 to 6 hours
Level of difficulty: Hard
The trail is open year-round.
This is one of our favorite hikes in Maui!
There are wilderness cabins to stay at when hiking in the backcountry. A reservation is required.
The views from the overlook are spectacular and worth the effort to get there. The hike back down is easier than going up, so be sure to take advantage of that (or keep it in mind).
Keep your eyes peeled for endangered Nēnē, the Hawaiian goose.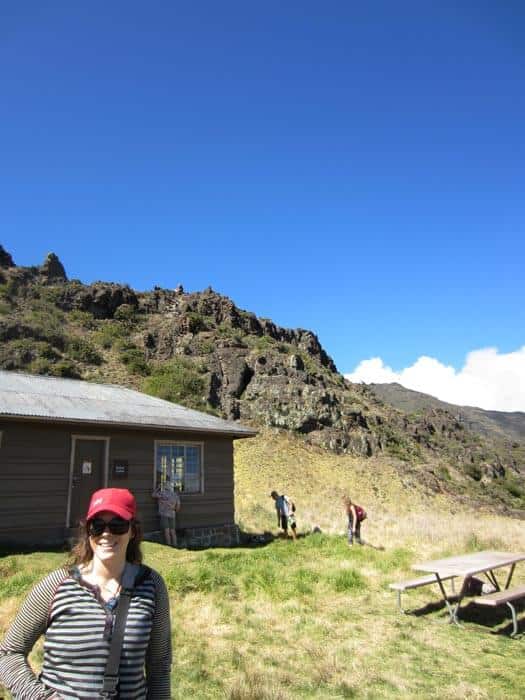 Kipahulu District Things to See & Do
The Kipahulu region is known for its rugged coastline, scenic waterfalls, lush rainforest, and cloud forest. Hiking and camping are popular activities.
It takes roughly 3 to 3-1/2 hours to get to the Kipahulu District from Lahaina without any long stops along the Road to Hana.
The Kipahulu District on the island of Maui is the place for everyone that wants to see more of the island's wild, untamed, and natural spaces. Below are the best things to check out
9. Pipiwai Trail and the Bamboo Forest
For a fantastic hike that will take you through a bamboo forest, the Pipiwai Trail should be on your Maui bucket list. The trail is about 4 miles long and can be completed in about 2-3 hours, depending on your fitness level. Plus, the views along the way are incredible! You'll want to bring your camera along for this one. The hike features a 400-foot waterfall, Waimoku Falls.
Distance: 3.8 to 4.0 miles out-and-back
Trailhead location: Kipahulu Visitor Center
Time to hike: Roughly 2 hours
Level of difficulty: Moderate
The trail is open year-round.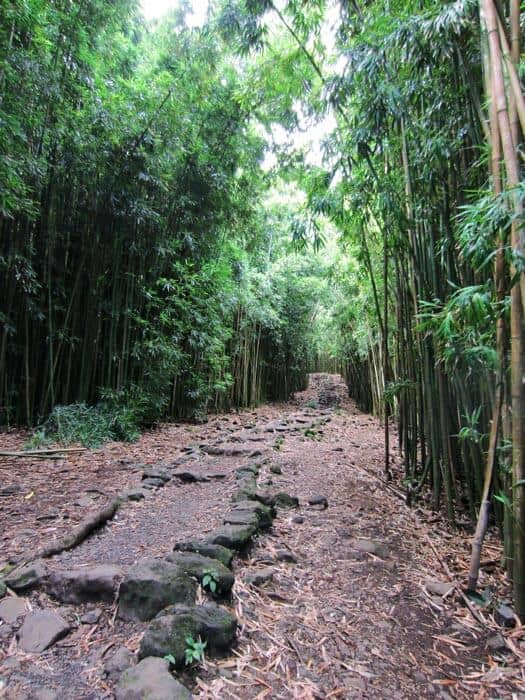 10. O'heo Gulch
O'heo Gulch, located on Maui's lush east coast, is a popular spot for tourists and nature lovers. The rainforest-lined stream and waterfalls make for a breathtaking sight, and the well-maintained trail system provides an easy way to explore the area.
Whether you're looking for a peaceful place to relax or an adventure to get your heart racing, O'heo Gulch is worth a stop. Some people like to swim here (we did not get in the water).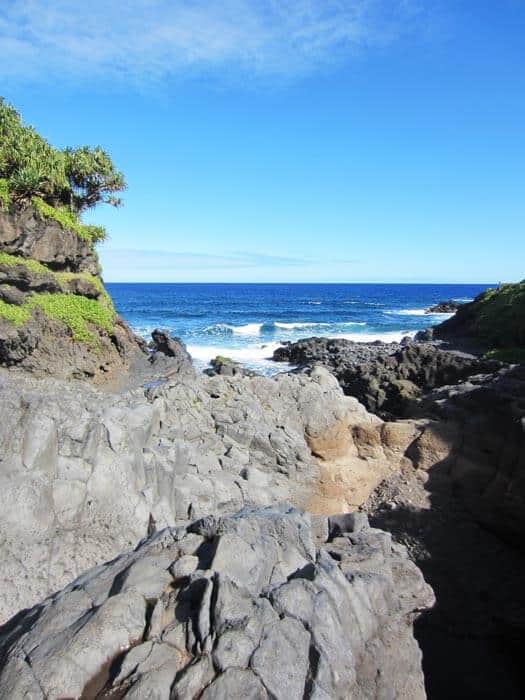 11. Kipahulu District Coastline
The beautiful mix of green and blue water against the stark black rocks is something that must be experienced in person. It is not recommended to swim over here because the water is so turbulent. Still, a great place to take photos and enjoy the ocean.
12. Kipahulu District Visitor Center
The visitor center is small and quaint. It may or may not be closed due to COVID, so check the national park website before you go.
There are nice restrooms to stop at before or after hiking that are open 24 hours a day, which is great since the surrounding area is rural.
Our Experience Visiting Haleakala
We visited Maui's National Park at the end of January.
Before our trip, we purchased Maui Revealed: The Ultimate Guidebook by Andrew Doughty, and it helped us plan our trip. The guidebook is totally worth the cost and shares all the best things to do and secret spots to explore. This is the best thing we bought to help plan our trip (seriously).
The weather in January was warm enough for us to hike in shorts and a long sleeve t-shirt while we hiked the trails. We were also glad to have a light windbreaker because it was super windy when we explored the summit area.
We did not catch the sunrise when we visited the Summit District because we decided to hike the backcountry trails instead. Starting the hikes early meant there were no crowds as we descended into the crater. Next time we visit, we plan to wander deeper into the Wilderness Area and explore more of the backcountry trails. We'd love to check out the Cinder Cone someday.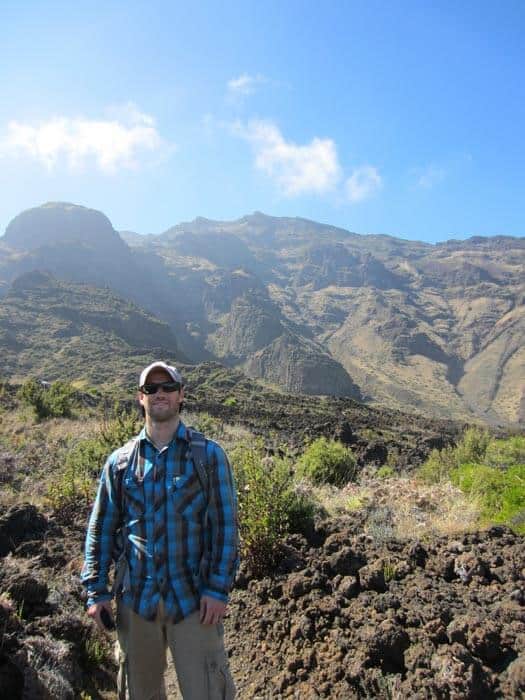 If planning to hike the longer backcountry trails, plan to be self-sufficient. Bring all of your hiking gear, food, and snacks. All of the trails are well-marked.
We loved every minute of our adventures at this national park. Pablo and I explored the Summit District for one whole day and then the Kipahulu District on a separate day.
Read more about what we did in the Kapahulu District! You don't want to miss hiking the Pipiwai Trail through the Bamboo Forest.
We were also super glad we brought our National Park Pass with us on our trip since it covered our entrance fees. Don't forget to bring yours!
Maui Hawaii Travel Information
Below, we share more of where we stayed and other Maui travel information.
Final Thoughts on Visiting Haleakala National Park
Haleakala National Park is a must-see destination if you love hiking and nature. The park offers something for everyone with its stunning landscapes and incredible views. So whether you're looking to explore the trails or just take in the amazing scenery, make sure Haleakala National Park is on your list of places to visit.
Maui is one of our favorite Hawaiian Islands!
Thanks for reading.
Ashlee & Pablo
---
Where are you headed next?
You might love checking out more of our Hawaii articles.
We try as much as possible to "travel like locals" when we visit Hawaii. We hike the local trails, support local businesses, and get recommendations from the people that live there and a guidebook to plan adventures.
Pin on Pinterest for later!
We'd love to hear from you!
If you haven't had a chance to visit Haleakala yet, we highly recommend adding it to your bucket list! And if you have already had the pleasure of visiting, we would love to hear about your experience in the comments below. Mahalo!