Pipiwai Trail & the Bamboo Forest: One of the Coolest Hikes in Maui
Posted on: April 19, 2022
|
|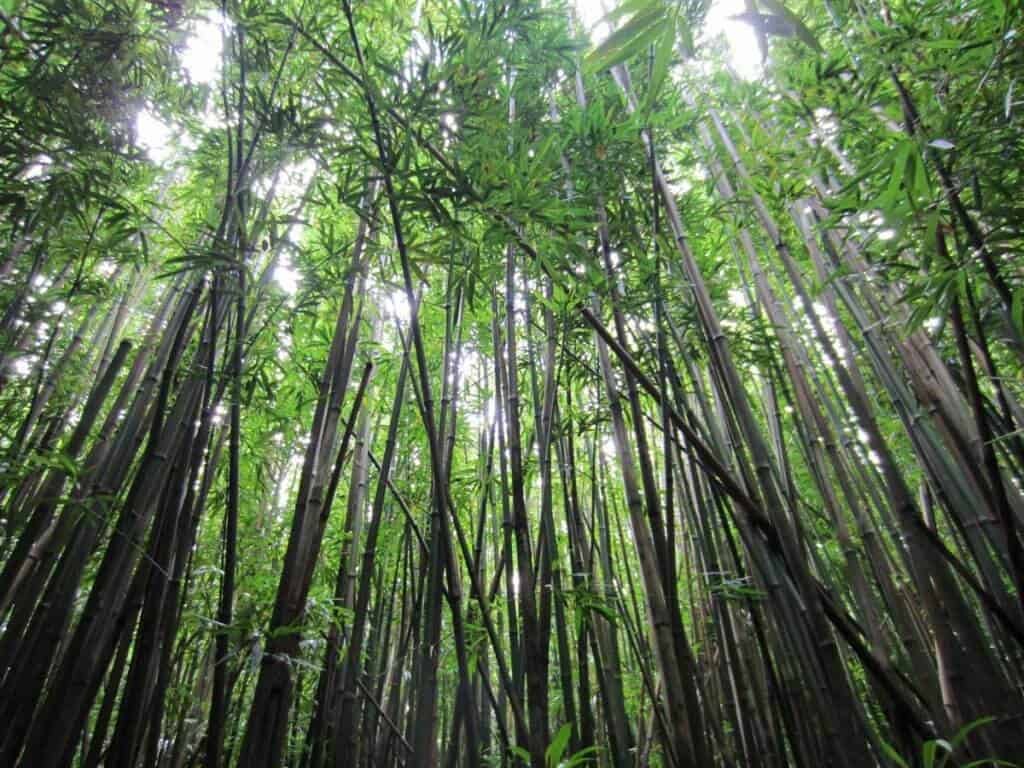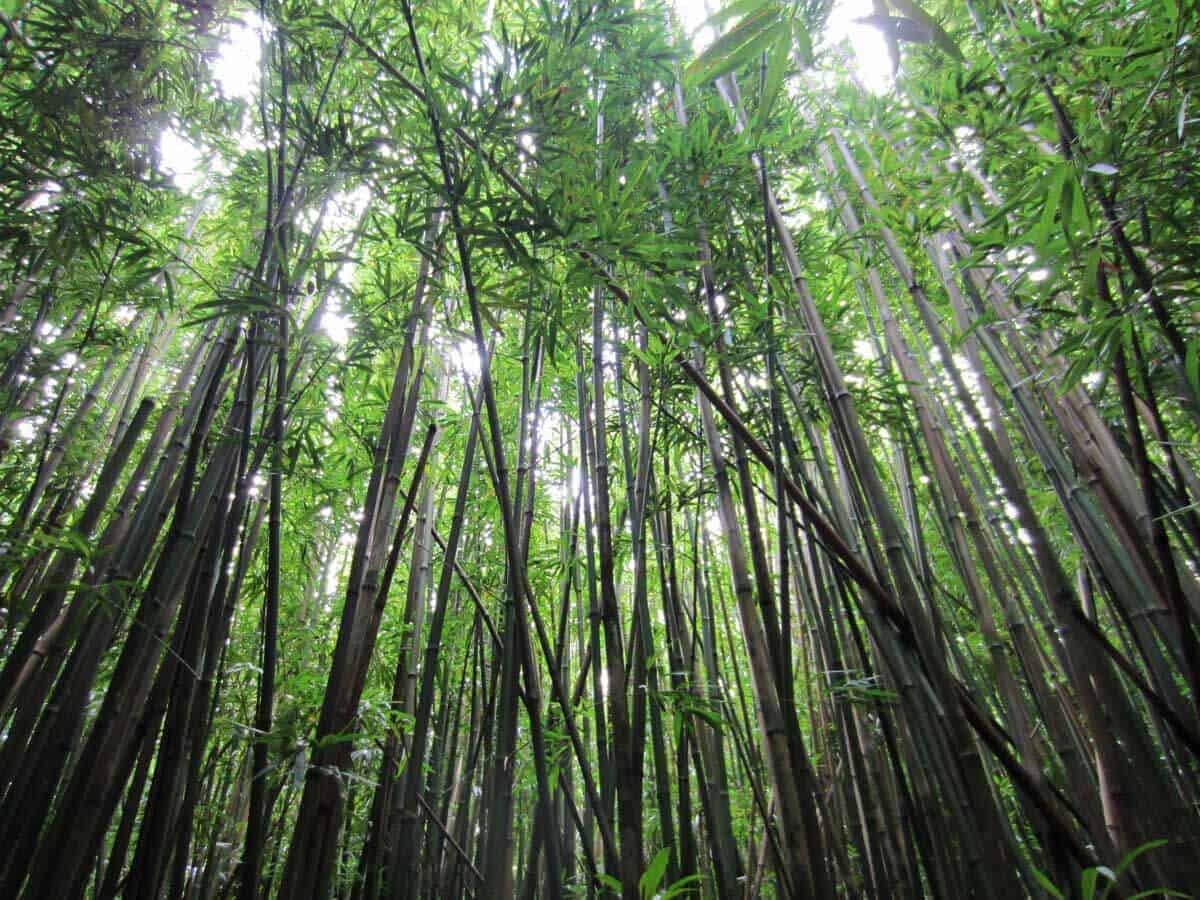 There's no shortage of scenic hikes on Maui, but the Pipiwai Trail through the bamboo forest is one of the coolest. The 4-mile trek (3.8-miles to be exact) winds through a lush bamboo forest and ends at a spectacular 400-foot waterfall called Waimoku Falls. To experience one of the best hikes that Maui has to offer, be sure to add this adventurous trek to your vacation bucket list!
This post contains affiliate links, which means we'll receive a commission if you purchase through our links at no extra cost to you. This allows us to continue publishing free travel and gear guides. Please read our full disclosure for more information. Thanks for your support!
Pipiwai Trail: One of the Best Hikes in Maui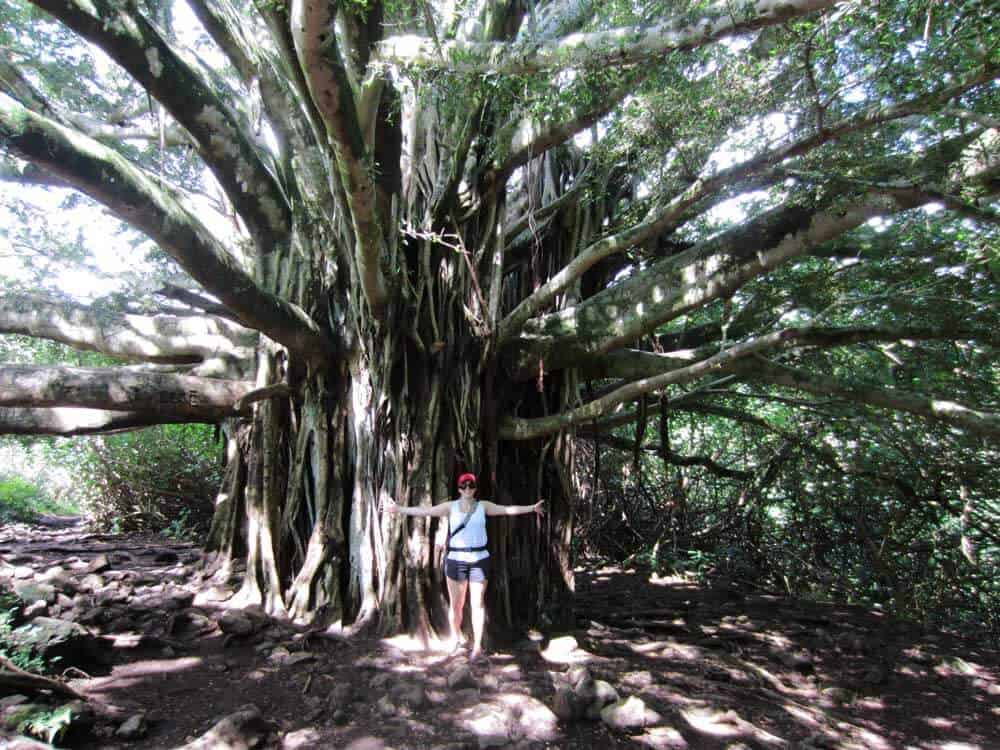 If you're looking for a fun and unique hike in Maui, then the Pipiwai Trail is definitely worth checking out. This trail takes you through a bamboo forest and up to a base of an enormous waterfall, making it one of the most scenic hikes on the island.
Plus, it's not terribly difficult or strenuous, and most hikers can enjoy it. So, if you're up for an adventure during your vacation in Maui, be sure to check out the Pipiwai Trail. Continue reading to learn everything you need to know to hike this awesome trail to Waimoku Falls.
What is Kapu? Kapu is an ancient Hawaiian code of conduct that governs all aspects of life. The word Kapu means "forbidden" or "off-limits." When hiking and exploring in Hawaii, please respect Hawaiian culture and signs that say Kapu.
Hiking Guide: Pipiwai Trail & Bamboo Forest in Maui
The Pipiwai Trail is one of the most popular hiking trails in Maui. The trailhead is located near the town of Hana for anyone exploring Maui's famous Hana Highway.
The trail winds through the lush rainforest of the Kipahulu District of Haleakala National Park. Along the way, you can see a huge banyan tree and Makahiku Falls, which run along the Ohe'o Gulch Stream.
Continue through the bamboo forest, and the trail ends at Waimoku Falls, a stunning 400-foot waterfall that tumbles down into a pool below. There are trail signs warning hikers not to go to the base of the waterfall. Be safe.
The entire hike is around 4 miles and can be completed in roughly 2 hours. However, there are plenty of places to stop along the way and take in the scenery, so it's best to give yourself plenty of time.
The trail is well-marked, well maintained, and easy to follow, making it a great option for hikers of most experience levels.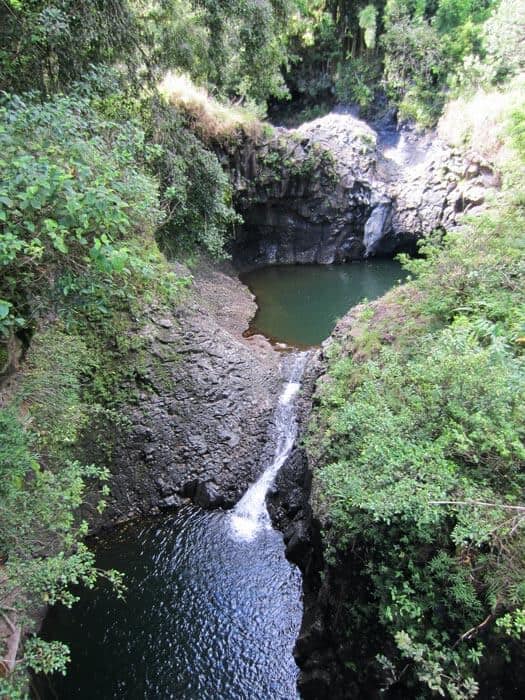 Pipiwai Trail Details
Pipiwai Hiking Trail Details:
Distance: 3.8 to 4.0 miles out and back
Difficulty: moderately challenging – there are steps
Where to Park: Parking lot at the Kīpahulu Visitor Center
Time to Hike: roughly 2 hours
Things to Consider
Bring water and snacks – Be sure to bring plenty of water and snacks. Even though Maui is a small island, this part of Maui is actually really rural. You are not going to see grocery stores or many places to eat, so be sure to bring water and snacks for your trip.
The trail can be strenuous at times – What makes it strenuous is the lack of airflow, making the area humid and stuffy. There are some stairs. It isn't necessarily a challenging trail to hike, though.
Wear comfortable shoes and breathable clothing – You might also want to bring bug spray if you're into bug spray. We don't like getting bit by mosquitos (they love me).
Hike early in the day – The trail can be crowded on weekends, so it's best to start your hike early in the morning.
Google maps – we used Google maps to get to the Kīpahulu District.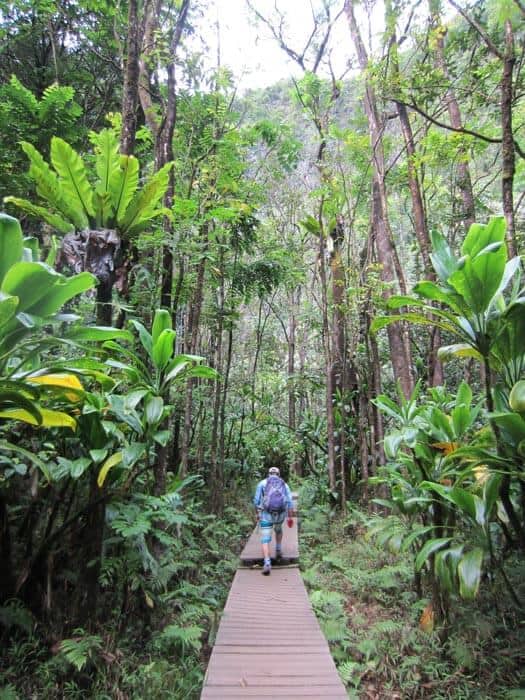 How Long Does it Take to Hike?
The Pipiwai Trail is a moderate hike and takes most people between two and three hours to complete. The trail is well-marked and relatively easy to follow. However, some sections can be slippery when wet.
What Should You Bring?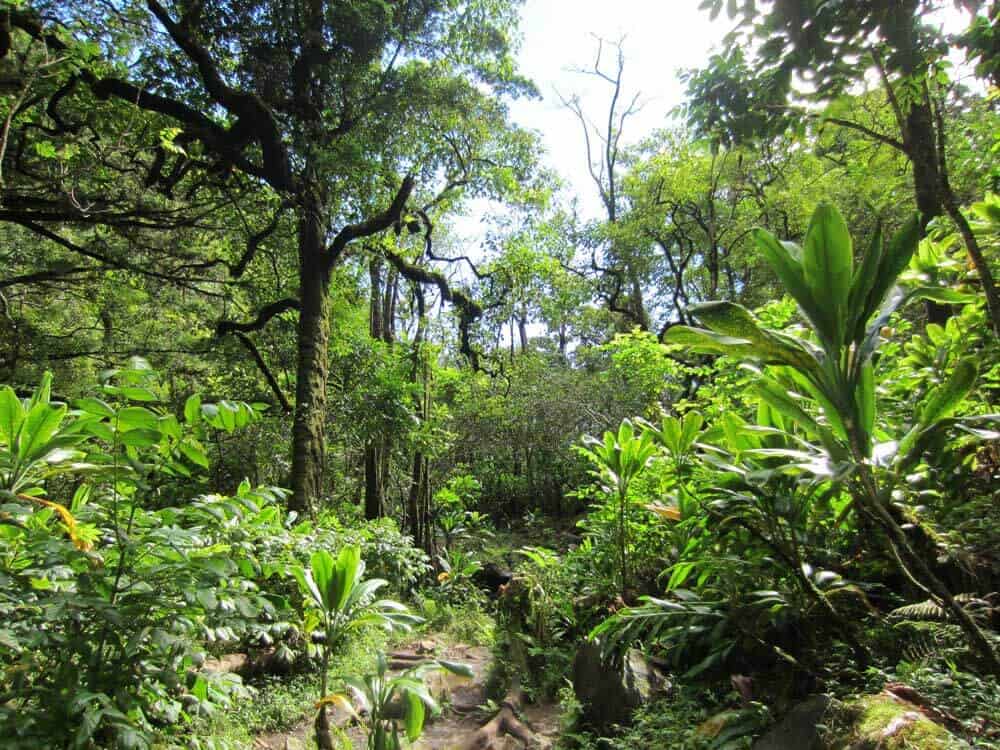 We wanted to share some things for you to consider bringing to hike and explore this part of Maui.
National Park Pass – There is an entrance fee since Haleakala Crater is part of the National Park Service. If you hold the annual National Park Pass, bring it! You can use it to park within Haleakalā National Park.
Bring a Day Pack – We took our favorite day pack to hike within the park and road trip Maui for the day.
Wear Comfortable Hiking Shoes – Pablo likes to hike in hiking shoes, but I tend to explore Maui in hiking sandals.
Water Bottles – Bring water. As we said earlier, the Road to Hana is pretty rural, so be sure you bring water and snacks for this long trip, especially if you are staying on the island's west side. We fly our water bottles with us.
Breathable Clothes – It is humid in the bamboo forest; wear breathable clothes that wick sweat.
Buy a Guidebook – We purchased Maui Revealed: The Ultimate Guidebook by Andrew Doughty, and it helped us plan our trip. It is worth the cost and shares all the best things to do and secret spots to explore. This is the best thing we bought to help plan our trip!
Our Personal Experience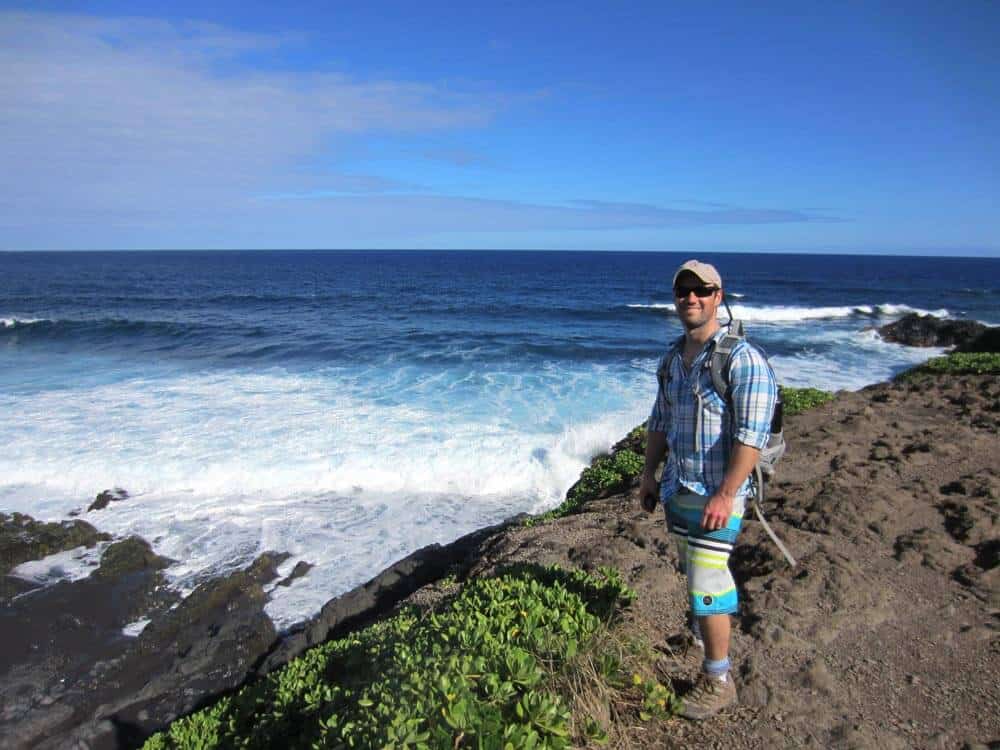 When we hiked here, we were awe-struck. Neither of us had wandered through a bamboo forest before, and seeing the 400-foot Waimoku Falls at the end was incredible. We visited in early February and hiked during the week, and there were not many people on the trail.
We prefer to travel to places in the off-season. The weather was excellent – we could wear shorts, but it was not hot.
We were so glad we brought our National Park Pass and didn't have to spend extra money parking at Haleakala National Park. We explored the Seven Sacred Pools ('Ohe'o Gulch) and the coast after the hike.
The coast is breathtaking and lined with lava rock. Unfortunately, you cannot swim over here – the currents are strong, and the water is turbulent.
It took us all day (about 12-13 hours) to drive round trip from Lahaina, cruise the Road to Hana with a few extra stops, hike, explore the coast, and go back to Lahaina. So be sure to give yourself plenty of time. There are breathtaking views along the Road to Hana scenic drive. We left our condo early in the morning (around 5 or 6 in the morning).
Where to Stay: We stayed at The Kulakane and seriously LOVED it! We will be back.
Flying to Maui: Fly into Kahului Airport (OGG). Book your tickets on booking.com.
Renting a Car: Rent a car – 6+ months ahead of time. We got a jeep to rent SUPs.
Travel Insurance: We ALWAYS get cancel for any reason travel insurance. We use Travel Insurance Master. You can pick the exact coverage you need.
Final Thoughts on Hiking the Pipiwai Trail in Maui
If you're looking for a fantastic hike on your trip to Maui, be sure to check out the Pipiwai Trail. This trail will take you through a bamboo forest and past some beautiful waterfalls, and it's one of the coolest hikes on the island. Driving to this part of Maui is well worth the time and full of amazing views with diverse scenery.
We hope this travel guide helps you plan your next excursion to Maui.
Aloha,
Ashlee + Pablo
---
Where are you headed next?
You might love checking out more popular Maui articles:
Are you planning to visit Oahu?
Check out our article on How to SUP to the Mokes!
Pin the complete guide to hiking Pipiwai Trail!
We'd love to hear from you!
Tell us when you are going to hike here!
What are your Hawaii travel plans?
Which Hawaiian Islands have you visited?