Things to Do in Santa Fe During Fall: Best Adventure Day Trips!
Last Updated: Oct 9, 2023
|
|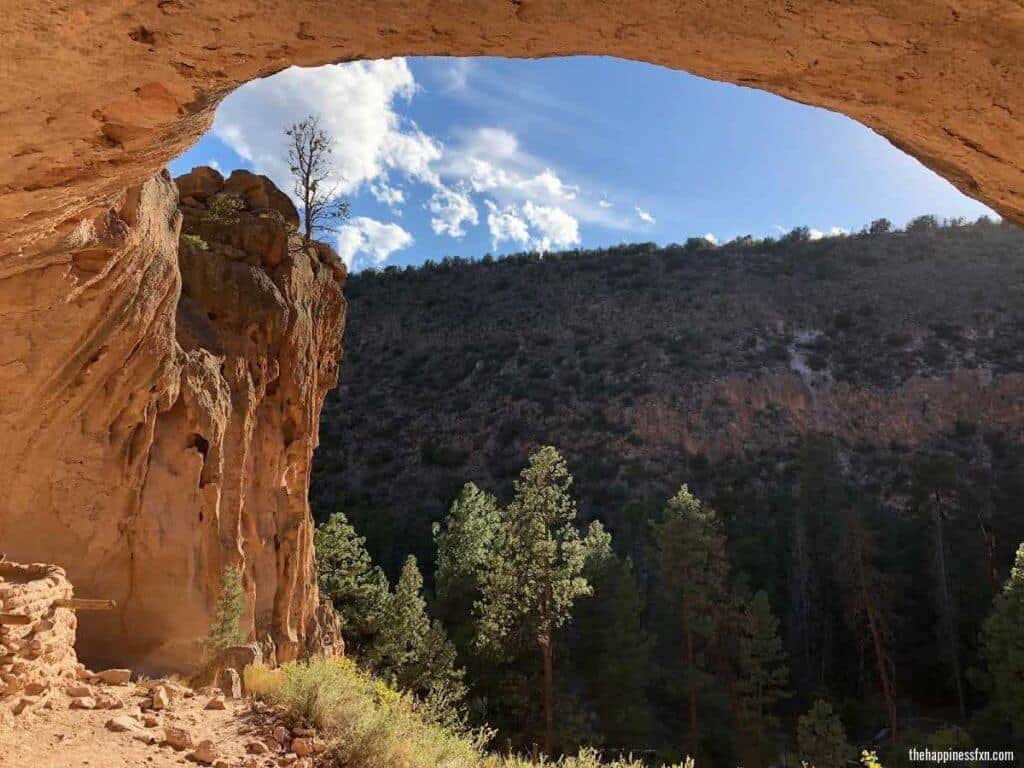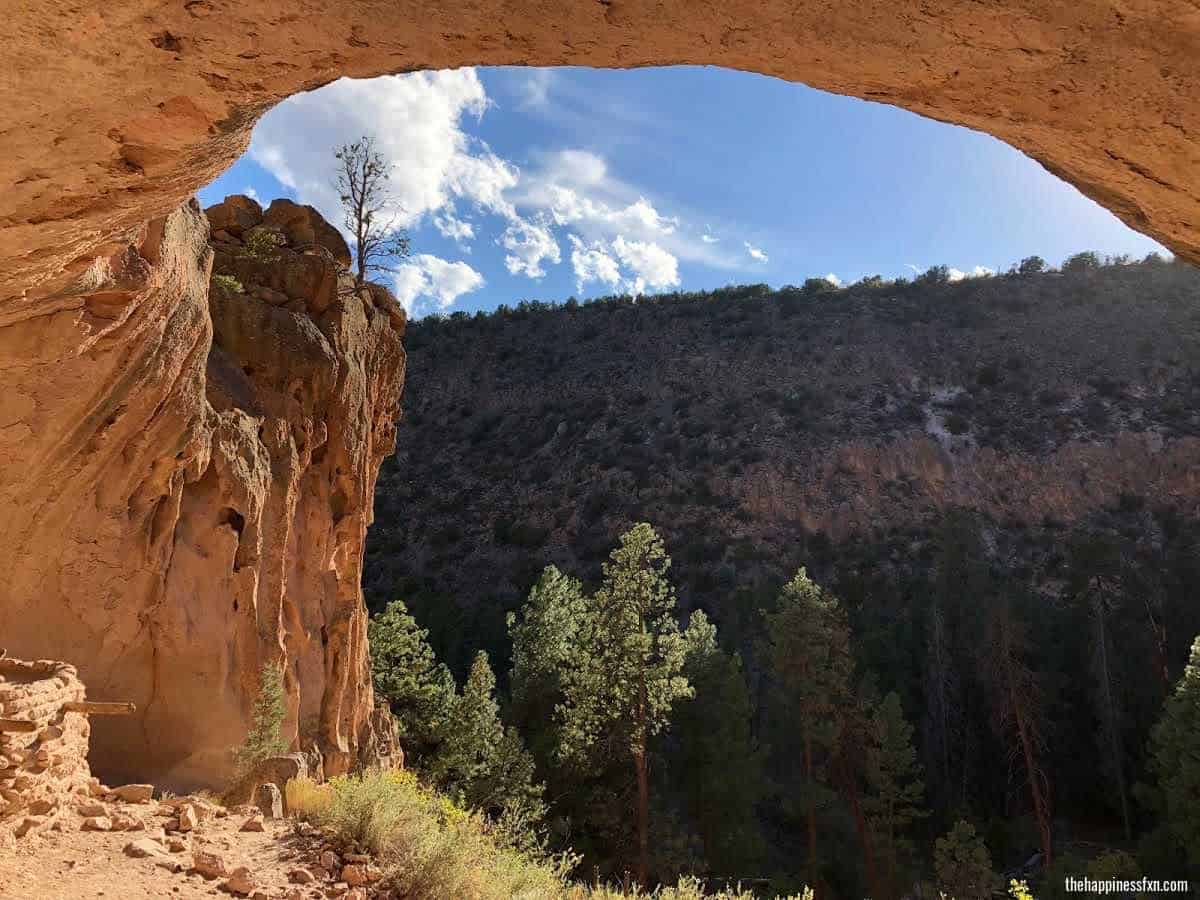 Santa Fe is touted for being a romantic destination for couples and a place for incredible outdoor adventures. This high desert city, and capital of New Mexico, is surrounded by mountains and the Santa Fe National Forest, making it a perfect destination full of outdoor things to do!
The last time we visited Santa Fe was during the fall a few years ago. It was an incredible trip filled with plenty of outdoor adventures. The weather was perfect! The weather was not too hot or cold. Definitely pack clothing layers (more on what to pack below).
Keep reading to learn more about where we stayed, enjoyed delicious food, and played outside. Discover the best things to do in Santa Fe!
Also, if you find this article outside of the fall season, don't worry! You can still do everything we recommend except see the fall foliage.
This post contains affiliate links, which means we'll receive a commission if you purchase through our links at no extra cost to you. This allows us to continue publishing free travel and gear guides. Please read our full disclosure for more information. Thanks for your support!
Plan a Fun Fall Weekend Getaway to Santa Fe
Are you ready to plan an epic weekend to Santa Fe? There are so many exciting things to do in the area. We will walk you through everything you need to know to plan the perfect weekend getaway, including what to visit in town and out of town.
Keep reading! You don't want to miss anything.
Flying into Santa Fe
If you are flying into Santa Fe, be prepared for a smaller plane and quaint airport. The airport is small, easy, and not crowded. Once you are at the airport, you can pick up your rental car.
Book a flight and rental car package from booking.com (that's what we like to do).
Before we go on trips that require flying and renting cars far away from home, we always purchase traveler insurance! Protect your trip with Travel Insurance Master!
Renting a Car
Like flying into Santa Fe, renting a car is easy. We usually book our plane tickets and car rental through booking.com at the same time to save on a bundle deal.
We always get a car with 4WD so we can adventure!
The Santa Fe Plaza (downtown) is about 25 minutes from the airport. Again, we rent a car because we plan to adventure outside of the city. You might want to as well after you finish reading!
Where to Stay: The Plaza in Santa Fe
Much of the romantic appeal Santa Fe offers is in the world-class accommodations, restaurants, art, and boutique shopping on The Plaza. Around every corner, you'll be met with beautiful western décor, all kinds of art, fabulous stucco buildings, painted tile, world-class restaurants, and historic churches.
We love staying on The Plaza because, after a fun day of recreating outside, we like to be able to enjoy delicious New Mexican food, margaritas, and walks around town to explore.
Our two favorite places to stay on The Plaza are La Fonda and El Dorado. More on both below!
La Fonda On The Plaza
Our favorite place to stay is hands down La Fonda On The Plaza.
The hotel is an incredibly charming 4.5-star historic hotel.
The grounds have a gym, spa, outdoor pool, and hot tub. The restaurant inside, La Plazuela Restaurant, prepares incredible New Mexican dishes. You can eat at the restaurant or enjoy room service. There is also a rooftop bar, Bell Tower, which makes for a fun sunset happy hour post hiking all day.
We especially love the rooms that have a kiva (fireplace) option and balcony. Soooo dreamy…
Cozy room with a kiva, spa, crisp fall nights, hot tub… yes, please.
This hotel is really romantic and makes for a memorable couple's weekend getaway. Just staying here adds to special things to do in Santa Fe.
There is a parking garage for your rental if you have one, which is nice because parking is sparse on The Plaza.
If you have trouble finding a room at La Fonda On The Plaza, there are many other beautiful hotels in the area. As much as we looove this hotel, it books up in advance. Make sure to plan ahead!
El Dorado Hotel and Spa
We have also stayed at El Dorado Hotel and Spa.
The hotel was gorgeous and within easy walking distance of shopping and restaurants.
It is also on The Plaza.
Best Things to Do Near or On The Plaza
While visiting Santa Fe, be sure to take time to explore The Plaza.
Top sights to see and things to do:
See Loretto Chapel.
Visit The Cathedral Basilica of St. Francis of Assisi.
Explore the New Mexico History Museum
Go on a walking history tour of Santa Fe.
Do a food tour of Santa Fe.
Check out the local stores for boutique shopping.
Go art gallery hopping – check out the Canyon Roads Art District and the Railyard Art District (a little further from The Plaza).
Our Favorite Restaurants in Santa Fe
Okay, now onto the food.. Our two favorite places to eat are La Plazuela and Tomasita's.
1. La Plazuela
You already heard about La Plazuela Restaurant. Yuuuummm…
It is inside of La Fonda hotel.
2. Tomasita's
Our other favorite restaurant is Tomasita's. They have amazing New Mexican dishes and margaritas. Think red and green chili, enchiladas, tacos, pozole… Oh yeah, keep drooling…
Every time I have ever been to Santa Fe to work or play, we eat at Tomasita's.
If you like Tex Mex and New Mexican style food, this is your place.
There are so many restaurants to choose from. I bet you won't be disappointed if you just pop in to explore one.
Tips on Saving Money During Your Trip
When we are out and about exploring, we pack snacks and take lots of water in our backpacks. We usually only eat dinner out. This is more convenient for our adventures and easier on the pocketbook.
We typically swing by a grocery store or gas station to stock up on supplies.
I also tend to fly my favorite protein and granola bars too.
Alright, enough about food. Onto outdoorsy things to do in Santa Fe!
5 Awesome Outdoor Things to Do in Santa Fe
Now, we are at my favorite part of writing this article. Let's talk about outdoor things to do in Santa Fe, New Mexico!
Santa Fe is loaded with impressive things to do outdoors, which is why renting a car comes in super handy.
Below are our top recommendations for Santa Fe day trips.
1. Drive the Santa Fe National Forest Scenic Byway
It is fun to drive around and explore new places. The drive from downtown Santa Fe to the Ski Basin is called the Santa Fe National Forest Scenic Byway.
The drive takes 1-2 hours, depending on how many stops you take for views and photos.
2. Ride the Ski Santa Fe Fall Foliage Chairlift
The ski resort runs its chairlift, so that you can see all of the Aspen trees changing colors during the fall. The Aspens transform into incredible yellow and gold shades, which makes for breathtaking photo opportunities against the forest and blue sky.
Colors usually peak around the end of September. However, Pablo and I have been here during early October, and the fall foliage was still incredibly colorful.
3. Drive the High Road to Taos Scenic Byway
Taos, New Mexico, is one of those places so many people have heard about. It is a bucket list destination for many reasons.
From Santa Fe, it is about 2 ½ – 3 hours to Toas with no stops. With stops, you could spend most of an afternoon (4+ hours).
First, the drive is breathtaking. You will drive through historical remnants of Spain.
Maybe you have even watched a TV show about Pilgrimages to Santuario de Chimayo and El Posito. The ground at the church is said to have a holy, sacred, and healing earth. It is truly a spiritual experience.
Second, the scenic byway is beautiful, and there are many towns and buildings to stop, take photos, and emerge yourself with breathtaking landscapes.
4. Visit Bandelier National Monument
You cannot miss visiting Bandelier National Monument!
One of my personal favorite parts of our trip was visiting Bandelier National Monument.
Heading out of Santa Fe towards Los Alamos, it will take about one hour to drive (each way). Plan to spend half a day at the park to hike and wander.
Upon parking near the visitor center, we were greeted by traditional native drums beating. It was so cool and powerful!
The most popular trails to walk, Pueblo Loop Trail and Alcove House Trail, take hikers along the canyon walls. It is here where you will find ancient cliff dwellings and petroglyphs.
Getting to the Alcove House requires climbing a ladder! It is kind of an adrenaline rush. I definitely do not recommend this hike if you are afraid of heights.
The view from the Alcove House is incredible.
Be sure to check the main Bandelier National Monument website for park updates before you go. The trail maps are online as well.
Check out our guide on how to spend the perfect day at Bandelier National Monument!
5. Soak and Relax at Ojo Caliente Hot Springs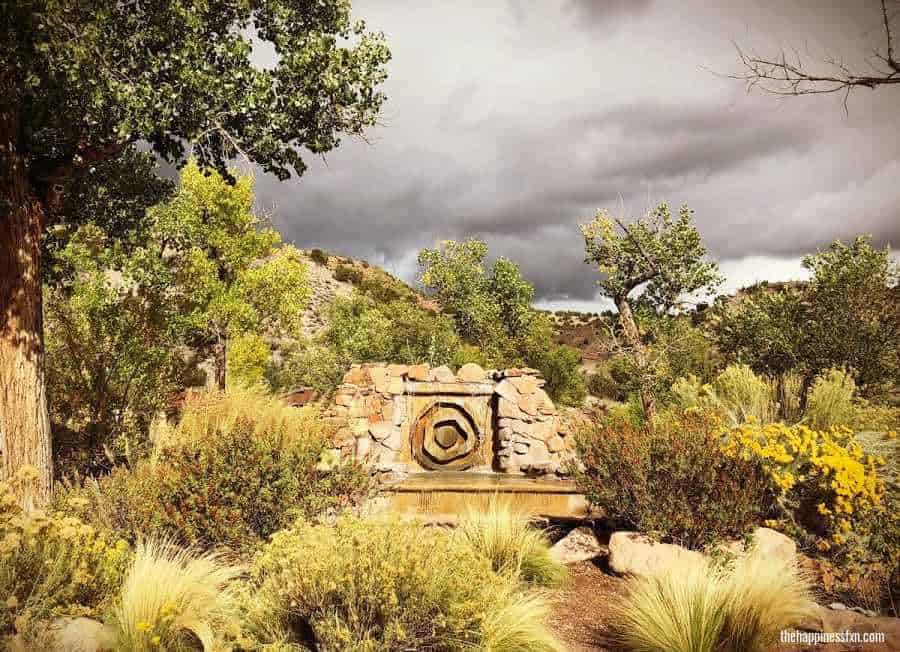 If you're looking for a unique and magical vacation spot, look no further than Ojo Caliente hot springs in New Mexico. This hidden gem is the perfect place to relax and rejuvenate, surrounded by stunning natural beauty. With its therapeutic mineral waters and tranquil setting, Ojo Caliente is sure to leave you feeling refreshed and rejuvenated. So if you're looking for an escape from the everyday grind, don't miss out on this amazing destination!
Ojo Caliente Hot Springs is about an hour north of Santa Fe. Google will help you get there from wherever you are staying.
This magical place is worth a trip. The mineral springs resort has multiple hot springs pools outdoors, uncovered and open to the desert sky. There is one pool that is covered which is nice if it is raining. There is also a cooler temperature pool. AND… there is a mud bath.
Whhaat? Yeah, a mud bath!
You can slather yourself in mud, layout in the sun to dry, then wash the mud off. It is super fun and supposed to be therapeutic. Maybe avoid your white bikini on this trip (hehe).
Ojo Caliente has a spa for massages. You can book when you get there or book ahead of time.
We enjoyed a wonderful après soak lunch too. The restaurant was great.
You have to check this place out. It is absolutely relaxing and romantic.
Are you planning an epic road trip through the Southwest? Check out our list of FREE outdoor trip planning apps you need to find the best hiking and camping!
Best Things to Do in Santa Fe
There are so many fun things to do in Santa Fe. It is a beautiful place to visit full of history, art, natural wonders, forests, desert, and culture.
Below is a quick summary of the top things to do in Santa Fe as well as the surrounding area:
Stay on The Plaza
Explore The Plaza
Drive the Santa Fe National Forest Scenic Byway
Ride the Ski Santa Fe Fall Foliage Chairlift
Drive the High Road to Taos Scenic Byway and stop at Santuario de Chimayo and El Posito
Visit Bandelier National Monument
Soak and Relax at Ojo Caliente Hot Springs
What to Pack for Santa Fe
For your trip, we recommend packing lots of layers to accommodate the mountain and high desert climate. Since you plan to participate in outdoor adventures and fun day trips, pack comfortable hiking clothes.
We recommend packing the following for hiking, exploring, and road-tripping along with the scenic drives:
Duffel bag – makes for a great carry on and it is water proof for other outdoor adventures later on.
Long sleeve shirt
Short sleeve shirt
Maybe shorts (depending on when you visit)
Hat
Windproof jacket (my favorite light hiking layer)
Light down jacket or heavy down (watch the weather)
Bathing suit + cover up for the hot springs
Water sandals – for the hot springs
Sunglasses
Sunscreen – we love Sun Bum
Lotion (it is a super dry climate)
Personal toiletries
Day pack (we have this one) for hiking
Final Thoughts on the Best Things to Do in Santa Fe
There's no place like Santa Fe to experience the magic of the Southwest. Whether you're looking for a cultural adventure, outdoor fun, or just some relaxing downtime, these are the best things to do in Santa Fe. From exploring the city's rich history to hiking in the nearby mountains, there's something enjoyable for everyone in this enchanting town. So pack your bag and get ready for an unforgettable vacation!
There are so many awesome things to do and do on a short getaway to Santa Fe. We think getting out of town and exploring the surrounding area on top of exploring downtown is so much fun.
Planning tip: You might want to dress a little nicer while exploring The Plaza. But, it is a relatively western casual town, so you don't have to dress up if you don't want to.
Thanks for reading. We hope you have a great trip to Santa Fe!
Ashlee + Pablo
---
Where are you headed next?
You might also enjoy our other New Mexico articles:
Check out national park articles in the Southwest!
Are you road tripping through the Southwestern US?
Pin on Pinterest for later!
We would love to hear from you!
When are you going to Santa Fe?
If you have been, what were some of your favorite things to do in Santa Fe, NM?