How to Spend the Perfect Day at Bandelier National Monument
Last Updated: Oct 9, 2023
|
|
Bandelier National Monument offers plenty to keep visitors occupied. The park is home to one of the largest cliff dwellings in North America. Rich geological diversity, fascinating cultural history, and striking scenery make this desert wonderland a fantastic choice for hikers, explorers, and outdoor enthusiasts alike. It was home to ancestral pueblo people from 1150 CE to 1550 CE. The ancestral pueblo had a human presence within the area for over 11,000 years.
Knowing how best to spend your time here can be challenging with such an impressive range of hikes available. We're sharing exactly how to spend the perfect day visiting Bandelier National Monument in New Mexico, where you can explore the ancestral pueblo village and see excavated archeological sites!
This post contains affiliate links, which means we'll receive a commission if you purchase through our links at no extra cost to you. This allows us to continue publishing free travel and gear guides. Please read our full disclosure for more information. Thanks for your support!
Bandelier National Monument New Mexico Travel Guide
If you're looking for a day outdoors, soaking up amazing scenery and getting to know the fascinating history of this area, look no further than the 70+ miles of trails at Bandelier National Monument. Don't worry; we're not hiking all 70+ miles in one day. Instead, we have put together some best things to do at Bandelier National Monument to ensure you get the most out of your visit in one fabulous day.
Land Acknowledgment: Bandelier National Monument and the surrounding area have ties to 23 tribal nations. Visit the Bandelier National Monument website to read more.
Itinerary
Hike Main Loop Trail (Pueblo Loop Trail)
Hike the Alcove House Trail
Have a picnic lunch or snack
Browse the Visitor Center
Head to Camp
Hiking the Main Loop Trail (Pueblo Loop Trail)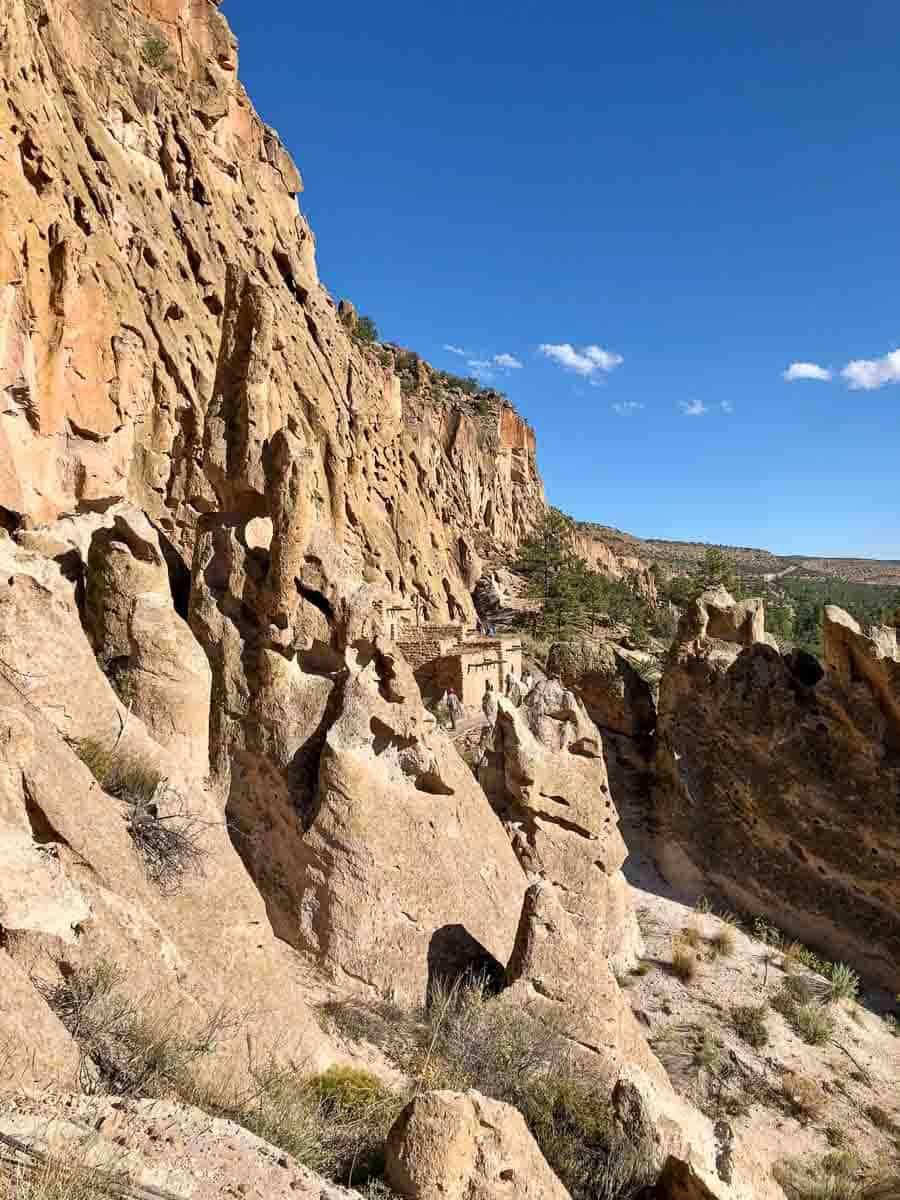 Since you're probably on an epic road trip through New Mexico, you don't have all day to hike super far. No worries, you don't have to wander far to admire how impressive Bandelier National Monument is!
Add hiking the Main Loop Trail (Pueblo Loop Trail) along the canyon walls to your New Mexico bucket list. Some of the trail is paved, and some is a nice wide pebble path that takes hikers by archeological sites, pit houses, and cliffside dwellings such as the Long House and Talus House. You can buy a trail guide at the visitor center to do a self-guided tour of the archeological sites. There are kiva and small alcoves to admire. The geologic formations are incredible throughout the beautiful canyon (Frijoles Canyon).
Trail Name: Main Loop Trail (Pueblo Loop Trail)
Distance: 1.4-mile loop
Time to hike: 45 minutes to 1 hour
Difficulty: Easy (caveat – there are some stairs)
Hiking the Alcove House Trail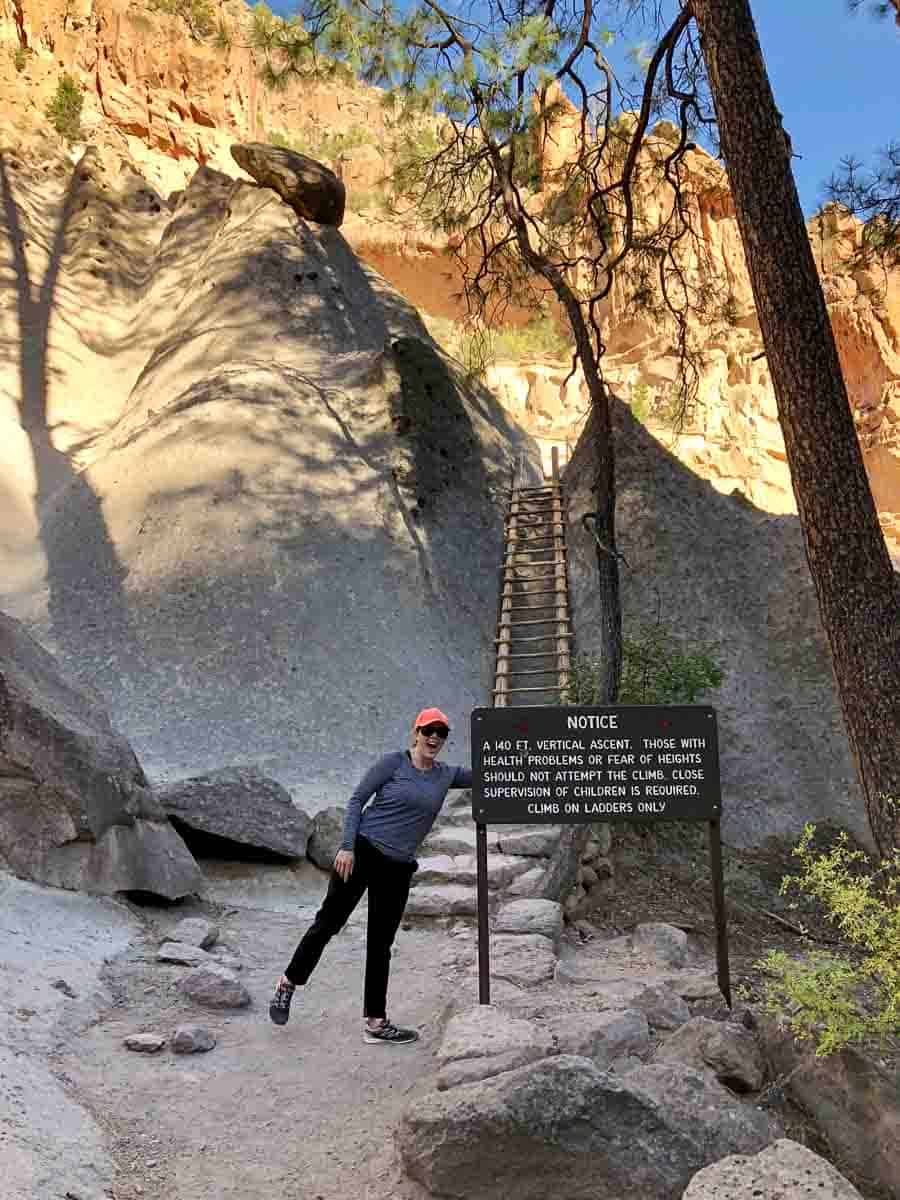 Once you get to the furthest point of the official Main Loop Trail, there will be a place to branch and get on the trail that leads to the Alcove House (an epic cave-dwelling). It is another ½ mile each way to get to the Alcove House, and you have to climb ladders to get into the cove.
This is definitely one of the most remarkable hikes we have hiked in New Mexico. Though it is short, it makes for an exciting adventure because you have to climb up multiple tiers of wood ladders to reach the Alcove House Ceremonial Cave.
The Alcove House is 140 feet from the bottom of Frijoles Canyon. Inside the Alcove, there are archeological ruins and incredible views. You can see remnants of the kiva.
If you don't mind heights and like a little bit of an adrenaline rush, then be sure to add this trail to your New Mexico bucket list! You can tell all your friends about where the ladders lead.
Trail Name: Alcove House Trail via Main Loop Trail
Distance: ½ mile each way from the branch of the Main Loop Trail
Time to hike: 45 minutes to 1 hour
Difficulty: Hard – multiple wooden ladders, steep drop-offs, heights
Hiking tip: AllTrails rates the Alcove House Trail as easy, but the ladder climb is definitely something folks want to be careful and thoughtful about while climbing up and down.
Have a Picnic Along Frijoles Creek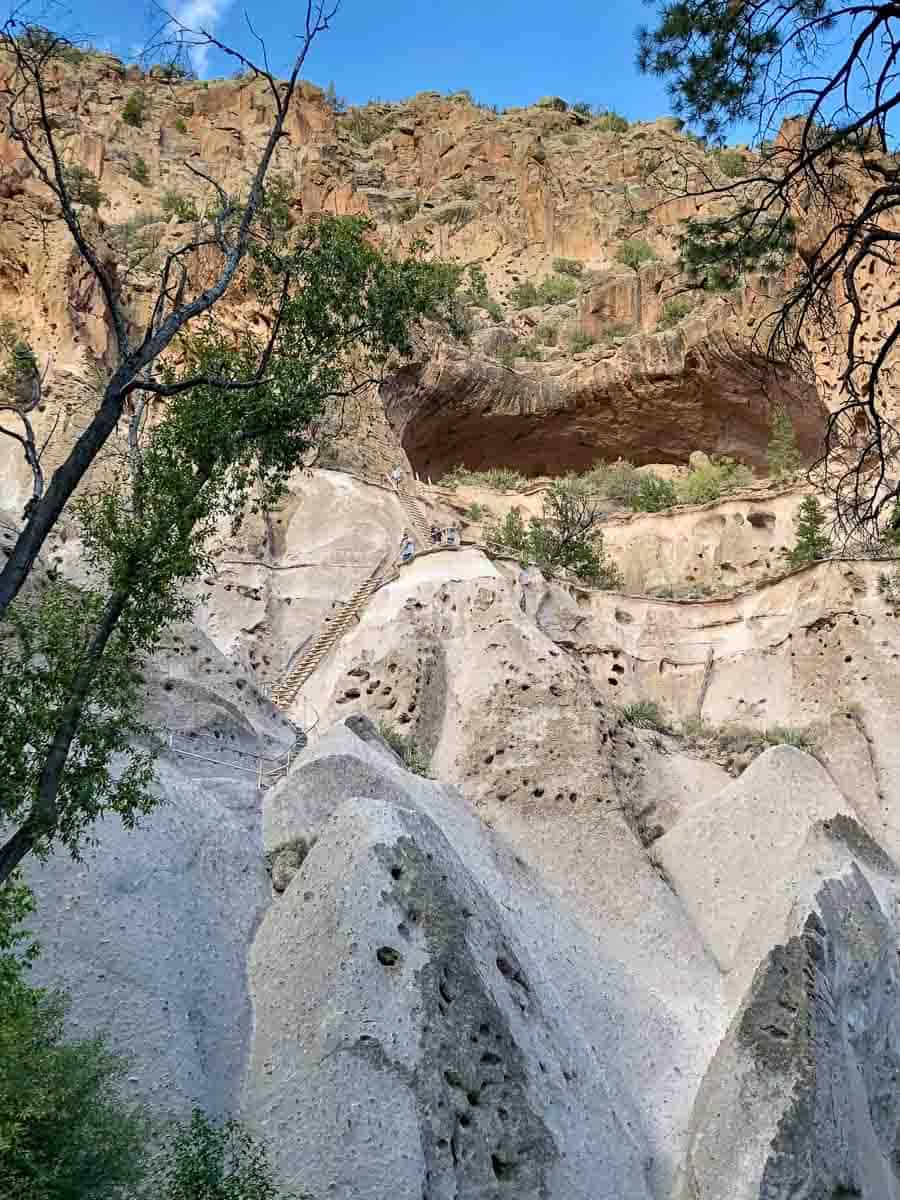 Enjoy the forest and surrounding area after hiking. There are multiple places to picnic within the park after hiking and along Frijoles Creek.
Be sure to bring your own food, snacks, and water. The park is located in a rural area, and there are not many options for food. There is a small park store within the visitor center.
Explore the Visitor Center
When we visited during the fall one year, a Native American drum team sang for visitors. It was so beautiful. Hopefully, you can catch this experience during your trip! The visitor center also has a small museum.
Bandelier National Monument Camping
There are two campgrounds within the park. Practice responsible camping etiquette to protect local wildlife. There are bears in the area, so you will want to have bear-proof food containers.
Did you know Yeti makes bear-proof coolers? That's why we love our Yeti coolers! Get yours here from REI.
Juniper Family Campground
The Juniper campground is located just off Highway 4 near the park's entrance.
Campsites are first-come, first-serve. There are no electrical hook-ups or showers. However, there is a restroom with running water.
Pets are allowed at the Juniper campground.
Ponderosa Group Campground
The Ponderosa campground is another place to camp at Bandelier National Monument. The campground is small, and reservations are required.
Check out recreation.gov to book a campsite at Ponderosa campground.
The campground is only open seasonally.
More Bandelier National Monument Trails
As we were saying above, the park has over 70 miles of trails to explore! If you'd like to see more of these trails, there are long and short trails to hike.
List of Short Trails
Frey Trail
Bandelier National Monument Falls Trail
Frijolito Loop Trail
Tyuonyi Overlook Trail
Cerro Grande Peak Trail
Burnt Mesa Trail
Tsankawi Trail
Falls Trail – Beautiful upper falls to see in the spring! The trail descends over 400 vertical feet, so be careful and have fun.
Get more information on the short hiking trails and trail conditions from Bandelier National Monument.
Visitors can also participate in one of many ranger-led tours. A guided tour from the Visitor Center to the Tyuonyi Pueblo is available from July through September.
List of Longer Hikes
Painted Cave Trail
Yapahsi Pueblo Trail
Frijoles Rim and Canyon Trail
Check out more information on the longer trails at Bandelier National Monument.
Backcountry Hiking
Find more information on backcountry permits if you're interested in backcountry hikes and camping.
There are other trails to explore not listed in our article.
The park also offers guided tours and backcountry tours.
Tips for Exploring the Canyons of Northern New Mexico at Bandelier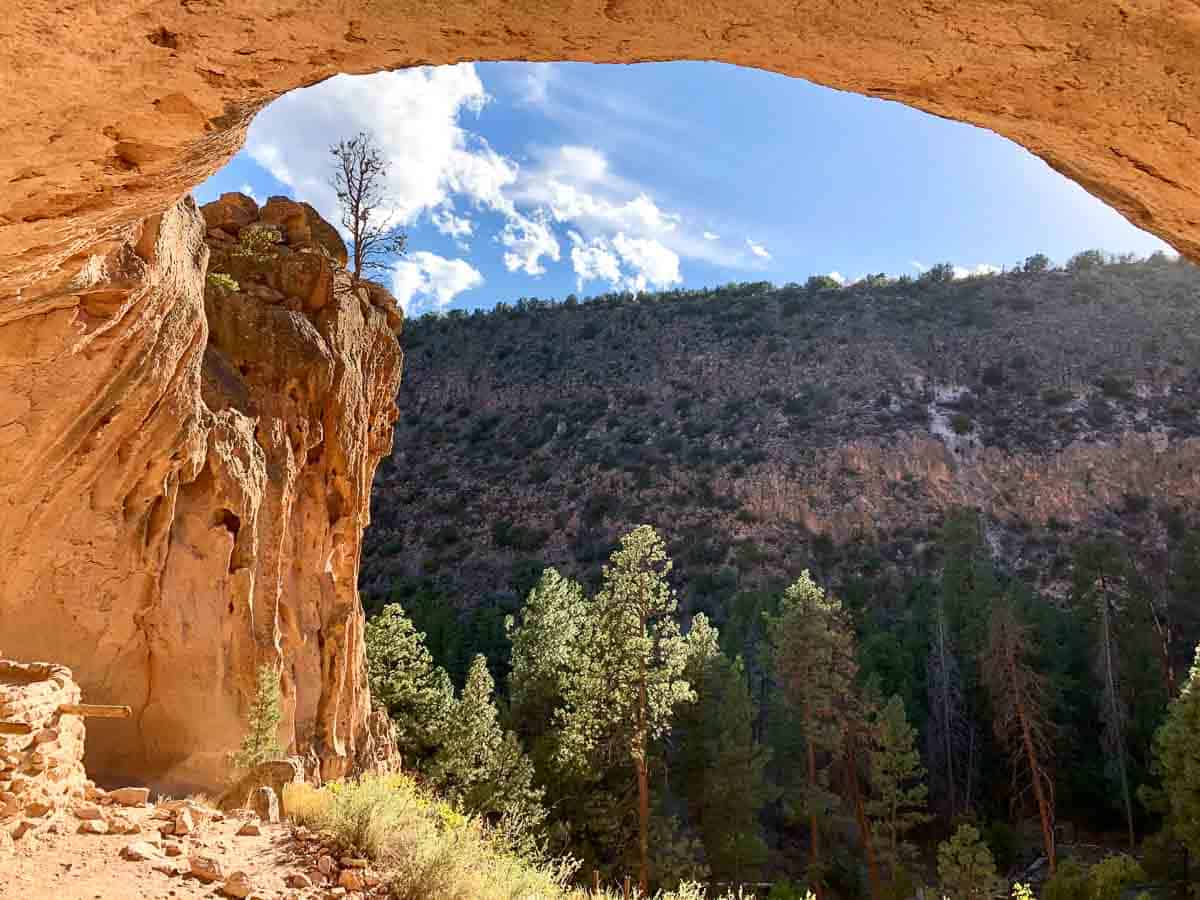 1)   Get to Bandelier National Monument early. If you're visiting during the summer, it can get hot, so it's best to start hikes earlier in the day. Do you need to take the shuttle? More on the shuttle below.
2)   Explore the hiking trails and visitor center.
3)   Keep it casual. Wear comfortable clothes to hike in and dress appropriately for the weather. Don't forget the sunscreen. You're at a higher elevation.
4) Bring food, water, and snacks. The park is in a pretty rural location with limited cell phone reception. So you will want to bring your own food, water, and snacks.
5) Have a backup plan if the campgrounds are full.
Directions to Bandelier National Monument in Northern New Mexico
From Santa Fe, Bandelier National Monument is about an hour drive. Head north out of Santa Fe on US-84 and exit onto NM-4W. There are lots of signs, and you can also use Google maps. Google maps will lead you to the main entrance.
 From Los Alamos, Bandelier National Monument is about 20 minutes south off NM 4-E.
Are you planning a road trip? Then, you might enjoy reading about 10 FREE apps for outdoor trip planning to find epic hiking, camping, and road trips!
Bandelier National Monument Map
Other Questions You May Have While Planning Your Trip
How much does it cost to go to Bandelier National Monument?
It is $25 per car to enter the park. The park is part of the National Park Service, and the annual America the Beautiful Pass is accepted.
Get your Annual America the Beautiful Pass ahead of time at REI!
Is there a shuttle bus at Bandelier National Monument?
Yes. From May through October, Bandelier can get very busy, and there is limited parking at the main parking lot. So, most visitors will need to park at the White Rock Visitor Center outside of the main entrance and take the shuttle to the visitor center, where you can access the Main Loop Trail and Alcove House Trail.
The White Rock Visitor Center address is: 115 State Road 4, White Rock, New Mexico 87547
When is the best time of year to visit?
If you don't like crowds, go in the fall around mid-October. When we visited, we did not need to take the shuttle. Instead, we were able to park at the parking lot at the Frijoles Canyon visitor center (backpackers parking lot area).
The weather is gorgeous in northern New Mexico during mid-May; however, this is also when the crowds begin to pick up.
The spring and fall are great times of the year to hike and explore some of the long hikes.
Is Bandelier National Monument worth visiting?
You should absolutely visit Bandelier National Monument in New Mexico! The area is incredibly gorgeous, and stopping to hike just two of the recommended trails above will give you memories of a lifetime. We think seeing the cliff dwellings carved is one of the best things about hiking out West!
Are you exploring the Santa Fe area? Check out our article on the best day trips from Santa Fe.
What are the Bandelier National Monument hours?
Double-check the main park website for operating hours before planning your trip. The operating hours can change due to weather and holidays.
What is the elevation at Bandelier National Monument?
If you're visiting the park from the flatlands, consider that the park's highest point sits at an elevation of 10,199 feet. Be sure to take it slow when adventuring in higher altitudes.
Is Bandelier National Monument open?
Since the park is located at a higher elevation, it can occasionally close due to snow. Therefore, be sure to check the operating status of the park before planning a trip.
Are dogs allowed at Bandelier National Monument?
Pets are not allowed on any of the trails or buildings. However, pets are allowed at the campgrounds.
Be sure to keep a close eye on your furry friends. The park is home to rattlesnakes, mountain lions, and bears.
Final Thoughts on Spending One Day at Bandelier National Monument
We hope you have a wonderful trip exploring this incredible National Park Service monument in northern New Mexico.
We think it is always fascinating to see ancient cliff dwellings in the southwest and trek along hiking trails that may have been precisely where ancestral pueblo people once walked before. Can you imagine climbing up to some of these places every day or living in cave dwellings?
Thanks for reading.
Ashlee + Pablo
---
Check out more National Park articles in the Southwest!
Save on Pinterest for later!
We'd love to hear from you!
Have you been to Bandelier National Monument? Would you or have you hiked to the Alcove House?