Carlsbad Caverns: How to Plan the Best Day Touring the Cave & Hiking
Last Updated: Oct 9, 2023
|
|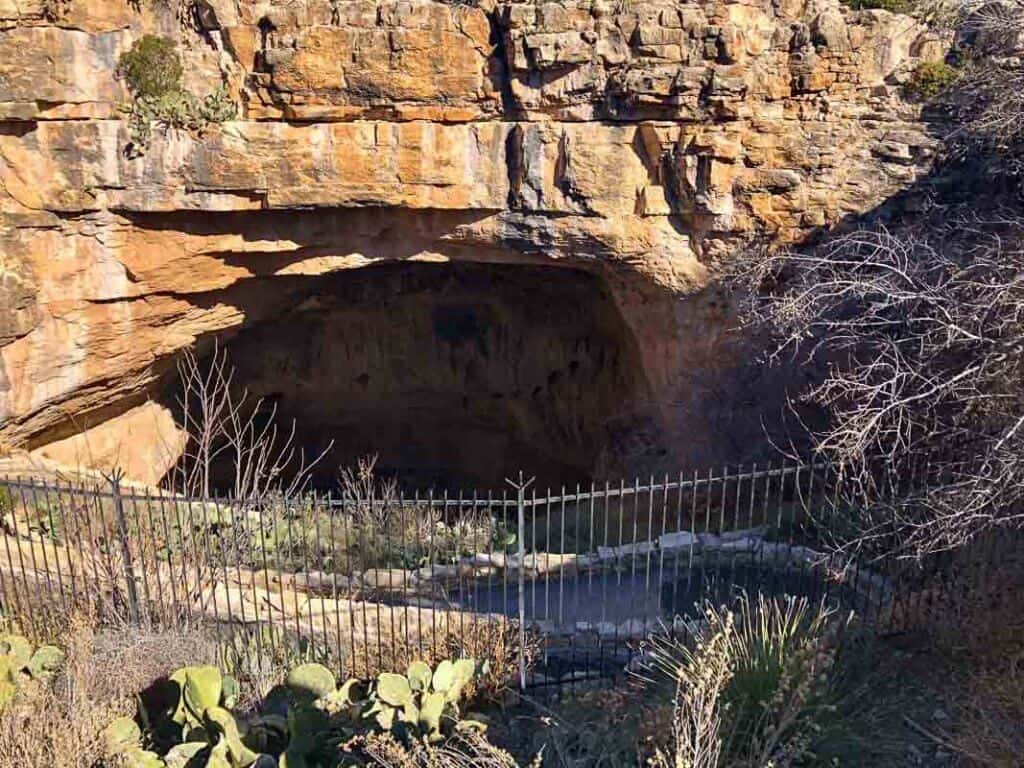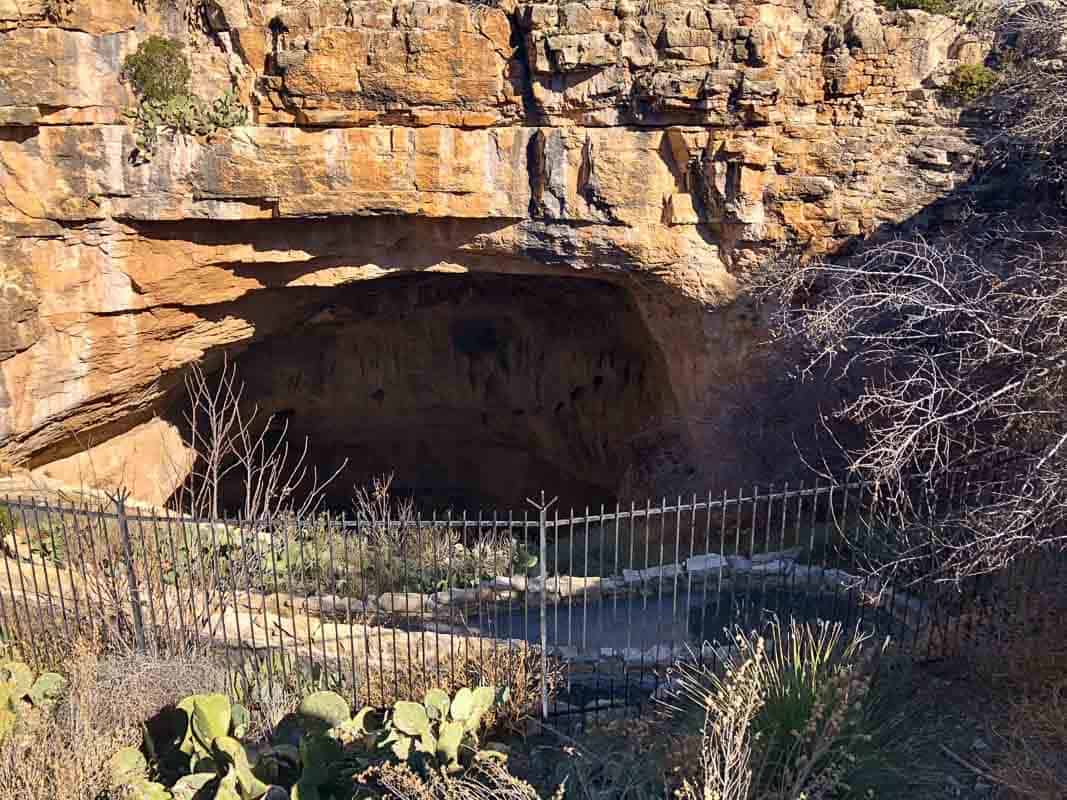 If you are looking for a place to visit full of natural wonders and beauty, then be sure to add Carlsbad Caverns National Park in New Mexico to your list!
Carlsbad Caverns is home to some of the most unique and awe-inspiring geological formations in the world, including one of the largest underground cave systems in North America. You can explore these caverns on your own or take a guided tour, which will give you an even more in-depth understanding of their history and geology. There are also plenty of other activities available at the park, such as hiking, camping, and wildlife watching.
This post contains affiliate links, which means we'll receive a commission if you purchase through our links at no extra cost to you. This allows us to continue publishing free travel and gear guides. Please read our full disclosure for more information. Thanks for your support!
UNESCO World Heritage Site
Did you know Carlsbad Caverns National Park is a UNESCO World Heritage Site? The park is home to one of the most well-preserved and accessible Karst systems in the world, which is part of the reason it is listed as a world heritage site. Karst systems have multiple caves, sinkholes, and springs.
Lechuguilla is the largest cave here and the fourth largest cave in the USA. To date, 149 miles have been mapped out in Lechuguilla Cave.
Carlsbad Karst System Geology
The caves themselves were formed over millions of years – but not because of the typical erosive action of water on limestone bedrock. The Carlsbad karst system was formed by hydrogen sulfide rich water mixing with rainwater which then formed sulfuric acid. The acid actually dissolved the Capitan limestone.
Today, the karst system provides scientists with an invaluable record of the Earth's history, and visitors can enjoy its extraordinary beauty. The caverns are home to a wide variety of mineral formations and speleothems (cave formations), including stalactites, stalagmites, soda straws, popcorn, and draperies. The caves also provide a habitat for several specialized cave creatures, such as bats.
Check out more New Mexico articles:

Best Adventure Day Trips from Santa Fe!
Carlsbad Caverns Itinerary
The itinerary below can help give you an idea of planning the best day at the park.
Arrive at the park visitor center before 8 am.
If it's summer, hike the surface trails early in the day to beat the summer heat. The rest of the year, you can hike any time of day.
Do a self-guided cave tour mid-morning or early afternoon.
If it's summer, watch the bat flight program at dusk. The program is seasonal. More on the bats below.
Stay after dark for the night sky program.
Head back to Carlsbad to sleep and eat – or head to Guadalupe National Park to camp and explore.
Below, we'll get into more details on all the best things to see and do at Carlsbad Caverns National Park!
Things to Do
The caves are a popular destination for spelunkers and cavers from all over the world. Along with touring the cave system, there are miles of surface hiking trails, a bat flight program, and a night sky program.
Explore the Caverns
Reservations
Reservations are required to enter the cave and cannot be made at the park. The reservation system only reserves your time slot, and it does not include the entry ticket fee, which is purchased at the visitor center.
Be sure to make tour time slot reservations online at recreation.gov before your trip.
Fees & Passes
Driving into Carlsbad Caverns to park and walk around does not require a park entrance fee (like other national parks).
To do the self-guided cave tours, there are fees:
Adults (16 and over): $15 per person
Children (15 and under): FREE
The cave entrance fees are covered if you have the annual America the Beautiful National Park Pass.
For more questions on fees, visit the Carlsbad Caverns National Park website.
Self-Guided Tours
One of the best parts about exploring Carlsbad Caverns is that there are options for self-guided tours so visitors can explore at their own pace! The self-guided tours stood out for us – we have been to other national park caves that only offered guided tours.
Natural Entrance Trail
The Natural Entrance Trail self-guided tour is just fabulous! Really. The trail starts on the surface and leads you 750 feet down a path into the cave. Once you get into the cave, the path has lighting, so there is no need to bring a headlamp. It takes a while for the eyes to adjust, so take your time.
Be sure to read the signs along the route to see famous landmarks inside the cave, such as Devil's Spring, Iceberg Rock, and the Whale's Mouth.
If you hike from the surface down into the cave, you'll take the elevator out at the end. The trail ends at the Big Room Trail. More on the Big Room Trail next – and you can walk both trails on the same day!
Distance: 1.25 mile
Tour timing: about 1 hour
Things to consider: Wear hiking shoes; the descent is steep and not recommended for people that have trouble going downhill.
Best way to hike: Hike from the surface down into the cave, so you're walking downhill. If you go the opposite way, you'll be hiking uphill from the elevator, which will be more strenuous.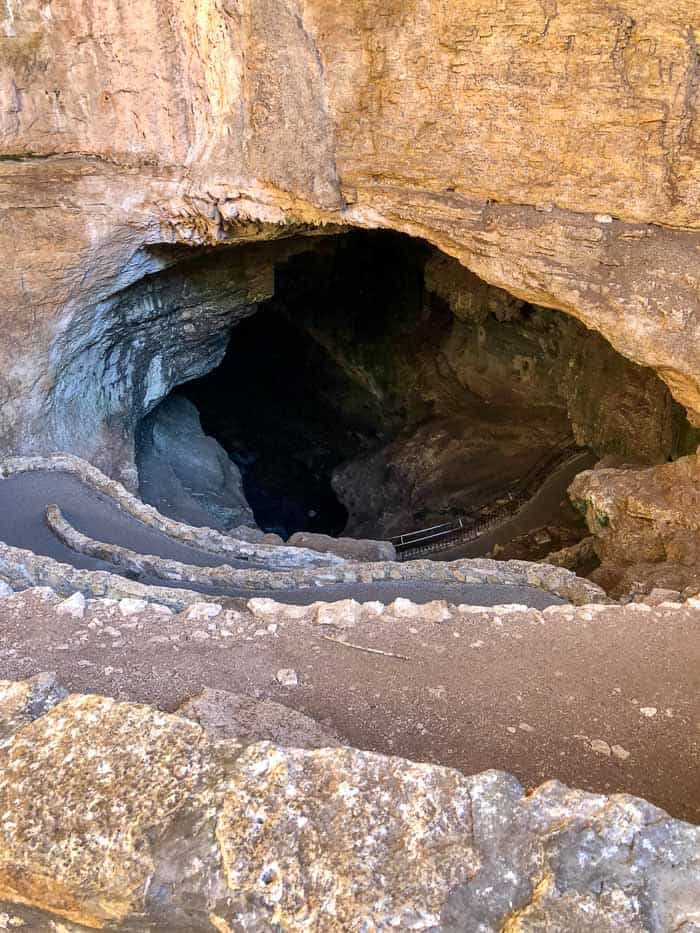 Big Room Trail
The Big Room Trail is one of the most popular self-guided tours. It was called "The Grand Canyon with a roof over it" by actor Will Rogers. Will Rogers is a big deal in Oklahoma, which is where we call home these days, so had to give Will a shout-out.
Distance: 1.25 miles, or you can take a shorter route and enjoy a 0.6-mile walk
Tour timing: about 45 minutes to 1 hour
Things to consider: Wear hiking shoes; some of the route is handicap accessible
Best way to view: Take the elevators down into the cave if you're not hiking in from the surface and Natural Entrance Trail.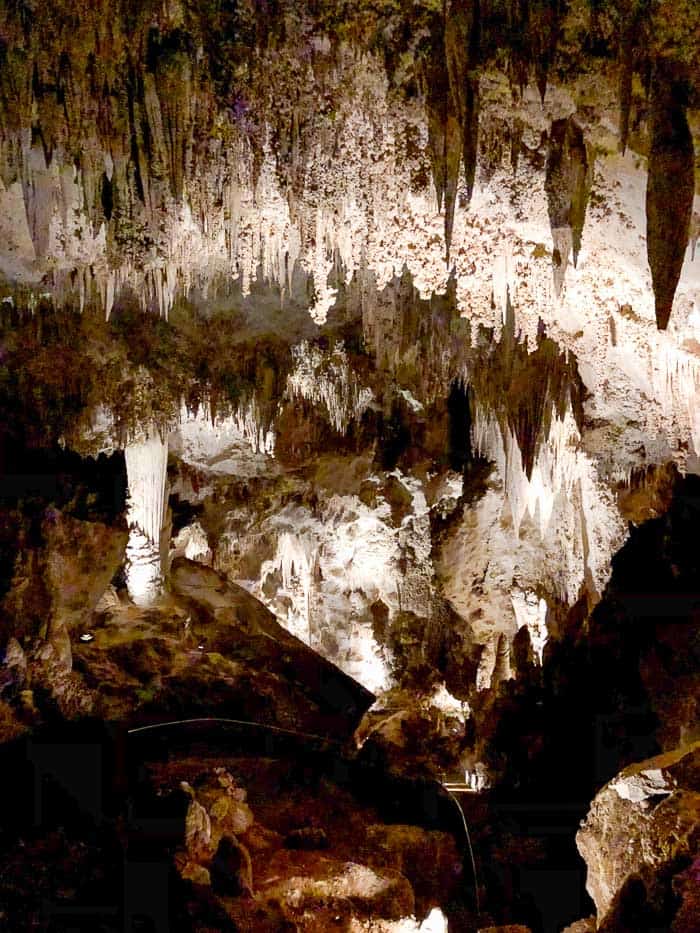 Bat Flight Program
Another great thing to do at Carlsbad Caverns is to watch the bats emerge from the cave in the summer at dusk.
Hundreds of thousands of Brazilian free-tailed bats fly out of the cave to search for food, and you can watch them fly out the mouth of the cave. It is just incredible! There is some seating at the amphitheater located near the Natural Entrance.
The bats migrate, so this is a seasonal event typically occurring from May to October. The best time to see the bats is in August and September after all the summer bat pups are born, and the colony is at its largest.
No reservations are required to watch. Electronic devices are not allowed to protect the bats. So, no pictures to share here.
Surface Hiking Trails
There are miles and miles of surface trails inside the park boundaries. Hiking is one of the best ways to see the Chihuahuan Desert and parts of the Guadalupe Mountains.
There are a handful of great trails that start near the visitor center. The trails that lead to and from the visitor center close temporarily for the bat flight program every evening. We like seeing all the cacti along the trails! Spring is a great time to visit to see the cactus blooms.
If you're hiking in the summer, be mindful of the harsh desert heat. It is best to walk super early in the summer and not very far. There is not much shade in this area.
The best times to hike in the desert are spring, fall, and winter.
Do you need help thinking about what type of hiking clothes to pack? Find out exactly what to wear hiking all year long.
Rattlesnake Springs
If you have time to burn, waiting for your tour to start, check out Rattlesnake Springs. It is a riparian oasis in the middle of the desert. The springs are located on the southwest side of the park. There is a homestead ranch with some of the original irrigation systems where you can see how they collected spring water. It is listed on the National Register of Historic Places. You can't go swimming here! Although the water looks nice.
You'll have to drive away from the visitor center to visit this part of the park. Pack your lunch and have a picnic! 
Night Sky Programs
The park also offers night sky programs. Once it gets dark, visitors can take a guided tour with a park ranger. Depending on the time of year, there are scheduled night sky walks to explore with a ranger.
The night sky programs are first-come, first-serve.
The night sky is unbelievable out here! Make time to do this.
How to Get to Carlsbad Caverns National Park
Driving to the cave feels like you're going to the middle of nowhere (literally). Carlsbad Caverns is actually 25-30 minutes southwest of the town of Carlsbad. Take US-180 W out of town to White's City. Turn off the highway and follow a 7-mile drive to the visitor center.
Since it is a national park, the roads are well-marked.
Google maps did get us there just fine.
The visitor center address is:
727 Carlsbad Caverns Highway
Carlsbad, NM 88220
Park Hours
Visitor Center – The visitor center is open from 8 am to 5 pm.
Cave Tickets – The last cavern entrance tickets are sold at 2:15 pm.
Cave Entrance – Is permitted from 8:30 am to 2:30 pm, and you have to be out by 4:30 pm.
Are Dogs Allowed?
Guess what? Although dogs are not allowed on the unpaved trails, inside the cave, inside the visitor center, or to watch the bats, there is a kennel service to leave your pet while you tour the cave! How cool is this?
It costs $10 per day (per pet). The service is on a first-come, first-serve basis.
Check out the Carlsbad Caverns kennel service for more information if you're traveling with your fur baby. We love how this creates a safe and inclusive experience for people and their pets while traveling.
Best Time of Year to Visit
The park is open year-round. So you can honestly visit year-round.
We visited in February, and there were no crowds, and the weather was perfect for hiking!
Spring is the best time to see all the desert flowers.
Summers do get super-hot (dry heat), so consider the heat if planning to camp and hike.
Camping Near Carlsbad Caverns
Speaking of camping, if planning to camp here, please keep in mind that Carlsbad Caverns National Park does not have a campground. No overnight RV parking is allowed in the parking lot, either.
There are some options for primitive camping on BLM Land nearby. You'll want to do a little research ahead of time. Get more information from the Carlsbad BLM Field Office.
Guadalupe Mountains National Park is also 30-45 minutes away across the Texas border, and there is some camping there as well.
Are you new to camping on BLM land? We've got you covered! Check out our article about camping on BLM land and learn more about backcountry camping etiquette.
Lodging Near Carlsbad Caverns
The hotels closest to Carlsbad Caverns will be in the town of Carlsbad. There is no lodging within the park.
There is a good selection of chain hotels to choose from in the town of Carlsbad.
If you like quaint and cozy boutique hotels, we recommend:
The Trinity Hotel – is a luxury boutique hotel with a restaurant inside. The hotel is within a renovated building from the 1800s. They also have really good food, and the hotel has a classy ambiance.
Fiddler's Inn – this country chic boutique bed and breakfast has outstanding reviews. It has a cute courtyard, and breakfast is included. Also, it is in Carlsbad, so you can stay late and watch the bat flight program or night sky program at the park without having to drive that far after dark.
Where to Eat
There are some decent local places to eat in Carlsbad, especially if you like TexMex. We love TexMex.
If you don't like to eat in restaurants, there are a few large chain grocery stores like Walmart and Albertsons so you can buy groceries and prepare your own food, get ice for the cooler, and stock up on water. We actually mostly travel like this – so we are always on the lookout for the grocery store.
We talk more about how we afford to travel so much in this article – if you'd like to read more!
Other Things to Consider While Planning
Carlsbad, New Mexico, is an oilfield boom town which means there is a lot of truck traffic. Be mindful when driving the highways and back roads. Once you leave town, the area is remote and rural, and cell phone reception can be spotty.
Sometimes, it can be hard to find camping and places to stay because there is such a large influx of transient people working in the area, so consider potential crowds when planning accommodations.
Summers can be triple-digit hot – as in 100+ degrees Fahrenheit. Make sure to plan for that kind of weather.
And, as we said earlier, the area is really rural while you are road tripping through. So, find the nearest grocery store and get groceries if you want to have a picnic and bring snacks to hike and road trip with. Also, get fuel!
There is a Walmart in Carlsbad. That is where we stopped to get groceries.
Travel safe! Find out 5 things we never road trip without!
If you're on a road trip to visit multiple national parks, the America the Beautiful pass pays for itself quickly. We highly recommend purchasing one. You can even buy a pass ahead of time and have it shipped to your house from REI.
Final Thoughts on Visiting Carlsbad Caverns National Park
We visited the park in February, and the weather was terrific. It was sunny and long sleeve shirt weather. We hiked some of the trails around the visitor center and enjoyed the self-guided tour from the Natural Entrance into the Big Room. There were no crowds in February.
We thought the self-guided tour from the Natural Entrance was jaw-dropping. It should be on everyone's national park bucket list! It was such a cool adventure to walk into the cave like that. Be sure to check out the Natural Entrance Trail if you visit.
We missed the bats because they had migrated south.
The night sky in the area is incredible. So if you're into night photography, you'll get some great images. You don't have to do the program at the park to appreciate the night sky here.
Visiting Carlsbad Caverns National Park pairs well with a trip to Guadalupe Mountains National Park in Texas or Roswell, New Mexico.
The International UFO Museum and Research Center is fun to check out in Roswell! Yes, I love all things aliens and UFOs, so I thought a visit to the UFO Museum was a great detour. Roswell is an hour and 40 minutes from the visitor center. Roswell is a quirky small town – it is fun to see all the little green alien signs everywhere.
Plan to spend at least a day at Carlsbad Caverns NP to explore. We know you will love visiting!
Thanks for reading.
Ashlee & Pablo
---
Where are you headed next?
You might also enjoy our other New Mexico articles:
Save this on Pinterest for later!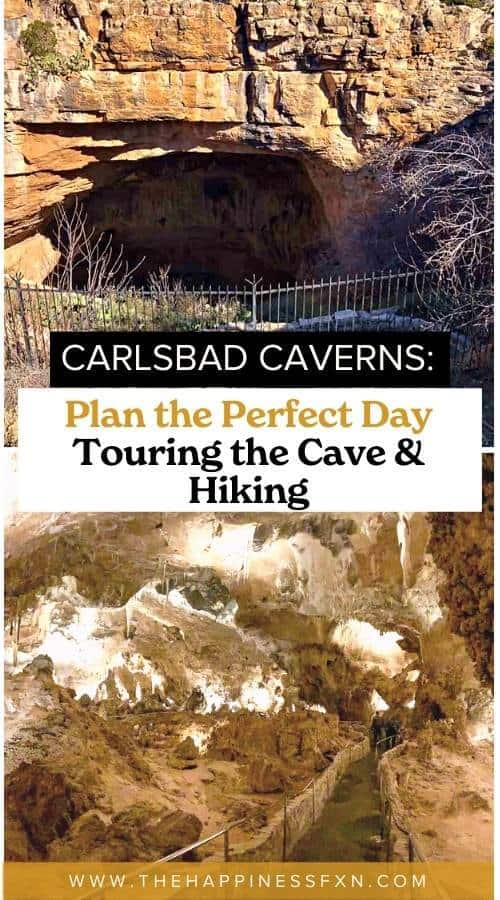 We would love to hear from you!
What do you think about the Natural Entrance Cave Trail?!
Have you been to Carlsbad Caverns National Park?