KÜHL Hiking Pants Honest Review & Buying Guide for Men & Women (2023)
Last Updated: Jan 2, 2023
|
|
If you are curious about KÜHL hiking pants for men and women and haven't tried them, you should! We are a husband-and-wife team who likes to hike like crazy. You could say we are the outdoorsy types who spend our weekends in nature, so we know how vital having good gear really is. For our readers and fellow outdoor enthusiasts, we wanted to provide a KÜHL hiking pants review if you're in the market for new pants – for both men and women. We recently tried the men's REBEL™ KLASSIK FIT and women's FREEFLEX™ MOVE, and honestly, they did not disappoint!
We can't wait to share all the details with you – keep reading!
Declaimer: This article is in collaboration with KÜHL®. Our thoughts and opinions are always honest and entirely our own.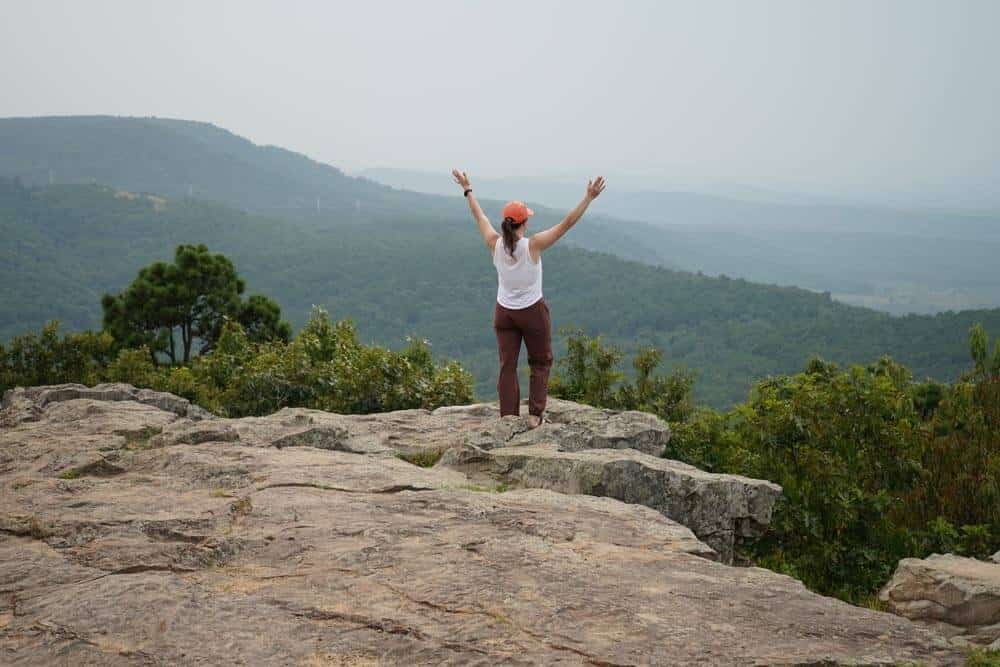 This post contains affiliate links, which means we'll receive a commission if you purchase through our links at no extra cost to you. This helps us provide free travel guides and gear reviews. Thank you for your support! Please read full disclosure for more information.
KÜHL Hiking Pants Review & Buying Guide
Are KÜHL Pants Good for Hiking?
As we were saying above, we recently tried the men's REBEL™ KLASSIK FIT and women's FREEFLEX™ MOVE, which was a great decision because they did not disappoint. In this article, we will provide our honest review and buying guide for purchasing KÜHL hiking pants.
First, we want to tell you a little more about the brand KÜHL (German for cool).
Are KÜHL Hiking Pants Worth the Cost?
Let's talk cost. Yes, pants from KÜHL are worth the price. Reasons that justify the cost personally for us, first and foremost, are product performance. The brand is big on designing anatomically correct clothes to help you move while you explore.
Plus, they are a US company headquartered in Salt Lake City, Utah. We prefer to invest in ethical and local companies (more on ethics below).
Buying high-quality gear is essential to us, and these days, you pay for quality. So overall, yes, we think KÜHL pants are worth the price.
Is KÜHL an Ethical Company to Buy From?
Yes! KÜHL is an ethical and sustainable company to buy from.
Ethically speaking, their website says they pay 100% of the health insurance premiums for employees and provide lunch to their staff. We love hearing about companies that take care of their employees. In addition, the brand is privately and independently owned, meaning they focus on their customers (and not Wall Street stock prices).
Sustainability standards include using sustainable materials, using a fair and safe supply chain, staying on top of environmental management, and having an in-house repair room. We love reading about the in-house repair room because repairing used gear is better for the planet (than consumers always buying new).
KÜHL also guarantees product performance. Normal wear is not included under warranty, but they will repair defective products.
Where is KÜHL Made?
Products are made in the USA as well as globally. As we were saying earlier, the brand has strict standards for operating ethically and sustainably. You can read more about that on the KÜHL website.
The Complete Buyer's Guide to KÜHL Hiking Pants
Well, now that you know more about KÜHL and why we like the brand overall, let's get into buying KÜHL hiking pants!
First, we'll break down the men's REBEL™ KLASSIK FIT and then the women's FREEFLEX™ MOVE.
KÜHL Hiking Pants for Men – REBEL™ KLASSIK FIT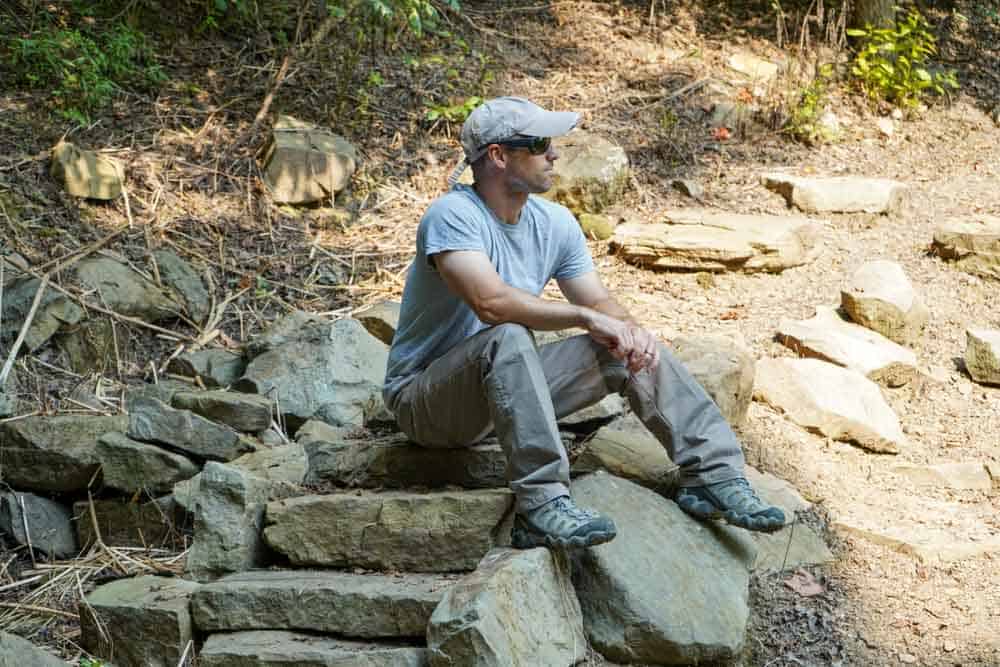 Materials: 97% Cotton, 3% Spandex
Cost: $89
Care: Machine wash cold with like colors
What we like: The style fits the body very well while still providing plenty of flexibility for hiking and active movements, pants are suitable for exploring outdoors, and the material is durable when brushing up against the natural elements, bottom hem covers hiking shoes just right so bottom hem doesn't drag on the ground.
What we don't like: The only minor thing to add is the button is a new kind of snap button – though it is a neat design, the button could come undone if it doesn't wear well long term, or it could pop open under too much pressure.
These are great pants for exploring on the weekends as well as everyday wear. The extra seams and cuts in the knee and crotch areas are fantastic for looks but technical comfort. The pants follow the shape of the legs for a trendy look and fit. The phone pocket is perfect.
How Do KÜHL Hiking Pants Fit – REBEL™ KLASSIK FIT
For men's sizing, the KLASSIK FIT runs true to size to a tad bigger. My husband usually wears a 30/31, and he can fit into a 30. These pants make for a perfect combination – between a more relaxed fit and a tapered fit (all his words, not mine).
Are KÜHL Hiking Pants Comfortable – REBEL™ KLASSIK FIT
They are incredibly comfortable.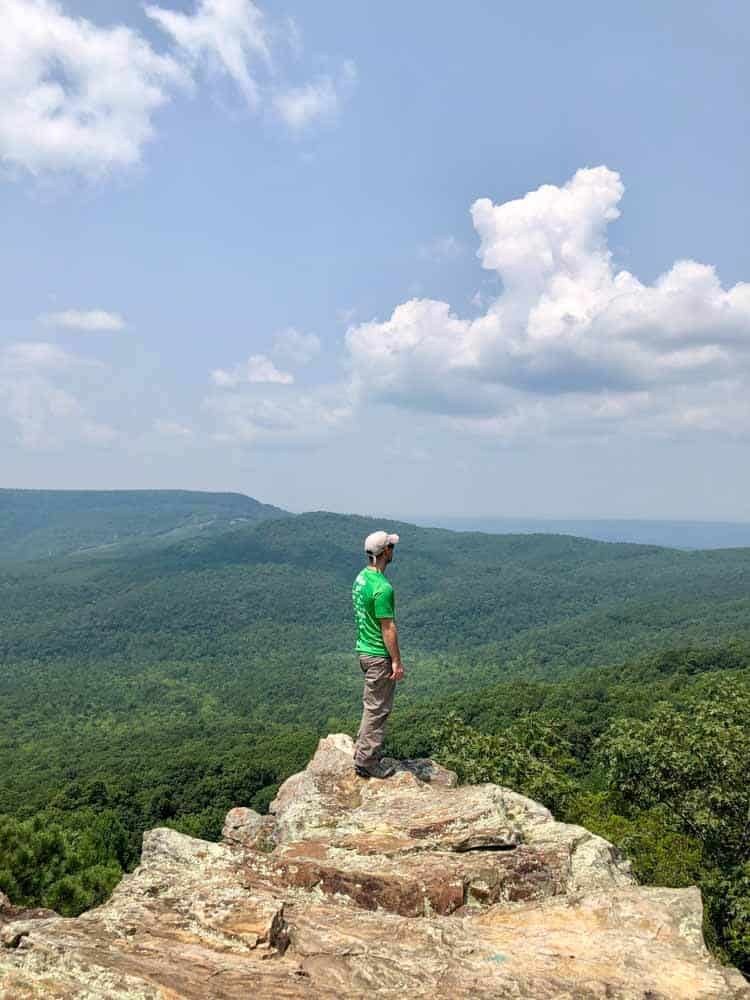 Are KÜHL Hiking Pants Waterproof – REBEL™ KLASSIK FIT
This style is not waterproof and is more of a lifestyle-travel pant; however, my husband prefers thicker pants to protect his legs while hiking.
Are KÜHL Hiking Pants Sun Resistant – REBEL™ KLASSIK FIT
This style does not have added UPF protection but is thick enough to protect your legs from the sun.
What is The Durability Like – REBEL™ KLASSIK FIT
The material is slightly stretchable but very durable with a medium-thickness cloth.
The pants are suitable for rugged hiking and camping as they can easily withstand natural wear and tear from rubbing against rocks, trees, brush, etc.
During the first hike wearing them, my husband accidentally stepped in a puddle of slimy spring water and got them dirty with red-copper-colored algae. He washed them when we got home, and the stains came right out. So, these wash well.
Overall Men's REBEL™ KLASSIK FIT Review
The REBEL™ KLASSIK FIT looks great and can be used for outdoor adventures, travel, and even with style in urban settings. They are a very comfortable pant that can be used year-round. My husband said he would definitely get another pair in a different color. These are a good choice for men's hiking pants.
---
KÜHL Hiking Pants Women – FREEFLEX™ MOVE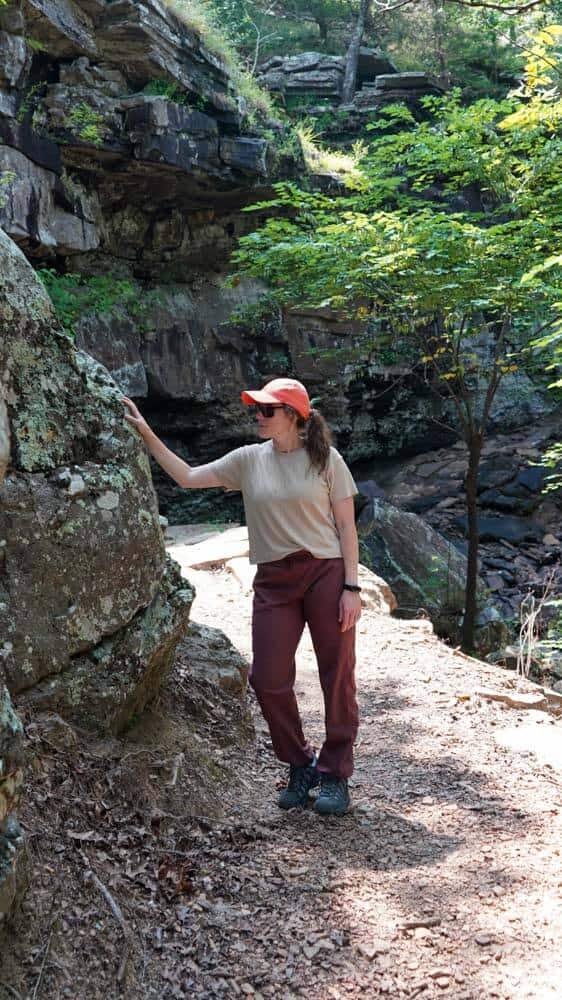 Materials: FREEFLEX™ 50% Polyester, 50% New Polyester
Cost: $89
Care: Machine wash cold with like colors
What we like: Loose-fitting, suitable for curvy and muscular ladies with thighs, stretchy waistband, adjustable option at the ankles, zip front pockets, back pocket fits cell phone, doesn't wrinkle, dries fast from sweat, washes well.
What we don't like: They are a little hot for hiking in the summer (but in all fairness, we wander Oklahoma and Arkansas, and it is 100 degrees Fahrenheit in the summer with crazy humidity).
How Do KÜHL Hiking Pants Fit – FREEFLEX™ MOVE?
You might be wondering if KÜHL pants run big or small for women?
In my personal experience wearing and trying on KÜHL pants over the years, the sizing is typically on the smaller side. However, the FREEFLEX™ MOVE fit me true to size. I wear a medium in everything, and this specific style fits perfectly. In addition, I lift weights, hike, run, and do yoga and tend to have thicker legs and backside. So, in my opinion, the FREEFLEX™ MOVE style is perfect for my body type in my typical size.
When in doubt, try your current size and the next size up to ensure you get the perfect fit.
Are KÜHL Hiking Pants Comfortable – FREEFLEX™ MOVE?
These pants are incredibly comfortable. As in, I wore them for a few days straight hiking and camping. And they never smelled!
These also have a wide pull-on waistband with a medium rise to keep your assets supported while you adventure. As stated at the beginning of the women's review, the bottom hem is adjustable at the ankles, which is beyond awesome. I don't like my pants to drag in the dirt.
Are KÜHL Hiking Pants Waterproof – FREEFLEX™ MOVE?
The pants are moisture-wicking but not waterproof.
Are KÜHL Hiking Pants Sun Resistant – FREEFLEX™ MOVE?
Yes, these have UPF 50 – protect your skin and energy from the sun.
What is The Durability Like – FREEFLEX™ MOVE?
You can just tell they will last a long time by handling the pants and using them. The pants are made well.
So far, they have washed well too.
Are They as Cute as in the Photos?
OK, if you wonder if they look as good in person as in the photos, then yes, they do!
You can wear these pants on your weekend adventures, or you can wear them around town. They look even better in person. And you can style them tight around the ankles like a jogger or a more loose-fitting boyfriend pant – huge bonus! The FREEFLEX™ MOVE looks great with hiking boots or sandals. These are KÜHL (cool) pants for women – pun intended!
Overall Women's FREEFLEX™ MOVE Review
Overall, I love the FREEFLEX™ MOVE so much I would get another pair in another color. Not only are these great pants for hiking, but they are also versatile for traveling, road trips, hanging out around camp, or even running errands in everyday life. Additionally, they are great hiking pants for curvy women. There isn't anything not to like about these.
Best KÜHL Pants for Hiking Review
We hope this gear review helps you select your next pair of hiking pants.
We honestly really like the brand. They have lots of different styles to choose from to help you find the right fit for the right activity if you're looking for any adventure or lifestyle pants for men and women. They are worth the cost, have a wide range of pants for hiking and lifestyle, and multiple types of fit depending on style.
We also appreciate the culture they are trying to promote of ethical and sustainable US businesses.
Thanks for reading.
Ashlee & Pablo
---
More Gear Reviews
Hiking Guides
Save on Pinterest!
We'd Love to Hear from You!
Did our KÜHL hiking pants review help you decide on your next pants?
Tag #thehappinessfxn on Instagram! We'd love to see your hiking trips and outdoor adventures in the USA!