Discover Hidden Gems of Colorado: Hike Rattlesnake Arches, Witness 8 Natural Wonders
Last Updated: Mar 27, 2023
|
|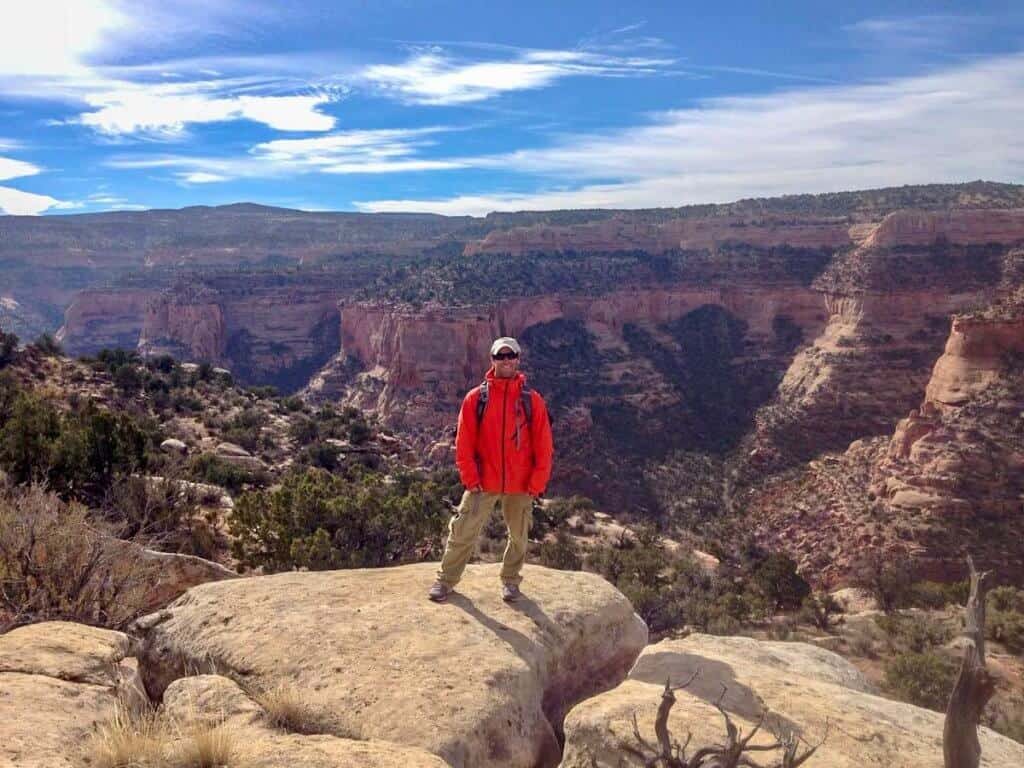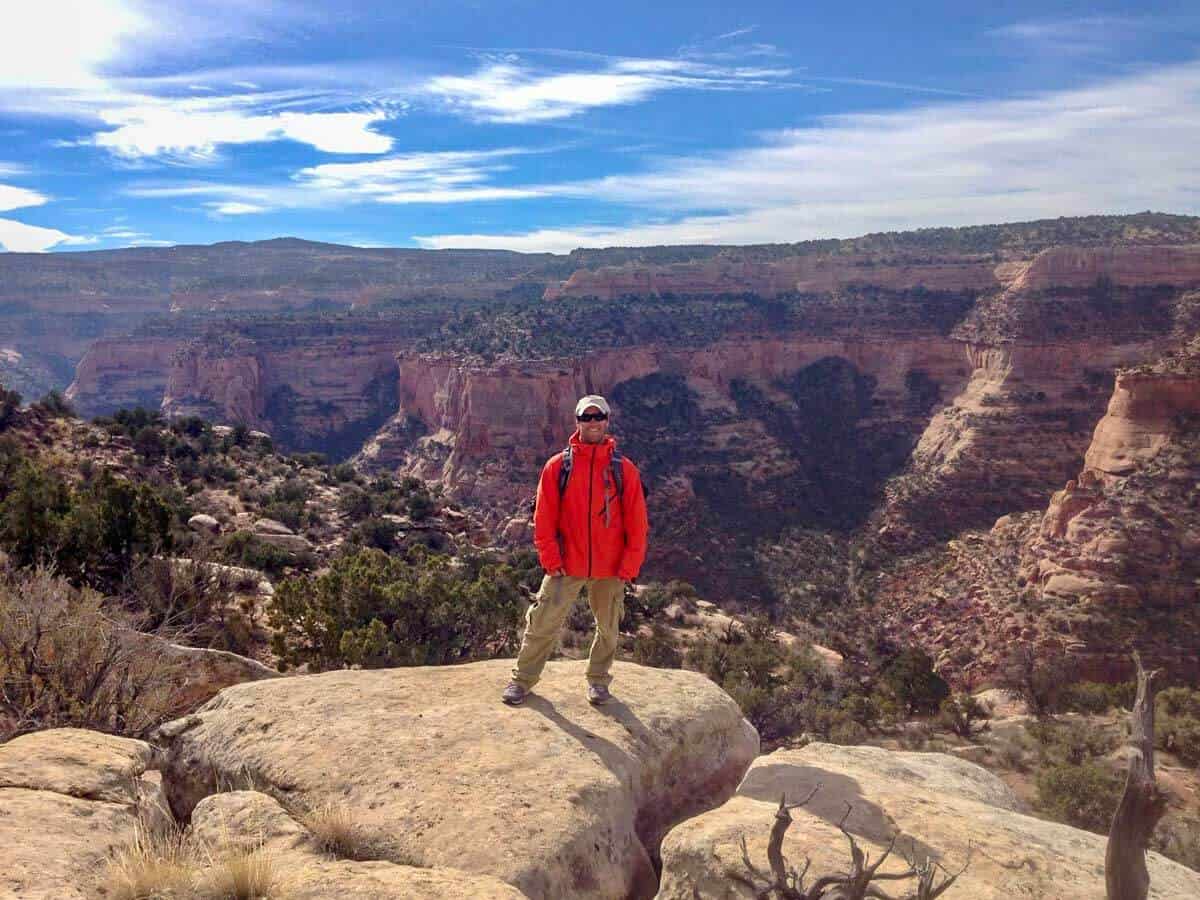 Located within the McInnis Canyons National Conservation Area near Grand Junction, Colorado, Rattlesnake Arches boasts some of the best canyon country to explore in the U.S.
Outside of Utah, this area has one of the largest concentrations of natural sandstone arches. Since hiking to Rattlesnake Arches is quite the trek, you will likely encounter fewer crowds, which offers an incredibly remote backcountry experience in the Black Ridge Canyons Wilderness.
The Rattlesnake Arches hike via Pollock Bench trail can be done in one day or as a backpacking trip. We'll share how to experience eight arches along the sandstone cliffs in Western Colorado!
Hiking to Rattlesnake Arches in McInnis Canyons National Conservation Area
Hiking to see the sandstone arches along the Rattlesnake Arches trail makes for an awesome Colorado backcountry adventure.
A few years ago, Pablo, my husband, and I hiked here on Valentine's Day. The area had not had much snow all winter, and we could see from afar that the plateaus and mesas in the area didn't have snow either. So, we decided to go!
We are happy we did. This is one of the best hikes near Grand Junction we have ever done. After reading this article, we hope it inspires you to add Rattlesnake Arches to your Colorado adventure list.
In mid-February, when we hiked, the weather was perfect. The morning started off cool, but it was long-sleeve weather by the middle of the day.
We hiked the route that begins at the Pollock Bench Trailhead on the south side of the Colorado River between Grand Junction and Fruita.
We were the only ones on the trail for most of the day. It was so awesome!
The trail was well-maintained and well-marked for the most part, with signs pointing to Rattlesnake Arches.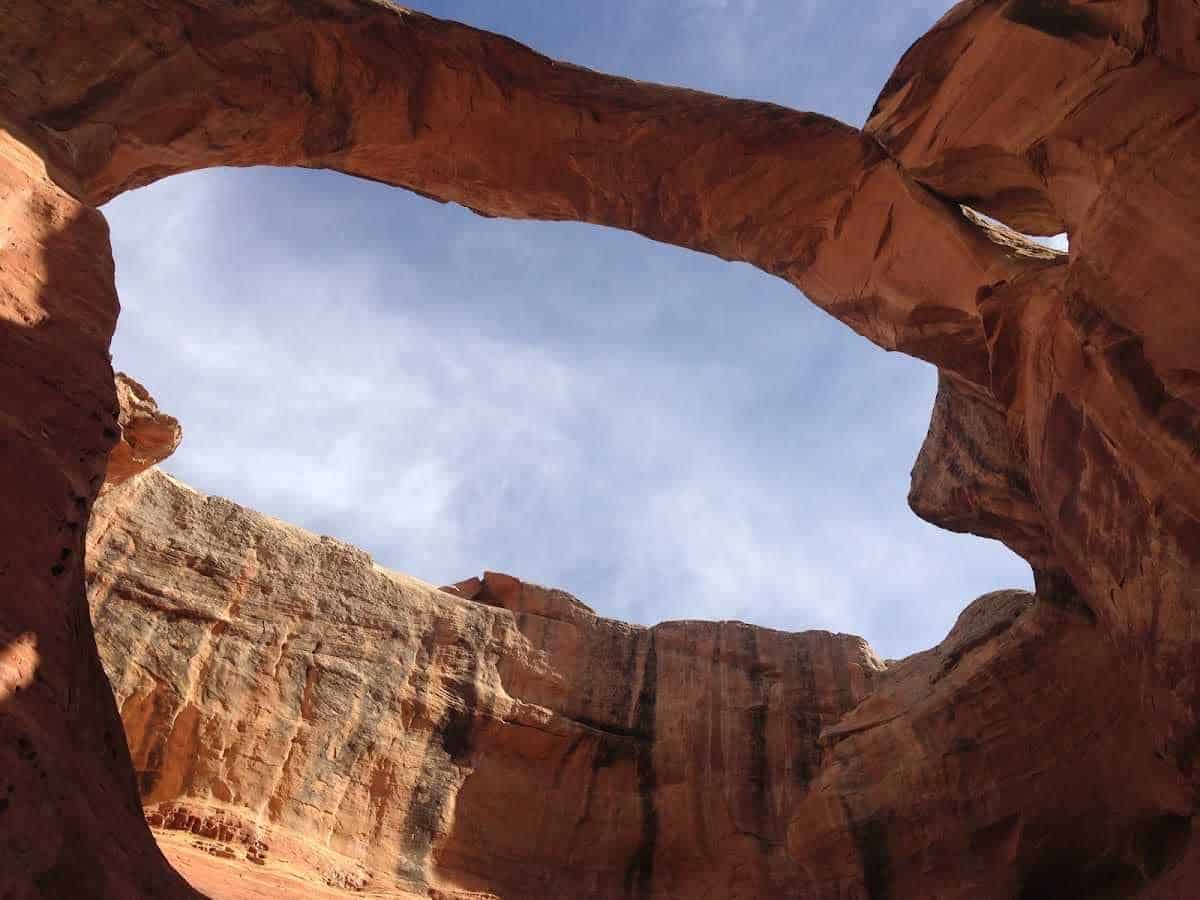 Rattlesnake Arches in Colorado: Trail Rating
We rated this trail as difficult and hard for a few reasons:
First, the route is over 15 miles (total there and back), which is a nice long trek to complete in one day. You definitely want to be in good shape.
Second, there was some significant rock scrambling down and up a large canyon. There are some steep sections along the trail.
Third, it is a good climb in elevation from the river bottom to the top of the mesa where the arches are located.
There is no water and limited shade – bring all of your water.
You'll hike through the Pinon-Juniper woodlands and sagebrush and be surrounded by incredible arid west sandstone geology along the route.
The Black Ridge Canyons Wilderness Area and McInnis Canyons National Conservation Area are breathtaking. In our opinion, it is backcountry hiking at its finest. All along the trail, there are panoramic views of the Grand Valley.
This is one of our favorite places to explore.
"If everyone in the world took care of each other the way folks do out on the trail, and if everyone approached each day with as much hope and optimism as hikers do, the world would be a better place."

– Jon Tullis
McInnis Canyons National Conservation Area Map
To be on the safe side, we recommend bringing or studying a map so you know your hiking route and the surrounding area.
We have National Geographic map #208.
You might also want to download the route on a cell phone or GPS from AllTrails that zooms in closer.
Rattlesnake Arches Trailhead Details from Pollock Bench
Trail Name: Rattlesnake Arches (R1) via Pollock Bench (P1) Trail
Difficulty: Difficult + hard
Distance: roughly 15 miles per BLM
Time: About 6-8 hours
Parking: Plenty of parking at the Pollock Bench Trailhead
Water: None. Bring your own and plan at least one gallon per day per person.
Restrooms: Yes, at the Pollock Bench Trailhead
Dogs allowed: Yes, leashed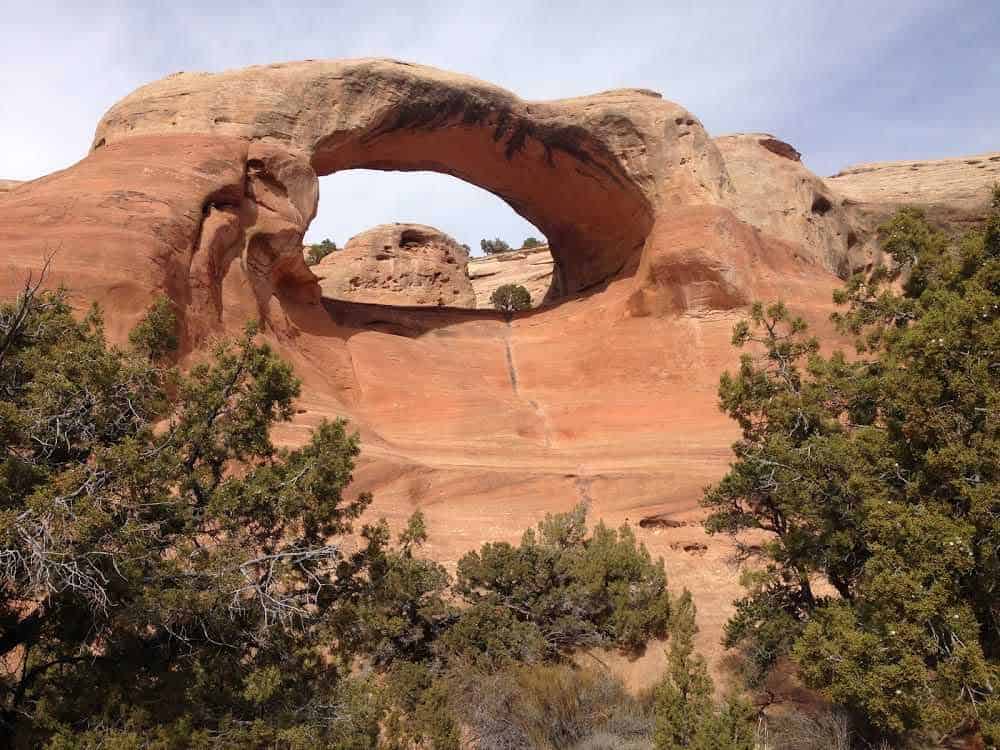 How to Get to Rattlesnake Arches Hike via Pollock Bench Trailhead
From the Pollock Bench trail (marked as P1), follow the P1 trail until you see signs to fork and follow the Rattlesnake Arches trail (marked at R1). You'll follow the Rattlesnake Arches trail until you get to the top of the mesa – the trail leads right past the arches. You cannot miss them!
Backpacking Rattlesnake Canyon
It is totally doable to hike from Pollock Bench to Rattlesnake Arches in one day, but it is a long day.
If you'd like to take your time, enjoy canyon country, and backpack the area, you can do that as well. Please keep in mind that camping within .025 miles of Rattlesnake Arches is not allowed.
Be sure to do some research to plan your trip.
Best Time of Day to Hike to Rattlesnake Arches
Since the hike is roughly 15 miles, we recommend starting at sunrise. You'll want to plan to hike for a full day which is likely to take six to eight hours.
This time estimate includes stopping for breaks, snacks, photos, and enjoying the arches! We enjoyed a picnic near the large arches.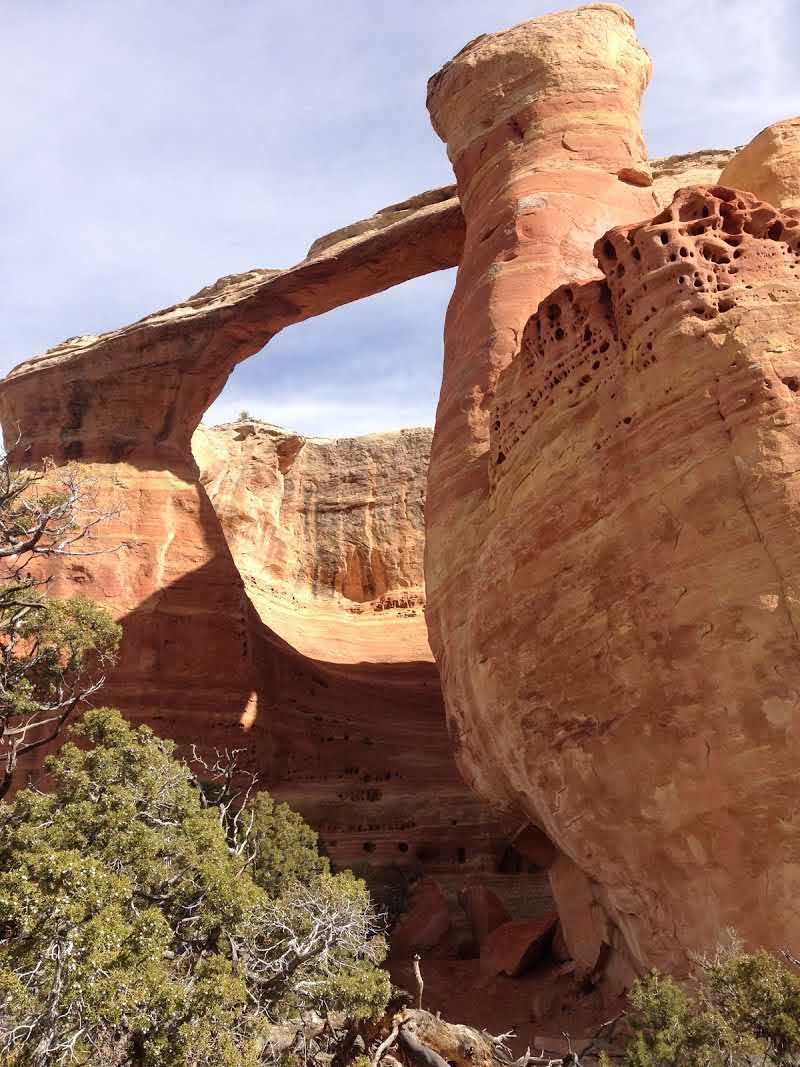 Best Time of Year to Explore Rattlesnake Arches
There is not much shade along this trail, so hiking in the late winter, spring, and fall will be really enjoyable since the Grand Junction area can be pretty hot in the summer.
Is There Cell Phone Reception?
We did this hike in 2015, and the cell phone reception was hit-and-miss. I probably wouldn't count on having cell phone reception (the entire time).
Read more about what to wear hiking here!
Backcountry Hiking Safety Tips
Check out our page for more information and resources on practicing environmental stewardship in the desert backcountry.
Please practice Leave No Trace and help teach others new to the outdoors, too!
Final Thoughts on Hiking to Rattlesnake Arches
Rattlesnake Arches is a great hike for outdoor adventurers looking for something new and exciting to explore in Colorado. This canyon offers beautiful scenery and a chance to see some amazing geological formations, including eight natural arches.
Make sure you bring plenty of water, snacks, and sunscreen; the hike can be pretty strenuous.
We hope you have an epic hike to Rattlesnake Arches from Pollock Bench near Grand Junction, Colorado.
Be safe and happy hiking!
Ashlee & Pablo
---
Get More Western Colorado Adventures