15 Ways to Visit Beautiful Mountains in Oklahoma
Posted on: November 7, 2022
|
|
Oklahoma is probably not the first state that comes to mind when thinking about mountains, but believe it or not, there are several mountain ranges. If you're reading this article, you've likely seen incredible photos of mountains in Oklahoma and are now wondering how you can visit them, too! Keep reading to discover where you can see the most beautiful places full of impressive geology, hiking, camping, sightseeing, and more.
Oklahoma Mountains: Impressive Ranges + Where to Visit Them!
Oklahoma is known for its prairies, but there are also beautiful mountains that offer plenty of outdoor adventure. Oklahoma's mountains have something to offer to everyone who loves spending time outdoors. In addition, these mountainous areas include some fantastic state parks.
There are four primary mountain ranges: the Arbuckle Mountains, the Wichita Mountains, the Ozark Mountains, and the Ouachita Mountains. Believe it or not, the state boasts hundreds of named mountain peaks!
Arbuckle Mountains
The Arbuckle Mountains are located in south-central Oklahoma and are a haven for outdoor enthusiasts. The Arbuckles are said to be one of the oldest mountain ranges on earth.
The best places to experience the Arbuckles are Turner Falls Park, Chickasaw National Recreation Area, and Lake of the Arbuckles.
1. Turner Falls Park
Near Davis, Oklahoma, Turner Falls Park is home to a 77' waterfall. You'll love adding Turner Falls to your bucket list because visitors can swim in the crystal-clear pools below the waterfall. In addition, there is hiking to enjoy, caves to explore, and areas to camp or stay in cabins.
2. Chickasaw National Recreation Area
In Sulfur, Oklahoma, the Chickasaw National Recreation Area is a special place known for its healing springs. Travertine Creek runs through the park, and there are many places to swim, see waterfalls, and enjoy the springs. Visitors also come from all over to see the resident herd of buffalo. There are also miles of trails to hike and camping opportunities.
3. Lake of the Arbuckles
Bordering parts of the Chickasaw National Recreation Area, Lake of the Arbuckles is an excellent place to camp, fish, boat, kayak, and enjoy the mountains in south-central Oklahoma.
Wichita Mountains
The Wichita Mountains are located in southwestern Oklahoma. Known for their rugged and rocky granite peaks, the best places to explore are within the Wichita Mountains National Wildlife Refuge and Quartz Mountain State Park. Other iconic peaks in this range include King Mountain, Soldiers Peak, and Mount Sheridan.
4. Wichita Mountains National Wildlife Refuge
If you're looking for an incredible adventure, go to the Wichita Mountains National Wildlife Refuge. With over 59,000 acres of pristine land to explore, you'll never get bored exploring. From hiking and biking trails to wildlife viewing and camping, there's something for everyone at this incredible refuge. The highest peaks are Mount Scott and Mount Pinchot. Adventure seekers can drive to the top of Mount Scott!
There is also fantastic backcountry hiking in Charon's Garden.
Keep your eyes peeled for free-ranging buffalo and Texas longhorn cattle while visiting and exploring the breathtaking refuge.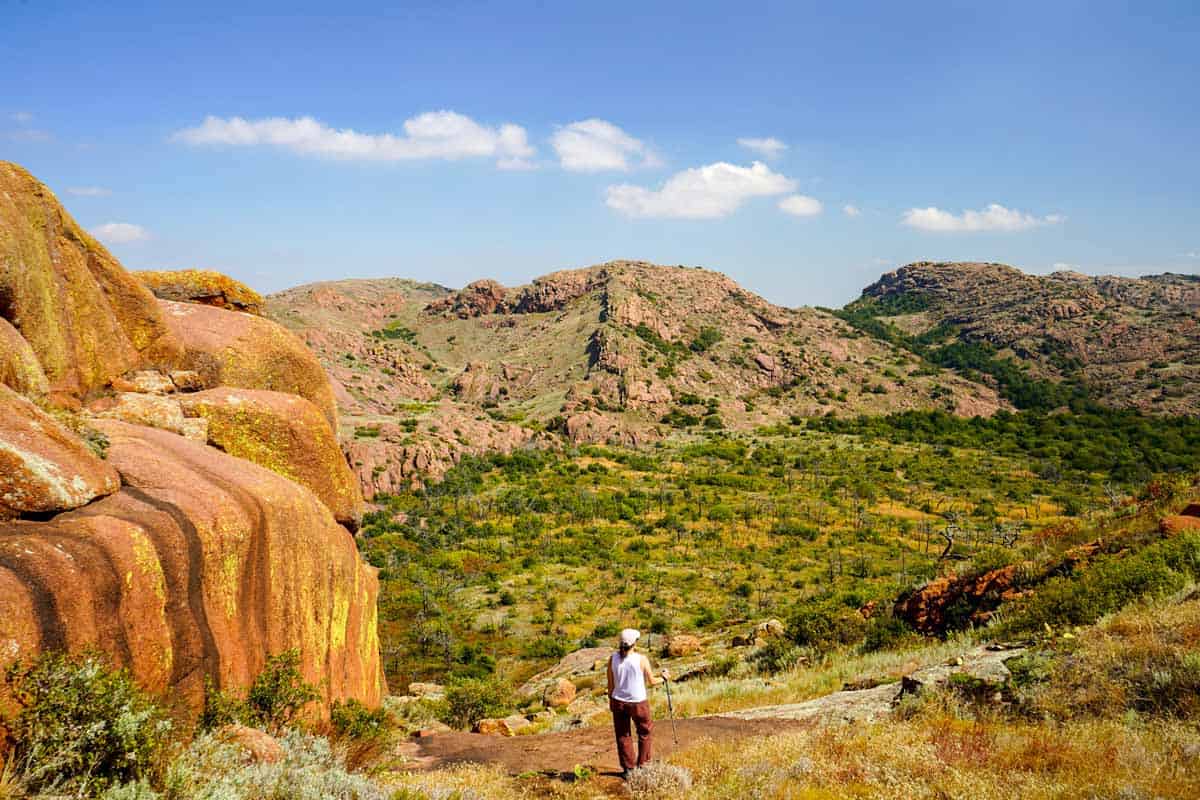 5. Quartz Mountain State Park, Baldy Point
With plenty of outdoor activities to keep you busy and some of the best views in the state, it's easy to see why Quartz Mountain State Park is so popular. Of course, hiking and camping are among the most popular activities here, but there's also plenty of opportunity for fishing, swimming, and sightseeing. In addition, visitors can hike to Baldy Point, the highest peak in the park! Quartz Mountain State Park is also popular for rock climbing due to its unique rocky terrain.
There is a gorgeous lodge to stay at if camping isn't your thing.
Ozark Mountains
Spanning the northeastern part of Oklahoma, the Ozark Mountains or the Ozark Plateau also stretch into Arkansas, Missouri, and parts of Kansas and Illinois. The Ozarks are known for their lush forests, waterfalls, lakes, springs, and caves. They are the most extensive mountain range between the Rockies and the Appalachians.
The Ozarks are divided into smaller ranges. In Oklahoma, this includes the Boston Mountains and Springfield Plateau, both of which are in northeast Oklahoma.
6. Greenleaf State Park
Near Braggs, Oklahoma, Greenleaf State Park is a great place to get outdoors on a weekend getaway to enjoy the Boston Mountains and the Ozark Plateau. Greenleaf State Park has the longest backpacking trail in Oklahoma. It is a great place, close to Tulsa, to spend a weekend camping and fishing. Keep your eyes peeled for the resident elk!
7. Natural Falls State Park
Known for its 77' waterfall, Natural Falls State Park is an excellent place to stop on a road trip along Highway 412. The park is near the Oklahoma-Arkansas border.
Visitors can take a short hike to the park's famous waterfall. If you'd like to stay longer, there is also a campground.
8. Lake Tenkiller
Known for being one of the clearest lakes in Oklahoma, Lake Tenkiller is the perfect place to spend the weekend boating, kayaking, or hiking around the lake. The lake is nestled in the foothills of the Ozarks.
9. Grand Lake O' The Cherokees
Grand Lake is also nestled in the foothills of the Ozarks. The area is a popular place to escape city life and get out on the water. There are many places to rent lake houses and a few places to camp, such as Spavinaw or Little Blue Park.
10. Green Country
If there's one thing Oklahoma is known for, it's the beautiful Green Country. This region is bursting with natural beauty from Tulsa to the Ozark Mountains. Osage Hills State Park is a popular place to experience the rolling Osage Hills of Oklahoma.
Ouachita Mountains
When most people think of Oklahoma, the first thing that comes to mind is likely the vast, open plains. However, the Ouachita Mountains are nestled in the eastern part of the state, which offers an entirely different landscape and plenty of opportunities for adventure. Some popular activities in these mountains include hiking, camping, fishing, and exploring waterfalls. If you're looking for a change of pace from your usual routine, head to Oklahoma's Ouachita Mountains and the Ouachita National Forest for a rural mountain experience.
Two of the best state parks to explore the Ouachita's in Oklahoma are Robbers Cave State Park and Beavers Bend State Park.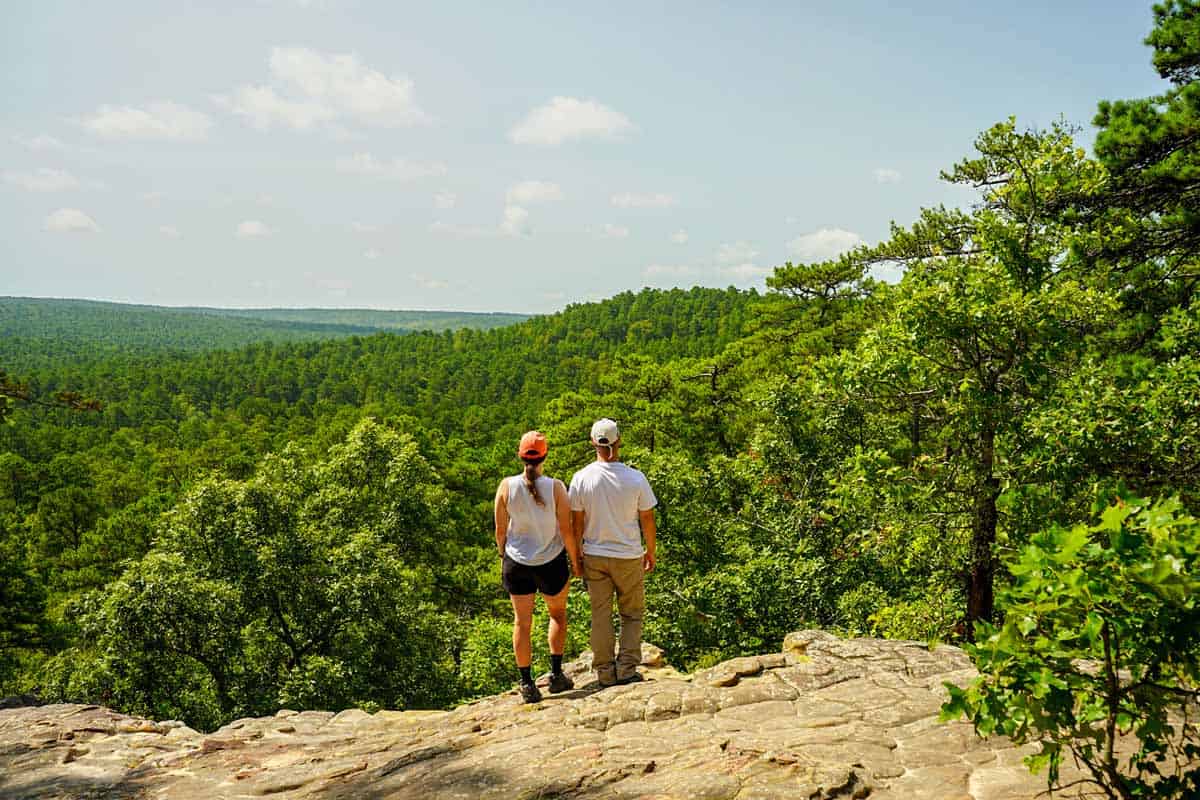 11. Robbers Cave State Park
Robbers Cave State Park is one of the most beautiful places to explore the Sans Bois Mountains, a smaller mountain range of the Ouachitas. Robbers Cave is famously known as an old hideout for wild west outlaws. Today, visitors can hike to the cave, explore the trails, camp, or stay in a gorgeous lodge. It is so beautiful here; you won't believe you're in Oklahoma.
12. Beavers Bend State Park
Known for being one of Oklahoma's most popular state parks, Beavers Bend State Park is a great place to get out and explore the Ouachita Mountains and Broken Bow Lake. Being a short drive from Oklahoma City and Dallas, Beavers Bend in McCurtain County is a great place to escape the city for fresh mountain air. Along with boating, camping, hiking, and fishing, the Mountain Fork River is a popular place to kayak and makes for a fun weekend adventure.
13. Glass Mountains
Though not actually mountains, the Glass Mountains of northwestern Oklahoma form buttes and mesas above the plains. Called Red Carpet Country, the area is known for its famous red dirt. The best place to see the Glass Mountains is Gloss Mountain State Park. Visitors can hike to the top of one of the mesas!
14. and 15. Black Mesa Area
Located within the panhandle, Black Mesa is the highest mountain in Oklahoma. It tops out at an elevation of 4,973' above sea level in Oklahoma. You'll be awed and surprised by the area's rock formations, mesas, and canyons.
There are two notable areas to explore: Black Mesa State Park and Black Mesa Nature Preserve. This area is where the Rocky Mountains meet the prairie making it a geologic hotspot.
Final Thoughts
Whether you're an experienced mountaineer or just looking for a new adventure to check off your list, these Oklahoma mountains offer something for everyone. So, pack your hiking, camping, and photography gear, and get ready to explore some of Oklahoma's most stunning natural landmarks!
---
Find More Oklahoma Adventures!
Save on Pinterest for later!