Colorado Maroon Bells: How to Visit & Best Trails to Hike
Posted on: March 20, 2023
|
|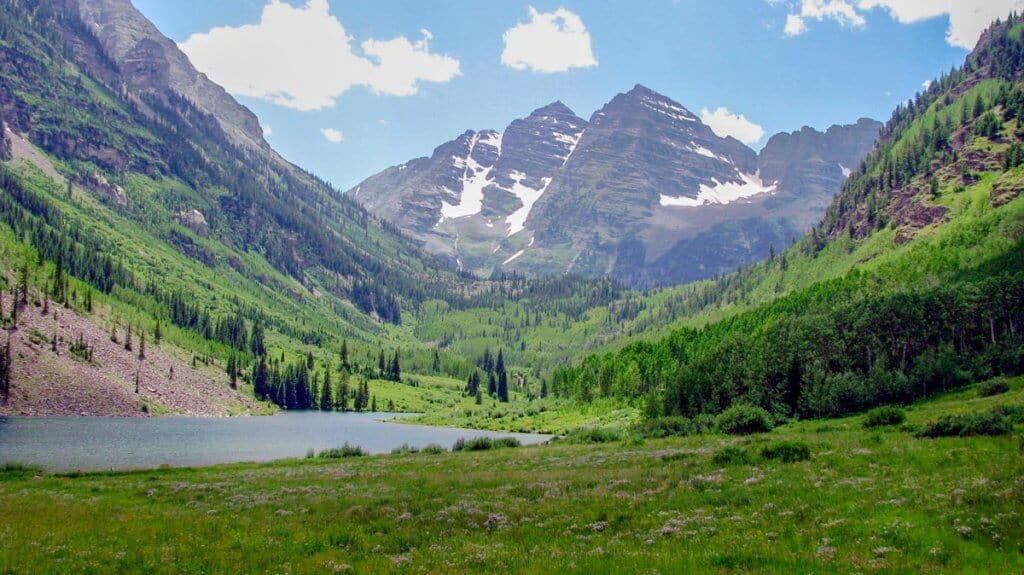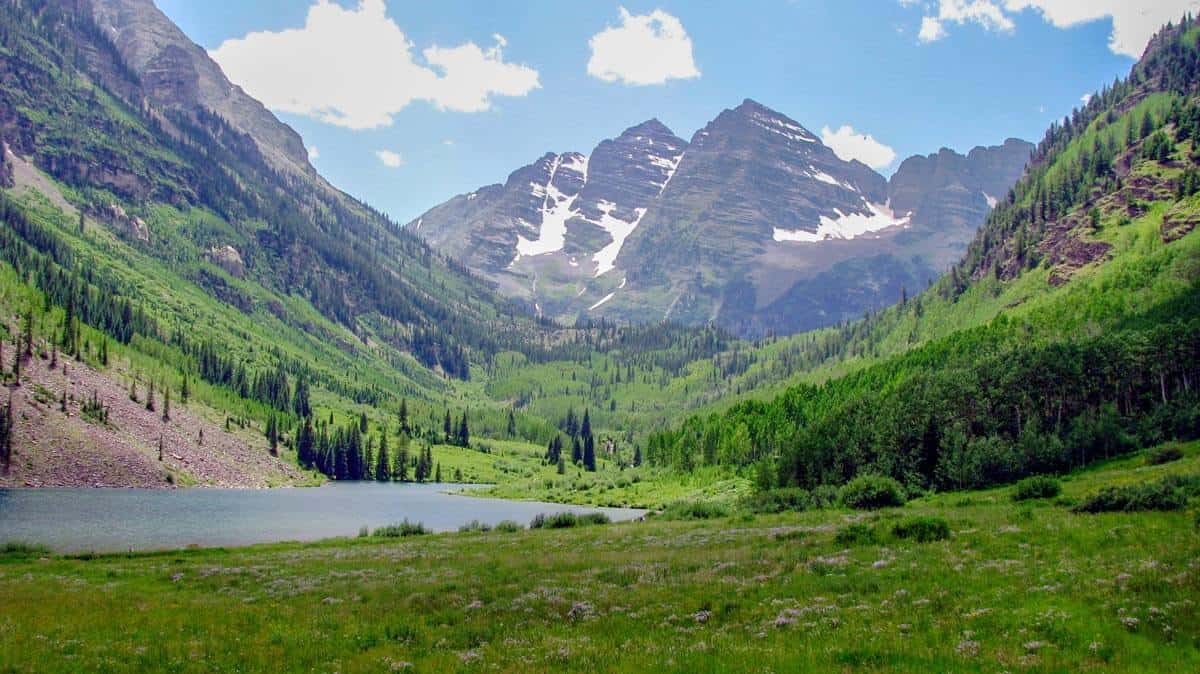 The Maroon Bells are some of the most iconic mountains in the Colorado Rockies and a popular destination for outdoor enthusiasts. If you're looking to visit these beautiful peaks, here is everything you need to know. We've got you covered from how to get there, what to do, and where to stay!
How to Visit Maroon Bells Near Aspen, Colorado
The Maroon Bells are one of the most iconic and photographed mountain locations in the United States. The peaks reach over 14,000 feet and are located in the Elk Mountains, west of Aspen.
At the foot of the Maroon Bells is Maroon Lake, known for its pristine waters mirroring Maroon Peak and North Maroon Peak. The twin peaks usually have snow that remains throughout the year, contributing to their iconic look.
Depending on the time of year you visit, the landscape changes dramatically. With the right weather and light conditions, the Maroon Bells offers a perfect image of what you imagine as a high mountain environment. It is one of the most beautiful scenes that Colorado has to offer.
History and Geography of Maroon Bells
Why is it called Maroon Bells?
The Maroon Bells got their name from the color of the rock and sediment that make up the peaks. The surrounding area is referred to as the Maroon Creek Valley and was carved out by glaciers millions of years ago.
Located within White River National Forest, the Maroon Bells-Snowmass Wilderness was established in 1964 and encompasses almost 200,000 acres of land. It is one of the most visited wilderness areas in the United States.
This entire area is incredible and will take your breath away.
How to Get to Maroon Bells in Aspen
Maroon Bells is located 10 miles west of Aspen or 16 miles from Snowmass up Maroon Creek Road off Highway 82.
How to Get to Maroon Bells from Glenwood Springs
If driving your personal vehicle, take Exit 116 off I-70 and head south on Colorado Highway 82 for about 12 miles.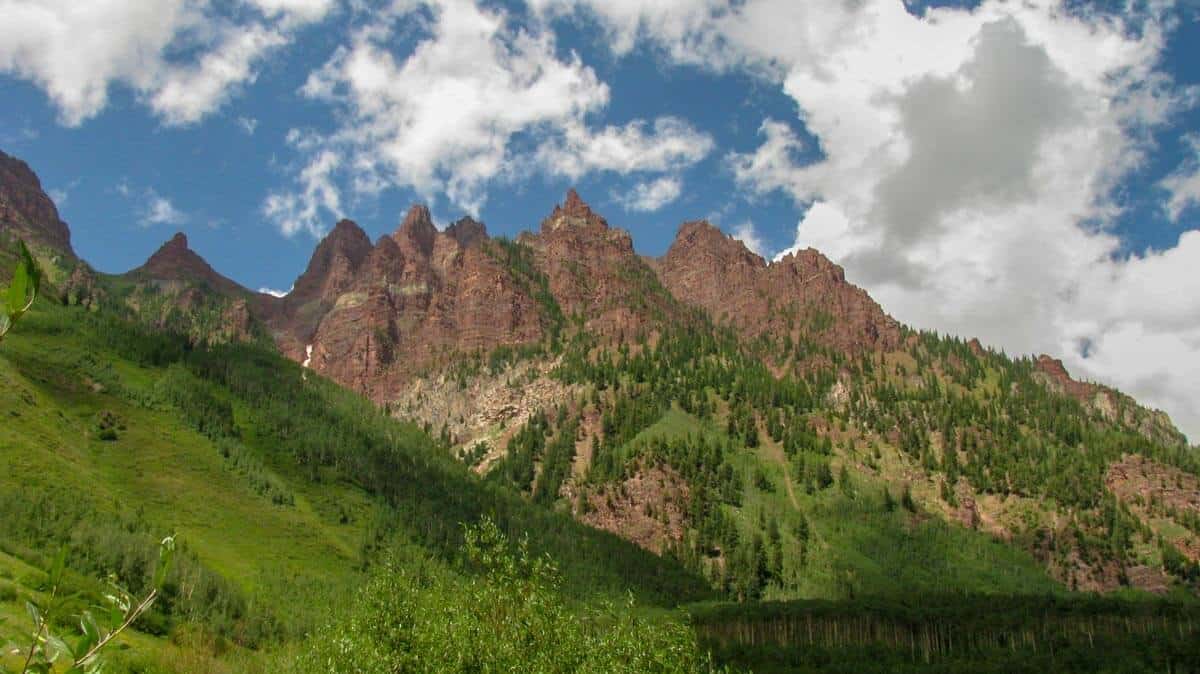 How to Access the Maroon Bells Scenic Area
If you're planning on visiting the Maroon Bells, there are a few things we think you should keep in mind:
First, access is restricted during summer and fall.
The road to Maroon Bells typically opens around mid-May.
Visitors are required to make reservations to visit the Maroon Bells Scenic Area, whether you are taking the shuttle or using a personal vehicle.
Details on Using Your Own Vehicle
This option is only for folks trying to photograph sunrise and hike early.
If you're driving your car, you have to be there before 8 am. Then, you can drive your car back down after you're done taking pictures and hiking.
Please consider that parking is limited and is usually full by early morning.
You need to make a reservation to drive your own vehicle.
Taking the Public Bus (RFTA Shuttle)
Between 8 am and 5 pm from late May and early June (when the road opens) to early October, a public bus is the only way to access the Maroon Bells Scenic Area. RFTA operates the bus.
Shuttles run every 15 minutes from 8 am to 5 pm.
Maroon Bells shuttle check-in and departures are at Aspen Highlands Village (Aspen Mountain parking fees apply).
Maroon bells shuttle reservations can be made here.
RFTA Shuttle Prices
Adults: $16.00
Seniors (over 65): $10.00
Children (under 12) $10.00
What to Do at Maroon Bells
If you are considering visiting Maroon Bells just to enjoy the mesmerizing iconic view shown in this article, you are in luck! The scenic mountain views are only a short walk from where the public bus drops you off. You don't even need to walk the entire Scenic Loop trail to access it, though we recommend hiking around!
There are so many awesome outdoor activities in the area, including camping, backpacking, fishing, and picnicking.
We backpacked to Snowmass Peak in college in the Maroon Bells-Snowmass Wilderness Area, which was incredible.
Hiking
Below are the three best trails to hike in the area.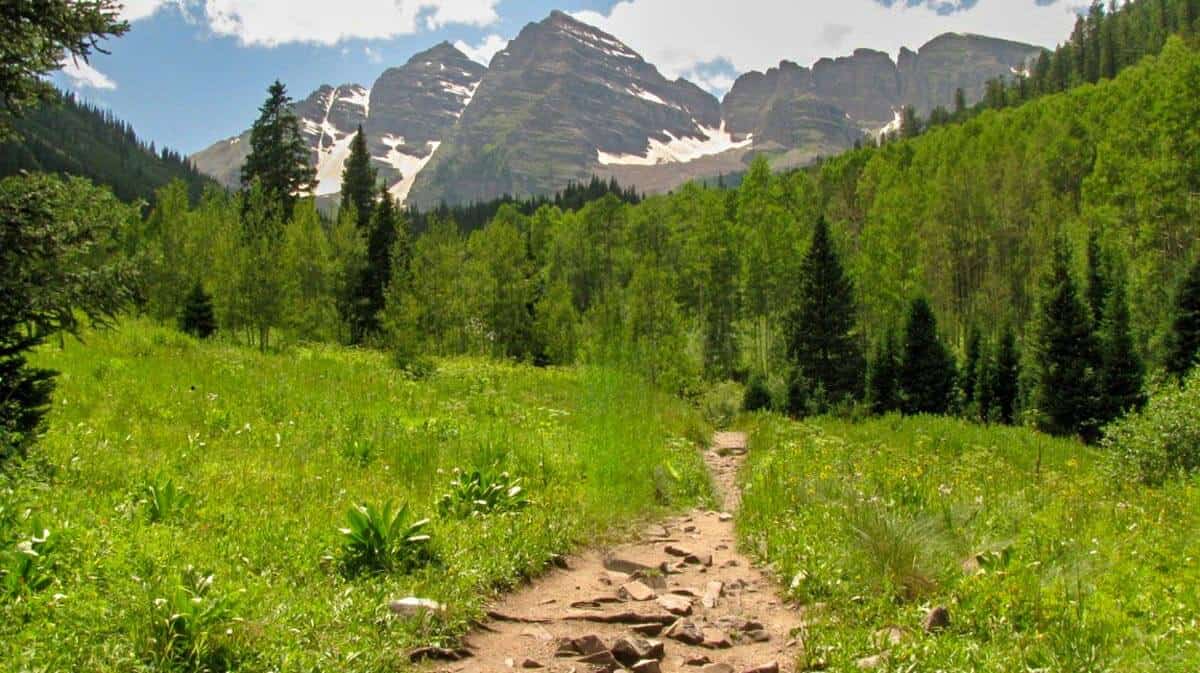 Maroon Bells Scenic Loop Trail
The Scenic Loop trail is an easy 1.9-mile round-trip hike that starts at the parking area and follows Maroon Lake to a bridge with incredible panoramic views of the Maroon Bells. It is a popular hike, and you can expect to find most of the tourist traffic on this trail.
Also, keep your eyes peeled for the beaver pond along the trail – you might see a beaver!
Dogs are not allowed on this trail because of the moose in the area.
Heads up! Swimming is not allowed at Maroon Lake.
Maroon Creek Trail
Maroon Creek is a 6.9-mile trail round trip and is generally considered a moderately challenging route. It starts from Maroon Lake and follows Maroon Creek, passing through fields of wildflowers before reaching Crater Lake.
There is so much wildlife in the area. You might be able to see mule deer, red fox, porcupines, various birds, and even a black bear!
Dogs are allowed but have to be on a leash.
Crater Lake Trail
Crater Lake is a 3.5-mile trail round trip and is considered a moderately challenging route. You can expect to be hiking on rocks and steep mountain trails. The trail has epic views, and you'll hike in the beautiful Aspen trees.
Dogs are allowed but have to be on a leash.
Hiking Tips
If you plan to hike in the area, you'll want comfortable hiking shoes, a rain jacket (climate can change quickly at high elevations), sunscreen, a day pack, a hat, sunglasses, snacks, and drinking water.
Please always practice Leave No Trace while exploring and teach friends new to hiking to spread the good word.
Check out our article on exactly what to wear hiking if you need advice on what to wear.
Maroon Bells Camping
There are three forest service campgrounds along Maroon Creek Road:
Reservations are required for all three and can be made using recreation.gov.
Heads up! For all our van life friends, van (or car) camping is not allowed at the day-use lot or any of the overnight parking lots at Maroon Bells or the Aspen Highlands Parking Garage.
Dispersed camping is not allowed at Maroon Bells. However, backcountry camping is permitted in the Maroon Bells-Snowmass Wilderness.​
The area has black bears, so you'll need bear-proof and bear-safe food storage options.
Where (Else) To Stay
If camping isn't your thing, that is cool. Below are places we have stayed in the area that we think you'll enjoy.
Hotel Denver – is a neat brick hotel with a delicious brew pub within walking distance of Glenwood Hot Springs Pools and the trendy areas of downtown Glenwood.
Hotel Colorado – this historic hotel is known for being one of the most haunted hotels in Colorado (though we never had that experience). You can walk to Glenwood Hot Springs Pools from here.
Limelight Hotel Snowmass – is a trendy hotel with beautiful facilities. Snowmass Village is a little less crowded than the downtown Aspen atmosphere. You can ride the RFTA shuttle easily from here to get around.
Other Questions You Might Have Planning
What is the Best Time to Visit Maroon Bells?
The best time of year to visit depends on what you want to do while visiting and the kinds of colors you would like to see in the surrounding foliage.
The road going up to the scenic viewpoint is open between mid-May and late October.
The best time to hike is late July through September when the snow has melted on the trails, and the temperatures are warm but comfortable. Late June and early July have beautiful wildflowers and a lush green look, while September foliage displays are some of the best fall colors in Colorado.
How to Beat the Crowds
If possible, try to visit in the middle of the week and avoid weekends as this is an extremely popular destination. Depending on the day of the week you visit, some crowds can be expected.
What is the Elevation of the Scenic Area?
The Maroon Bells Scenic Area is at an elevation of 9,500 feet. This is considered a high mountain alpine environment, and the air is thinner than at lower altitudes.
You'll want to be sure to drink plenty of water and take breaks often if you are not used to being at high altitudes or used to a high elevation gain.
Are Dogs Allowed?
Dogs are allowed on the RFTA bus from Aspen Highlands to the Maroon Bells, but they must be on a leash.
If you are traveling with your fur baby, keep in mind that dogs are not allowed on the Scenic Loop trail.
Can I Visit Maroon Bells in the Winter?
The county does close Maroon Creek Road leading up to the scenic area in November until late spring based on snow conditions. However, once the road is closed to vehicles, you can still cross-country ski, snow bike, snowshoe, hike, or take a snowmobile to access the Maroon Bells scenic area.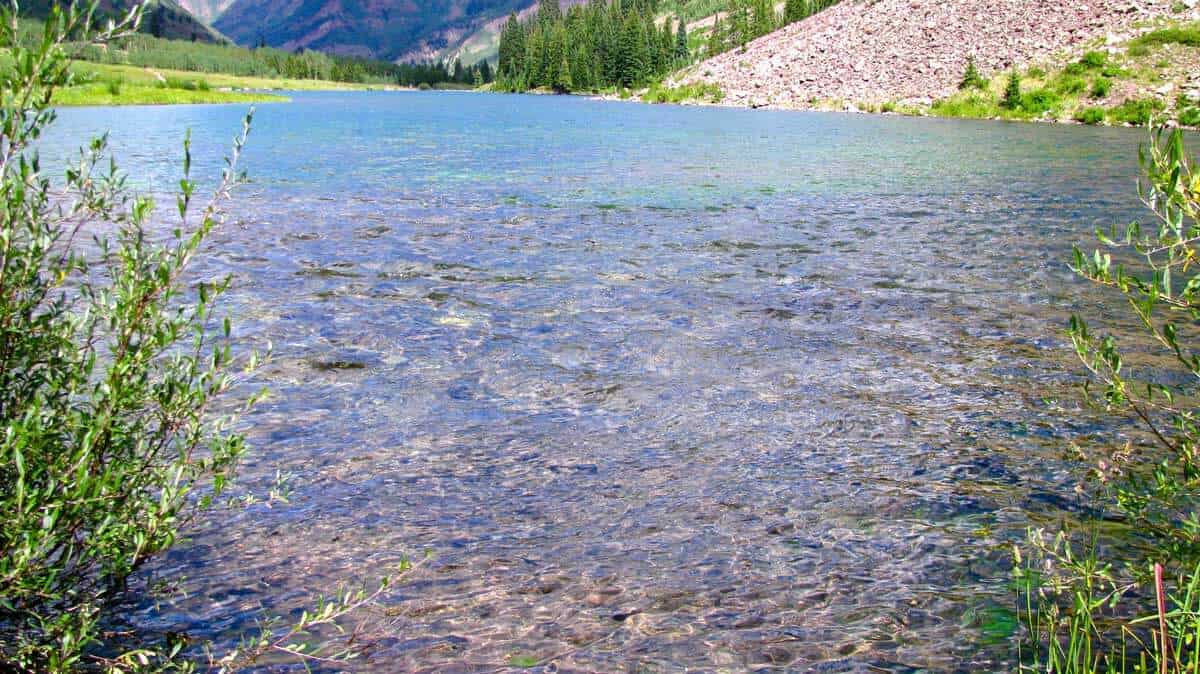 Final Thoughts on Visiting the Maroon Bells
If you're looking for a breathtaking view, the Maroon Bells near Aspen are definitely worth visiting.
Don't be shocked by all the people – this place is a top-rated destination for photographers, tourists, hikers, and locals and can get really crowded.
You might like backpacking in the Snowmass Wilderness Area for a more off-the-beaten-path adventure. You can backpack in and see the Maroon Bells from a different saddle in the backcountry.
We have used the Maroon Bells, Redstone, and Marble National Geographic hiking maps to plan backpacking trips.
If you've been following us for a while, you know we lived in Grand Junction and Breckenridge for many years. We've spent a lot of time in the Roaring Fork Valley and love sharing all the cool things to see and do with you!
We hope you have the best trip to see the Maroon Bells in Colorado!
Pablo & Ashlee
---
Explore More Western Colorado Adventures