Guide to Hiking Hanging Lake in Colorado, 2023 Update
Last Updated: Mar 27, 2023
|
|
If you're looking for a picturesque hiking trail in Colorado, look no further than the hike to Hanging Lake in Glenwood Canyon. With its waterfall backdrop, turquoise-green mountain lake, and high alpine forestry, it's easy to see why this location is frequented by hikers and those who love exploring Colorado.
The trail opened up again last summer after being closed due to fires and storm damage, and we're so excited to share all the details about hiking here!
How to Hike Hanging Lake in Colorado
Hanging Lake is one of the most beautiful sights in Colorado (in our opinion). This popular route is strenuous but well worth the effort. Keep reading for all the need-to-know info on this epic Colorado hike!
How to Get to the Hanging Lake Trail
Hanging Lake is located within the White River National Forest, about 13 miles east of Glenwood Springs, Colorado. The easiest way to get there is by driving your car.
From Glenwood Springs, take Interstate 70 (I-70) east to Exit 125. Turn left onto County Road 3 (Hanging Lake Tunnel) and follow the signs to Hanging Lake. The trailhead is located at the Hanging Lake Rest Area.
There is no westbound exit for Hanging Lake. If traveling west on I-70, take the Grizzly Creek exit #121 and head back east on I-70 to exit #125, Hanging Lake.
Driving Personal Vehicles
Hikers can drive their personal vehicles and park in the Hanging Lake rest area. The permit cost is per person and includes parking.
Heads up! Vehicles over 25 feet are not allowed in the parking area (in case you have your camper).
Taking the Shuttle
The Hanging Lake Express shuttle was not operational in 2022. Check back later to see if it will be running in 2023.
Biking Here
You can access the trailhead from the Glenwood Canyon Recreation Path.
Visitors can bike to the hiking trailhead from Glenwood Springs, No Name, or the Bair Ranch rest areas.
How to Make a Reservation
Reservations are required for everyone visiting Hanging Lake, regardless of how you get to the trailhead (by car, bike, or shuttle).
You can make a reservation and get a hiking permit online.
Reservations can also be made by calling the Hanging Lake Call Center at 970-384-6309.
Hanging Lake Permit Cost
Summer permits are $12 per hiker, which includes self-parking at the trailhead.
Winter permits are $10.
Hours
Hiking permits are available for hourly reservations from 6:30 am – 5:30 pm.
Hikers cannot access the trailhead after 5:45 pm.
When is the Best Time to Visit?
The best time of year to hike is from June to September when the weather is warm. However, the trail may be wet depending on the weather conditions and the snowmelt.
The best time of day to visit is early in the morning when the sun is just starting to rise. The light dances off the water and creates a truly magical scene. If you can't make it that early, try to visit during the week when it's less crowded. Weekends are busy, and it can be challenging to find a parking spot.
Hanging Lake is a popular hiking destination for locals and tourists – just a heads up so you won't be shocked by the crowds. Though, the reservation system should help with the crowds.
Get updated trail conditions here.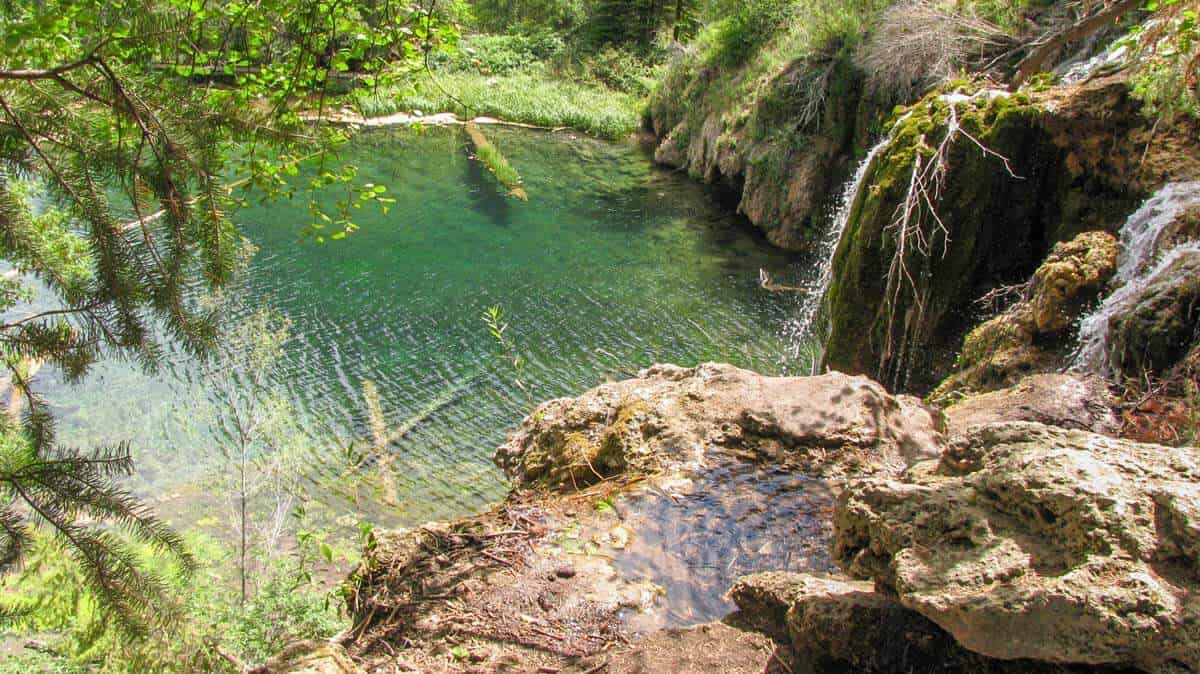 Hanging Lake Trail Details
The trail from the parking lot starts along an easy paved path. Then, the route begins to climb up a steep canyon following Deadhorse Creek Canyon, with footbridges and railing along the way. In just over one mile, there is an elevation gain of almost 1,200 feet (366 meters) with multiple switchbacks. The trail is easy to follow and is well-marked.
You can download a trail map from AllTrails.
Distance: 2.4-miles out and back
Difficulty: Moderately difficult
Are dogs allowed: No
Is there a bathroom? Yes, at the beginning of the trailhead
Is there cell phone reception: No
Drones are not allowed
Heads up! Standing on logs in the water, swimming, and fishing in the lake are not allowed.
Waterfalls at Hanging Lake
There are two waterfall areas at Hanging Lake. Bridal Veil Falls drops into the pools that you see in many of the photos. There is also Spouting Rock Falls.
You can get close to Spouting Rock Falls by hiking the trail that leads behind the waterfall. This is a popular spot for pictures and cooling off from the hike. You definitely don't want to miss it!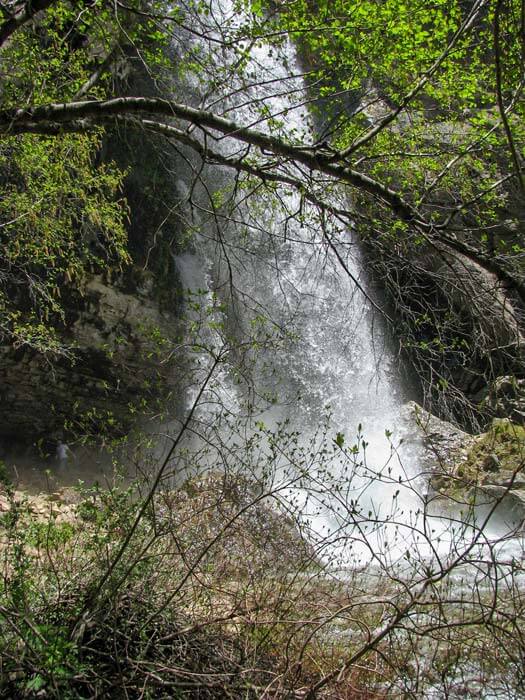 What Should You Bring on the Hike?
Wear comfortable hiking boots and bring a small day pack with water and snacks. We recommend wearing sunscreen, a hat, and sunglasses. You'll definitely want to bring your camera (we have this one).
It is a short hike, so you don't have to bring much.
Camping Near Hanging Lake
Camping is not allowed at Hanging Lake. However, there are several campgrounds nearby.
Other Places to Stay Nearby
No worries if camping isn't your thing. Below are recommendations for places we have stayed in Glenwood Springs that we think you'll enjoy, too:
Hotel Denver – has a fantastic brew pub and is within walking distance of Glenwood Hot Springs Pools and the trendy areas of downtown Glenwood.
Hotel Colorado – is a historic hotel known for being one of the most haunted hotels in Colorado (we never had that experience). It is within walking distance of the Glenwood Hot Springs Pools.
Other Information You Might Enjoy
Why is it Called Hanging Lake?
The name "Hanging Lake" derives from the lake's precarious location on the cliff's edge. The lake appears to be suspended in mid-air and is said to be one of the most beautiful places in Colorado.
How Did Hanging Lake Form?
Hanging Lake is located on a fault line and was formed when part of the valley floor sheared off from the fault and dropped to what is now the shallow bed of the lake.
Hanging Lake's distinctive shoreline is composed of travertine, created when limestone dissolves and is deposited on rocks and logs. The turquoise colors of the lake are produced by carbonate minerals that have dissolved in the water (source).
What is the History?
The area served as a homestead until it was purchased by Glenwood Springs after Congress passed the Taylor Bill in 1910. After that, Hanging Lake became a public tourist destination. During the 1940s, the area hosted a resort and cafe until 1968. Since 1972, the trail and lake have been protected by the Forest Service as part of the White River National Forest. In addition, the Secretary of the Interior designated the area a National Natural Landmark in 2011.
Our Experience Hiking
We have hiked here a few times in early June and then mid-July. There tends to be more water flowing over the waterfalls in early June.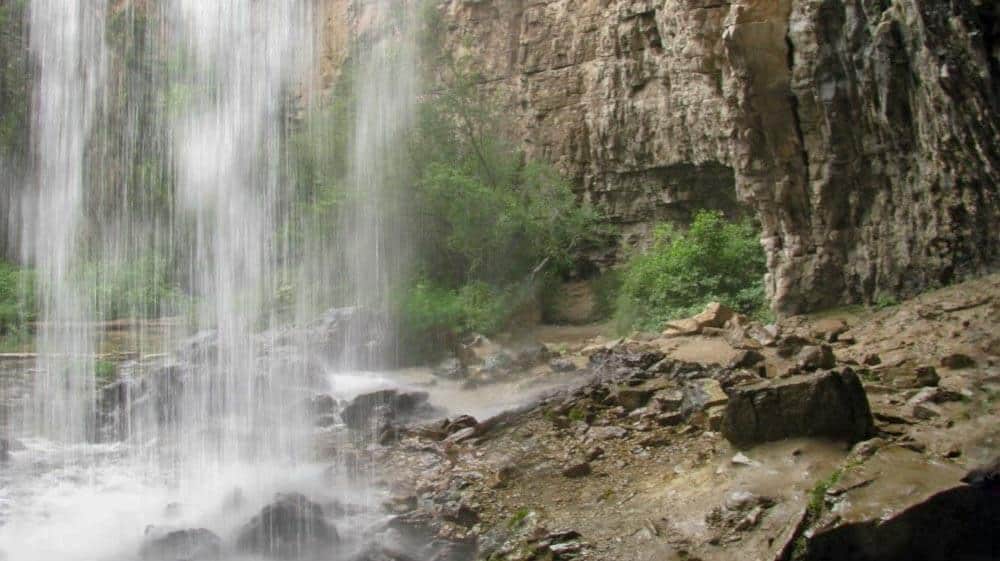 Final Thoughts on the Hike to Hanging Lake
Hanging Lake is the perfect destination if you're looking for a scenic hike with jaw-dropping views. This Colorado spot will take your breath away with its turquoise waters and surrounding rocky cliffs. You'll see why it is known for being one of the best hikes in Colorado.
We think you'll love making time to soak in the hot springs nearby. There are two places to soak in Glenwood: Iron Mountain Hots Springs and Glenwood Hot Springs Pools.
Please help keep Hanging Lake beautiful by practicing Leave No Trace. The natural area here is sensitive, and it's important to stay on the trail.
Thanks for reading.
---
Get More Western Colorado Adventures