12 Epic Things To Do in Glenwood Springs, Colorado
Posted on: July 2, 2023
|
|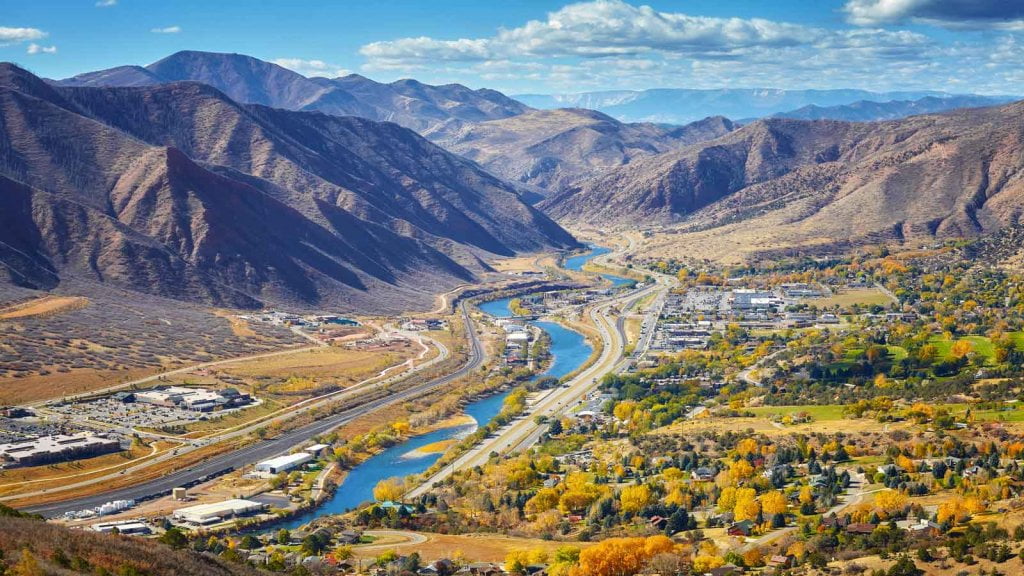 Located about two and a half hours outside of Denver, Glenwood Springs is a fantastic vacation destination. This gem of a town is filled with hot springs, hikes, horseback riding, and the cutest little downtown. In other words, it's definitely worth a visit. And to help plan out your itinerary, we've rounded up all of the best things to do in Glenwood Springs, Colorado.
1. Hike To Hanging Lake
Calling all hikers and waterfall lovers! You won't want to miss out on the Hanging Lake Trail. While you'll have to tackle 1.2 miles of trail and 1,000 feet of elevation gain, it'll be totally worth it when you reach the end point: the famous Hanging Lake.
Situated in the Roaring Fork Valley, this lovely lake is situated right on the edge of a cliff (see where they got the name?). But it's really the turquoise waters and delicate waterfalls that make it the beauty that it is. You'll inevitably end up taking dozens of pictures of this eye-catching spot.
While the best time to visit this picturesque lake is in the summer, it's stunning all-year-round. Spring's blooming wildflowers, falls' fire-colored leaves, and winter's sparkling icicles all add to the natural beauty of this Glenwood Springs attraction.
You need a permit to visit Hanging Lake, so be sure to get one on the Visit Glenwood Springs site before you head out.
2. Raft or Bike Through Glenwood Canyon
Floating down the Colorado River or biking through Glenwood Canyon is a popular thing locals and visitors love to do. For whitewater enthusiasts, there are a few guiding outfits in town where you can schedule trips to raft down the infamous Shoshone Class III-IV rapids.
And if you're road-tripping, bring your own bike and cruise the beautiful 32.6-mile trail through Glenwood Canyon along I-70. There are also places to rent bikes and gear in town.
3. Tackle the Grizzly Creek Trail
While the Hanging Lake hike is undoubtedly the most popular trail, the Grizzly Creek Trail is nothing to balk at either. As a matter of fact, both should be on your Glenwood Springs bucket list!
The Grizzly Creek Trail is a relatively long one at 6.8 miles (and about 1,800 feet of elevation). But there's a lot to see along the way – from cascading creeks to thriving trees to striking cliffs. There are even quite a few fantastic fishing spots along the way, if that happens to be your thing. All in all, it's definitely one of the best things to do in Glenwood Springs.
4. Horseback Ride Through Glenwood Canyon
While you can explore the breathtaking Glenwood Canyon on foot, why not do it alongside a new equestrian friend? Glenwood Adventure offers two-hour horseback riding tours through Glenwood Canyon. You'll wind your way through wildflower-dotted meadows, cedar-filled forests, and mountain-framed valleys. In other words, it's guaranteed to be an experience to remember.
5. Soak in the Bubbling Hot Springs
Sitting in a warm, nutrient-rich hot spring is another one of the best things to do in Glenwood Springs. It's the perfect way to warm up during the colder months or just refresh your muscles year-round. Luckily, Glenwood Springs boasts three hot spring spots, and they're all worth a visit.
First, there's the Glenwood Hot Springs Resort, which is home to the largest hot spring pool in the world! And this massive hot spring helped to put Glenwood Springs on the map as a hot springs hotspot.
Then, there's Iron Mountain Hot Springs. As the newest of the Glenwood Hot Springs, Iron Mountain Hot Springs had to do something to set itself apart. And they did exactly that, by creating 16 hot spring pools, all at different temperatures.
Last but certainly not least, there's the Yampah Spa Vapor Caves, which is widely believed to be the best hot spring in Glenwood Springs. There, you'll make your way into a network of underground caves, where you'll simply bask in the natural hot spring steam. And if you like, you can take your visit up a notch with a relaxing spa treatment, like a facial, a massage, or a manicure. Glenwood has some of the best hot springs in Colorado.
6. Ski Down the Slopes at Sunlight Mountain Resort
We all know that Colorado is filled with incredible skiing destinations, yet somehow Sunlight Mountain in Glenwood Springs has managed to slip under the radar. As a matter of fact, it's so much of a hidden gem that you rarely have to wait in line for slopes or lifts!
On top of that, Sunlight Mountain is home to ski runs for all skill levels. There are nice, easy beginner slopes, as well as the steepest lift-accessed run in all of Colorado! This is for expert skiers only, of course.
7. Shop at the Glenwood Springs Farmers Market
For the best local produce, crafts, and more, look no further than the Glenwood Springs Farmers Market. Open every Tuesday evening from late June to mid-September, this adorable market is always a treat.
Grab yourself a bottle of wine and a jar of locally made jam for the fanciest charcuterie board around. Or purchase some fresh fruits and veggies for a delicious homemade meal.
8. Explore the Subterranean World at Glenwood Caverns Adventure Park
Glenwood Caverns Adventure Park is an interesting spot. It's part theme park, part caving adventure – a rare combination that's quite a treat.
First, let's talk about the theme park side of things. Glenwood Caverns Adventure Park is filled with rides that are guaranteed to get your adrenaline pumping. Experience 102-degree freefall on the Defiance Rollercoaster, soar through the sky on the Zip Ride, or catch a ride on the kid-friendly Alpine Coaster.
Please keep in mind that certain rides in the theme park part of Glenwood Caverns Adventure Park may close due to unsafe weather conditions.
Then, there's the unique subterranean section of this Glenwood Springs attraction. There, you'll have lots of options – from the fully decked out King's Row Cave to the classic Fairy Cave to the thrill-seeking Wild Tour.
9. Explore Downtown Glenwood Springs
Between days of hiking, horseback riding, and skiing, you'll inevitably find yourself in downtown Glenwood Springs. This is where you'll find all of the best restaurants, bars, and shops in town, after all.
Located right on the banks of the Colorado River, downtown Glenwood Springs already has a fantastic atmosphere. Add to that a surprisingly great food and drink scene, and you might never want to leave.
Slope & Hatch is the place to visit for fun, modern tacos. Colorado Ranch House serves up elegant, Western-inspired dishes, like the field & stream dish featuring a grilled elk medallion and pan-seared trout or the more casual elk burger with tasty onion jam. And Glenwood Canyon Brewpub is where you'll want to go for some cold local beer and delicious fish and chips.
After your meal, why not stroll through downtown Glenwood Springs' lovely little shops as well? Stop by White River Boutique for a brand new outfit or purchase a souvenir or two from Dancing Bear Trading Post.
10. Take a Trip to the Maroon Bells
Located 20 minutes outside of Aspen and an hour outside of Glenwood Springs, the Maroon Bells are a pair of bell-shaped mountains – Maroon Peak and North Maroon Peak – that claim the superlative of the most photographed place in Colorado!
The best way to see the Maroon Bells is on foot. The one-mile Maroon Lake Scenic Trail, the 3.2-mile Maroon Creek Trail, and the 3.6-mile Crater Lake Trail are all filled with fantastic views of the mountain pair.
As for when to visit, fall is widely regarded as the best time to visit the Maroon Bells. The bright red, orange, and yellow leaves just add to the already beautiful scenery. That said, visits during other seasons aren't too shabby either.
Keep in mind that Maroon Creek Road, the road you use to get to the Maroon Bells, is closed in the winter. That said, you can still visit the Maroon Bells by cross-country ski, snowshoe, or snowmobile.
During the summer, public access is limited and riding the RFTA (public bus) is encouraged.
11. Spend a Day in Grand Junction
About an hour and a half from Glenwood Springs is the nature-loving town of Grand Junction. This Western Colorado town is filled with hiking, rock climbing, and mountain biking opportunities galore!
Hikers will love the five-mile, red rock-filled Independence Monument Trail (Monument Loop Trail) inside the Colorado National Monument. Every rock climber will want to test their skills in the crowd-favorite Unaweep Canyon. And mountain bikers will want to hit up the epic Kokopelli Trails. Honestly, what more could you ask for from a nature-filled day trip?
12. Make Your Way to Palisade
Not far from Grand Junction lies Palisade, another incredible Colorado town worth a visit. If you like, you can combine both towns into one day trip from Glenwood Springs, or you can make them two separate day trips. It's up to you!
Palisade, Colorado is known for a couple of things. First, it's known for Palisade peaches. These famous fruits are known for being extra juicy and sweet, so they're definitely worth a try. And if you happen to be in town between June and October – a.k.a. peach season – you can even pick your own peaches at a local orchard!
But the fertile land in Palisade isn't just great for growing peaches. It's fantastic for growing grapes too! In other words, this Colorado town is jam-packed with incredible wineries as well. Sample some award-winning wines at Colorado Cellars, try the beloved port wine from Graystone Winery, or take in picture-perfect views during a tasting at Maison La Belle Vie Winery.
Final Thoughts on the Best Things To Do in Glenwood Springs, Colorado
From the highest mountain peaks to the subterranean caves, there are so many incredible things to do in Glenwood Springs, Colorado. You can easily spend days exploring all of the outdoorsy activities in this gem of a Colorado town.
So what are you waiting for? Pack your bags and get ready for an exciting nature-filled trip to Glenwood Springs.
Featured Image Credit: MaciejBledowski/Depositphotos.com.