5 Best Hot Springs in Colorado to Visit
Posted on: October 12, 2020
|
|
Comments Off

on 5 Best Hot Springs in Colorado to Visit
One of my favorite parts about living or visiting Colorado are the natural hot springs. There is something to be said about soaking in warm mineral water outdoors. Ahhhh… total relaxation. We put this article together of the five (5) best hot springs in Colorado just for you!
Hot springs are lovely to visit year-round. I especially love soaking in the winter when the air is cold, the stars are bright, and the springs are steaming, creating a fog barrier between you and the rest of the world. It is a very soothing and romantic peaceful way to be in nature.
This post may contain affiliate links, which means we'll receive a commission if you purchase through our links at no extra cost to you. Please read full disclosure for more information.
5 Best Hot Springs in Colorado
Whether you are a local or visiting for vacation or holiday, these five hot springs were specifically selected because they are easy to access year-round.
We use to live in Colorado, and these are our top five favorites!
Ouray Hot Springs, Ouray
Located in Ouray, Colorado, the Ouray Hot Springs sit in a valley surrounded by mountains.
The facility was renovated in the last few years (photos not of the upgraded facility, but these are sweet with Pablo's Mom visiting from Argentina).
The renovated facility has:
Cold swimming pool for lap swimming
Another cold pool with a bouldering area
A large shallow warm pool area
A large shallow hot pool
Waterfalls
Slide
Locker room
Showers
Snack bar
The addition of the bouldering area, which allows you to drop into the water, is pretty sweet!
Parking is free and plentiful.
Bask in the mountain air and enjoy "Little Switzerland" views from Ouray Hot Springs. One of my favorite places to hang out.
You might even get views of Mt. Sneffels, a 14,000+ foot mountain in the Ouray area if it is not hiding behind the clouds.
Orvis Hot Springs, Ridgway
Orvis Hot Springs is just south of Ridgway, Colorado, on the way into Ouray, Colorado. This facility has a more natural feel -lots of different pools of temperature and size to choose from.
What makes this place super unique is that it is clothing optional. Yep, that is right! Be free with nature!
A massive privacy fence surrounds the facility – super fun to visit in the dark and the winter. And… obviously, no photos available…
They also have a camping area if you are looking for a fun weekend stay. What I love about camping at the facility is you have more access to the hot springs. Ridgway, Colorado, is beautiful and a must-see for spectacular mountain vistas.
Glenwood Hot Springs Pool, Glenwood Springs
Glenwood Springs is home to one of Colorado's most well-known hot springs pools just off I-70. The springs sit in the valley where the natural hot water is piped right out of the mountain!
The Glenwood area is a gateway to Aspen. Need a soak after hiking all day in the wilderness or après skiing and snowboarding? The facility has hot springs soaking along with a regular pool. The regular pool even has a diving board. Super entertaining!
Perfect activity to add to your weekend adventure or Colorado vacation holiday. This place is adult (and kid) friendly.
The Springs Resort and Spa, Pagosa Springs
The Springs Resort and Spa is in Southeast Colorado in the town of Pagosa Springs. Pagosa Springs tends to have fewer crowds since it is further from the Denver-metro area.
The Springs have neat mineral rock-sculpting along with a lazy river! A great activity to do year-round. Also, soothing après skiing after a day at Wolf Creek!
Did you know Wolf Creek tends to get the most snow out of all the ski resorts in Colorado?
Strawberry Park Hot Springs, Steamboat Springs
Strawberry Park Hot Springs is in Steamboat Springs. These are a local's favorite. Nestled in the Steamboat community's mountains, soaking at Strawberry is an excellent idea to add to your Steamboat visit.
Enjoy Visiting these Hot Springs in Colorado
Here is a quick summary of our five favorite hot springs:
Ouray Hot Springs
Orvis Hot Springs
Glenwood Hot Springs
Pagosa Springs Hot Springs
Strawberry Park Hot Springs
What Should You Bring?
When visiting the hot springs in Colorado, below is a list of things we typically bring:
Bathing suit
Sunscreen
Hat
Sunglasses
Flip flops
Showering toilet tries
Hairbrush
Quarters if you want a locker
Change of clothes – or street clothes you wore on the way there
Leave your valuables at home
Don't forget to bring a towel – our favorite outdoor towel is by Nomadix!
We hope you enjoy the five best hot springs to visit in Colorado (year-round) whether you are a local or visiting for a vacation or holiday.
Peace & Soaking,
Ashlee & Pablo
---
You might also enjoy…
Where are you headed next in Colorado?
You might also enjoy our other articles to help you plan an epic Colorado adventure:
Save this article on Pinterest!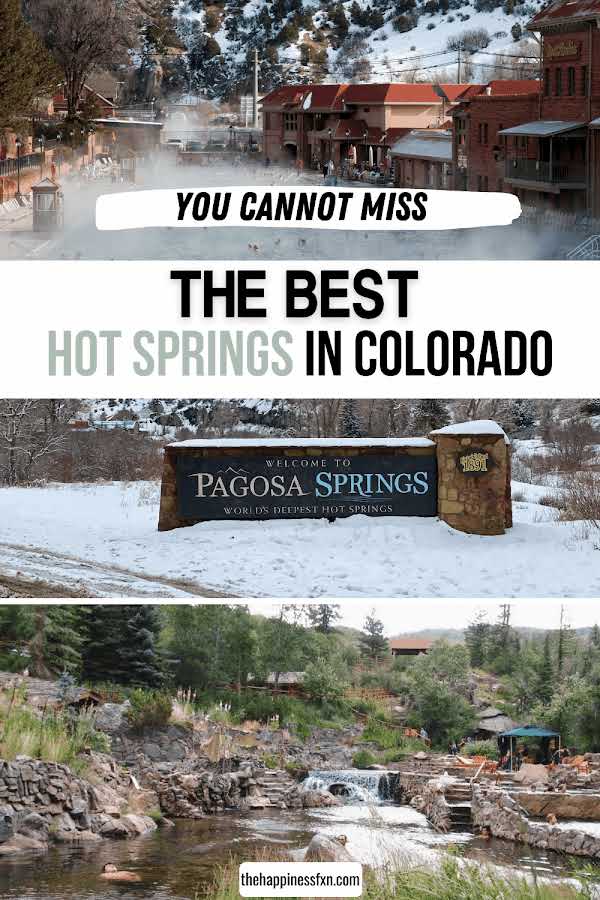 We would love to hear from you!
What is your favorite mountain hot spring in Colorado?
Feel free to leave a comment below.
Follow us on Instagram