Plan the Ultimate Aspen Colorado Snowboarding Getaway
Last Updated: Oct 9, 2023
|
|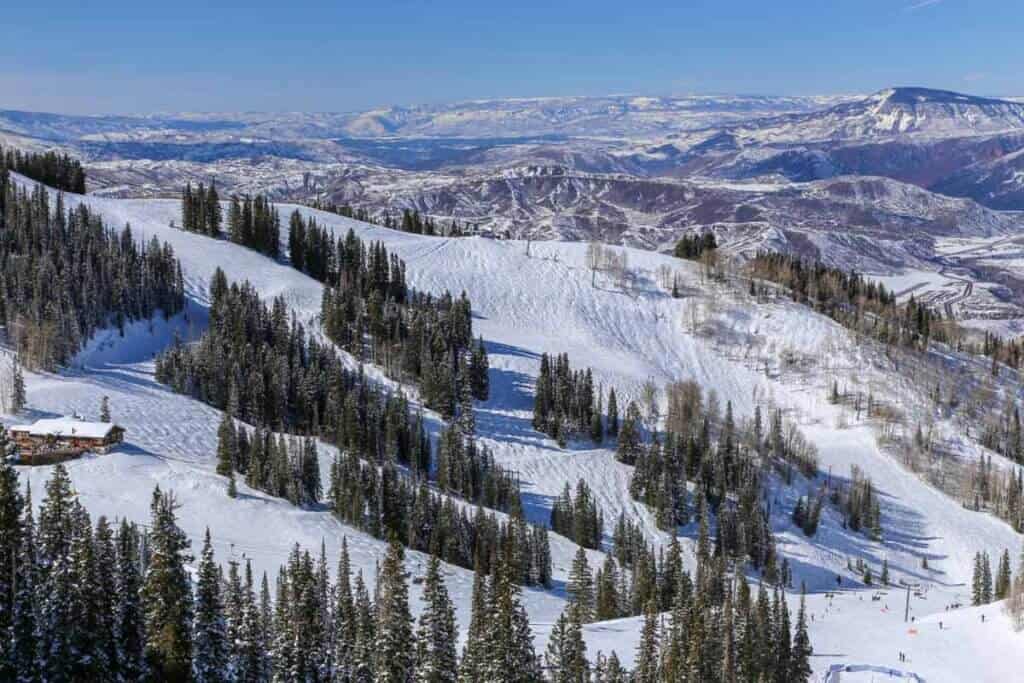 Are you ready to plan the ultimate Aspen, Colorado, snowboarding winter getaway? This article includes an overview of the four ski resorts, how to experience Aspen like locals, delicious and affordable restaurants, where to stay, how to save money, and fun après ski activities!
Heads up! This post contains affiliate links, which means we'll receive a commission if you purchase through our links at no extra cost to you. Please read full disclosure for more information.
How to Visit Aspen, Colorado, Like a Local
Having lived in Colorado for many years, my husband and I frequented all of the mountains under the Aspen Snowmass ® umbrella. We used to live in Grand Junction and Breckenridge. We would drive to the resorts to snowboard and then go home. In fact, our first date was at Aspen Highlands! We love the Aspen area.
We moved to Oklahoma a few years ago (for work), and the next time we visited Aspen, we tried as much as possible to visit like we were still locals.
We were in Aspen recently so Pablo could participate in a two-day clinic to keep up with his American Association of Snowboard Instructors (Rocky Mountain Division) Certification three status. Pablo taught back-to-back ski seasons in Colorado and Patagonia for over ten years!
We wanted to write a post for you on how to spend a lovely weekend in the Aspen area!
Planning Your Trip to Aspen Colorado
The flare of this post is geared towards experiencing Aspen like a local.
Aspen is not like what mainstream media and Hollywood depict if you don't want it to be. Meaning Aspen is not just for the Kardashians and Hollywood A-listers. In fact, you probably wouldn't even know who is who because everyone has their ski gear on.
I wanted to bring this up in case you aren't from Western Colorado. Aspen is a cool place to visit!
Aspen has awesome snowboarding and skiing with fewer crowds than some of the resorts closer to Denver.
Ready to keep planning a super fun getaway? Keep reading!
The Aspen Mountain Resorts
There are four Aspen Mountain ski resorts to explore:
Pass information updates yearly, and you can get more information online.
Where to Stay
Renting a private condo is the way to go.
There are lots of condos in the Aspen area with comfortable accommodations, including hot tubs, kitchens, and ski-in/ski-out options. Plan ahead – like months ahead.
Prime locations get booked way in advance. Find a place close to downtown so you can walk around and enjoy shopping, restaurants, coffee shops, and yoga studios.
Use Public Transportation
The Roaring Fork Valley (Aspen, Carbondale, Basalt, Glenwood Springs corridor) has AMAZING FREE public transportation. There are many stops to get you where you need to go, including around town, to the ski resorts, restaurants, and lodging.
You don't need to rent a car. Save money and use the Roaring Fork Transportation Authority (RFTA).
Check out the RFTA website ahead of time for any restrictions and to plan your routes. Or wing it and just hop on…
RFTA has a diverse fleet of buses that run on natural gas (CNG) and near-zero-emission electric batteries (in case you like sustainable transportation facts like me).
Flying into Aspen
Flying into Aspen is a piece of cake as long as the weather isn't bad in Denver or Aspen.
You will have a connection before flying into Aspen, depending on your carrier. It is a small airport. It is not crowded – no major wait times (from our personal experiences). You get in. You get out.
To us, it is worth flying directly into Aspen, so you don't have to waste precious vacation time driving. And you save money by not having to rent a car or park a car.
RFTA has a stop right by the airport, so just throw your gear over your shoulder and hop onto your route, heading to wherever you stay.
Uber is available in Aspen if you don't want to take the bus initially with all your bags.
Booking travel insurance. Whenever we take trips that involve flying, renting cars, or pre-paying for accommodations, we always book travel insurance. We like to use Travel Insurance Master because you can select the exact coverage you need. We have been getting the 'cancel for any reason' option these days.
Flying Your Gear
Pablo and I pack two bags each. We each take a medium-sized duffel bag (or carry-on suitcase) and a snowboard bag.
Having these two bags allows us to easily maneuver public transportation and walk around the airports.
We haven't had problems flying our snowboards at all. Just make sure you pack your bag and gear well so nothing gets caught while flying through the airport. You most likely have to pay to fly the gear, but it is worth having your own creature comforts.
Also, make sure you have warm gear and shoes in your carry-on just in case your bags are delayed.
What to Pack for a Snowboarding Trip
Below is an itemized list of ideas and things to pack in each bag.
Packing Your Snowboard Gear Bag
Here is exactly what we pack and fly in our snowboard gear bag:
Packing Your Carry-On Bag
Here is what we pack in our carry-on duffel bag:
Bathing suit
Travel-size toiletries and sunscreen
Chapstick with sunscreen
T-shirt or two
Long sleeve or two
Sleepwear
Fleece warm lounging pants
Streetwear – I try to pack super light and mix my snowboarding apparel with street gear. Lots of fleece and lots of layers.
Walking waterproof boots
Warm socks
Tiny wallet for your money, cards, and IDs so you can zip into a pocket
Underwear apparel of choice
Pants – I prefer leggings and fleece-type pants. Pablo will bring jeans – it just depends on what you plan to do in the evenings.
Pack an outfit to wear to yoga and wear this again for après ski happy hour or bopping to the hot springs.
Layer, layer, layer. Pack light, re-wearable items and layer to stay warm and dry.
It is even better if your condo has a washer and dryer. Get travel-size detergent. Then you can pack even lighter.
You might like reading our article on exactly what to wear snowboarding. We detail how to layer and gear we like for both men and women.
Tips for Saving Money
Buy Groceries and Eat at Your Condo
One of the more practical reasons for renting a condo is so you can prepare your own food. There are a few grocery stores downtown within walking distance if your condo is close. Preparing your own food saves a lot of money in Aspen.
We also fly some food items with us if we know we are arriving later in the day. We honestly usually fly coffee, coffee filters, tea, gluten-free pancake mix (just add water option), clementine fruit, granola bars, and protein bars. This way, when we land and get to our place, we are not focused on food right away.
We will eat breakfast at the condo, take snacks for snowboarding, and then eat dinner at our condo or go out.
Needless to say, we really keep it simple with the cooking when traveling. I'm talking meat and cheese board, veggies with dip, almond butter, or crackers and dip.
Getting groceries will allow you to save quite a bit of money on your trip.
Use RFTA
Use the free RFTA buses to get around. You can practically walk or shuttle everywhere. The town is so small, and you really don't need your own car or to rent a car.
Visit in the Off-Season
Visiting in the late spring is a great time to catch off-season deals for accommodations and end-of-season gear. Plus, there are fewer crowds.
Best Places to Eat
We did treat ourselves three times on our last visit.
We love coffee, sushi, and Thai food! We made it a point to track down some delicious venues serving our favorites.
Coffee & Bakery Snack: Jour de Fete. Cute and quaint coffee house. We ordered a chai, latte, and gluten-free pastry.
Sushi: Kenichi. We ordered the Blake, Rainbow, Otoro with rice, and Dynamo sushi. Some of the best sushi I have ever had in my life. Hands down.
Thai: Bangkok Happy Bowl Thai Bistro & Bar. The green curry is the bomb. So is the pad Thai. Take your leftovers back to the condo.
Awesome Après Snowboarding or Skiing Ideas
If you're not too tired to play some more after snowboarding and skiing all day, there are many other wonderful things to do in the area.
Glenwood Hot Springs
Hop on the RFTA and head to Glenwood Springs Hot Springs. These famous hot springs are dreamy to soak in after a long day on the mountain. Plan about an hour for transportation each way and a few hours for soaking.
Iron Mountain Hot Springs
This is the newest place to soak in Glenwood. Iron Mountain Hot Springs is so nice. You'll definitely want to check it out!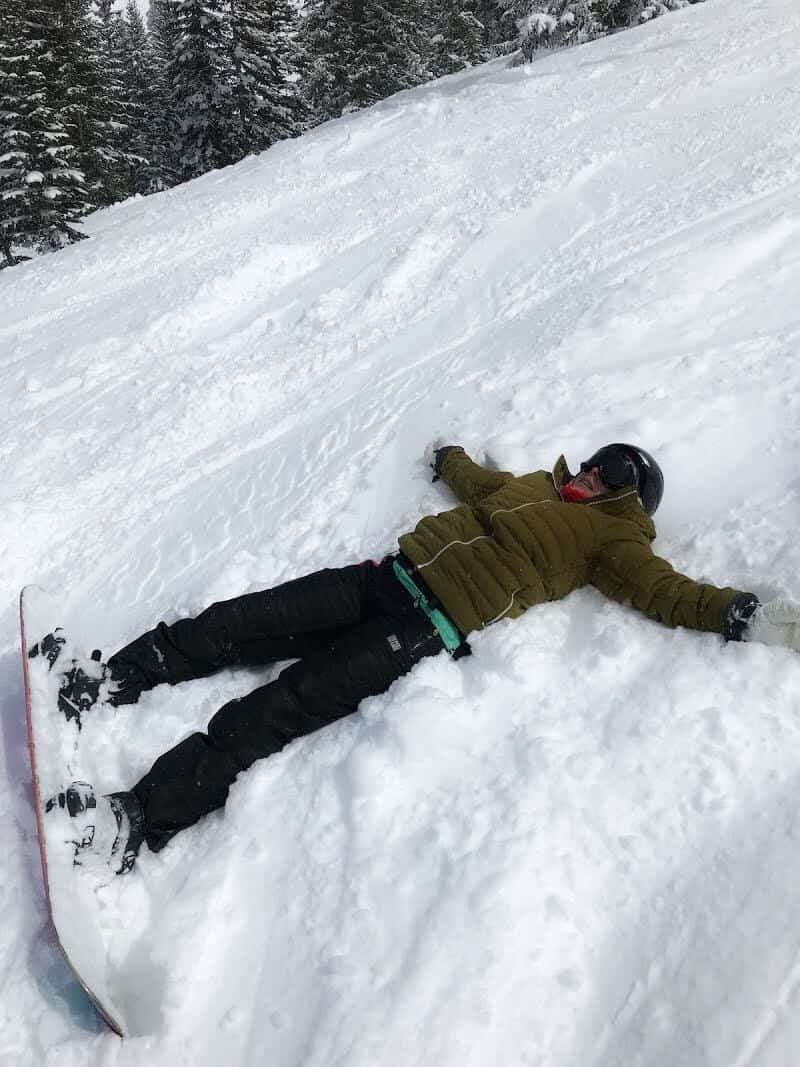 Yoga
Stretch your tired weekend warrior muscles with a yoga class. I walked to Aspen Shakti and enjoyed the vibe. Aspen Shakti had a relaxing restorative class. You can book online, which guarantees a spot.
There are other yoga studios to choose from with a quick Google search.
Spas
If you want to splurge and spend some money, head to the spa! There are so many wonderful spas to choose from. I had a massage at Remede Spa Aspen and loved it.
Before or after your massage, you can hit the waterfall pools and hot tub. There is also an oxygen bar which is a neat experience. This spa is so nice. Treat yourself – you deserve it.
There are many other spas in Aspen to choose from. Choose with a quick Google search if Remede Spa Aspen is booked up.
Shopping
Aspen is well known for its shopping scene. Downtown is lined with luxury designer brands mixed in with local boutique shops and restaurants.
There are winter gear stores galore. Depending on the time of year you visit, you might be able to get a great deal on winter gear.
And, if you pack light and forget something, I'm sure you can find a superb replacement. It's always fun to get new gear!
The last time we visited Aspen was in April, at the end of the season. Pablo and I found a new Helly Hansen jacket for 75% off. Super sweet deal.
Final Thoughts
We hope you have a great trip. Being in the mountains is always a soulful and uplifting experience.
May your trip be joyful, memorable, filled with happiness and fresh powder!
Ashlee & Pablo
Featured image credit: iStock.com/sboice.
---
Get More Western Colorado Adventures!
We would love to hear from you!
Have you been to Aspen? Do you snowboard or ski?
When are you planning your Aspen Colorado snowboarding trip?