Want to Be a Ski Bum? Here's How to Become a Snowboard or Ski Instructor in Colorado
Posted on: October 13, 2022
|
|
Have you ever wondered how to spend an entire winter snowboarding and skiing in some of the most exclusive mountain resorts in the United States?
Suppose you like snowboarding or skiing but want to spend more than a few days on the snow every season. In that case, you may consider becoming a snowboard or ski instructor for a large resort in Colorado, such as Vail, Beaver Creek, Breckenridge, Aspen Mountain, or Steamboat. This article will share exactly how to become a snowboard or ski instructor in Colorado.
Big Mountains are Always Looking for New Instructors
Many skiers and riders (snowboarders) have not considered the possibility of becoming an instructor because they don't know what the process is like or think they are not skilled enough to get a job as an instructor. But, on the contrary, you can get your foot in the door with little to no experience teaching and just some basic skills on the snow. In this article, we'll tell you how.
Large resorts have a lot of turnover related to ski and snowboard instructors. Every season, resorts look for experienced and inexperienced instructors to help them navigate winter seasons – especially during the holidays.
Are you curious about job openings at a resort in Colorado? Then, visit your favorite resort's website to learn of new job openings!
The Job Description
As an instructor, you will be responsible for improving your student's skills on the mountain. This involves working with people of all ages and abilities.
The resort company you work for will also emphasize how important it is for you, as an instructor, to stay safe and not get injured. An injury could easily ruin your whole season (or most of it). Be careful!
The company that employs you will also want to train you on getting tourists and students to return for more lessons. You'll probably be asked to do a little salesman/saleswoman work.
What to Realistically Expect
If you have no certification, you will likely be teaching beginners—people who have never skied or snowboarded before. However, if your students are there for a few days and they progress fast, you will probably advance to new terrain with them.
But most of your time will be spent in green (beginner), and some blue (intermediate) runs as it relates to your classes.
You will likely find that you spend more time with the kid's groups than anywhere else.
You can expect a group of 3-5 students in a regular class with you. However, during Christmas, New Year, and other holidays, you can expect beginner classes to go out with well over ten students.
When it comes to teaching beginners, every day is different. You might have a great group one day that picks things up quickly; the next day, you might have a group that needs a lot more attention and is barely progressing! The key to helping people learn is staying positive, patient, and kind.
Getting Hired Without Experience is Possible
Companies will hire aspiring instructors with no experience.
However, resorts have experienced instructors and 'resort trainers' that teach aspiring instructors how to do the job and improve their skiing and riding skills.
Companies will usually provide a two-week training for new hires at the beginning of each winter season. New candidates will have the chance to get to know the resort and the company's expectations and are given the tools to start teaching skiing and snowboarding.
In-House or Resort Training
As a new instructor, you can get training to become an instructor in-house, and through the resort, you work for.
Throughout the season and as the demand for instructors goes down to teach lessons during holidays, additional snowboarding and ski clinics will be offered by your employer. Training and clinics paid for by the resort will be provided to improve your riding/skiing, teaching, and many other aspects of the sport and business. Again, this is an excellent opportunity to learn from experienced staff and trainers.
How to Get Certified
The organizations that certify instructors in the United States are the Professional Ski Instructors of America (PSIA) and the American Association of Snowboard Instructors (AASI).
There are three primary levels of certification:
To become a certified snowboard or ski instructor, you must take an exam administered by either PSIA or AASI.
The process begins with a membership application to either PSIA or AASI.
You must be 18 years old to apply.
Taking Your PSIA or AASI Level 1 Exam
If you are a first-time instructor with no certification, you should consider taking your Level 1 exam as soon as possible.
The Level 1 exam is a three-day process that includes a written and practical (snowboarding or skiing) exam.
Having your Level 1 certification will allow you to access slightly higher pay and qualify you to teach classes that are not just for beginners.
Visit the official website for more information on PSIA & AASI to become a certified instructor.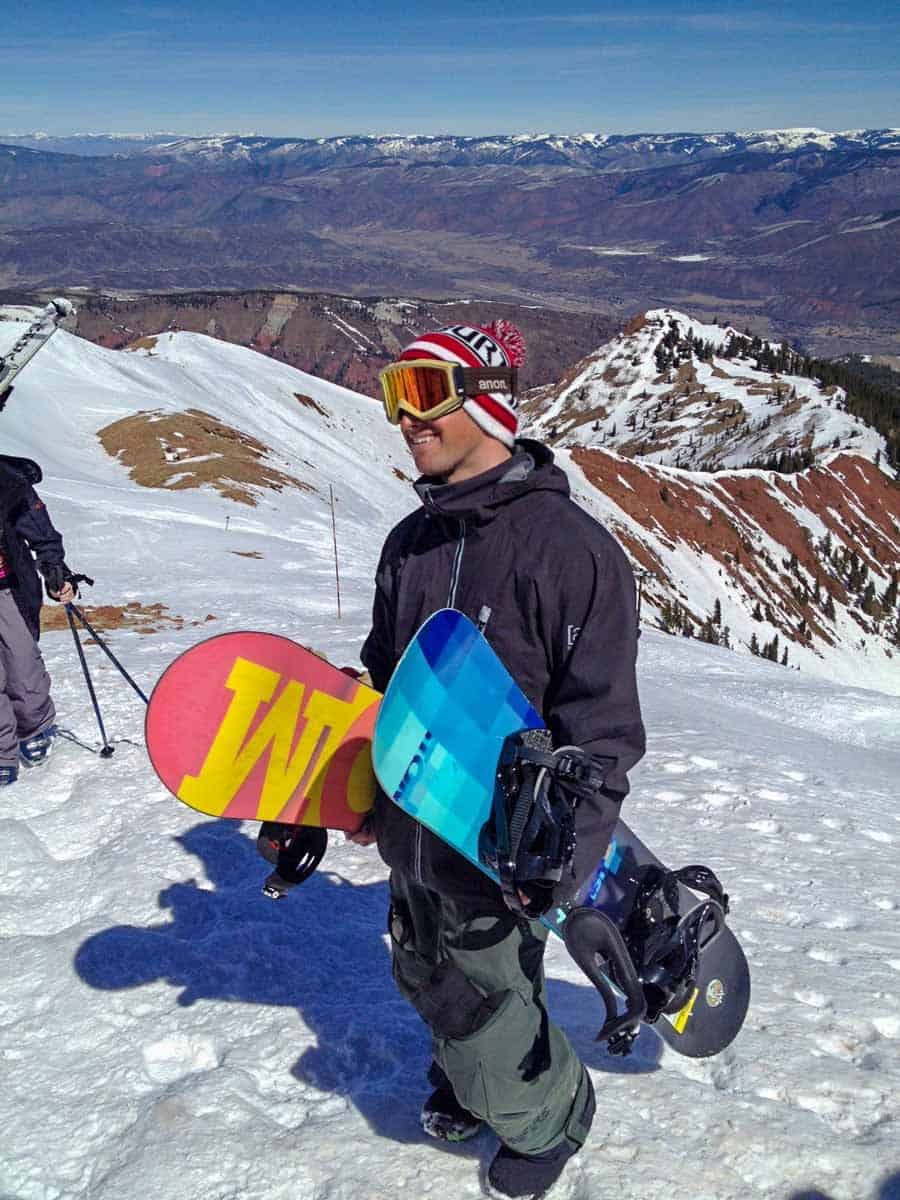 Benefits of Becoming an Instructor
There are a lot of fantastic benefits of becoming a snowboarding or ski instructor, such as:
Getting a free season pass and discounted tickets for family and friends, depending on your employment classification (full-time or part-time).
In one season, you will get more powder days than you probably have in your life.
You will get much better at skiing or snowboarding (to the point where you will be embarrassed at your previous skill level)!
You will probably change how you dress and what gear you use as you blend in with your new environment and friends. In addition, you'll learn more about the technical performance of gear to be your best and help others be their best.
You will meet many people working for the same reasons as you.
You will likely consider yourself a 'local' even if you only work and live in a mountain town for a season. This means that you will learn when the best time is to do everything and know where cool things are happening.
You can ski or ride as much as you want during the season when work is slow.
You'll get to meet new people and help them enjoy the mountains, which is fun.
Companies like Vail Resorts own many other large resorts. You can use your pass on Vail Resort-owned mountains for free if you work for Vail Resorts.
For example, Vail Resorts own Breckenridge, Keystone, Beaver Creek, Vail, Park City in Utah, Heavenly, NorthStar, and Kirkwood. That's so much skiing and riding for free!
Cons of Working as a Full-Time Instructor Your First Season
Money will be tight as you probably are not getting paid much. Hopefully, you'll make just enough to live and get by, especially if this is your first season.
Consider getting a second job at night. There are plenty to pick from in the service industry or at ski and snowboard rental shops to help make some extra cash.
Since you will teach many people, they will have different experience levels. Therefore, you will have fast learners and slow learners.
The job can be physically demanding.
Mountain Resorts to Consider
Breckenridge
Breckenridge is probably the busiest resort in terms of the number of visitors they get. You likely can work full-time here and stay active throughout the season. The mountain is exceptionally crowded during holidays.
The cost of living in Breckenridge is high, so it is essential to factor that in when considering working here.
Breckenridge does provide employee housing for some qualifying full-time employees.
Breckenridge has one of the best parks in the country!
The resort offers excellent training for instructors to improve their skiing and snowboarding skills.
Breckenridge probably has the most to offer when it comes to nightlife. So if you want to party, this is the place for you. There are a lot of bars and clubs in town, as well as many restaurants.
Vail
Vail is one of the largest mountain resorts in the United States. The terrain is fantastic, especially on powder days, but it can be crowded during holidays.
The resort offers excellent training for instructors to improve their skiing and snowboarding skills.
Aspen
Aspen probably has the best-paying jobs for instructors. Their pay is significantly higher than Vail Resorts. Aspen has an elite clientele, and you can expect good tips. Accommodations in the Aspen area are slightly higher than in Breckenridge and Vail.
With your Aspen employee pass, you can access four mountains: Aspen Mountain, Snowmass, Aspen Highlands, and Buttermilk.
Steamboat
The mountain here is not as crowded as the other resorts, offering a more relaxed feel. The terrain is varied, and there is something for everyone. The pay here is not as high as the other resorts, but the cost of living is a little lower.
Beaver Creek
Beaver Creek is a smaller resort. You can stay busy with the number of hours offered, and it is not as crowded as some other resorts. The clientele here is exclusive, and you can expect good tips.
Vail Resorts owns Beaver Creek.
Advice for Being Successful
Progress to Private Lessons
Private lessons are a great way to make extra money if clients request your services. When you are teaching private lessons, tips are usually higher.
Work When It's Busy
Holidays are the days when you want to try and work as much as you can. You may be working for two weeks straight if you want to, or you can have days off in between. It all depends on how much you want to work and what the resort needs.
Consider that 'full day' lessons are only 5 to 6 hours total, and that is how much time the company will pay you.
Sometimes you can count on tips and other monetary incentives from the resort, such as returning students and students who request private lessons.
Play When It's Slow
You should ski/ride when things are slow! And every time there is a powder day, and you don't have to work. If it's a Monday morning and there are no lessons until 1 pm, ski, and ride before work.
Plan on Having a Roommate
Rent is outrageous in mountain towns (some more than others), and most people cannot afford to live alone, so you will likely have a roommate or two. It would help if you tried to sort your accommodations out as early as possible, as this may be one of your most significant challenges while working in a resort town.
Final Thoughts
Colorado is home to some of the best ski and snowboard resorts in the country. If you're passionate about these winter sports and love spending time in the mountains, becoming a ski or snowboard instructor could be a great fit for you.
With this guide, now you know exactly how to become a certified instructor in Colorado and what you can expect. All that's left to do is put in the hard work and dedication – good luck, and have fun!
---
Get More Snowboarding Adventures!