15 Best Ski & Snowboard Resorts in the U.S.
Last Updated: Oct 9, 2023
|
|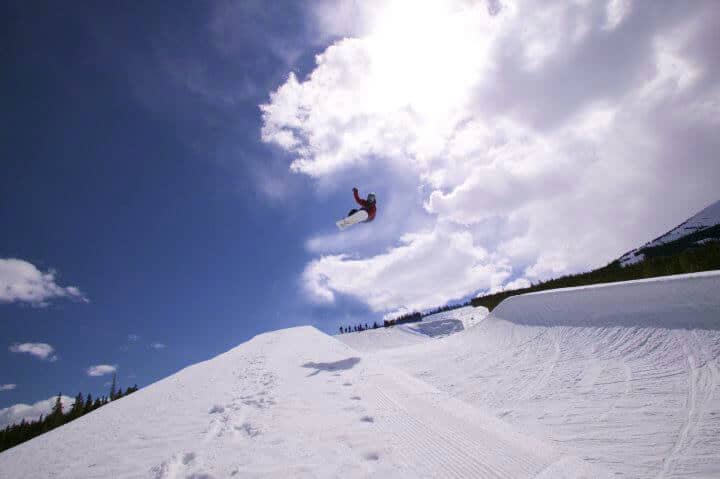 Whether you're a novice or seasoned pro, there's no better feeling than riding on fresh powder in the mountains. With all the different skiing and snowboarding destinations across America, we've compiled a list of what we believe are the best ski resorts in the U.S. Whether you're looking for a new local spot or a holiday in a different state, find the perfect destination and plan your next winter getaway.
Keep reading to check out the list of some of the best mountains for skiing and snowboarding in the U.S.
This contains affiliate links, which means we'll receive a commission if you purchase through our links at no extra cost to you. This allows us to continue publishing free travel and gear guides. Please read our full disclosure for more information. Thanks for your support!
Top Ski Resorts in the U.S.
We are so excited to share this article with our readers! In addition, we have reached out to other outdoor travel writers to create a list of the most epic places to ski and snowboard in the USA.
Each ski resort listed below has something special that makes it stand out, along with insider tips, top runs, and the best time of year to visit. So, get inspired to plan your next winter adventure this coming ski and snowboard season.
Related Articles:
Related Articles:
1. Heavenly in South Lake Tahoe – California
Guest contribution by Lauren Moore from The Traveling Moore
Heavenly resort is a large, family-friendly ski resort straddling the border of Nevada and California. It is one of the best ski resorts in the United States. The resort is also conveniently part of the Epic Pass.
What makes Heavenly unique is that it overlooks Lake Tahoe. It has excellent snow, many runs, and a vibrant ski village.
Heavenly has four different bases, two in each state. For the shortest lines and access to the best runs – utilize either of the Nevada bases. Even if they are a bit of a drive from your accommodations, the Nevada area makes for a better experience. The gondola from South Lake Tahoe can have wait times of over an hour to get on the lift!
Once on the mountain, there are plenty of long, groomed, blue runs. There are also a few greens and blacks, depending on your skiing ability. The best runs are the California trail, with great views of the lake, and the Skyline trail that runs from the peak to the base.
In addition to Heavenly ski resort, South Lake Tahoe is a neat town to visit. The ski village has many delicious restaurants and shops with brands like The North Face and Patagonia.
Other great winter activities in South Lake Tahoe include snowmobiling, driving the lake perimeter, and gambling at the casinos on the Nevada side of town.
Find out more: Heavenly Ski Resort
2. Kirkwood Ski Resort – California
Guest contribution by Trijit Mallick of Budget Travel Buff
Located just 33 miles south of South Lake Tahoe, Kirkwood Ski Resort is one of the best ski resorts in California. This family-friendly ski resort offers spectacular downhill skiing, snowboarding, cross-country skiing, and snowshoeing in a relaxing atmosphere.
The vibe Kirkwood is generally low-key and family-friendly. The resort has 2,300 acres of skiable area with 12 lifts and over 68 runs for all level skiers.
Kirkwood is an excellent option for snowboarding beginners. The bunny slope is an actual hill that's not too flat but not so steep. The other green runs are longer, wider, and spacious. The longest run in this ski resort is 2.5 miles. In addition, there is a man-made terrain park that offers more excitement for snowboarders. Check if there is an ongoing snowboarding event (which is very common throughout the season).
January to March is the best time to enjoy winter adventures at Kirkwood Ski Resort. The parking lot is well organized, and you don't have to walk far to reach the ski lift area.
A shuttle service is available in the resort. It takes you to the other side of the mountain where the ski school is located. There are plenty of food options at Kirkwood on the main side. The cafeteria lodge has a bunch of bean bags for the kids and tables for the adults. You can enjoy your lunch in this spot with your family. There's also a bar to the right side of the lifts for a quick drink and an excellent dining spot on the base of the mountain.
Find out more: Kirkwood Mountain Resort
3. Mammoth Ski Resort – California
Guest contribution by Bernadette Young of Explorer Chick
Even though California is known for its deserts and beaches, there is great skiing and snowboarding in the state. People head to Mammoth Lakes, which boasts one of the most extended ski seasons lasting from November to August.
Mammoth is five hours away from Los Angeles and San Francisco, located in the Sierra Nevada Mountain Range. It has more than 3,000 acres of skiable area that even novice skiers and snowboarders can enjoy. Twenty-five percent of the area is rated for beginners, with the lower base areas the best for those who want to learn.
The California sunshine provides a bright blue sky most of the year, and it is a real treat for experienced skiers and snowboards that are higher up on the mountain. Experts can go high above the treeline for steep and challenging runs. Mammoth does a good job with grooming, and for those that are brave enough to ride down the Cornice off the Panorama Gondola, do it on a powder day to avoid (potentially scary) icy conditions.
It is a little pricey to snowboard and ski at Mammoth; expect to be set back a couple hundred dollars a day. The IKON Pass is accepted at Mammoth and offers "early ups" and "late ups" for pass holders.
For those days when people need a break, there is plenty of hiking, sledding, and tours. And if visitors need a real break, the town is laid back, and it is so easy to find a cafe to sit around and relax.
Find out more: Mammoth Mountain
4. Arapahoe Ski Basin – Colorado
Guest contribution by Daria from The Discovery Nut
Located near Keystone, Arapahoe Basin is one of Colorado's least crowded ski areas and is a perfect alternative to busy destinations like Aspen, Vail, and Breckenridge.
Shortly called A-Basin, this area is located within the Arapaho National Forest of Colorado and is easily reached via Interstate-70 from Denver. What makes Arapaho Basin different from other Colorado ski resorts is its unusually long season – the slopes here close in May and sometimes even June. With nine lifts and over 1,400 acres of prime alpine terrain, this place has enough space for everyone.
A-Basin has a relaxed, hippie vibe. It stands out among other popular skiing areas in Colorado, and many visitors and locals alike have come to love it just for that!
If you are a newbie skier or snowboarder, you might want to know that Arapaho Ski Basin has a good variety of trails suitable for all levels. When visiting this skiing area, be aware that traffic can be congested on I-70, especially if you are traveling on weekends. To save time, try to visit on a weekday when it's less hectic. However, if you are traveling on the weekend, make sure to leave early or late to avoid the afternoon rush hour.
Want to ski or snowboard here all winter? You can get an A-Basin ski pass online or in-store. It's a great option if you are an avid skier and want to explore everything this place offers.
The drive to Arapaho Ski Basin also takes you along Loveland Pass, one of the prettiest drives in Colorado, offering fantastic alpine scenery and 360-degree mountain views.
Find out more: Arapaho Basin
5. Aspen-Snowmass Ski Resort – Colorado
Contribution by Ashlee & Pablo Fechino
The Aspen area is home to four world-famous ski resorts: Aspen Mountain, Aspen Highlands, Buttermilk, and Snowmass. Snowmass Ski Resort is the larger of the four resorts with over 90 runs and 3,362 skiable acres. It also has three terrain parks, one superpipe and one mini pipe! It is known for being a great mountain for snowboarders.
One of the best times to visit is January through April because there tends to be better snow during the late winter and early spring. Since this mountain is further from Denver, it typically gathers more local traffic from Western Colorado as well as guests flying in from all over the world. Yes, the Aspen area has a luxurious vibe, but it also has a trendy local mountain vibe.
When visiting Aspen for vacation, plan to spend at least three to five days. Aside from skiing and snowboarding, there are fun shops, yoga studios, and restaurants that will make your winter getaway even greater. You can also enjoy the hour-long drive up to Colorado's famous Glenwood Hot Springs for some relaxing time in nature! There are so many wonderful things to do for a weekend getaway in Aspen.
No need to have a car to get around to the different villages either. Guests can ride the RAFTA shuttle for free, with stops from Aspen's main attractions all the way into Glenwood Springs!
The IKON Pass is accepted – visit IKON Pass to see terms and conditions.
Find out more: Aspen-Snowmass Ski Resort
6. Beaver Creek – Colorado
Contribution by Ashlee & Pablo Fechino
Known for its luxurious appeal in the Colorado Rockies, Beaver Creek Ski Resort is one of America's top destinations to ski and snowboard, with annual snowfall around 325 inches (826 cm).
Located roughly two hours west of Denver off I-70 in the Vail Valley, Beaver Creek Ski Resort offers guests three village areas to ski and snowboard: the main Beaver Creek Village, Arrowhead, and Bachelor Gulch. Beaver Creek tends to have a slower-paced vibe than some of the other Colorado mountain resorts attracting upscale guests worldwide. Plan to spend $300+ a night for hotel accommodations.
In the winter, the village resort areas are a haven for skiers and snowboarders, leading to over 2,082 skiable acres, 167 trails, and 24 lifts. There are runs for everyone ranging from beginners to experts. Most of the beginner terrain is actually at the top of the mountain, so keep that in mind. It's OK to ride the chair lift down if not comfortable with more intermediate terrain. The lift attendants are supportive of this – just let them know.
In addition to skiing and snowboarding, there's an ice-skating rink in the main mountain village that will keep guests enjoying time off the slopes! There are five-star hotels with beautiful views as well as world-class spas to enjoy.
There is no need to have a vehicle either – take the complimentary shuttle to access the slopes and explore the town. If not staying at the village, park at public parking and take the shuttle to the base.
Beaver Creek is part of Vail Resorts for folks holding the Epic Pass.
Find out more: Beaver Creek Resort
7. Breckenridge Ski Resort – Colorado
Contribution by Ashlee & Pablo Fechino
Breckenridge, Colorado, is home to one of the most highly regarded ski resorts in the U.S., Breckenridge Ski Resort. The resort is home to 187 trails, four terrain parks, and five peaks.
If you love getting above the tree line, the Imperial Express Super Chair reaches an elevation of 12,840 feet. From the top of the Imperial Express, once exiting the lift, skiers and snowboarders can ride down the mountain or continue hiking the backcountry to get even higher in elevation for a chance to enjoy powder (or lots of wind).
The town of Breck (what locals say) sits in a valley surrounded by stunning rocky mountain peaks. There are a variety of places to stay, eat, shop, and play. It is a fun ski town!
The best time to ski and ride in Breckenridge to beat the crowds is after the first week of January until the end of February. December can also be a great month if snow conditions are there. Avoid major holidays like Christmas, Martin Luther King Day, and Presidents Day weekend if you're not interested in crowds. Since Breckenridge is close to Denver, the area can get extremely busy. During the holidays, Breckenridge is one of the busiest resorts in the U.S. Lift lines can be very long on all holidays, so keep this in mind when planning a trip!
The nordic center has over 30 miles of cross-country ski trails if you are not into downhill skiing and snowboarding.
The Epic Pass can be used at Breckenridge Ski Resort.
Find out more: Breckenridge Ski Resort
8. Steamboat Springs Ski Resort – Colorado
Guest contribution by Lance and Laura Longwell of Travel Addicts
There is no better ski resort in the United States than Steamboat Springs. There's certainly no other ski resort that has produced more Olympic medals. Steamboat Springs has lots of different terrain – from steep blacks to easy greens and even terrain parks. Whether you like your skiing easy or hard, all of it will be on the world-famous Champagne Powder snow.
Steamboat offers both skiing and snowboarding. The IKON Pass is accepted at Steamboat, or you can buy day passes. The food at the on-mountain restaurants is far better than at other ski resorts. Good beginner runs to check out include Why Not and Sundial. Intermediate and Advanced skiers enjoy Cowboy Coffee, Three O'Clock, and Vagabond.
What makes Steamboat Springs truly unique is that the city of Steamboat Springs was a town long before the ski resort was built. As a result, it makes for a great town to enjoy. There's shopping, tons of cute boutiques, lots of cafes and restaurants, and even art galleries. Just outside of town, the Strawberry Park Hot Springs is one of the best hot springs in Colorado. It makes the perfect place to head after a day of skiing.
Find out more: Steamboat Ski Resort
9. Vail – Colorado
Contribution by Ashlee & Pablo Fechino
Visitors come from all over the world to ski and snowboard at Vail. Vail is known for being one of the largest ski resorts in the U.S., with 5,317 acres of skiable terrain, 195 trails, 31 lifts, and seven epic back bowls. The resort is located off I-70, making it easily accessible. There is also an airport close by, Eagle Regional Airport.
Known for an average snowfall of over 350 inches, Blue Sky Basin is the best place to go to find powder after a big snowstorm and a local favorite.
Vail is a large mountain, so it can be challenging for skiers and snowboarders to grasp where they are at if not familiar with the mountain. Be sure to have a trail map. The mountain is so big, visiting more than once is needed to see the whole thing.
The base elevation at Vail is 8,120 feet, so if visiting from out of town, be thoughtful of skiing and snowboarding at higher elevations. Take it easy and slow.
The Epic Pass is accepted.
Check out the EpicMix app to get trail maps and lifts times on your cell phone!
Find out more: Vail Ski Resort
10. Timberline Lodge Mt. Hood – Oregon
Guest contribution by Tawnya Redding of Money Saved is Money Earned
There is no better place to ski or snowboard on a sunny winter day than Timberline Lodge at the base of Mt. Hood in Oregon.
This National Historic Landmark functions as both a hotel and ski resort and was built as a Works Progress Administration (WPA) project during The Great Depression. It was dedicated by President Franklin D. Roosevelt in 1937 and has been a Pacific Northwest favorite for both snow enthusiasts and tourists ever since. Timberline Lodge also served as the exterior of the notorious Overlook Hotel in The Shining.
Aside from being a historic landmark, Timberline has one of the longest ski seasons in the U.S. and is open year-round. Aside from skiing and snowboarding, visitors can also snowshoe, hike, bike, and climb the mountain.
A little over an hour from Portland, Timberline is easily accessible for a day trip from Portland or a weekend getaway. Aside from the Lodge, there are accommodation options in nearby Government Camp and about a half-hour away in Welches.
Timberline is a popular destination, and weekends are crowded. However, those able to go during the week will be greeted with shorter lines and relatively clear slopes.
No matter your experience level, visitors to Timberline, should ride the Magic Mile lift and run! Named for its original length and location above the tree line, at the time of construction in 1938, the Magic Mile was the longest chairlift in existence and also the first to use metal towers. On a sunny day, riders will be above the clouds and able to see nearby Mt. Jefferson, but beware on stormy days as the lift and run is not protected, and you'll face the full force of the elements.
Find out more: Timberline Lodge
11. Park City – Utah
Guest contribution by JJ Haglund from The Minivan Bucket List
You can't have a list of the best places to ski and snowboard in the USA without including Utah, the self-proclaimed home of "The Greatest Snow on Earth."
Almost any ski resort in Utah boasts incredible skiing and stunning views, but the best ski town is Park City. If you're an Ikon Pass holder, Deer Valley Resort is for you. Otherwise, Park City Mountain Resort is operated by Vail, which means you can use the Epic Pass. Either way, those passes make Park City some of the most affordable skiing options in Utah. If you don't have one of those passes, be prepared for sticker shock on the price of a day pass.
Deer Valley is for skiers only, but Park City Mountain welcomes both skiers and snowboarders.
What makes Park City unique is the wealth of non-skiing activities nearby. Main Street has the best restaurants, shops, and even a ski lift that takes you directly to the mountain! There's also the Utah Olympic Park from the 2002 Winter Olympics, where you can fulfill those Olympic dreams and actually take a ride down the bobsled track.
In nearby Heber, take a dip in a geothermal hot spring at the Homestead Crater, or take a ride on Heber Valley Railroad's North Pole Express. Make sure to try the tubing hills at Soldier Hollow or Woodward Park City. Unless you don't mind crowds and sky-high prices for lodging, then avoid going during Christmas or the Sundance Film Festival.
Find out more: Park City Mountain
12. Sugarbush Resort – Vermont
Guest contribution by Samantha Meabon from P.A. on Pause
Are you looking for a spot to ski or snowboard on the east coast? Check out Sugarbush Resort in central Vermont. Sugarbush is one of the largest winter sports resorts in New England, and there are over 100 trails serviced by 16 lifts spread over two separate mountains. Skiing and snowboarding are both allowed here.
Many upgrades have been made to the base area, especially at Lincoln Peak, within the last 20 years. The IKON Pass is also accepted!
One of the most notable features in Sugarbush is the Slide Brook Express Quad Connector lift, traveling between the Lincoln Peak and Mt. Ellen. This lift is two miles long!
The area enjoyed the most by locals is from the highest point of the resort at the top of Mt. Ellen! To get to the top of Mt. Ellen, take the Green Mountain Express Quad from the base lodge, and the Summit Quad lifts. Next, take the Panorama, following Rim Run, then down to Joe's Cruiser trails. This will take skiers through beautiful evergreen-lined terrain, which is even more awesome with fresh snow cover. Heading down Panorama feels like skiing down the edge of the world.
After spending your day on the slopes, head over to Lawson's Finest Liquids for adult beverages or The Blue Stone for delicious pizzas with seasonal toppings.
Visit in February or early March for some of the best chances to have excellent snow conditions.
Find out more: Sugarbush Resort
13. Massanutten Resort – Virginia
Guest contribution by Maggie McKneely of Pink Caddy Travelogue
When most people think of ski destinations, Virginia doesn't usually come to mind. But Massanutten Resort is one of the most popular ski resorts near D.C. While you won't find any double black diamond runs here, it is family-friendly and a perfect place for beginners and casual skiers, and snowboarders.
Massanutten is located about two hours from D.C. and just minutes from Shenandoah National Park. For 40 years, it's been the area's premier destination for all winter activities. One reason for this is because Virginia has fickle winters, meaning there's usually not much snow. Massanutten has one of the most powerful snowmaking systems in the country. This means you can hit slopes no matter if it's 20 degrees or 70 degrees outside. There will always be snow on the ground!
Skiing and snowboarding are both popular activities here, but with over 6,000 acres of property, the resort offers a smorgasbord of other activities too. One of them is snow tubing – Massanutten is currently the only place that offers nighttime tubing on the East Coast. There's also an outdoor ice-skating rink. And if you don't want to be outside, Massanutten has an indoor water park open year-round.
Massanutten starts making snow in late November, but the coldest weather arrives in Virginia around late January/February. Avoid weekends, as they are usually packed. If you need to rent skis, there is a cheaper rental place outside of the resort than Massanutten's rates.
Find out more: Massanutten Resort
14. Jackson Hole Mountain Resort – Wyoming
Contribution by Ashlee & Pablo Fechino
Sitting at a base elevation of 6,311 feet, Jackson Hole is a stunning ski resort in the Teton Range of the Rocky Mountains of Wyoming. It is known for its pristine powder snow, jagged peaks, chutes, challenging terrain, and infamous Corbet's Couloir, along with over 2,500 skiable acres.
For those interested in dropping into Corbet's Couloir, consider site conditions before heading off. Depending on the snowpack and time of year, this drop can go from a few feet to a huge drop. Check with resort staff before heading into this expert-only terrain. Going up the tram, Corbet's Couloir can be seen on the left to give an idea of how big of a drop it is.
Even though Jackson Hole is recognized as a challenging mountain with a top elevation of 10,450 feet, the resort offers 50 percent intermediate terrain.
Skiers and snowboarders have access to 133 trails and 13 lifts. Also, be sure to ride the world-famous Bridger Gondola and Big Red, the aerial tram! The tram is known for being super-fast!
Downtown Jackson is 12 miles away from Teton Village and Jackson Hole Mountain Resort, so visitors can take the START shuttle back and forth to explore the town. Downtown Jackson is a rustic mountain ski town that still has the old feel of the west.
The Ikon Pass is accepted with reservations.
Find out more: Jackson Hole Mountain Resort
15. Snowy Range – Wyoming
Guest contribution by Blair of Expedition Introvert and author of 10 Tips for Introverted Travelers.
Snowy Range is one of the most popular ski resorts in Wyoming and is a three-hour drive from Denver, Colorado. The runs at Snowy Range are great for both skiers and snowboarders alike but are very popular amongst snowboarders. Snowy Range also has cross-country skiing for those who don't downhill.
The resort only provides its own seasonal ski pass, but the Snowy Range Pass can be used for discounts at other Wyoming, Colorado, and Wisconsin ski resorts.
The best time of year to go is from January to March. Of course, it is the least busy from Monday to Thursday, but skiers and snowboarders may catch Coloradans in the middle of the week playing hooky if there is fresh powder! Try to go during the workweek since tickets cost less, and it is quiet. Don't miss the Centennial trail, followed by the Rawhide trail for beginners and intermediates.
Since Snowy Range is a small-mid-size ski resort, the overall feel is relaxed and homey, much like the nearby town of Centennial. This is best for families who want more hands-on lessons for their children, or even lessons for themselves.
Less than an hour away is Laramie, where you can visit the University of Wyoming and see a football or volleyball home game. The area is known for a lot of local history and has several geological and railroad museums. The University of Wyoming has an interesting Geological Museum that is free to guests and great for families!
Find out more: Snowy Range Ski Area
Final Thoughts
With other local skiers and snowboarders, we've compiled an extensive list of what we believe are some fantastic places for skiers and snowboarders to catch big sky and incredible views in the U.S. Regardless of skill level, there's no better feeling than taking in fresh powder on a cold winter morning. With so many different ski destinations available across the U.S., navigating options can be super fun. Whether you are looking for local destinations or a winter getaway, we hope this list helps you plan your next ski trip!
Thanks for reading.
Ashlee & Pablo
---
Read More Snowboarding Articles
Save this article on Pinterest!
Have you been to any of these ski resorts?
Tell us about it below. We want to hear from you!