Fall Road Trip Idea: Camp & Hike to Hawksbill Crag in the Ozarks
Last Updated: Oct 9, 2023
|
|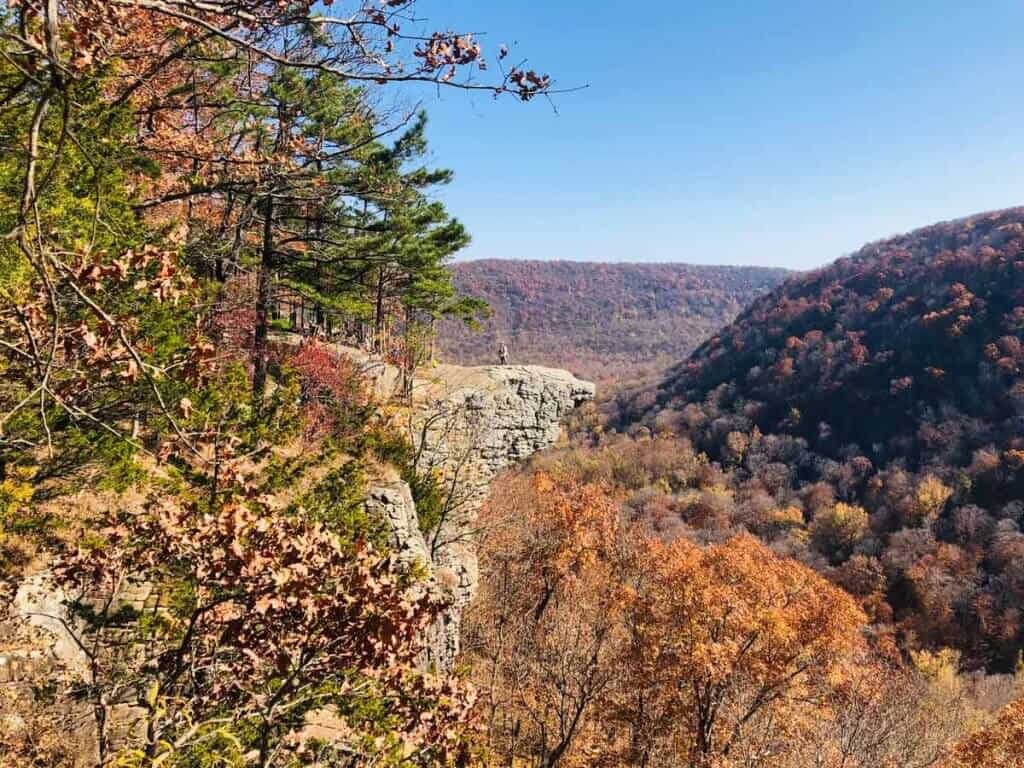 Are you interested in hiking to the famous Whitaker Point, also known as Hawksbill Crag, or visiting Buffalo National River in Arkansas? Keep reading to learn how you can plan and experience an incredible fall weekend hiking the Whitaker Point Trail along with camping at Buffalo National River.
This post contains affiliate links, which means we'll receive a commission if you purchase through our links, at no extra cost to you. Please read full disclosure for more information.
Plan a Weekend Road Trip to Hike Whitaker Point
If you don't live close to the Whitaker Point Trailhead, this post is for you!
You can plan an overnight camping trip at Steel Creek Campground in Buffalo National River. The next day, drive to the Whitaker Point trailhead to hike to Hawksbill Crag.
This post was written for an adventure during the fall, but you can do this anytime. We think adventuring in the Ozarks during the fall is the best. The foliage is incredible to see!
🍂 Related Fall Adventures:
Our Experience with Fall in the Ozarks
One of the best parts about living in the Southern U.S. is the long autumn season. You can easily camp into November, which is so fun for Pablo and me coming from living in Colorado. Fall camping in Arkansas means enjoying warmer days, crisp nights, and breathtaking fall foliage.
Visiting the Ozarks in northwest Arkansas during the fall is one of our favorite road trips from Tulsa.
We had heard fantastic things about hiking the famous Whitaker Point Trail and camping at Buffalo National River when we first moved to Tulsa. When we finally visited, it was so awesome we had to share all the details for you.
Keep reading to plan your weekend getaway camping and hiking.
Exploring Buffalo National River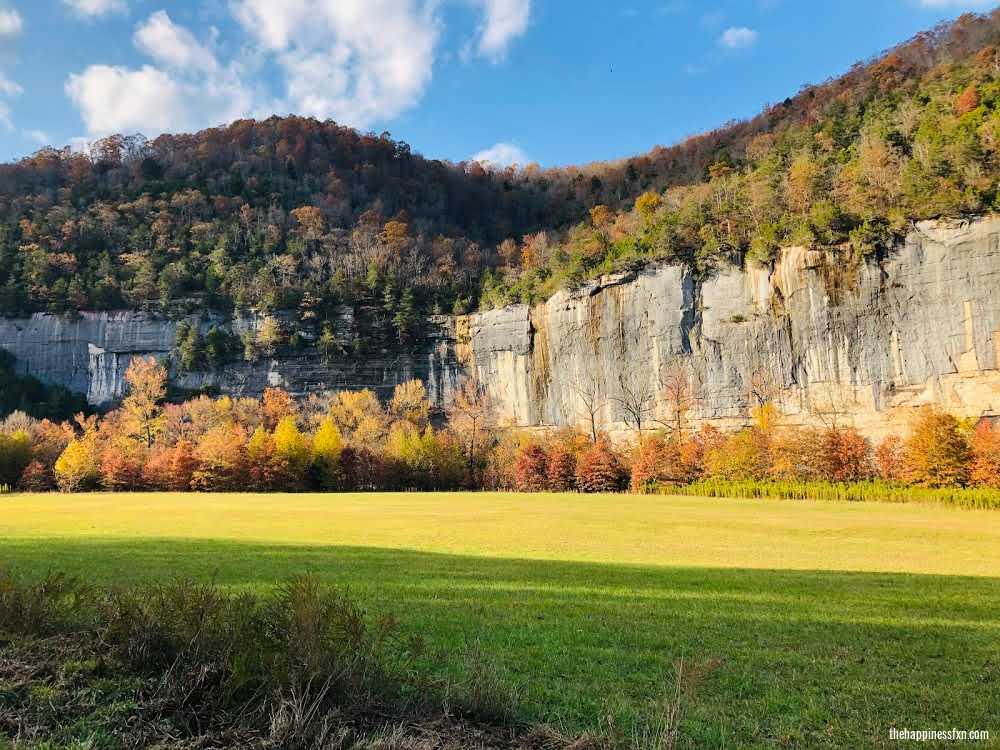 Did you know Buffalo National River is one of the few rivers in the U.S. with no dams? Buffalo National River is touted as America's First National River. Majestic bluffs surround the famously known turquoise-colored mountain water.
 The area is packed full of outdoor recreation opportunities, including:
Hiking
Camping
Floating the River
Kayaking
Nature photography
History tours
Stargazing
Wildlife watching
Horseback riding
There are no entry fees to get into Buffalo National River.
Camping in Buffalo National River is dog-friendly as well.
More Buffalo National River Adventures:
Where to Camp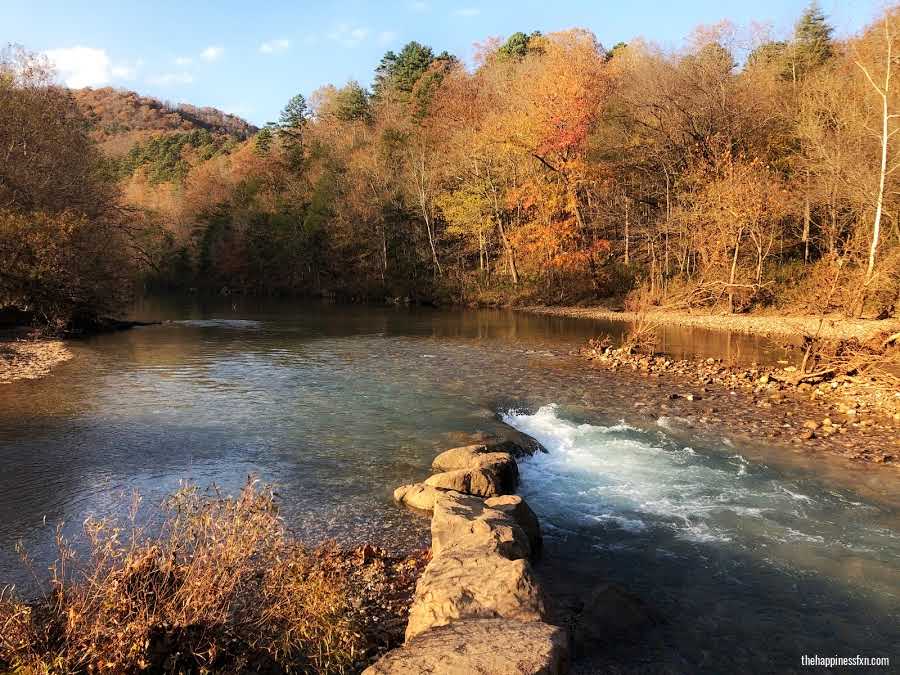 There is no official camping near the Whitaker Point Trail.
One of the closest places to camp, if you're in a tent, is at Steel Creek Campground, which is roughly 40 minutes from the Whitaker Point Trailhead. It is located inside of the the park boundaries.
To guarantee a spot reserve ahead of time on recreation.gov. Reserving a campsite ahead of time is a great option, especially if you drive from far away.
Steel Creek Campground Details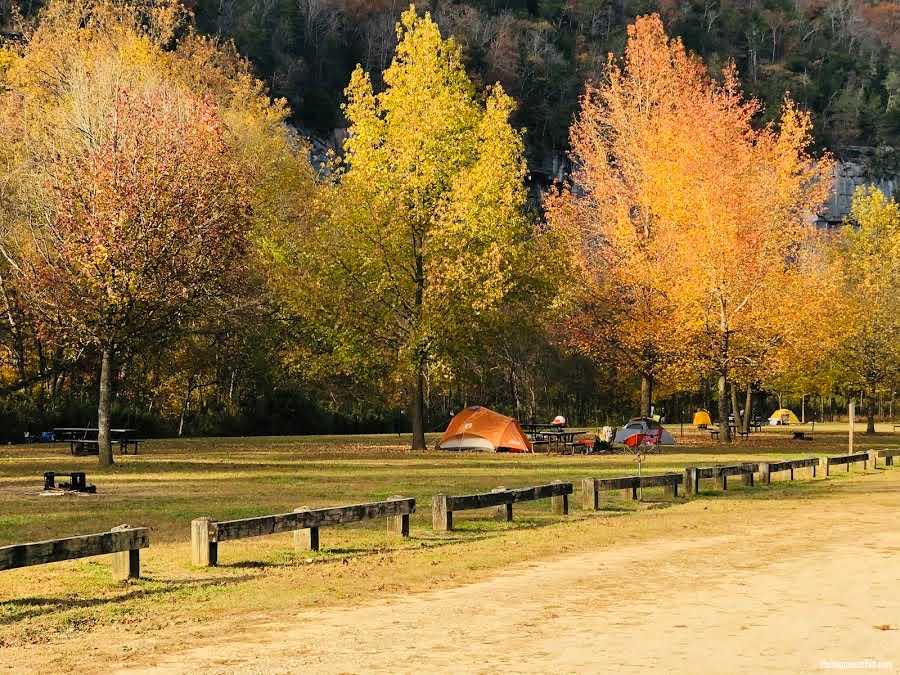 Steel Creek Campground is tent and horse trailer friendly. Sorry folks, RVs are not permitted here. The road into the campground is windy and steep too. If you have your RV, check out the Buffalo Outdoor Center RV Park. It is really nice.
There are flushing toilets, sinks with running water, and water spigots for freshwater at Steel Creek seasonally. The campground does not have showers or electricity and there are no lights in the restrooms (don't forget your headlamp).
It costs $20/night to camp.
Each campsite is equipped with a picnic table, fire ring, fire ring grate, and lantern holder.
Campsites are flat and mostly in the grass. There are trails close by to access the river. There are beautiful views of the bluffs. Oh, and an incredible view of the night sky and stars!
⛺ Related Camping Guides:
Things to Know Before Visiting Buffalo National River
Below is some information we think you'll find helpful before visiting, especially if you are not from the area:
There is no cell phone reception at Steel Creek.
Make sure you have directions saved ahead of time since there is no cell phone reception.
Places are well marked with signs. Keep your eyes peeled for signs.
Apple maps does not provide directions to Steel Creek Campground.
Google maps will get you to Steel Creek Campground.
The turn-off to Steel Creek Campground is obvious from AR-74; you can't miss it.
There is no entrance fee to Buffalo National River.
Dogs are allowed at the Steel Creek Campground on a leash.
There are four kinds of poisonous snakes in the area and we have seen at least one.
Clean up camp at night before hitting the sack to protect the wildlife in the area.
Next up, how to access the Whitaker Point Trailhead and go hiking!
How to Hike to Whitaker Point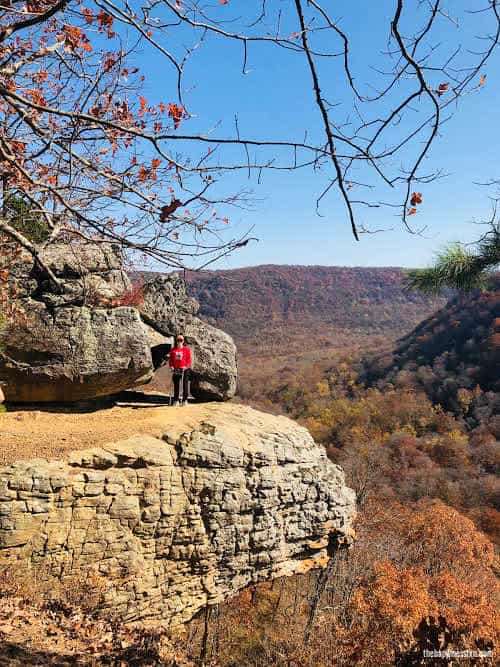 Whitaker Point is a famous Arkansas icon. You might have even seen the crag in the movie Tuck Everlasting. It is a world-class destination for adventure photography.
Also known as Hawksbill Crag, it majestically jets out to the open valley below.
Make sure to enjoy before heading back so you can soak it all in. Pack snacks and water. Enjoy yourself.
How to Get to the Whitaker Point Trailhead from Steel Creek
If you stayed the night at Steel Creek Campground, you'll go back out to AR-74 and head towards Boxley, Arkansas.
Follow AR-74 to the AR-43 Junction, which seems to just turn into AR-21.
There will be a highway bridge crossing for the Buffalo National River. The turn-off to get on the county (dirt) road leading to the Whitaker Point Trailhead is right before you go over this bridge. There is a (beat up) sign indicating access for Whitaker Point Trailhead.
Plan to have 4WD because the dirt road is steep.
Down the dirt road, you'll drive about 25 minutes to get to the trailhead.
From Steel Creek Campground to the Whitaker Point Trailhead is about 40 minutes.
Where to Park at the Trailhead
The trailhead is marked. It will be on your left side (when driving up the mountain).
Try to get to the trailhead early. There is parking, but overflow means you'll have to park along the dirt road.
We have hiked this trail a few times. Weekend are really busy.
There are no restrooms at the trailhead. The closest restroom is in Ponca or in the woods.
How Long Does it Take to Hike?
The trail is about 3 miles round trip. If stopping for pictures it takes about 2 hours.
There is a waterfall about halfway down the trail. The trail will split, and you'll see where you can hike a little lower to see a waterfall. It loops so you can't go wrong if you stay on the trail. You might even hear it running.
Where is the Hawksbill Crag?
The Hawksbill Crag is at the end of the trail. You will see the famous crag jetting out from the mountainside.
Careful Hiking
There are massive cliffs; know where you are stepping. Stay on the trail for your safety.
Practice the seven principles from Leave No Trace for outdoor recreation etiquette and environmental protection.
Hiking Gear for Safety and Comfort
Trekking Poles – I like hiking with trekking poles because they provide extra balance. I'm a big fan of Leki carbon trekking poles. They have an excellent warranty and helpful customer service.
Hiking Boots – Our go-to brand is Oboz made in Bozeman, Montana.
Enjoy Your Weekend Road Trip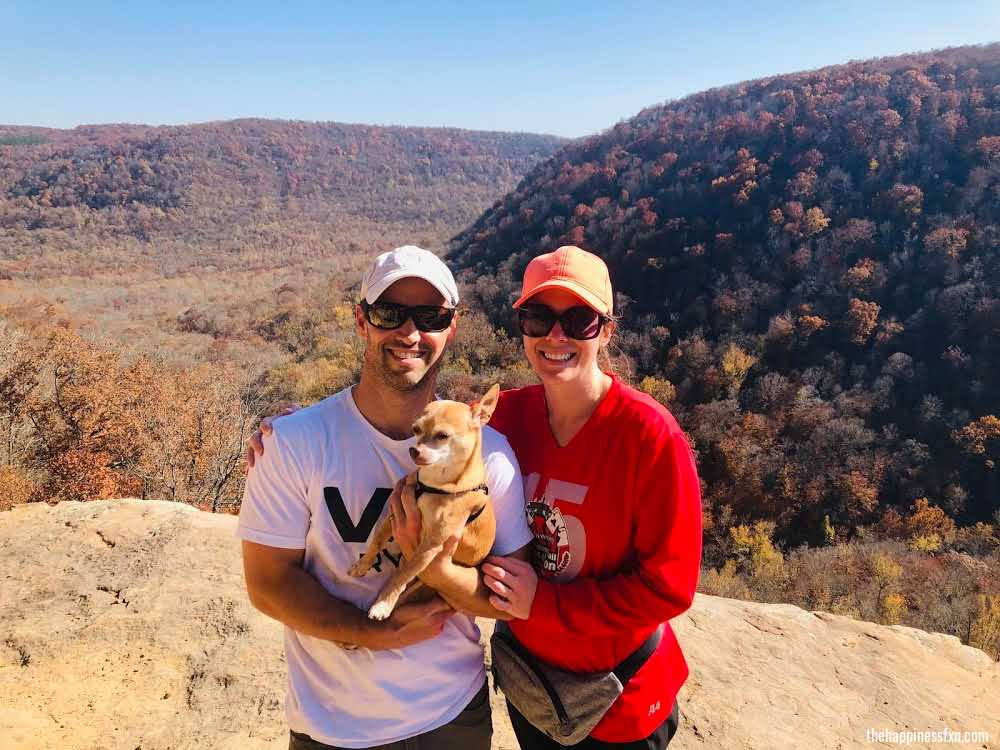 Whitaker point in Arkansas is such a fun adventure. Seeing the famous Hawksbill Crag is awesome! We hope you have a great time exploring this special place in the Ozarks.
Ashlee & Pablo
---
You might also enjoy…
Are you exploring the Arkansas Ozarks or planning a camping trip?
Save on Pinterest for later!
We would love to hear from you!
Have you hiked the Whitaker Point trail to the Hawksbill Crag overlook?