How to Reach Hawksbill Crag Hiking the Whitaker Point Trail
Posted on: January 28, 2022
|
|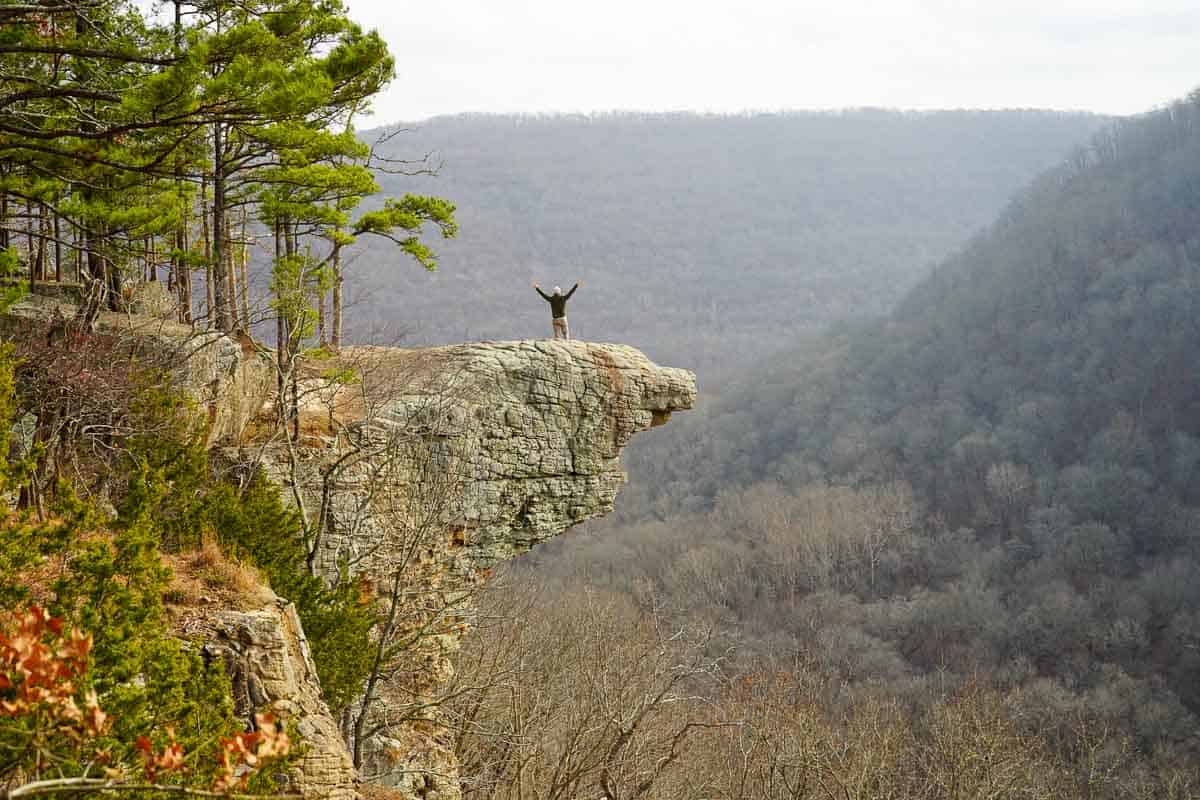 Hiking the Whitaker Point Trail to the famous Hawksbill Crag is one of the most iconic hikes in the Ozark National Forest. If you've seen photos of this majestic crag and it's on your Arkansas hiking bucket list, we're sharing all the details! This article will provide you with all the information you need to have an enjoyable hiking adventure along the Whitaker Point Trail.
This post contains affiliate links, which means we'll receive a commission if you purchase through our links at no extra cost to you. This allows us to continue publishing free travel and gear guides. Please read our full disclosure for more information. Thanks for your support!
Hiking Whitaker Point Trail to See Hawksbill Crag
Hiking is one of the most popular activities in this part of the Ozark National Forest. The national forest contains many recreational opportunities, including hiking trails, trout streams, picnicking areas, and camping sites. The area is incredibly scenic and within close proximity of the Ponca Wilderness and Buffalo National River (National Park Service Park).
The Whitaker Point Trail is a beautiful trail located south of Ponca, near Jasper, Arkansas. This area is full of spectacular views and lots of recreational adventures.
Whitaker Point Trail (Hawksbill Crag) Hike Details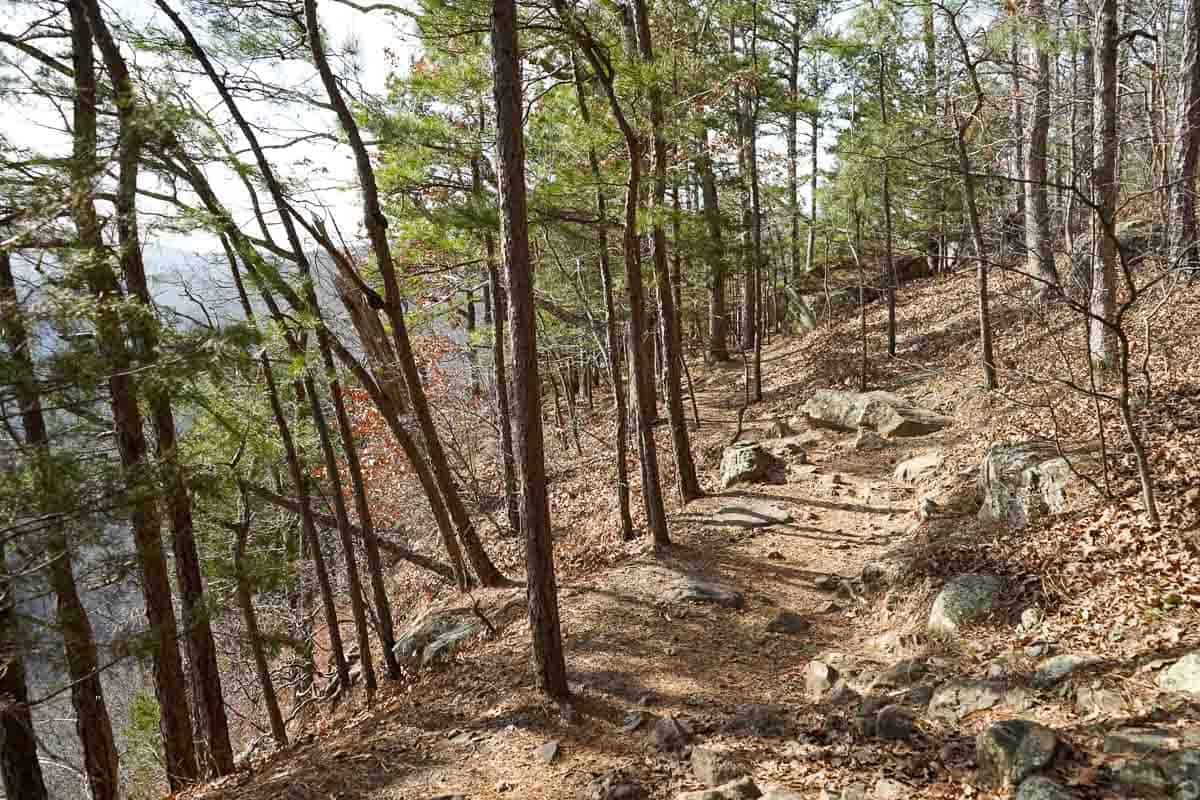 Pssst… We have a gear guide about our favorite hiking pants for both guys and gals. Come check it out!
Other Things to Consider While Hiking Whitaker Point
This is one of the most popular hikes in Arkansas. We have hiked it a few times.
With that being said, weekends are very busy. If you're planning on getting an epic solo picture, don't go on the weekend.
Weekdays earlier in the morning are quieter. If you enjoy solitude in nature, we recommend visiting during the middle of the week. Start the hike early and try to catch the sunrise.
There is a hidden waterfall seasonally along the way. You'll hear the water if the falls are running. There is a little bit of a scramble up and down a rock wall to see the waterfall up close.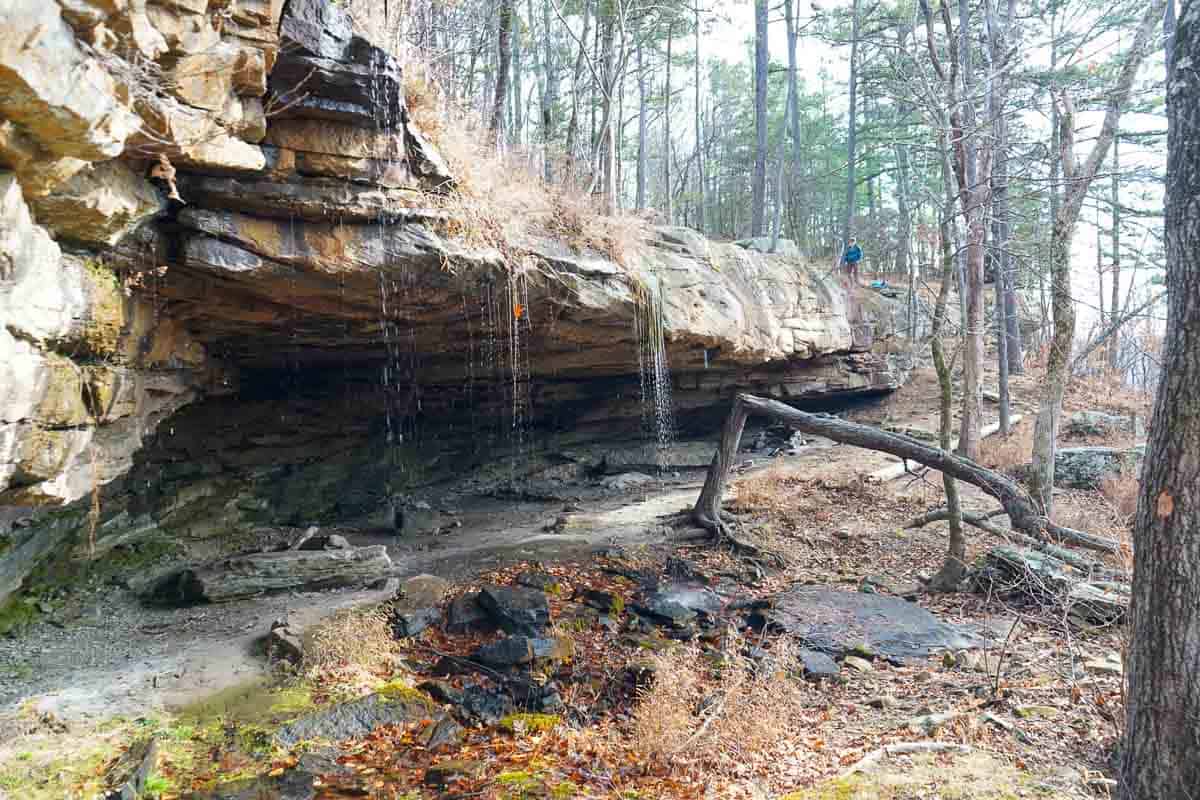 The closest town near this trail is Ponca, where you will be able to get supplies before hiking if need be. Make sure to bring plenty of water and snacks to keep you going on your way along the trail.
There are no restrooms along this trail or the gravel road.
There is a small parking lot. Once that fills up, park off the side of the road.
Always practice Leave No Trace.
How Long is the Hike to Hawksbill Crag?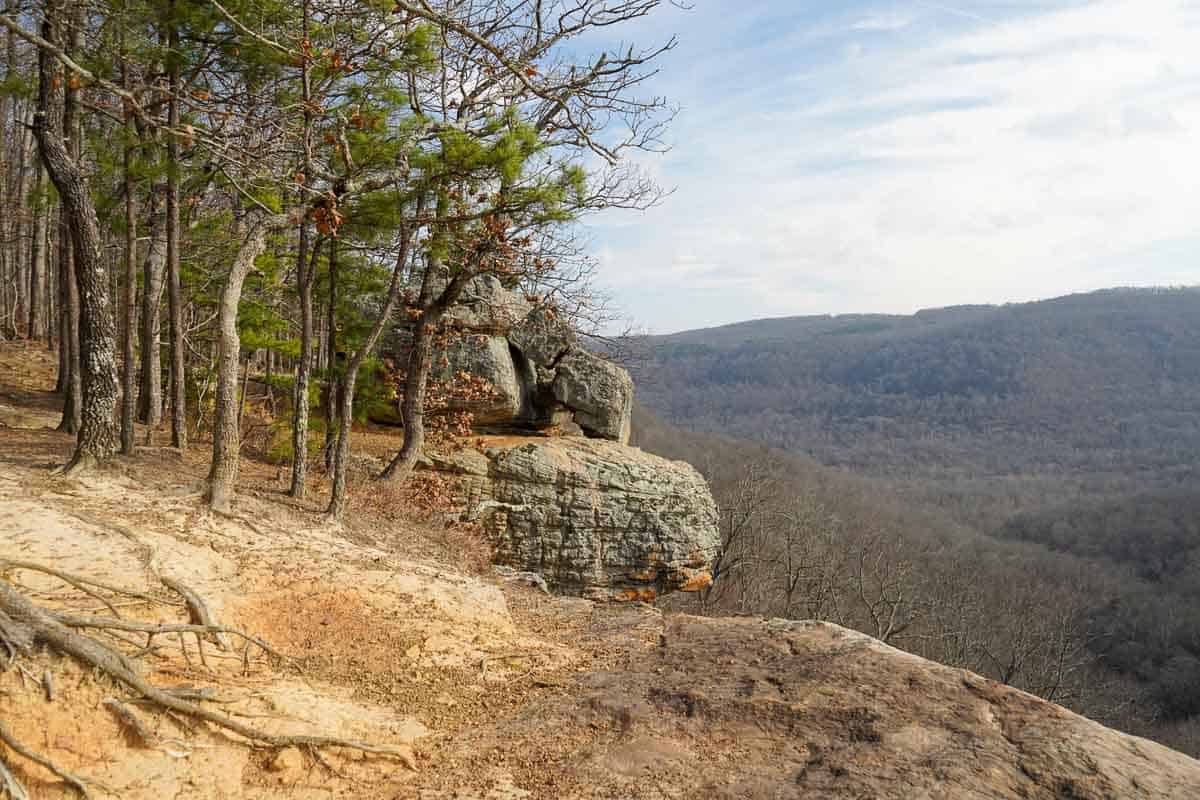 It takes about two hours to hike the trail round trip, have a snack, take photos of the crag, check out the waterfall, and get back at the car.
It is a great day hike and short enough to pair with nearby hikes, such as the Lost Valley Trail or Glory Hole Falls.
Where is the Whitaker Point Trail Located?
Below is a Google map of where the Whitaker Point Trailhead and Hawksbill Crag are located in relation to Ponca and Jasper, Arkansas. The trail is located in the Ozark National Forest, roughly 30 minutes south of Ponca, Arkansas.
How Do You Get to the Whitaker Point Trailhead?
There is no cell phone reception in the area, so be sure to download directions for offline use before driving to the Whitaker Point trailhead if you are not familiar with the area or have a map.
Whenever we go into the Buffalo National River area, we always bring our National Geographic Topo Map #232, Buffalo National River West, to navigate.
There is a trail sign before the bridge crossing the Buffalo River, where you turn off AR 21 onto County Road (CR 5). CR 5 is a gravel road. You will enjoy having a high-clearance vehicle to drive along CR 5 – there are lots of bumps, and it is steep in areas. Follow CR 5 until you reach the trailhead. There is a sign with a small parking area.
If the parking area is full, parking is allowed along the sides of the dirt road as long as it is not blocking local traffic.
Best Time to Hike the Whitaker Point Trail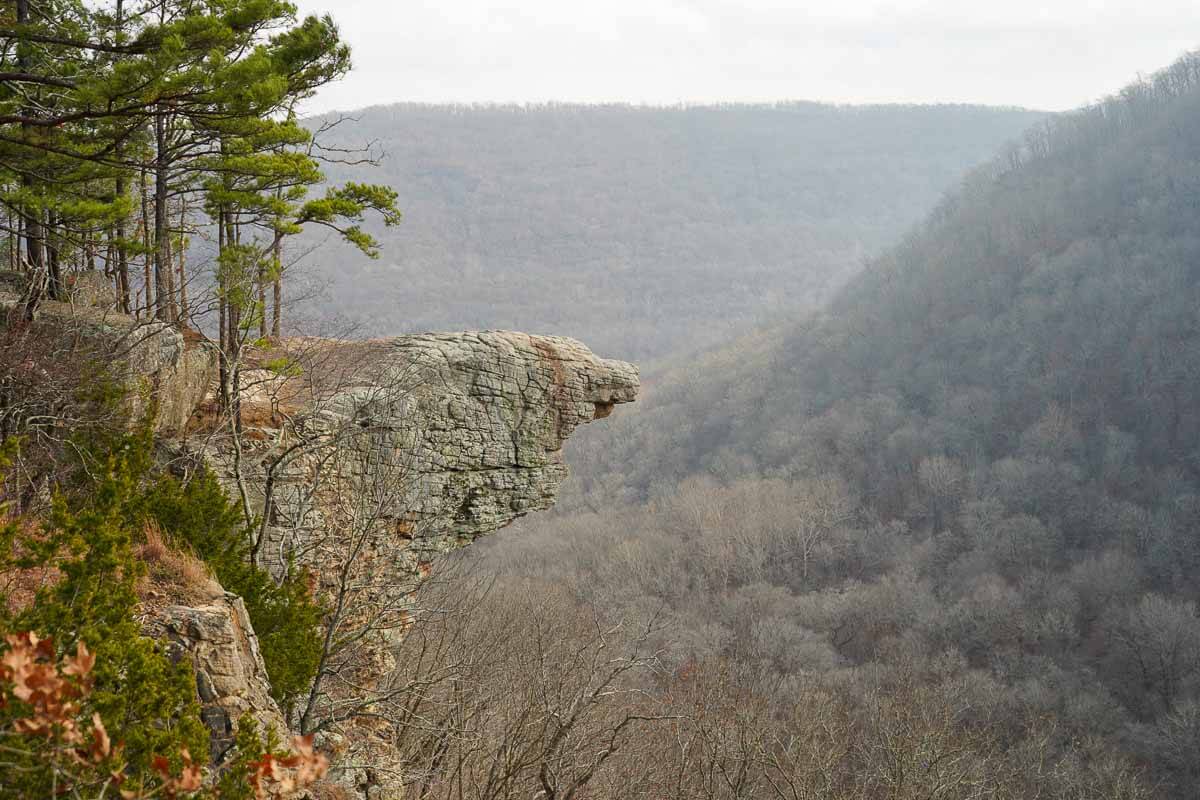 Whitaker Point is a fantastic trail to hike year-round, honestly.
Our favorite time of the year to hike Whitaker Point is in the fall or early winter to catch the leaves changing in the area. The fall crowds tend to die down after Thanksgiving providing hikers with more solitude on the local trails.
Have you been looking for new camera gear to compliment your adventure travel photography? Check out our article on adventure photography gear we use to take stunning photos! The gear we use is beginner friendly.
What to Bring Hiking
We recommend wearing comfortable hiking shoes, wool socks, sweat-wicking hiking clothes, a hat, sunglasses, water, snacks, and a daypack.
Wear layers to regulate your temperature. Layers keep you warm or cool, depending on the time of year.
Get a free packing list and gear guide from us with all of our favorite camping and hiking gear!
Where to Camp Nearby
The best places to camp in the immediate area are:
Check out our article with all the best places to camp along the Arkansas Buffalo River (Upper District).
Watch YouTube: Hiking Whitaker Point Trail to Hawksbill Crag
Get more hiking inspiration by watching the short video!
Final Thoughts on Hiking Whitaker Point
Hiking the Whitaker Point Trail is one of our absolute favorite hikes in Arkansas. We have hiked this trail multiple times, and every time we see the crag, we manage to be awed and inspired to take a hundred photos. We hope that you enjoy this trail as much as we have! There are so many other amazing hikes in the area.
If you have more time to explore the area, you might enjoy checking out these other fantastic hikes nearby.
We've listed our favorites below:
Thank you so much for reading our blog! Check back soon for new articles about exploring the Ozark National Forest, Northwest Arkansas, and the Upper Buffalo!
Ashlee + Pablo
---
You might also enjoy…
We love exploring Arkansas! Check out our other articles about hiking and camping in northwest Arkansas:
Save this article on Pinterest!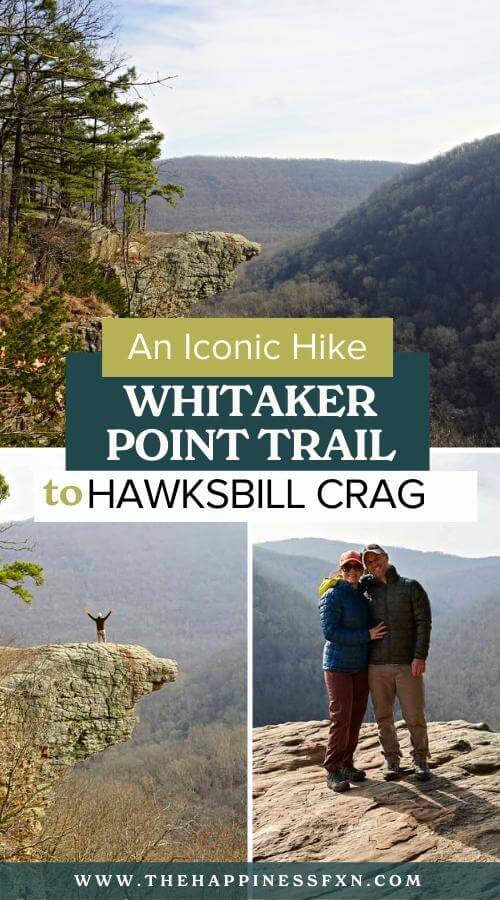 We'd love to hear from you!
Feel free to leave us a comment below, letting us know what your favorite part of the Whitaker Point Trail is or if you have any questions!