How to Hike to Glory Hole Falls (Sinkhole Waterfall) in Arkansas
Posted on: February 17, 2022
|
|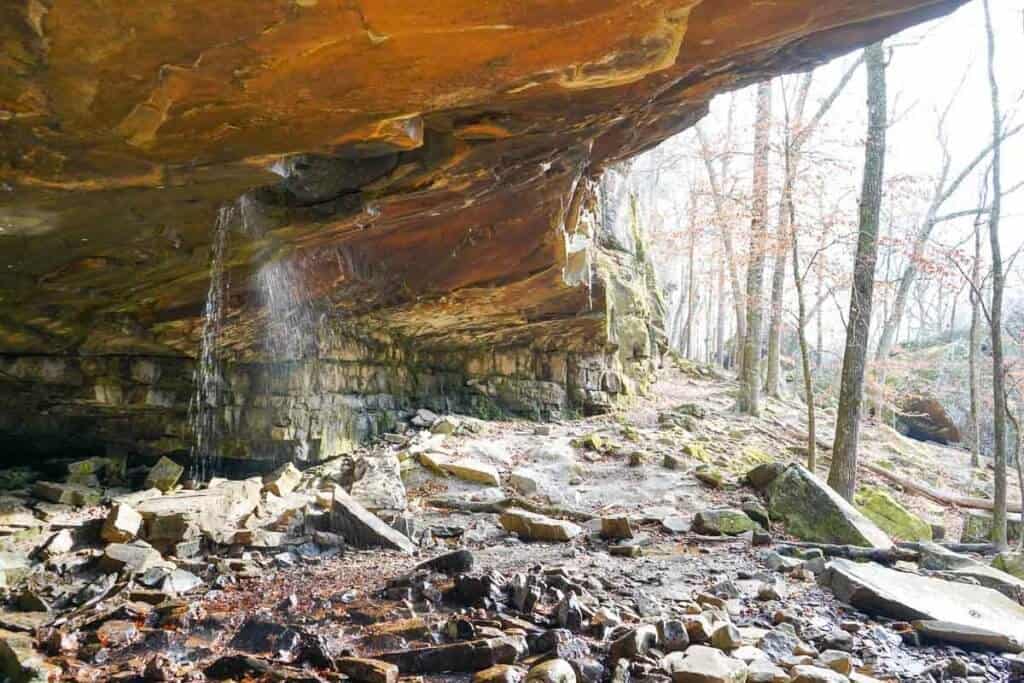 Arkansas is home to some pretty stunning natural wonders, and Glory Hole Falls is another fantastic place that shouldn't be missed while you're exploring the Ozark National Forest near Buffalo National River.
The unique waterfall was created over time by water carving out a hole above the bluff shelter where the water falls below. We're sharing everything you need to explore this off-the-beaten-path gem in Arkansas.
This post contains affiliate links, which means we'll receive a commission if you purchase through our links at no extra cost to you. This allows us to continue publishing free travel and gear guides. Please read our full disclosure for more information. Thanks for your support!
Hiking to the Famous Glory Hole Falls
If you're into chasing waterfalls, then you'll love hiking glory hole falls in Arkansas! Find out exactly how to hike to this unique place.
Pack your camera and some clothes you don't mind getting wet because you're in for a treat!
Where is the Glory Hole in Arkansas?
The Glory Hole waterfall trail is located in the Ozark National Forest near Deer, Arkansas.
On the south side of Highway 16 (AR-16/AR-21), a brown trailhead sign says Glory Hole Trail, which you can see from the side of the road. There is not a fancy or formal trailhead, just a gravel pull-off right off the highway. Park off the highway, then head down the trail.
Google maps will get you to the trailhead but download directions and the route while you have service ahead of time. Cell phone reception is hit-and-miss in the area.
Glory Hole Falls Trail Details
Distance: about 2 miles (1.9 miles) out and back
Elevation Gain: 410 feet
Route Type: Out and back
Difficulty: Easy to moderate
Are dogs allowed? Yes, dogs are allowed in the Ozark National Forest.
Is there a fee to hike? The trail is free to use.
Are restrooms available? There are no restrooms at the trailhead. Pack out what you pack in.
The majority of the trail is an old road covered in leaf litter that is really easy to walk. Once hikers get close to the sinkhole, you'll hear the water running near the rocks. Hikers then scramble a little down the rocks to drop below into the bluff shelter. Under the bluff shelter, you'll be able to see the waterfall up close and look up into the sinkhole.
It is a little steep getting below into the bluff shelter, so be extra careful. You'll have to climb on the rocks and down a little trail that goes around the bluff shelter. It is not hard but can be slippery when wet.
The waterfall is so neat to see once you get into the rock bluff shelter and see the water cascade.
Be sure to have supportive hiking shoes that you don't mind getting a little wet or muddy. Depending on the time of year, the main creek will have more or less water, and the bluff shelter may be muddy.
Shop Hiking Shoes We Love:
How Long is the Glory Hole Trail?
It takes about an hour or two to hike to the waterfall and back.
If you're a fast hiker, it is a short trail, and it shouldn't take more than an hour to an hour and a half.
However, the path is all downhill to the waterfall from the parking area and trailhead, which means the hike is all uphill coming back. So it is not a technical hike but a steady uphill on the way back to the car.
If you'd like to take photos, have a snack, and enjoy the water, then plan to spend about two hours exploring. The waterfall makes for incredible photos.
Things to Consider While Hiking to the Glory Hole in AR
Hiking in this part of Arkansas is just incredible. The area is really remote, so we wanted to share some things to consider while hiking.
There are no restrooms at the trailhead.
Plan where you will go before you go to make sure you have proper navigation.
If hiking during the summer, bring bug spray.
Know where the small towns are located so you can plan to fuel up the car.
Cell phone reception in this area is hit-and-miss. You might get reception on top of a tall hill.
We recommend having a map.
Best Time of Year to Hike Glory Hole Falls
Spring and early summer after a rain are the best times of the year to see the water really flowing! However, you might be met with more crowds.
We hiked in early December during the middle of the week and were the only ones on the trail to take photos of this beautiful waterfall. There was a subtle stream of water flowing during December.
Fall is also an excellent time to visit when the trees change colors, but there might not be as much water flowing.
Glory Hole Arkansas Camping Nearby
There is some excellent camping in the Buffalo River area! Our personal favorites are within Buffalo National River National Park and the Buffalo Outdoor Center.
Steel Creek Campground – if you are tent camping, Steel Creek is an excellent place to camp next to the Buffalo National River in Ponca, AR. Make reservations at Recreation.gov.
Buffalo Outdoor Center – if you have an RV, then check out the Buffalo Outdoor Center in Ponca. This is a private RV park with full hookups, Wifi, and running water (which we love after hiking all day).
Do you use apps to find the best hiking and camping? If so, check out 10 FREE apps we use to plan outdoor adventures! One of our favorite camping apps is Recreation.gov.
Hiking Glory Hole Falls on YouTube
Get more hiking inspiration by watching the video on YouTube!
Final Thoughts on Hiking to the Glory Hole Waterfall
For years, we had seen images of this sinkhole waterfall, read reviews, and finally made it to hike in early December. It is a great hike to do, and since it is so short, you can pair it with another hike in the Boxley area, such as the Whitaker Point Trail or Lost Valley Trail. The location is beautiful and remote. Hiking during the winter was peaceful and quiet.
You'll definitely love checking it off your Arkansas hiking bucket list! It is one of the most unique waterfalls we have ever seen.
Ashlee + Pablo
---
You might also enjoy…
Do you love exploring Arkansas?!
Check out our other articles related to hiking and camping in Northwest Arkansas:
Save this article on Pinterest!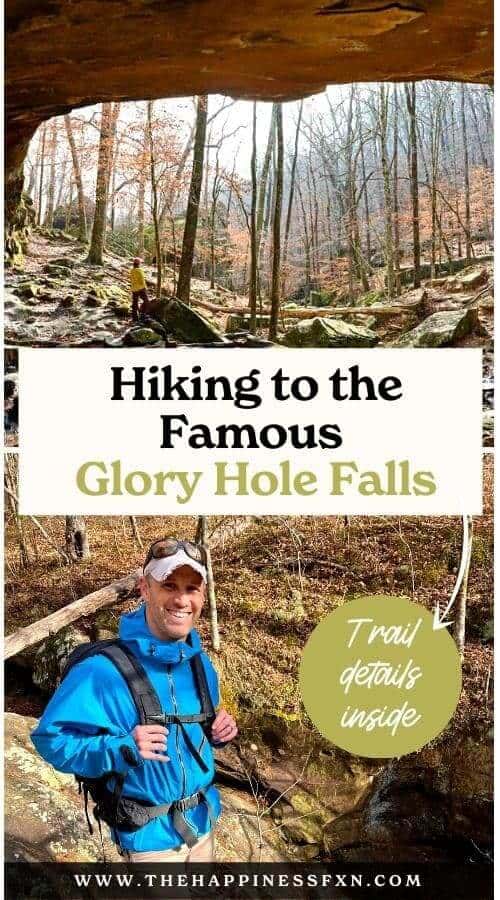 We'd love to hear from you!
Is hiking to the Glory Hole Falls in Arkansas on your bucket list? Have you ever seen a sinkhole waterfall?