Adventure Awaits: Your Ideal Weekend Getaway to Devil's Den State Park, Arkansas
Last Updated: Oct 9, 2023
|
|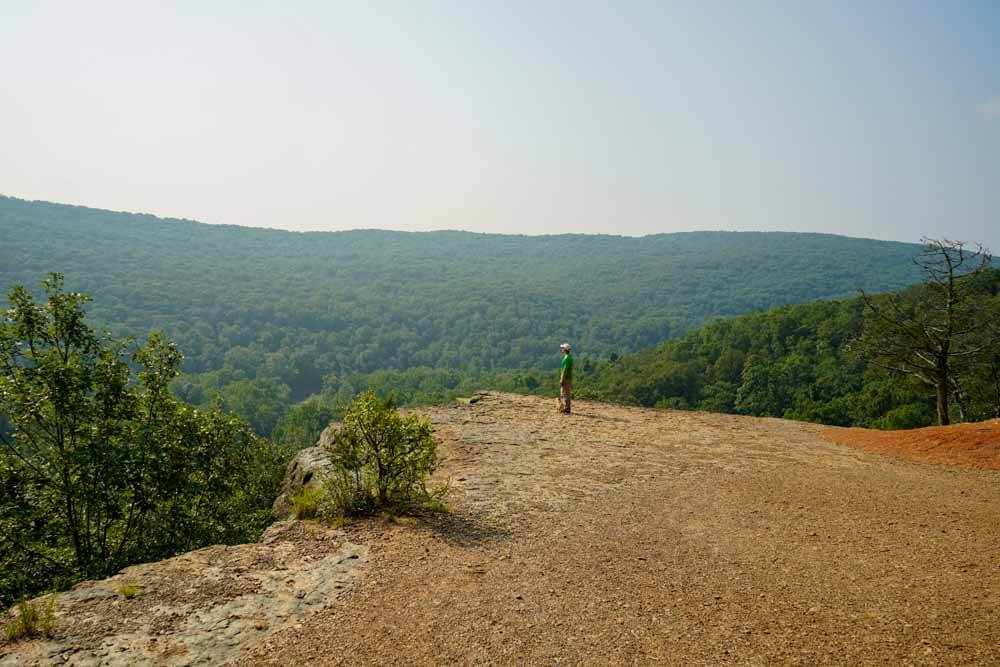 Devil's Den State Park near West Fork, Arkansas, is an incredible location to spend a weekend. With the vast number of outdoor activities, you are sure to have something exciting to explore. The park is filled with incredible trails, caves, dense forest, bluffs, and cliff formations, as well as being an excellent location for hiking and mountain biking enthusiasts. The pristine scenery that you get while exploring the area takes your breath away.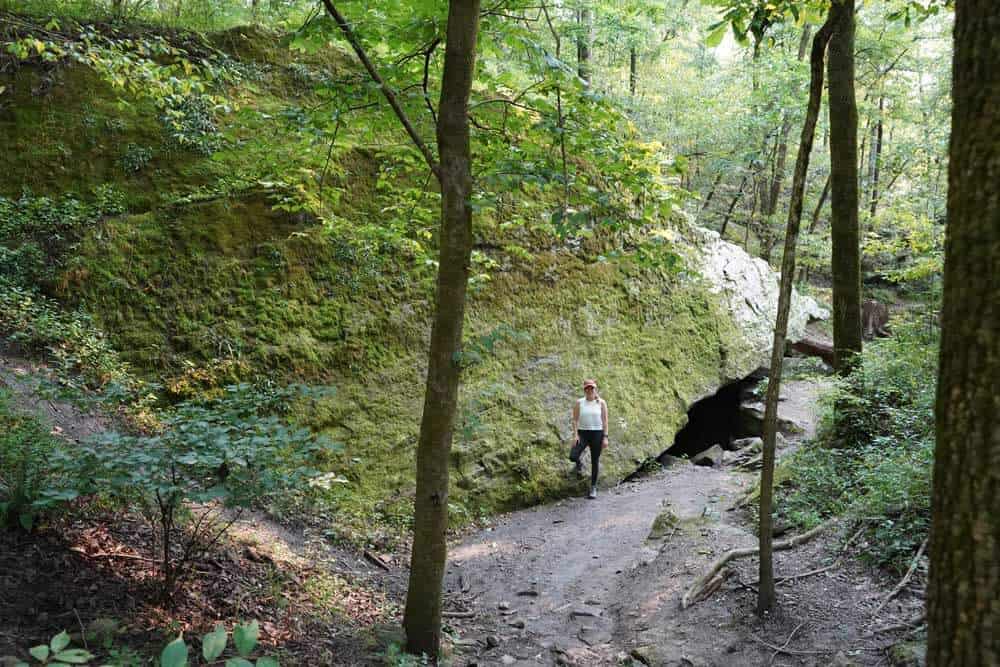 Guide to Devil's Den State Park
Devil's Den is not too far from a few major cities such as Tulsa, Fayetteville, and Little Rock, making it the perfect weekend escape to reinvigorate yourself from the workweek.
Devil's Den State Park is a great outdoor getaway for hiking and biking enthusiasts looking for exciting adventures such as camping out under the stars by the campfire at night while they listen to cicadas echoing through the clear mountain air.
The park has multiple designated campgrounds which offer sites that can accommodate both tents and RVs. Devil's Den also has 64 miles of trails for mountain bikers and hikers.
Ready to plan your next trip? We're sharing all the most epic things to do at Devil's Den State Park. So, keep reading to plan your next camping, hiking, and mountain biking adventure!
The Best Things To Do at Devil's Den State Park
Devil's Den Hiking Trails
Anyone who loves hiking will appreciate what this park has to offer. Several different hikes encompass over 64 miles of backwoods trails.
The most popular hiking trails, such as the Devil's Den Trail and Yellow Rock Trail, offer incredible landscapes from caves to bluff overlooks.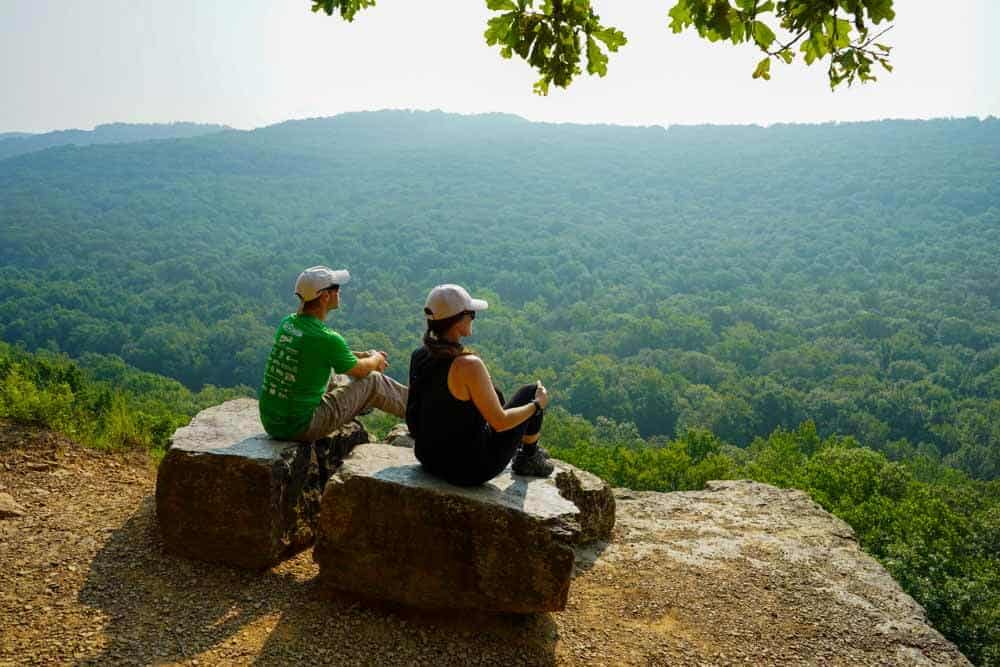 *Read more about exactly what to wear hiking in Arkansas!
All of the trails offer incredible views of the Ozark Mountains and opportunities to see wildlife such as deer.
In addition, there are several caves within the park that hikers can explore, such as the Devil's Den Cave and the Devil's Ice Box – all along the Devil's Den Trail.
At the Devil's Ice Box, you can feel the cool air coming out and the cave breathing! However, to protect the local bat population from White-Nose Syndrome, all the caves are closed, but you can still take pictures of them from the opening.
Devil's Den State Park is an excellent place for hikers of all skill levels to explore nature.
The two hikes you cannot miss trekking include the Devil's Den Trail and Yellow Rock Trail.
Below are more details.
Devil's Den Trail Details
Features: Remarkable geologic features such as caves, crevasses, a waterfall, and overlook
Difficulty: Moderate
Distance: 1.2 miles
Parking: Yes, at the trailhead
Dog friendly: Yes, leash-requirement
Cost: Free
Restrooms: Yes, at the Visitor Center or campgrounds
Cell Phone Reception: None
Yellow Rock Trail Details
Features: Yellow Rock Bluff with epic views of Lee Creek Valley below
Difficulty: Moderate
Distance: 3.1 miles
Parking: Yes. There are two parking areas. One is at the CCC Overlook (upper trailhead), and the other parking area is near Camp Area A (lower trailhead).
Dog friendly: Yes, leash-requirement
Cost: Free
Restrooms: Yes, at the Visitor Center or campgrounds
Cell Phone Reception: Hit and Miss
Outdoor lovers are sure to have fun exploring two of the most amazing hiking trails in Arkansas.
Mountain Biking at Devil's Den
One of the best parts about exploring Devil's Den is that you can ride your bike on many trails.
Fossil Flats is the mountain biking trail that made Arkansas famous for mountain biking.
The park has world-class mountain biking rated by the International Mountain Biking Association.
You cannot miss biking the Monument Trail and world-famous Fossil Flats if you're into mountain biking.
The park also hosts the Annual Ozark Mountain Biking Festival every spring.
Dip Your Toes in Lee Creek
The crystal-clear mountain waters of Lee Creek run through the park.
Take your hiking boots off and dip your feet into the ice-cold waters of Lee Creek after a long hike in the summer. The water is so clear; you can even see little fishes swimming around.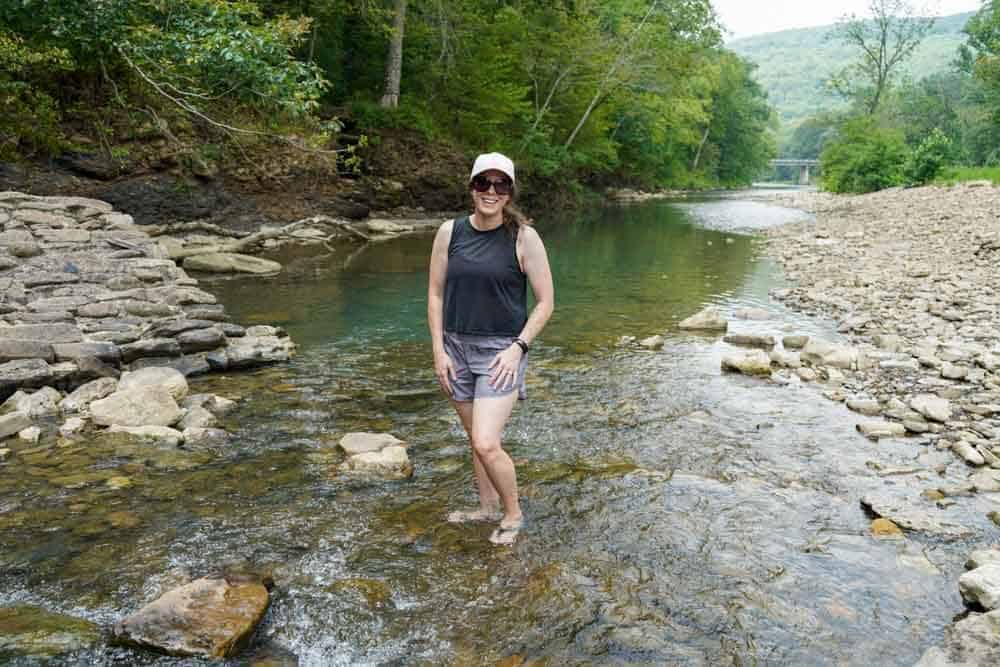 Devil's Den State Park Camping
Those looking for a relaxing weekend away can enjoy camping in one of the well-maintained campgrounds that Devil's Den has available.
There are four designated camping areas: one for tent sites, one to hike-in near Lee Creek, another for RVs, and the last for horse trailers. There are 135 campsites.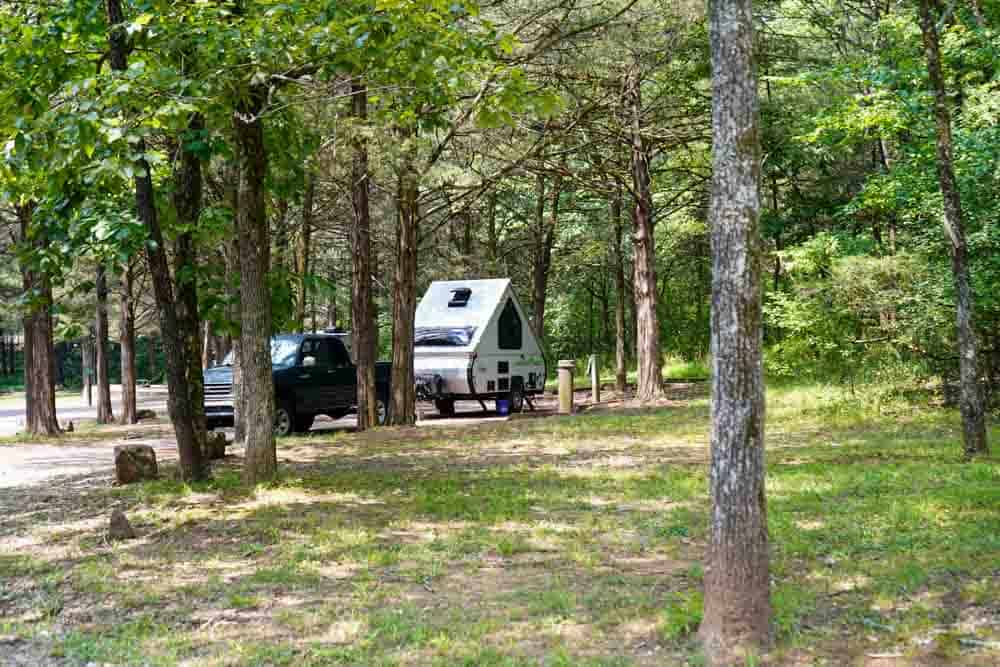 We stayed at Camp Area E with our Aliner Camper. The campground was clean and well-spaced out, so we didn't feel crowded or cramped in any way. In addition to utility hookups, there's a bathhouse where you can shower off after your daily adventures before heading to bed.
How much does it cost to camp?
The rates for camping at Devil's Den depend on which campground area you are using.
To check campground rates, call the park ahead of time or check online.
Map of Devil's Den State Park in Arkansas
Directions to Devil's Den State Park Arkansas
There are two main entrances that are easy to find. Along with adequate road signage, Google maps will get you there also.
One entrance can be found off I-49 near Winslow, Arkansas. From I-49, take exit #45 to State Highway 74. The park is 7 miles from the exit. IF YOU ARE BRINGING AN RV, DO NOT TAKE THIS ROUTE. The switchbacks are tight and steep.
The second entrance is off State Highway 170. From West Fork, it is 17 miles to the entrance. Use this entrance/exit if you have a trailer or RV.
The road to the Visitor Center is narrow and tight; consider this ahead of time before trying to check in with your camping rig.
Other Questions You May Have While Trip Planning
Do you have to pay to get into Devil's Den State Park?
The park is free to use unless you are camping.
There are camping fees.
Does Devil's Den have showers?
Yes, there are showers at the campground areas.
Is there cell phone reception?
There is no cell phone reception at Devil's Den unless you're hiking high up on the mountains or bluffs. So be sure to download trail maps for offline use ahead of time.
Why is it called Devil's Den Arkansas?
Devil's Den got its name due to the crevices and caves located within the park. There are approximately 60 crevices and caves in the area. It was also known historically as being a hideout for old wildest outlaws.
Is the park pet-friendly?
Dogs are allowed on the trails and at the campground on a leash.
More Dog Friendly Parks in Arkansas:
Leave No Trace
Always practice Leave No Trace while exploring the outdoors to protect the environment.
Final Thoughts on Devil's Den State Park in Arkansas
The Ozark Mountains are one of the most beautiful places in Arkansas. There is so much awe in the natural surroundings, and it's even more impressive when you're exploring these vast landscapes because no two hikes or paths are alike. One minute, there might be a thick forest with little to see; then next thing you know, an incredible cave cuts into rock formations that seem as if they were made for your exploration.
The campgrounds offer easy access points where visitors can set up their tents or park RVs before embarking on adventures such as hiking, mountain biking, or taking pictures – all while getting breathtaking views across the valley.
Thanks for reading.
Ashlee & Pablo
---
Read More From The Happiness Function
We'd Love To Hear From You
Are you camping and hiking in Arkansas soon?
Tag #thehappinessfxn on Instagram! We'd love to see your Arkansas outdoor adventures!